Städel Museum opens an extensive exhibition of works by Vincent van Gogh
Making Van Gogh addresses the special role that gallery owners, museums, private collectors and art critics played in Germany in the early twentieth century for the posthumous reception of Van Gogh as the "father of modern art". Photo: Städel Museum - Norbert Miguletz.
FRANKFURT
.-
From 23 October 2019 to 16 February 2020, the
Städel Museum
is devoting an extensive exhibition to the painter Vincent van Gogh (1853–1890). It focuses on the creation of the "legend of Van Gogh" around 1900 as well as his significance to modern art in Germany. Featuring 50 of his key works, it is the most comprehensive presentation in Germany to include works by the painter for nearly 20 years. MAKING VAN GOGH addresses the special role that gallery owners, museums, private collectors and art critics played in Germany in the early twentieth century for the posthumous reception of Van Gogh as the "father of modern art". Just less than 15 years after his death, in this country Van Gogh was perceived as one of the most important precursor of modern painting. Van Gogh's life and ...
More
The Best Photos of the Day
In search of Hilma af Klint, who upended art history, but left few traces
'Bruce of Los Angeles' photographic archive and studio props 100% sold at Urban Culture Auctions
In a turbulent Chinese art market, strong prices prevailed for Lark Mason Associates sale of Asian art


A visitor studies "Group IX/SUW, The Swan, No. 13," a 1915 painting by Hilma af Klint at the Moderna Museet in Stockholm, Sept. 2019. In and around Stockholm, the secretive painter — whose bold abstract works predated Kandinsky's — lived a life of spiritual yearning that shaped her artistic career. Erika Gerdemark/The New York Times.



NEW YORK, NY (NYT NEWS SERVICE).- It seemed a daunting challenge to follow in the footsteps of a secretive artist who destroyed all her correspondence more than a decade before her death in 1944. Someone who, between 1906 and 1915, had created an astonishing cache of nearly 200 novel paintings — bold abstract compositions as large as 10 by 8 feet — mostly in a small, shared studio in the heart of a major European city, with virtually no record of anyone seeing or discussing the work. But if it's 2019 and the artist is Hilma af Klint and the city is Stockholm, I was ready to sign up for some Swedish sleuthing. If her name sounds familiar it's because Hilma af Klint (1862-1944) was the unexpected star of last year's global cultural calendar with a six-month show ... More



Four Bruce Bellas (1909-1974) photos of underground film actor and model Joe Dallesandro, a muse of Andy Warhol and an LGBTQ icon. Provenance: Bruce Bellas archive. Sold for $3,250.



WEST PALM BEACH, FLA.- Urban Culture Auctions, a division of Palm Beach Modern Auctions, recorded a 100% sell-through rate with its September 26 auction of mid-20th-century "beefcake" photos taken by Bruce Bellas (1909-1974), known professionally as Bruce of Los Angeles. More than 200 lots of vintage prints, negatives, slides, real-photo greeting cards and posing props were offered, with 93% selling during the auction and the remaining 7% after the event. Most of the photos, which played an important contributing role in the foundation of America's gay movement, were taken in Bellas' Los Angeles studio, while a smaller number that focused on weightlifters and Southern California's fitness culture were shot at Muscle Beach in Santa Monica/Venice, California. All focused on the male physique. The Bellas archive was consigned by art director Dimitri Levas, who was Robert Mapplethorpe's (1946- ... More



A pair of Chinese 'Chicken Bone' Jade Censers set with later gilded metal and enamel mounts realized $42,950.



NEW YORK, NY.- The Lark Mason Associates sale of Asian, Ancient and Ethnographic Works of Art, which closed on October 11, achieved an impressive $1,342,070 including buyer's premium. An important pair of very rare Chinese Huanghuali Horseshoe Back Continuous Armchairs, dating from the early Qing dynasty hammered $250,000. Attracting bidders was the unusual and difficult to construct crest rail that anchors into the seat frame, rather than with exposed curled handgrips. Other notable results included works in porcelain, lacquer, jade, metalwork and paintings. A particularly rare porcelain vase, created for presentation purposes to Senator D. Worth Clark of Idaho, and with a gilded Zhong Zheng mark in relief, created in 1947 on the occasion of Chiang Kai-shek's 60th birthday. Only 40 of these vases were made, each imitating bronze with extensive landscape scenes centered on the wide, ovoid body. Estimated at ... More
The arts are shunning big oil. The Salzburg Festival isn't
Matthew Wong, painter on cusp of fame, dies at 35
The Army is looking for a few good art experts


Peter Sellars © Ruth Walz.



LONDON (NYT NEWS SERVICE).- In July, opera director Peter Sellars gave a stark speech about climate change to open the Salzburg Festival in Austria, one of classical music's most glittering events. "We are today facing leadership across the world," he said, "that is willing to sacrifice the next generation and the generations after that." People everywhere, he added, had to "shift out of bad habit energies and make basic, common-sense changes in our lives." That night, he unveiled his new production of "Idomeneo," which turned Mozart's opera into a climate change parable and featured a dancer from Kiribati, an island nation threatened by rising sea levels. Less than three months later, on Oct. 3, Helga Rabl-Stadler, the festival's president, traveled to St. Petersburg to sign a new sponsorship deal with Gazprom, the Russian energy giant, and OMV, an Austrian oil and gas firm. The companies will each pay 200,000 euros (about $220,000) toward staging a Russian ... More



Matthew Wong, Day by Night. Installation views at Massimo De Carlo, Hong Kong. Photo by iMage28. Courtesy Massimo De Carlo, Milan/London/Hong Kong.



NEW YORK, NY.- Matthew Wong, a promising self-taught painter whose vibrant landscapes, forest scenes and still lifes were just beginning to command attention and critical acclaim, died Oct. 2 in Edmonton, Alberta. He was 35. The New York gallery Karma, which represented him, said the cause was suicide. His mother, Monita (Cheng) Wong, said Wong was on the autism spectrum, had Tourette's syndrome and had grappled with depression since childhood. Wong's story was unconventional, even remarkable, in the art world. He had been painting and drawing seriously only since 2013, but his striking canvases led critics to invoke Jean-Baptiste-Siméon Chardin, Milton Avery, Vincent van Gogh and other familiar painters as they assessed his work and tried to describe its visual impact. A solo show at ... More



Corine Wegener and Army Reserve Col. Scott DeJesse, in Tampa, Fla., Oct. 19, 2019, will work with a new reserve unit of art experts advising the Pentagon on preserving cultural treasures in war zones. The new reserve group, inspired by the Monuments Men of the World War II era, will aim to protect antiquities and important cultural sites in war zones. Zack Wittman/The New York Times.



NEW YORK, NY (NYT NEWS SERVICE).- It's no secret that the war-ravaged nations where U.S. soldiers have been enmeshed in conflict for nearly two decades are home to many of civilization's oldest and most prized antiquities and cultural treasures. But in the heat of battle in Afghanistan or Iraq, how are troops to know whether they are taking their positions behind mounds of insignificant rubble or inside the precious remains of a 3,000-year-old temple complex? The Pentagon's answer, announced Monday at the Smithsonian Institution in Washington, is to take a page from one of World War II's most storied military units, the teams of art experts known as the ... More
On Neil Young's new 'Colorado' album, amped up rage -- and hope
How the butterfly discovered daylight
Sean Kelly announces that the gallery now represents Dawoud Bey


In this file photo taken on July 06, 2018 Neil Young performs on stage for his first time in Quebec City during 2018 Festival d'Ete. Alice Chiche / AFP.



NEW YORK, NY (AFP).- At 73 years old, Neil Young could be reminiscing about his legendary past, but the classic rocker instead has his sights set squarely on the planet's future with his latest album "Colorado." The album out Friday sees Young, a long-time crusader for the environment, reunite with the loud, raggedy band Crazy Horse, which has recorded and toured on and off with the superstar for half a century. The prolific Canadian-born artist gathered the latest iteration of Crazy Horse high in the Colorado mountains, where they shredded in between hits of oxygen to avoid altitude sickness. The album opens with Young's harmonica twang in "Think of Me," on which he croons: "I'm gonna live long and I'm happy to report it back to you," dispelling any notion that the septuagenarian with more than 40 studio albums to his name might slow down. Young's signature ... More



Photograph of a diurnal moth, Pterodecta felderi. one of the Lepidoptera species in the study by Kawahara et al. Photo by Akito Y. Kawahara.



NEW YORK, NY (NYT NEWS SERVICE).- Once upon a time, perhaps some 300 million years ago, a tiny stream-dwelling insect akin to a caddis fly crawled from the water and began to live on mosses and other land plants. Although drab in appearance, the creature had a glorious future: It would become the ancestor of the 160,000 species of moths and butterflies that populate Earth today. Few insect fossils have been found, so reconstructing the steps in this long evolution has been difficult. A group of biologists has now filled some of the major gaps in the fossil record, with the help of data from the DNA and protein sequences of living insects. On Monday the team, led by Akito Y. Kawahara of the Florida Museum of Natural History in Gainesville, published a paper in Proceedings of the National Academy of Sciences that rewrites key aspects of the narrative of how moths and ... More



Dawoud Bey, Portrait by Whitten Sabbatini.



NEW YORK, NY.- Recognized as one of America's most influential photographers, Dawoud Bey is celebrated for his rich and psychologically compelling portraits. Named a MacArthur Fellow in 2017, Bey explores in his work a range of formal and material methodologies to create images and projects that connect deeply with the communities he photographs. Highly regarded as an educator as well as a photographer, Bey is renowned for a highly collaborative process defined by the empathy he brings to his subjects and the complexity with which he depicts them. Bey came to attention with Harlem, U.S.A. (1975-1979) a visual journey through the iconic neighborhood that, in 1979, also comprised his first solo exhibition at The Studio Museum in Harlem. Since then, he has produced successive bodies of work that engage countless individuals to comprise collective portraits of disparate cultures and societies, some of which are commonly ... More
Interior Influences: Janet Borden, Inc. opens a group exhibition
Hindman to offer significant works in Fall Modern Design Sale
Christie's to offer Umberto Boccioni's Unique Forms of Continuity in Space


This exhibition is a study of inspiration, encouragement and guidance; from teachers, mentors and exemplars, as well as cultures, continents and time periods.



BROOKLYN, NY.- Janet Borden, Inc. is presenting Interior Influences. Jim Dow, Walker Evans, Fernando Paillet, and Guillermo Srodek-Hart photograph interior views. This exhibition is a study of inspiration, encouragement and guidance; from teachers, mentors and exemplars, as well as cultures, continents and time periods. The exhibition runs from 22 October – 7 December 2019. Four years ago, American photographer Jim Dow and his Argentinian colleague Guillermo SrodekHart began to open up old boxes of negatives and prints, with the intention of making a proposal for a small, two person show. To their mutual surprise, they discovered that they had selected many pictures full of unmistakable similarities and meaningful differences that served to initiate dialogues about influence, ideas and intent. This inspired the decision to include two more ... More



Dale Chihuly with Lino Tagliapietra, American, b. 1944 | Italian b. 1934. Gold Over Sepia Venetian, 1990 blown glass etched signature to underside H 32 x Diameter 15 inches Property of Philip Samuels Fine Art, St. Louis, Missouri. Estimate: $8,000.00 - $12,000.00.



CHICAGO, IL.- Hindman's The November 12 Modern Design auction will include highlights from many of the 20th century's most notable designers and manufacturers, including an important George Nakashima Frenchman's Cove II dining table and a set of eight Conoid chairs in rosewood from the estate of Barney A. Ebsworth. Also included will be an important La Table-Berceau, Première Version by Diego Giacometti. The sale will also feature a rare number of studio works from ceramicists Ruth Duckworth and Peter Voulkos, along with two works from the Venetian Series by Dale Chihuly and Lino Tagliapietra. In addition to nearly 100 lots of collectible Scandinavian design and highlights from America and Italy, the auction will offer key lighting selections from Tiffany Studios. "Our November 12 Modern Design Auction is certainly one of our ... More



Umberto Boccioni, Unique Forms of Continuity in Space, conceived in 1913 and cast in 1972. Estimate: $3,800,000-4,500,000. © Christie's Images Ltd 2019.



NEW YORK, NY.- On November 11, Christie's will offer Umberto Boccioni's Unique Forms of Continuity in Space, conceived in 1913 and cast in 1972 ($3,800,000-4,500,000) marking the first time in nearly 50 years that one of the artist's revolutionary sculptures has ever been offered at auction. The last time that a sculpture by Boccioni was sold at auction was by Christie's in 1975. That example now resides in the New Orleans Museum. Max Carter, International Director, Head of Department, Impressionist and Modern Art, remarked: "In his brief life, Boccioni reimagined time, space and movement. Where other works of art are rooted in the past, Unique Forms of Continuity of Space—Boccioni's greatest achievement and one of the most important sculptures of the 20th century—was, is and will always be the future." An icon of Modernism, Umberto Boccioni's Unique Forms of Continuity in Space stands not only a ... More
Quote
The corruptest art is the sentimental - that makes pale woman faint. Camille Pissarro
---
Nanna Debois Buhl interview: Time Travelling with Photography
---
Flashback
On a day like today, Andy Warhol "superstar" Baby Jane Holzer, was born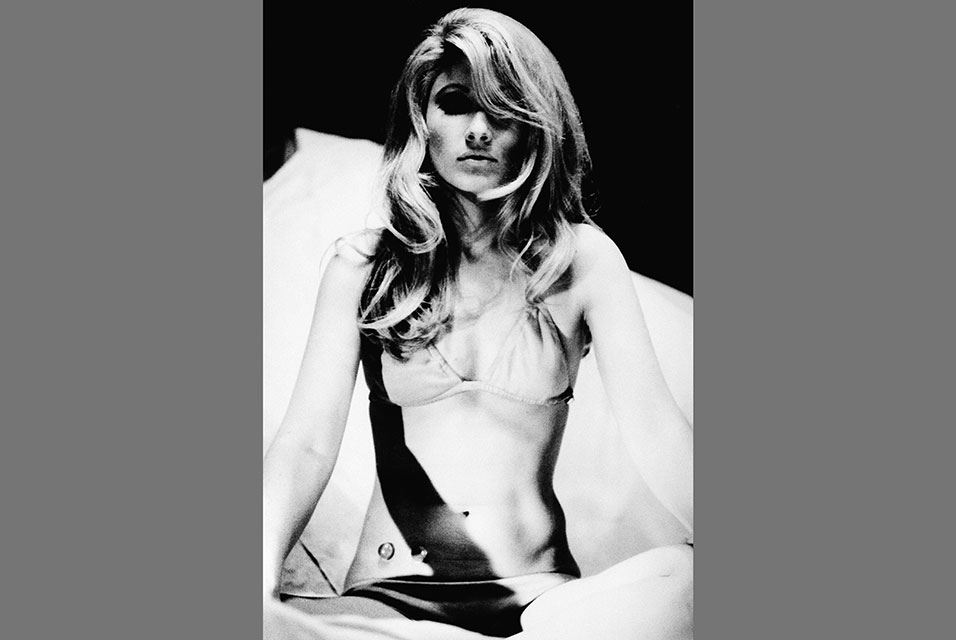 October 23, 1940. Jane Holzer (née Bruckenfeld; born 23 October 1940) is American art collector and film producer who was previously an actress, model, and Warhol superstar. She was often known by the nickname Baby Jane Holzer. Movies she appeared in included Soap Opera, Warhol's Couch (1964), and Ciao! Manhattan (1972). She co-produced the 1985 film Kiss of the Spider Woman. Holzer is the subject of "Girl of the Year" in Tom Wolfe's The Kandy-Kolored Tangerine-Flake Streamline Baby (1965) and is referenced twice in the 1972 Roxy Music song Virginia Plain from the album Roxy Music.
---

Museums, Exhibits, Artists, Milestones, Digital Art, Architecture, Photography,
Photographers, Special Photos, Special Reports, Featured Stories, Auctions, Art Fairs,
Anecdotes, Art Quiz, Education, Mythology, 3D Images, Last Week,
.
Royalville Communications, Inc
produces: