McNay Art Museum marks centennial of the Mexican Revolution
Melanie Cervantes, La Lucha Sigue Sigue, 2010 (detail). Screenprint. Collection of the McNay Art Museum, Gift of Harriett and Ricardo Romo.
SAN ANTONIO, TX
.-
Opening today at
McNay Art Museum
, La Revolución Mexicana: 100 Years Later marks the centennial of the end of the Mexican Revolution (1910-1920) with a spotlight on Michoacan printmaker Artemio Rodriguez. His portfolio of 18 linoleum block prints created in 2010 to mark the 100-year anniversary of the beginning of the Mexican Revolution is on view together for the first time at the McNay. The brilliantly contrasting black and white linocuts include portraits of prominent figures on both sides of the struggle. The artist's portrait of dictator Porfirio Díaz and the Eurocentric nature of his rule strikingly contrasts the portrait of the great revolutionary leader, Emiliano Zapata, on horseback in rural Mexico with small farms and mountains in the background. "Many Mexican families fleeing the violence of the Revolution came to San Antonio and surrounding areas in search of safety," said Lyle Williams, McNay ...
More
The Best Photos of the Day
Galerie Thaddaeus Ropac exhibits thirty paintings and twenty drawings by Georg Baselitz
Hindman to offer the 85-lot rare book collection of a single Midwestern collector
Roman-era 'lovers of Modena', buried hand-in-hand, were men


Das dritte rosa, 2019 (detail). Oil on canvas, 304 x 350 cm (119,69 x 137,8 in). Photo: Jochen Littkemann. Courtesy Galerie Thaddaeus Ropac, London • Paris • Salzburg.



PARIS.- Underscoring Georg Baselitz's unparalleled pictorial style, the artist's new series of large-scale paintings and drawings in the forthcoming exhibition Time represent an homage to Elke, his wife of nearly sixty years. An enduring source of inspiration for the artist throughout his career, she has accompanied the evolution of his artistic practice. The thirty paintings and twenty drawings in the exhibition mark a new step in his artistic meditation on the passage of time, first addressed by the artist in 2015 with his series of Avignon self-portraits presented at the Venice Biennale. The combination of grace and severity in the new paintings dedicated to Elke represent a renewed declaration of love, as well as an intimate reflection on the inevitability of ageing and the function of portraiture. By taking his beloved as his subject matter in a series of portraits where the beautiful and the grotesque are intricately modulated, the ... More



James Joyce. Ulysses. Paris: Shakespeare and Company, 1922. First Edition. Original publisher's "Greek flag" blue wrappers in a cloth slipcase. Limited issue, copy 74 of 100 copies on Dutch handmade paper, signed by the author on the limitation page. Est. $120,000–180,000.



CHICAGO, IL.- On November 5, 2019 Hindman will sell the 85-lot rare book collection of a single Midwestern collector that includes extremely fine first editions of Charles Darwin, Euclid, Galileo Galilei, James Joyce, Issac Newton, J. K. Rowling, Sir Ernest Henry Shackleton and many others. The whole collection is estimated to sell for $1m to $1.5m. Head of Hindman Book Department, Gretchen Hause, comments: "This highly curated, 85-lot sale offers the rare opportunity to own a number of the most influential books in the development of western thought and civilization. It is a unique opportunity for all bibliophiles or anyone who values rare objects of great cultural significance." The collection consists of landmark titles, many with notable provenance, in the fields of science, technology, math and statistics, ... More



Exactly why the two men were carefully laid to rest with their hands interlocked remains a mystery. Image courtesy Scientific Reports.



PARIS (AFP).- A pair of fifth-century skeletons buried hand-in-hand and known since their discovery in 2009 as the "lovers of Modena" are both men, researchers reported this week. Unable to verify their sex, scientists had simply assumed the degraded skeletons belong to a man and a woman, possibly lovers who resided in the north Italian town famous for its vinegar. But a new technique for analysing protein in tooth enamel has left no doubt that this was a same-sex burial. Exactly why the two men were carefully laid to rest with their hands interlocked remains a mystery. Several of 11 other skeletons unearthed at the same burial site showed signs of violent injury consistent with warfare, according to the study, published in Scientific Reports. "The two 'lovers' could have been war comrades or friends who died together during a skirmish and were thus buried in the same grave," University of Bologna professor Frederico Lugli and colleagues speculated. ... More
Banksy's Parliament of Chimpanzees to come to auction ahead of Brexit deadline
Exhibition at Pace delineates the history of Alexander Calder's mobiles as it has never been shown before
Exhibition of new paintings and works on paper by Nathaniel Mary Quinn opens at Gagosian Beverly Hills


Banksy, Devolved Parliament, 2009 (detail). Oil on canvas, 267 x 446 cm. Estimate: £1.5-2 million. Courtesy Sotheby's.



LONDON.- Banksy's derisive portrayal of The House of Commons reduced to an assembly of parliamentary primates, will go on public display in London for the first time at Sotheby's just a mile away from The Palace of Westminster. The exhibition will run from September 28 – October 3, ahead of the next scheduled 'Brexit Day'. Spanning an impressive thirteen feet, this is the largest known canvas by the anonymous street artist whose subversive practice has granted him a reputation of infamy as much as world renown. The exhibition of Devolved Parliament (2009) will be followed by an auction on the evening of October 3, in which the painting is estimated to sell for between £1.5-2 million ($1.8-2.46 million). The sale comes exactly a year after Banksy himself intervened in a Sotheby's auction, when 'the nation's favourite artwork' Girl with Balloon auto-destructed as the gavel came down on 5 October 201 ... More



Alexander Calder, Small Sphere and Heavy Sphere, 1932 / 1933. Cast iron, rod, wire, wood, cord, thread, paint, and impedimenta 125" high; dimensions variable (317.5 cm). Photo Courtesy of: Calder Foundation, New York / Art Resource, New York © 2019 Calder Foundation, New York /Artists Rights Society (ARS), New York.



NEW YORK, NY.- Pace Gallery is inaugurated its new global headquarters in Chelsea, New York, with a major exhibition tracing the breadth of Alexander Calder's innovative practice, leading up to his conception of the mobile in 1931—an unprecedented form of kinetic sculpture that radically altered the trajectory of modern art. Working in close collaboration with the Calder Foundation, New York, Pace presents approximately seventy works, spanning the 1920s to the 1960s, that delineate the history of the mobile as it has never been shown before. Organized chronologically, the exhibition examines defining moments in Calder's oeuvre, from his gestural ... More



Nathaniel Mary Quinn, How Come Not Me, 2019. Black charcoal, gouache, soft pastel, oil pastel on Coventry Vellum Paper, 16 x 13 inches / 40.6 x 33 cm © Nathaniel Mary Quinn. Photo: Rob McKeever. Courtesy Gagosian.



LOS ANGELES, CA.- Gagosian is presenting Hollow and Cut, new paintings and works on paper by Nathaniel Mary Quinn. This is his first exhibition with the gallery. Quinn's composite portraits probe the relationship between perception and memory. He rejects the notion of documentary portraiture; instead of depicting physical likeness, he illuminates subconscious aspects of the human psyche, coaxing forth manifestations of innate and repressed emotions. While Quinn's portraits might resemble collages, they are actually rendered by hand with oil paint, charcoal, gouache, oil stick, pastels, and gold leaf. He begins with a vision—a vague flash of a face from his past—that he feels viscerally compelled to translate into reality. To do so, he collects images from fashion ... More
Sotheby's Hong Kong Modern Art autumn sales present Zao Wou-Ki and Sanyu masterpieces
Michael Ray Charles unveils research collection in momentous debut at the UMLAUF Sculpture Garden + Museum
Arter opens new building


Zao Wou-Ki, 21.04.59 1959 (detail), oil on canvas, 130 by 162 cm Est. HKD 75,000,000 – 100,000,000 / USD 9,570,000 – 12,750,000. Courtesy Sotheby's.



HONG KONG.- Two significant masterpieces will lead Sotheby's Modern Art Evening Sale in Hong Kong on 5 October 2019: Zao Wou-Ki's powerful 21.04.59, also making its auction debut, having been exhibited extensively since the 1970s – and Sanyu's elegant Nu Rose sur Tissus Chinois – appearing at auction for the first time since it was created in the 1930s. A total of 33 lots will be offered in the evening sale, estimated to bring in the region of more than HKD 403 million (USD 51 million). The Modern Art Day Sale on 6 October brings together a remarkable group of artworks from across Asia and Europe, including Lin Fengmian's Nude from the 1970s, Foujita's Portrait de Jeune Femme aux roses, and a selection of exceptional works by post-war pioneers. Vinci Chang, Sotheby's Head of Modern Asian Art, comments: "Following the successful 'Modern Rangers' series this spring, we are delighted to build ... More



Michael Ray Charles created a 20' tall site specific wall painting at the UMLAUF.



AUSTIN, TX.- The UMLAUF Sculpture Garden + Museum opened a new exhibition by internationally-renowned artist Michael Ray Charles. A prominent contemporary American artist, his show marks one of the most significant presentations at the UMLAUF. Charles is known for art that investigates the legacy of historic racial stereotypes of African Americans. Since the 1990s, he has created complex, layered paintings that challenge stereotypes, power dynamics, and social and cultural hierarchies. A top tier artist who addresses consequential cultural issues, Charles spent twenty years at the University of Texas at Austin as a Professor of Art. The Museum's namesake, Charles Umlauf, taught at the university for 40 years, but retired a decade before Charles was hired. Though the two never met, as a true representation of what the museum stands for, it has long been the UMLAUF's desire to show Charles' work. "Not only does Michael ... More



Designed by Grimshaw Architects, London, Arter's new building is conceived as a versatile space, presenting multi-layered possibilities to discover, enjoy and engage in a closer dialogue with art. Photo: Cemal Emden.



ISTANBUL.- A subsidiary of the Vehbi Koç Foundation (VKV), Arter opened the doors of its new building in Dolapdere on Friday, September 13th with a multidisciplinary programme comprised of exhibitions, events, learning and film programme, and publications. At its new home, Arter will strive to be a sustainable, vibrant cultural hub, making its broad range of programmes accessible to everyone. Designed by Grimshaw Architects, London, Arter's new building is conceived as a versatile space, presenting multi-layered possibilities to discover, enjoy and engage in a closer dialogue with art. The building consists of physically intersected spaces in a strong visual dialogue with the city. Sprawled across an indoor area of 18,000 m2, Arter's main function areas are connected by a central atrium that serves as the heart ... More
Christie's Paris will present its 20th century auctions on 17 and 18 October
Artist hopes gold toilet taken by 'Robin Hood' types
Bentley first owned by Princess Anne for sale with H&H Classics


René Magritte (1898-1967), Paysage avec un homme à cheval. Estimate: €1,000,000-1,500,000. © Christie's Images Ltd 2019.



PARIS.- On the 17 and 18 October, Christie's will present its 20th century auctions including the 4th edition of the Avant-Garde sale which will present a selection of exceptional works realised by some of the most important icons of the last hundred years' Art History. The 46 lots offered during this sale have a global estimate between 40 and 50 million euros. Paul Nyzam and Antoine Lebouteiller, Head of the Avant-Garde sale: "We are pleased to team up for this 4th edition of the Avant-Garde sale. Included in the art market's most dynamic week in France, this sale will offer some exceptional works, carefully selected and often never presented at auction, ranging from 1914 to 2007. Among the artists who had a special relationship to the French capital, we can mention Pablo Picasso, René Magritte, Max Ernst, Fernand Léger along with Nicolas de Staël, Pierre Soulages, Wols, ... More



Thieves have stolen an 18-karat gold toilet from an exhibition of artworks at Britain's Blenheim Palace, police said Saturday -- causing significant flooding. William EDWARDS / AFP.



LONDON (AFP).- The artist whose solid gold toilet was stolen from Britain's Blenheim Palace said he hoped it had been taken in a "Robin Hood-inspired action", as police scrambled Sunday to locate it. Italian artist Maurizio Cattelan told the New York Times that when he first heard news of Saturday's pre-dawn theft of his fully-functioning work "America", he thought it was a prank. "Who's so stupid to steal a toilet? I had forgotten for a second that it was made out of gold," he said, adding: "I wish it was a prank." Cattelan has described the 18-carat gold work, famously once offered on loan to US President Donald Trump, as "one-percent art for the 99 percent". "I hope it still is. I want to be positive and think the robbery is a kind of Robin Hood-inspired action," he said, referring to the character of English folklore who stole from the rich to give ... More



This Bentley chassis CH09487 is estimated to sell for £20,000 to £24,000.



LONDON.- Supplied new by Bentley Motors of Crewe to Her Royal Highness, Anne The Princess Royal, chassis CH09487 boasts a number of special features. It will be sold by H&H Classics at their next live Auction Online on October 2nd, estimated to sell for £20,000 to £24,000. Intended for use when travelling with the Special Escort Group only, the blue flashing lights concealed behind its grille remain in working order (albeit activating them on public roads would be highly illegal) as does the convoy ID light affixed to the rear-view mirror. Mindful that the Arnage R could reasonably be expected to accommodate more than one member of the Royal Family on occasion, extra supple Sandstone leather upholstery was used to trim its front and rear seats. Doubtless as a nod to its illustrious first owner, the winged 'B' badges that adorn the luxury saloon's radiator shell and boot lid carry bespoke pink enamel centres. ... More
Quote
A deeper beauty lies cocealed within the flower. Piet Mondrian
---
An Extraordinary Qing Dynasty Enamelled Glass Vase
---
Flashback
On a day like today, Alsatian sculptor and painter Jean Arp was born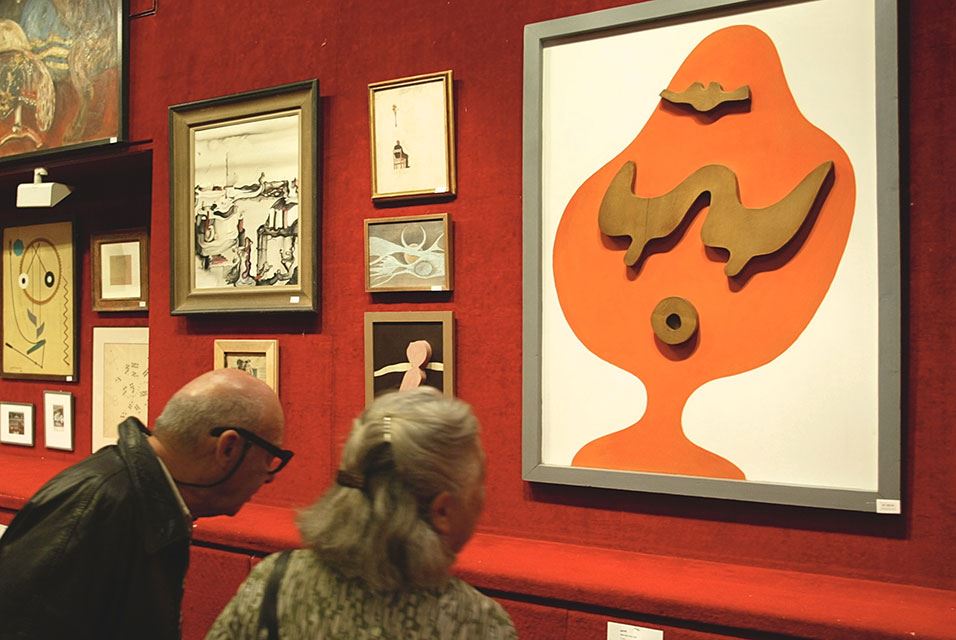 September 16, 2019. Jean Arp / Hans Arp (16 September 1886 - 7 June 1966) was a German-French, or Alsatian, sculptor, painter, poet and abstract artist in other media such as torn and pasted paper. In this image: Visitors look at Jean Arp's painting "Femme" (woman), right, exhibited at Drouot Gallery in Paris, France Tuesday, April 1, 2003. The painting is one among hundreds of art pieces from French surrealist writer Andre Breton's art collection which is being auctioned.
---

Museums, Exhibits, Artists, Milestones, Digital Art, Architecture, Photography,
Photographers, Special Photos, Special Reports, Featured Stories, Auctions, Art Fairs,
Anecdotes, Art Quiz, Education, Mythology, 3D Images, Last Week,
.
Royalville Communications, Inc
produces: