Diego Velasquez's long-lost portrait of 'Papessa' - the 'lady Pope' comes to auction
Diego Rodriguez de Silva y Velazquez, Portrait of Olimpia Maidalchini Pamphilj. Est: £2-3 million. Courtesy Sotheby's.
LONDON
.-
She was the most powerful woman in 17th-century Rome. Ambitious, domineering and deeply corrupt, Olimpia Maidalchini Pamphilj – sister-in-law, reputed lover and puppet master of Pope Innocent X – controlled all aspects of Vatican life. Arguably one of the earliest feminists, Olimpia was adored by women from across the Catholic world who would crowd around her Palace and cheer her arrival, but despised by the men of the papal court who condemned the enormous influence and control she exerted over the pontiff. Ruling in all but name as the de facto Pope, this formidable woman, centuries ahead of her time, took control of one of the most powerful and male dominated institutions in European history. On 3 July,
Sotheby's
will bring to auction a newly-discovered painting of Olimpia Pamphilj by Spanish master, Diego Velázquez. Lost for almost three centuries, this captivating portrait once formed part of the illustrious coll ...
More
The Best Photos of the Day
Twenty-seven major artists showcased in Be Seen: Portrait Photography Since Stonewall
King opens Museum De Lakenhal in Leiden
Dallas Museum of Art presents rare chance to see a masterpiece by Caravaggio


Catherine Opie, Pigpen, 1993. C-print. © Catherine Opie. Courtesy Regen Projects, Los Angeles and Lehmann Maupin, New York, Hong Kong, and Seoul. Wadsworth Atheneum Museum of Art: Alexander A. Goldfarb Contemporary Art Acquisition Fund, 2019.4.1.



HARTFORD, CONN.- A new exhibition at the Wadsworth Atheneum Museum of Art features 27 major artists who have used portraiture to challenge, subvert, and play with societal norms of gender and sexuality since the 1969 Stonewall Riots—an important turning point in the LGBTQ+ rights movement. Leveraging the 'reality effect' —the prevalent belief that photographs accurately depict reality—artists including Nan Goldin, Peter Hujar, Robert Mapplethorpe, Catherine Opie, Cindy Sherman, and Andy Warhol respond to how gender identity and sexual orientation were viewed historically and how they are lived today. The over 50 works of art in Be Seen: Portrait Photography Since Stonewall compel us to consider how we perform our identity through our clothing, accessories, speech, and bodily expression, in an effort ... More



King opens Museum De Lakenhal in Leiden. Photo: Jorrit Lousberg.



LEIDEN.- His Majesty the King opened the renovated Museum De Lakenhal last week. The museum opened its doors to the public, 20 June. after being closed for more than 2 years. During the closure, the museum has been thoroughly restored and expanded. The museum had invited primary school pupils in Leiden to take part in a competition to design a key with which the King would perform the opening. 17 schools took part in the competition. The winning design and its designers played a prominent role in the opening ceremony. The key with the winning design was combined with a second key to unfold the city's symbol and symbolically open the museum. The three winners from group 7 of the Arcade Primary School performed this ceremonial opening together with the King. During the guided tour that followed, the King viewed the premier exhibit, 'The Last Judgement' by Lucas van Leyden, the collection on 'The Siege and Relief ... More



Michelangelo Merisi da Caravggio, Martha and Mary Magdalene, c. 1598 (detail), oil and tempera on canvas, Detroit Institute of Arts, Gift of the Kresge Foundation and Mrs. Edsel B. Ford, 73.268.



DALLAS, TX.- This summer, visitors to the Dallas Museum of Art have the rare opportunity to see an extraordinary work by the Old Master painter Caravaggio. One of the most influential figures in the history of European art, he is renowned as one of the greatest Baroque painters of the 17th century along with Rubens, Velázquez, Rembrandt, and Poussin. Fewer than 10 paintings by Caravaggio are housed in the US, on view in the collections of only six museums. Martha and Mary Magdalene (c. 1598), on loan to the DMA from the Detroit Institute of Arts, is a masterpiece from Caravaggio's early career in Rome. The painting depicts Mary Magdalene, considered by the Catholic Church at the time to be a prostitute, experiencing a spiritual awakening as her sister Martha counts on her fingers the reasons she should convert. Caravaggio conveys the moment of Mary's ... More
Exhibition from the permanent collection of the Tampa Museum of Art showcases 20th-century photography
Uruguay court orders sale of WWII Nazi eagle from sunken warship
Neil Armstrong 'giant leap' signed photograph sold for $52,247 at auction


James Casebere (American, b. 1953), Waterfall, 1983. Gelatin silver print. 24 x 30 inches. Edition of 5. Tampa Museum of Art, Bequest of Edward W. Lowman by Exchange, 1989.043. © James Casebere.



TAMPA, FLA.- The Tampa Museum of Art announced the opening of Tableau and Transformation: Photography from the Permanent Collection on view June 20 through October 6, 2019. Tableau and Transformation presents an overview of the Tampa Museum of Art's holdings in 20th-century photography, a cornerstone of the Museum's permanent collection. The exhibition looks at how artists have used distinct darkroom effects and studio practices to create new narratives in photography. Artists such as James Casebere, Robert Cumming, Stephen Frailey, Sandy Skoglund, and William Wegman create constructed environments, often blurring the boundaries of truth and fiction in their images. Photographers Blythe Bohnen, Duane Michals, Arnulf Rainer, Lucas Samaras, Cindy Sherman examine the transformation of one's self as a means to explore identity, gender, ... More



In this file photo taken on February 10, 2006, the 250kg bronze eagle, figurehead of the Nazi battleship "Graf Spee", is unloaded in a hotel in Montevideo for its exhibition. MIGUEL ROJO / AFP.



MONTEVIDEO (AFP).- A court in Uruguay has ruled that a bronze Nazi eagle from a German battleship that fought in one of the first naval skirmishes of World War II must be sold. Half the proceeds will go to the government and half to the salvage team that found the insignia in the River Plate off Montevideo in 2006 after a decade of searching, the ruling said. This 50-50 split is stipulated in an agreement the salvagers signed with the Uruguayan navy in 2004. The treasure hunters had filed suit arguing the government reneged on that deal. Since it was found, the sculpture -- seen as likely to fetch a handsome sum at auction -- from the ship called the Admiral Graf Spee has been kept in a navy warehouse. It features an eagle with its wings spread wide open and clutching a swastika in its talons. The sculpture adorned the stern of the Graf Spee, the pride of the German navy. ... More



The glossy 10 x 8 photo of Neil Armstrong just before setting foot on the lunar surface, signed in black felt tip, "Neil Armstrong, Apollo 11."



BOSTON, MASS.- An extremely rare signed photograph of Neil Armstrong taking his 'giant leap for mankind ' sold for $52,247 according to Boston-based RR Auction. Fifty years ago, on July 20, 1969, the Apollo 11 Lunar Module 'Eagle' touched down on the surface of the moon. Astronaut Neil Armstrong descended the spacecraft's ladder and spoke his immortal words: 'That's one small step for a man, one giant leap for mankind.' Buzz Aldrin soon followed behind him, and the two became the first earthly beings to set foot upon another celestial body. The glossy 10 x 8 photo of Neil Armstrong just before setting foot on the lunar surface, signed in black felt tip, "Neil Armstrong, Apollo 11." Captured from NASA's original video transmission of the historic event, this is one of the most recognizable images of the lunar landing: Armstrong taking his first step onto the landing pad, seconds before delivering what is arguably the ... More
RM Sotheby's & Formula 1 present Michael Schumacher's championship-winning Ferrari F2002 in Abu Dhabi
Kehinde Wiley to debut first major public sculpture in Times Square, acquired by VMFA
Experts raise alarm over climate change threat to cultural heritage


Michael Schumacher drives F2002 chassis 219 to victory at the 2002 French GP, securing his fifth F1 World Drivers Championship. © Sutton Motorsport Images.



LONDON.- RM Sotheby's has announced early featured entries for the company's sale at the Formula 1 Etihad Airways Abu Dhabi Grand Prix, held in partnership with Formula 1® on 30 November. Aligning perfectly with the auction's setting, RM Sotheby's has secured Michael Schumacher's Championship-winning 2002 Ferrari F2002 to headline the sale, alongside a beautifully restored, low-mileage 1990 Ferrari F40 signed by 4-time Formula 1® World Champion Sebastien Vettel. The 2002 Ferrari F2002, chassis no. 219, was a pivotal piece of machinery in the 2002 Formula 1® season, which quickly became a race for second place as the legendary Michael Schumacher finished 1st or 2nd in every race. Chassis no. 219 saw victory in the hands of Schumacher at three Grands Prix in 2002, including at Imola, Zeltweg, and Magny Cours, the ... More



Portrait of Kehinde Wiley, 2018. Photographer: Brad Ogbonna.



RICHMOND, VA.- Times Square Arts, the Virginia Museum of Fine Arts and Sean Kelly, New York announce today the forthcoming unveiling of artist Kehinde Wiley's first monumental public sculpture Rumors of War in Times Square, New York. This large-scale work will be installed this fall on the Broadway Plaza between 46th and 47th Streets. Following its presentation in Times Square, Rumors of War will be permanently installed on historic Arthur Ashe Boulevard in Richmond at the entrance to the VMFA, a recent acquisition to the museum's world-class collection. Presented by Times Square Arts, an opening ceremony will be held on September 27, featuring remarks from the artist and partners. Additionally, a ribbon-cutting ceremony will take place at the VMFA in December. Kehinde Wiley is a world-renowned visual artist, best known for his vibrant portrayals of contemporary African-American and African-Diasporic individuals ... More



People visit the excavation beneath the Acropolis museum in Athens, on its opening day on June 21, 2019 which coincidences with the ten years anniversary of the museum's operation. Louisa GOULIAMAKI / AFP.



ATHENS (AFP).- Climate change could wreak "irreversible damage" on the world's most precious ancient monuments and other cultural sites, experts warned Saturday as they pushed for UN protection for major global sites. Academics and policy makers gathered in Athens for a meeting on the threats to world heritage called for an array of tools to predict, measure and counter the effects of climate change. They are campaigning to have the issue included on the agenda at the UN Summit for Climate Change in New York in September. Dimitrios Pandermalis, director of the city's Acropolis Museum said that while environmental damage and deterioration has always been a challenge for monuments, these threats are accelerating. "The scale of things is different and the destruction can be ... More
Exhibition explores the dialogue between sculpture and the natural world
MAN Museo d'arte della Provincia di Nuoro opens an exhibition devoted to Guido Guidi
Art Fund announces record membership growth and launches new funding for the conservation of collections


Kate MccGwire, Slick, 2010. Photo © Tessa Angus.



LONDON.- Hignell Gallery is presenting Renaturing Nature, a group show spread across St James's Square and Hignell Gallery. The exhibition brings together a group of internationally acclaimed artists who, through their distinctive practices, explore the natural world within an urban landscape. Renaturing Nature explores the dialogue between sculpture and the natural world and includes sculptures by Portuguese artist Joana Vasconcelos (b. 1971), British artists Kate MccGwire (b.1964), Peter Randall-Page RA (b.1954) and Sophie Ryder (b.1963), and German-Canadian artist Vanessa Paschakarnis (b.1970). In St. James's Square Joana Vasconcelos presents Te Danzante (2018), a large-scale sculpture in wrought-iron, covered with jasmine plants, commonly used to scent green tea. The light-hearted exterior of the sculpture echoes the custom of drinking tea, but also subtly alludes to the artist's identity and history of Portugal, which ... More



Guido Guidi, Sardegna, 1974, silver print. Courtesy the artist.



NUORO.- The Museo d'arte della Provincia di Nuoro summer programme explores the cultural and political context of the contemporary Mediterranean world. The show is the first major exhibition at an Italian museum devoted to Guido Guidi (Cesena, 1941), one of the most important names in Italian post-war photography. An exhibition curated by Irina Zucca Alessandrelli and produced by the MAN in partnership with ISRE, Istituto Superiore Regionale Etnografico della Sardegna, Guido Guidi. In Sardegna: 1974, 2011 features 232 unpublished photographs illustrating Guido Guidi's relationship with Sardinia, some taken during his first visit in 1974 and others in 2011, the year he worked on an important commission on the island for ISRE. The exhibition provides both an anthropological and environmental account of the changes that took place on the island over the course of four decades, exploring the medium ... More



Christine Borland, I Say Nothing, co-commissioned by Glasgow Museums and 14-18 NOW, made possible with Art Fund support, 1918. Photograph © Keith Hunter.



LONDON.- Last week, Art Fund, the national charity for art, shared news that its membership has grown by 8.5% in the last year, to 151,000 members – a doubling in the last decade. The charity also announced brand new funding to support a range of conservation projects treating art and objects in museum and gallery collections. It is made possible thanks to the generosity of Art Fund donors and members. In the last year alone, Art Fund has given £355,000 in grants dedicated to conservation, including major restorations of works by Artemisia Gentileschi, Lubaina Himid and Charles Rennie Mackintosh. This new, dedicated scheme for public museums, galleries and historic houses in the UK is specifically designed to help give newly acquired works any conservation treatment they require, as well as to enable ... More
Quote
It was the Baroque inheritance I took over. Oskar Kokoschka
---
How David Korins is Bringing the DNA of Chatsworth House to Sotheby's
---
Flashback
On a day like today, American painter Stuart Davis died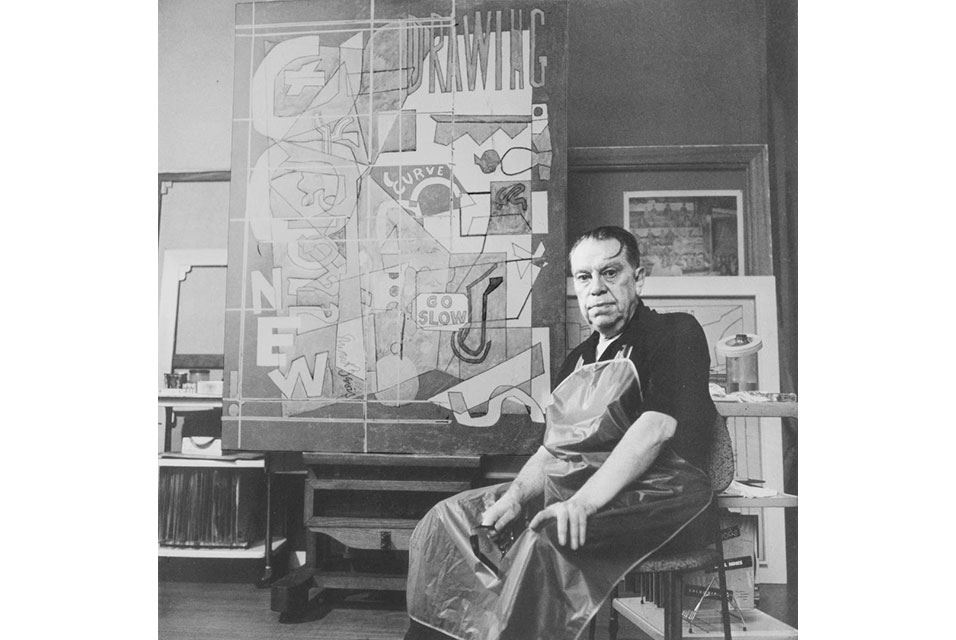 June 24, 1964. Stuart Davis (December 7, 1892 - June 24, 1964), was an early American modernist painter. He was well known for his jazz-influenced, proto-pop art paintings of the 1940s and 1950s, bold, brash, and colorful, as well as his Ashcan School pictures in the early years of the 20th century. © Estate of Stuart Davis/Licensed by VAGA, New York, NY.
---

Museums, Exhibits, Artists, Milestones, Digital Art, Architecture, Photography,
Photographers, Special Photos, Special Reports, Featured Stories, Auctions, Art Fairs,
Anecdotes, Art Quiz, Education, Mythology, 3D Images, Last Week,
.
Royalville Communications, Inc
produces: