McNay Art Museum highlights the Native American experience in new exhibition
We're still Here: Native American Artists, Then and Now is on view through August 11, 2019.
SAN ANTONIO, TX
.-
One of the rarely seen highlights of
the McNay
's collection is a group of more than 70 drawings by members of the Kiowa tribe in Oklahoma. A selection of these soulful works on paper are now on view in the Charles Butt Paperworks Gallery as part of the new exhibition, We're Still Here: Native Americans Artists, Then and Now. The earliest of these drawings—dating to the 1880s—are by Silver Horn, perhaps the most famous of all the Kiowa artists. His art chronicles Kiowa life and culture on the Plains, particularly the population's struggle for existence during famine and war. "It is rare that we have a chance to see one Silver Horn drawing, so this selection of nearly 20 is a great opportunity to see and appreciate these works that not only document Native American life on the plains but are also incredibly beautiful works of art," said Lyle Williams, McNay Curator of Prints and Drawings. ...
More
The Best Photos of the Day
Code-breaker Turing to appear on new UK bank note
As Bauhaus marks 100 years, Tel Aviv's White City stands tall
Renowned art dealer Ira Spanierman passes away at age 90


Mark Carney, governor of the Bank of England, speaks in front of the concept design for the new Bank of England fifty pound banknote, featuring mathematician and scientist Alan Turing, during the presentation at the Science and Industry Museum in Manchester. OLI SCARFF / AFP.



LONDON (AFP).- World War II code-breaker Alan Turing has been chosen to feature on Britain's new Ł50 note, the Bank of England announced Monday, decades after his tragic death following a conviction for homosexuality. Turing played a pivotal role in the development of early computers, but his career was cut short by his conviction in 1952 for gross indecency with a 19-year-old man. He did not go to prison but was chemically castrated and died of cyanide poisoning in an apparent suicide in 1954, aged 41. "Alan Turing was an outstanding mathematician whose work has had an enormous impact on how we live today," Bank of England governor Mark Carney said as he unveiled the note worth Ł50 ($63, 56 euros). "As the father of computer science and artificial intelligence, as well as war ... More



A picture taken on May 9, 2019 shows the Reisfeld House, a building built in 1935 by architect Pinchas Bijonsky. THOMAS COEX / AFP.



TEL AVIV (AFP).- While many in the Israeli city of Tel Aviv start the weekend at a sidewalk cafe, there is a small group of visitors walking the streets in search of Bauhaus buildings. Practitioners of the minimalist architectural movement, founded in Germany a century ago, were among European Jews who fled to British-ruled Palestine when the Nazis took power. Today Tel Aviv is a leading repository of the modernist style that celebrates its 100th year in 2019. Bauhaus and its variations are prominent among the 4,000 buildings which make up what is known as Tel Aviv's White City, a UNESCO World Heritage site. The name comes from the white-painted facades, which together with rounded balconies epitomise the Bauhaus style. The Bauhaus design school was founded in Weimar, Germany, by Walter Gropius in April 1919, exactly a decade after Tel Aviv was born as a small seaside village on sand dunes near the ancient Mediterranean port of Jaffa. ... More



Ira Spanierman was one of the most prominent and respected dealers in historical American art.



NEW YORK, NY.- Renowned art dealer, beloved husband, father, and grandfather, Ira Spanierman died on July 9, 2019, after a courageous battle with heart and lung illness. He was 90 years old. Ira is survived by his wife of sixty-two years, the former Helen Fraser, whom he married in 1958, and by their sons, David, born 1960 and Gavin, born 1965; his son, Jonathan, born in 1963 pre-deceased him in 1997. Ira attended the Hun School in Princeton, NJ, and studied for two years at Syracuse University. Ira was the son of Sam and Pauline Spanierman. In 1928 Sam founded the Savoy Auction Galleries, long located on 59th Street at Fifth Avenue. Ira began to work with his father in 1950, often serving as auctioneer] In 1961 he opened his own gallery at 1109 Lexington Avenue, specializing in American painting and sculpture especially of the nineteenth and early twentieth centuries. The Gallery moved to larger quarters at 50 East 78th Street in 1966, and in 1994 ... More
Baltimore Museum of Art reinstalls contemporary collection galleries with new view
Hundreds of iconic guitars owned by Steely Dan's Walter Becker to be offered at Julien's Auctions
New exhibition showcases 150 pieces of Russia's most opulent art from the 18th and 19th centuries


Franklin A. White Jr. Motown 1970-1971 (detail). The Baltimore Museum of Art: Gift of Helen B. Stern, Washington, D.C. BMA 2008.59.



BALTIMORE, MD.- The Baltimore Museum of Art announced a sweeping reinstallation of its contemporary collection galleries that focuses on the creativity of 20th- and 21st-century black artists. Titled Every Day: Selections from the Collection, the reinstallation features works by such visionary artists as David Hammons, Joyce J. Scott, Mickalene Thomas, Kara Walker, and Nari Ward, alongside those by Helen Frankenthaler, Ellsworth Kelly, and Andy Warhol, among others. Centering the works by black artists creates a multidimensional picture of contemporary art that also allows us to reimagine our collective past, revealing the vital role of artists and art in conversations about history and the future. On view July 14, 2019, through January 5, 2020, the Every Day revisioning of the galleries is part of the BMA's broader vision to reshape art ... More



Walter Becker stage played Sadowsky Signature Model #1. Estimate: $10,000-$15,000.



LOS ANGELES, CA.- Julien's Auctions has announced Property from the Estate of Walter Becker, a two-day celebration of the musical artistry of famed Steely Dan co-founder, co-songwriter, bassist, producer and guitarist to take place on Friday, October 18-Saturday, October 19 live at The Standard Oil Building in Beverly Hills and live online at juliensauctions.com. Rocking the auction stage will be an exceptional and massive collection of the jazz rock legend's stage-played and recorded guitars made by D'Angelico, Sadowsky, Gibson, Fender, Martin and others as well as amplifiers, speakers, recording gear and ephemera. Known for his sublime and immediate identifiable guitar tone, his intimate knowledge of the tools of studio and stage, and his unique, impeccable ear, Becker is heralded as one of the most potent forces in popular music of the last 50 years. "Julien's Auctions is thrilled to offer this exceptional ... More



Attributed to Franz Krüger (Germany 1797 – 1857), Nicholas I, Emperor of Russia (1796 – 1855), c.1832, Russia, oil on canvas.



ADELAIDE.- A new exhibition, Triumph & Tragedy: Catherine, the Romanovs & Fabergé, showcases 150 pieces of some of Russia's most opulent pieces of decorative art from the 18th and 19th Centuries, many of which have never been seen before. David Roche first visited Russia in the early 1990s and was enchanted by the country, its people and its art. He spent the last two decades of his life – with the assistance of Martyn Cook – assembling a collection of nearly 100 pieces of the best Russian art. This collection remains the most significant collection of its type in Australia said Robert Reason, Museum Director of The David Roche Foundation House Museum. For the first time, David's items are on display together alongside some of the finest Russian pieces from other Australian collections, private and public. The exhibition covers the period from Catherine ... More
CNA Centre national de l'audiovisuel rediscovers the work of the photographer Mary Frey
The de Young opens the first museum retrospective for renowned tattoo icon Ed Hardy
Hyman Bloom exhibition at MFA Boston explores artist's search for inner truth through gripping images of life and death


The exhibition carries us away to a small town in the west of Massachusetts, to the America of the 1970s and 80s. © Mary Frey.



DUDELANGE .- An important oeuvre in the history of US American photography is currently being rediscovered. After being shown for the first time in Europe at the Forum für Fotografie in Cologne, the work of the photographer Mary Frey is now displayed at the Centre national de l'audiovisuel in Dudelange. It carries us away to a small town in the west of Massachusetts, to the America of the 1970s and 80s. Even at first glance we can see how the pictures reflect Frey's artistic debate with the trailblazers of American photography. In 1991, Peter Galassi curated an exhibition entitled "Pleasures and terrors of domestic comfort" at MoMA in New York. Today, the catalogue for the MoMA exhibition reads like a compendium of the New American Photography. All the photographers who took part are leading names of very high artistic standing. Philip-Lorca diCorcia, William Eggleston, Gregory Crewdson, Cindy Sherman, Nan Goldin, Tina Barney, Joel Sternfel ... More



Installation photography of "Ed Hardy: Deeper than Skin". Image Courtesy of the Fine Arts Museums of San Francisco.



SAN FRANCISCO, CA.- Ed Hardy: Deeper than Skin is the first museum retrospective of Ed Hardy, the renowned tattoo artist known for fueling the late 20th-century boom in the practice of tattoo. Featuring more than 300 objects ranging from paintings and sketches (including drawings Hardy created as a 10-year-old) to prints and three-dimensional works, the exhibition tracks the evolution of tattooing from its "outsider" status through Hardy's work and influence. Growing up in Southern California, Hardy was fascinated by the tattoos that he observed on the fathers of his neighborhood friends (mostly servicemen who had served in World War II). During this time Hardy haunted the tattoo parlors on Long Beach Pike, where he learned to draw tattoo designs for his "kiddie tattoo shop." As a printmaking student at the San Francisco Art Institute in the mid-1960s, Hardy began to study the intricacies of prints by artists such as Dürer, Rembrandt, and Goya ... More



Hyman Bloom (American (born in Lithuania, now Latvia), 1913–2009), Female Corpse, Back View (detail), 1947. Oil on canvas. Gift of William H. and Saundra B. Lane and Museum purchase. Photograph © Museum of Fine Arts, Boston.



BOSTON, MASS.- Widely admired in his day but too often overlooked since, Boston-based artist Hyman Bloom (1913–2009) combined the physical and spiritual on canvas. Committed to figurative painting at a moment when abstraction was on the rise, he layered thick paint in jewel-like tones to make bold compositions that directly confront the cyclical nature of life. Bloom's gripping depictions of the human form, especially those of autopsies and cadavers, are among the bravest statements of his career, at once beautiful and harrowing, captivating and repellent. Hyman Bloom: Matters of Life and Death, the first solo presentation of the artist's work at the Museum of Fine Arts, Boston (MFA), considers his unsparing explorations of the body within the context of his career, his philosophical beliefs and his search for deeper meaning. The exhibition features approximately ... More
Peabody Essex Museum details opening of its new $125M wing
Celebrated Los Angeles artist Helen Pashgian debuts new works at Vito Schnabel Gallery St. Mortiz
Kohler Arts Center taps Shannon Stratton as interim curator


Stern detail of Bassett-Lowke LTD, Model of RMS Queen Elizabeth, 1947– 1948. White mahogany, gunmetal, brass. Peabody Essex Museum, Gift of Cunard Line Ltd.. © Peabody Essex Museum. Photography by Bob Packert.



SALEM, MASS.- The Peabody Essex Museum—one of the oldest and fastest growing museums in the country—announces several opportunities to experience its new 40,000-square-foot wing designed by Ennead Architects. The $125M expansion, a component of the museum's $650M Connect Campaign, features 15,000-square-feet of new gallery space, a light-filled atrium, an entry for school and group tours, linkages to existing galleries and a 5,000-square-foot garden designed by Nelson Byrd Woltz Landscape Architects. The new wing and adjacent renovated galleries will feature fresh installations of the museum's superlative collections and exciting new commissioned work by contemporary artists. When the new wing opens, Salem, Massachusetts ... More



Helen Pashgian, Untitled, 2018. Cast epoxy with formed acrylic elements, 6 inches (15.2 cm) in diameter. © Helen Pashgian; Photo by Joshua White. Courtesy the artist and Vito Schnabel Gallery.



ST. MORTIZ.- Beginning July 16, 2019, Vito Schnabel Gallery will present Helen Pashgian: New Lenses and Spheres, the gallery's first exhibition devoted to the West Coast artist, a pioneer and preeminent figure of the vaunted Light and Space movement that emerged in and around Los Angeles in the late 1960s. This is Pashgian's first solo exhibition in Switzerland. The exhibition presents eight new sculptures, extending Pashgian's exploration of her earliest forms—her signature discs and spheres—and revealing the artist at the height of her technical prowess as a true innovator in the development of the industrial plastic arts. Manifesting a tension between the material and immaterial, illusion and perception, Pashgian creates objects that dissolve their own physicality as they materialize the subtly shifting, luminous, and translucent ... More



A nationwide search for a new senior curator is underway.



SHEBOYGAN, WI.- The John Michael Kohler Arts Center announced today that Shannon R. Stratton has been contracted as interim lead curator following the departure of Senior Curator Karen Patterson in June. A nationwide search for a new senior curator is underway. Stratton will be supported in her Arts Center role by a curatorial fellow. Applications for the fellowship are being accepted at hr@jmkac.org. "Shannon brings the right mix of skills and experience to ensure a successful transition to our bringing a new senior curator on board. She is a seasoned professional, and in her past work with the Arts Center she has revealed the collaborative and innovative sensibility that is so much a part of what we do," said Sam Gappmayer, Arts Center director. As interim lead curator, Stratton will curate the Arts Center's main gallery exhibition running April–October, 2020, title to be announced. She will also act as consultant for all ... More
Quote
Abstract painting is abstract. It confronts you. Jackson Pollock
---
The Apollo 11 Moonwalk Tapes and the Broadcast that Changed the World
---
Flashback
On a day like today, English painter Joshua Reynolds was born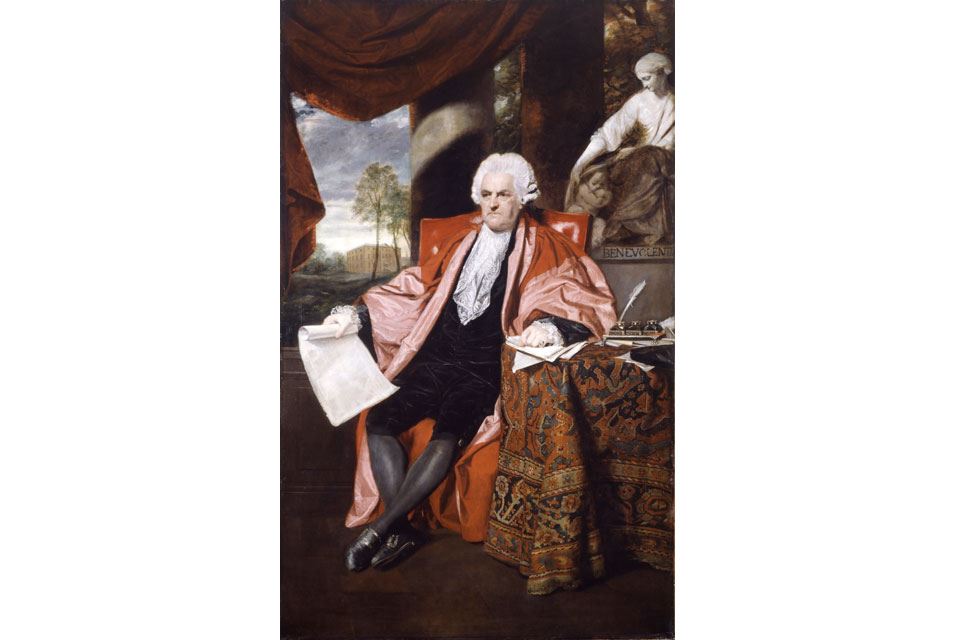 July 16, 1723. Sir Joshua Reynolds RA FRS FRSA (16 July 1723 - 23 February 1792) was an English painter, specialising in portraits. John Russell said he was one of the major European painters of the 18th Century. He promoted the "Grand Style" in painting which depended on idealization of the imperfect. In this image: Portrait of Dr John Ash' by Sir Joshua Reynolds (1788) Birmingham Museum & Art Gallery.
---

Museums, Exhibits, Artists, Milestones, Digital Art, Architecture, Photography,
Photographers, Special Photos, Special Reports, Featured Stories, Auctions, Art Fairs,
Anecdotes, Art Quiz, Education, Mythology, 3D Images, Last Week,
.
Royalville Communications, Inc
produces: