Largest-ever display of Leonardo da Vinci works in Scotland opens in Edinburgh
A member of Royal Collection Trust staff looks at the largest-ever display of Leonardo da Vinci works in Scotland opening at The Queen's Gallery, Palace of Holyroodhouse. 22.11.2019-15.03.2020. Photo: Royal Collection Trust / © Her Majesty Queen Elizabeth II 2019. Photographer David Cheskin.
EDINBURGH
.-
The largest group of drawings by Leonardo da Vinci ever shown in Scotland forms a new exhibition opening today (22 November) at
The Queen's Gallery, Palace of Holyroodhouse
. Leonardo da Vinci: A Life in Drawing marks the 500th anniversary of the artist's death and includes 80 of the Renaissance master's greatest drawings, selected entirely from the unrivalled holdings of the Royal Collection. In the breadth of his interests, Leonardo da Vinci was the archetypal 'Renaissance man', and his work is characterised by a multitude of artistic and scientific pursuits that cross-fertilised each other over many years. The exhibition explores the full range of the artist's interests, providing a comprehensive survey of Leonardo's life and a unique insight into the workings of his mind. Leonardo was revered in his day as a painter, but he completed only around 20 pai ...
More
The Best Photos of the Day
Piguet Auction House to offer a previously unseen painting by Félix Vallotton
Britain's art world turns its back on oil cash
New digital one-stop resource brings the travelling exhibitions world together


A previously unseen painting by Félix Vallotton appears on the market.



GENEVA.- Piguet Auction House announced its next major auction in December. After the success of a remarkable public exhibition at the Beau-Rivage Hotel in Geneva to preview some of the star lots, everyone is now invited to discover all 3,000 lots featuring in the end-of-year auctions which carry a total estimate of CHF 4 to CHF 5.8 million. The viewing is open 6 to 8 December at the Prévost-Martin showrooms. This winter session will include 1,500 lots available on the Online Only auctions at www.piguet.com running from 29 November to 9/10 December including jewellery, watches, luxury handbags, works of art, furniture and paintings, all with attractive estimates as the holidays approach. The Rare books sale opens the auctions running from 9 to 12 December, with two major collections of 18th century illustrated books and surrealist publications in their original signed artists' bindings. The Ancient Art and ... More



Protesters carrying umbrellas take part in a flashmob performance, protesting against British Petroleum's (BP's) sponsorship of the British Museum in central London on September 13, 2015. AFP PHOTO / NIKLAS HALLE'N.



LONDON (AFP).- Oil companies are becoming increasingly unfashionable partners for British cultural institutions, as they ditch corporate sponsorship under pressure from artists and environmentalists. Members of the "BP or not BP?" protest group on Tuesday disrupted an event for the British Museum's new exhibition on Troy, which is sponsored by the British oil giant. Activists dressed as Greek gods and heroes such as Zeus, Athena and Achilles, were sprayed with a black liquid by "Petroleus" -- a deity created especially for the occasion. "BP's sponsorship of the British Museum is, ironically, just like the famous Trojan Horse highlighted in the exhibition," said activist Sophie McIntosh. "The company sponsors the museum in order to look like a generous gift-giver that cares ... More



New global platform dedicated to travelling exhibitions for museums, galleries, science centres and attractions venues launches.



BROCELIANDE.- The past decade has seen major growth in the travelling exhibitions industry, with a continuously developing and diversifying landscape of cultural experiences and touring practices. Within this dynamic environment, Teo, the new global platform dedicated to travelling exhibitions, has built on combined expertise in exhibitions partnerships and web development to create a new easy-to-use and interactive resource dedicated to the touring world. Teo is designed to help bring together producers, venues, promoters and specialist providers from the travelling exhibitions community with a mission to foster the sharing of knowledge and new international collaborations on exhibitions. The new platform fully launches today with the announcement of its founding members and international partners. Teo is a new open platform that supports stakeholders of the ... More
Centennial exhibition presents 100 important works from the permanent collection
Dirk Soulis to auction Edward P McHugh III historical railroadiana collection
Christie's to offer property from descendants of Their Majesties King George V and Queen Mary


C. Paul Jennewein, Greek Dance, 1984 (cast from the 1926 original). Bronze with gold patina. Height: 18 1/8 inches. Tampa Museum of Art, Gift of Brookgreen Gardens in honor of C. Paul Jennewein.



TAMPA, FLA.- The Tampa Museum of Art presents 100 important works from its permanent collection in celebration of the upcoming 100-year anniversary in 2020. In recognition of this landmark occasion, the Museum has organized The Making of a Museum: 100 Years, 100 Works, which will be on view through March 15, 2020. The 100 objects selected represent works important to founding the Museum and the growth of its permanent collections. With significant holdings of ancient Greek and Roman art, as well as Modern and Contemporary art, the collection is unique. Today, the Museum's collection includes over 7,000 objects with works of art acquired each year. In this exhibition, objects made in an array of media and created over different periods of time are juxtaposed to create new dialogues. Together, the works on view reveal the story of the Tampa Museum of Art. Of the exhibition, Curator of Modern and Contemporary Art Joanna ... More



Original backlit aluminum drumhead passenger car sign created by Henry Dreyfuss (American, 1904-1972) for New York Central's streamlined luxury train the 20th Century Limited, 28 x 20 x 4.5 in. Estimate $10,000-$15,000.



LONE JACK, MO.- Collectors won't need a ticket to "ride the rails" at Soulis Auctions' December 14 sale of the late Edward P McHugh III's railroadiana collection. All are welcome to view, enjoy and bid on the historically significant relics from the golden era of rail travel (1865 to 1960) amassed over a lifetime of involvement in the hobby. The McHugh collection consists of rare and iconic railroadiana, historical locomotive hardware, mid-20th-century transportation artifacts, 60 porcelain signs, and a specialty sub-collection of nautical antiques. To refine the railroad-related items even further, there are locomotive bells and lights, lanterns, china and silver, railroad station clocks, gate and station signs, and much more. If the objects in the McHugh collection could talk, perhaps none would have more interesting tales to tell than the builder's plate from the SS President Warfield. Christened in 1927 by B ... More



A George V jewelled enamelled gold Royal presentation snuff-box, by Sebastian Garrard London, 1911/1912, made to mark the coronation of Queen Mary and George V in 1911 (estimate: £30,000-50,000) © Christie's Images Ltd 2019.



LONDON.- Christie's sale on 13 December, titled Property from Descendants of Their Majesties King George V and Queen Mary, will provide fascinating insights into the private worlds of two of their children: His Royal Highness The Prince Henry, Duke of Gloucester and Her Royal Highness The Princess Mary, Princess Royal and Countess of Harewood and their families. Comprising 317 lots overall, with estimates ranging from £300 to £100,000, the sale includes a wide array of decorative arts from furniture and ceramics to objects of vertu, silver and glass, alongside clocks, books and paintings. From the collection of Their Royal Highnesses The Dukes of Gloucester come 217 lots from their London residences and Country House, Barnwell Manor, Northamptonshire; the group mainly comprises items collected by the late T.R.H. The Prince and Princess Henry, Duke and Duchess of Gloucester. A ... More
Galerie Max Hetzler opens solo exhibition of new paintings by Robert Holyhead
Rare daguerreotype purchased by Hall Family Foundation for Nelson-Atkins
A Wonderful Life: Peter Fetterman Collection of 124 photographs offered at Bonhams New York


Robert Holyhead, Force, 2019 (detail) © the artist, courtesy of Galerie Max Hetzler, Berlin, London, Paris.



LONDON.- Galerie Max Hetzler is presenting No movement, no colour, Robert Holyhead's new body of large-scale paintings, for his first solo exhibition in the gallery's recently opened London space. Best known for his delicate modest paintings, which engage a personal visual language of positive and negative space, Holyhead's new works represent a dramatic increase in scale. Each painting is produced in a single semi-translucent colour showing visible traces of brushstrokes that operate around precisely defined shapes of exposed and immaculate white oil ground. Created in one long, single session, not unlike a durational performance, each painting evolves from a watercolour drawing produced over several weeks or months, which experiments with form and colour prior to starting the work on canvas. No movement, no colour is the artist's third show with Galerie Max Hetzler, following solo exhibitions at their spaces in Paris ... More



A rare antebellum image of slavery in Georgia, believed to be the earliest known image of enslaved African Americans with cotton.



KANSAS CITY, MO.- A quarter plate daguerreotype believed to be the earliest known image of African American slaves with cotton was purchased by the Hall Family Foundation on behalf of The Nelson-Atkins Museum of Art late last week. "This important acquisition makes a major contribution to the larger story of American history and American photography," said Julián Zugazagoitia, Menefee D. and Mary Louise Blackwell CEO & Director of the Nelson-Atkins. "We are incredibly honored that this previously unknown image will join our robust daguerreotype collection, with deep gratitude to the Hall Family Foundation for its generosity and foresight." "Our collection of 19th-century American photographs is a key facet of our overall photography holdings, and we have had a particular interest in American daguerreotypes (the earliest successful photographic ... More



New York City, 1955 by Elliott Erwitt. Estimate: $4,000-6,000. Photo: Bonhams.



NEW YORK, NY.- Bonhams Photographs Department celebrates the holiday season with an exceptional single-owner sale of 124 lots from Peter Fetterman's extraordinary 40-year career. A Wonderful Life: Photographs from the Peter Fetterman Collection will be offered at Bonhams New York on Tuesday, December 17. Fetterman, a highly respected Santa Monica gallery owner, was one of the pioneer residents at Bergamot Station, the Santa Monica center of arts, when it first opened in 1994. A former film producer, Fetterman owns one of the largest collections of classic photographs in the country. Fetterman has now teamed up with Bonhams to curate an eclectic, upbeat and intimate mix of these classic photographs, a selection that reflects his own broad collecting passions – street photography, fashion, landscapes, portraiture and still life – some well-known, others unexpected - all rare finds and by the best loved photographers ... More
Belvedere 21 opens 'Eva Grubinger. Malady of the Infinite'
Exhibition at Nailya Alexander Gallery focuses on photographs as unique art objects
Artcurial opens a new office in Morocco


Eva Grubinger during the making of "Malady of the Infinite". Photo: Peter Rigaud, © Belvedere, Vienna.



VIENNA.- Eva Grubinger's solo show at the Belvedere 21 paints a picture of structural inequality, of infinite desire with no prospect of satisfaction for rich or poor, tycoon or pirate. Power and impotence face off against each other on the high seas. "Eva Grubinger is interested in how the human drives—power, greed, and desire—impact on social developments. Her sculptures and installations are awash with associations and highly political. They awaken the audience's curiosity and challenge viewers to contemplate their subject matter," according to Artistic Director Stella Rollig. Malady of the Infinite focuses on a sculptural object in the center of the exhibition space: the cockpit chassis of a superyacht. Although it dominates the space, it is held at bay by other, much smaller objects: the yacht is surrounded by sea mines that rise from the floor as if floating on the ocean surface. The oceans are associa ... More



Denis Brihat, b. 1928, Paris, Pelure d'oignon, onion skin, 1982. Printed 2006 Gold-toned gelatin silver print, 23 1/2 x 19 5/8 in.



NEW YORK, NY.- TEXTURE focuses on photographs as unique art objects whose visual, material, and emotional qualities are brought to life by the distinctive philosophy and hand of the artist. On view are photographs by Albarrán Cabrera (b. 1969, Barcelona and Seville), Denis Brihat (b. 1928, Paris), Ingar Krauss (b. 1965, East Berlin), Ann Rhoney (b. 1953, Niagara Falls), Marcia Lippman (b. 1944, New York), Christopher Burkett (b. 1951, Pacific Northwest), Pentti Sammallahti (b. 1950, Helsinki), Lynn Stern (b. 1945, New York), and Alexey Titarenko (b. 1962, Leningrad). For some, texture is profoundly physical and tactile; for others, texture is a visual phenomenon, closely tied to the experience of light and color. Yet for all of these artists, texture is a vital dimension in our appreciation of their work. Denis Brihat's gold-toned gelatin-silver print of the thin, wrinkled skin of an onion ... More



Etienne Dinet, Le fils d'un Saint M'rabeth - 1900 (detail). Oil on canvas, 71.50 x 80.30 cm. Estimate: €800,000 - 1,200,000 © Artcurial.



MARRAKESH.- Artcurial will open an office in Marrakesh this month. The auction house has been active in Morocco since 2011, having already organised numerous presentations and sales in the country, jointly with the Paris office. Artcurial will develop its sales of Orientalist Paintings and African Contemporary Art from the new location, two major specialisms for the company, directly related to the African continent. The auction house also intends to organise sales celebrating the great richness of Moroccan decorative arts, in areas as wide-ranging as ceramics, glassware, furniture, textiles, jewellery and antique arms. A Moroccan team of three, led by Soraya Abid will take charge of Artcurial's day-to-day operations and organise its auction schedule, from premises spanning 200m2 in the Hivernage district of Marrakesh. Amongst the major events that Artcurial has ... More
Quote
Landscape painting is the obvious reasource of misanthropy. Hazlitt
---
Landmark Auction of Historic World War II Flags
---
Flashback
On a day like today, Mexican painter and illustrator Miguel Covarrubias was born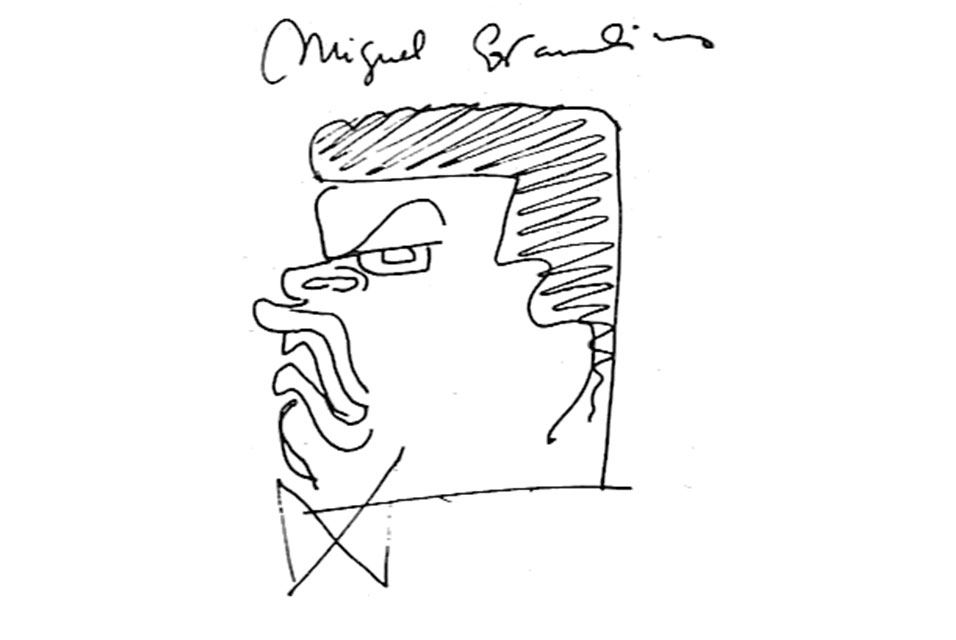 November 22, 1904. Miguel Covarrubias also known as José Miguel Covarrubias Duclaud (22 November 1904 - 4 February 1957) was a Mexican painter, caricaturist, illustrator, ethnologist and art historian. Miguel's artwork and celebrity caricatures have been featured in The New Yorker and Vanity Fair magazines. In this image: Covarrubias's caricature of himself as an Olmec.
---

Museums, Exhibits, Artists, Milestones, Digital Art, Architecture, Photography,
Photographers, Special Photos, Special Reports, Featured Stories, Auctions, Art Fairs,
Anecdotes, Art Quiz, Education, Mythology, 3D Images, Last Week,
.
Royalville Communications, Inc
produces: