The Heard Museum presents David Hockney's first exhibition in Arizona
The exhibition highlights the impact that Yosemite has had over time and space on artistic production, from the Valley's original Indigenous inhabitants to one of today's most influential working artists.
PHOENIX, AZ
.-
In celebration of its 90th anniversary, the
Heard Museum
is hosting an original exhibition: David Hockney's Yosemite and Masters of California Basketry beginning. Yosemite Valley is the shared inspiration and connection point between the work of one of the greatest living artists and the Miwok and Mono Lake Paiute women who created some of the most spectacular examples of California basketry from the early to mid-20th century.
"The Heard Museum is honored to present the work of David Hockney in Phoenix, together with the outstanding work made by Indigenous artists of the Yosemite Valley," said David M. Roche, Heard Museum Dickey Family Director and CEO. "David Hockney's Yosemite and Masters of California Basketry realizes our vision of bringing a piece of Yosemite to Phoenix through the work of exceptional artists- who, despite working a century apart, drew their inspiration from one of the nation's most iconic landmarks." ...
More
The Best Photos of the Day
Millions of ibises were mummified. But where did ancient Egypt get them?
Museum Ludwig opens a major survey exhibition of Wade Guyton's career
Irish Museum of Modern Art opens a major retrospective of the work of Derek Jarman


In an image provided by the British Museum, a depiction of Thoth, center, an ancient Egyptian god of writing, who was depicted with the head of an ibis. Experts have put forth a number of explanations for how the ancient Egyptians possessed millions — yes, millions — of African sacred ibises that they mummified as offerings to the god Thoth. New DNA analysis undercuts the theory that they created large-scale ibis breeding farms. British Museum via The New York Times.



NEW YORK (NYT NEWS SERVICE).- The ancient Egyptians left us with plenty of head scratching. How did they actually build the pyramids? Where is Queen Nefertiti buried? What's inside that mysterious void in the Great Pyramid of Giza? Then there are the deeper cuts. For example: Where did Egypt get the millions — yes, millions — of African sacred ibises that they mummified as offerings to the god Thoth? Experts have put forth a number of explanations, including large-scale ibis breeding farms. DNA analysis from a study published Wednesday in the journal ... More



Untitled Action Sculpture, (Chair), 2001. Verformter Stahlstuhl, 119,4 × 86,4 × 81,3 cm. Sammlung der Aїshti Stiftung, Beirut © Wade Guyton, Photo: Ron Amstutz.



COLOGNE.- Born in 1972, the American artist Wade Guyton has created a consistent and distinct body of work for more than two decades. He is best known for his large-scale canvas paintings made with a conventional inkjet printer, featuring memorable subjects such as flames, the letters X and U, and the New York Times website. After acquiring several of the artist's works for the collection, the Museum Ludwig is hosting a major survey exhibition that presents his oeuvre from the beginning of his career to his most recent works. Wade Guyton plays a key role in the artistic engagement with images in the digital age. He combines traditional visual media—such as primed canvas—with digital printing processes so that deliberate degradations lead to aesthetically astonishing results. By appropriating existing images and ... More



Self-portrait, Oil on canvas, 76.2 x 63.5 cm, 1959, Private collection.



DUBLIN.- IMMA is presenting PROTEST!, a major retrospective of the work of one of the most influential figures in 20th century British culture, Derek Jarman. While addressing Jarman's important contribution to film, this exhibition focuses on his wider practice as a painter, writer, set-designer, gardener and political activist. This is the first time that these diverse strands of his practice have been brought together in over 20 years, since the important exhibition of his work at the Barbican, London, in 1996. PROTEST! captures Jarman's engagement with both art and society, as well as his contemporary concerns with political protest and personal freedoms arising from the AIDS crisis. Major bodies of work, from the 1960s to the 1990s, have been brought together; many of which have never been seen in public before. Derek Jarman studied at the Slade School of Art, London in the early 60s, and was part of a group of young ... More
New statue unsettles Italian city: Is it celebrating a poet or a nationalist?
Xavier Hufkens presents a series of pastels and sculptures by Nicolas Party
Sotheby's $101 Million Contemporary Art Day auction topped by Wayne Thiebaud


Rosa Cacioppo Mantini, 92, arranges an Italian flag on a statue of the writer Gabriele d'Annunzio, whose introduction in Trieste, Italy, has not been universally welcomed. Francesca Volpi/The New York Times.



TRIESTE (NYT NEWS SERVICE).- On a recent afternoon, a little girl gently patted the shoulder of a statue of Italian writer Gabriele d'Annunzio, depicted sitting cross-legged and reading on a bench in a central square. "This is a girl who shows respect," said Rosa Cacioppo Mantini, a 92-year-old retired high school literature teacher and committed Fascist who nearly every day stands guard over the statue and adorns it with an Italian flag. Then the little girl stepped back, stomped on d'Annunzio's bronze foot and slapped his bald head. "Disrespectful!" Mantini seethed. Such are the passions provoked these days by d'Annunzio, whose introduction into Trieste's Piazza della Borsa in September has anguished many local residents. Once the cosmopolitan port of the Austro-Hungarian Empire, Trieste boasts a proud literary pedigree. The city ... More



Nicolas Party, Insects, 2019. Soft pastel on cardboard, 75,2 x 55,7 cm. Photo: HV-studio Courtesy: the Artist and Xavier Hufkens, Brussels.



BRUSSELS.- Xavier Hufkens is presenting a new exhibition by Nicolas Party (b. 1980). Following the large-scale presentation of his work at the Magritte Museum in 2018, Party returns to Brussels with a series of pastels and sculptures that revitalise art historical themes in surprising and innovative ways. The exhibition's title, Grotto, alludes to three large-format pastels depicting caves. From Renaissance paintings of hermits through to Courbet's The Source of the Loue and, more specifically, The Grotto of Manacor (c. 1901) by the Belgian painter William Degouve de Nuncques, depictions of underground caverns conjure up a wealth of historical and philosophical connotations. Inspired by this imagery, Party has created a trio of contemporary monochromes in scintillating shades of red, green and blue. While the blue cave depicted in Grotto forges a direct link with ... More



Wayne Thiebaud's Ripley Street Ridge achieves $3.1 Million. Courtesy Sotheby's.



NEW YORK, NY.- Nicole Schloss, Co-Head of Sotheby's Day Auctions of Contemporary Art in New York, commented: "Continuing the strong results of this week's sales, we are so pleased to have once again exceeded the $100 million benchmark for the fifth consecutive Day Sale. Impassioned bidding set the tone of the sale from the first lot by Ruth Asawa, which far surpassed its low estimate by more than eight times. That spirit carried over throughout the sale, as a number of significant new artist auction records were also achieved, and we are especially proud that bidders responded enthusiastically to works by female artists with fantastic results for Joan Mitchell, Elizabeth Murray, Elizabeth Peyton, and many more." Max Moore, Co-Head of Sotheby's Day Auctions of Contemporary Art in New York, said: "Today's results were a major sign that demand from collectors remains strong at every level of the market. And that was ... More
Exhibition presents the works of Mary Bauermeister, Rashid Al Khalifa and Simon Stockhausen
Exhibition at Frac Normandie Rouen looks at the connections between art and film
Whyte's announces highlights included in its auction of Irish & International Art


Rashid Al Khalifa, Multicoloured Parametric (detail), 2018, Emaille auf Aluminum / enamel on aluminum, 150 x 450 cm © the artist.



BERLIN.- The exhibition Transverse Wave brings Mary Bauermeister and Rashid Al Khalifa together with the sound designer Simon Stockhausen in the me Collectors Room Berlin. "The difference between cultures, the difference between the arts, and the difference between the senses are the conditions, and not the limitations, of experience in general, just as the mutual intricacy of these differences is, as well." (Jean-Luc Nancy, Listening) It is precisely these "conditions of experience" that are realized in the exhibition Transverse Wave. Featuring the work of Mary Bauermeister (b. 1934 in Germany) and Rashid Al Khalifa (b. 1952 in Bahrain), the me Collectors Room Berlin presents two artists who were not only socialized in different cultural realms; they also approach their artistic work from opposite ends of the spectrum. Whereas ... More



Installation view.



SOTTEVILLE-LÈS-ROUEN.- The Frac's Remake exhibition looks at the connections between art and film, using a two-way approach. Whilst film is an underlying theme throughout the Frac collection, the idea is to explore how artists today reinterpret the history of the film through video, a medium that is well represented in its holdings. In addition to exploring this question, Remake has also opted to reproduce the exhibition being held at the same time at the Musée des Beaux-Arts in Rouen, which focuses on the relationship between art and film from a more historical standpoint. In staging a faithful reproduction of the exhibition layout, Remake develops a unique déjà-vu effect, whilst questioning the importance of the very idea of reprising, or creating new versions or adaptations in current artistic output. Drawing on its own holdings and on major French and international collections, the Frac takes stock — from ... More



Sir William Orpen, Captain Robert John Woods of The Royal Inniskilling Fusiliers, 1919 [lot 25 €25,000-€30,000.



DUBLIN.- Hot on the heels of the Ernie O'Malley sale, Whyte's auction of Irish & International Art at 6pm, Monday 2 December 2019 at the RDS will offer collectors a further opportunity to acquire key works from Ireland's most soughtafter artists. This auction boasts many of the premier names in Irish art including Jack Yeats, Louis le Brocquy, Daniel O'Neill, Sir William Orpen, Paul Henry along with international artists such as Andy Warhol and a selection of North American works from the collection of Anglo Irish Bank. Whyte's invites bidders to view the sale at www.whytes.ie and in person at the RDS, Dublin, Saturday through to Monday (day of the sale) 30 November to 2 December, 10am-6pm daily. Purchased from the Bank of Ireland Collection almost a decade ago, the beautiful Bahamian canvas by Tony O'Malley – Air, Water, Light, ... More
The Bowes Museum opens the first major retrospective of the work of Norman Cornish
'A long time coming' for masterwork no one has seen
Alison Jacques Gallery opens an exhibition of paintings and works on paper by Roy Oxlade


Norman Cornish's work has an enduring popularity and leaves a wonderful legacy.



COUNTY DURHAM.- The Bowes Museum is holding the first major retrospective by one of the most loved artists from the North East of England in the 20th Century; Norman Cornish: The Definitive Collection, opening almost 100 years to the day after the artists birth in Spennymoor. Visitors to the Barnard Castle based Museum will be able to see more than 60 works including, pastels, charcoals and oil paintings from both public and private collections, some of which are previously unseen. Norman Cornish's work has an enduring popularity and leaves a wonderful legacy - an immediate and accessible social documentary of a bygone era. There can be few, if any, who have contributed more to the area's artistic and cultural identity. Aged 14, he was obliged to begin life as a miner – a career which was to span four decades. As his father and grandfather had both been miners before him, there was an inevitability ... More



María Irene Fornés, who died in 2018, in New York, Feb. 11, 2000. Perhaps the finest work of the Cuban-American director and playwright, 1977's daring and revolutionary "Fefu and Her Friends," is finally getting a New York revival. Ruth Fremson/The New York Times.



NEW YORK (NYT NEWS SERVICE).- When Cuban-American director and playwright María Irene Fornés died last fall, the New York Times obituary referred to her as "an underrecognized genius." Now, what is perhaps her finest work, "Fefu and Her Friends," can be seen at the Polonsky Shakespeare Center. Revolutionary in its form and daring in its philosophy, "Fefu," from 1977, hasn't played off-Broadway since its debut. Think of it as the masterpiece no one has seen. "It's been a long time coming, for real," said Lileana Blain-Cruz, the director. She fell for the play a decade ago, in graduate school, attracted by its humor, its mystery, its beauty. She spent years wondering, "Why is nobody doing this?" she said. Set in 1935, at a well-appointed country house peopled with well-appointed ... More



Roy Oxlade, Yellow Profile, 1992 (detail). Oil on canvas. 100 x 120 cm, 39 3/8 x 47 1/4 in. Courtesy of Alison Jacques Gallery, London © Estate of Roy Oxlade.



LONDON.- Alison Jacques Gallery is presenting an exhibition of paintings and works on paper by British artist Roy Oxlade (1929 – 2014). This is the second show of Oxlade's work at the gallery. The works on display span from 1978 to 2006, with Oxlade's works on paper being shown for the first time at the gallery. The exhibition follows the recent survey, 'Shine Out Fair Sun' at Hastings Contemporary, which marked the artist's first major public gallery exhibition in Europe. A definitive monograph relating to this show will be published in 2020. This exhibition precedes a solo presentation on Oxlade at Independent Art Fair, New York, in March 2020. On Tuesday 26th November the gallery will host a talk by Andrew Renton, Professor of Curating at Goldsmiths, University of London, discussing Oxlade's career. The artistic practice Oxlade developed throughout his six- ... More
Quote
There is no such thing as modern art. There is art -- and there is advertising. Albert Sterner
---
Inside Willem de Kooning's World | Christie's
---
Flashback
On a day like today, French photographer Louis-Jacques Daguerre was born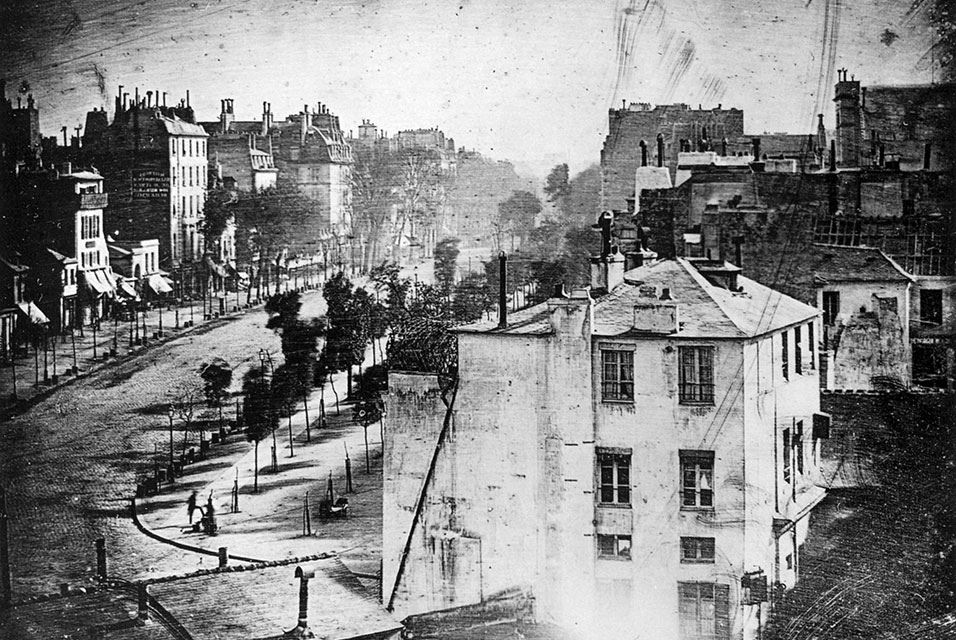 November 18, 1787. Louis-Jacques-Mandé Daguerre (18 November 1787 - 10 July 1851) was a French artist and physicist, recognized for his invention of the daguerreotype process of photography. He became known as one of the fathers of photography. Though he is most famous for his contributions to photography, he was also an accomplished painter and a developer of the diorama theatre. In this image: "Boulevard du Temple", taken by Daguerre in 1838 in Paris, includes the earliest known photograph of a person. The image shows a street, but because of the over ten minute exposure time the moving traffic does not appear. At the lower left, however, a man apparently having his boots polished, and the bootblack polishing them, were motionless enough for their images to be captured.
---

Museums, Exhibits, Artists, Milestones, Digital Art, Architecture, Photography,
Photographers, Special Photos, Special Reports, Featured Stories, Auctions, Art Fairs,
Anecdotes, Art Quiz, Education, Mythology, 3D Images, Last Week,
.
Royalville Communications, Inc
produces: