Shocking truth behind famous ancient Egyptian mummy's death revealed
The findings finally solve the mystery of the mummy which has intrigued Egyptologists - and the public - since she was first unwrapped in Belfast in 1835. It transforms our understanding of Takabuti's life in ancient Egypt and her journey into the afterlife.
MANCHESTER
.-
Takabuti, the famous ancient Egyptian mummy on display at the Ulster Museum, suffered a violent death from a knife attack, a team of experts from National Museums NI,
University of Manchester
, Queen's University Belfast and Kingsbridge Private Hospital have revealed. The team, whose findings are made public on the 185 year anniversary of Takabuti's unwrapping in 1835, also show that her DNA is more genetically similar to Europeans rather than modern Egyptian populations. The team show Takabuti had an extra tooth - 33 instead of 32 - something which only occurs in 0.02% of the population and an extra vertebrae, which only occurs 2% of the population. And Takabuti's heart, previously thought to have been missing, was identified by the state of the art technology used by the resear ...
More
The Best Photos of the Day
Up close, there's more to the Ghent Altarpiece than the lamb
The frame as art: Guernsey's to offer Eli Wilner's personal collection
Historians unveil rare photos of Sobibor death camp


Hélčne Dubois, who led the restoration of a panel of the altarpiece, talks to reporters at St. Bavo's Cathedral in Ghent, Belgium on Jan. 24, 2020. Gael Turine/The New York Times.

by Nina Siegal



GHENT (NYT NEWS SERVICE ).- Hélčne Dubois was frustrated. It was Friday morning, just hours before she was set to reveal the $2.4 million, multiyear restoration she had led on a panel of one of the world's great artistic treasures: "The Adoration of the Mystic Lamb," also known as the Ghent Altarpiece. But the lamb's "new" face had already been seen by thousands, online. In the previous 48 hours, a side-by-side of the panel before and after restoration had gone viral on Twitter, with Smithsonian Magazine calling the new lamb "alarmingly humanoid" and users comparing it to pouting fashionista Derek Zoolander. "A lot of misunderstandings have been propagated by absolutely stupid tweets ... More



Eli Wilner Frame, American c. 1810 Style Ex. G. Stuart. Estimate $20,000 - $25,000.



NEW YORK, NY.- In celebration of the 40th year of Eli Wilner & Company, Guernsey's is preparing for a major auction of a magnificent picture frame collection assembled through the decades by Eli Wilner. The four hundred and fifteen lot auction will be conducted on February 19 at the prestigious Pierre Hotel in New York City. The event will serve both as a tutorial on frame styles and a demonstration of the incredible craftsmanship of the Eli Wilner & Company Atelier. Many of the original frames featured in this sale are based on specific antique and historic frames, while others are unique Wilner designs. Wilner frames exhibit meticulous craftsmanship and painstaking detail resulting in unmatched quality. When comparing an 18th, 19th, or 20th century frame with a Wilner frame – the two are virtually indistinguishable. A percentage of the sale proceeds will be donated to ... More



An assistant places books on a table prior to a press conference to unveil newly discovered photos from Sobibor Nazi death camp on January 28, 2020 in Berlin.Tobias SCHWARZ / AFP.

by Yannick Pasquet



BERLIN (AFP).- Hundreds of newly discovered photographs, including some taken at the Sobibor death camp, represent a "quantum leap" in research into Nazi crimes against humanity, historians at the Berlin museum Topography of Terror said Tuesday. Historians said the "exceptional collection" provided unprecedented insights into the Sobibor camp in German Nazi-occupied Poland, about which little is known even 75 years after the end of World War II. The trove, consisting of 361 black-and-white photos and several written documents, also includes photos believed to show convicted Nazi guard John Demjanjuk, who denied ever being at Sobibor. The photos were ... More
Man on trial for 'trying to steal Magna Carta'
Jason Polan, fast-drawing artist of the offbeat, dies at 37
Helen Frankenthaler Foundation awards $2.5 million to endow art history doctoral programs at five universities


Four original copies from 1215 remain in existence: two in the British Library in London, one at Salisbury Cathedral, and one at Lincoln Cathedral, in eastern England.



LONDON (AFP).- A man appeared in an English court on Monday charged with attempting to steal a priceless original 1215 version of the Magna Carta. Mark Royden, 47, is accused of trying to smash the protective glass case with a hammer in a bid to steal the document from Salisbury Cathedral in southwest England. Royden claimed his actions on October 25, 2018 were apparently motivated by doubts about the manuscript's authenticity, Salisbury Crown Court was told. The charter has defined rights and liberties around the world. Four original copies from 1215 remain in existence: two in the British Library in London, one at Salisbury Cathedral, and one at Lincoln Cathedral, in eastern England. Royden "set out on that day to steal the Magna Carta from Salisbury Cathedral and his attempt failed and it failed for two reasons," prosecutor Rob Welling told the court. "The first is the safety glass protecting ... More



Man on 6 Train, December 8, 2019.

by Neil Genzlinger



NEW YORK (NYT NEWS SERVICE ).- Jason Polan, an incessant sketcher whose eclectic drawings and art projects — one was called "The Every Piece of Art in the Museum of Modern Art Book" — made him one of the quirkiest and most prolific denizens of the New York art scene, died on Monday in New York. He was 37. His family said the cause was cancer. Polan's signature project for the last decade or so was "Every Person in New York," in which he set himself the admittedly impossible task of drawing everyone in New York City. He kept a robust blog of those sketches, and by the time he published a book of that title in 2015 — which he envisioned as Vol. 1 — he had drawn more than 30,000 people. These were not sit-for-a-portrait-style drawings. They were quick sketches of people who often didn't know they were being sketched, done on the fly, with delightfully unfinished results, as Polan wrote in the book's introduction. "If they are moving ... More



Vessel, 1961. Oil on unsized, unprimed canvas 100 x 94 in. (254 x 238.8 cm). Presented by the Helen Frankenthaler Foundation (Tate Americas Foundation) 2019. © 2019 Helen Frankenthaler Foundation, Inc. / Artists Rights Society (ARS), New York. Photo: Jordan Tinker, courtesy Helen Frankenthaler Foundation.



NEW YORK, NY.- Helen Frankenthaler Foundation announced the selection of five new institutional partners for Frankenthaler Scholarships, a multi-year initiative that has dedicated more than $4 million to art and art history graduate programs around the country. For the program's next phase, the Foundation is awarding $500,000 to five different universities—The Graduate Center, CUNY; Harvard University; Institute of Fine Arts at New York University; Stanford University; and University of Chicago—to support the creation of named endowments that will offer one or more annual fellowships for doctoral students studying art history. These endowment gifts build on the inaugural round of Frankenthaler Scholarships, which support MFA programs in painting. In addition to expanding its Frankenthaler Scholarships, the ... More
The survivor of Auschwitz who painted a forgotten genocide
Bob Shane, last of the original Kingston Trio, dies at 85
Why fashion's fairy grandmother Agnes b. is a true believer


Ceija Stojka, Untitled, 2006. Acrylic on cardboard, 70 x 100 cm. Galerie Kai Dikhas, Berlin.



MADRID (NYT NEWS SERVICE ).- At first the soldiers of the Red Army found almost nothing when they reached the camp in the southwest of occupied Poland that January. The retreating Nazis had blown up its crematories and dismantled its gas chambers; the prisoners had been marched west, in the freezing cold. Only later, as the Soviets liberated Auschwitz 75 years ago Monday, did they discover the last, straggling survivors, too ill or young to leave the inferno where at least 1.1 million people were murdered, 90% of them Jews. Immediately after the war, writers and philosophers maintained that the death camps defied representation; no art could ever do justice to their horrors, and even the concept of poetry after Auschwitz, in Theodor W. Adorno's notorious phrase, had become "barbaric." Yet survivors themselves, as early as Primo Levi's 1947 memoir, "If This Is a Man," have forced themselves to make sense of the horrors they endured in art — and as Auschwitz ... More



Shane, whose whiskey baritone was the group's most identifiable voice on hits like "Tom Dooley" and "Scotch and Soda," sang lead on more than 80% of Kingston Trio songs.

by Peter Applebome



NEW YORK (NYT NEWS SERVICE ).- Bob Shane, the last surviving original member of the Kingston Trio, whose smooth close harmonies helped transform folk music from a dusty niche genre into a dominant brand of pop music in the 1950s and '60s, died on Sunday in Phoenix. He was 85. Craig Hankenson, his longtime agent, confirmed the death, in a hospice facility. Shane, whose whiskey baritone was the group's most identifiable voice on hits like "Tom Dooley" and "Scotch and Soda," sang lead on more than 80% of Kingston Trio songs. He didn't just outlast the other original members: Dave Guard, who died in 1991, and Nick Reynolds, who died in 2008; he also eventually took ownership of the group's name and devoted his life to various incarnations of the trio, from its founding in 1957 ... More



French fashion designer Agnes Trouble known for her fashion brand "Agnes B." poses during a photo session at the Fab in Paris on January 27, 2020. JOEL SAGET / AFP.

by Jean-Louis De La Vaissiere



PARIS (AFP).- French designer Agnes b. really doesn't like the fashion world of which she is one of the great survivors. "I don't like fashion. I have nothing to do with that world where everyone is in a bubble," said the veteran creator, a lifelong activist for progressive causes. "Some people like to go out and be seen," said the 78-year-old who dressed her friend David Bowie for decades and who made the famous black jacket with the leather collar that John Travolta wore in the movie "Pulp Fiction". Like her, Bowie would run a mile from the "celebrity scene", she told AFP. Both, however, shared a passion for all kinds of modern art. And now Agnes b. -- whose real name is Agnes Trouble -- is opening her own gallery in an up-and-coming corner of the French capital. Fab will not ... More
Newly discovered portrait of pioneering British female artist Isobel Codrington to be offered at auction
Exhibition of new paintings by Olivier Mosset opens at Gagosian
Norton Simon Museum appoints Emily Talbot to Chief Curator


The portrait was painted by one of the greatest society portraitist of the age, Philip de László.



EDINBURGH.- A previously unknown portrait of the pioneering British female artist Isobel Codrington will be offered by fine art auctioneers Lyon & Turnbull in Edinburgh on 5th February. The portrait was painted by one of the greatest society portraitist of the age, Philip de László. Codrington, a pupil of George Clausen, was one of a number of women artists commissioned by the Imperial War Museum to record the First World War. She was a regular exhibitor at the Royal Academy and the Paris Salon, and held solo shows in both Paris and London. The newly discovered portrait recalls a line from the poem Ezra Pound wrote for Codrington, "such pools as are your dearest eyes". Like many early British female artists, however, Codrington's career has since been overshadowed by her male contemporaries. The De László portrait has never been published, and has remained ... More



Olivier Mosset, Untitled, 2019. Acrylic on canvas, 96 x 48 inches, 243.8 x 121.9 cm © Olivier Mosset. Photo: Robert McKeever. Courtesy Gagosian.



GENEVA.- Gagosian is presenting new paintings by Olivier Mosset. This is his first solo exhibition with the gallery, and the first time his work has been shown in Geneva since 2007. Over the past half century, Mosset has honed a visual language that channels Minimalist and Abstract Expressionist strategies while pursuing an irreverent, self-referential agenda. Often repeating motifs and colors across multiple large canvases, he consciously suppresses subjectivity, symbolism, and metaphor in an abstract practice that acknowledges but rejects the dialectical narrative of painting. In the 1960s, Mosset—along with Daniel Buren, Michel Parmentier, and Niele Toroni—cofounded the Paris-based Minimalist collective BMPT as a response to the modernist ideal of "pure painting." Seeking to distance the act of artistic creation ... More



Emily Talbot, photo by Ramona Trent.



PASADENA, CA.- The Norton Simon Museum has appointed Emily M. Talbot as its new Chief Curator, responsible for the care, interpretation and display of the Norton Simon art collections. Dr. Talbot joined the Museum's curatorial department in 2017 as a specialist of 19th- and 20th-century European art, and has served as Acting Chief Curator since February 2019. Her promotion to Chief Curator became effective on January 1, 2020. "Emily's professional and academic background make her a perfect fit for the Norton Simon Museum. A specialist in French Impressionism and Post-Impressionism, a particular interest of Mr. Simon and a highlight of his collections, she has organized excellent exhibitions and programs at the Museum, including Taking Shape: Degas as Sculptor and By Day & by Night: Paris in the Belle Époque," says Museum President Walter Timoshuk. "As Acting Chief Curator ... More
Quote
Indifferent pictures, like dull people, must absolutely be moral. William Hazlitt
---
The Rediscovery of Gaston Lévy's Collection
---
Flashback
On a day like today, American painter Barnett Newman was born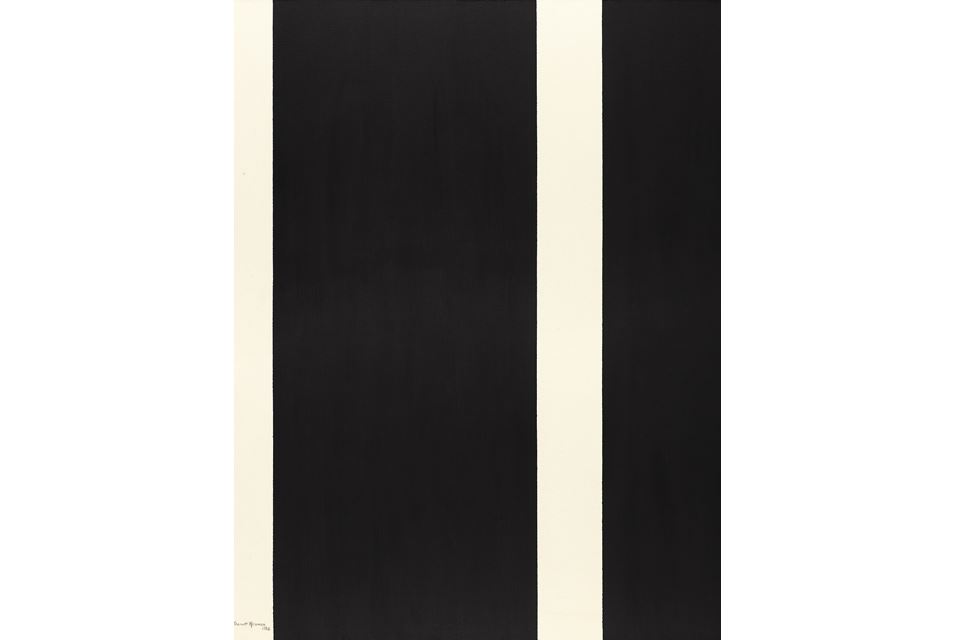 January 29, 1905. Barnett Newman (January 29, 1905 - July 4, 1970) was an American artist. He is seen as one of the major figures in abstract expressionism and one of the foremost of the color field painters. His paintings are existential in tone and content, explicitly composed with the intention of communicating a sense of locality, presence, and contingency. In this image: Barnett Newman, Thirteenth Station, 1965/1966. Acrylic on canvas, 198.2 x 152.5 cm (78 1/16 x 60 1/16 in.). Collection of Robert and Jane Meyerhoff.
---

Museums, Exhibits, Artists, Milestones, Digital Art, Architecture, Photography,
Photographers, Special Photos, Special Reports, Featured Stories, Auctions, Art Fairs,
Anecdotes, Art Quiz, Education, Mythology, 3D Images, Last Week,
.
Royalville Communications, Inc
produces: