Leopold Museum presents select works by the main exponents of Viennese Jugendstil
Elisabeth Leopold, the widow of art collector and creator of the Leopold Museum Rudolf Leopold, poses in front of a painting titled "Lovers" by Austrian artist Koloman Moser during the presentation of the exhibition titled "Vienna 1900!" devoted to the key figures of the Viennese Modernism on January 18, 2018 at the Leopold Museum in Vienna. The museum will present select works by the main exponents of Viennese Jugendstil (art nouveau) Gustav Klimt and Koloman Moser, as well as by ground-breaking Expressionists Richard Gerstl and Oskar Kokoschka. ALEX HALADA / AFP.

by Philippe Schwab
VIENNA
(AFP)
.-
Vienna is marking 100 years since the death of a string of luminaries from its fin-de-siecle glory days with an avalanche of exhibitions of modernist art, design and architecture that still inspire and shock today. The year 1918 did not only mark defeat in World War I and the end of the Austro-Hungarian empire but also saw artists Gustav Klimt, Egon Schiele and Koloman Moser and architect Otto Wagner pass away. Klimt died from a stroke at 55, an infection claimed Wagner's life at 76 and cancer killed Moser aged 50. Schiele survived being conscripted into the war only to die in the Spanish flu pandemic, three days after his pregnant wife Edith. He was just 28. All were leading lights in the revolutions in art, literature, architecture, psychology, philosophy and music that made the imperial city on the Danube the buzzing intellectual hub of the world at the time. ...
More
The Best Photos of the Day
Exhibition of American posters of the First World War opens at the Bruce Museum
Americana Week 2018 at Christie's totals $8.25 million, with 85% sold by lot
Stedelijk Museum cancels Ettore Sottsass retrospective


Henry Patrick Raleigh (American, 1880-1944) Must Children Die, 1918. Lithograph, 41 1/2 x 30 1/4 in. Gift of John and Beverly Watling, Bruce Museum Collection 2008.03.10.



GREENWICH, CONN.- Opening at the Bruce Museum on January 20, 2018, Patriotic Persuasion: American Posters of the First World War features a selection of works from the "Great War" donated to the museum by Beverly and John W. Watling III. The exhibition, which will be on view through June 10, 2018, commemorates the centennial of the entry of the United States into that epochal conflict. The United States' involvement in World War I lasted only 20 months, from April 1917 to November 1918, but the nation's military and propaganda strategies were of enormous consequence. In the era of radio and film's infancy, posters were an essential medium; there were more than 20 million posters printed from about 2,500 designs. Many of the posters on display in Patriotic Persuasion were originally collected by Mr. Watling's stepfather, Charles B. Warren, Jr., and his ... More



Rembrandt Peale After Charles Willson Peale, Portrait of George Washington as a Colonel of the Alexandria Militia, early 19th Century. Oil on canvas, 50 1/8 x 40 in. Price realised USD 852,500 © Christie's Images Limited 2018.



NEW YORK, NY.- Americana Week sales totaled $8,255,750 with active in-room, phone, and online participation. The top lot of the week was Rembrandt Peale (1778-1860) After Charles Willson Peale (1741-1827), Portrait of George Washington as a Colonel of the Alexandria Militia, early 19th Century, which realized $852,500. Strong sell through rates were achieved across all auctions, with average 85% sold by lot. Notable results include The Hunter-Dunn Family Chippendale Plum Pudding Mahogany Block-and-Shell Tall-Case Clock, which sold for $612,500; a Rare and Important Silk-and Metal-on-Linen Needlework Pictorial, 1791, wrought by Mary Russell (B. 1779), which sold for $324,500; Henry Darger (1892-1973), 93 At Jennie Richee, are chaced for long distance by Glandelinians with blood hounds. ... More



Stedelijk Museum Amsterdam, as seen from the Van Baerlestraat. Photo: John Lewis Marshall.



AMSTERDAM.- The Stedelijk Museum Amsterdam announced that the retrospective of Ettore Sottsass (1917-2007), which was planned for this spring, has been cancelled. With the show, which would have been the first major Dutch overview of the Italian designer, the museum had hoped to share Sottsass's exceptionally varied oeuvre with a broad and varied audience. Conceived as a thematic exhibition, rather than the more usual chronological survey, the show would have presented designs from different decades and disciplines. This would have highlighted the themes that Sottsass explored in his oeuvre and to which he returned throughout his career. The museum also wished to highlight Sottsass's influence on younger generations by, among other things, displaying work by other designers of the Memphis group, founded by Sottsass at the end of 1980. The preparations have been put on hold because – after lengthy contact in connection ... More
'A Year In Provence' author Peter Mayle dies aged 78
A selection of works from Channa Horwitz's Sonakinatography series on view at Lisson Gallery
IU Eskenazi Museum of Art announces partnership with Speed Art Museum


This file photo taken on September 09, 2006 shows British author Peter Mayle attending "A Good Year" press conference during the Toronto International Film Festival in Toronto. Evan Agostini / GETTY IMAGES NORTH AMERICA / AFP.



LONDON (AFP).- Peter Mayle, who wrote the best-selling memoir "A Year In Provence", has died at the age of 78, his publishers announced. Following a short illness, the British author died on Thursday in a hospital near his beloved home in southern France, publishing house Alfred A. Knopf said. "A Year In Provence", about Mayle's first 12 months after relocating to the south of France, was released in 1990 with an initial print run of 3,000. The witty tale of moving into a 200-year-old stone farmhouse in the lavender-scented, remote countryside, and adapting to the slower Provencal way of life, went on to sell six million copies in 40 languages. Its infectious warmth for the south of France and the local lifestyle and culture fired up the imaginations of thousands of Britons and others to seek the same romantic dream. Alfred A. Knopf announced on Twitter late Thursday ... More



Channa Horwitz, Sonakinatography Composition II, 2011. Ink and coloured pencil on graph paper, 27.9 x 20.3 cm, 11 x 8 inches © Channa Horwitz; Courtesy Lisson Gallery.



NEW YORK, NY.- Lisson Gallery presents a selection of works from Channa Horwitz's Sonakinatography series, the first exhibition of her work since the gallery's recent announcement of its New York representation of the estate. Sonakinatography (Sound, Motion, Notation) is one of the artist's earliest bodies of work out of which a deepening inquiry and the others grew. In 1968, Channa Horwitz submitted a proposal called "Suspension of Vertical Beams Moving in Space" to the Los Angeles County Museum of Art's Art and Technology exhibition. The proposal was for a sculpture with eight moving beams, suspended in the air by magnetism and lit at varying intensities. Dismissed from working with industry because she was a woman, her sculpture was never fabricated. LACMA did publish her proposal in the catalogue, but she was the only artist left off of the cover of exclusively male artists. This and ... More



Ernst Barlach (German, 1870-1938). Singing Man, 1928. Bronze. 20 x 24 in. William Lowe Bryan Memorial, Eskenazi Museum of Art, Indiana University, 57.36.




BLOOMINGTON, IN.- The Sidney and Lois Eskenazi Museum of Art at Indiana University announced a new five-year partnership with the Speed Art Museum in Louisville, KY. While the Eskenazi Museum of Art is closed for renovations, a selection of works from its renowned collection will be on view at the Speed Art Museum during the second half of 2018. Drawn exclusively from the Eskenazi Museum of Art's collection, the exhibition Picasso to Pollock: Modern Masterworks from the Eskenazi Museum of Art, Indiana University will be on view from June 16, 2018 through January 13, 2019. The show will feature more than seventy paintings, sculptures, and works on paper, including highlights by Pablo Picasso, Diego Rivera, Henry Moore, and Jackson Pollock. A second exhibition featuring the work of nineteenth-century American landscape painter Thomas Chambers ... More
BIG's revised Smithsonian Campus Master Plan presented in DC
Exhibition of new paintings by Jules de Balincourt opens at Victoria Miro
Perrotin opens Izumi Kato's second solo exhibition in Hong Kong


The new proposal reflects the team's commitment to preserving the intimate character of the treasured Haupt Garden. Image by BIG-Bjarke Ingels Group + Brick.



WASHINGTON, DC.- BIG-Bjarke Ingels Group's Founding Partner Bjarke Ingels presented a revised proposal for the Smithsonian Campus Master Plan in Washington, DC. The vision was first unveiled in 2014 and has since been redeveloped following years of public comment and close collaboration with the Smithsonian Institution. The new proposal reflects the team's commitment to preserving the intimate character of the treasured Haupt Garden, while addressing existing and future needs, at one of the most historically significant areas and cultural institutions in the nation's capital. Members of the Commission of Fine Arts (CFA), local decision makers, residents and garden enthusiasts listened intently when Bjarke Ingels and representatives of the Smithsonian Institution gave a detailed account of the revised plans for the $2 billion ... More



Jules de Balincourt, If Queens Ruled, 2017. Oil on panel, 61 x 50.8 cm 24 x 20 in © Jules de Balincourt. Courtesy the artist and Victoria Miro, London / Venice.



LONDON.- Victoria Miro opened an exhibition of new paintings by Jules de Balincourt. Quiet, reflective and mysterious, new paintings by Brooklyn-based artist Jules de Balincourt continue an intuitive approach to imagemaking, where the world we inhabit is filtered through the artist's own psychological landscape. In Troubled Eden, 2017, a snaking river, encroached upon by signs of human activity, is worn like a shift dress by a figure with a sharp fringe and an assertive, red-carpet stance. In other works, de Balincourt paints nocturnal landscapes, figures seeking refuge, monsters that resemble monuments, glowing caves. Everywhere, dreamlike distortions and disconcerting shifts in scale create a sense of eeriness and imbalance. There is an unsettling atmosphere to these new paintings, suggestive of a world in flux. Yet, undeniable too, is a sense of optimism, a persistence of spirit, or a suggestion of how things might b ... More



Izumi Kato, Untitled", 2017. Stone, wood, acrylic, iron, leather, pedestal, 106 x 20 x 20 cm ⏐ 41 3/4 x 7 7/8 x 7 7/8 in. Photo: Kei Okano ©2017 Izumi Kato Courtesy the Artist and Perrotin.



HONG KONG.- Following exhibitions in Hong Kong, Paris and New York, Perrotin presents Izumi Kato's second solo exhibition in Hong Kong. Kato returns to the Asian hub with new works after four years during which the artist set up a coastal studio near a long strip of a reclaimed landfill laden with irregularly shaped granite pieces that inspired the artist. This exhibition consolidates almost two years of Kato's artistic practice, with new materials incorporated into his creation. The latest Untitled series utilizes this type of common granite, selected from the shore by the artist, unaltered or unchiseled, and the artist then selects the most suitable shape and pattern before developing the color palette for the specific piece. This attempt is novel in the sense that it is the first time a type of material has been brought into the creation process not for its functional use, but rather, ... More
Exhibition debuts new paintings created over the past year by Dana Schutz
Ayyam Gallery Dubai opens a solo exhibition by Rashid Al Khalifa
New Executive Director named at Tacoma Art Museum


Conflict, 2017. Dana Schutz (American, born 1976). Oil on canvas; 94 x 82 inches. © Dana Schutz, courtesy of Petzel Gallery, New York and Contemporary Fine Arts, Berlin.



CLEVELAND, OH.- This month Dana Schutz returns to Cleveland with a new exhibition, Eating Atom Bombs, featuring a group of 12 paintings and three drawings created primarily in the past year. Seven of these works have never been exhibited before. The exhibition's title speaks to the precariousness of our current political and social moment. Eating Atom Bombs belongs to a number of museum programs that have recently featured contemporary artists who are from or who trained in Northeast Ohio, including Wadsworth and Jae Jarrell, Scott Olson, Jerry Birchfield, Liz Roberts and Henry Ross. Eating Atom Bombs will be on view at Transformer Station from January 20 through April 15, 2018. The exhibition is free and open to the public. "The work of Dana Schutz has had a presence in our contemporary art galleries since ... More



Untitled, Waves series, 2016. Matte enamel on aluminium, 120 x 120 cm.



DUBAI.- Ayyam Gallery Dubai (11 Alserkal Avenue) presents Hybrids, a solo exhibition by Rashid Al Khalifa. Hybrids presents a selection of wall-mounted installations from six different series from 2010 to 2017. Over the past four decades, Rashid Al Khalifa has continuously explored the nature of experientiality of art whilst asserting the importance of its context over art for art's sake. Rashid has experimented with a multitude of painting styles, including Realism, Impressionism, and Individualism. Over the past decade, he has turned to Abstraction and Colour Field. In his recent works, Rashid maintains a focus on the aesthetics of what post-modernists identify as re- contextualisation of an art genre. Investigating varying articulations of seriality within his oeuvre, as well as geometry, surface, and colour, the artist creates simple yet deeply resonant works. Rashid's installations are 'hybrids' of painting and ... More



Setford brings over 30 years of experience in museums and other arts organizations in the United States and the United Kingdom. © Daniel Quat Photography.



TACOMA, WA.- Tacoma Art Museum welcomes David Setford as its new Executive Director. Setford brings over 30 years of experience in museums and other arts organizations in the United States and the United Kingdom as a curator, director/administrator, and fundraiser. With an entrepreneurial and community-driven approach, Setford has also been instrumental in organizing exhibitions on a diverse array of iconic artists such as Pablo Picasso, Claude Monet, Georgia O'Keeffe, Gordon Parks, Frida Kahlo, Andrew Wyeth, as well as Northwest artists Jacob Lawrence and Dale Chihuly. Setford's original expertise was in 19th and 20th century European Art, and later he added a passion for 20th century American Art. "I'm so excited to be moving to Tacoma and the Pacific Northwest, and joining the Tacoma ... More
Quote
My thoughts love everything that is against reason. Francis Picabia
More News
---
The Painting that Inspired Artists for Centuries
---
Flashback
On a day like today, French painter Jean-François Millet died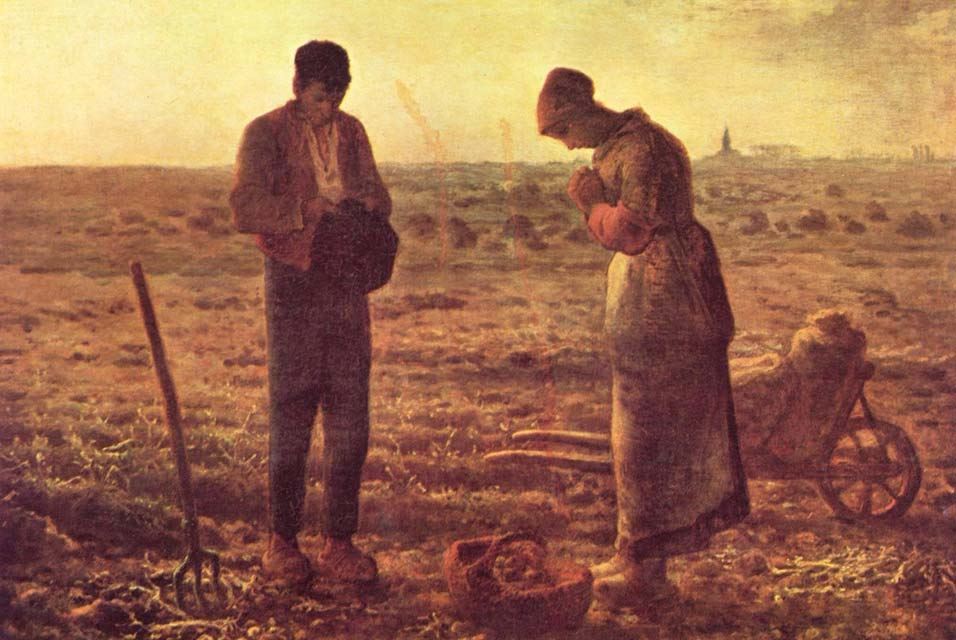 January 20, 2018. Jean-François Millet (French: [mile]; October 4, 1814 - January 20, 1875) was a French painter and one of the founders of the Barbizon school in rural France. Millet is noted for his scenes of peasant farmers; he can be categorized as part of the Realism art movement. In this image: The Angelus by Jean Francois Millet.
---

Museums, Exhibits, Artists, Milestones, Digital Art, Architecture, Photography,
Photographers, Special Photos, Special Reports, Featured Stories, Auctions, Art Fairs,
Anecdotes, Art Quiz, Education, Mythology, 3D Images, Last Week,
.
Royalville Communications, Inc
produces:







Tell a Friend
Dear User, please complete the form below in order to recommend the Artdaily newsletter to someone you know.
Please complete all fields marked *.
Sending Mail

Sending Successful