Recovered Matisse "Odalisque in Red Pants" shown in Venezuela after mystery theft
Venezuelan authorities stand guard next to Henri Matisse's painting "Odalisque in Red Pants" during its re-inauguration at the Contemporany Art Museum in Caracas, on July 22, 2014. The painting, which was stolen more than a decade ago from the museum and later recovered in the US in an FBI sting, was turned over to Venezuelan authorities earlier this month. AFP PHOTO/Leo RAMIREZ.
CARACAS
(AFP)
.-
A painting by Henri Matisse stolen more than a decade ago in Caracas and later recovered in an FBI sting is on display again in the Venezuelan capital. The "Odalisque in Red Pants", worth around $3 million, was exhibited Tuesday for the first time in more than a decade at the Museum of Contemporary Art. It had been replaced with a fake sometime between 1999 and 2002 and it was only in 2003 that Venezuelan authorities realized the original had been stolen. The artwork was recovered in Miami Beach in 2012 in an FBI undercover operation. US citizen Pedro Antonio Marcuello Guzman and Maria Martha Elisa Ornelas Lazo, a Mexican, were convicted for attempting to sell the stolen painting. Attorney General Luisa Ortega Diaz told an opening ceremony that his office would pursue an investigation of the theft. "I want to give my word to all lovers of the arts that our office is going to lead an investigation to determine liability for those who conspired to steal this painting," she said. ...
More
The Best Photos of the Day
Globally unique 3D scanner developed by Fraunhofer IGD in use in a museum for the first time
First exhibition by Japanese artist Takashi Murakami in a public space in Italy opens in Milan
'A Memorable Life: A Glimpse into the Complex Mind of Bobby Fischer' opens at the World Chess Hall of Fame




3D scanner CultLab3D developed by Fraunhofer IGD. Photo: Norbert Miguletz © Liebieghaus Skulpturensammlung.





FRANKFURT.- On Tuesday, 22 July 2014, for the first time in history, an art object was digitized in a fully automated process at Frankfurt's Liebieghaus Skulpturensammlung with the globally unique CultLab3D scanning device developed by Fraunhofer IGD. Within a few minutes, Apollo Belvedere (1497/98) by Renaissance Sculptor Pier Jacopo Alari Bonacolsi (ca. 1460–1528), known as Antico, was scanned by the mobile digitization lab in the main hall of the museum's Medieval Department. Some eighty views from a wide range of angles together generated a 3D model of the more than 500-year-old sculpture, a digital record that can now be used for research, documentation and museum education purposes. This successful fully automated scan of a historical sculpture marks a turning point in the history of 3D digitization – a method hitherto very expensive and above all very ... More





Takashi Murakami, Standing on the Bridge Linking Space and Time, 2014. Courtesy Blum & Poe, Los Angeles | © 2014 Takashi Murakami / Kaikai Kiki Co., Ltd. All Rights Reserved.





MILAN.- The Culture Department of the Municipality of Milan and Palazzo Reale present an exhibition of large-format paintings and sculptures by contemporary artist Takashi Murakami in the splendid setting of the Sala delle Cariatidi. This is the first exhibition by this celebrated Japanese artist in a public space in Italy. After the large touring show ©MURAKAMI and the extensive 2010 retrospective held in the sumptuous halls of the Palace of Versailles, the Milan exhibition is a hitherto unseen event that explores new forms of painting devised by Murakami over the last two years. It presents techniques and styles developed by the artist following Ego, a major exhibition held in 2012 at the Al Riwaq Exhibition Hall in Doha, Qatar. With a selection of recent works, the exhibition is a quintessential offering of Murakami's ability to conflate historical, contemporary, ... More





Bobby is one of the game's most enduring figures because everyone can learn something from his story.





ST. LOUIS, MO.- From his earliest years as a child prodigy to becoming the only player ever to achieve a perfect score in the U.S. Chess Championships, from winning the World Championship in 1972 against Boris Spassky to living out a controversial retirement, Bobby Fischer stands as one of chess's most complicated and compelling figures. A Memorable Life: A Glimpse into the Complex Mind of Bobby Fischer opens July 24, 2014, at the World Chess Hall of Fame and will celebrate Fischer's incredible career while examining his singular intellect. The show runs through June 7, 2015. "We are thrilled to showcase many never-before-seen artifacts that capture Fischer's career in a unique way. Those who study chess will have the rare opportunity to learn from his notes and books while casual fans will enjoy exploring this superstar's personal story," said WCHOF Chief Curator Shannon Bailey. Several of the rarest ... More
The UC Berkeley Art Museum and Pacific Film Archive presents 'Looking Intently: The James Cahill Legacy'
Henry Moore Institute in Leeds opens exhibition dedicated to the work of artist Gego
Printed Books, Maps and Manuscripts achieve top prices at Bloomsbury Auctions




Shen Shichong: Man and Servant Beneath Trees (detail), 1616; ink and color on paper; 12 × 97/8 in.; purchase made possible through a gift from Jane Lurie.





BERKELEY, CA.- The late James Cahill, Professor Emeritus at UC Berkeley, was known as a brilliant scholar, exceptional teacher and writer, and extraordinary connoisseur and collector of Chinese and Japanese paintings. He began collecting in the mid-1950s as a Fulbright Scholar in Japan, where he encountered significantly undervalued Chinese paintings of the Ming and Qing periods. At the time few collectors were interested in these later paintings and fewer still understood their inherent value. But Cahill recognized their importance and so began a lifelong pursuit of fine paintings. His collection became known by his studio name, Ching Yuan Chai, given to him by his own teacher, Shimada Shujiro. As Cahill wrote, "It could be either Studio of ... More





Gego, 20 (environment), 1969, Museo de Bellas Artes, Caracas, variable measurements Reticulárea Exhibition. Photo PG, AFG.





LEEDS.- From July to October four of the Henry Moore Institute's galleries are dedicated to the work of Gego (1912-94), an artist who faithfully explored the possibilities of the line as an object. Gego was born Gertrud Goldschmidt in Hamburg, 1912, and emigrated to Caracas in 1939 immediately after finishing her architectural studies in Stuttgart. In Venezuela she began working as an artist in the 1950s, and became a citizen in 1952. For five decades Gego expanded the line into planes, volumes and expansive nets to reflect on the nature of perception. Gego. Line as Object investigates the artist's unrivalled engagement with the problems of form and space, using light, shadow, scale and gravity in a constant process of discovery. This first UK solo presentation of Gego underlines her visionary approach ... More





Gino Servini's Fleurs et Masques. Sold for £9,920.





LONDON.- Top prices were achieved across a number of specialist disciplines in Dreweatts & Bloomsbury Auctions' Printed Books, Maps and Manuscripts auction on Thursday 17th and Friday 18th July, including manuscripts, art and mathematics. Bidding soared for the opening lot of the sale with an almost complete collection of the books issued by Bird & Bull Press from the property of the late Mel Kavin of Kater-Craft Bookbinders which sold for £12,400 [Lot 1]. Doubling its pre-sale estimate and selling for £9,920 was Gino Severini's Fleurs et Masques, featuring 17 superb pochoir colour plates highlighted with gold that depict Cubist still lives, harlequins musicians, and the masks and theatrics of the Commedia dell'Arte. [Lot 144a] Also attracting attention under the art topic was a fine series of classic racing prints from John Frederick Herring's two series of St Leger and derby winners that sold for £8,060. [Lot ... More
Mexico City-based artist Pia Camil's first solo exhibition in Los Angeles on view at Blum & Poe
A.H. Baldwin & Sons Ltd announces one of the largest coin sales to date in Hong Kong
Provocative and pioneering work of leading Australian artist David McDiarmid on view in Melbourne




Pia Camil, The Little Dog Laughed. Installation view, 2014. Blum & Poe, Los Angeles. Image courtesy of the artist and Blum & Poe, Los Angeles.





LOS ANGELES, CA.- Blum & Poe is presenting The Little Dog Laughed, Mexico City-based artist Pia Camil's first solo exhibition in Los Angeles. Camil presents three interrelated bodies of work — a large-scale hanging curtain, paintings, and ceramic vases — which are inspired and based on abandoned billboards found around Mexico. Camil appropriates elements, such as strips of color or fragments of a letter or number, and transforms public advertisements into intimate household items, emphasizing the dysfunctionality of a mass consumer lifestyle with a playful but critical gesture. The title for the exhibition derives from John Fante's novel Ask the Dust, where Arturo Bandini, a struggling writer based in Los Angeles during the Depression, publishes an insignificant short story titled The Little Dog Laughed. The story's publication offers Bandini a glimpse of success. Interested in the main character's false sense of sel ... More





A splendid example of the Gold Ku'ping Pattern Tael, struck under the eleventh emperor of the Qing Dynasty, Kuang Hsu. Estimate: US$65,000-85,000.





HONG KONG.- A.H. Baldwin & Sons Ltd and auction partner Ma Tak Wo Numismatic Co Ltd announced that the Hong Kong Coin Auction 57 will be one of the largest sales to date. Held as part of the bi-annual Hong Kong International Coin Convention and Antique Watch Fair, the sale will feature a Kuang Hsu, Gold Ku'ping pattern Tael, alongside Chinese coins from the collection of Åke Lindén, French Indo-Chinese and Trade Dollars from the Johanna Austin collection, and a private collection of Plantation Tokens. The sale will be held on Thursday 21 August 2014 in Hong Kong's Kowloon. A splendid example of the Gold Ku'ping Pattern Tael, struck under the eleventh emperor of the Qing Dynasty, Kuang Hsu, leads the Chinese Coins in the sale. This rare coin, created as a prototype coin in Kuang Hsu's 33rd year, never saw full circulation and is one of the few Chinese imperial gold coins struck at an official mint. It is estim ... More





David McDiarmid, Hand and heart 1984. Fluorescent acrylic fabric paint on cotton, 250.0 x 230.0 cm. Powerhouse Museum, Sydney. Gift of the Estate of the late David McDiarmid, 1988 (98/173/1)





MELBOURNE.- The vibrant, provocative and pioneering work of leading Australian artist, designer and gay activist David McDiarmid is being presented in a retrospective exhibition at the National Gallery of Victoria. Defying classification, McDiarmid's work encompasses the complex and interconnected histories of art, craft, fashion, music, sex, gay liberation and identity politics. David McDiarmid: When This You See Remember Me brings together more than 200 works, including the artist's early gay liberation work; New York graffiti and disco quilts; fashion collaborations with Linda Jackson; his pioneering Rainbow aphorisms and Gothic aphorisms digital work; material he produced as Sydney Mardi Gras Artistic Director; posters created for the AIDS Council of NSW; and, his significant and highly influential international campaigns developed in the context of AIDS, sexual politics and ... More
United Kingdom street art pioneer Sickboy opens exhibition at the Outsiders
J Dilla Hip-Hop Collection donated to National Museum of African American History and Culture
The California African American Museum presents 'Curvature: Lines and Shapes'




A leading artist to emerge from Bristol's infamous graffiti scene, Sickboy's humorous and subversive street exploits have firmly placed him in the upper echelons of the British street art movement.





LONDON.- The Outsiders London present Make It Last Forever, a multi-disciplinary exhibition by UK street art pioneer, Sickboy. Marking the artist's first London gallery appearance, this comprehensive showcase features a unique body of surreal abstract canvases alongside an elaborate installation designed specifically for The Outsiders' basement space. A leading artist to emerge from Bristol's infamous graffiti scene, Sickboy's humorous and subversive street exploits have firmly placed him in the upper echelons of the British street art movement. With appearances in Banksy's Oscar nominated 'Exit Through The Gift Shop' and impromptu public installations outside the Tate Modern, Sickboy's return to London with a full-scale exhibition celebrates a poignant embodiment of the artist's ... More





Maureen Yancey, mother of James "J Dilla" Yancey, is shown with her late son's Akai MIDI Production Center 3000 Limited Edition and his custom-made Minamoog Voyager synthesizer. Photo Courtesy of the Smithsonian.





WASHINGTON, DC.- The Smithsonian's National Museum of African American History and Culture announces the donation of significant artifacts from the family of award-winning hip-hop artist and producer, James "J Dilla" Yancey. The items will be part of the museum's growing arts and entertainment collection designed to explore how popular music helped shape the nation's history and culture politically and socially. The announcement was made July 17 during the annual "DC Loves Dilla" tribute concert at the Howard Theatre in Washington, D.C. Other musicians featured in the museum's popular-music collection range from Louis Armstrong, Ella Fitzgerald and Lena Horne to Chuck Berry, George Clinton/Parliament Funkadelic ... More





Michael Kilgore, Basquiat-Picasso Woman, 2012. Mixed media on Bristol.





LOS ANGELES, CA.- The California African American Museum presents Curvature: Lines and Shapes on view from July 24 through November 2, 2014. The exhibition explores the expressive figurative illustrations of two emerging artists, Michael Kilgore and Anthony "Eve" Kemp, whose artistic styles are influenced by Fauvism, Expressionism and Cubism. The exhibition features approximately 48 artworks that includes Kemp's "The Muse – Line of Scandinavia" (2010), "Queen Bee, Edna Hightower," "Mi Familia" series (2010), and "Queen Elizabeth the Atom Bomb" (2007) and Kilgore's "Cleopatra in Corset" (2012), "Josephine's Diva Pose" (2011), and "Basquiat-Picasso Woman" (2012). Many of the artworks depict the lifestyle, history, and culture of African Americans. Common threads between the two artists are the inspiration and influences derived from the women and fam ... More
Quote
Painting comprises three principal parts: drawing, proportion and color. Piero della Francesca
More News
---
Sunday at the Met: Garry Winogrand
---
---
Flashback
On a day like today, Czech artist Alfons Mucha was born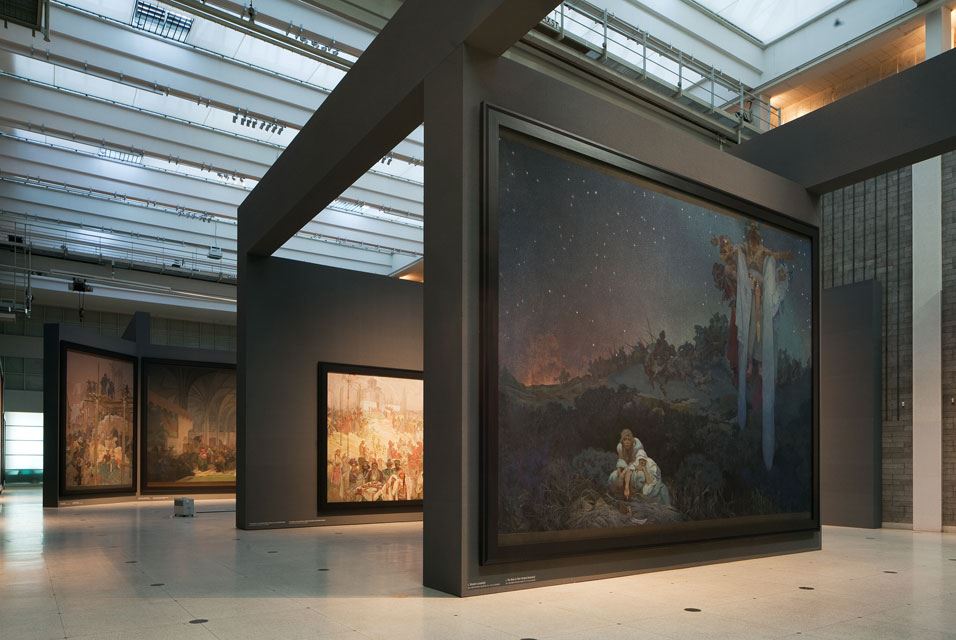 July 24, 1860. Alfons Maria Mucha (24 July 1860 - 14 July 1939), known in English as Alphonse Mucha, was a Czech Art Nouveau painter and decorative artist, known best for his distinct style. He produced many paintings, illustrations, advertisements, postcards, and designs. In this image: The "Slav Epic", a cycle of 20 allegories tracing the history of the Slavic people and inspired in part by mythology, by Art Nouveau Czech artist Alfons Mucha, at the National Gallery in Prague."The Slav Epic" by Alfons Mucha, a Czech Art Nouveau gem, went on display in Prague, fulfilling the wish of the artist who spent 18 years on the series of paintings from 1910 to 1928.
---
---

Museums, Exhibits, Artists, Milestones, Digital Art, Architecture, Photography,
Photographers, Special Photos, Special Reports, Featured Stories, Auctions, Art Fairs,
Anecdotes, Art Quiz, Education, Mythology, 3D Images, Last Week,
.
Royalville Communications, Inc
produces: