The Met opens a major retrospective of the photographs of Irving Penn
Irving Penn (American, 1917–2009), Nude No. 72, New York, 1949–50. Gelatin silver print 15 ⅝ × 14 ¾ in. (39.7 × 37.5 cm) The Metropolitan Museum of Art, New York, Gift of the artist, 2002 © The Irving Penn Foundation.
NEW YORK, NY
.-
The Metropolitan Museum of Art
presents a major retrospective of the photographs of Irving Penn to mark the centennial of the artist's birth. Over the course of his nearly 70-year career, Irving Penn (1917–2009) mastered a pared-down aesthetic of studio photography that is distinguished for its meticulous attention to composition, nuance, detail, and printmaking. Irving Penn: Centennial, is the most comprehensive exhibition of the great American photographer's work to date and includes both masterpieces and hitherto unknown prints from all his major series. Long celebrated for more than six decades of influential work at Vogue magazine, Penn was first and foremost a fashion photographer. His early photographs of couture are masterpieces that established a new standard for photographic renderings of style at mid-century, and he continued to record the cycles of fashions year after year in exquisite images characterized by strik ...
More
The Best Photos of the Day
Weird clouds may have inspired 'The Scream': scientists
Hauser & Wirth exhibits wearable objects commissioned from fifteen artists
Phillips to offer Abstract Expressionist masterpiece by Willem de Kooning


On Monday, scientists hypothesised that the Norwegian painter's inspiration may in fact have been rare clouds which form in cold places at high altitude.



VIENNA (AFP).- The psychedelic clouds in Edvard Munch's iconic "The Scream" have alternatively been interpreted as a metaphor for mental anguish or a literal depiction of volcanic fallout. On Monday, scientists hypothesised that the Norwegian painter's inspiration may in fact have been rare clouds which form in cold places at high altitude. The first version of "The Scream" was released in 1893. It depicts a dark humanlike figure clutching its head in apparent horror against the backdrop of a swirling, red-orange sky. In 2004, American astronomers theorised that Munch had painted a sky brightly coloured by particle pollution from the 1883 Krakatoa volcanic eruption. But the new paper, presented at a meeting of the European Geosciences Union in Vienna, said he more likely depicted a rare sighting of "mother-of-pearl" clouds over Oslo. A volcanic ... More



John Baldessari, Mr. Blue Bird on my Shoulder (with Diamonds), 2013 Bird: enameled silver, diamonds; Shoulder stand: metal, suede 10 x 6.3 x 10 cm / 3 7/8 x 2 1/2 x 3 7/8 in Overall dimension: 10h x 6.3 x 10 cm / 3 7/8 x 2 1/2 x 3 7/8 in Bird only: 6.3h x 3 x 7.2 cm / 2 1/2 x 1 1/8 x 2 7/8 in © John Baldessari. Courtesy the artist, Marian Goodman Gallery and Hauser & Wirth.



NEW YORK, NY.- Hauser & Wirth debuted its Portable Art Project with an exhibition of wearable objects commissioned from fifteen artists – works that exist somewhere between sculpture and bodily adornment. Organized by Celia Forner, who collaborated closely with the artists, the Portable Art Project includes unique pieces as well as editioned series, crafted from an array of materials ranging from traditional gold and silver with precious and semi-precious gems, to enamel, aluminum, bronze, and iron. The initiative began with an invitation to Louise Bourgeois, who in 2008 conceived different spiral-like precious metal cuffs. In the years since Bourgeois designed these first contributions, the Portable Art ... More



Willem de Kooning, Untitled II, 1980 (detail). Estimate: $12-18 million. Image courtesy of Phillips.



NEW YORK, NY.- Phillips announced that Willem de Kooning's Untitled II will be offered as a highlight in the Evening Sale of 20th Century & Contemporary Art on Thursday, 18 May. A magnificent tour-de force of his painterly virtuosity, Untitled II is one of less than ten works created in 1980, an important turning point in de Kooning's career. Estimated at $12-18 million, this work has never been offered at auction. Since its creation nearly four decades ago, it has been exhibited twice – once at London's Royal Academy of Arts in 1981 and once at New York's Gagosian Gallery, in their de Kooning retrospective of 2007. At 77x88 inches, Untitled II is an example of the largest of the three canvas sizes de Kooning used, reserved for his most ambitious projects. This painting is one of only a few paintings that he completed in 1980. The works from this period grew out of masterpieces from his highly acclaimed years of 1975-77. ... More
LACMA announces nine new acquisitions during the 31st Annual Collectors Committee Weekend
U-M's new Orson Welles acquisition from his daughter reveals never-before-seen work
Large scale landscape painting gives bird's eye view of early 18th century Chatsworth


Khosrow Hassanzadeh, Pahlavan II, Ready to Order2008, Mixed media box, 76 × 52 × 10 in. (193 × 132.08 × 25.4 cm), © Khosrow Hassanzadeh.



LOS ANGELES, CA.- The Los Angeles County Museum of Art announces the addition of nine new acquisitions during the museum's 31st annual Collectors Committee fundraiser. The annual Collectors Committee Weekend—led by LACMA trustee, Collectors Committee chair, and Acquisitions Committee co-chair Ann Colgin—was a two-day affair which included curator-led art presentations, private dinners at the homes of major LACMA supporters, and a gala dinner where members voted on artworks to add to the museum's permanent collection. This year, the 90 voting members raised more than $2 million. "Collectors Committee Weekend celebrates LACMA's diverse collection by adding new acquisitions that will further strengthen the museum's holdings of art, all while enjoying incredible food, wine, and good ... More



Page 1 of 3, typed letter from Welles to his beloved friend Dr. Maurice Bernstein, whom he called "Dada." The letter was typed in 1930 by 15-year-old Orson Welles, who precisely describes the qualities of Yokohama's Theater Street. Image courtesy the University of Michigan Library, Special Collections.



ANN ARBOR, MICH.- A new set of materials from Beatrice Welles will make the University of Michigan Library's Orson Welles collection the world's most comprehensive resource for Welles scholars and fans. The daughter of renowned indie filmmaker Orson Welles and Italian actress Paola Mori, Beatrice Welles had a particularly extraordinary childhood. She was brought up jetsetting to different countries, playing on various film sets, interacting mostly with adults (her parents and their friends), and falling asleep to the rhythmic sounds of her father working on his typewriter late into every night. "My father was very anti-establishment, so I didn't spend my days in school. I was with my parents twenty-four, seven— ... More



A View of Chatsworth by Jan Siberechts.



LONDON.- Visitors can now discover how Chatsworth appeared in the early 18th century thanks to the acquisition of an important major landscape painting giving a detailed bird's eye view of the estate. The Directors of the Chatsworth House Trust announced the arrival of an important addition to the Devonshire Collection - A View of Chatsworth by Jan Siberechts, painted circa 1703. Until now a painting of the house and garden in the 1st Duke's time was missing from the collection. This large scale, detailed painting is now on display at Chatsworth, with a series of landscape paintings of the house and garden detailing major changes through the past 400 years. The Duke of Devonshire said "I am extremely excited that this landscape has joined the Devonshire Collection. It will be of great interest to our visitors as it portrays on a grand scale a complete view of Chatsworth, house, garden and park as built ... More
mother's tankstation presents Brendan Earley's "Life after Buildings"
Marlon Brando's personally owned Rolodex and phonebook to be auctioned
Rijksmuseum announces winner of €10,000 Rijksstudio Award 2017


Brendan Earley, Lost in Music, 2016 (detail). Oak, enamel paint, 130 x 28 x 23 cm. Photo: Courtesy of the artist and mother's tankstation limited.



DUBLIN.- In 1971 the American poet Lew Welch parked his car in the remote Sierra Mountains and carrying both a significant reputation gained from his affiliation with the Bay Area beat poets of the 1960s and a little gun, walked into the woods. He was barely 45 and his major work, Ring of Bone, although written and assembled, was yet unpublished in the form we know it. Welch, although gifted, was troubled, and had always struggled with the act of writing; his seemingly, loosely-structured masterwork is as something akin to a play, a biographic outline and a statement of poetics. The collection might as such be considered a spiritual autobiography of which the title initially seems viusally imagistic, until you get to the poet's own embedded explanation of poetic purpose; and then heard "a ring of bone" where ring is what a bell does 1 Walking and finding things has always played an important part in my own practice ... More



Marlon Brando's personal Rolodex from the 1970's-80's features information for more than 1,000 contacts.



LOS ANGELES, CA.- Marlo Brando's Rolodex and phonebook, containing the addresses and phone numbers of thousands of celebrities, will be auctioned by Nate D. Sanders Auctions on April 27, 2017. Marlon Brando's personal Rolodex from the 1970's-80's features information for more than 1,000 contacts. Celebrities include: Orson Welles, Jack Nicholson, George C. Scott, Barbra Streisand, Bob Dylan, Jane Fonda and Tom Hayden, Peter Fonda, Bernardo Bertolucci, Francis Ford Coppola, David Geffen, Alex Haley, Frank Sinatra, Hugh Hefner, Mohammed [sic] Ali, Harry Belafonte, Robert Redford, Stella Adler, Sidney Lumet, Mike Nichols and Johnny Carson, among others. Many prominent journalists are also included: Carl Bernstein's direct line at the ''Washington Post,'' Pentagon Papers whistleblower Daniel Ellsberg, William Hearst, Jimmy Breslin, Walter Cronkite, Pete Hamill, Pierre Sa ... More



Masterpieces Never Sleep, Lesha Limonov, Wit Rusland.



AMSTERDAM.- Masterpieces Never Sleep, sleep masks inspired by Johannes Cornelisz Verspronck's Portrait of a Girl Dressed in Blue, has won the Rijksstudio Award 2017, the Rijksmuseum's international design award. Lesha Limonov from Belarus received a cash price of €10,000 from an international jury. The Eden Condoms by Esther Pi & Timo Waag (Spain) and Plant Study Hats by Jessie Hall (England) won second and third place respectively. The Rijksstudio Award is made possible by the Rijksstudio Fonds / Rijksmuseum Fonds. The jury said: "Masterpieces Never Sleep is a strong concept that radiates great simplicity which opens our eyes to art and is also a playful homage to Portrait of a Girl Dressed in Blue." The work was selected from over 2,600 entries from 62 countries. Delft Blue Eyes + Nails by the duo Francine LeClercq & Ali Soltani (United States), which received 2,202 votes out of a total of 10,270 votes cast, won the Publ ... More
Exhibition at Berlinartprojects presents works by Ulrich Riedel and Emre Meydan
PIASA continues to explore Italian post-war creativity with the sale of an Italian Collection of Art & Design
Extraordinary Ruth, Mantle, Jackson cards highlight Heritage May Sports Collectibles Auction


Ulrich Riedel, Dark Coco & Dark Igor 2017, wood, variable dimensions. © Ulrich Riedel.



BERLIN.- Berlinartprojects is hosting an encounter between two artists whose shared interest in the qualities of space and the boundaries of perspective brings their otherwise very different practices together. Sculpture meets painting in this exhibition, the geometric structures of Riedel dialoguing with Emre Meydan's delicate images of interiors. Both artists have distinctive vocabularies for questioning representations of space and treating perspective with clever illusions and distortions, Riedel on a more monumental scale and Meydan on a more intimate one. Yet one does not outshine the other, rather, the works interact and inform each other in an explorative, collaborative way. Indeed, the core of the show is a joint piece by Riedel and Meydan; the outcome of their conversations on depth, spatial relations and three-dimensionality. On entering the exhibition space, Riedel's imposing wooden ... More



Max Ingrand (1908-1969), Modèle 1774. Table basse en métal laqué, laiton et verre teinté convexe grossissant Edition Fontana Arte Date de création: vers 1960 H 37 x Ø 83 cm. €20,000-30,000.



PARIS.- In 2016 PIASA presented nearly a dozen private collections at auction, whose market-fresh provenance provoked lively bidding among French and international collectors. On 1 June 2017 PIASA will offer an ensemble of Design and works of art from an Italian collection that represents the fruit of over a decade of passionate research, reflecting the taste of a family of collectors for all aspects of artistic creativity. The Collection's Decorative Art spans post-war Italian output from the great architects of reconstruction down to contemporary designers, including works by: • Gio Ponti, director of Domus magazine, who fitted out luxury hotels and ocean-liners in the 1950s • Fontana Arte, where Ponti was succeeded as artistic director by Max Ingrand, who brought with him a new, French approach • The BBPR ... More



The 1916 M101-5 Blank Back (Sporting News) Babe Ruth Rookie #151 PSA NM 7, (est. $600,000+).



DALLAS, TX.- Some of the rarest baseball cards featuring the biggest names in the sport will be made available by Heritage Auctions as part of the Sports Collectibles Auction May 11-13 in Dallas. Featuring the biggest brands in baseball card collecting from the most elusive sets, collectors will be able to bid on some of the rarest and highest graded trading cards in the hobby. With understandable deference to the T206 Honus Wagner and the 1952 Topps Mickey Mantle cards, the 1916 M101-5 Blank Back (Sporting News) Babe Ruth Rookie #151 PSA NM 7, (est. $600,000+) might well be the most important card in history. This is the one universally recognized Babe Ruth rookie card and within the population of Ruth M101-5's, this PSA NM 7 specimen counts itself as one of only three, with three superiors (each just a grade higher). In 1956, Mantle was the biggest star in the game and this card, the 1956 Topps Mickey Mantle #135 PSA Gem Mint 10 - ... More
Quote
The cypresses are always occupying my thoughts. Vincent van Gogh
More News
---
A View of Chatsworth' by Jan Siberechts
---
Flashback
On a day like today, Dutch painter Karel Appel was born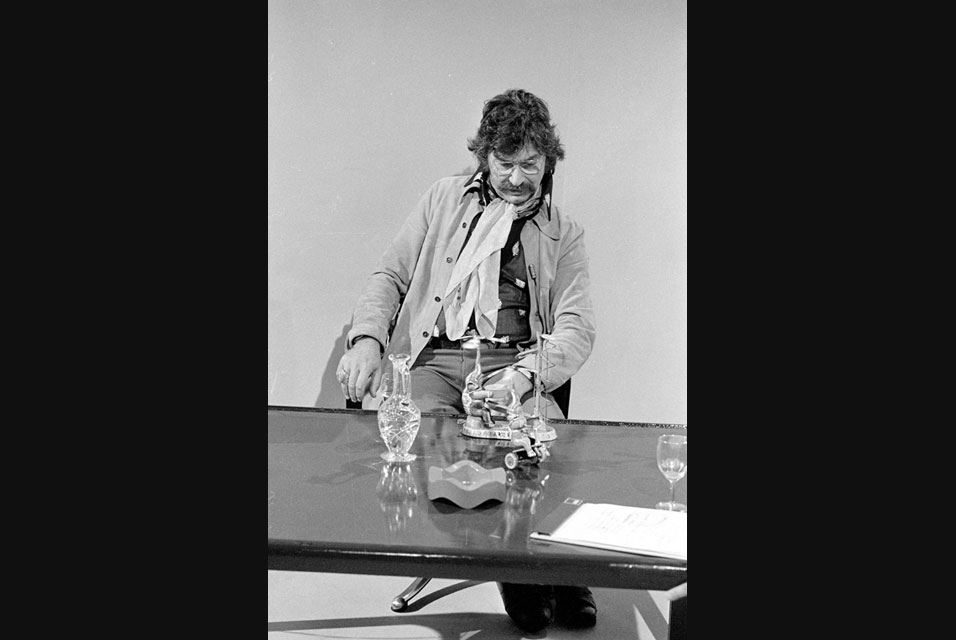 April 25, 1921. Christiaan Karel Appel (25 April 1921 - 3 May 2006) was a Dutch painter, sculptor, and poet. He started painting at the age of fourteen and studied at the Rijksakademie in Amsterdam in the 1940s. He was one of the founders of the avant-garde movement Cobra in 1948.
---

Museums, Exhibits, Artists, Milestones, Digital Art, Architecture, Photography,
Photographers, Special Photos, Special Reports, Featured Stories, Auctions, Art Fairs,
Anecdotes, Art Quiz, Education, Mythology, 3D Images, Last Week,
.
Royalville Communications, Inc
produces:







Tell a Friend
Dear User, please complete the form below in order to recommend the Artdaily newsletter to someone you know.
Please complete all fields marked *.
Sending Mail

Sending Successful