Ancient Egyptian beer making vessels discovered by Israeli Antiquities Authority
Diego Barkan, director of the archaeological excavation of the Israel Antiquities Authority, shows Fragments of some 5000 thousands year old ancient pottery vessels believed to be used to prepare beer at a building site where they have been discovered in Tel Aviv, on March 29, 2015. Excavation director Diego Barkan said 17 pits were found that had been used to store produce in the Early Bronze Age, from 3500 to 3000 BC. The excavation is the first to offer evidence of an "Egyptian occupation" in the centre of Tel Aviv 5,000 years ago. AFP PHOTO / MENAHEM KAHANA.
TEL AVIV
(AFP)
.-
Fragments of pottery used by Egyptians to make beer and dating back 5,000 years have been discovered on a building site in Tel Aviv, the Israeli Antiquities Authority said on Sunday. Excavation director Diego Barkan said 17 pits were found that had been used to store produce in the Early Bronze Age, from 3500 to 3000 BC. "Among the hundreds of pottery sherds that characterise the local culture, a number of fragments of large ceramic basins were discovered that were made in an Egyptian tradition and were used to prepare beer," he said in a statement. The excavation is the first to offer evidence of an "Egyptian occupation" in the centre of Tel Aviv 5,000 years ago. "This is also the northernmost evidence we ...
More
The Best Photos of the Day
'Raku: The Cosmos in a Tea Bowl' opens at the Los Angeles County Museum of Art
Greece condemns British refusal of mediation by UNESCO on Parthenon sculptures
Museum of Modern Art opens unprecedented survey of modern architecture in Latin America




Sōnyū (Raku V), Japan, 1664–1716, Incense Burner in the Form of an Owl, 17th–18th century, Red Raku ware; glazed ceramic, 5 5/16 x 4 3/4 in. (13.5 x 12.0 cm), Raku Museum, Photo: Takashi Hatakeyama.





LOS ANGELES, CA.- The Los Angeles County Museum of Art presents Raku: The Cosmos in a Tea Bowl. This exhibition comprises nearly 100 masterpieces with examples from all 15 generations and the subsequent generation of the Raku family, whose celebrated legacy continues to influence global ceramics. More than half of the ceramic objects in the exhibition are tea bowls. Other works include incense containers and burners, food utensils, water jars, and other objects used in the Japanese tea ceremony. Three Registered works are featured in the exhibition. One tea bowl by Raku I (Chōjirō) and one tea bowl by Raku III (Dōnyū) are each Registered Important Cultural Properties. Another tea bowl by Hon'ami Koetsu, an artist and potter outside the Raku family who achieved great fame for his works, is designated an Important Art Object. Special permission from the Japanese Government's Ministry of Culture was required to include these Regis ... More





A section of marble frieze sculpture (438-432 BC) from the Parthenon in Athens, part of the collection that is popularly referred to as the Elgin Marbles. AFP PHOTO / LEON NEAL.





ATHENS (AFP).- Greece on Saturday criticised the "negativism" of the British Museum in rejecting mediation by UNESCO to help resolve the decades-old dispute over returning ancient Parthenon sculptures to Athens. The sculptures are part of the collection popularly known as the "Elgin Marbles" which were acquired by Lord Elgin in the early 1800s when he was ambassador to the Ottoman court. The British parliament purchased the art treasures in 1816 and gave them to the museum. For the past 30 years Athens has been demanding the return of the sculptures which had decorated the Parthenon temple on the Acropolis in Athens from ancient times. "We deplore the categorical refusal by the British of UNESCO's invitation to launch a mediation process over the Parthenon sculptures housed in the British Museum," said Nikos Xydakis, a Greek culture minister, in a statement. "The British negativism is overwhelming, along with its lack of respect for the role of mediators," he added. ... More





Installation view of Latin America in Construction: Architecture 1955-1980 at The Museum of Modern Art, New York (March 29-July 19, 2015). Photo by Thomas Griesel. © 2015 The Museum of Modern Art, New York.





NEW YORK, NY.- On the 60th anniversary of its last major survey of modern architecture in Latin America, The Museum of Modern Art returns its focus to the region with Latin America in Construction: Architecture 1955–1980, a complex overview of the positions, debates, and architectural creativity from the Rio Grande to Tierra del Fuego, from Mexico to Cuba to the Southern Cone, between 1955 and 1980. On view March 29 through July 19, 2015, Latin America in Construction is organized by Barry Bergdoll, Curator, and Patricio del Real, Curatorial Assistant, Department of Architecture and Design, MoMA; Jorge Francisco Liernur, Universidad Torcuato di Tella, Buenos Aires, Argentina; and Carlos Eduardo Comas, Universidade Federal do Rio Grande do Sul, Porto Alegre, Brazil; with the assistance of an advisory committee from across Latin America. In 1955 MoMA staged Latin American Architecture since 1945, a landmark exhibition highlighting a decade of arch ... More
United Nations cultural body chief Irina Bokova vows to step up Iraq heritage protection
Exhibition of new works by Anselm Kiefer opens at Galerie Thaddaeus Ropac in Salzburg
Ten Picassos from the Kunstmuseum Basel on view at the Museo del Prado in Madrid




UNESCO Director General Irina Bokova speaks during a press conference at the National Museum in Baghdad on March 28, 2015 as she visits the Iraqi capital to boost global efforts to preserve Iraq's heritage, which has been systematically targeted by the Islamic State group. AFP PHOTO / SABAH ARAR.





BAGHDAD (AFP).- The head of the United Nations cultural body vowed in Baghdad Saturday to step up measures aimed at protecting Iraq's heritage, which has been systematically targeted by jihadist militants. UNESCO chief Irina Bokova launched a Japanese-funded initiative to preserve Iraq's museum collections and threatened heritage, as well as a social media campaign under the hashtag #Unite4Heritage. "Today our pledge is we will never relent in safeguarding the great cultural heritage and diversity of Iraq," she said, speaking from the recently reopened national museum in Baghdad. Heritage experts have admitted that little could be done to save sites in areas controlled by the Islamic State jihadist group. In February this year, IS ... More





Anselm Kiefer, für Walter v.d. Vogelweide: Under der Linden, 2014. Acrylic, emulsion, oil, shellac, charcoal and sediment of electrolysis on photograph mounted on canvas, 185 x 332 cm. Courtesy Galerie Thaddaeus Ropac, Paris/Salzburg © Anselm Kiefer Photo: Ulrich Ghezzi.





SALZBURG.- Galerie Thaddaeus Ropac presents its seventh solo exhibition of new works by Anselm Kiefer. Under the title Im Gewitter der Rosen [In the storm of roses], Kiefer has assembled a series of canvases, overpainted collages, watercolours and sculptures sharing the thematic dialectic of war and peace, love and pain, beauty and destruction. These leitmotifs draw primarily on three literary sources: Ingeborg Bachmann's (1926-73) poem In the Storm of Roses (1953), the mediaeval love poem Under der Linden [Under the lime-tree] by Walther von der Vogelweide (c.1170-c.1230), and Arthur Rimbaud's (1854-91) early sonnet Le Dormeur du val [The sleeper in the valley] (1870). It is not only the analytical reflection on the ... More





Pablo Picasso, Seated Harlequin (Arlequin assis). Oil on canvas, 130.2 x 97.1 cm 1923. Kunstmuseum Basel, on permanent loan from the City of Basel 1967





MADRID.- For six months, the Museo del Prado's Central Gallery is showing ten masterpieces by Picasso from the holdings of the Kunstmuseum Basel, an institution that houses more than 300 pieces by the Spanish artist, including drawings, prints and paintings, in its collections and on permanent loan. Picasso thus returns again to the Prado, but on this occasion through the Swiss museum's works that best fit in with the exhibition message as they reflect, in the form of an essential anthology, some of decisive moments in the artist's career, such as the end of his blue and rose periods, his foray into synthetic cubism, his return to "neoclassicism", his experience during the war and the retrospective experiments of the last years of his life. The showing of this set of Picasso masterpieces revives the artist's personal and artistic link with the Museo del Prado, which he directed during the ... More
Alexander M. Haig Collection to feature at Kaminski Auctions unreserved April 12th sale
Architect Edward Larrabee Barnes honored in 25th anniversary Katonah Museum of Art exhibition
National Museum of American History accepts 'Mad Men' artifacts against backdrop of real advertising history




Chaumet Paris Tuxedo Set- property of General Alexander M. Haig.





BEVERLY, MASS.- On April 12th Kaminski Auctions' presents an Unreserved Estate Auction that includes an outstanding selection of antiques and fine art. Offerings range from a large collection of Asian bronze Buddha figures, to an extensive collection of Lalique glass from a California collector, and important items from the estate of Alexander M. Haig, former Secretary of State. A decorated four star general, Alexander M. Haig had an illustrious military career serving on the staff of General Douglas MacArthur in the Korean War, and was awarded the Distinguished Service Cross in the Vietnam War. He served as NATO Supreme Commander from 1974-1979, as Secretary of State under Ronald Regan, and as Chief of Staff under President Nixon and President Gerald Ford. Highlights of his estate include his midnight blue metallic 1995 Mercedes cabriolet coupe convertible, gifts from important ... More





Edward Larrabee Barnes. Photo © Nancy Rica Schiff.





KATONAH, NY.- The Katonah Museum of Art celebrates the silver anniversary of its landmark building by Edward Larrabee Barnes (April 22, 1915 – September 22, 2004) with an exhibition exploring the work of this legendary architect in Westchester, where Barnes resided. Though internationally renowned for ambitious modernist museum structures, The Katonah Museum project was unique in design— an intimate, light-filled space surrounded by the natural beauty of this idyllic hamlet located just 45 minutes from New York City. Unlike many large projects Barnes had undertaken, this one was as much a form of personal expression as architectural design, with the informal feel of a domestic space for art. The story of Barnes' relationship to the Katonah Museum of Art crosses the worlds of business, art, and family life. Barnes raised his family in nearby Mt. Kisco, and designed the homes of many of his closest friends and neighbors. His w ... More





The house dress worn by the character Betty Draper and the grey suit worn by character Don Draper. AFP PHOTO/MANDEL NGAN.





WASHINGTON, DC.- In a special ceremony, the Smithsonian's National Museum of American History accepted a donation of more than 50 artifacts from Mad Men, including costumes, props, sketches and a script as well as creator Matthew Weiner's personal notes from the AMC drama produced by Lionsgate. The objects include early 1960s-styled clothing and props from two of the show's principal characters, Don Draper and Betty Francis, including Don's charcoal gray suit and Cordova fedora and Betty's yellow house dress. Weiner and the cast donated the Mad Men objects against the backdrop of actual advertising history as the museum prepares to open "American Enterprise," its exhibition on business that explores branding and its role in engaging consumers, beginning July 1. Mad Men artifacts that represent the U.S. at the mid- ... More
With over $360 million in total sales nine-day Asia Week New York breaks all records
Eli Wilner & Company frames 27 artworks in the Weldon Collection of Old Master paintings
'Modern Taste: Art Deco in Paris, 1910-1935' opens at the Fundacion Juan March




Black "Egg-Shell" Earthenware Goblet, Longshan culture, Neolithic period, 2500- 2000 B.C. Photo: Courtesy Kaikodo LLC.





NEW YORK, NY.- The 2015 edition of Asia Week New York ended its nine-day Asian art extravaganza with record-shattering sales totaling $360M, almost doubling last year's number with an 80% increase of $160M. Said Carol Conover, chairman of Asia Week New York: "By all accounts, we have succeeded in making New York the destination for buying Asian art, not only for many of the great museums in the United States and abroad, but also for the leading international private collectors. Galleries saw steady and heavy traffic throughout the week, and sales for the four major auction houses reached new highs, making it a great success in terms of revenue in all areas across the board. With the influx of new buyers from China who came here for the sale of The Robert Hatfield Ellsworth Collection at Christies, the exuberance and excitement of the week was palpable." New York was ... More





Eli Wilner & Company's long-standing relationship with Sotheby's showcases their extraordinary expertise in framing European works of art.





NEW YORK, NY.- Eli Wilner & Company has framed 27 artworks in the Weldon Collection of Old Master paintings, to be offered in a single-owner sale at Sotheby's New York on April 22, 2015. Referencing their collection of 17th and 18th century Dutch frames, the Eli Wilner studio created replicas of 27 distinct frames, each specifically selected for the paintings. Each of the hand-made frames will be included with the lots. Highlights from the collection were exhibited in Los Angeles, London and Amsterdam, including 18 of the Eli Wilner frames. Henry and June Weldon were passionate New York collectors who put together a remarkable group of paintings, centered around but not limited to Dutch and Flemish 17th century pictures. Highlights include still lifes by Adriaen Coorte, Balthasar van der Ast, Ludger Tom Ring, and Ambrosius Bosschaert, views by Hendrick ... More





Charlotte Perriand. SillónLC7 . C. 1929.





MADRID.- This is both an exhibition on the decorative arts, but at the same something else. It includes outstanding examples of works that fall into that category but it has been very precisely devised and organised to challenge the now outdated separation - both too inflexible and too simplistic to be valid - between the fine and the decorative or applied arts that is typical of our modern aesthetic consciousness, which is museum-oriented and modern in the strict sense of the term. The present exhibition aims to question the almost total absence of Art Deco in the history of modern art, its manuals and curatorial practice and to champion (as happened with various exemplary cases relating to the Art Deco revival of the 1970s) not only the obvious beauty of this style but also the significance and cultural and artistic complexity of its uniquely modern character. The style now known as Art Deco was an alternative to the avant-garde, implying a modernism that was more pragmatic and ornamental th ... More
Quote
We must never forget that art is not a form of propaganda, it is a form of truth. John F. Kennedy
More News
---
On a day like today 70 years ago, Eric Clapton was born
---
---
Flashback
On a day like today, Spanish painter Francisco Goya was born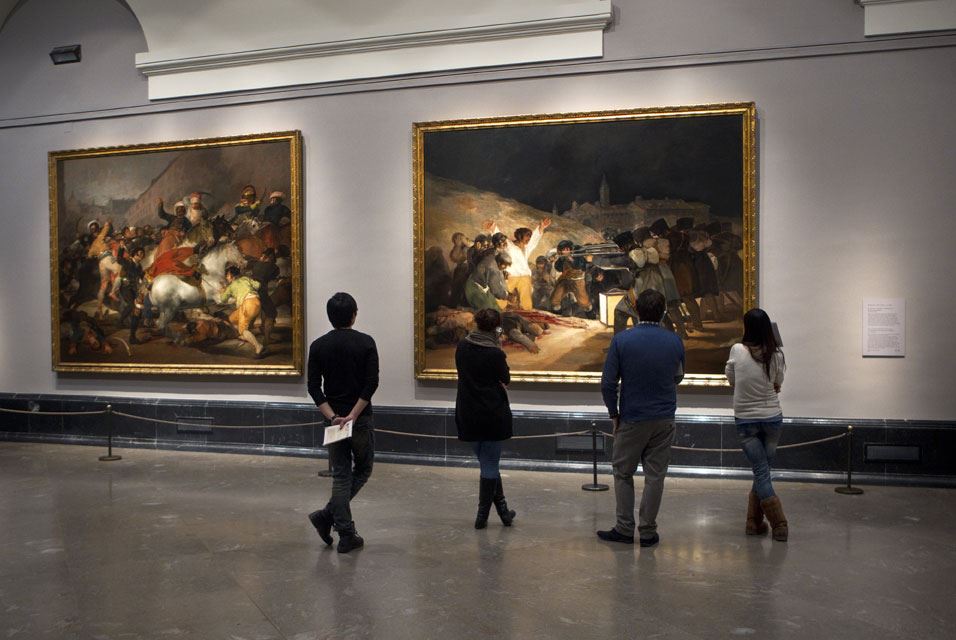 March 30, 1746. Francisco José de Goya y Lucientes (30 March 1746 - 16 April 1828) was a Spanish romantic painter and printmaker regarded both as the last of the Old Masters and the first of the moderns. Goya was a court painter to the Spanish Crown, and through his works was both a commentator on and chronicler of his era. The subversive imaginative element in his art, as well as his bold handling of paint, provided a model for the work of later generations of artists, notably Manet, Picasso and Francis Bacon. In this image: Goya Galleries, 2nd and 3rd of May ©Museo Nacional del Prado.
---
---

Museums, Exhibits, Artists, Milestones, Digital Art, Architecture, Photography,
Photographers, Special Photos, Special Reports, Featured Stories, Auctions, Art Fairs,
Anecdotes, Art Quiz, Education, Mythology, 3D Images, Last Week,
.
Royalville Communications, Inc
produces: