United States judge sides with artist forced to prove painting is not his
Attorney William Zieske (left) and his client Robert Fletcher (right) speak to reporters at the US federal courthouse in Chicago on August 23, 2016, after losing their lawsuit against artist Peter Doig. They accused him of falsely denying authorship of a painting. Nova SAFO / AFP.

by Nova Safo
CHICAGO
(AFP)
.-
In a court case with repercussions for the art world and millions of dollars at stake, a US judge ruled Tuesday in favor of an artist who was sued for denying a painting was his. A US District Court judge in Chicago decided that Peter Doig, a world-famous artist who insists he did not create a desert landscape painting, is telling the truth. The man who owns the disputed piece of art, a retired Canadian corrections officer by the name of Robert Fletcher, sued Doig for refusing to acknowledge that the painting is one of his works -- which means its value is significantly diminished. Judge Gary Feinerman ruled that there was "conclusive" evidence that Doig did not paint the disputed work, and that he had the right to say a painting was not his. The facts surrounding the case date back to Canada in the 1970s, when Fletcher met a man named Peter Doige -- spelled with an e -- and watched him study art while jailed for a drug offense. Fletcher says he remembers being impressed by one of Doi ...
More
The Best Photos of the Day
Bonhams to sell contents of an English country house with royal connections
McNay Art Museum receives $1 million donation from G.A.C. Halff Foundation
Works by Piero Manzoni on view at Musée cantonal des Beaux-Arts


Two works, offered as a pair (one shown above), by Fabius Brest depict views of the Bosphoros (estimate £40,000-60,000). Photo: Bonhams.



LONDON.- A Royal Collection: the contents of an English Country House goes under the hammer at Bonhams on 11 October. Removed from the family's English country residence, surrounded by walled gardens and a private deer park, A Royal Collection offers a wonderful selection of 18th and 19th century English and European furniture, old master paintings, fine carpets and rugs, Silver, Chinese and European works of art and 19th century paintings. The sale is particularly strong in the visual arts, with a wide selection of paintings by British, Dutch, French and American artists. Among these is the top lot, The Lovers by the French Orientalist painter Etienne Dinet (1861–1929), estimated at £50,000-70,000. Dinet was unusual among Orientalist painters in that he fully embraced Arabic culture, converting to Islam ... More



Marie Halff and Bill Chiego.



SAN ANTONIO, TX.- At the Tribute Celebration for William Chiego's 25 years as leader of the McNay Art Museum, Marie Halff, emeritus museum trustee and trustee of the G.A.C. Halff Foundation, announced a $1 million donation to the McNay to establish an endowment for the acquisition of American art. Museum supporters gathered on June 6th to celebrate the vision, intellectual curiosity, and creativity that have defined Dr. Chiego's influential 25-year tenure as director of the museum. With this gift, the Halff Foundation honors Dr. Chiego's, indelible legacy and dedication which transformed the McNay into an institution recognized internationally by peers and the public. Dr. Chiego, the second director in the museum's 62-year history retires September 9th. "The G.A.C. Halff Foundation has been a generous supporter of the McNay's exhibition program for many years, and Marie and her late husband Hugh have ... More



5a-5b Achrome, 1961. Polystyrene and phosphorescent varnish, 60 x 46 cm. Milan, Fondazione Piero Manzoni. Photo: mcb-a /Nora Rupp.



LAUSANNE.- The Musée cantonal des Beaux-Arts de Lausanne is presenting the first museum exhibition in Switzerland of the work of Piero Manzoni (1933–1963). Centred on the Achromes – the white monochromes the artist worked on during his brief career (1957– 1963) – the exhibition comprises 70 outstanding works ranging from the famous wrinkled canvases to the final polystyrene pieces, not to mention his few sculptures and works on paper. A major figure on the art scene of the 1950s–1960s, Manzoni enjoys the same status as Lucio Fontana and Yves Klein as one of the most innovative artists of the time. Like them he experimented with monochrome, but took the concept further by opting for the a-chromatic: the very absence of colour. Driven by a determination to free the work of art from the painterly tradition and from the ... More
Bosco Sodi presents solid clay cubes, volcanic rocks and object paintings in Los Angeles
Middle Eastern Art & Chinese ceramics lead Skinner's Asian Works of Art Auction
The Reformed Romantic: Musées d'Orsay exhibits works by Charles Gleyre


Bosco Sodi, Untitled, 2016, mixed media over canvas, 150 x 150 cm. Photo credit: Kevin Kunstadt.



LOS ANGELES, CA.- Paul Kasmin Gallery, Brandon Davis Projects and Jose Mestre announce Bosco Sodi: Malpaís, the artist's first solo exhibition in Los Angeles, on view from August 25 through October 8 at 143 N. Robertson Blvd., Los Angeles. Curated by Matthew Schum, the exhibition will present a selection of Sodi's solid clay cubes, volcanic rocks and object paintings. Malpaís references the term used in Spanish-speaking regions for a rough and barren landscape, or "badland," bringing to mind the richly pigmented and textured, monumental paintings for which Bosco Sodi is known. The artist creates dense monochromes using raw pigment mixed with sawdust, wood pulp, natural fibers, and glue, which he applies, layer by layer, to large canvases. As the pieces dry, the surfaces begin to crack. Well-known antecedents of color field painting here telescope into the beauty of badlands, as seen from miles above the earth. The results are aesthetic and otherworldly, like the desert itself. ... More



The cover lot of the auction is an exceptional monumental cinnabar vase from the 18th century, decorated with four carved landscapes (Lot 387, $3,000-$5,000).



BOSTON, MASS.- Skinner, Inc. will present an Asian Works of Art auction of over 700 lots on Friday, September 16, 2016 at 11AM, coinciding with Asia week auctions in New York City. The auction features several important private collections, including early Middle Eastern ceramics and manuscripts, tomb pottery from the Han and Tang periods, and an exceptional collection of early monochrome miniature ceramics from the Tang to the Qing dynasty. The auction opens with an excellent selection of Middle Eastern ceramics, manuscripts, and metal work from the estate of Marion E. James, former Chair of the Department of History at the University of New Hampshire. Professor James's interest in Middle Eastern history led her to travel to Iraq, Afghanistan, India, and Syria in the 1960s. While traveling she began collecting works of art that interested her and could be used as teaching materials. Many pieces ... More



Charles Gleyre (1806-1874), Deluge (detail), 1856, oil and pastel on canvas, 99.5 x 197 cm, Lausanne, Musée cantonal des Beaux-Arts © Clémentine Bossard, Musée cantonal des Beaux-Arts de Lausanne.



PARIS.- Unlike in Switzerland where he is regularly celebrated, no French national museum to date has devoted an exhibition to Charles Gleyre. His role in French painting of the mid 19th century is still underestimated. Although championed after his death by art critic and historian Charles Clément, a lack of knowledge about Gleyre's life and his creative diversity has long led him to be considered a cold, conventional aesthete, blind to the aesthetic revolutions of his time, a solitary, nostalgic and misanthropic figure. New discoveries and fresh interpretations of his work, including first and foremost the analysis published by Michel Thévoz in L'Académisme et ses fantasmes (1980), William Hauptman's catalogue raisonné (1996) and the exhibition organised by Catherine Lepdor in Lausanne in 2006, have uncovered both the originality and power of his creativity, and offered ... More
Zurich Asia to offer rare stamps and philatelic treasures
Powerful quake hits Myanmar, damaging famed Bagan temples
Heavy metal: Artcurial to offer 20 design masterpieces


An extremely fine sheet of eighty 1980 Year of the Monkey ('Golden Monkey') stamps in pristine condition and shinny golden colour (Estimate: HK$1.15-1.25 million/ US$147,436-160,256).



HONG KONG.- Zurich Asia will hold on 10 & 11 September 2016 its next Hong Kong auction at Harbour Plaza Hotel North Point. Over 3,600 lots of philatelic treasures coveted by discerning collectors and connoisseurs will be offered. Of particular note, a separate catalogue of historical photos will be presented, featuring rare photos taken by war correspondents of newspapers including New York Times and Daily Mail which captured important moments during the reign of Puyi, the last Emperor of China and the Sino-Japanese War. An extremely rare 1902 mixed franking red band cover from Kiaochow (Estimate: HK$600,000-700,000/ US$76,923-89,744) is one of the top lots in this exciting auction. Registered to Lichtenthal, the cover bears a block of four Dowager first printing 9 candarins dull green stamps with tête-beche, which are also vertically imperforate between ... More



The ancient Dhammayangyi temple is seen shrouded in dust as a 6.8 magnitude earthquake hit Bagan on August 24, 2016. SOE MOE AUNG / AFP.



YANGON (AFP).- A powerful 6.8 magnitude earthquake struck central Myanmar Wednesday, killing at least one person and damaging around 60 pagodas in the ancient city of Bagan, officials said. The quake, which the US Geological Survey said hit at a depth of 84 kilometres (52 miles), was also felt across neighbouring Thailand, India and Bangladesh, sending panicked residents rushing onto the streets. At least one man was killed in Magway region where the quake struck, said Han Zaw Win, a local MP from Pakokku township. "A 22 year-old man was killed when a nearby building collapsed during the earthquake," he told AFP, adding that a woman was also injured. A local official reported heavy damage to several temples in Bagan -- Myanmar's most famous archaeological site and a major tourist destination some 30 kilometres north of the quake's epicentre. "About 60 pagodas in Bagan were damaged. Some were ... More



Ingo Maurer, Lampe à poser dite "Big M" - Circa 1970. Base en laiton et acier chromé, néon. Estimation : 4 000 – 6 000 € / 4 400 – 6 600 $ © Artcurial



PARIS.- For the third consecutive year, Artcurial will organise an exemplary Design auction during the FIAC on October 25th 2016. Once again, the auction will offer an original take on artistic creation from the 20th century and present twenty exceptional pieces, gathered around the theme of metal. This sale follows on from the success of the 2014 edition Ron Arad: Masterworks and 2015 Design Masterpieces. Baptised, Heavy Metal, the auction gathers works entirely made of metal from Pierre Chareau to Marc Newson or Jean Prouvé to Ron Arad. The exhibition creates a dialogue between these twenty metal works rigorously selected for their importance in the history of design. Metal has greatly contributed to writing history and creating our modern society, whether it be for building train tracks during the industrial revolution or producing household electrical objects during the 1930s and 1940s. "As the sole design event ... More
Last chance to see The Forty Part Motet at Auckland Castle
Exhibition at Mitchell-Innes & Nash features works from several facets of Jessica Stockholder's practice
Pérez Art Museum Miami announces three new deputy directors


The Forty Part Motet, Janet Cardiff, Installation View, Courtesy Auckland Castle Trust, 2016 © Colin Davison.



BISHOP AUCKLAND.- Auckland Castle is presenting a world-class sound installation from acclaimed artist Janet Cardiff this summer; The Forty Part Motet which takes place in the Castle's Throne Room from 26 May - 11 September 2016. Displayed in the heart of the historic home of the Prince Bishops of County Durham, this immersive sound-sculpture is largely regarded as one of Cardiff's seminal pieces. The exhibition is the second contemporary installation to be hosted in the historic grounds of Auckland Castle as part of ambitious plan to create a permanent series of galleries that contemplate the role of Faith within the British Isles. The installation is part of ambitious plans and a £60m development strategy to transform one of Britain's most important historical sites into a major new art and heritage destination for the UK. Closing on 30 September for the development to commence, the installation represents ... More



Jessica Stockholder, Detached Detail [JS 685], 2016. Industrial metal fencing, dance floor tile, leather, vinyl, rope hardware, floor tile, floor mat, masonry square tile, bent metal rod, acrylic and oil paint. Installed: 57 1/2 by 46 1/2 by 60 in. 146.1 by 118.1 by 152.4 cm. Courtesy of the artist and Mitchell-Innes & Nash, NY.



NEW YORK, NY.- Mitchell-Innes & Nash presents Jessica Stockholder: The Guests All Crowded Into the Dining Room on view in their Chelsea gallery from August 25 through October 1, 2016. This will be the gallery's third solo exhibition with the artist. The opening reception will be held on Thursday, September 15, 6-8 pm. The Guests All Crowded Into the Dining Room will feature works from several facets of Stockholder's practice, including a large-scale site-responsive installation in addition to distinct bodies of studio works. The studio-based works are made from both purchased and found materials, all of which are designed and manufactured by other people - furniture, plastic goods, fabrics, hardware, paint, paper. The line between a 'raw' material and 'found' object is blurry, and the ... More



Christina Boomer Vazquez was the creator of Emmy-award winning 'Call Christina'.



MIAMI, FLA.- Pérez Art Museum Miami has named Adrienne Chadwick deputy director for education, Christina Boomer Vazquez deputy director of marketing and public engagement, and Melissa Cowley Wolf deputy director of development. Chadwick will oversee PAMM's diverse art educational programming, the largest in Miami-Dade County outside of the school system itself; Vazquez will bring her years' worth of storytelling, community building, resource management and passion for the arts to her role; and Wolf will plan, organize and direct the museum's fundraising. "We're proud to announce the appointment of these new directors," says PAMM Director Franklin Sirmans. "With decades of experience in some of the premiere institutions in the community and the nation, they will help the museum serve its public, whether through exhibitions, education or general outreach—all necessary facets of a 21st-century museum." Adrienne Chadwick's caree ... More
Quote
I don't express myself in my paintings. I express my not-self. Mark Rothko
More News
---
Chihuly Drawings
---
Flashback
On a day like today, French painter Henri Fantin-Latour died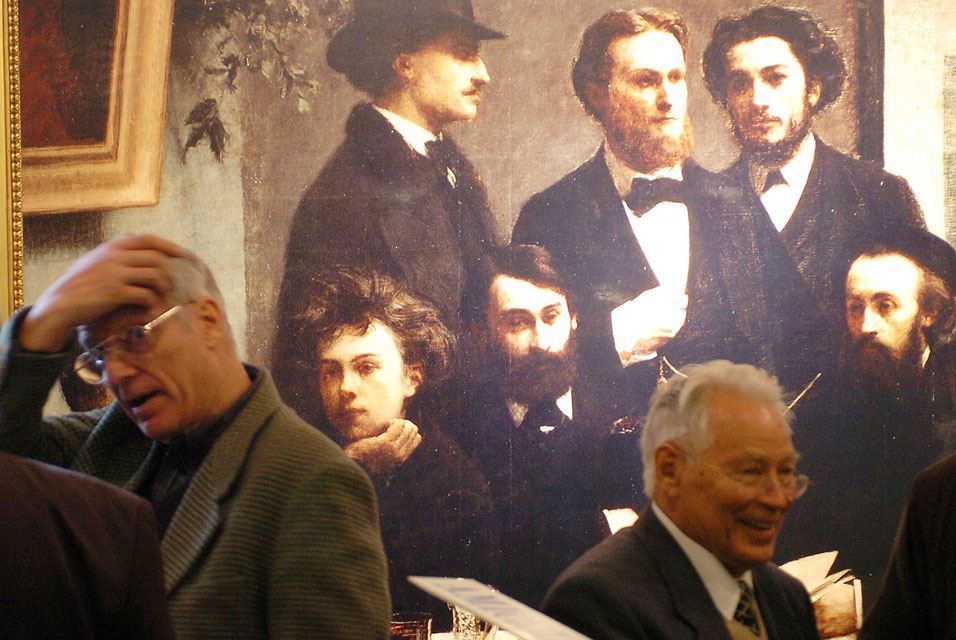 August 25, 1904. Henri Fantin-Latour (14 January 1836 - 25 August 1904) was a French painter and lithographer best known for his flower paintings and group portraits of Parisian artists and writers. In this image: People gather in Arthur Rimbaud's museum as part of celebrations marking the 150th anniversary of the famed poet's birth, Wednesday Oct.20, 2004 in his native town Charleville-Mezieres, eastern France. Rimbaud is seen at left on a copy of Fantin Latour's painting "Rimbaud en discussion avec Verlaine" (Rimbaud Talks with Verlaine). Other characters on painting are unidentified.
---
---

Museums, Exhibits, Artists, Milestones, Digital Art, Architecture, Photography,
Photographers, Special Photos, Special Reports, Featured Stories, Auctions, Art Fairs,
Anecdotes, Art Quiz, Education, Mythology, 3D Images, Last Week,
.
Royalville Communications, Inc
produces:







Tell a Friend
Dear User, please complete the form below in order to recommend the Artdaily newsletter to someone you know.
Please complete all fields marked *.
Sending Mail

Sending Successful