The world of El Greco, Ribera, Zurbarán, Velázquez, Murillo & Goya on view in Amsterdam
Dutch Princess Beatrix (C), Mikhail Piotrovsky (L), director of the State Hermitage Museum in St Petersburg and Cathelijne Broers, director of Hermitage Amsterdam, attend the official opening of the the art exhibition 'Spanish Masters from the Hermitage. The World of El Greco, Ribera, Zurbaran, Velazquez, Murillo and Goya' at the Hermitage museum in Amsterdam on November 27, 2015. The exhibition runs from November 28 to May 29, 2016. AFP PHOTO / ANP / SANDER KONING.
AMSTERDAM
.-
The long-awaited art exhibition Spanish Masters from the Hermitage. The World of El Greco, Ribera, Zurbarán, Velázquez, Murillo & Goya opened at the
Hermitage Amsterdam
on Saturday 28 November 2015. The exhibition includes more than sixty superior paintings and a rich collection of graphic works and applied arts masterpieces. Never before has the Netherlands hosted such a comprehensive survey of Spanish art, with work that is hardly represented in Dutch museum collections. The exhibition features masterpieces such as The Apostles Peter and Paul (1587–92) by El Greco, Velázquez's Portrait of the Count Duke of Olivares (c. 1638), Murillo's Immaculate Conception (c. 1680) and Goya's Portrait of the Actress Antonia Zárate (1810–11), in addition to paintings by their pupils and later painters, up and including Picasso. Together they tell the ...
More
The Best Photos of the Day
World's biggest public collection of Southeast Asian modern art on view at new National Gallery Singapore
The National Gallery of Canada announces the creation of the Canadian Photography Institute
"Bare, Naked, Nude: A Story of Modernization in Turkish Painting" at opens at Pera Museum


A general view of the newly restored National Gallery, formerly the City Hall and High Court building, in Singapore on November 23, 2015. AFP PHOTO / MOHD FYROL.



SINGAPORE (AFP).- Singapore on Tuesday opened to the public a Sg$532 million ($376 million) National Gallery that boasts the world's biggest public collection of Southeast Asian modern art. The new attraction is housed inside the British colonial-era former City Hall and Supreme Court buildings, which were fused into a single facility during a 10-year makeover. The gallery houses a collection of modern art from across Southeast Asia comprising over 8,000 works from the 19th and 20th centuries in all media, including painting, sculpture, printmaking, photography and video, officials said. They include the works of artists like Raden Saleh of Indonesia, Fernando Amorsolo and Imelda Cajipe-Andaya of the Philippines, U Ba Nyan of Myanmar, Nguyen Gia Tri of Vietnam, Latiff Mohidin of ... More



Harold E. Edgerton, Milk Drop Coronet, 1957, printed 1984. Dye coupler print, 50.7 x 40.5 cm; image: 49.9 x 39.7 cm. National Gallery of Canada, Ottawa. Gift of the Harold and Esther Edgerton Family Foundation, Santa Fe, New Mexico, 1997 © Harold Edgerton, MIT, 2015, courtesy of Palm Press, Inc.



OTTAWA.- The National Gallery of Canada in conjunction with the National Gallery of Canada Foundation announced today the creation of the Canadian Photography Institute, a national research and exhibition centre of excellence devoted to photography. The Institute will foster transformative partnerships and cooperation opportunities worldwide for the integrated study of its collection, drawing upon a broad range of disciplines interested in social, cultural, aesthetic, scientific and historical issues. The National Gallery's ambitious photography initiative will be supported through a partnership of unprecedented scope with collector and philanthropist David Thomson, Chairman of Thomson Reuters ... More



Eren Eyuboglu, Nu(Erkek), 1942.



ISTANBUL.- On the 10th anniversary of its inauguration, Pera Museum presents the exhibition "Bare, Naked, Nude," which sheds light upon the development of nude painting in the modernization period of Turkish art. Open from November 25, 2015 until February 7, 2016, the exhibition explores how art production in a timeline extending from the Ottoman Empire to the Republic and dominated by landscapes and still lifes made room for the emergence of the nude, a fundamental genre in art history, as a pictorial form and theme. The exhibition also brings to fore the idea that nude painting is symbolic in revealing how the process of modernization in Turkey is reflected on art. Curated by Ahu Antmen, the exhibition includes nearly 150 works, including academic studies, by 44 artists of different periods. Displaying works by artists including Osman Hamdi Bey, Süleyman Seyyid Bey, Halil Paşa, İzzet Ziya Bey, Avni Lifij, Ruhi Arel, ... More
Major African & Oceanic masterpieces to be sold at Christie's Paris on 3 December
Portland Art Museum exhibits photographs taken in the 1980s by Paige Powell
Victoria & Albert Museum marks the bicentenary of the birth of Julia Margaret Cameron


An Oceanic Masterpiece from the Torres Strait Islands from the Jolika Collection 750,000-1,200,000. Photo: Christie's Images Ltd 2015.



PARIS.- In 100 carefully curated lots, Christie's presents an exceptionally rich offering featuring major works of art and many unique opportunities for works of art never seen on the market. From Africa, the André Fourquet Fang Masterpiece leads the sale and is complemented by another work from the lexicon of major African sculpture, the Coray-Kerchache Kota figure. An archaic, proto-Yombe figure, formerly in the Wielgus Collection, whose closest relative is the Yombe figure in the Wellcome Collection at the Fowler Museum, UCLA, is a hidden treasure from an American collection featured. From Oceania, one of the great masterpieces of art across time and cultures is the Saibai Island, Torres Strait Islands, mask from the Jolika Collection. Less than 25 masks are known to exist with all but two, including the Jolika mask, in Museum collections. A rare 'black tulip' of ... More



Paige Powell, Madonna, Fresh 14, New York City, 1984. © Paige Powell, reprint of image by permission.



PORTLAND, ORE.- In 1980, Paige Powell, a fifth-generation Oregonian, left Portland for New York City. After landing at Interview magazine, where she rose to associate publisher, Powell became close with Andy Warhol, Jean-Michel Basquiat, Francesco and Alba Clemente, Tama Janowitz, Stephen Sprouse, and others who would come to define the New York art scene over the next decade. Camera in hand, she moved through the city, forming relationships with people and places that spanned across cultural and economic boundaries, capturing the city's many realities. Taking up video in the early '80s, Powell was one of the first in New York to adopt camcorder technology. After returning to Portland in 1997, she continued to embrace digital tools as she documented the rising careers of close friends such as Thomas Lauderdale of Pink Martini and filmmaker Gus Van Sant. Until recently, Powell's extensive collection of images, ... More



Annie, Julia Margaret Cameron, January 1864. ©Victoria and Albert Museum, London.



LONDON.- To mark the bicentenary of the birth of Julia Margaret Cameron (1815-1879), one of the most important and innovative photographers of the 19th century, the V&A is showcasing more than 100 of her photographs from the Museum's collection. The exhibition offers a retrospective of Cameron's work and examines her relationship with the V&A's founding director, Sir Henry Cole, who in 1865 presented her first museum exhibition and the only one during her lifetime. Cameron is one of the most celebrated women in the history of photography. She began her photographic career when she received her first camera as a gift from her daughter at the age of 48, and quickly and energetically devoted herself to the art of photography. Within two years she had sold and given her photographs to the South Kensington Museum (now the V&A) and in 1868, the Museum granted her the use of two rooms as a portrait studio, likely ... More
Christie's third India Sale in Mumbai to offer Indian art from 10th to 21st century
Ketterer Kunst's two-day auction of rare books achieves more than €1.6 million
Theatre keeps hope alive in the mud, tears inside Europe's most notorious migrant camp


Manjit Bawa's (1941-2008) Untitled (Krishna) oil on canvas was painted in the 1990s and will be offered with an estimate of INR 2,50,00,000-3,00,00,000. Photo: Christie's Images Ltd 2015.



MUMBAI.- Following the announcement that Christie's third auction to be held in Mumbai on 15 December at the Taj Mahal Palace Hotel will include a section dedicated to Classical Indian Art, the leading auction house announced that a monumental painting by Syed Haider Raza (b. 1922) titled Bindu from 1983, will be one of the highlights of its Modern and Contemporary Indian Art section. A total of 100 works will be offered throughout the evening sale, and a selection of highlights travelled to New Delhi to be on public display from Saturday 28 to Monday 30 November at the Taj Mahal Hotel. Following Christie's New York auction of Modern + Contemporary South Asian Art this September, where the world auction record for any modern Indian work of art sold at auction was set when Francis Newton Souza's Birth sold for US$4,085,000, Christie's third India Sale will include works sourced from ... More



Horae B.M.V. Latin Book of Hours for the Use of Paris Parchment Manuscript Paris, around 1450. Starting price: € 80,000. Result: € 150,000.



HAMBURG.- With an overall result of more than € 1.6 million the two-day auction of Rare Books at Ketterer Kunst in Hamburg on 23/24 November provided excellent results, with overall proceeds around € 200,000 above the figures realized in spring. Three 13th to 15th century parchment manuscripts were particularly sought-after and were all sold with unusually sharp increases. The auction was led by two renowned Paris Horae, which, with foresight, had been promoted in their own separte catalog. It surely is the miniatures' impressive quality and quantity that most book lovers were taken with. A good score of written bids and several bidders in the salesroom, as well as on the phones made sure that the starting prices of both books were almost doubled. The demand was highest in Great Britain and in Switzerland. While the Latin book of hours for the use of Rome (lot 4), made around 1500-1510, climbed from a ... More



A picture taken on November 25, 2015 shows a makeshift theatre, where migrants take part in theatre and music lessons, in the so-called "Jungle" migrant camp in Calais, northern France. AFP PHOTO / PHILIPPE HUGUEN.



CALAIS (AFP).- It's approaching 7pm and some among the crowd at the entrance to "the Jungle" in Calais are growing tired of the spectacle. For three hours riot police have fired tear gas down onto them from a motorway bridge to keep them inside Europe's most notorious migrant camp on the north coast of France. Stones whizz back in response. For once, the residents of what Doctors Without Borders calls this "shameful... squalid, state-sanctioned shanty town" are grateful for the fierce wind whipping in from the Channel. Time to go to the theatre. A small group of Afghans peels off to walk arm-in-arm back through the second-hand clothes market at the crossroads between "Afghanistan" and the Sudanese section, past "Eritrea" with its large plywood Orthodox church, to the big white domed tent rising from the mud of this former ... More
Sotheby's Hong Kong announces Modern and Contemporary Chinese Art Auction
Rare 1955 Porsche 550 Spyder to star at RM Sotheby's Paris sale during Retromobile week
Kunsthaus Zürich presents self-portraits for the latest in the 'Picture Ballot!' series


Mao Yan (b. 1968), Oil Painting Studio 2 1989, oil on canvas, framed, 100 x 79.6 cm Est. RMB3 – 5 million. Photo: Sotheby's.



HONG KONG.- Sotheby's will present its Beijing autumn sale of Modern and Contemporary Chinese Art on 5 December 2015 at China World Summit Wing. The sale will bring to the market nearly 60 distinguished works of modern and contemporary Chinese art as well as contemporary ink, featuring exceptional pieces by Mao Yan, Zeng Fanzhi, Liu Dan, Peng Wei and Jiang Hongwei, among others. Two panel discussions featuring Sotheby's specialists, leading art scholars and critics will be held on the morning of 5 December. Trained at art institutions in traditional realist techniques, yet equally influenced by 20th century Western paintings, Chinese contemporary artists frequently develop a unique painterly style fusing eras, genres and techniques. A distinctive feature of contemporary Chinese art, such ... More



1955 Mercedes-Benz 300 SL Gullwing. Tom Gidden © 2015 Courtesy RM Sotheby's.



LONDON.- RM Sotheby's announced two significant new entries for its Paris sale, returning 3 February, 2016 during the world-famous Retromobile show week. The new star of the sale is a wonderful and rare 1955 Porsche 550 Spyder, chassis no. 550-0068, which is significant for having been the 1955 Frankfurt Motor Show car. The 550 Spyder is one of the most iconic of all Porsche sports racing cars, and was based on the legendary 356. Designed specifically with competition in mind, the 550 Spyder was originally revealed at the 1953 Paris Auto Show, wowing the public with its low-slung, aerodynamic body and potent mechanicals. The model enjoyed an illustrious competition career on the international racing scene, and the car on offer by RM Sotheby's boasts racing history in North America during the 1950s (Estimate: €2.800.000 - €3.500.000). The 550 ... More



Giovanni Giacometti, Self-Portrait, ca 1913/14. Oil on canvas, 65 x 50 cm. Kunsthaus Zürich, bequest of Bruno Giacometti, 2012.



ZURICH.- From 27 November 2015 to 28 February 2016, the Kunsthaus Zürich presents an exhibition of self-portraits entitled 'Me/Not Me'. The 34 paintings, sculptures and graphic works, photos and videos from the Kunsthaus collection include pieces by Chuck Close, Lovis Corinth, Urs Fischer, Giovanni and Alberto Giacometti, Urs Lüthi, Manon, Marianne Mueller, Arnulf Rainer, Gillian Wearing and many others. Who am I? For centuries, artists have sought answers to that question in their self-portraits. 'Me/Not Me' looks at their exploration of their own 'self', the acuities and depths of their own existence. Yet self-portraits are invariably also deliberately staged: as a reflection of what artists wish to convey about themselves and a reference to their own time. To this day, the increasingly uncompromising examination of the self since the ... More
Quote
To have an avant garde you have to have a garde. Sir Hugh Casson
More News
---
The Art of Installation: Installing Louise Bourgeois's "Maman"
---
---
Flashback
On a day like today, French graphic artist Tomi Ungerer was born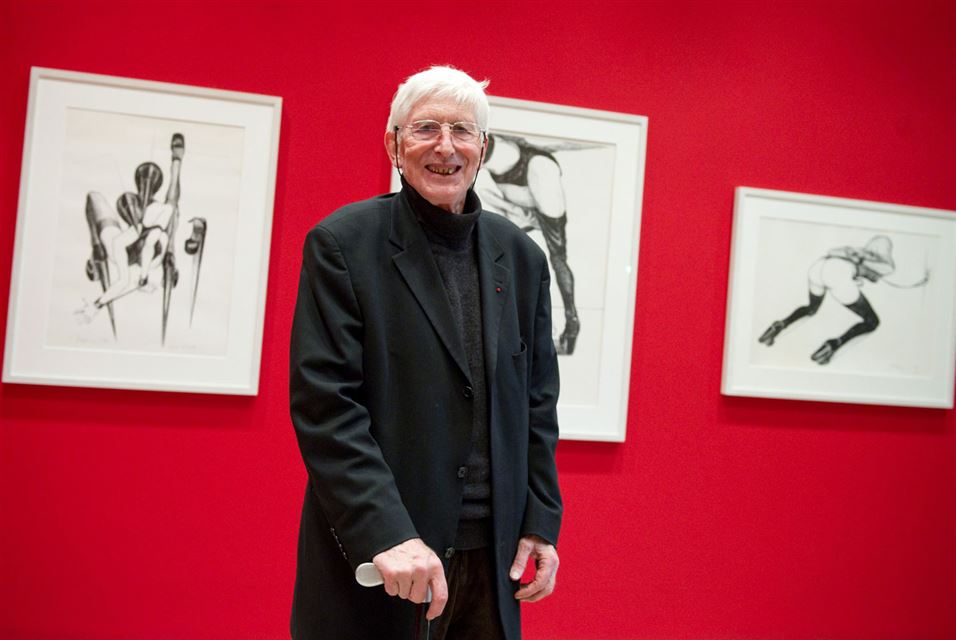 November 28, 1931. Jean-Thomas "Tomi" Ungerer (born November 28, 1931) is a French illustrator best known for his erotic and political illustrations as well as children's books. In this image: Drawer, illustrator and author Tomi Ungerer stands in front of three of his artworks in the exhibition 'Eklips - Neues fuer die Augen 1960 bis 2010' ('Eclipse - New things for the eyes 1960 to 2010') at the Wuerth art gallery in Schwaebisch Hall, Germany, 11 May 2010. The largest Ungerer exhibition ever displays some 600 artworks from five decades.
---
---

Museums, Exhibits, Artists, Milestones, Digital Art, Architecture, Photography,
Photographers, Special Photos, Special Reports, Featured Stories, Auctions, Art Fairs,
Anecdotes, Art Quiz, Education, Mythology, 3D Images, Last Week,
.
Royalville Communications, Inc
produces:







Tell a Friend
Dear User, please complete the form below in order to recommend the Artdaily newsletter to someone you know.
Please complete all fields marked *.
Sending Mail

Sending Successful