National Museum of Anthropology in Mexico City exhibits the enigmatic Calakmul mask
The Calakmul Mask is a funerary piece elaborated in jade mosaic, shell and gray obsidian, found in Tomb 1 in Structure VII, in the archaeological zone of the same name, in the state of Campeche, whose antiquity goes back to 660 and 750 AD. Photo: Colección Archivo Digital MNA-INAH.
MEXICO CITY
.-
A series of temporary exhibits called "One piece, one culture" starts with the exhibition "The Calakmul Mask. Universe in Jade." During its inauguration, Teresa Franco, director of the
National Institute of Anthropology and History
(INAH), added that through a single piece highly significant many elements of thought and the worldview of one of the greatest cultures could be explained: the Mayans. The director of INAH added that the exhibition shown in the National Museum of Anthropology is aided by many new technologies in order to get closer some of the most representative works of the ancient civilizations in Mexico to newer audiences, especially young people. Teresa Franco said that two of the first halls are consecrated to an experience that appeals to the public's senses through visual, sound and graphic effects that produce a lyrical space; afterwards a third ...
More
The Best Photos of the Day
Japanese toilet giant flipping open new museum dedicated to a century of lavatories
Palm Springs Art Museum opens the acclaimed exhibition 'Killer Heels: The Art of the High-Heeled Shoe'
'Mito e Natura: Dalla Grecia a Pompei' on view at the Palazzo Reale in Milan for Expo 2015




High-tech toilets, common in Japan, regularly win praise.





TOKYO (AFP).- Japan's leading toilet giant opens a new museum this week dedicated to a century of lavatories, from its first water flushing model to the most cutting edge version with odour-neutralisers and variable water jets. The museum operated by TOTO -- best known for its bidet-equipped Washlet series -- opens its doors on Friday in the southwestern city of Kitakyushu, where the company is based. High-tech toilets, common in Japan, regularly win praise from foreign tourists and celebrities as the epitome of Japanese know-how -- a contraption that offers both comforting warmth and a frighteningly accurate bidet jet. But the toilet firm said Thursday that it is reaching back into its past with a replica of its first water flushing toilet seat, which came onto the market in 1914. There will also be remakes of washrooms that TOTO supplied to major buildings across Japan, including the ... More





Prada, Wedge Sandal in Rosso, Bianco, and Nero Leather, Spring/Summer 2012, courtesy of Prada USA Corp, photography by Jake Zukerkorn.





PALM SPRINGS, CA.- Palm Springs Art Museum will open the highly anticipated exhibition Killer Heels: The Art of the High-Heeled Shoe on September 5, which will be on view through December 13, 2015. The exhibition merges fashion, film, and material culture, while exploring the fashion world's most coveted object, its rich cultural history, and its complex relationships to fantasy, functionality, identity and power. Organized thematically, Killer Heels features more than 110 contemporary high heels and 50 historical designs drawn from designer archives, the Brooklyn Museum, and the Metropolitan Museum of Art's renowned costume collections. Beyond the archetypal forms – stiletto, wedge, and platform – the emphasis is on designs that play with the sculptural, architectural, and artistic possibilities of the high heel ... More





Statua di Trittolemo.





MILAN.- With about 180 art works from Greece, Magna Graecia and Rome, the exhibition MITO E NATURA. Dalla Grecia a Pompei, organized for Expo 2015, presents a little-known aspect of the classical world: the representation of nature in its various aspects, the impact of human beings on the natural world and the environment. We present visitors with the most up-to-date research on a fascinating and little known facet of our classical roots. The works on display come from museums in Italy and abroad, including the National Archaeological Museum in Athens, the Kunsthistorisches Museum in Vienna and the Louvre in Paris. The MITO E NATURA project is sponsored by the City of Milan– Arts Council with the University of Milan, the University of Salerno, the National Archaeological Museum in Naples and the Soprintendenza Speciale per Pompei, Ercolano e Stabia, and is organized by Palazzo Reale with the Electa ... More
Bruce Museum curator authors a paper on the reconstruction a 34 million year old penguin's brain
Chinese paintings and works of art rich in symbolism characterize Gianguan Auctions' September 12th Sale
Volkswagen launches cultural engagement initiative in China with opening of the Rain Room




Life restoration of a 34.2 million year old Antarctic fossil penguin and the extant chinstrap penguin, with 3Dvirtual reconstruction of their brains based on X-Ray CT scan data (top right). Original artwork by Santiago Druetta.





GREENWICH, CONN.- Bruce Museum Curator of Science Dr. Daniel T. Ksepka has coauthored a research paper on fossil penguin brain endocasts that will be published as a feature article in the prestigious academic journal Journal of Vertebrate Paleontology in September. The artwork related to the article, pictured above, will appear on the journal's cover. The paper, co-authored by Dr. Claudia Tambussi, Dr. Federico "Dino" Degrange (both based in Argentina), and Dr. Ksepka sheds light on the penguin brain based on research conducted with Antarctic fossils, some more than 34 million years old. The international team used computed tomography (CT) scan data to map the areas once occupied by the brain in the fossils, creating a virtual model that includes the brain, cranial nerves, semicircular canals, and blood vessels. This allowed them to compare the volume and morphology of the fossil penguins to modern species like the ... More





Detail of "The Steed and Groom" by Zhao Mengfu, Yuan Dynasty, in traditional tonalities with one red tether. Signed Zhao Mengfu, with one artist seal and sixteen Collectors' seals. $10,000,000 - $15,000,000.





NEW YORK, NY.- The splendor of China's heritage is once again the focus of the exceptionally strong collections of classical and modern paintings and dynastic works of art set for auction on September 12 at Gianguan Auctions New York. The symbolism that underlies every facet of Chinese culture and Buddhist art is front and center. The elevation of scholarship is apparent in the craftsmanship displayed in items as varied a carved jades, antique ceramics, and jewelry and teapots. A collection of multi-million dollar scroll paintings underscores the leadership position accorded Gianguan Auctions in this area. Among the upper tier highlights is Lot 105, "The Steed and Groom," by Zhao Mengfu (1254-1322). A prince and descendant of the royal family, Zhao Mengfu broke from tradition to explore the layering of grounds at various heights to create depth. In this ink on a stone-black stallion with one red tether is matched with a l ... More





In this file photo visitors gather in the 'Rain Room' installation at the Museum of Modern Art (MoMA) in Manhattan. Mario Tama/Getty Images/AFP.





SHANGHAI.- Volkswagen begins its activities as a cultural partner in China with the involvement of Volkswagen Group China in the Rain Room exhibition. Opened on Saturday evening in Shanghai, the exhibition marks the first display of Rain Room in China. The artwork created by the British-German artist collective, Random International, has already been met with great interest with displays in London and New York and for the first time occupies an area of 150m² in Shanghai so that it surpasses all previously exhibited versions. Speaking to 300 invited guests, Budi Tek, founder of the YUZ foundation which operates the YUZ museum, and Klaus Biesenbach, Chief Curator at Large at the Museum of Modern Art (MoMA), New York and Director of MoMA PS1, who, together with Hans-Ulrich Obrist, was responsible for exhibition of Rain Room in New York, as well as Prof. Dr Jochem Heizmann, President and CEO of Volkswagen Group China and member of the Executive Board of Volkswagen AG, ... More
First one-man-show of Korean artist Kwang Young Chun's work opens at Beck & Eggeling
Over and Some Touch of...: Group exhibition opens at CACT Centro d'Arte Contemporanea Ticino
Contemporary art installation at Smithsonian's Sackler Gallery explores images of Egypt




Kwang Young Chun.





DUSSELDORF.- Beck & Eggeling presents at the start of the autumn season the exhibition "Mulberry Mindscapes" by the Korean artist Kwang Young Chun. The opening will take place on Friday 4th September 2015 at 6 pm at Bilker Strasse 5 & 4-6 in Duesseldorf, on the occasion of the gallery weekend 'DC Open 2015'. The artist will be present. Kwang Young Chun is considered to be a contemporary master working with paper and is widely recognized for his installations and three-dimensional reliefs. Beck & Eggeling presents the Korean artist for the very first time in Germany with his newest works from the series Aggregation. Meticulously, Chun creates distinctive surface textures by wrapping hundreds of handmade triangles of styrofoam into Korean Mulberry paper printed with Korean characters and and fixing them onto canvas. He thus creates three-dimensional wall art with a sculptural potential. The silk paper ... More





Anna Choi, Untitled, Acrylic on canvas, 2015, 200 x 180 cm.





BELLINZONA.- OVER is an anthological exhibition that constitutes something of a platform, where artists who use different languages coexist in a general artistic and aesthetic panorama in a constant state of flux. Quite apart from those cells that are still vigorously distinguished by the paradigms of the Avant-garde, whose nucleus anticipated the figure of an militant artist involved socially and politically in its evolutionary developments, for the generation of artists who were born in the sixties and seventies, the concept of irreversibility and of stylistic consistency has become drastically absent these days. Some of these artists feature in OVER, on the one hand to underscore – this is the curator's intention – the blurred sense of historical belonging that is now somewhat dated, while on the other to convey an understanding of the extent to which the identity of the transition, transmedia ... More





Detail of Oum el Dounia by Lara Baladi (b. 1969, Beirut), Belgium, 2000-2007. Wool and cotton. Courtesy of the artist.





WASHINGTON, DC.- A large-scale tapestry by Egyptian-Lebanese photographer and multimedia artist Lara Baladi (b. 1969, Beirut, Lebanon) is being exhibited in the Arthur M. Sackler Gallery pavilion this summer as part of the museum's "Perspectives" contemporary art series. On view Aug. 29–June 5, 2016, "Perspectives: Lara Baladi" centers on "Oum el Dounia," a tapestry created by digital loom and based on a photographic collage. Immense in scale—nearly 10 feet tall and over 29 feet wide—the work playfully illustrates a genesis story that upends stereotypical views of Egypt and the desert. "Baladi's multidisciplinary work questions and experiments with the photographic medium, its history and role in shaping perceptions and narratives of the Middle East," said Carol Huh, assistant curator of contemporary art at the Freer and ... More
Craft in America episode focuses on how fine handmade instruments are crafted
Solo exhibition of new works by artist Cecilia Paredes opens at Ruiz-Healy Art
Museum of Contemporary Art, Chicago partners with the Chicago Architecture Biennial




Joan Baez with her Martin guitar. Courtesy of the C.F. Martin Archives, Greg Solomacha photograph.





LOS ANGELES, CA.- Craft in America, the Peabody Award-winning documentary series, now in its 7th season, returns to PBS, on November 20th at 10pm*, with an all new episode, titled MUSIC, which focuses on how fine handmade instruments are crafted and the world-renowned artists who play them, demonstrating the perfect blend of form and function. The hour features interviews and performances from Joan Baez, Rhiannon Giddens, Director of the Count Basie Orchestra Scotty Barnhart, banjo master Tony Ellis, Los Angeles Philharmonic timpanist Joseph Pereira, and virtuoso ukulele player Jake Shimabukuro. By exploring how various instruments are perfected, MUSIC also offers viewers a unique journey through our country's past, detailing the contributions of jazz and Appalachian roots music to the American cultural landscape, as well as the intersection of the guitar and political activism, and how the legacy of West ... More





Cecilia Paredes, Corinthians - 3/7, 2014 (detail). Photo performance, 49 x 49".





SAN ANTONIO, TX.- Ruiz-Healy Art will participate in FOTOSEPTIEMBRE USA International Photography Festival and will present The Wandering Flight a solo exhibition of new works by internationally renowned artist Cecilia Paredes. Born in Lima, Peru, Paredes currently works and lives between Philadelphia, PA and Lima, Peru. She studied fine Arts at the Catholic University of Lima, Cambridge Arts and Crafts School in England, and the Accademia del Nudo in Roma in Italy. The Wandering Flight tells the story of the desire to fly. The narrative begins with a place to arrive—a port—here the character can dwell in search of relevance. Camouflaged within the surroundings, the character inhabits a perfect symbiotic realm. The exhibition's flight narrative continues with four large format tapestries made out of feathers. The artist dyed common feathers to set them ablaze with colors in these arrangements. As Simon Flores states, ... More





Christo, Orange Store Front, 1964-65. Collection Museum of Contemporary Art Chicago, gift of Natalie and Irving Forman. Photo: Nathan Keay, © MCA Chicago.





CHICAGO, IL.- The Museum of Contemporary Art Chicago is a partner of the inaugural Chicago Architecture Biennial, and in celebration of this city-wide cultural event, the MCA presents four exhibitions, four programs, and a pop-up shop of design objects. Each showcases architectural innovation within the contemporary art community. The MCA celebrates and cultivates the multidisciplinary ways in which artists work, and the exhibitions and programs that run concurrent to the biennial highlight the intersection of creativity and functionality that is integral to contemporary architecture and design. Pop Art is widely regarded as the most significant artistic movement since 1945. Reflecting on the cult of celebrity, commodity fetishism, and media reproduction that permeated everyday life in the post-war era, Pop Art continues ... More
Quote
The birds' song gets on my nerves. I feel like trampling every worm. Paul Klee
More News
---
---
---
Flashback
On a day like today, American photographer Helen Levitt was born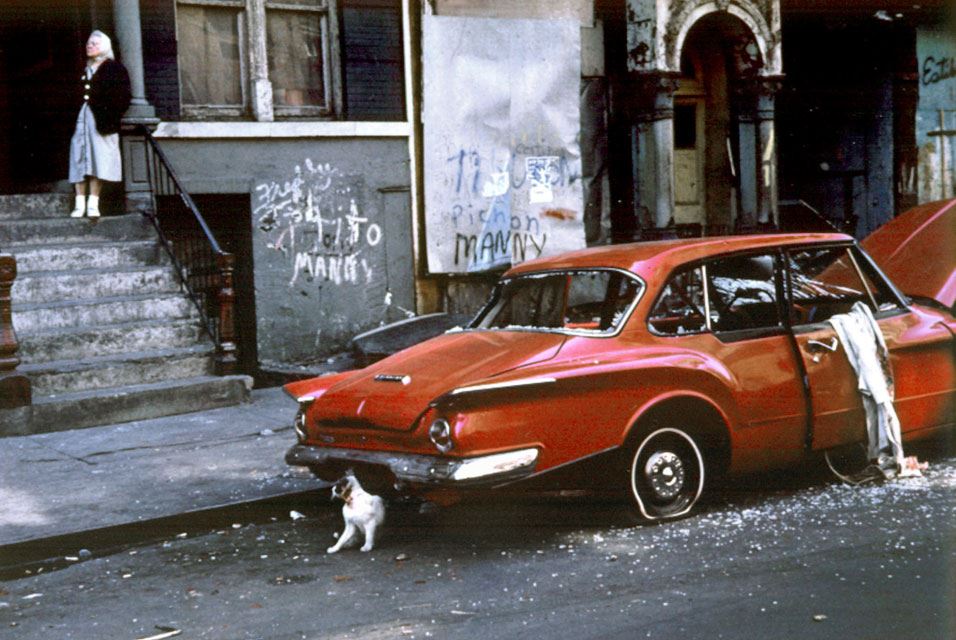 August 31, 1913. Helen Levitt (August 31, 1913 - March 29, 2009) was an American photographer. She was particularly noted for "street photography" around New York City, and has been called "the most celebrated and least known photographer of her time. She lived in New York City and remained active as a photographer for nearly 70 years. New York's "visual poet laureate" was notoriously private and publicity shy
---
---

Museums, Exhibits, Artists, Milestones, Digital Art, Architecture, Photography,
Photographers, Special Photos, Special Reports, Featured Stories, Auctions, Art Fairs,
Anecdotes, Art Quiz, Education, Mythology, 3D Images, Last Week,
.
Royalville Communications, Inc
produces: