Neanderthals and humans were both living in Europe for between 2,600 and 5,400 years
The image shows a Neanderthal model from the Natural History Museum. The Museum carried out the research in collaboration with Oxford.
PARIS
(AFP)
.-
Neanderthals shared Europe with modern humans for as long as five millennia until they died out 40,000 years ago -- "ample time" for cultural exchanges and interbreeding, researchers said on Wednesday. While there is no evidence that the two groups lived closely together, they did co-exist for anything from 25 to 250 generations, depending on the region, according to a paper published in the journal Nature. "The results reveal a significant overlap of 2,600-5,400 years," wrote the researchers, who used improved technology to date about 200 samples of bone, charcoal and shell from 40 archaeological sites from Russia to Spain. This was "ample time for interaction and interbreeding," said a press statement. In the latest attempt to date our cousins' final moments on Earth, the team found that Neanderthals disappeared at different times from different parts of Europe ...
More
The Best Photos of the Day
Debbas Collection of works by Shafic Abboud covering six decades to highlight Christie's Dubai Sale
Amsterdam's Allard Pierson Museum keeps disputed Crimea treasure to avoid legal fight
Tokyo Chuo Auction to present exceptional Chinese works of art in September sale




Shafic Abboud, Grande Chambre 3, 1987. oil on canvas, 63 x 63in. Estimate: $150,000-200,000. Photo: Christie's Images Ltd 2014.





DUBAI.- Collectors are in for a rare treat this auction season as Christie's Dubai will be offering 10 works by the leading Lebanese modernist Shafic Abboud (1926-2004) from the exceptional Beirut collection of Viviane & Robert Debbas. Mostly large compositions in Abboud's distinctive, abstract hand, each work is a study in his 60-year experiment in the search for the essence of light through colour. The collection is expected to realize around $2million and will be the highlight of the sale of Modern and Contemporary Arab, Iranian and Turkish Art to be held by Christie's at the Emirates Towers Hotel on October 21. The Debbas Collection will be shown during the 3-day-long free, public exhibition alongside works in the various owners sale by Mahmoud Saïd, Fateh Moudarres, Parviz Tanavoli, Hamed Owais, Mahmoud Mokhtar, Charles Hossein Zenderoudi, Paul Guiragossian and Sohrab Sepehri. An auction of Fine Watches will be held th ... More





Who owns the objects?"





THE HAGUE (AFP).- A Dutch museum said on Wednesday it would delay the return of Crimean archaeological treasures it is exhibiting, fearing a legal tussle with either Russia or Ukraine. The priceless medieval artefacts, on loan from four Crimean museums, went on display at Amsterdam's Allard Pierson Museum in February, less than a month before the peninsula was annexed by Russia. The museums, now under Russian authority, have asked for them to be returned, while the Ukrainian government in Kiev has also claimed the treasures. The exhibition, entitled "The Crimea: Gold and Secrets from the Black Sea", features items spanning the 2nd century BC to the late medieval era, including a ceremonial Scythian helmet made from gold, as well as a lacquered box, originally from China, which in Roman times found its way to Crimea via the Silk Road. An extensive and ongoing legal investigation had yet to "agree to a claim by one of the parties", the museum said, describing the situation as "unique and complex ... More





An underglaze-blue-decorated yellow-ground Zun with two ears and Kui patterns from the Qianlong period. Estimate: JPY15,000,000-25,000,000.





TOKYO.- Tokyo Chuo Auction will hold its Autumn sales series from 4-6 September 2014 at Tokyo Dome Hotel, presenting to discerning collectors a variety of rare and important Chinese works of art from different periods with excellent provenance, as well as jewels and watches. Highlights of the three-day auctions include Ancient Bronze Works of Art; Important Chinese Bronze Wares; Chinese Fine Arts Evening Sale; Modern Chinese Paintings; Classical Chinese Paintings; Rare Books, Rubbings & Manuscripts; Fine Tea Ceremony Sets; Scholar's Objects and Fine Chinese Works of Art. This sale will feature exquisite jade wares and rare porcelains symbolising the Qing court's power and wealth. The star lot is an underglaze-blue-decorated yellow-ground Zun with two ears and Kui patterns from the Qianlong period (Estimate: JPY15,000,000-25,000,000, Lot 1972). The vessel is masterfully decorated with underglaze-blue Kui ... More
Queensland Art Gallery / Gallery of Modern Art announces new Head of Australian Art
National Portrait Gallery to accept digital entries for BP Portrait Award 2015
Joslyn Art Museum announces new gifts of contemporary sculpture, Western painting




Jason brings more than 20 years' experience and leadership in art museums and contemporary art to this key role. Photo: Matthew Wren.





BRISBANE.- Queensland Art Gallery | Gallery of Modern Art Director Chris Saines announced the appointment of the Gallery's new Curatorial Manager of Australian Art, Jason Smith, and the departure later this year of curatorial managers Kathryn Weir and Russell Storer, to accept prestigious international positions in Europe and Asia. Mr Saines said Jason Smith, Director and CEO of Heide Museum of Modern Art, Victoria since 2008, would commence as Curatorial Manager of Australian Art in November. 'Jason brings more than 20 years' experience and leadership in art museums and contemporary art to this key role in which he will lead QAGOMA's Australian art programming and collection development,' Mr Saines said. 'This appointment reaffirms our position at the forefront of Australian contemporary art practice and our determination to be the leading institution for the contemporary art ... More





Thomas Ganter, First Prize Winner of the BP Portrait Award 2014©Jorge Herrera.





LONDON.- The National Portrait Gallery has announced that it will be accepting digital entries for the BP Portrait Award 2015, one of the world's most prestigious art competitions, making it quicker and easier for artists from across the globe to submit their work. To enter, artists will be asked to upload a photograph of their finished painting to the BP Portrait Award website, which will be considered by the judges in the first round of the competition. The entrants who are successful in this round will then be invited to hand-deliver or courier their work to a judging venue in London for the final selection. The BP Portrait Award, now in its 35th year at the National Portrait Gallery and 25th year of sponsorship by BP, is a highly successful annual event aimed at encouraging artists over the age of eighteen to focus upon, and develop, the theme of portraiture in their work. The increasingly popular competition has a huge international ... More





Magdalena Abakanowicz (Polish, born 1930), Single, 1994, bronze, Gift of Gail and Michael Yanney, Lisa and Bill Roskens, and Mary and Charlie Roskens, 2014.11





OMAHA, NE.- Joslyn Art Museum has installed a new bronze work in its Peter Kiewit Foundation Sculpture Garden — Magdalena Abakanowicz's Single (1994). A recent gift of Gail and Michael Yanney, Lisa and Bill Roskens, and Mary and Charlie Roskens, the work is the first by Abakanowicz in Joslyn's collection. Born in Falentyn, Poland, in 1930, Abakanowicz (pictured right; pronounced ah-bah-can-oh-vitch ) began making sculptures in the 1950s as a student at the Academy of Fine Arts in Warsaw. She quickly garnered critical acclaim for her fiber-based installations and hanging textiles that reflected on her childhood experiences living in Nazi and Soviet-occupied Poland. In the 1970s, Abakanowicz turned her attention toward the human form. She is perhaps most well-known for portraying headless bodies, which are meant to echo the human inclination to follow charismatic ... More
New study says seals not Christopher Columbus brought tuberculosis to Americas
Historic Kings Theatre is transformed into major New York Performing Arts venue
Swann Galleries' announces top August Posters Auction of all time bringing in more than $800,000




A pup harp seal resting on the ice off the coast of the Magdalen Islands. AFP PHOTO/David BOILY.





PARIS (AFP).- Seals and sea lions probably brought tuberculosis to the Americas centuries before Christopher Columbus first set foot there, scientists said Wednesday. A new study challenges the theory that Europeans introduced TB to the New World, where it killed millions of indigenous Americans along with other foreign diseases like whooping cough, chicken pox and flu. As many as 20 million people lived in the Americas before Europeans arrived, and up to 95 percent of them were wiped out by new diseases to which they had no immunity. But the latest data revealed that TB "may have had a hand in American Indian deaths prior to the influx of European diseases", according to the US National Science Foundation (NSF), which co-funded the study. An international expert team analysed DNA of bacteria from three 1,000-year-old human skeletons found in Peru, and found a type of TB closely related to strains that infect ... More





Historic image of the Kings Theatre. From the Loew's Collection, American Theatre Archive, Theater Historical Society of America.





NEW YORK, NY.- The Kings Theatre will reopen its doors in January 2015 as New York's newest major performing arts facility, and the largest theatre in Brooklyn with over 3,000 seats. The former movie palace and architectural gem will be a major new fixture in the City's cultural landscape, presenting a wide spectrum of cultural programming from local, national, and international performing artists across a variety of disciplines. Serving as both a cultural and economic cornerstone, the Theatre plans to present more than 200 performances annually—including popular music, comedy, theatre and dance—creating jobs and attracting thousands of visitors to the neighborhood. Located at the geographic center of the City's most populous borough, the Kings Theatre opened in the Flatbush neighborhood in 1929 as one of the five Loew's 'Wonder Theatres' constructed in New York and New ... More





Roger Broders, Monte-Carlo, circa 1930. Sold for $16,250 (including buyer's premium).





NEW YORK, NY.- Coming on the heels of tremendous media coverage, including write ups in The Telegraph, The Daily Mail, Luxury Travel Magazine, Robb Report and Slate, Swann Galleries' August 6 auction of Vintage Posters grossed more than any previous August posters sale, bringing in more than $800,000. Among the top lots were highlights from a collection of tennis posters, which was larger and more important than any tennis poster collection to appear at auction before, World War I & II images, scarce Buffalo Bill posters, Geo Ham's Grand Prix advertisements and summer and beach resort promos by celebrated artists. Nicholas D. Lowry, Swann President and Posters Specialist, said, "This summer marks the 100th anniversary of the start of World War I, and collectors and dealers showed up—both in person and online—to help propel the auction to impressive results. Several auction records were achieved, and it was Swann' ... More
Orchestral Manoeuvres In The Dark will play at the Museum of Liverpool on 1 November 2014
Exhibition of new photographic series by Hrafnkell Sigurdsson opens at i8 in Reykjavík
Book chronicles Nadav Kander's fascination with secret Soviet scientific cities




Andy McCluskey with 'Winston'. © Museum of Liverpool.





LIVERPOOL.- Music legends Orchestral Manoeuvres In The Dark are to play an exclusive concert at the Museum of Liverpool. OMD have just celebrated 35 years in music and will mark the occasion with the intimate gig in their home city. The special show will take place on Saturday 1 November in the Museum's 550-capacity Atrium. The set will include greatest hits, tracks from the band's 1983 Dazzle Ships album and one song which has never ever been performed live. This is the first time the Museum of Liverpool has hosted a gig by a major music act. On the night OMD will consist of Andy McCluskey, Paul Humphreys and Martin Cooper. OMD's iconic and influential fourth album Dazzle Ships was inspired by the painting Dazzle Ships in dry dock at Liverpool by Edward Wadsworth. Now that there is once again a Dazzle Ship in a dry dock in front of the Museum of Liverpool, it is appropriate that the band commemorate the event with ... More





Hrafnkell Sigurdsson: Revelation VII, 2014. Colour photograph, 144 x 96 cm. Courtesy of the artist and i8 Gallery, Reykjavik.





REYKJAVÍK.- i8 announces an exhibition of new works by Hrafnkell Sigurdsson. This is the artist's fifth solo exhibition with the gallery. The exhibition features Sigurdsson's new photographic series, Revelation, 2014. In Revelation, Sigurdsson continues his photographic exploration of themes relating to nature, the man-made or the sublime, and culture and consumer society; engaging with sculptural and painterly elements through the detail of various materials and surfaces. Sigurdsson's works often depict prefabricated materials or objects that are re-constructed or placed in situ. In Revelation, sheets of bubble wrap float underwater in free-form configurations suggesting a sculptural mass: an illusory paradox given the tremendous pressure of the water and relative weightlessness of the plastic. While bubble wrap in water ... More





The Aral Sea I (Officers Housing), Kazakhstan 2011.





NEW YORK, NY.- Nadav Kander began a three year survey of secret Soviet scientific cities and missile test sites when he learned of the existence of two "closed" cities on the border between Kazakhstan and Russia that tickled his curiosity for secrecy and his interest in the aesthetics of destruction. This fascination then took him from East Kazakhstan to the desolated landscapes of the Aral Sea. The restricted military zones of Priozersk and Kurtchatov did not appear on any map until well after the end of the Cold War. Long-distance missiles were tested in Priozersk, only known at the time as "Moscow 10", under great secrecy. Hundreds of atomic bombs were detonated in the so-called "Polygon" near Kurchatov until the program ended in 1989. The bombs were exploded in a remote but still populated area, and covert studies were made of the effects of the radiation on the unsuspecting ... More
Quote
I could not understand it. All my statues ended up one centimeter high. One touch more and hop! the statue vanishes. Giacometti
More News
---
Neanderthals 'overlapped' with modern humans for up to 5,400 years
---
---
Flashback
On a day like today, American designer and architect Charles Eames died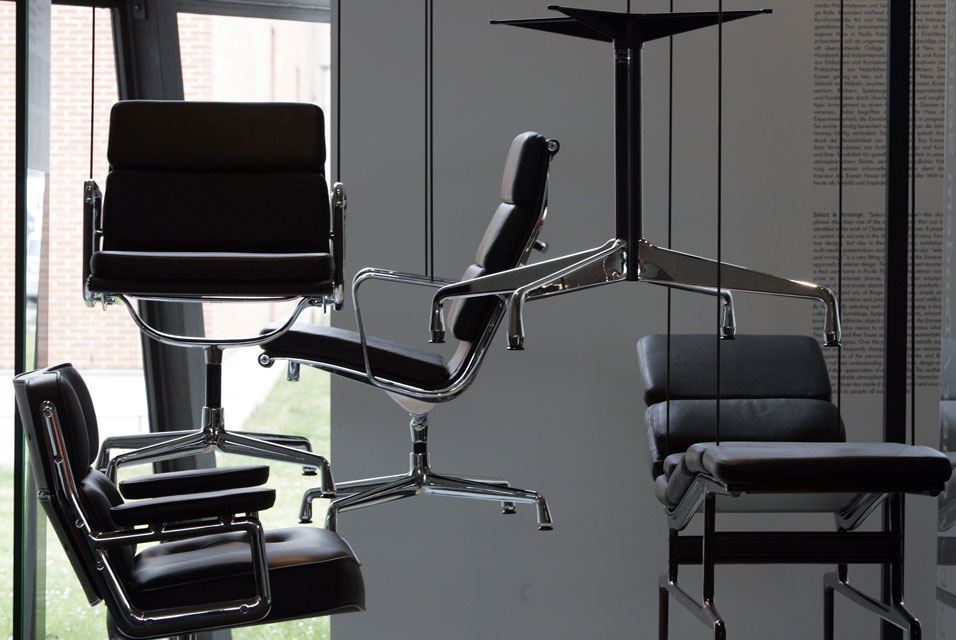 August 21, 1978. Charles Ormond Eames, Jr (1907 - 1978) was an American designer, who worked in and made major contributions to modern architecture and furniture. He also worked in the fields of industrial and graphic design, fine art and film. In this image: "Lobby Chair" models by U.S. designers Charles Eames (1907 - 1978) and his wife Ray (1912 - 1988) are on display during the exhibition "The furniture of Charles and Ray Eames - Products, Processes, Prototyps", in the Vitra Design Museum in Weil am Rhein, Germany, Thursday, March 22, 2007.
---
---

Museums, Exhibits, Artists, Milestones, Digital Art, Architecture, Photography,
Photographers, Special Photos, Special Reports, Featured Stories, Auctions, Art Fairs,
Anecdotes, Art Quiz, Education, Mythology, 3D Images, Last Week,
.
Royalville Communications, Inc
produces: