Christie's London Post War and Contemporary Evening Auction achieves $150,069,359
The highest price achieved on the evening was £12,178,500 for Francis Bacon's Study for Head of Isabel Rawsthorne and George Dyer. Photo: Christie's Images Ltd 2015.
LONDON
.-
Christie's
Post War & Contemporary Art Evening Auction achieved £95,646,500 / $ 150,069,359 / €134,287,686, with sell-through rates of 87% by lot and 88% by value. Bidders from 34 countries across three continents showed high energy for works by some of the most exciting contemporary artists alongside classics of the category. The evening established records including Chris Ofili's ground breaking Holy Virgin Mary (£2,882,500), alongside Malcolm Morley (£1,202,500), R.H Quaytman (£578,500), Jeff Elrod (£218,500), Brent Wadden (£122,500) and The Chapman Brothers (£422,500). The highest price achieved on the evening was £12,178,500 for Francis Bacon's Study for Head of Isabel Rawsthorne and George Dyer. Bidding was particularly active for collection from Museum of Old and New Art, achieving £4,630,000 and The Jacobs Collection ...
More
The Best Photos of the Day
Marina Abramović's 'Private Archaeology' opens at the Museum of Old and New Art
Intimate selection of works by Vasily Kandinsky on view at the Guggenheim Museum
China's Great Wall is disappearing due to adverse natural conditions and reckless human activities




Marina Abramović. Photo credit: MONA/Rémi Chauvin.





SYDNEY (AFP).- Performance artist Marina Abramovic is known for putting her body on the line -- from cutting herself, to walking thousands of kilometres along China's Great Wall, to having a loaded gun pointed at her head. The charismatic Belgrade-born art pioneer counts celebrities such as pop star Lady Gaga among her fans, while her performances attract people in the thousands. But for all her current fame, Abramovic credits the months spent in quiet remote Australian Aboriginal communities in the 1980s as being one of the major influences on her life's work. "This really changes our lives, connection with this kind of people," Abramovic explains to AFP of the time she spent with her then partner, German artist Frank Uwe Laysiepen, known as Ulay, in the central Australian desert regions. They lived for close to a year in Australia, mostly with the Pintupi and Pitjantjatjara tribes near the giant red monolith Uluru and in big Outback cattle stations. The Aboriginal "idea of here and now; ... More





Vasily Kandinsky, Circles on Black (Krugi na Chyomom) (Kreise auf Schwarz), 1921, oil on canvas, 136.5 x 120 cm, Solomon R. Guggenheim Museum, New York, Solomon R. Guggenheim Founding Collection 46.1050.





NEW YORK, NY.- From July 1 through spring 2016, the Guggenheim Museum presents an intimate selection of works by Vasily Kandinsky (b. 1866, Moscow; d. 1944, Neuilly-sur-Siene, France) that trace his aesthetic evolution. The exhibition, on view in the museum's Kandinsky Gallery, includes paintings selected from the artist's early beginnings in Munich at the start of the century, the return to his native Moscow with the outbreak of World War I, his interwar years in Germany as a teacher at the Bauhaus, and his final chapter in Paris. This exhibition is organized by Tracey Bashkoff, Senior Curator, Collections and Exhibitions, and Megan Fontanella, Associate Curator, Collections and Provenance. A pioneer of abstract art and eminent aesthetic theorist, Kandinsky broke new ground in painting during the first decades of the twentieth century. His seminal ... More





Herbert Ponting (1870-1935), The Great Wall in 1907. Photo: Wikipedia.org





BEIJING (AFP).- Around 30 percent of China's Ming-era Great Wall has disappeared over time as adverse natural conditions and reckless human activities -- including stealing the bricks to build houses -- erode the UNESCO World Heritage site, state media reported. The Great Wall is not a single unbroken structure but stretches for thousands of kilometres in sections, from Shanhaiguan on the east coast to Jiayuguan in the windswept sands on the edge of the Gobi desert. In places it is so dilapidated that estimates of its total length vary from 9,000 to 21,000 kilometres (5,600 to 13,000 miles), depending on whether missing sections are included. Despite its length it is not, as is sometimes claimed, visible from space. Construction first begun in the third century BC, but nearly 6,300 kilometres were built in the Ming Dynasty of 1368-1644, including the much-visited sectors north of the capital Beijing. Of that, 1,962 kilometres has melted ... More
Pope Francis to visit historic 9/11 Memorial and Museum during his visit to the United States
Opera Gallery London celebrates tenth anniversary with a group photography exhibition
All Watched Over: James Cohan Gallery presents a group exhibition curated by Tina Kukielski




Pope Francis arrives to leads a mass for the imposition of the Pallium upon the new metropolitan archbishops and the solemnity of Saints Peter and Paul on June 29, 2015 at St Peter's basilica in Vatican. AFP PHOTO /FILIPPO MONTEFORTE.





NEW YORK, NY.- Pope Francis will visit the National September 11 Memorial & Museum as part of the pontiff's first trip to America, becoming the fourth leader of the Roman Catholic Church to visit the United States, the Vatican confirmed today. On Sept. 25, Pope Francis will visit the 9/11 Memorial and, amid a grove of oak trees, pay his respects to the nearly 3,000 victims of the September 11, 2001 terror attacks and the February 26, 1993 bombing at the World Trade Center. After seeing the Memorial, the Pope will lead a Multireligious Meeting for Peace inside the 9/11 Memorial Museum, where he will gather with local representatives of the world religions to give a common witness to peace. The program will include an address by the Pope, prayers and meditations from various religious ... More





Mario Testino, Kate Moss in Blue Cafe, Light jet digital C-Print, 60 x 50 cm.





LONDON.- In celebration of its ten-year anniversary, Opera Gallery London presents Raw Footage, a group photography exhibition focusing on the meeting point between editorial and fine art photography, with a gaze tuned towards the body as a tool for both consumerism and sensuality. Exhibiting works by world-renowned fashion photographers including Mario Testino, David Lachapelle, Paul Solomons and Gerard Rancinan, among others, Raw Footage explores the evolution of fashion photography from the selling of a garment to the manufacturing of an idealized reality. The use of photography as an advertising tool saw a rise in popularity in the 20th century, when fashion itself became accessible to a wider audience. After WWII it began to integrate glamorous, care-free models that exuded charm to better suit the war-weary society. No longer focusing solely on the clothing, these models became vendors of an untroubled lifest ... More





Michael Riedel, Untitled (Form), 2014. Silkscreen on linen, 90 1/2 x 67 x 2 1/4 in. (229.9 x 170.2 x 5.7 cm). Courtesy David Zwirner, New York/London.





NEW YORK, NY.- James Cohan Gallery presents a group exhibition curated by Tina Kukielski entitled All Watched Over, which opened on June 25th, 2015 and running through August 7th, 2015. Richard Brautigan's poem All Watched Over by Machines of Loving Grace, written in 1967 while he was poet-in-residence at the California Institute of Technology, anticipates an ecosystem where animal, human, and machine live in harmony with nature. Freed from the constraints of labor and balanced by cybernetic feedback mechanisms that regulate and sustain life, the humans in Brautigan's short poem flourish in a naturalistic techno-utopia. Years later, acclaimed documentary journalist Adam Curtis appropriated Brautigan's title when he aired a BBC television series under the same name in 2011. From the standpoint of the recent past, Curtis's wide-reaching documentary analyses the vicissitudes of the ... More
Zhang Daqian paintings achieve top prices in Fine Chinese Works of Art and Paintings Auction at Bonhams
Oliver White appointed as Head of Indian and Islamic Department at Bonhams
Pre-Civil War baseball card, passed down in one family for 155 years, is ready for auction




Zhang Daqian, Splashed-Ink Autumn Landscape, 1965. 59 x 44.5cm. Estimate $180,000-250,000. Sold for $509,000. Photo: Bonhams.





SAN FRANCISCO, CA.- Two important paintings by the renowned artist Zhang Daqian (1899-1983) yielded top results in the June 23 auction of Fine Chinese Works of Art and Paintings held at Bonhams in San Francisco. A splashed in Autumn landscape, dated 1965, and titled "Qiu Shan Xiao Si" (Buddhist Temple in Autumn Mountain) (est. $180,000-250,000) brought $509,000 and a monumental landscape "Mountain Retreat Among Clouds and Streams," dated 1972 (est. $150,000-250,000) sold for $485,000 in a hotly contested battle between floor and telephone bidders. The paintings were purchased by Mr. and Mrs. Hal Louchheim in the mid-1970s from the Erickson Gallery of Palo Alto, Calif., during the period when the artist lived in Carmel, Calif., and have been with the owners since the date of purchase. These fine paintings, and a couplet of calligraphy painted by Zhang Daqian for the Chinese ... More





Oliver has been a specialist in the department for the past five years. Photo: Bonhams.





LONDON.- Bonhams has announced the appointment of Oliver White as the new head of its UK Islamic and Indian Art department with immediate effect. Oliver has been a specialist in the department for the past five years and takes up his new role at an exciting time. Bonhams secured nearly 50% of the market during Indian and Islamic auction week in April 2015 when its sale containing weapons from the armoury of Tipu Sultan, made more than £7.4 million. White said: "This is a wonderful opportunity and my challenge is to build on the achievements of the past to secure continued success in the future." Oliver White has a BA from University College London, an MA from Kingston University and spent a year studying at the University of Granada. He speaks fluent Spanish. During his time at Bonhams the Indian and Islamic department has scored notable successes including the sale of a life size portrait of Jahangir in 2011 for £1,420,000; a fi ... More





Circa 1860 Brooklyn Atlantics Baseball Card, SGC Authentic.





DALLAS, TX.- A c. 1860 Brooklyn Atlantics Baseball Card, passed down in the family of player Archibald McMahon for more than 150 years, will be on the block Thursday, July 30, 2015, as part of Heritage Auctions' Platinum Night Sports Auction, held in conjunction with the 2015 National Sports Collectors Convention in Chicago. It is expected to bring $50,000+. "This is a seminal artifact, not just of baseball, but of American history," said Chris Ivy, Director of Sports Auctions at Heritage. "It ranks with the most significant mementos of the sport's infancy ever to surface and is, quite possibly, the only team card on Earth printed before the first drop of blood was spilled in the American Civil War." The card is being offered by western Massachusetts resident and New York native Florence Sasso, 75, the great grand-niece-in-law of Archibald McMahon, one of the players on The Brooklyn Atlantics. The card, which was given to Sasso by her mother, the lat ... More
'Five Artists' curated by Matthew Schum on view at the David Nolan Gallery
Artist-in-Residence Bharti Kher's 'Not All Who Wander Are Lost' debuts on Museum facade
Portland Art Museum announces new Curator of Modern and Contemporary Art




Vesna Pavlović, Years of War, Decades of Peace, 2013. Endura metallic color print, 30 x 38 in., 76.2 x 96.5 cm. Edition 3 of 5.





NEW YORK, NY.- David Nolan Gallery presents Five Artists, curated by Matthew Schum. On view from June 25 through August 1, the exhibition brings together an international group of artists – Ana Prvački, Clarissa Tossin, Vesna Pavlović, Steffani Jemison, and Pilvi Takala – whose art explores vernacular, political and art historical cultures across a variety of media. Two Los Angeles-based artists – Ana Prvački (b. 1976, Serbia) and Clarissa Tossin (b. 1973, Brazil) – retrace the legacies of key twentieth-century cultural figures. Selections from Prvacki's series Stealing Shadows here alternate the gendered politics of appropriation art by borrowing the silhouettes of Koons, Degas, Duchamp, and Giacometti. Connected to Tossin's Study for a Landscape (Brasilia) and the utopian plans architect Oscar Niemeyer and urban planner Lucio Costa made for ... More





Bharti Kher facade image, June 2015.





BOSTON, MASS.- Born and raised in England before moving to New Delhi, artist Bharti Kher knows something about living amid transience. The concept of home, culture, and identity preoccupy her as an artist who is known for her hybrid cast sculptures and paintings. Kher is the sixth Artist-in-Residence at the Gardner Museum who was invited by Pieranna Cavalchini, The Tom and Lisa Blumenthal curator of Contemporary Art, to design a temporary site-specific work for the Anne H. Fitzpatrick Façade. Her installation will be unveiled July 1. Called Not All Who Wander Are Lost, Kher's project reflects on maritime history, highlights her interest in mapping and typography, geodesy and colonization and references the migration of people in Africa, the Middle East, and Europe. Kher tells us that "an Atlas lets you hold the world in your hands." Not All Who Wander Are Lost is based, in part, on a ready-made, historic map from The ... More





Krajewski was most recently the director of the INOVA (Institute of Visual Arts) galleries at University of Wisconsin-Milwaukee, where she had served since 2012.





PORTLAND, ORE.- Brian Ferriso, the Marilyn H. and Dr. Robert B. Pamplin, Jr. Director of the Portland Art Museum, announces the appointment of Sara Krajewski as the Robert and Mercedes Eichholz Curator of Modern and Contemporary Art. Krajewski was most recently the director of the INOVA (Institute of Visual Arts) galleries at University of Wisconsin-Milwaukee, where she had served since 2012. Previously, she was curator at the Henry Art Gallery in Seattle, Wash., and she held curatorial positions at Madison Museum of Contemporary Art and Harvard University Art Museum. She earned her undergraduate degree in art history at University of Wisconsin-Madison, and her master's degree in art history at Williams College. Her research on transdisciplinary art and performance ... More
Quote
Painting is easy when you don't know how, but very difficult when you do. Degas
More News
---
Installing Sadamasa Motonaga's "Work (Water)" at the DMA
---
---
Flashback
On a day like today, Finnish architect Gottlieb Eliel Saarinen died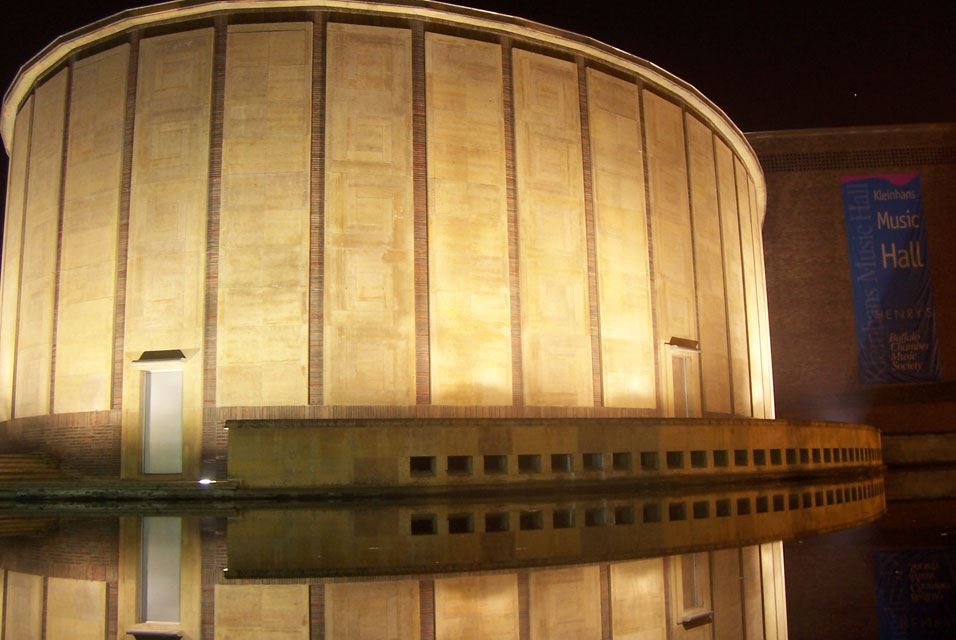 July 01, 1950. Gottlieb Eliel Saarinen (August 20, 1873, Rantasalmi, Finland - July 1, 1950, Bloomfield Hills, Michigan, United States) was a Finnish architect who became famous for his art nouveau buildings in the early years of the 20th century. He was the father of Eero Saarinen. In this image: Nighttime photograph of Kleinhans Music Hall in Buffalo, NY
---
---

Museums, Exhibits, Artists, Milestones, Digital Art, Architecture, Photography,
Photographers, Special Photos, Special Reports, Featured Stories, Auctions, Art Fairs,
Anecdotes, Art Quiz, Education, Mythology, 3D Images, Last Week,
.
Royalville Communications, Inc
produces: