Erwin Wurm's 'Abstract Sculptures' series on view at the Lehmbruck museum in Duisburg
Austrian artist Erwin Wurm poses next to his sculptures "Hand" (L) and "Hund" (dog) at the Lehmbruck museum in Duisburg, western Germany, on August 29, 2014. From August 30 to September 28, 2014, the museum presents works from the artist's "Abstract Sculptures" series during the show "Sculpture 21st - Erwin Wurm". AFP PHOTO / DPA / JONAS GUETTLER.
DUISBURG
.-
The Lehmbruck museum
in Duisburg, presents works from the Erwin Wurm's "Abstract Sculptures" series. Wurm follows Tino Sehgal, who presented his work "Kiss" as part of "Sculpture 21st", and Monika Sosnowska. For the first time, Erwin Wurm presents the latest works from his "Abstract Sculptures" series in Germany. His most recent group of works displays Wurm's well-known sense of humour: Wurm's sculptures make us smile even as they deliver subversive commentaries on the consumer society and contemporary sculpture. At the same time, Wurm re-interprets the aesthetic principle of abstraction, the hallmark of the modern age, by creating sculptures that are both abstract and representational. For more than three decades, Erwin Wurm has worked to expand the idea of sculpture. In his well-known series "One Minute Sculpture", he distributes bizarre instructions to ...
More
The Best Photos of the Day
Rare depiction of a Republican Roman man leads Christie's London Sale of Antiquities in October
Restoring Albrecht Dürer's masterpiece The Arch of Honour of Maximilian I
BP Spotlights: Autumn displays at Tate Britain celebrating 25 Years of the BP and Tate partnership




A rare and arresting portrait of a distinguished Roman man. Estimate: £200,000-300,000. Photo: Christie's Images Ltd 2014.





LONDON.- The Christie's sale of Antiquities in London on 1 October 2014 comprises 189 lots with exceptional provenance which span the ancient world from the 4th Millennium B.C. to the 7th Century A.D. Leading the sale is a rare and arresting portrait of a distinguished Roman man (estimate: £200,000-300,000). Further highlights include a Roman marble janiform herm of Dionysus (estimate: £150,000 - 250,000), an Assyrian gypsum cuneiform dedicatory panel, which is believed to be the most detailed Assyrian royal inscription known to date (estimate: £100,000 - 150,000), and property from The Rudolf Schmidt (1900-1970) Collection. With estimates ranging from £800 to £200,000 the sale is expected to realise in excess of £2 million. An arresting portrait of a Roman man encapsulates the naturalistic tradition of the Republican Period of the 1st century B.C. The emphasis on realism ... More





In order to prepare the work for exhibition the SMK conservators will be busy throughout the autumn months.





COPENHAGEN.- Throughout the autumn season visitors to the National Gallery of Denmark can see the museum's conservators at work, restoring Albrecht Dürer's 500 year-old masterpiece The Arch of Honour of Maximilian I. For many years, this artwork by Albrecht Dürer – the largest Renaissance woodcut ever made – was on display at the Royal Collection of Graphic Art's premises in Prinsens Palæ, now the home the National Museum of Denmark. Here, the 3.5 x 3m artwork was exposed to light and changing climate conditions, and eventually it yellowed and deteriorated to such an extent that it was no longer fit for display. Since then it has been rolled up and tucked away in the SMK storage facilities. In the spring of 2015 Dürer's large-scale work will see the light of day again – and be the main feature of an exhibition arranged by the Royal Collection of Graphic Art. In order to prepare the work for ... More





Henry Wallis (1830–1916), Chatterton 1856 (detail). Oil paint on canvas, 622 x 933 mm. Tate. Bequeathed by Charles Gent Clement 1899.





LONDON.- Tate Britain's autumn season of BP Spotlights is announced today. The BP Spotlights include Tate collection works and loans that explore a particular theme or focus on the work of one artist or group of artists. Autumn highlights include three-dimensional photographs from the collection of Dr. Brian May shown beside their Pre-Raphaelite counterparts; a selection of works by William Hogarth to mark the 250th anniversary of his death; and a display of paintings, reliefs and sculptures by one of Britain's most important Constructivist artists, Marlow Moss. There will also be rooms devoted to the primitive and carnivalesque work of Caroline Achaintre and to two series of work entitled Belgravia and Gentlemen by photographer Karen Knorr. A Poor Mans Picture Gallery is the first display in a major British art gallery devoted to the nineteenth century craze of three- ... More
Paintings by Swiss-born artist Stephan Melzl on view at Pinakothek der Moderne
Henry Moore's 'Figure on a Pedestal' raises stakes at Bonhams Modern British and Irish Art Sale
Christie's announces the sales of Asian Art Week: A series of six auctions from 16-19 September




Stephan Melzl, Secret, 2005, oil on wood, 65 x 50 cm, Bayerische Staatsgemälde sammlungen, Munich, acquired in 2006 by PIN. Freunde der Pinakothek der Moderne e.V. © Stephan Melzl.





MUNICH.- Small-scale oil paintings on wood, figurative subjects, colouristic sophistication – at first glance the painting of Swiss-born artist Stephan Melzl appears to stand in the tradition of the old masters, perhaps even seeming an anachronism in the world of contemporary art. And yet in his own distinctive way, the artist manages to combine traditional pictorial traditions with a modern aesthetic, in the process reinventing allegory for the 21st century. From afar, the muted colours of the small panel paintings radiate an aura of familiarity. Up close, however, a strange, unsettling silence emanates from the works. It would almost appear as if time has been suspended in them. The figures' solemn statuary impression helps to elevate the objects they carry into the kind of attributes known to us in art history through the depictions ... More





Henry Moore, Reclining Figure on a Pedestal'. Estimate:£1m to £2m. Photo: Bonhams.





LONDON.- A major and monumental work by one of Britain's greatest artists, Henry Moore (1898-1986), titled 'Reclining Figure on a Pedestal', estimated at £1m to £2m will lead Bonhams sale of Modern British and Irish Art on 17 and 18 November in New Bond Street. Casts of this highly acclaimed bronze have been exhibited on numerous occasions in Europe and the USA, since its conception in 1959-60.The device of an integral pedestal had been used by Moore on a number of occasions previously. Works as early as 'Reclining Figure', (1929) are positioned on top of a pedestal of raw stone. The largest and most defined pedestal predating 1959 is the famous UNESCO 'Reclining Figure', completed over the three years prior to 'Reclining Figure on a Pedestal'. The theme of the reclining nude obsessed Moore and played a central role in the development of his sculpture throughout his career as an artist. He defined ... More





Maqbool Fida Husain, Untitled (Elephants). Estimate: $100,000-150,000. Photo: Christie's Images Ltd 2014.





NEW YORK, NY.- Christie's announced the sales of Asian Art Week for Fall 2014. The series of six sales, running from 16-19 September, will present over one thousand lots of exceptional quality and rarity that span centuries of Asian Art. Among the highlights of the week is Christie's first sale in New York completely devoted to the finest examples of cloisonné enamels from private American collections. The September Asian Art Week will also feature a great deal of works with exquisite provenance, perhaps most notably the sale of Works from the Collection of Shumita and Arani Bose, featuring 26 masterpieces of contemporary Southeast Asian Art. In addition to the sales, Christie's will have on view four special exhibitions throughout the galleries, including a new category - Chinese Contemporary Design: A Dialogue Between Tradition and Modernity - to be sold in Shanghai and for Private Sale. ... More
Nationalmuseum Sweden announces major loan of Pehr Hilleström works to Helsinki exhibition
First solo exhibition in the UK since 2004 by Tony Smith opens at Timothy Taylor Gallery
Bonhams appoints lawyer Teresa Ybarra as its representative in northern Spain




Pehr Hilleström (1732‒1816), Omakuva, 1771 / Self-portrait. Oil on canvas 25 x 19,5 cm. Nationalmuseum, Tukholma. Photo© Nationalmuseum, Tukholma/Stockholm.





STOCKHOLM.- Nationalmuseum has made a major loan of works to the Pehr Hilleström exhibition at the Sinebrychoff Art Museum in Helsinki. The loan comprises some 20 works by this artist best known for his documentary paintings of 18th-century Stockholm. The exhibition opens on 4 September and runs until 11 January. This is the first time that a Finnish gallery has mounted a comprehensive exhibition of works by the Swedish artist Pehr Hilleström (1732–1816). Nationalmuseum in Stockholm has contributed some 20 paintings by Hilleström, one of Sweden's most highly regarded artists of the 18th century. The works on loan include Testing Eggs, Kitchen Scene, Card Game at the Home of Elis Schröderheim, Public Banquet at Stockholm Castle New Year's Eve 1779, plus two self-portraits and an enigmatic portrait of Carl Michael Bellman.In all, 50 of Hilleström's best-known paintings ... More





Tony Smith, 'Cross', 1960-62. Cast bronze, black patina, 32 x 32 x 32 in. / 81 x 81 x 81 cm., ed.AP© Tony Smith; Courtesy Timothy Taylor Gallery, London and Matthew Marks Gallery, New York.





LONDON.- Timothy Taylor Gallery presents the first solo exhibition in the UK since 2004 by the great American artist and architect Tony Smith. Widely recognised as a pioneer of American contemporary art, Smith's influence spans Abstract Expressionism to Land Art and Conceptualism. His peers included Jackson Pollock, Barnet Newman and Mark Rothko who went on to redefine the possibilities of abstract art. Significantly, Smith's use of industrial manufacturing techniques anticipated Minimalism and, much later, the slacker attitude of the YBAs. "I didn't make drawings. I just picked up the phone and ordered it." – Tony Smith, 1966 This exhibition, his third at the gallery, serves as an opportunity to re-examine Smith's rarely seen early paintings and intuitively composed sculptures cast in bronze. The sculptures presented originate from cardboard and wooden maquettes. ... More





Prior to Bonhams, Teresa worked in law at Gherson Solicitors; Cuatrecasas, Gonçalves Pereira; Melford Capital Partners LLP and for the Spanish Federation of Antique Dealers. Photo: Bonhams.





LONDON.- Teresa Ybarra has been appointed by Bonhams as the company's representative in Bilbao covering northern Spain and south west France with effect from September 1 2014. Teresa will work closely with Bonhams' Madrid office which is headed by Johann Leibbrandt. Teresa is a member of the Ilustre Colegio de Abogados del Señorio de Vizcaya (Spanish Law Society), and is a qualified lawyer with an honours degree from Spain's foremost law school, Universidad de Deusto. She started with Bonhams based at the company's Knightsbridge saleroom in early 2014 having previously worked for two other leading international fine art auction houses in marketing and in the Old Masters department. Prior to Bonhams, Teresa worked in law at Gherson Solicitors; Cuatrecasas, Gonçalves Pereira; Melford Capital Partners LLP and for the Spanish Federation of Antique ... More
Antique maps and first-edition books join Civil War photos and prints in Waverly's Sept. 11 auction
Sotheby's Hong Kong Magnificent Jewels and Jadeite Autumn Sale to take place on 7 October
4th Biennale Gherdëina invites five contemporary artists to work with wood




First-edition copy of Bram Stoker's classic novel Dracula (Archibald Constable & Co., England, 1897). Est.: $2,000-$3,000.





FALLS CHURCH, VA.- Waverly Rare Books will offer nearly 550 lots of antique and highly collectible maps, items from the Burchuk-Warden Rare Music Collection, many fine first-edition books, photographs and ambrotypes (some of them Civil War-era), plus posters and prints in a catalog auction scheduled for Thursday, Sept. 11, beginning at 5:30 p.m., Eastern Time. Maps will be highlighted by an 1844 map of Texas (and the countries adjacent), compiled by the Bureau of the Corps of Topographical Engineers for the U.S. State Department by W. H. Emory, an officer in the War Department. This is the larger version (the Senate issue) of two made. Comprising two adjoining sheets totaling 21¼ inches by 32½ inches, the map should realize $3,000-$5,000. Two maps of Virginia from the first ... More





A 50.05-carat DIF Type IIa Diamond estimated at HK$60 – 70 million / US$7.7 – 9 million. Photo: Sotheby's.





HONG KONG.- Sotheby's Hong Kong Magnificent Jewels and Jadeite Autumn Sale 2014 will take place on 7 October at Hall 3, Hong Kong Convention and Exhibition Centre. The upcoming sale will highlight an array of rare and important colourless and coloured diamonds, including a 8.41-carat Internally Flawless Fancy Vivid Purple-Pink Diamond (Est. HK$100 – 120 million / US$13 – 15.5 million) and a 50.05-carat DIF Type IIa Diamond estimated at HK$60 – 70 million / US$7.7 – 9 million. They are complemented by coloured gemstones of exceptional proportions and quality including a 35.72-Carat Step-Cut Colombian Emerald (Est. HK$32 – 36 million / US$4 – 4.6 million), as well as a suite of jadeite jewellery formerly in the collection of the last Empress of China. Also highly ... More





Bruno Walpoth - Work-low





ORTISEI.- An expression of the cultural and creative tradition of the Val Gardena, establishing a close relationship between the land and its visitors, but with an increasingly ambitious international outlook: the 4th Biennale Gherdëina in Ortisei, promoted by Associazione turistica di Ortisei in partnership with the City of Ortisei, grows and renews itself with a project entitled Legno/Wood/Holz/Lën, curated by Luca Beatrice (18 July through 1 October 2014) focusing on contemporary sculpture. The five artists invited to participate exhibit their works in the pedestrian zone in central Ortisei, all sculptures made out of the most traditional material in the area - wood: Chris Gilmour, Sonia Leimer, Willy Verginer, Velasco Vitali and Bruno Walpoth. The far-reaching works included in the exhibition have been created by the artists in the last few months, specifically for the Biennale, in collaboration with local ... More
Quote
Sculpture should contain the minimum of movement. Aristide Maillol
More News
---
A brief history of time telling
---
---
Flashback
On a day like today, French painter Henri Rousseau died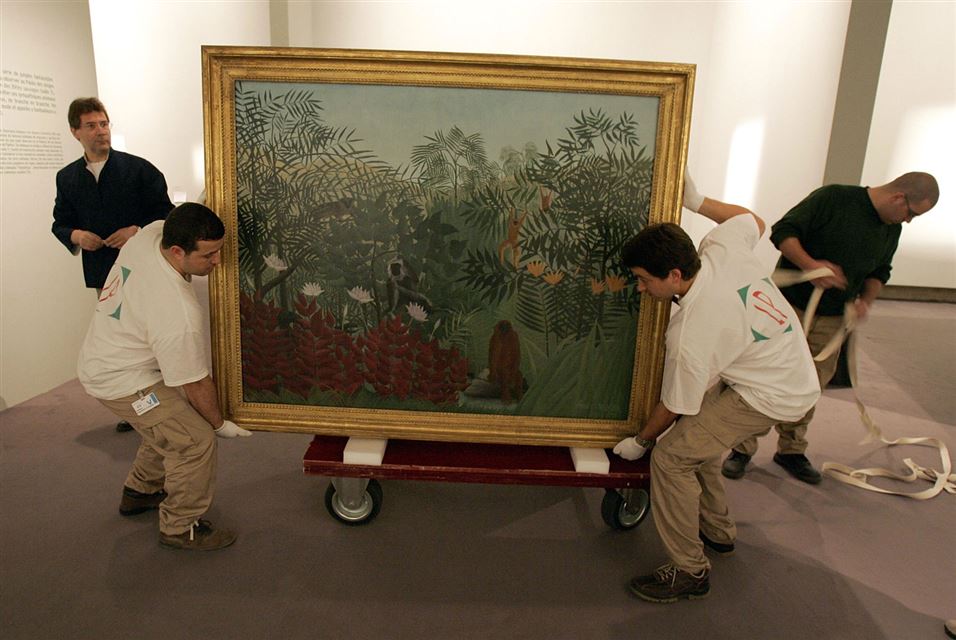 September 02, 1910. Henri Julien Félix Rousseau (May 21, 1844 - September 2, 1910) was a French Post-Impressionist painter in the Naïve or Primitive manner. He was also known as Le Douanier (the customs officer), a humorous description of his occupation as a toll collector. Ridiculed during his life, he came to be recognized as a self-taught genius whose works are of high artistic quality. In this image: Employees of the Grand Palais museum in Paris take Henri Rousseau's painting "Foret tropicale avec singes," (1910), away for packing Thursday June 22, 2006, for transportation to the U.S. for the "Henri Rousseau: Jungles in Paris" exhibit, the first all-Rousseau retrospective in two decades which opened Sunday, July 16, 2006, at the National Gallery of Art's East Building in Washington.
---
---

Museums, Exhibits, Artists, Milestones, Digital Art, Architecture, Photography,
Photographers, Special Photos, Special Reports, Featured Stories, Auctions, Art Fairs,
Anecdotes, Art Quiz, Education, Mythology, 3D Images, Last Week,
.
Royalville Communications, Inc
produces: