Picasso's "Head of a Young Woman", worth 25 million euros, seized by French customs
The yacht Adix, owned by Spanish Santander banking group and flying a British flag, sails off Testa beach on August 4, 2015, in Pianottoli Caldarello, Corsica, four days after French customs seized a Picasso on board considered a national treasure by Spain. The painting, which French customs said was valued at more than 25 million euros ($27 million), is owned by Jaime Botin, a well-known Spanish banker whose family founded Santander. An attempt to export the painting, "Head of a Young Woman", to Switzerland last July 30 "drew the attention of French officials", the country's customs authorities said, with officers on the French Mediterranean island boarding the vessel the next day. AFP PHOTO / PASCAL POCHARD-CASABIANCA.
AJACCIO
(AFP)
.-
A Picasso worth 25 million euros and considered a national treasure by Spain -- which had barred the painting's export -- has been seized from a boat in Corsica, French authorities said Tuesday. An attempt to export the painting, "Head of a Young Woman", to Switzerland last Thursday "drew the attention of French officials", the country's customs authorities said, with officers on the French Mediterranean island boarding the vessel the next day. The ship's captain could only present two documents regarding the painting, one of which was a May 2015 Spanish court judgement labelling it a work of art and ordering that it not be taken out of the country, French officials said in a statement. The painting, which French ...
More
The Best Photos of the Day
Tang Teaching Museum receives gift of contemporary works on paper from Anne and Arthur Goldstein
University of Oxford's Ashmolean Museum acquires archive of the last Pre-Raphaelite
'About Face: Human Expression on Paper' on view at the Metropolitan Museum of Art




Amy Sillman, Untitled (#6), 2007. Gouache, colored pencil, and etching on paper, 34 x 28 in. Gift from Anne and Arthur Goldstein. 2015.3.12





SARATOGA SPRINGS, NY.- The Frances Young Tang Teaching Museum and Art Gallery at Skidmore College has received a gift of 40 contemporary works on paper from the collection of Anne and Arthur Goldstein. The gift includes works by a diverse group of leading and emerging artists, including Stephen Balkenol, Huma Bhabha, Nicole Eisenman, Josephine Halvorson, Mary Reid Kelley, David Korty, Atta Kwami, Jack Pierson, Sterling Ruby, Amy Sillman and Gary Simmons. The majority of the works in the Goldstein gift represent the Tang's first acquisition from the artist's oeuvre in the Tang's growing collection, and several of the works were created by artists who were featured in exhibitions at the Tang Museum early in their careers. The drawings and other works on paper included in the gift provide an intimate view into the studio practice of these artists, and add to the deep collection of works available for research and study by ... More





Sir Edward Burne-Jones (1833‒98), Album of Illustrated Letters from Burne-Jones to Mrs Gaskell, 1893–8. 'A Phlumbudge' Writing paper, mounted onto an album page © Ashmolean Museum, University of Oxford.





OXFORD.- The Ashmolean has acquired an important record of the Pre-Raphaelite artists, the illustrated letters of Sir Edward Burne-Jones (1833–98) to Helen Mary (May) Gaskell (1853–1940). The archive, which has remained with May Gaskell's descendants, consists of more than 200 letters dating from 1892 up to the year of Burne-Jones's death: three albums of intimate letters from the artist to Mrs Gaskell; two albums of illustrated letters to Mrs Gaskell and her daughter, Daphne; and other ephemera such as the artist's brushes which he used when painting his famous portrait of Amy Gaskell. The letters are one of the most endearing records of all Burne-Jones's friendships. They recount both his innermost thoughts and feelings and feature a cast of humorous characters, fictitious and real. They have been acquired for £200,000 with major support from the National Heritage ... More





Charles Antoine Coypel (French, 1694-1752). Medea, ca. 1715. Pastel; 11 9/16 x 8 1/8 in. (29.4 x 20.6 cm). The Metropolitan Museum of Art, New York, Harris Brisbane Dick Fund, 1953 (1974.25).





NEW YORK, NY.- The representation of human emotion through facial expression has interested Western artists since antiquity. Drawn from The Metropolitan Museum of Art's collection of drawings, prints, and photographs, the diverse works in About Face: Human Expression on Paper—portraits, caricatures, representations of theater and war—reveal how expression underpinned narrative and provided a window onto the character and motivations of the subjects, the artists, and even their audiences. The exhibition is on view from July 27 through December 13, 2015. Using Charles Le Brun's illustrations for Expressions of the Passions and Guillaume-Benjamin-Armand Duchenne de Boulogne and Adrien Tournachon's photographic series as touchstones, the approximately 60 works dating from the 16th through the 19th century show how artists such as Hans Hoffmann, ... More
Italy earmarks 18 million to rebuild Colosseum arena floor where gladiators once fought
As part of the Edinburgh Art Festival 2015, Ingleby Gallery presents a major solo exhibition by Charles Avery
Virtual reality weekend at the British Museum is first time Samsung Gear VR devices are used




The idea is that the arena could be used once more to house events and perhaps even re-enactments of spectacular Roman-era shows. AFP PHOTO / FILES / FILIPPO MONTEFORTE.





ROME (AFP).- Italy has earmarked over 18 million euros to rebuild the arena floor in the Colosseum where gladiators once fought wild beasts, Culture Minister Dario Franceschini said Tuesday. "A promise kept: the Colosseum will have its arena once more. Plan for reconstruction financed," he said on Twitter after announcing 18.5 million euros ($20.2 million) for a refurbishment which could see the ancient space host modern day cultural events. In total, the cultural ministry approved 80 million euros worth of investments in the country's museums and heritage sites. Of that, 18 million euros will go towards enlarging the Uffizi Gallery in Florence, while five million has been set aside for the Museum of Ancient ships in Pisa, where nine Roman cargo ships discovered in 1998 are set to go on display. Franceschini said in December last year that he hoped to ... More





Charles Avery,  Untitled (Two Guys in Boat Approaching Quayside), 2015. 139 x 113 cm. Pencil, acrylic and ink on paper. Courtesy of the artist and Ingleby Gallery, Edinburgh.





EDINBURGH.- As part of the Edinburgh Art Festival 2015, Ingleby Gallery presents a major solo exhibition by Charles Avery. In 2004, Charles Avery embarked on what will be a lifelong project titled The Islanders: a painstakingly detailed description of a fictional world that functions in parallel to our own universe, realised in drawing, painting, sculpture and text. These large-scale, narrative drawings and sculptural installations question our ideas about the nature of time, place and being. The Island is located in the middle of an archipelago of innumerable constituents, and its heart is the port of Onomatopoeia. This town was once a stepping off point for pioneers and travellers, then a bustling boomtown, then a slum in a state of extended decline, and now in the fictional present, it is reborn as a regenerated city of culture and a tourist destination. ... More





Model wears a Samsung Gear VR headset in the British Museum's Great Court. © The Trustees of the British Museum.





LONDON.- Through its work with technology partner Samsung, the British Museum is at the forefront of digital learning. The Samsung Digital Discovery Centre was created in 2009 to provide a state-ofthe-art technological hub for children and young people to learn about and interact with the Museum's collection. The creation of a virtual reality experience based on the British Museum's Collection is the latest innovation of this exciting partnership. The Virtual Reality Weekend on 8 – 9 August will be the first time Samsung Gear VR devices are used to engage families with British Museum collections. Visitors will be able to explore a virtual reality Bronze Age site designed by Soluis Heritage, where they will see 3D scans of objects from the Museum's collection of this period, placed in their original setting. Samsung Gear VR headsets will be available for individuals aged 13 or over to use. In ... More
Sheldon Museum of Art acquires Yinka Shonibare hand-painted fiberglass sculpture
National Gallery Singapore to open its doors to the public on 24 November 2015
Exhibition of works by Hans Peter Feddersen on view at Museum Kunst der Westküste




Yinka Shonibare MBE (born London, England 1962), Wind Sculpture III Steel armature with hand-printed fiberglass, 2013. 240 x 134 x 31.5 inches. University of Nebraska–Lincoln, U-6422.2014.





LINCOLN, NEB.- A majestic hand-painted fiberglass sculpture by Yinka Shonibare MBE, which captures the movement of thin cotton fabric billowing from a bolt, has been installed as part of the campus-wide sculpture garden of Sheldon Museum of Art at the University of Nebraska–Lincoln. "'Wind Sculpture III' is an impactful addition to the UNL campus. The location of the work, at the nexus of the city and the campus, is an ideal place for inquiry and dialogue," said Wally Mason, director of Sheldon Museum of Art. "The billowing, colorful bolt of fabric, which is as kinetic as it is exotic, poses questions about race, class, and globalization. Much like the Oldenburg in a similar location, the scale and action of the Shonibare work give rise to engagement from multiple vantage points and ... More





Rotunda. Photo: Darren Soh and National Gallery Singapore.





SINGAPORE.- The National Gallery Singapore has announced that it will open its doors to the public on the 24th of November 2015. The opening of this new visual arts institution will mark an important moment for both the city and the region, and will be home to Singapore's National Collection, the largest public collection of visual arts from Singapore and Southeast Asia from the 19th century to the present day. "As the first museum in the world dedicated to Southeast Asian modern art, National Gallery Singapore hopes to captivate and kindle a curiosity for art – from art histories to the stories behind the art, from the discoveries we uncover about Southeast Asia and the world, to stories about ourselves," said Ms. Chong Siak Ching, CEO, National Gallery Singapore. The National Gallery Singapore will focus on displaying, promoting and researching these artworks, relating them to wider ... More





H. P. Feddersen, Vorland Dagebuell I um 1905 (detail), 31x37.





ALKERSUM/FÖHR.- A special group of works from the oeuvre of the major Schleswig-Holstein-based painter Hans Peter Feddersen was selected for this exhibition: the landscapes he created on the Danish and North Frisian west coast. These range from plein-air oil studies created in the early 1870s on the islands of Sylt and Fanø and large-scale, art-nouveau-inspired canvases to expressive late works. Trained at the art academies in Düsseldorf and Weimar, Feddersen early on devoted himself to the natural scenery of his native surroundings, which at the time was still felt to be an unworthy subject for painting; moreover, he eschewed attractive, picturesque scenery. In spite of their proximity, Feddersen and Emil Nolde pursued different artistic objectives. Feddersen was particularly drawn to things that were hard to depict: the dramatically high sky, the interaction of air and light, of wind and clouds. ... More
Last chance to see Magna Carta: Law, Liberty, Legacy at the British Library in London
Unseen Photo Fair: Extensive festival programme to capture the city of Amsterdam
Iran's top sculptor Parviz Tanavoli dedicates work to Cecil the lion who was killed by an American dentist




First known portrait of King John by an unknown artist, 1620 © National Portrait Gallery on display in Magna Carta: Law, Liberty, Legacy.





LONDON.- Now in its final weeks, Magna Carta: Law, Liberty, Legacy has seen a record number of visitors to the British Library during the document's 800th anniversary year. Described as packing a 'mighty emotional punch' by the Guardian and 'rich and authoritative' by the Daily Telegraph, Magna Carta: Law, Liberty, Legacy is the biggest exhibition there has ever been on Magna Carta, one of the most famous documents in the world. It brings together manuscripts and objects from a thousand years of history to tell the story of the granting of Magna Carta and how it has evolved into an international symbol for freedom over centuries. With two of the four surviving 1215 Magna Cartas on display, as well as the US Declaration of Independence and Bill of Rights in the UK for the first time, the exhibition unites over 200 objects, such as medieval manuscripts, artworks, royal remains ... More





Unseen Photo Fair by night © Rien de Jager.





AMSTERDAM.- Over the past three years, Unseen has established an acclaimed photography fair, as well as an on-site festival programme at the Westergasfabriek in Amsterdam. For the 2015 edition, Unseen introduces Unseen Festival – an extended festival programme in the city that celebrates photography in all its forms. Unseen Festival is a 10-day celebration of photography in Amsterdam. From the 18th to the 27th of September, Unseen collaborates with many of the city's institutions, academies, artists, and initiatives using photography in innovative and unconventional ways to create a programme that is sure to challenge, excite and inspire. The heart of Unseen Festival remains on-site at the Westergasfabriek and will include the Unseen Living Room, the Unseen Book Market, the Unseen Collection, an exhibition of the Foam Talents 2015, Artist Recipes, and the immersive installation, Panorama Carland by Jan Hoek. The on-site activities ... More





A file picture taken on May 27, 2008 shows prominent Iranian sculptor Parviz Tanavoli posing for a picture in his garden at his home in Tehran. Tanavoli is to dedicate a new work to Cecil, the lion who was killed by an American dentist in Zimbabwe in early July 2015 sparking an international outcry. AFP PHOTO / BEHROUZ MEHRI.





TEHRAN (AFP).- Iran's top sculptor Parviz Tanavoli is to dedicate a new work to Cecil, the lion who was killed by an American dentist in Zimbabwe sparking an international outcry. "The cruel killing of the Zimbabwean lion known as Cecil broke my heart," said the 78-year-old, who has created many distinctive sculptures of lions in a career spanning six decades. "In memory of him, I will be dedicating one of my latest lions to him in order to keep his memory alive and to help stop cruelty to animals," he told the ISNA news agency. Tanavoli, who usually works in bronze and other metals and is a leading proponent of the Saghakhaneh style that captures elements of Iranian culture, said it still saddened him that Iran's last lion ... More
Quote
The reason for my painting large canvases is that I want to be intimate and human. Mark Rothko
More News
---
Current and future exhibitions at Auckland Art Gallery
---
---
Flashback
On a day like today, Canadian painter Tom Thomson was born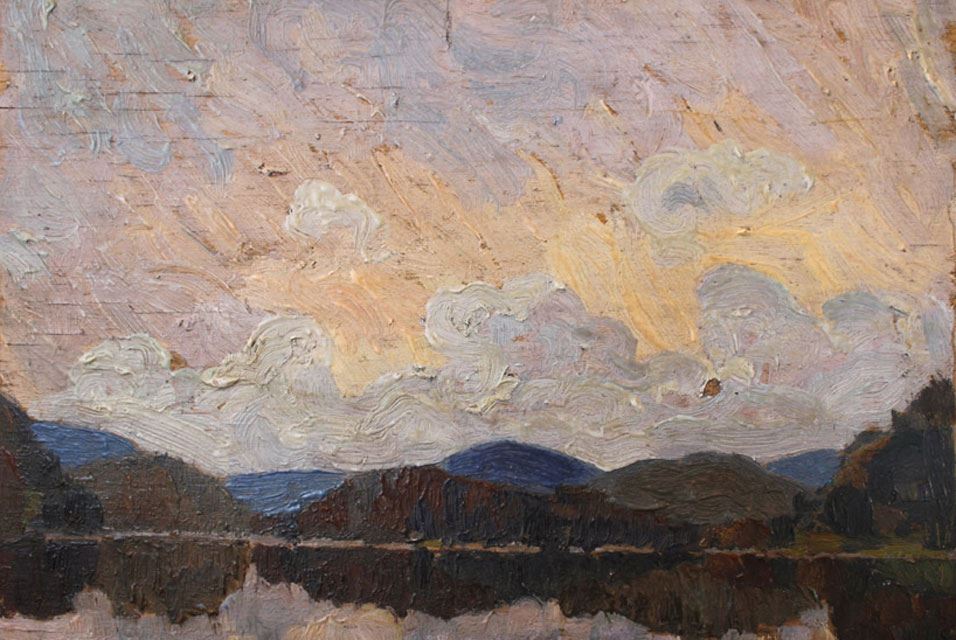 August 05, 1877. Thomas John "Tom" Thomson (August 5, 1877 - July 8, 1917) was an influential Canadian artist of the early 20th century. He directly influenced a group of Canadian painters that would come to be known as the Group of Seven, and though he died before they formally formed, he is sometimes incorrectly credited as being a member of the group itself. Thomson died under mysterious circumstances, which added to his mystique. In this image: This newly discovered Tom Thomson oil on board recently sold for $126,500.
---
---

Museums, Exhibits, Artists, Milestones, Digital Art, Architecture, Photography,
Photographers, Special Photos, Special Reports, Featured Stories, Auctions, Art Fairs,
Anecdotes, Art Quiz, Education, Mythology, 3D Images, Last Week,
.
Royalville Communications, Inc
produces: