SAP cofounder and art collector Hasso Plattner opens Barberini Museum in Potsdam
German Chancellor Angela Merkel (R) and Hasso Plattner, entrepreneur and patron, pose in front of a painting by Edvard Munch during the official opening of the Barberini Museum in Potsdam, near Berlin, on January 20, 2017. Plattner helped to establish the Museum Barberini, which from January 2017 on will exhibit Plattner's collection of artworks. Bernd von Jutrczenka / POOL / AFP.
POTSDAM
.-
In the past three years a piece of cultural history has been reconstructed in the heart of Potsdam. On January 23, 2017, the
Museum Barberini
, Potsdam's new art museum, will open on Alter Markt, the historic center of the city. Under the direction of Dr. Ortrud Westheider, the museum shows exhibitions in international partnerships, presenting individual themes, artists and eras. The collection of Hasso Plattner is the point of departure for these presentations, which range from the Old Masters to works from the 21st century. The collection focuses on Impressionism, American Modern Art, Art from the former East Germany, and painting after 1989. The Museum Barberini is opening with the exhibitions Impressionism: The Art of Landscape, and Modern Art Classics: Liebermann, Munch, Nolde, Kandinsky. A total of over 170 works will be on display (Jan. 23 ...
More
The Best Photos of the Day
Gagosian exhibits new paintings and sculpture by Katharina Grosse
Two giants of Post-War American painting will be featured in Christie's sale
Georgia Museum of Art shows artists of the New York School


Katharina Grosse, Untitled, 2016. Acrylic on canvas, 114 3/16 x 76 inches / 290 x 193 cm © Katharina Grosse und VG Bild-Kunst, Bonn 2016. Photo by Jens Ziehe. Courtesy Gagosian.



NEW YORK, NY.- Gagosian is presenting new paintings and sculpture by Katharina Grosse. A prominent figure on the international art circuit, this is her first gallery exhibition in New York and at Gagosian, following a series of significant public commissions in the U.S. in recent years. Grosse approaches painting as an experience in immersive subjectivity. With a spray gun, she disconnects the artistic act from the hand, stylizing gesture as a propulsive mark. The resulting pictures are distinct, but never predetermined. Spatial tensions rise through shifts in chromatic temperature. Challenging boundaries, she reintroduces her body as an active agent within a vision of contemporary existence that is at once physically isolated and densely networked. Embracing the events and incidents that arise as she paints, Grosse opens up surfaces and spaces to the countless perceptual possibilities of the medium. While she is widely ... More



Mark Rothko, No. 1, oil on canvas, signed and dated 'MARK ROTHKO/1949' (on the reverse), 78.3 x 39.7 in. (198.8 x 100.8 cm.). Painted in 1949. Estimate on Request. © Christie's Images Limited 2017.



LONDON.- Two giants of Post-War American painting will be united in Christie's Post-War and Contemporary Art Evening Auction on 7 March 2017 in London. Mark Rothko's groundbreaking No. 1 (1949, estimate on request), is one of the artist's earliest examples of his mature artistic vocabulary, dating from the pioneering year of his practice and was first shown in 1950 as part of his historic solo exhibition at New York's Betty Parsons Gallery. Robert Rauschenberg's Transom (1963, estimate on request) comes to auction alongside a major retrospective of his work at London's Tate Modern, and demonstrates the radical new visual language that went on to lead a generation of American artists towards global domination. Together these two masters of 20th-Century painting will lead the field of American talent that will take centre stage during 20th Century at Christie's, a series of sales that takes place from 28 Feb ... More



Carl Holty (American, 1900–1973), Bathers, ca. 1948–50 (detail). Oil on Masonite, 56 x 48 inches. Georgia Museum of Art, University of Georgia; Gift of Helen and Harold G. Wescott, 1981. GMOA 1981.154 © Estate of the artist.



ATHENS, GA.- The Georgia Museum of Art at the University of Georgia is showing the work of artists active in New York City in the 1950s and 1960s in the exhibition "Artists of the New York School" from January 14 to March 19, 2017. Organized by Sarah Kate Gillespie, the museum's curator of American art, this exhibition features works from the museum's collection and on loan from several private collections. It includes paintings, sculptures and works on paper and highlights what was known as the "New York School," a group of artists working in the city who focused on making abstract work. Along with well-known male artists such as James Brooks, Frank Stella and Philip Guston, the exhibit features work by female artists Louise Nevelson, Michael (Corrine) West, Helen Frankenthaler and Anne Ryan. "Artists of the New York School" functions as a companion exhibition ... More
Exhibition explores the work of legendary San Antonio painter Julian Onderdonk
De Hallen Haarlem opens new solo exhibitions: Kasper Bosmans, Richard Tuttle and Evelyn Taocheng Wang
Rare Maynard Dixon show opens at Nevada Museum of Art


Julian Onderdonk, Sunlight and Shadow, 1910 (detail), oil on canvas, h. 16 in. (40.6 cm); w. 24 in. (61 cm), the Museum of Fine Arts, Houston, gift of the Houston Art League, the George M. Dickson Bequest. Image courtesy Museum of Fine Arts, Houston.



SAN ANTONIO, TX.- Julian Onderdonk and the Texan Landscape, on view at the San Antonio Museum of Art, explores the work of legendary San Antonio painter Julian Onderdonk, from views of the Long Island landscape to sweeping impressions of the Hill Country and the iconic Texas bluebonnet. Born in San Antonio in 1882, Onderdonk trained first with his father, Robert Jenkins Onderdonk (1851–1917), one of the city's most important early artists. Onderdonk further studied in New York under American Impressionist William Merritt Chase, whose mantra that an artist should work outdoors and paint what he or she saw forever marked Julian's work. After returning to Texas in 1909, Onderdonk found his life's calling. He portrayed the distinctive surroundings of his state at different times of day, in different atmospheric conditions, ... More



Richard Tuttle, Hello, The Roses 19, 2012. Wood, paint. Copyright the artist, courtesy Stuart Shave/Modern Art, London and Pace Gallery, New York.



HAARLEM.- From 21 January 2017, De Hallen Haarlem presents three solo exhibitions, by Kasper Bosmans, Richard Tuttle and Evelyn Taocheng Wang. Poetry, beauty and elegance seem to play an important role in their work – that is simultaneously drenched in history and permanent oscillations between 'then' and 'now', tradition and the present. Moreover, all three artists have a special interest in the expressive possibilities of specific materials, which endows their work with a great tactile sensitivity. Tuttle focuses on the unforeseen expressiveness of small gestures and simple materials, in a formal idiom that could be termed poetic-minimalist. In the work of Wang and Bosmans, both a penchant for the decadent as well as the more crafty expression of folk art is discernible. They intuitively combine information from diverse historical, literary and scientific sources and cultural traditions into idiosyncratic narratives. ... More



Tortolita Range, 1944 (detail). Oil on canvas board, 20 inches x 24 inches. Dr. Richard N. Paltenghi Collection.



RENO, NEV.- This January the Nevada Museum of Art welcomes paintings and rare drawings by Maynard Dixon, one of the premier artists working in the American West during the first half of the twentieth century. Drawn from the private collections of Bruce C. Paltenghi and Dr. Richard Paltenghi, this exhibition offers an intimate look at Dixon's life and creative process, providing insight into the passionate way he traversed and interpreted the world. Maynard Dixon: The Paltenghi Collectionsopens January 21, 2017, and will remain on view through July 16, 2017, at the Nevada Museum of Art, Donald W. Reynolds Center for the Visual Arts, E. L. Wiegand Gallery located at 160 West Liberty Street in downtown Reno. A 96-page book by the same name, published by the Museum and authored by Bruce C. Paltenghi, accompanies the exhibition. For over five decades Dixon documented the landscapes and cultures of the American West with unparalleled ... More
Afghan female orchestra strikes closing note at Davos
Obelix is the star of new Asterix adventure
IS destruction at Syria's Palmyra a 'war crime'


Afghanistan's first all-female orchestra Zohra performs during the closing ceremony of the World Economic Forum on January 20, 2017 in Davos. FABRICE COFFRINI / AFP.



DAVOS (AFP).- Afghanistan's first all-female orchestra brought the curtain down on this year's World Economic Forum on Friday with a culture-crossing performance that overcame tradition and death threats in their homeland. Zohra, an ensemble of 35 young musicians aged 13 to 20, some orphans or from poor families, performed before a Davos audience more in tune with talk of deal-making than the strains of Afghan classical music. Some sat on the floor, barefoot and cross-legged, some on chairs, all in traditional dress with head-scarves, as they performed a mix of Western and South Asian instruments: stringed, wind and percussion. The programme itself fused the two musical traditions, and included a moving rendition of Beethoven's "Ode to Joy", the anthem of ... More



The story will be the 37th in the series that began in the Franco-Belgian comic Pilote in 1959.



PARIS (AFP).- Up to now he has always been the simpleminded second fiddle to Asterix. But Obelix, the Gallic hero's sturdy sidekick, is finally to get a starring role in the French comic book series. The menhir delivery man who gained his superhuman strength by falling into a magic potion when he was a baby, takes the lead in the next story, its publishers confirmed Friday. Few details of the adventure -- which will hit the shelves in October -- have been released other than the story will take place outside France. Naturally, it will have to be set in a country with a healthy wild boar population, if Obelix isn't to starve. "After having stayed in Gaul for 'Asterix and the Missing Scroll' (2015), our heroes go beyond its frontiers to makes some gastronomic discoveries and meet the local celebrities," its authors, writer Jean-Yves Ferri and cartoonist Didier Conrad said. The pair have written the last two ... More



Photo taken in April 1974 shows the ancient Roman theater of Bosra of Palmyra. Xavier BARON / AFP.



PARIS (AFP).- The UN on Friday led condemnation of attacks by Islamic State jihadists on two sites in Syria's ancient city of Palmyra, calling the destruction a "war crime" and "cultural cleansing". In a statement, Irina Bokova, director general of the Paris-based UN cultural agency UNESCO, described the wrecking as "a new war crime and an immense loss for the Syrian people and for humanity." "This new blow against cultural heritage... shows that cultural cleansing led by violent extremists is seeking to destroy both human lives and historical monuments in order to deprive the Syrian people of its past and its future," Bokova said. IS recaptured Palmyra from government forces on December 11, nine months after being booted out of the UNESCO World Heritage site. The new devastation reportedly occurred earlier this month. Syria's antiquities chief Maamoun Abdulkarim ... More
A retrospective of the life and work of Jan and Helga Grove opens at the Art Gallery of Greater Victoria
Edward Cella Art & Architecture opens exhibition of photographs from the estate of Pedro E. Guerrero
Logan Center Exhibitions presents Kapwani Kiwanga in first solo exhibition in the United States


Jan and Helga Grove in garden at Sooke Rd studio, c.1970. Photo by Karl Spreitz.



VICTORIA, BC.- The life's work of two world renowned Victoria potters will be the focus of the Art Gallery of Greater Victoria's first exhibition of 2017. Life with Clay: Pottery and Sculpture by Jan and Helga Grove opens January 21, and is comprised of roughly 60 pieces of pottery and 40 sculptures with bright colours and matte glazes, often decorated with geometric and abstract designs. This retrospective by Victoria artists Jan and Helga Grove is guest curated by Allan Collier and runs through May 28 in the AGGV's Pollard Gallery. Included in the exhibition will be several experimental pieces highlighting Jan's modernist forms and glazes and Helga's unique geometric and fable animal decorations. The often whimsical and thought-provoking exhibition will also consist of photographs, catalogues and other historical material documenting the work and lives of these extraordinary artists. "Selected by the Groves from hundreds of examples, ... More



Pedro E. Guerrero, Alexander Calder answers his mail, Sache, France, 1965 (detail). Silver gelatin print, 14 x 17 in.



LOS ANGELES, CA.- Edward Cella Art & Architecture presents Guerrero: Calder & Nevelson, In Their Studios, an exhibition of captivating photographs from the estate of Pedro E. Guerrero. Best known for his images of the life and work of American architect, Frank Lloyd Wright, this exhibition highlights for the first-time, Guerrero's intimate documentation of renowned sculptors Alexander Calder and Louise Nevelson in their homes and studios. The exhibition includes sculptures and collages by Calder and Nevelson that provide a direct context for the viewer. This presentation also serves to celebrate the centennial of Guerrero's birth in 1917. Born in Casa Grande, Arizona, Guerrero describes his interest in art in connection to his Mexican-American heritage: "I was trying to escape the bigotry of my hometown, and I thought being an artist would be exotic." After dropping out of the Art Center ... More



Kapwani Kiwanga, Ifa Organ. 2013
. Photo: Martin Argyroglo.



CHICAGO, IL.- Logan Center Exhibitions presents a selection of newly commissioned work by Kapwani Kiwanga in her first solo exhibition in the United States: Kapwani Kiwanga: The sum and its parts, on view at the Reva and David Logan Center for the Arts, January 20–March 12, 2017. The exhibition features a site-specific installation, video, and prints that draw on the artist's research into the design of institutional spaces, including materials found in the University of Chicago's Special Collections Library. Across the elements of Kapwani Kiwanga: The sum and its parts, Kiwanga deconstructs the physical and psychological qualities of different built environments including schools, prisons, hospitals, and mental health facilities. In the main gallery, Kiwanga brings together architectural elements from historical and contemporary versions of these spaces including wall sections, lighting fixtures, and surface treatments creating ... More
Quote
I want to murder painting. Joan Miró
More News
---
Studio visit: Bosco Sodi
---
Flashback
On a day like today, Spanish couturier Cristóbal Balenciaga, was born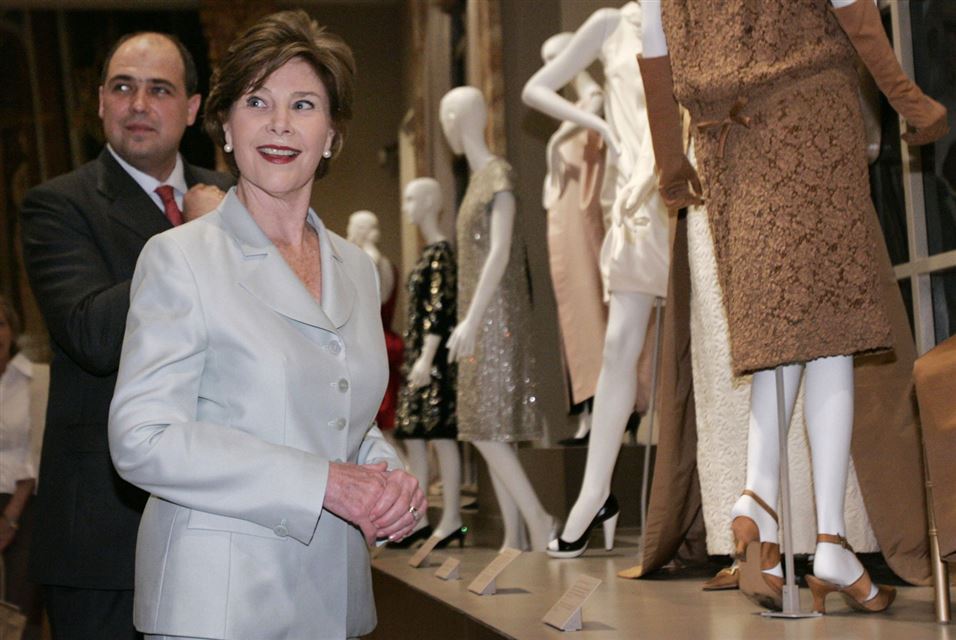 January 21, 1895. Cristóbal Balenciaga Eizaguirre (January 21, 1895, Spain - March 23, 1972, Spain) was a Spanish Basque fashion designer and the founder of the Balenciaga fashion house. In this image: Meadows Museum director Mark Roglan, left rear, looks on as First Lady Laura Bush, views the exhibit "Balenciaga and His Legacy", at Southern Methodist University in Dallas, Saturday, May 26, 2007.
---

Museums, Exhibits, Artists, Milestones, Digital Art, Architecture, Photography,
Photographers, Special Photos, Special Reports, Featured Stories, Auctions, Art Fairs,
Anecdotes, Art Quiz, Education, Mythology, 3D Images, Last Week,
.
Royalville Communications, Inc
produces:







Tell a Friend
Dear User, please complete the form below in order to recommend the Artdaily newsletter to someone you know.
Please complete all fields marked *.
Sending Mail

Sending Successful