United States-Cuba thaw spreads to arts as Havana biennial celebrates its 30th anniversary
Cuban painter Gustavo Perez Monzon (L) and Cuban-American CIFO Fundation CEO Ella Fontanals-Cisneros visit Monzon's exhibition in Havana, on May 21, 2015. Monzon, who emigrated to Mexico, returned for the first time to Cuba to exhibit his work in the XI Havana's Biennial. AFP PHOTO/ADALBERTO ROQUE.
HAVANA
(CUBA)
.-
An enormous "African American flag" with stars and stripes in black, green and red will greet visitors to the Havana Biennial, which opens Friday with a collection of works highlighting the US-Cuban thaw. The flag, by black American artist David Hammons, is among the 100 works shipped south by the Bronx Museum of the Arts in New York for the 12th edition of Cuba's preeminent art show. Entitled "Wild Noise," the exhibit features works by 54 artists, with a special focus on African Americans, in a nod to the shared roots of the countries' black communities. It also includes a selection of Polaroids by late pop art guru Andy Warhol, plus an offbeat "ice rink" by Irish-American artist Duke Riley, which will give Cubans the novel experience of skating and playing hockey on artificial plastic ice set up on Havana's famous seaside promenade, the Malecon. "Thanks to this exhibit, Cubans will be able to appreciate a zone of contemporary American art of the highest quality, which is practically ...
More
The Best Photos of the Day
Amnesty gives top rights award to Chinese artist Ai Weiwei and singer Joan Baez
British historian Mark Griffiths claims discovery of William Shakespeare portrait
Major show of photographs of Frida Kahlo opens at Throckmorton Fine Art in New York




Ai Lao, son of Chinese artist Ai Weiwei holds the "Art For Amnesty - Ambassador Of Conscience Award 2015" awarded to his father. AFP PHOTO / DPA / SOEREN STACHE.





BERLIN (AFP).- Human rights group Amnesty International on Thursday honoured Chinese dissident artist Ai Weiwei and US folk singer Joan Baez as joint winners of its Ambassador of Conscience Award. The London-based group said its highest prize, to be presented at a Berlin ceremony from 1800 GMT, recognises "those who have shown exceptional leadership in the fight for human rights, through their life and work". Amnesty's secretary general Salil Shetty called Ai and Baez "an inspiration to thousands more human rights activists, from across Asia to America and beyond". The group wanted to "pay tribute to Joan Baez who is with us ... and to Ai Weiwei who's not, and who can't be with us," Bill Shipsey, founder and chair of the Art for Amnesty programme, told a Berlin press conference. Ai, 57, China's best-known ... More





Country Life cover - 20 May. Photo: Country Life.





LONDON (AFP).- A British historian announced Tuesday he had discovered the only portrait of William Shakespeare made while the famous playwright was alive, a claim met with scepticism by some. The portrait showing a young and handsome figure was found by botanist and historian Mark Griffiths in a 1,484 page book on plants, "The Herball", from the 16th century. "This is the first time that we have a portrait of him that is identifiable as him, that is done in his lifetime," said Mark Hedges, editor of Country Life magazine where an article outlining the discovery was published on Wednesday. "The only two other authentic portraits of Shakespeare were both done posthumously. So this is an enormous world breakthrough to find out what the most famous writer in the English language looked like." The print, which Griffiths says shows Shakespeare aged 33, portrays four people previously thought to be imaginary figures. Griffiths argues the figures ... More





Gisele Freund, Frida in the garden at Casa Azul, with ducks and dogs, 1951. Kodak photo paper 17.75x13.75 in. Photo: Courtesy Throckmorton Fine Art.





NEW YORK, NY.- Throckmorton Fine Art opened a major show of photographic art, "Mirror Mirror….Frida Kahlo Photographs" featuring more than thirty rare and vintage photographs of the Mexican artist by twenty of the most legendary photographers of the 20th century, from May 21 to September 12, 2015. The Throckmorton show is being staged to coincide with a comprehensive series of events at the New York Botanical Garden, also beginning in May, that includes a show of Frida Kahlo (1907-1954) paintings and works on paper, curated by art historian Adriana Zavala, that highlights Kahlo's intense interest in the natural world and botanicals. "Frida Kahlo: Art, Garden, Life," will also feature a dramatically "re-imagined" version of Frida Kahlo's garden, home and studio in Mexico, La Casa Azul, at the Enid A. Haupt Conservatory at the ... More
Unique 17th century portrait by British artist Mary Beale discovered at McMaster Museum of Art
Inaugural contemporary art exhibition in Christie's newly completed West Galleries in Rockefeller Center opens
Thomas Hart Benton painting sells for over $1 million at Leslie Hindman Auctioneers




Mary Beale (English, 1633 – 1699), Portrait of Charles Beale c. 1660, 39.3 x 31.2 cm (15 1/2 x 12 1/4 in.). Oil on paper, later mounted to canvas. Gift of Herman Levy, Esq., O.B.E. Collection of McMaster Museum of Art, McMaster University.





HAMILTON, ON.- The McMaster Museum of Art announces the positive identification of a unique and rare portrait by 17th century British artist Mary Beale (1663 – 1699) in the Museum's collection. For over fifty years it had been mistakenly attributed to Flemish painter Michael (Michiel) Sweerts (1618 – 1664). Beale is considered to be the first woman professional portraitist in England, and while successful at a time when women artists were not accepted, her work and contributions gradually faded from view. There has been a renewed interest and a scholarly revival over the past fifteen years. This intimate portrait of Beale's husband Charles is among a few known family portraits done by Beale during a brief period more than 350 years ago. Two others, now in the collection of Tate Britain, were discovered in a Paris antique store in 2013. The revelation is highly ... More





Franz West, Nippes 2, steel, papier maché and paint, 43 x 10 x 5 inches, Executed in 2005. Photo: Christie's Images Ltd 2015.





NEW YORK, NY.- Christie's Post-War and Contemporary art presents a curated exhibition of two major contemporary artists, Franz West and Joe Bradley. This inaugural contemporary art exhibition presents sculptures by Franz West and graphic works by Joe Bradley on loan from international private collections. Some works are available for sale. Taking place in the newly completed West galleries at Christie's New York, the exhibition is open to the public from May 21th to June 30th. Michael Gumener, specialist of Post-War & Contemporary Art and curator of the exhibition commented: "Franz West / Joe Bradley will be a visual essay created by the dialogue between the works of these two artists. Both Bradley and West explore notions of figuration and abstraction through a witty, process-oriented body of work that challenges the viewers' interpretations and expectations. The vibrant color palette compounded with the biomorphic ... More





Thomas Hart Benton, Discussion, 1967 (detail), sold for $1,052,500 (estimate: $200,000/400,000).





CHICAGO, IL.- Property from the Collection of Carol H. and Richard M. Levin of Kansas City, Missouri brought an important collection of 33 American paintings to Leslie Hindman Auctioneers for an evening sale held May 20 in Chicago. Five works by Thomas Hart Benton were sold, including his 1967 Discussion, which brought $1,052,500 against a pre-sale estimate of $200,000/400,000. With significant interest, phone bidders battled it out for the work, attempting to secure the quintessentially American scene of a laborer and union recruiter of the mid-20th century. Also available was Study for ³Discussion,² which was reproduced in a 1937 issue of Life. It sold for $11,250 against a pre-sale estimate of $6,000/8,000. Two additional Benton studies sold well above high estimates: the 1951 Study for ³Flood Disaster (Homecoming - Kaw Valley)² drew $362,500 against a pre-sale estimate of $120,000/180,000 and the 1956 Study for "Portrait of Carl Sandb ... More
Whitney Museum of American Art expands Scott Rothkopf and Donna De Salvo's roles
Solo show of Brazilian sculptor Sergio Camargo opens at Lisson Gallery in London
Exhibition at National Portrait Gallery highlights 54 masterful portraits of influential figures




Scott Rothkopf has been promoted to Deputy Director for Programs and Nancy and Steve Crown Family Chief Curator. Photo: Scott Rudd.





NEW YORK, NY.- Adam D. Weinberg, Alice Pratt Brown Director of the Whitney Museum of American Art, today announced that the Museum is expanding its leadership team by appointing Donna De Salvo to Deputy Director for International Initiatives and Senior Curator, and Scott Rothkopf to Deputy Director for Programs and Nancy and Steve Crown Family Chief Curator, effective July 1, 2015. The move bolsters the Whitney's leadership in response to the recent growth of the Museum, the programmatic opportunities available in its new building, and in anticipation of the greater role the Museum expects to play internationally. In her new role, Donna De Salvo, who has served as the Whitney's Chief Curator and Deputy Director for Programs since 2006, will help lead the Museum's efforts to define and communicate an expanded and more complex understanding of American art and artists in contemporary culture globally. In ... More





Sergio Camargo, Untitled, 1980. Belgian black, 31 x 8 x 5 cm. © Galeria Raquel Arnaud - Sergio Camargo Estate. Courtesy Galeria Raquel Arnaud and Lisson Gallery. Photo: Romulo Fialdini.





LONDON.- Lisson Gallery presents a solo show of Brazilian sculptor Sergio Camargo (1930-90), his first in London for over 30 years. Best known in his own country and internationally for wall-based reliefs, public sculptures and architectural commissions, this exhibition focuses on Camargo's works in white and black marble (mármore), including small-scale tabletop works and large freestanding pieces. Simultaneously exploring rationality and chaos, his characteristic three-dimensional constructions of geometric shapes are governed by a self-imposed rigour in regards to colour, material and form. Although distinctly minimalist in order and means, these elegant objects – assembled from cylindrical, cuboid and ovoid motifs – are equally generous and expansive in their study of volume, light and space. Camargo worked with master craftsmen in France and Italy to achieve his desired effects in ... More





Brad Pitt by Colin Davidson (born 1968), 2013. Oil on canvas Stretcher: 127 × 116.8 cm. (50 × 46") National Portrait Gallery, Smithsonian Institution; Gift of The Lowry Wallace Collection (Ireland) © 2013 Colin Davidson.





WASHINGTON, DC.- In a world consumed by personal and celebrity image making, the Smithsonian's National Portrait Gallery considers how personalities are constructed with "Eye Pop: The Celebrity Gaze." The exhibition features 54 portraits and will be open at the Portrait Gallery May 22 through July 10, 2016. Many of these works of art are masterful photographs, such as Todd Glaser's panoramic image of surfer Kelly Slater or Annie Leibovitz's classic depiction of Renée Fleming on stage. Paintings, prints and time-based media works are also represented. Painter Will Cotton represents Katy Perry as an airbrushed confection, while Colin Davidson offers an introspective portrait of Brad Pitt. Video artist Bo Gehring provides a personal view of Esperanza Spalding listening to music that inspires her own work. And Luke Dubois pulls from the ... More
Museum Beelden aan Zee in The Hague displays contemporary Flemish sculpture
Bonhams to offer 1973 Porsche 911S owned by 'father of pop art' Richard Hamilton
Display of paintings by a group of British artists opens at Simon Lee Gallery in Hong Kong




Belgium Queen Mathilde (L) and Dutch Queen Maxima attend the opening of exhibition Vormidable in The Hague, on May 20, 2015, displaying contemporary Flemish sculptures. AFP PHOTO / ANP / ROBIN VAN LONKHUIJSEN.





THE HAGUE.- This summer Museum Beelden aan Zee focuses on contemporary Flemish sculpture. The exhibition is a visual spectacle, with work by both established and young, up-and-coming Flemish artists. The impulse for this theme is the celebration of 20 years of cultural cooperation between the Netherlands and Flanders in 2015. With this, the exhibition is a component of the BesteBuren ('Dear Neighbours') manifestation, a project with numerous cultural initiatives between the Netherlands and Flanders. The new summer exhibition of Museum Beelden aan Zee has been compiled by the renowned Flemish curator Stef van Bellingen, artistic director of WARP, the art platform for contemporary art in Flanders, in conjunction with Museum ... More





A Porsche 911S 2.4-litre Coupé that once belonged to 'father of pop art' Richard Hamilton. Photo: Bonhams.





LONDON.- A 1973 Porsche 911S 2.4-litre Coupé, owned for more than 30 years by 'father of pop art' Richard Hamilton, will be offered at Bonhams Festival of Speed Sale, taking place on 26 June in Goodwood, Chichester. Hamilton thought that the car's shapely curves were a 'perfect' design. Purchased new by Hamilton in 1973, it remained with the artist for three decades before passing it into the care of his son. It remained in his possession until spring 2013, after which the Porsche was subject to a two-year sympathetic restoration, completed to concours standard by one of Europe's leading companies, Clarke & Carter. It is now offered at an estimate of £250,000-300,000. "Hamilton said that he would only paint things he felt he could improve upon, and he reportedly said that his Porsche 911 featured here was such a perfect design, that he couldn't improve it in any way. Unadorned by spoilers or unsightly ... More





Glenn Brown, World Without End, 1994 (detail). Oil on canvas, 54 x 40.6 cm (21 1/4 x 16 in.). Courtesy of the artist and Simon Lee Gallery.





HONG KONG.- Simon Lee Gallery presents "HOMELAND", a display of paintings by a group of British artists whose motifs and strategies may be seen as contemporary takes on History Painting. Using varying and contrasting approaches, the works engage with the appropriation and manipulation of historical and art historical images. Toby Ziegler's recent paintings on aluminium are works of pure abstraction that begin with a figurative motif. Taking a digital image of a landscape painting by Thomas Gainsborough as his starting point, Ziegler manipulates the image on a computer, changing the polarity of the colours and altering their saturation so that the formal qualities are retained but the colour information is unrecognisably distorted. The altered composition is then painted onto an aluminium panel. Progressing into erasure, ... More
Quote
The big artist... keeps an eye on nature and steals her tools. Thomas Eakins
More News
---
Christie's 2015 Hong Kong Spring Auctions
---
---
Flashback
On a day like today, American painter Mary Cassatt was born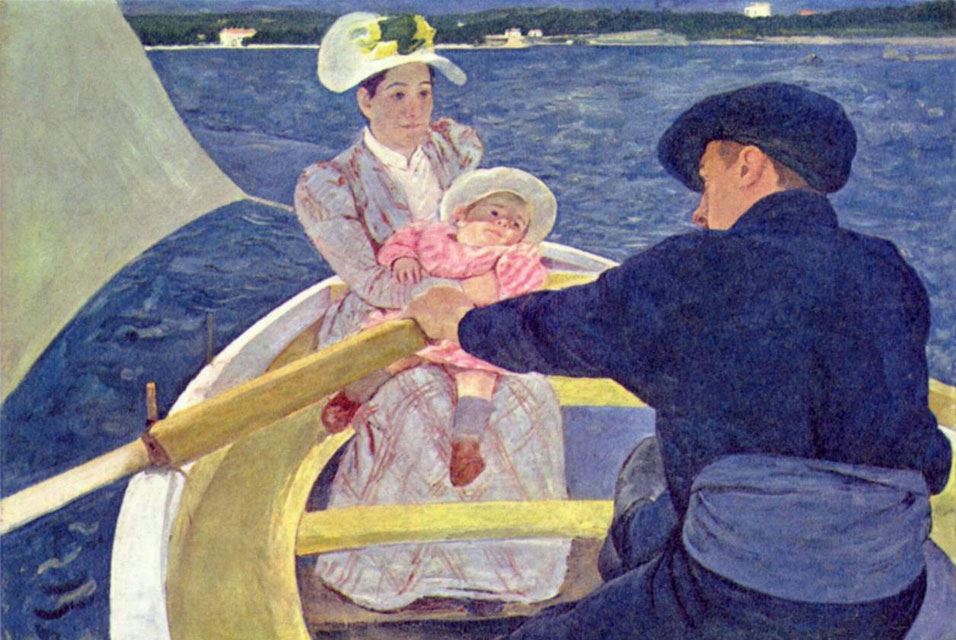 May 22, 1844. ALLEGHENY CITY, PA.- May 22, 1844.- Mary Stevenson Cassatt was an American painter and printmaker. She lived much of her adult life in France, where she first befriended Edgar Degas and later exhibited among the Impressionists. Cassatt often created images of the social and private lives of women, with particular emphasis on the intimate bonds between mothers and children. In this image: The Boating Party by Mary Cassatt, 1893-94, oil on canvas, 35 1/2 x 46 in., National Gallery of Art, Washington
---
---

Museums, Exhibits, Artists, Milestones, Digital Art, Architecture, Photography,
Photographers, Special Photos, Special Reports, Featured Stories, Auctions, Art Fairs,
Anecdotes, Art Quiz, Education, Mythology, 3D Images, Last Week,
.
Royalville Communications, Inc
produces: