Het Noordbrabants Museum acquires exceptional watercolour by Vincent van Gogh
The garden of the vicarage at Nuenen presentation.
'S-HERTOGENBOSCH
.-
Het Noordbrabants Museum
recently acquired from a private collection The garden of the vicarage at Nuenen by Vincent van Gogh (1853-1890). The work of October-November 1885 is the last known watercolour Van Gogh produced in Nuenen and occupies a special place in his oeuvre. This acquisition – the most important purchase ever made by Het Noordbrabants Museum – underlines our ambition to offer a representative overview of Van Gogh's Brabant period by means of original works by the artist. The purchase of The garden of the vicarage at Nuenen was made possible by the generous support of the BankGiro Lottery, the Mondriaan Fund, the VSB Foundation, the Friends of Het Noordbrabants Museum, the Renschdael Art Foundation and Coen Teulings. The BankGiro Lottery donated almost half of the total purchase price of over 1 million euros. To celebrate its acquisition, Het Noordbrabants Museum is offering free admission ...
More
The Best Photos of the Day
Earliest watercolour of Henry VIII's Nonsuch palace by Joris Hoefnagel saved for the nation
Survey of sculptures and drawings by Ken Price on view at Hauser & Wirth London
Modern Italian glass from the Martin Cohen Collection on view at Sotheby's New York


Detail of Nonsuch Palace from the South, Joris Hoefnagel, 1568, Watercolour © Victoria and Albert Museum, London.



LONDON.- Today the Victoria and Albert Museum announced the acquisition of the earliest and most detailed depiction of Henry VIII's famed lost palace of Nonsuch that once stood in Cheam, Surrey. This signed and dated watercolour by the celebrated Flemish painter Joris Hoefnagel was made in 1568. Subject to a temporary export ban earlier this year, it has now been saved for the nation. Purchased with the assistance of the National Heritage Memorial Fund (NHMF) and the Art Fund, the watercolour – the most faithful of only six surviving depictions of the palace – joins the national collection of British miniatures and watercolours at the V&A. It will go on display in the Museum's British Galleries from Saturday 10 December. Called Nonsuch, as no other palace could compare with it, this ambitious building was commissioned by Henry VIII in 1538. Its towered façade decorated with elaborate plasterwork in a Franco- ... More



Ken Price, McLean, 2004. Acrylic on fired clay, 49.5 x 58.4 x 48.3 cm / 19 1/2 x 23 x 19 in. © Estate of Ken Price, Courtesy Matthew Marks Gallery. Photo: Fredrik Nilsen.



LONDON.- Hauser & Wirth London is presenting a survey of sculptures and drawings by Ken Price, one of the most influential figures of 20th century ceramic art. Working amongst a group of innovative artists who emerged from the creative landscape of 1960s Los Angeles, Price spearheaded a revolutionary shift in the traditional conception of ceramics from a purely functional medium to the realm of art object. Finding inspiration in sources diverse as the Bauhaus, Japanese ceramics, classic Southwestern pottery, jazz music and counter cultures of the 1960s, he developed a unique contemporary language; his oeuvre revelled in psychedelic colour, biomorphic form and erotic innuendo. Drawing represented a particularly joyful element within the artist's practice and throughout his career Price produced an extensive body of works on paper. With their fantastical compositions and brilliant ... More



"Facades of Venice", 1962. Expected to sell in the region of $400,000. Photo: Sotheby's.



NEW YORK, NY.- Sotheby's announces the landmark sale A Focused Obsession, Modern Italian Glass: The Martin Cohen Collection, which will be held in New York on 14 December 2016. Assembled over the past four decades by esteemed New York collector Martin Cohen, this encyclopedic collection showcases some of the most important treasures of 20th-century Italian glass in private hands today: from the Ercole Barovier's sublime Mosaico vase, circa 1924-1925, to exceptional examples of Carlo Scarpa's coveted Sommersi and Bollicine series, to Thomas Stearns transcendent masterpiece, Facades of Venice. The Cohen Collection represents the full artistic and historic legacy of the most iconic glass designers and furnaces of the 20th century, demonstrating their unique mastery of color and technique in exquisite form. The December auction follows Sotheby's spring sale of Venetian glass emerging from ... More
ICE and CBP return cultural artifacts to Italy
Portland Museum of Art announces historic gift
Largest-ever donation to catalyze North Building revitalization


U.S. Immigration and Customs Enforcement (ICE) and U.S. Customs and Border Protection (CBP) repatriated a page from a 14th century manuscript to the government of Italy at a ceremony Friday at the Italian Embassy in Washington. Photo by Josh Denmark.



WASHINGTON, DC.- U.S. Immigration and Customs Enforcement and U.S. Customs and Border Protection repatriated a page from a 14th century manuscript and a 19th century Carelli painting to the government of Italy at a ceremony Friday at the Italian Embassy in Washington. "The return of stolen artwork and other cultural artifacts is a great example of the work ICE, along with our colleagues from U.S. Customs and Border Protection and foreign counterparts such as the Italian Carabinieri, does around the world to combat transnational organized crime," said ICE Director Saldaña. "I commend the special agents of ICE Homeland Security Investigations (HSI) who worked hand-in-hand with our sister agency to ensure these cultural treasures are returned ... More



A gift of five million dollars will be donated to the PMA by longtime American museum benefactors Judy and Leonard Lauder.



PORTLAND, ME.- The Portland Museum of Art announced that it has received the largest matching gift in the museum's history. A gift of five million dollars will be donated to the PMA by longtime American museum benefactors Judy and Leonard Lauder to support the museum's endowment. The Lauders' generous gift is intended to inspire philanthropy in others for the PMA, and officially marks the beginning of the Focused Endowment Initiative—a targeted plan to increase the museum's endowment by a total of $15 million. To honor this historic gift and to recognize Judy's long-term commitment to the PMA, the PMA Director position will be named the Judy and Leonard Lauder Director of the Portland Museum of Art. Mr. and Mrs. Lauder made the following remarks: "We are overjoyed to be able to make this gift to the Portland ... More



J Landis (Lanny) and Sharon Martin.



DENVER, CO.- The Denver Art Museum today announced a transformational, $25 million gift from Board Chairman J. Landis Martin and wife Sharon Martin to revitalize and enhance the museum's iconic, Gio Ponti-designed North Building. In recognition of the Martins' milestone gift to DAM, the largest standalone financial gift in the museum's history, the building will be renamed the J. Landis and Sharon Martin Building upon project completion. The revitalization of the North Building will be led by Fentress Architects and Machado Silvetti with a completion goal by the building's 50th anniversary in 2021. "The revitalization of the North Building will unify the Denver Art Museum campus, celebrate Gio Ponti's iconic design and ensure the building's relevance and stewardship for the next 50 years," said Christoph Heinrich, the Frederick and Jan Mayer Director of the museum. "The Martins' longstanding co ... More
Hirshhorn Museum and Sculpture Garden unveils Yayoi Kusama's giant "Pumpkin" for holiday season
The Pennsylvania Academy of the Fine Arts announces 140+ additions to permanent collection
First US museum exhibition of Egyptian artist Basim Magdy opens in Chicago


Yayoi Kusama, "Pumpkin," 1994. Plastic and polyurethane paint. Installation at Benesse Art Site Naoshima, Kagawa. Courtesy of Ota Fine Arts, Tokyo/Singapore; Victoria Miro, London; David Zwirner, New York. © Yayoi Kusama.



WASHINGTON, DC.- The Hirshhorn Museum and Sculpture Garden, the Smithsonian's museum of modern and contemporary art, will unveil the monumental artwork "Pumpkin" by celebrated Japanese artist Yayoi Kusama on its outdoor plaza Dec. 10, in advance of the holiday season. This marks the U.S. museum debut for the whimsical sculpture, whose surreal scale and bold yellow-and-black pattern embody two of Kusama's most recognized motifs: pumpkins and polka-dots. "Pumpkin" will be on display through spring 2017, when it will be featured in the highly anticipated Hirshhorn exhibition "Yayoi Kusama: Infinity Mirrors" (Feb. 23, 2017–May 14, 2017), the first major traveling survey exhibition to explore the evolution of Kusama's immersive infinity rooms. Legendary painter, sculptor and performance ... More



Richard Anuszkiewicz , II, 2003. Serigraph, 22" x 15".



PHILADELPHIA, PA.- The Pennsylvania Academy of the Fine Arts announces the addition of more than 140 works to its permanent collection of American art. The works include paintings, sculpture, photographs, and works on paper made from the early 20th century to the present. Some highlights include the purchases of two conceptually and graphically dynamic Sensorium (2016) paintings and corresponding studies by artist, curator and critic Alexi Worth; an edition of four large-scale Time Lapse (2011) C-print portraits by groundbreaking performance artist and bodybuilder Cassils; four self-portrait pigment prints from the culturally critiquing Cargo Cults (2016) series by installation artist Stephanie Syjuco; and three quietly poignant large-format photographs from the Lesbian Beds (2002) series by photographer, video artist and zine editor Tammy Rae Carland. "We're thrilled to bring work by these incredibly talented artists into our collection," said Jodi Throc ... More



Basim Magdy, An Apology to a Love Story that Crashed into a Whale (detail), 2016. Courtesy of Gypsum Gallery, Cairo; hunt kastner, Prague; artSümer, Istanbul.



CHICAGO, IL.- The Museum of Contemporary Art Chicago presents the first US museum exhibition of Egyptian artist Basim Magdy on view from December 10, 2016 to March 19, 2017. Trained as a painter, Magdy began experimenting with colorful works on paper and canvas before moving into photography and cinema. In a process he dubs "pickling," the artist applies household chemicals to analog film and photographic material. The results are sumptuous, spectral photographic visions of landscapes, presented as large-scale prints, slide projections, and film. His works across media, which evoke a pop sensibility in contrast to their grim titles, such as They Endorsed Collective Failure as the Dawn of a New Renaissance and The Bitterness of What Could Have Happened and What Ended Up Happening, speak to the collective ambition for a utopian ... More
Anne Marion steps down after establishing & leading the Georgia O'Keeffe Museum for nearly 20 years
Peabody Essex Museum breaks ground on new 40,000 square-foot wing designed by Ennead Architects
Reynolda House names Katie Womack Assistant Director of Collections Management


Anne Marion, Georgia O'Keeffe Museum Founder and Chair Emeritus.



SANTA FE, NM.- The Georgia O'Keeffe Museum announced today that Anne Marion, the founder of the Georgia O'Keeffe Museum, who has led the organization through nearly twenty years of growth as Chair of the Board of Trustees, is now retiring. Mrs. Marion will assume the title of Founder and Chair Emeritus while the previous Board President, Roxanne Decyk has been appointed the new Chair of the Board of Trustees. Under the leadership of Mrs. Marion, the Museum has grown from the initial galleries to include a research center housing a library and archive, an education facility for public programs and classes, and O'Keeffe's two historic homes and studios in northern New Mexico, at Abiquiú and Ghost Ranch. While stepping away from active involvement, Anne remains committed to the Museum. "Over the course of her 20 years at the O'Keeffe Museum, Mrs. Marion has proven time and again that she is a ... More



Atrium view looking north. Photo: Peabody Essex Museum.



SALEM, MASS.- Today, the Peabody Essex Museum breaks ground on a new 40,000-square-foot wing designed by Ennead Architects. Museum leaders, architects and city officials will gather on the construction site to usher in the newest chapter of PEM's venerable 217-year history. Over the last two decades, PEM has distinguished itself as one of the fastest-growing and most progressive art museums in North America. When the new wing opens in 2019, PEM will rank among the nation's top 20 largest art museums. Concurrent to construction activity, PEM is launching a museum-wide gallery installation initiative aimed at creating entirely new experiences of all of its collections. The expansion project is just one element of the museum's landmark $650 million Advancement Campaign to support endowment, innovation and sustainability. Rising three stories and adding a handsome facade to the ... More



Womack comes to Reynolda House from The Fralin Museum of Art at the University of Virginia where she was exhibitions and installations manager.



WINSTON-SALEM, NC.- Reynolda House Museum of American Art has named Katie Womack assistant director of collections management. Womack comes to Reynolda House from The Fralin Museum of Art at the University of Virginia where she was exhibitions and installations manager. Womack brings an extensive background in collections management to the museum. Prior to working at The Fralin Museum of Art, she was collections manager at The Sixth Floor Museum at Dealey Plaza in Dallas where she helped oversee a federally funded grant project to catalog the museum's collections. Womack also worked at the Crow Collection of Asian Art in Dallas as collections manager. Her new position at Reynolda House is a homecoming; from 2005-2010 Womack was assistant collections manager at Reynolda House. As assistant director of collections management, ... More
Quote
Mysery will never end. Vincent van Gogh
More News
---
Seeing Nature: Landscape Masterworks from the Paul G. Allen Family Collection
---
Flashback
On a day like today, Alfred Bernhard Nobel was born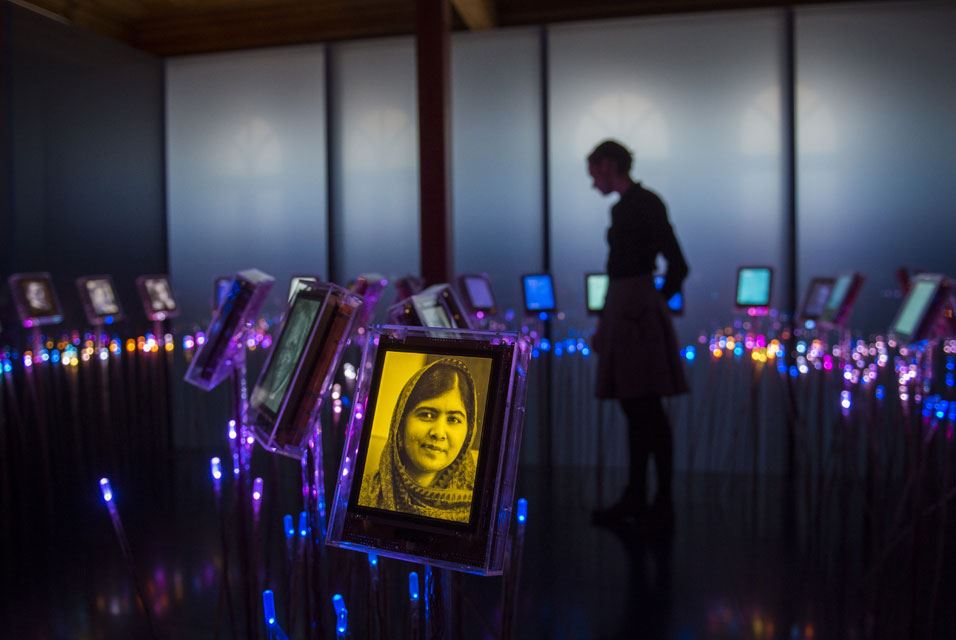 December 10, 1896. Alfred Bernhard Nobel (21 October 1833 - 10 December 1896) was a Swedish chemist, engineer, innovator, and armaments manufacturer. A picture of Nobel Peace Prize laureate Malala Yousafzai is seen among portraits of previous winners in the "peace garden" at the exhibition at the Nobel Peace Center in Oslo on December 9, 2014. At 17-years old, the Pakistani known everywhere as Malala is the youngest ever recipient of the prize she is sharing with the Indian campaigner Kailash Satyarthi, 60, who has fought for 35 years to free thousands of children from virtual slave labour. Their pairing has the extra symbolism of linking neighbouring countries that have been in conflict for decades. AFP PHOTO / ODD ANDERSEN.
---

Museums, Exhibits, Artists, Milestones, Digital Art, Architecture, Photography,
Photographers, Special Photos, Special Reports, Featured Stories, Auctions, Art Fairs,
Anecdotes, Art Quiz, Education, Mythology, 3D Images, Last Week,
.
Royalville Communications, Inc
produces:







Tell a Friend
Dear User, please complete the form below in order to recommend the Artdaily newsletter to someone you know.
Please complete all fields marked *.
Sending Mail

Sending Successful