Exhibition in Reims presents a Franco-German view of the consequences of war
A woman looks at a painting entitled, "Germania montant la garde sur le Rhin" by Lorenz Clasen as she stands next to a sculpture, "Gisant de l'Abbé Miroy" by French man René de Saint-Marceaux (1845-1915), on September 13, 2014, exhibited at the Museum of Fine Art, in Reims, from 14 September - 25 January 2015, part of an exhibiton entitled "Days of War and Peace", a Franco-German view of the consequences of war on the lives of men and women from 1910 to 1925. AFP PHOTO/FRANCOIS NASCIMBENI.
REIMS
.-
A new and innovative artistic insight into the First World War: by comparing the way artists from both sides depicted the conflict a German museum – the Von der Heydt-Museum in Wuppertal – and a French museum –
Reims Fine Arts Museum
. By displaying German and French works together, the two museums reveal the cultural similarities and divergences between their countries. The historical period chosen includes the periods before and after the First World War. The choice of key themes – in particular the focus on life away from the trenches – provides an insight into society during wartime. They challenge the veracity of certain clichés that have become an integral part of our mindsets, set in stone in the collective conscience of each the two Nations. "Concerning the stage in Reims, the exhibition, organised into ten sections, displays works by different ...
More
The Best Photos of the Day
'Ghost ship' wrecks found off San Francisco's Golden Gate by Office of National Marine Sanctuaries
Moscow's Garage Museum announces opening plans for new Koolhaas building
Bruce High Quality Foundation opens exhibition at Almine Rech Gallery in Brussels




ROV (remote operated vehicle) image of a Pacific octopus and other marine life near bow section of unidentified tugboat. Photo: NOAA.





LOS ANGELES (AFP).- US maritime experts have discovered the wrecks of three "ghost ships" missing for over a century just outside San Francisco's Golden Gate strait, they said Tuesday. The 1910 shipwreck of the "SS Selja," the remains of the clipper "Noonday" which went down in 1863 and an unidentified early steam tugboat tagged the "mystery wreck" were found at the start of a two-year mission in the area. Some 300 wrecks are thought to be on the seabed in the Gulf of the Farallones National Marine Sanctuary, and the adjacent Golden Gate National Recreation Area, off the coast near San Francisco's landmark Golden Gate Bridge. "The waters of the sanctuary and the park are one of the great undersea museums in the nation," said James Delgado, head of Maritime Heritage for the Office of National Marine Sanctuaries. "These wrecks tell the powerful story of the people who helped build California and opened America to the Pacific for nearly two centuries. Finding the remains of these ships links the past to the ... More





From left to right: Anton Belov, Rem Koolhaas, Dasha Zhukova, Kate Fowle. Photo: Nikolay Zverkov© Garage Museum of Contemporary Art.





MOSCOW.- On September 15th 2014, Dasha Zhukova (Founder, Garage), Rem Koolhaas (Founder, OMA), Anton Belov (Director, Garage), and Kate Fowle (Chief Curator, Garage) presented the plans for Garage Museum of Contemporary Art's new building and program, scheduled to open in 2015. Garage Museum's new space will be housed in a stunning renovation of the famous 1960s Vremena Goda (Seasons of the Year) restaurant, a prefabricated concrete structure that has lain derelict for more than two decades in Moscow's Gorky Park. The transformation of the building has been entrusted to Rem Koolhaas and his firm OMA (Office for Metropolitan Architecture), a leading international architectural firm practicing architecture, urbanism, and cultural analysis. OMA's design for the 5,400 square-meter building includes five exhibition galleries, a mediateque, education spaces including a creative center for children, a screening room and auditor ... More





In Brussels, The Bruce have chosen as their source of inspiration, one of the early monuments of modern art in Belgium: James Ensor's Christ's Entry into Brussels.





BRUSSELS.- The Bruce High Quality Foundation is a collective based in New York City that mixes irreverent humor, trenchant social critique, and art historical references in its work, and spans several mediums of production, including painting, sculpture, performance, and video. The group was formed in 2003 by --an undisclosed, and unknown number of-- alumni of Cooper Union, a prestigious school devoted to architecture, art, and engineering in downtown Manhattan, and its members, all of whom work under the "Bruce" moniker, and have remained anonymous. Eschewing personal fame and glory, the group members take their name from the apocryphal story of a "social sculptor" named Bruce High Quality who allegedly died during 9/11. The Foundation's self-imposed task, then, is to continue the type of work espoused by the late Bruce and honor his legacy. The group first garnered the attention of the art world following a 2005 project, The Gate: Not the Idea of the Thing but the ... More
Marina Abramović's second solo exhibition with Lisson Gallery opens in London
Nasher Museum of Art at Duke University opens 'Miro: The Experience of Seeing'
German Expressionist eye on Africa: The Irma Stern phenomenon at Bonhams




Marina Abramović White Space. Lisson Gallery, London, 17 September – 1 November 2014© Marina Abramović, courtesy Marina Abramović Archives and Lisson Gallery.





LONDON.- Taking its title from an early, immersive sound environment, White Space presents a range of historic works by Marina Abramović, most of which have never been exhibited before. Featuring two important sound pieces, previously unseen video documentation of seminal performances and a number of newly discovered photographs, all dating from 1971-1975, the exhibition reveals the artist's first forays into a performance-based practice dealing with time and the immaterial, themes which have again become central to her current work. First realised in 1972 at The Student Cultural Centre in Belgrade, White Space was a room lined with white paper containing a tape recording of the artist repeating the phrase "I love you". Visitors were instructed to "Enter the space. Listen." Never since recreated, ... More





Gallery view of Miró: The Experience of Seeing at the Nasher Museum of Art at Duke University. Photo by J Caldwell.





DURHAM, NC.- An exhibition featuring more than 50 masterpieces by Spanish-born artist Joan Miró opened Sunday, Sept. 14, at the Nasher Museum of Art at Duke University. The Nasher Museum is the only East Coast venue for "Miró: The Experience of Seeing," a presentation of the final 20 years of Miró's career. The exhibition includes 27 sculptures, 18 paintings and six drawings, some of them more than 6 feet tall. All works are on loan from the Museo Nacional Centro de Arte Reina Sofia, Madrid, Spain. The exhibition is on view at the Nasher Museum through Feb. 22, 2015. "We can't wait for visitors to discover this joyous and inspirational exhibition," said Sarah Schroth, Mary D.B.T. and James H. Semans Director of the Nasher Museum. "Miró is one of the great masters of 20th century art, and this show reveals the tireless creativity he ... More





Irma Stern, Congo Woman.





LONDON.- The grande dame of South African art, and one of the top-selling female artists of all time, Irma Stern was born to German Jewish parents in Schweizer-Reneke in the Transvaal. The town was occupied by the British during the Anglo-Boer War, and in 1900 the young Irma saw her father and uncle arrested and interned in a concentration camp because of their pro-Boer leanings. On their release in 1901, the family returned to Germany and to almost constant travel between the two countries. Irma would continue to travel extensively in Europe and Africa for the rest of her life, collecting artefacts and looking for new experiences and subject matter for her paintings. On 1 October, Bonhams London will auction eleven works by Irma Stern with a combined estimate of £2-3million in their biannual South African Sale. Hannah O'Leary, Head of South African Art at Bonhams comments, "We are delighted to present such a wonderful array of work ... More
Sotheby's Hong Kong presents Modern and Contemporary Southeast Asian Paintings Autumn Sales 2014
Salvador Dali suites and erotic works by Gerda Wegener in Swann Galleries' auction
With new deep sea diving suit, divers sure of new finds from 'ancient computer' shipwreck




Miguel Covarrubias (1904 – 1957). In Preparation of a Balinese Ceremony Circa 1930s (detail), oil on canvas, 61.5 x 89 cm Est. HK$3 – 5 million / US$385,000 – 641,000. Photo: Sotheby's.





HONG KONG.- Sotheby's Hong Kong announced more than 200 lots estimated at HK$88 million / US$11 million in the Modern and Contemporary Asian Art – Evening Sale and Modern and Contemporary Southeast Asian Paintings Day Sale on 5 and 6 October, respectively, during the Autumn 2014 Sale Series. Together, the two sales will feature important paintings by the region's most sought-after modern artists, which will be led by an exceedingly rare large-format oil-on-canvas masterpiece by Indonesian artist Lee Man Fong. On the contemporary front, leading Filipino artists Ronald Ventura, Andres Barrioquinto, Lao Lianben, Benedicto Reyes Cabrera and Alfredo Esquillo, Jr. will be featured alongside I Nyoman Masriadi and Arin Dwihartanto Sunaryo, among others. Mok Kim Chuan, Head of Modern and Contemporary ... More





Salvador Dalí, Pages choisies de Don Quichotte de la Manche, Paris, 1957 (estimate: $25,000 to $35,000).





NEW YORK, NY.- On Wednesday, October 1, Swann Galleries will offer a visually rich selection of works from the late 19th- and early 20th-century European art movements that pioneered new illustration methods, including chromolithography and pochoir, in an auction of Art, Press & Illustrated Books. There is an enviable selection of works by the Surrealists, specifically a large group of books by Salvador Dalí, including one of only 10 copies of Poèmes de Mao Tse-Toung, with eight heliogravures reworked in drypoint, each hand-colored and signed by Dalí, Paris, 1967 (estimate: $15,000 to $25,000); and a first edition (one of 25 roman numbered copies) of Pages choisies de Don Quichotte de la Manche. 12 original lithographs, Paris, 1957 ($25,000 to $35,000). From Art Nouveau through Secession and Art Deco, books on ornament, decoration, fashion, poster art and design abound. Master colorist Jean Saudé and his workshop produced ... More





Theotokis Theodoulou, an archaeologist of the Greek ministry of Culture, wears a revolutionary new deep sea diving suit. AFP PHOTO /HO/ ALEX DECICCIO.





ATHENS (AFP).- Archaeologists set out Monday to use a revolutionary new deep sea diving suit to explore the ancient shipwreck where one of the most remarkable scientific objects of antiquity was found. The so-called Antikythera Mechanism, a 2nd-century BC device known as the world's oldest computer, was discovered by sponge divers in 1900 off a remote Greek island in the Aegean. The highly complex mechanism of up to 40 bronze cogs and gears was used by the ancient Greeks to track the cycles of the solar system. It took another 1,500 years for an astrological clock of similar sophistication to be made in Europe. Now archaeologists returning to the wreck will be able to use a new diving suit which will allow them to more than double the depth they can dive at, and stay safely at the bottom for longer. The Exosuit, built in Canada by Nuytco Research, will permit divers to reach ... More
In another outstanding year for the institution, Tate breaks new records in 2013/14
Aimee Ng, organizer of acclaimed Schiava Turca exhibition named an Associate Curator at the Frick
Irish master artists & international stars at Whyte's sale on 29 September in Dublin




William Hogarth, Painter and his Pug 1745.





LONDON.- Tate's annual report for 2013/14 records that it has been another outstanding year for the institution with new milestones in lending and acquisitions. Key achievements of the year include: Tate lent works of art to a total of 282 venues, more than ever before. A total of 1,467 works were loaned over all, 791 to 149UKinstitutions and 676 to 133 venues internationally; 2013/14 was an outstanding year for acquisitions. Tate acquired works to the value of £33.6 million with 773 works by UK artists entering the collection and 282 works acquired by artists from abroad. In addition, six works were added to the ARTIST ROOMS collection. The large number of acquisitions reflects Tate's growing holdings of photography and bodies of photographic works by Chris Shaw, David Goldblatt and Miyako Ishiuchi became part of Tate's collection this year; Across its four sites, Tate attracted a total of 7.04 million visitors and Tate Moder ... More





Ng has previously worked in curatorial departments at The Morgan Library & Museum and at The Frick Collection.





NEW YORK, NY.- Dr. Aimee Ng has been appointed to the position of Associate Curator of The Frick Collection, assuming the post in February 2015. This past spring, she was guest curator of the Frick's critically praised exhibition The Poetry of Parmigianino's "Schiava Turca," which recently traveled to the Legion of Honor, part of the Fine Arts Museums of San Francisco. Her accompanying scholarly catalogue offers a new interpretation of Parmigianino's enigmatic painting and explores the broader scope of female portraits in the Italian Renaissance. At the same time, her work has generated new insights into the Frick's treasured Italian Renaissance portraits by Titian and Bronzino. Comments, Frick Director Ian Wardropper, "We have tremendously enjoyed working with Aimee Ng over the past two years, and it is with great pleasure that we ... More





Sir John Lavery, Lady In Green, (Mrs. Cara H.), 1903. Est: €20,000-€30,000.





DUBLIN.- Whyte'swill present a diverse selection of Irish and International Art. On 29 September at the RDS where some of the biggest names in art history will be made available to shrewd collectors. The sale presents an opportunity for investment in the ever growing market as well as pleasure in outstanding works of art. Viewing for this auction takes place from 27 to 29 September at the RDS. A stunning landscape by Paul Henry captures the artist's favoured subject matter, Connemara. Purchased by the previous owner while travelling around Ireland in 1938, In The West Of Ireland, c. 1938 [lot 22, €45,000-€55,000], is an example of Henry's later works. With the sky dominating the composition, the work contains all of the characteristics of this particular period in the artist's career such as crisp colouring and briskly executed sky. Most likely ... More
Quote
All these painters steal from one another. Marie Bashkirtseff
More News
---
The History of Handscrolls
---
---
Flashback
On a day like today, Indian painter M. F. Husain was born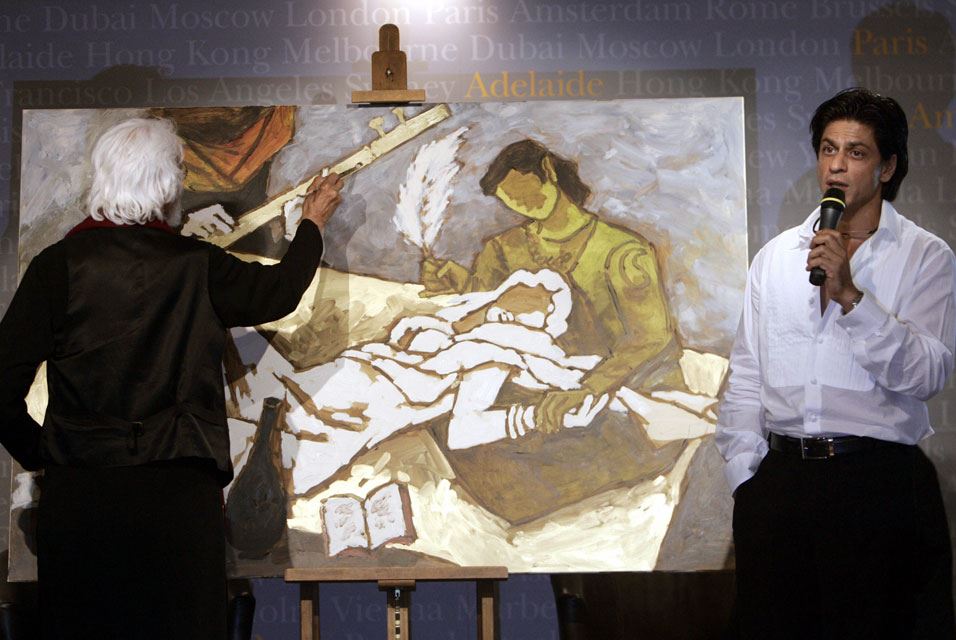 September 17, 1915. Maqbool Fida Husain (17 September 1915 - 9 June 2011) commonly known as MF Husain, was an Indian painter. Husain was associated with Indian modernism in the 1940s. A dashing, highly eccentric figure who dressed in impeccably tailored suits, he went barefoot and brandished an extra-long paintbrush as a slim cane. He never maintained a studio but he spread his canvases out on the floor of whatever hotel room he happened to be staying in and paying for damages when he checked out. In this image: M.F. Husain, India's most famous artist finishes off a canvas he painted together with Shah Rukh Khan, right, one of India's biggest movie stars, during a fund-raising auction in a central London's auction house, Thursday June 7, 2007. The pair, two of India's biggest cultural brands, painted the piece, that was to be sold in the auction along with other works by both established Indian masters and a newer generation of artists.
---
---

Museums, Exhibits, Artists, Milestones, Digital Art, Architecture, Photography,
Photographers, Special Photos, Special Reports, Featured Stories, Auctions, Art Fairs,
Anecdotes, Art Quiz, Education, Mythology, 3D Images, Last Week,
.
Royalville Communications, Inc
produces: