The Vatican's Sistine Chapel dazzles thanks to a revolutionary new lighting system
Journalists look at the Sistine Chapel with its new lighting during a press visit at the Vatican on October 29, 2014. The Vatican presented the LED lighting in the Sistine Chapel to illuminate the ceiling frescos. It also installed a new air-conditioning system and it's planning to put a limit on the number of visitors allowed in. This room where popes have been elected since the mid-15th century is visited by 6 million tourists a year to marvel at Michelangelo's ceiling and his depiction of the Last Judgment on the altar wall. AFP PHOTO / Filippo MONTEFORTE / MUSEI VATICANI.

By: Ella Ide
VATICAN CITY
(AFP)
.-
High above the altar in the Vatican's Sistine Chapel, the halo around Jesus Christ's head in Michelangelo's famous frescoes shines with a brighter glow, thanks to a revolutionary new lighting system. Angels, sybils and prophets in blues, pinks and golds, once lost in the gloom, are brought into sharp relief by 7,000 LED lamps designed specifically for the prized chapel, where red-hatted cardinals have elected new popes since the 15th century. A state of the art ventilation system has also been installed to protect the frescoes from humidity, enabling up to 2,000 people at a time to safely visit one of the world's top tourist attractions, which draws over six million people a year. The entire project cost some three million euros ($3.77 million) -- with 1.9 million euros spent on the lighting alone. The venture was funded in part by European Union funds, with the rest donated ...
More
The Best Photos of the Day
Action Comics #1 may bring $350,000+ at 2014 Comics & Comic Art Signature Auction
Lost Fergusson painting, discovered in French attic, to feature in Christie's sale
Munnings painting found in shed to be sold at Bonhams East Anglian Picture Sale




The copy of Action #1, being offered for the first time at auction, is the top comic in the Prospect Mountain Collection.





BEVERLY HILLS, CA.- An unrestored copy of Action Comics #1 (DC, 1938) CGC 3.0, the most desirable comic book in the world, is expected to bring $350,000+ when it crosses the block at Heritage Auctions as part of the company's Nov. 20-22, 2014 Comics & Comic Art Signature Auction. The copy of Action #1, being offered for the first time at auction, is the top comic in the Prospect Mountain Collection, a fresh-to-the-hobby grouping of more than 2,000 Golden Age comic books collected in the late 1950s and 1960s by a former Navy sailor studying illustration on the G.I. Bill in New York City. "It was a great time to find desirable Golden Age back issues," said Barry Sandoval, Director of Operations for Comic and Comic Art at Heritage. "He was able to build a collection of key Golden Age comics on the budget of a student studying under the G.I. Bill, something clearly impossible today. Having experienced World War II as a child he was ... More





John Duncan Fergusson (1874-1961), Poise. Estimate: £80,000 - 120,000. Photo: Christie's Images Ltd 2014.





LONDON.- Christie's announced details of the Modern British and Irish Art Evening Sale which will take place on 19 November 2014. Featuring 35 lots, the auction presents stellar examples of 20th century British sculpture and painting including John Duncan Fergusson's Poise (estimate: £80,000-120,000), six paintings by L.S. Lowry, led by Coal Barge (estimate: £700,000-1,000,000), and Euan Uglow's masterpiece entitled Three In One (estimate: £500,000-800,000), which is considered to be the artist's most important painting to come to the market. The strong selection of modern sculpture is led by Figure (Sunion) by Dame Barbara Hepworth (estimate: £600,000-800,000), as well as sculpture by leading artists of the genre including Henry Moore, Lynn Chadwick, Dame Elisabeth Frink, and Naum Gabo, among others. The Modern British and Irish Evening Sale as a whole features works with estimates ranging from £50,000 to £700,000 and i ... More





The work was among a car load of prints and paintings brought to a valuation day at Bonhams Reepham office. Photo: Bonhams.





LONDON.- A charming watercolour of cows grazing before hay wagons by the famous East Anglian artist, Sir Alfred Munnings, features in Bonhams East Anglian Picture Sale in Knightsbridge, London on Tuesday 18th November. It is estimated at £8,000-12,000. The work was among a car load of prints and paintings brought to a valuation day at Bonhams Reepham office by the owner who had been storing them in his shed. He decided to have a clear out and see what they might be worth. Bonhams picture specialist Daniel Wright said 'Most of the pictures were prints of little value so I was astonished when the Munnings emerged. It was just about the last picture to be brought out of the car and it came as a great surprise. Fortunately it must have been a dry shed and the picture is in good condition.' The watercolour is one of four works by Munnings in the sale. A self portrait in pen and ink is estimated at £3,000-5,000 and an ... More
A Jewel of the Silver Age: Valentin Serov's Portrait of Maria Zetlin to be offered at Christie's
Exhibition of recent work by William Kentridge on view at Marian Goodman Gallery
Paris' Museum of Modern Art opens exhibition of the work of Sonia Delaunay




Valentin Serov, Portrait of Maria Zetlin. Estimate: £1,500,000-2,500,000. Photo: Christie's Images Ltd 2014.





LONDON.- Christie's will offer Valentin Serov's masterwork Portrait of Maria Zetlin (1882-1976) (estimate: £1,500,000-2,500,000) in their auction of Important Russian Art on 24 November. Sold to benefit the Ramat Gan Museums in Israel, this extraordinary portrait depicts Maria Zetlin, the doyenne of Russian émigré life in Paris, and appears on the market for the first time in history. Moshe Abramowitz, Vice Mayor of the city of Ramat Gan and Meir Aharonson, Chief Curator and Artistic Director comment: 'Over fifty years ago, Ramat Gan Municipality promised the Zetlin family that the Collection would be well-presented so that it would occupy its rightful place in the city's cultural life. In order to fulfil this promise, the Municipality wishes to upgrade the exhibition space and improve its visibility and accessibility to a wider audience. Ramat Gan has learned from leading Museums in the world that the results of a suc ... More





William Kentridge, Take Off Your Hat, 2014. India ink on Japanese Rice Wenzhou Paper, 163-3/8 x 142-7/8 in.





NEW YORK, NY.- Marian Goodman Gallery presents a selection of recent work by William Kentridge for their 3rd floor project room space which opened October 27 and runs through November 26, 2014. The exhibition is organized to run concurrently with the U.S. premiere of Paper Music: A Ciné Concert by William Kentridge and Philip Miller shown for one night only on October 27th, 2014 at Carnegie Hall. The concert was presented as a part of the program Ubuntu: Music and Arts of South Africa which began October 8th and runs through November 5th, 2014. Paper Music featured a selection of films by Kentridge with music by Miller accompanied by the voices of Joanna Dudley and Ann Masina. Collaborators since 1993, Miller recently worked with Kentridge on The Refusal of Time, presented at Documenta 13 in Kassel (2012). Paper Music was first presented at the Bargello Museum in Florence, Italy this past September. Two new films from Paper Music are being ... More





Sonia Delaunay, Prismes électriques, 1913-1914, © Pracusa 2013057. Photo: Davis Museum at Wellesley College, Wellesley, MA, Gift of Mr. Theodore Racoosin.





PARIS.- For this first major Sonia Delaunay retrospective in Paris since 1967, the Musée d'Art moderne de la Ville de Paris is bringing together three remarkably recreated environments and over 400 works: paintings, wall decorations, gouaches, prints, fashion items and textiles. Tracing the artist's evolution since the beginning of the 20th century to the late 1970s, this monographic exhibition highlights her work in the applied arts, her distinctive place in Europe's avant- garde movements and her major role as a pioneering abstractionist. A generously documented chronology illustrates the richness and singularity of an oeuvre marked by an ongoing dialogue between the arts. One feature that stands out overall is a personal approach to colour that harks back to Sonia Delaunay's childhood in Russia and her art study years in Germany. While Robert Delaunay was busy conceptualising abstraction as a ... More
Legends of appropriation art to be featured at Bonhams' Post-War & Contemporary Auction
Sotheby's Paris announces its second sale of Contemporary Art in 2014 taking place on December 3 & 4
Glass legend Lino Tagliapietra to attend Schantz Galleries' SOFA Chicago Art Fair booth




George Condo, Green on Green Collage Painting, 2000 (detail) © 2014 George Condo / Artists Rights Society (ARS), New York.





NEW YORK, NY.- Major works by Thomas Struth, Dennis Hopper, George Condo, Andy Warhol and a curated section of appropriation art will be featured in the auction of Post-War & Contemporary Art at Bonhams, on November 11 in New York. Leading the sale are two masterpiece photographs by renowned German contemporary photographer, Thomas Struth. Offered on behalf of a Southern California private collection, Iglesia de San Francisco, Lima, Peru, 2003 and Igreja Matriz de Nossa Senhora, Ouro Preto, 2004, each carrying pre-sale estimates of $500,000 – 800,000 are the auction's top lots. Struth, having built much of his artistic practice by photographing places of worship and museum spaces, captures these monumental interiors with stunning detail. The artist's depiction of New World cathedrals in Brazil and Peru are exemplary of how through Struth's frame, the church transforms ... More





Alexander Calder, Untitled, 1947. Painted metal and wire, 86 x 71 cm; 34 x 28 in. Estimate: €800,000-1.2 million / $1-1.5 million. Photo: Sotheby's France / Art Digital Studio.





PARIS.- Sotheby's France announces that its second sale of Contemporary Art in 2014 will take place on December 3 & 4. Sotheby's France continues its ascension on the international contemporary art scene. The sale will feature rigorously selected, large-format works by artists from the Post-War period until Today – many kept in private collections for decades and now unveiled at auction for the first time. Perhaps the sale's outstanding work is Hantaï's M.B.2, an extraordinary Mariale from his very rare M.B. series, of which just six works are known: one in the Pompidou Centre, the rest in private collections and therefore commercially inaccessible. This sublime Mariale stands out because of its monumental size (225.5 x 208.5cm), unusual celadon colour and sculptural relief. It is the perfect embodiment of the pliage technique Hantaï perfected ... More





Lino Tagliapietra, Kookaburra, 2012. Blown Glass. 14.25 x 18.5 x 9.75"





CHICAGO, IL.- Celebrating his 80th birthday this August, Lino Tagliapietra is perhaps the foremost artist in the world presently working with glass, exhibiting in the most prestigious museums internationally, receiving countless honors, openly sharing his extensive knowledge of the medium and his skill as one of its finest practitioners, helping to create a new renaissance in studio glassmaking. Schantz Galleries will present major new glass sculpture by the world-renowned Venetian Maestro at SOFA CHICAGO 2014 from his new Borboletta (the Portuguese word for butterfly) series. Revisiting a monochromatic palette, Lino has created a large-scale black and white wall installation entitled Metamorphosis for their booth, which Jim Schantz describes as "a manifestation of flight, grace and elegance. It is another example of Lino taking the medium of glass to a higher state of consciousness." Of his new work, Tagliapietra said, "I ... More
Exhibition of large-scale paintings by Julian Stanczak opens at Mitchell-Innes & Nash
Herakleidon Museum celebrates 10th anniversary with the opening of a new space
Christie's London announces Sale of Important Russian Art on 24 November 2014




Julian Stanczak, "Equatorial", 1978. Courtesy of the artist and Mitchell-Innes & Nash, NY.





NEW YORK, NY.- Mitchell-Innes & Nash presents an exhibition of paintings by Julian Stanczak focusing on the artist's evocations of natural phenomena, energy and light. This is the gallery's first solo exhibition of Stanczak's work, which includes a dozen large-scale paintings spanning the artist's career from the 1960s to the present and includes works not seen publically in decades. The exhibition is on view from October 30 through December 6, 2014. While Stanczak is often associated with the Op Art movement, the artist's focus has always centered on the complexity of color relationships and their effect on forms and space. The term Op Art first appeared in a 1964 Time Magazine article that sought to contextualize exhibitions such as Stanczak's first solo show at Martha Jackson Gallery, "Optical Paintings," which had opened in September of that same year. The several paintings exhibited were the ... More





This is a beautifully restored neoclassical building facing the pedestrian street of Apostolou Pavlou, near the archaeological site and the metro station of Thissio.





ATHENS.- The Herakleidon Museum is celebrating its tenth anniversary with the opening of a new space for art and culture. Known for its permanent collections of works by M.C. Escher and V. Vasarely, as well as its educational programs that bridge art with mathematics and science, the Herakleidon Museum is now opening a new center of activities, a short distance from the main building. This is a beautifully restored neoclassical building facing the pedestrian street of Apostolou Pavlou, near the archaeological site and the metro station of Thissio. The Herakleidon Museum annex aims to enrich the cultural life of Athens, while complementing and expanding the main direction of the museum. It opened to the general public on Friday, October 17, 2014 with an extensive tribute to the city of ... More





Yuri Annenkov, Portrait of Aleksandr Tikhonov, 1922. Estimate: £2,500,000–4,500,000. Photo: Christie's Images Ltd 2014.





LONDON.- Building on the record results of the Russian Art sale this past June, which established multiple new auction records and achieved over £24 million, Christie's London will offer a spectacular selection of Russian Paintings and Works of Art on 24 November 2014. With over 400 lots with estimates from £1,000 to £2,500,000, this sale presents discerning collectors with an exciting opportunity to acquire exceptional works ranging from Avant-Garde masterpieces to exquisite Fabergé works with Imperial provenance. Several important private collections are featured in Faces of Russia (lots 36-45), a curated selection of ten early 20th century works led by Yuri Annenkov's 1922 Portrait of Aleksandr Tikhonov (1880-1956) (estimate: £2,500,000–4,500,000), first exhibited at the 1924 Venice Biennale; as well as important works ... More
Quote
Painting is easy when you don't know how, but very difficult when you do. Degas
More News
---
---
---
Flashback
On a day like today, American architect Richard Morris Hunt was born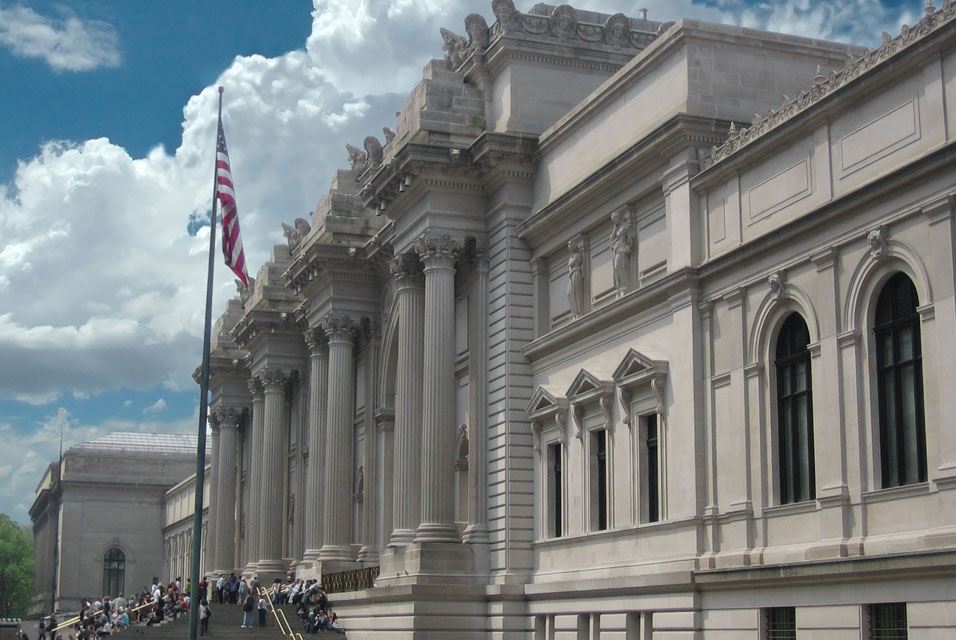 October 31, 1827. Richard Morris Hunt (October 31, 1827 - July 31, 1895) was an American architect of the nineteenth century and a preeminent figure in the history of American architecture. Hunt was, according to design critic Paul Goldberger writing in The New York Times, "American architecture's first, and in many ways its greatest, statesman." [1] Aside from Hunt's sculpting of the face of New York City, including designs for the facade and Great Hall of the Metropolitan Museum of Art, the pedestal of the Statue of Liberty and many Fifth Avenue mansions lost to the wrecking ball, [2] Hunt founded both the American Institute of Architects and the Municipal Art Society. In this image: Metropolitan Museum of Art, Fifth Avenue facade designed by Richard Morris Hunt.
---
---

Museums, Exhibits, Artists, Milestones, Digital Art, Architecture, Photography,
Photographers, Special Photos, Special Reports, Featured Stories, Auctions, Art Fairs,
Anecdotes, Art Quiz, Education, Mythology, 3D Images, Last Week,
.
Royalville Communications, Inc
produces: