Sotheby's Hong Kong to offer an outstanding Guan Vase from the Southern Song Dynasty
A Chinese Guan Vase of the Southern Song Dynasty is shown to the media in Hong Kong on March 2, 2015. The rare vase is expected to fetch more than 60 million HKD (7.7 million USD) at Sotheby's Hong Kong Chinese Works of Art Spring Sales 2015 which will take place on April 7, 2015. AFP PHOTO / Philippe Lopez.
HONG KONG
.-
Sotheby's
Hong Kong Chinese Works of Art Spring Sales 2015 will take place on 7 April at Hall 5, Hong Kong Convention and Exhibition Centre, led by an outstanding Southern Song 'Guan' Vase from a Japanese Collection (Expected to fetch in excess of HK$60 million / US$7.7 million) which has been unseen in the market for four decades, as well as two theme sales respectively dedicated to the Yongzheng and Qianlong emperors of the Qing dynasty, two of the greatest art patrons and collectors in Chinese history. Also noteworthy are a magnificent carved celadon, famille-rose and underglazed-blue 'boys' vase, the Robert H. Blumenfield collection of bamboo carvings in addition to imperial porcelains and works of art from a Hong Kong private collection. Altogether, the six sales will offer more than 250 lots with a total estimate of approximately HK$600 million ...
More
The Best Photos of the Day
Art & books from fabled 1892 Borghese Palace auction among offerings in Myers' Fine Art Auction
'Priceless' Chinese artefacts stolen from fabled Fontainebleau castle south of Paris
Casting a long shadow: Artist Nelson Shanks hid Lewinsky dress in Clinton picture




Unsigned portrait of French military officer Jacques Darnaud (1758-1830), 16 x 13in (sight). Myers Fine Art image





ST. PETERSBURG, FLA.- Imagine the grandeur of an auction held onsite at Palazzo Borghese, home to the noble and Vatican-connected Borghese clan. Take it a step further and pretend the auction offerings include actual artworks and other family treasures from the stately Roman palace and library. Just such a thing happened in 1892, after the Bank of Italy crashed and a turn in their fortunes compelled the Borghese family to liquidate many of their elegant holdings. Myers Fine Art will revisit the fabled 19th-century event when it presents three paintings and 11 vellum books and manuscripts from the celebrated Borghese sale as the highlight of their Sunday, March 8 auction. All 14 items can be traced directly to their American purchaser of 123 years ago, Bradford DeWolf, an ancestor of the prominent DeWolf ... More





The Fontainebleau castle, built during the reign of France's king Francois I (1494 – 1547).





PARIS (AFP).- Thieves have broken in to the fabled Fontainebleau castle south of Paris and stolen 15 or so "priceless" Chinese artefacts in a lightning raid, French authorities said. The theft took place in "one of the most secure parts of the castle, equipped with alarms and surveillance cameras," said the French culture ministry. Among the items taken was the crown of the King of Siam, presented to Emperor Napoleon III during a visit from the Siamese ambassador, the ministry said. Jean-Francois Hebert, who runs the Fontainebleau castle, said it was a "very big shock and trauma." "We think they were very determined, knew exactly what they were looking for and worked in a very professional manner," added Hebert. The objects taken were "unique" and "priceless", he added. "They were among the most beautiful pieces in the museum," said Hebert. ... More





This April 24, 2006 file photo shows former US President Bill Clinton looking at his and his wife Hillary Clinton's portraits during an unveiling ceremony at the Smithsonian. Files/Photo by Mark Wilson/Getty Images/AFP.





WASHINGTON (AFP).- The artist who painted ex-president Bill Clinton for America's National Portrait Gallery included the shadow of a dress in the work, a reference to Clinton's relationship with Monica Lewinsky, the painter says. Nelson Shanks told the Philadelphia Daily News: "The reality is he's probably the most famous liar of all time. He and his administration did some very good things, of course, but I could never get this Monica thing completely out of my mind and it is subtly incorporated in the painting." A shadow beside Clinton, who is pictured standing in front of a hearth, "actually literally represents a shadow from a blue dress that I had on a mannequin, that I had there while I was painting it, but not when ... More
Master of resin Andrea Dasha Reich opens exhibition at Syd Entel Galleries & Susan Benjamin Glass
United Kingdom coins to feature new portrait of 88-year-old monarch Queen Elizabeth II
Getting lucky: David Bailey, photographer to the stars, opens 'Stardust' exhibition in Milan




For the past 17 years, Andrea Dasha Reich has built her artwork using the unusual medium, epoxy resin.





SAFETY HARBOR, FLA.- Andrea Dasha Reich: Dual Expressions is on view February 28, 2015 through April 28, 2015 at Syd Entel Galleries & Susan Benjamin Glass, Safety Harbor, FL Andrea Dasha Reich is an international, contemporary abstract artist. She has been widely collected and recognized for her resin, dimensional art. For the past 17 years, Andrea Dasha Reich has built her artwork using the unusual medium, epoxy resin. Through these years her work has gone through a variety of change and transitions reflecting the different ways she has learning to use and manipulate the material. Slowly, over time and experimentation, Reich found herself intrigued with a new method, using various types of resin, and has created a technique for building sculptures and adding more 3 dimensional aspects to her art. Reich's artworks, typically compromised of mixed media with ... More





An event assistant shows the new coin portrait of Britain's Queen Elizabeth II on a two pound coin at the National Portrait Gallery in London. AFP PHOTO / JUSTIN TALLIS.





LONDON (AFP).- A new portrait of Queen Elizabeth II which will appear on coins in Britain was unveiled Monday -- only the fifth one of her 63-year reign. The likeness shows the 88-year-old monarch facing right in profile and wearing a crown and drop earrings. It replaces a previous portrait which dates back to 1998. The image was designed by Jody Clark, an engraver at the Royal Mint, the south Wales-based body responsible for making Britain's coins. The new coins featuring the portrait go into production from Monday and are likely to start appearing in peoples' pockets later this year. "Jody's achievement is something that we can celebrate as a proud moment for the Royal Mint," said Adam Lawrence, its chief executive. "Capturing a portrait on the surface of a coin demands the utmost skill and is one of the most ... More





British photographer David Bailey poses in front of his pictures of Mick Jagger during the private preview of the exhibition "Stardust". AFP PHOTO / GABRIEL BOUYS.





MILAN (AFP).- He may be a Swinging Sixties icon, but British photographer David Bailey up close is a wise-cracking crank who shrugs off his immense success as one of the world's most famous celebrity photographers. "I'm not proud, I don't do proud," he told AFP at the press opening of his Stardust exhibition, which is coming to Milan from March to June after a run at the National Portrait Gallery in London. Intimate portraits of stars such as Kate Moss, Jack Nicholson and Mick Jagger gaze down from the walls of the Padiglione D'arte Contemporanea, alongside photographs of his fourth wife, model Catherine Dyer, and children. A section dedicated to naked unknowns who posed for his "Democracy" project between 2001 and 2005 follows a series capturing the 1960s in the East End of London, where he was raised by his father, a tailor's cutter, ... More
Bruce Museum to offer evening hours and free admission in Spirit of Giving Back
Indianapolis Museum of Art appoints Dr. Annette D. Schlagenhauff as Curator of Special Projects
Museum of Fine Arts, Boston to include key loans for its upcoming landmark exhibition




The Bruce Museum is offering visitors a chance to take a "selfie" with an American Black Bear.





GREENWICH, CONN.- After Hours at the Bruce Museum, a special program hosted by the Museum on Thursday, March 5, will offer evening gallery hours and a variety of activities – including a chance to take a "selfie" with an American Black Bear -- with free admission from 5:00 p.m. to 8:00 p.m. The Museum normally closes at 5. "After Hours is a program inspired by the spirit of philanthropy," says Peter C. Sutton, Executive Director of the Bruce Museum. "We cannot exist without the generous support of the community. Since March 5 is Fairfield County Giving Day, like most other local non-profits, we will be asking for the community's support. We wanted to also give back to the community, and make accessible the treasure that is the Bruce." In addition to free admission and open galleries, the Museum will be offering special tours and other activities designed for families and accessible ... More





Annette D. Schlagenhauff, the IMA's associate curator for research, has been promoted.





INDIANAPOLIS, IN.- The Indianapolis Museum of Art announced that Dr. Annette D. Schlagenhauff, the IMA's associate curator for research, has been promoted to a newly created position indicative of the Museum's commitment to exhibitions and projects focused on disseminating new findings based on research of the permanent collection. In her new role as curator of special projects, Dr. Schlagenhauff will give the IMA an enhanced capability to share this research with the public by coordinating cross-disciplinary projects across multiple departments and curatorial areas. "I had the pleasure to work with Dr. Schlagenhauff early in my career and have always been impressed by her intellectual prowess and research capabilities," said Dr. Charles L. Venable, the IMA's Melvin & Bren Simon Director and CEO. "During her years here in Indianapolis she has done ... More





Johannes Vermeer, A Lady Writing, about 1665. Oil on canvas. National Gallery of Art, Washington, Gift of Harry Waldron Havemeyer and Horace Havemeyer, Jr., in memory of their father, Horace Havemeyer, 1962.10.1 Courtesy, Museum of Fine Arts, Boston.





BOSTON, MASS.- The Museum of Fine Arts, Boston, has announced loans of important paintings by Johannes Vermeer and Rembrandt van Rijn for its upcoming landmark exhibition Class Distinctions: Dutch Painting in the Age of Rembrandt and Vermeer (October 11, 2015–January 18, 2016). Vermeer's The Astronomer (1668) will be on loan from the Musée du Louvre in Paris, while the artist's A Lady Writing (about 1665) will be on loan from the National Gallery of Art in Washington, DC. Works by Rembrandt in the exhibition will include The Shipbuilder and his Wife (1633) on loan from Her Majesty Queen Elizabeth II and the full-length, life-size Portrait of Andries de Graeff (1639) from Museumslandschaft Hessen Kassel in Germany. They will join the two ... More
Peter Norton donates significant contemporary art collection to Rose Art Museum
Dallas Museum of Art acquires a masterwwork of Pre-Columbian art for its Arts of the Americas Collection
Volkswagen Group of America and MoMA team up to create audio component for Björk retrospective




Mark Dion, Treasure Chest (New Bedford Harbor), 1998. Zinc-lined wooden box, porcelain, and oxidized metal, Open box: 18x24x24". Gift of Peter Norton.





WALTHAM, MASS.- Christopher Bedford, director of the Rose Art Museum at Brandeis University, has announced that computer programmer and philanthropist Peter Norton has donated 41 works created by some of today's leading contemporary artists to the museum. Part of a series of gifts to university art museums and teaching museums throughout the country—drawn from Norton's personal collection—the donation is designed to deepen the integration of the visual arts in higher education, foster creative museum practice, and engage audiences with contemporary art. "This is a historic addition to our collection that will significantly enhance our ability to actively engage students and diverse audiences with our collection here at the Rose. It is an astounding endorsement of our goals to integrate the entire museum into academic and public discourse," said Bedford, the Henry and Lois Foster Director of the Rose. ... More





Effigy vase, Guatemala, Maya, Late Classic, A.D. 700–900, ceramic, Dallas Museum of Art, The Roberta Coke Camp Fund.





DALLAS, TX.- The Dallas Museum of Art today announced the acquisition of an artistically significant pre-Columbian Maya vessel for its Arts of the Americas collection. This Late Classic (A.D. 700–900) ceramic vase is from the site of Quirigua in Guatemala, near the border with Honduras. Small, at only seven inches high, and striking, it features a modeled face, perhaps that of a Maya god. The vase is scheduled to go on view this summer in the Museum's Ancient Art of the Americas gallery on Level 4. Appearing in scholarly publications in 1913, 1916, 1935, 1943, and again in 1980 and 1988, the ceramic vessel was sold at auction in November 2014 by the St. Louis Chapter of the Archaeological Institute of America, which had acquired the object in 1912 through the St. Louis chapter's support of field excavations by archaeologist Earl H. Morris during the Third Quirigua Expedition. "We are delighted that the Maya effigy ... More





Global museum debut for pioneering augmented audio guide.





NEW YORK, NY.- Volkswagen Group of America has partnered with The Museum of Modern Art to create a first-ever augmented audio guide as an integral part of Björk, a retrospective of the Icelandic artist and musician Björk, opening at MoMA on March 8, 2015. The augmented audio guide provides an intimate sound experience customized by each visitor, developed through a collaborative research program between MoMA, Björk, the VWGoA Electronics Research Laboratory (ERL) in Silicon Valley, California, and the German sound agencies Klangerfinder and S12. Volkswagen Group of America collaborated on development of a suite of advanced audio technologies working with a range of international collaborators, helping MoMA to achieve the creative vision for the show. The innovative technology is based on the application "Sound Journey" developed by Volkswagen, which generates a personalized sound track using data gathered ... More
Quote
Critics are the men that failed in literature and art. Benjamin Disraeli
More News
---
---
---
Flashback
On a day like today, fashion designer Perry Ellis, was born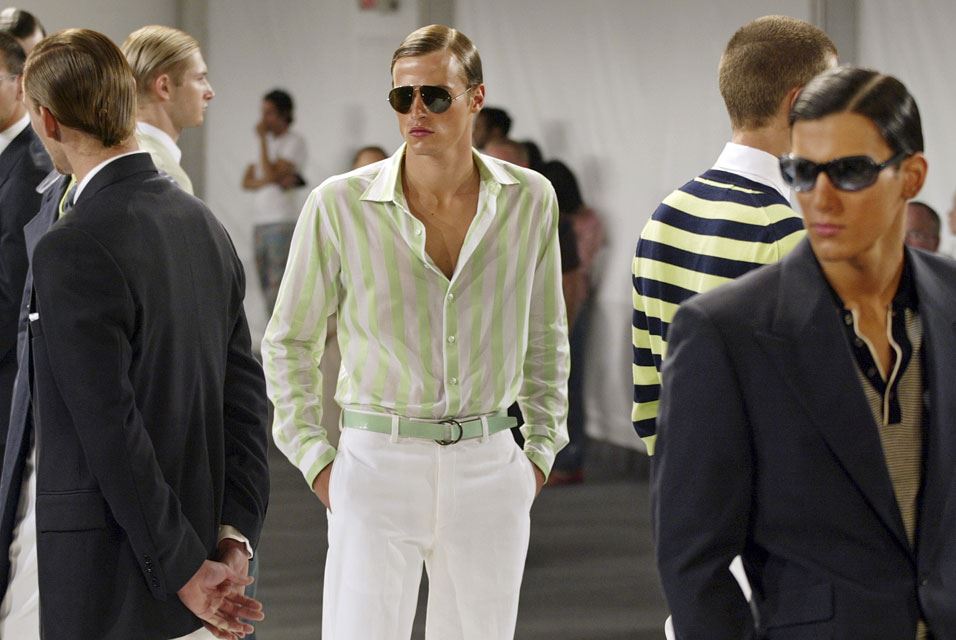 March 03, 1940. Perry Ellis (March 3, 1940 - 8:15 AM May 30, 1986) was an American fashion designer who founded a sportswear house in the mid-1970s. In this image: The model in the center wears a white/lime stripe shirt, white cotton trouser, green snakeskin belt and aviator sunglasses, during the showing of the Perry Ellis menswear Spring 2005 Collection in New York, Wednesday, Sept 8, 2004.
---
---

Museums, Exhibits, Artists, Milestones, Digital Art, Architecture, Photography,
Photographers, Special Photos, Special Reports, Featured Stories, Auctions, Art Fairs,
Anecdotes, Art Quiz, Education, Mythology, 3D Images, Last Week,
.
Royalville Communications, Inc
produces: