South Asia's leading art fair for modern and contemporary art opens in New Delhi
In this photograph taken on January 29, 2015 an Indian woman looks on during the India Art Fair in New Delhi. For years, it's been India's grand art festival but this year more than ever, India Art Fair is raking more eyes balls by bringing a gamut of modern and contemporary works from across the world to satiate the growing art appetite of the metropolis - Delhi. AFP PHOTO / CHANDAN KHANNA.
NEW DELHI
(AFP)
.-
With a giant stainless steel elephant, a graffiti mural and a dying tree branch, the Indian Art Fair opened Friday hoping to tap into the country's growing demand for contemporary art. Growing wealth has fuelled an interest in art collecting among India's super rich, but the New Delhi fair's organisers said a rapidly rising middle class has also played a role in recent years. "Delhi is the most promising and largest art centre in India and something that is growing exponentially," Neha Kirpal, fair founder and director, told AFP. "The rising middle class in Delhi and love for art is something that is enabling strong commercial interests," she said. Spread across pavilions over 20,000 square metres (215,000 square feet), the fair features more than 3,500 works from 1,200 artists from India and overseas. The event has been phenomenally successful since its first edition in 2008 ...
More
The Best Photos of the Day
New Galleries of Post-War and Contemporary art unveiled at Wadsworth Atheneum Museum of Art
Yale University Art Gallery opens its first exhibition dedicated to James Abbott McNeill Whistler
Georgia O'Keeffe Museum opens new exhibition: 'Modernism Made in New Mexico'




Helen Frakenthaler (American, 1928–2011), Sea Picture with Black, 1959 (detail). Oil on canvas, 84 1/2 x 57 inches. Wadsworth Atheneum Museum of Art, Gift of Susan Morse Hilles, 1961.7





HARTFORD, CONN.- The Wadsworth Atheneum Museum of Art opened a bold, new installation of Post-War and Contemporary Art Jan. 31, 2015, in three dedicated galleries that have been completely refurbished as part of the museum's five-year, $33 million renovation. The installation is the first complete rehanging of the museum's Contemporary collection in nearly 20 years. Patricia Hickson, Emily Hall Tremaine Curator of Contemporary Art, organized the reinstallation. "We are delighted to welcome our visitors back to the Wadsworth Atheneum to experience our outstanding Post-War and Contemporary Art collections," said Susan L. Talbott, Director and C.E.O. "We have been anticipating this moment for some time, and look forward to unveiling many new gifts and acquisitions that enhance our already distinguished legacy." The installation covers artwork dating 1945 to the present, ... More





Mortimer Menpes, Whistler: Monocle Left Eye (Whistler No. 2), 1902–3. Etching and drypoint, 13 3/4 x 6 1/4 in. (34.9 x 15.9 cm). Yale University Art Gallery, Anonymous gift





NEW HAVEN, CONN.- Whistler in Paris, London, and Venice examines the life and artistic development of James Abbott McNeill Whistler (1834–1903), one of the most celebrated artists of the 19th century, through the lens of three of his earliest and most innovative sets of etchings, the so-called French, Thames, and Venice Sets. The sets are representative of three important periods in Whistler's life: as a student in Paris, absorbing the lessons of his Realist contemporaries and the Old Masters; as an emerging artist in London, forging a name for himself as an etcher; and as a well-known artist and teacher in Venice, trying to recover his reputation and fortune following a devastating bankruptcy. Over 100 objects from the Yale University Art Gallery's permanent holdings, including etchings of Venice by Mortimer Menpes, one of Whistler's most devoted pupils, and ... More





Georgia O'Keeffe, Black Hollyhock Blue Larkspur, 1930 (detail). Oil on canvas, 30 1/8 x 40 (76.5 x 101.6. Extended loan, private collection © Georgia O'Keeffe Museum.





SANTA FE, NM.- The Georgia O'Keeffe Museum presents "Modernism Made in New Mexico," an exhibition organized by the Georgia O'Keeffe Museum, which traces the work of fifteen pioneering artists who found inspiration in New Mexico's stark landscape, distinct adobe architecture, and vibrant cultures. The artwork on view spans the first four decades of the twentieth century, from a scene of majestic beauty painted in 1902 by Thomas Moran to an abstract Modernist composition by Raymond Jonson from 1940. "This exhibition explores the unique creative efforts of some of America's most important artists, leaders in the development of an unmistakably American style of Modernism, one made in New Mexico," says Robert A. Kret, Director of the Georgia O'Keeffe Museum. "Though far from influential art centers like New York City, the sense of place found in this region dramatically changed the ... More
A million documents, some dating back to the 16th century, damaged in Russian library blaze
McCabe Fine Art brings together paintings from the 1990s through the 2000s by Christopher Wool
Sotheby's 2015 Masters Week Sales total an impressive $79 million in New York




Firefighters work to extinguish a fire at the library of the Academic Institute of Scientific Information on Social Sciences in Moscow. AFP PHOTO / ALEXANDER UTKIN.





MOSCOW (AFP).- A fire that ripped through one of Russia's largest university libraries is believed to have damaged over one million historic documents, with some describing the fire as a cultural "Chernobyl." The blaze, which started Friday and was still not completely out on Saturday evening, ravaged 2,000 square metres (21,500 square feet) of the Institute of Scientific Information on Social Sciences (INION), which was created in 1918 and holds 10 million documents with some dating back to the 16th century. "It's a major loss for science. This is the largest collection of its kind in the world, probably equivalent to the (United States) Library of Congress," Vladimir Fortov, president of the Russian Academy of Sciences was quoted as saying by Russia press agencies. "One can find documents there that are impossible to find elsewhere, all ... More





Christopher Wool Selected Paintings at McCabe Fine Art, Stockholm.





STOCKHOLM.- Since the 1980s American artist Christopher Wool has made work that simultaneously critiques and supports painting: both as a practice and a medium. From his earliest abstract works made with enamel on aluminum to his more recent "word paintings" featuring stenciled block letters in bold black and white, Wool's diverse oeuvre expands the possibilities of paint and painting by continually testing the medium's limits. The current exhibition at McCabe Fine Art brings together paintings from the 1990s through the 2000s. Featuring a select, but exemplary sample of work, this exhibition shows Wool reasserting the relevance of painting using a variety of techniques and styles. The works comprising this intimate show are indicative of Wool's diverse painterly practice in which he uses spray paint and silkscreen techniques on aluminum and canvas supports. An untitled work from 1994 is an example of ... More





Lorenzo Veneziano, St. Catherine of Alexandria and St. Sigismund of Burgundy, circa 1368. Estimate: 600,000 — 800,000 USD. Lot sold: 1,325,000 USD. Photo: Sotheby's.





NEW YORK, NY.- Sotheby's annual Masters Week sales in New York have achieved the impressive total of $79,255,816. The auctions included Master Paintings: Part I, Selected Renaissance and Mannerist Works of Art Assembled by Fabrizio Moretti, Master Paintings & Sculpture: Part II, and Old Master Drawings. Auction records were set for artists across the category including Giovanni Paolo Panini, Vittore Carpaccio, Antoine Coypel, Willem van de Velde, Lorenzo Veneziano and Clodion. A total of 15 lots sold for more than $1 million. Christopher Apostle, Head of Sotheby's Old Master Paintings commented, "We are thrilled with these results, which show incredible depth and vibrancy in this market driven overwhelmingly by private buyers. The recipe for success in this field is fresh material, estimated correctly and presented ... More
Dominique Lévy Gallery opens large-scale sculptural intervention in New York City
Exhibition of works from the first half of Nancy Graves' artistic career opens at Mitchell-Innes & Nash
Exhibition of works from two periods by the influential Cologne artist Walter Dahn opens at Sprüth Magers




Peter Regli, Reality Hacking No. 320 (SNOW MONSTERS), 2015. Marble, 12 sculptures, dimensions variable. Photo: Tom Powel Imaging. Courtesy of the artist and Dominique Lévy Gallery, New York.





NEW YORK, NY.- Dominique Lévy announces Snow Monsters, the latest installment in Peter Regli's Reality Hacking initiative. Regli began Reality Hacking, an ongoing series of interventions in public space, in 1996 and has to date produced more than three hundred works staged on four continents. Reality Hacking No. 320 (Snow Monsters) debuted in the Flatiron Plaza on January 25, 2015. The work is presented by Dominique Lévy Gallery in conjunction with the New York City Department of Transportation Art Program and the Flatiron / 23rd Street Partnership. Regli's public installation marks his first large-scale sculptural intervention in New York City. Snow Monsters will remain on view through March 13, 2015. Regli's Reality Hacking interventions seek to subtly subvert our daily experience of the public realm around us, either by ... More





Nancy Graves, Evol, 1978. Watercolor on paper, 63 5/8 by 44 1/2 in.  161.6 by 113 cm. © 2014 Nancy Graves Foundation, Inc / Licensed by VAGA, New York, NY. 





NEW YORK, NY.- Mitchell-Innes & Nash announces its second exhibition of the work of Nancy Graves from The Nancy Graves Foundation. On the 20th anniversary of her death, the show presents work from the first half of her artistic career, 1969 to 1982, and features painting, drawing, sculpture, and film. Nancy Graves is on view in the gallery's Chelsea location (534 West 26th Street) from January 29 to March 7, 2015. Graves burst onto the international scene in 1969 with a solo exhibition at the Whitney Museum of American Art, followed by her prominent inclusion in Documenta 5 (1972) and Documenta 6 (1977). Graves's iconic early work used the form of a camel as a starting point from which to test the boundaries of art-making. The larger-than-life, mysterious sculptures are "realistic illusions," or "natural fictions," hovering between art and reality, abstraction and figuration. ... More





Walter Dahn, Immer Trinken, 1982. Acrylic on canvas, 150 x 150 cm., 59 x 59 inches. ©Walter Dahn. Courtesy Sprüth Magers.





BERLIN.- The majority of artistic careers are stories of ruptures and interruptions. Frequently it is only in hindsight that continuity becomes visible. "Walter Dahn 1980 - 83 / 2014: 2 Spaces", the new exhibition at Sprüth Magers Berlin, focuses on works from two periods by the influential Cologne artist Walter Dahn, which may initially appear disparate. The gallery's main space is hung with Dahn's early painterly work, which emerged from the milieu of the "Mühlheimer Freiheit" artists' group. Those paintings, which were also shown at documenta 7 in 1982, forged perceptions of a generation of artists who today are often identified as the "Neue Wilde". In contrast Dahn's screen prints from 2014 are on display on the upper floor of the gallery. In an almost tender manner, they engage the visual spaces of our everyday perceptions and our inner phantoms. Only under closer examination does i ... More
Exhibition of new work by German-born artist Esther Kläs opens at Xavier Hufkens
Exhibition of exquisite ornithological studies opens at Sheffield's Millenium Gallery
Exhibition of rarely shown large-scale works on view at the Frances Lehman Loeb Art Center




Installation views of Esther Kläs' 'CHERE: Sculpture' at Xavier Hufkens 107 rue St-Georges, 1050 Brussels, Belgium. Photo: HV-studio, Brussels. Courtesy: the Artist and Xavier Hufkens, Brussels.





BRUSSELS.- Xavier Hufkens announces CHERE: Sculpture, an exhibition of new work by Esther Kläs. Over the past decade, German-born Esther Kläs has developed an idiosyncratic body of work that blurs the boundaries between painting, sculpture, and drawing. Following an intuitive logic, her work hovers between abstraction and figuration, object and space, movement and rest. Kläs's sculpture, though abstract, evokes the body. Metaphor and symbolism are refused in favour of direct experience. Her objects are complete in themselves and displayed in dialogue with each other and the space they inhabit. Their placement and rearrangement follow both plan and accident. The residue of the sculptural process is evident in her eccentric forms. Kläs's sensibility seems to be rooted in the interstices between Mimimalism and ... More





Ramphastos citreolaemus, John Gould, lithographed by Henry Constantine Richter





SHEFFIELD.- A remarkable collection of rarely-seen 18th and 19th century bird illustrations has taken flight as part of a new exhibition debuting at Sheffield's Millennium Gallery. Opened on 31 January, The Illustrated Aviary showcases exquisite ornithological studies amassed by the Victorian naturalist Thomas Eyton, many of which have not been displayed for over 30 years. The historical works, which include engravings and hand-coloured lithographs by James John Audubon, Edward Lear, and John and Elizabeth Gould, have been complemented by a new large-scale installation from contemporary artist, Mister Finch. From the early 1700s to the late 1800s the marvels of scientific discovery captured the public imagination like never before, with expeditions across the globe revealing increasingly exotic species of birds and other wildlife. A number of naturalists saw the opportunity in the public's interest ... More





Joan Mitchell, American, 1925 1992, Lyric, 1953 (detail), Oil on canvas, Frances Lehman Loeb Art Center, Vassar College, Gift of William Rubin, 1960.4.2.





POUGHKEEPSIE, NY.- A new exhibition, XL: Large-Scale Paintings from the Permanent Collection, provides the Frances Lehman Loeb Art Center a rare opportunity to showcase several large-scale paintings that are seldom on view. XL, an exhibition of 19 large works from Vassar's holdings, is testament to the enduring visual power of mural-sized painting and the strength of the 20th century paintings collection at the Art Center. In addition, the exhibition, which covers a time span from 1948 to 2005, is an investigation of the ways in which artists have grappled with scale for the last half-century. With half of the works in the exhibition made by female painters, the exhibition also highlights Vassar's strength in women's art. Artists whose work is featured in this diverse and powerful exhibition are Kevin Appel, Milton Avery, Ross Bleckner, Joan Brown, Roger Brown, Nancy Graves, Grace Hartigan, ... More
Quote
Painting comprises three principal parts: drawing, proportion and color. Piero della Francesca
More News
---
History of the Super Bowl
---
---
Flashback
On a day like today, Japanese artist Takashi Murakami, was born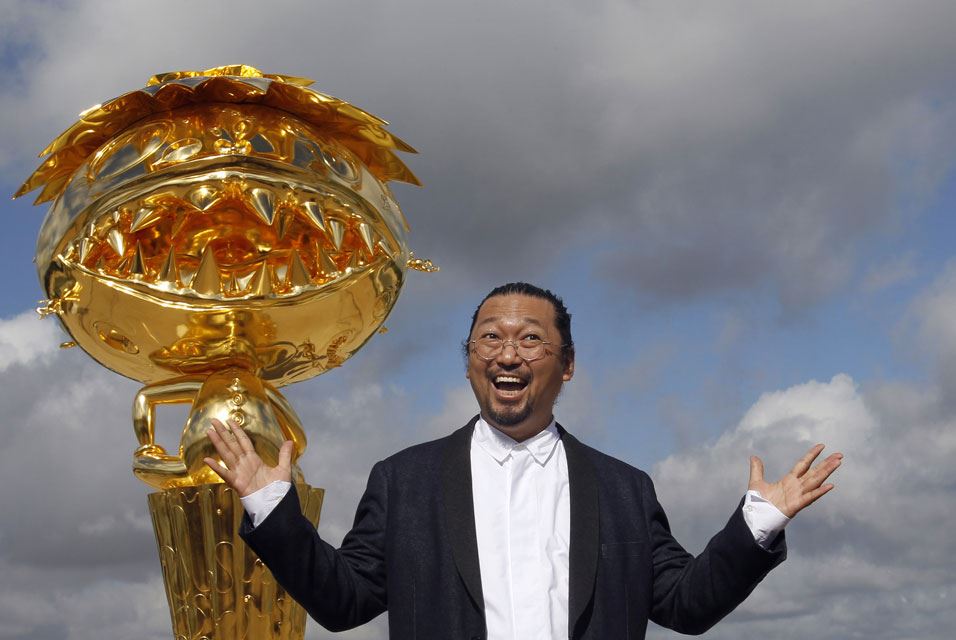 February 01, 1963. Takashi Murakami is an internationally prolific contemporary Japanese artist. He works in fine arts media - such as painting and sculpture - as well as what is conventionally considered commercial media - fashion, merchandise, and animation - and is known for blurring the line between high and low arts. He coined the term superflat, which describes both the aesthetic characteristics of the Japanese artistic tradition and the nature of post-war Japanese culture and society. Superflat is also used as a moniker to describe Murakami's own artistic style and that of other Japanese artists he has influenced. In this image: Japanese artist Takashi Murakami poses for photographers in front of his sculpture entitled "Oval Buddha", at the Versailles Palace gardens, west of Paris, Thursday, Sept. 9, 2010.
---
---

Museums, Exhibits, Artists, Milestones, Digital Art, Architecture, Photography,
Photographers, Special Photos, Special Reports, Featured Stories, Auctions, Art Fairs,
Anecdotes, Art Quiz, Education, Mythology, 3D Images, Last Week,
.
Royalville Communications, Inc
produces: