Paris's Picasso museum finally reopens after controversial $71-million renovation
A visitor looks at a Picasso's 'Women in the bathroom' during the press day at the Picasso museum, on October 18, 2014 in Paris. The collection is displayed inside the Hotel Sale which was renovated to house the art and is located in the heart of the Marais district. AFP PHOTO/BERTRAND GUAY.

By: Helen Rowe
PARIS
(AFP)
.-
A top-level sacking, harsh words from the artist's son, delays and a huge budget overrun -- Paris's Picasso museum reopens its doors on Saturday amid the fallout from a fraught $71-million renovation. Just over five years after it closed for what was intended to be a two-year refurbishment, the museum -- housed in a 17th-century baroque mansion in Paris's historic Marais quarter -- has been extensively modernised and is more than twice its previous size. Costs, however, stand at 22 million euros ($27 million) over budget due to an increase in the scope of the works, a rift has opened up between Picasso's son Claude and the French government and the museum's director of nearly a decade, Anne Baldassari, no longer has her job. The gallery, which first opened in 1985, boasts one of the world's most extensive collections of Picasso's work with around 5,000 ...
More
The Best Photos of the Day
Exhibition devoted to the painted work of Marcel Duchamp on view at Centre Pompidou
Looking at Monet: The great Impressionist and his influence on Austrian art examined at the Belvedere
Guggenheim presents first museum exhibition of Indian Modern painter Vasudeo Santu Gaitonde




Marchel Duchamp, À propos de jeune sœur 1911, huile sur toile, 73 x 60 cm Solomon R. Guggenheim Museum, New York © The Solomon R. Guggenheim Foundation / Art Resource, NY, Dist. RMN - Grand Palais © succession Marcel Duchamp / ADAGP, Paris 2014.





PARIS.- Through a 100-odd works brought together for the first time, the Centre Pompidou is devoting a monograph exhibition to the painted work of Marcel Duchamp. With a completely new and knowingly paradoxical approach, the exhibition is designed to show the paintings of the man who, in common modernist opinion, killed painting. At the heart of this pictorial work and the discourse of the exhibition, visitors are invited to take a new look at the paintings and drawings that led Marcel Duchamp to create his masterpiece, known as Le Grand Verre, La mariée mise à nu par ses célibataires, même (The Bride Stripped Bare by her Suitors, Even (The Large Glass)), which was begun in 1910 and declared unfinished by the artist in 1923. To situate this work in the context of a long and complex creative process, Duchamp conscientiously gathered ... More





Claude Monet, Path in Monet's Garden in Giverny, 1902 (detail). Oil on canvas, 89.5 x 92.3 cm© Belvedere, Vienna.





VIENNA.- From 24 October 2014 to 8 February 2015, the exhibition Looking at Monet in the Orangery of the Lower Belvedere will present icons of Impressionism within a survey unique across Europe, as well as their multiple impacts on domestic art production. Thanks to first-rate loans from around the globe, the exhibition will assemble key works by Claude Monet, some of which have never been on view in Austria. Eighteen years after its legendary Monet exhibition in 1996, the Belvedere will again be featuring the master of Impressionist painting with light in a spectacular temporary show. The exhibition's focus will be on Monet as a source of inspiration for contemporary artists who came to emulate his motifs and brushwork. Selected works by this pioneer of modernism will enter into a dialogue with those by Austrian artists who referred to Monet's works in their own production, having encountered them in a direct or indirect fashion. In the ... More





V. S. Gaitonde, Untitled, 1955. Oil on canvas, 30 x 22 inches (76.2 x 55.9 cm). Chowdhury Family Collection, Vienna-Mumbai. Photo: Florian Biber.





NEW YORK, NY.- The Solomon R. Guggenheim Museum presents the first museum exhibition dedicated to the work of celebrated Indian modern painter Vasudeo Santu Gaitonde (1924–2001) with V. S. Gaitonde: Painting as Process, Painting as Life from October 24, 2014, to February 11, 2015. The retrospective will comprise forty-five major paintings and works on paper drawn from thirty leading public institutions and private collections across Asia, Europe, and the United States, forming the most comprehensive overview of Gaitonde's work to date. As current scholarship revisits traditions of mid-20th-century modern art outside of the Euro-American paradigm, Gaitonde's work presents an unparalleled opportunity to explore the context of Indian modern art as it played out in the metropolitan centers of Bombay (now Mumbai) and New Delhi from the late 1940s through the end of the 20th century. Featuring many works ... More
Bonhams in New York breaks world record for most expensive Apple computer ever sold
Exhibition of recent works by Tom Otterness opens at Marlborough Gallery
'Vodou: Sacred Powers of Haiti' at the Field Museum looks beyond myths and manufactured images




The winning bid went to a smiling representative from the Henry Ford Museum. Photo: Courtesy of Bonhams.





NEW YORK, NY.- The History of Science auction at Bonhams New York ended with the sale of the Apple-1 computer, which sold for $905,000, almost twice its high estimate, making it the world's most valuable relic from the computer age. The winning bid went to a smiling representative from the Henry Ford Museum who triumphantly raised the paddle after battling it out with another interested party on the phone. Cassandra Hatton, the senior specialist in charge of the auction comments on the success of the sale of the Apple-1, "The provenance on the Apple-1 is excellent and the condition is outstanding, so it was not surprising that it did so well. We are thrilled to have broken the world record for its sale, and are even more thrilled that it is going to a wonderful new home at the Henry Ford Museum." In addition to the beautifully intact motherboard, this Apple-1 comes with a vintage keyboard with pre-7400 series military spec chips, a ... More





Tom Otterness, Kissing Cones, 2013. Bronze, 11 x 7 1/2 x 5 inches. Edition of 9. Photo: Courtesy of Marlborough Gallery.





NEW YORK, NY.- Marlborough Gallery announces an exhibition of recent works by Tom Otterness entitled Creation Myth which opened on Wednesday, October 22nd and will continue through November 25th of 2014. Creation Myth consists of over twenty sculptures in stainless-steel & limestone, bronze, and marble. The works range in scale from small to monumental. In this exhibition, Otterness alludes to Ovid's canonical story in the Metamorphoses in which Pygmalion carves a sculpture of a woman in ivory so beautiful and idyllic that he becomes enchanted by her. Upon praying to goddess Aphrodite for a bride, Pygmalion's sculpture, Galatea, comes to life. The works in Creation Myth, however, feature a woman carving a male figure. Otterness overturns this classical parable in his inimitable style, which allows him to offer what art historian Alan W. Moore describes as, "hard ... More





This sequin-covered figure represents a popular spirit named Erzulie Freda—the spirit of love, luxury, and worldly pleasures. She likes perfume, beautiful dresses, flirting, jewelry, and sparkling wine.© Canadian Museum of History, Marie-Louise Deruaz.





CHICAGO, IL.- A remarkable exhibition of over 300 authentic Vodou objects from Haiti will open at The Field Museum on Oct. 24, 2014 and run through April 26, 2015. Vodou: Sacred Powers of Haiti looks beyond myths and manufactured Hollywood images – exhibition visitors will see no dolls with pins stuck into them. Instead, the exhibition explores the underground history and true nature of a living religion, and reveals Vodou as a vital spiritual and social force that remains an important part of daily life in Haiti. In the exhibition, the story of Vodou is told from the viewpoints of people who practice the religion. Through text and videos, Vodouists express their points of view about various aspects of their symbols, rituals, and spiritual beliefs. This authenticity is reflected in the spelling Vodou (pronounced ... More
Sotheby's Hong Kong Gallery presents 'The Roots of Pleasure: The Paintings and Sculpture of Li Jin'
Three unique ways to experience American Modernism this fall at the Indianapolis Museum of Art
Asian Art Museum offers West Coast audiences a first look at recent archaeological discoveries




The Dance of Life, 2014 (detail), Ink and colour on paper, 180 x 98 cm. Photo: Sotheby's.





HONG KONG.- Sotheby's Hong Kong Gallery presents a selling exhibition of paintings and sculptures by the internationally renowned artist Li Jin, titled The Roots of Pleasure: The Paintings and Sculpture of Li Jin, from 24 October to 5 November. Featuring twenty eight of the artist's recent works, the exhibition includes his first sculptures in bronze and fibreglass along with his iconic ink paintings of everyday life, whimsy and revelations. Li Jin said: "I aspire to convey the positive energy of contemporary ink art to a global audience through the name-recognition and far-reaching influence of Sotheby's Hong Kong in Chinese-speaking communities. I have created 28 works on this occasion to meet the high expectations and standards of Sotheby's. Centered on the theme 'Roots of Pleasure', these pieces embody the vitality and artistic value of Chinese contemporary ink." Katherine Don, ... More





Man Ray (American, 1890–1976), Mime, 1926, pochoir, Indianapolis Museum of Art, Emma Harter Sweetser Fund, 75.733.1. © Man Ray Trust / Artists Rights Society (ARS), NY / ADAGP, Paris 2014.





INDIANAPOLIS, IND.- From the colorful pochoirs of Man Ray to the iconic flowers of Georgia O'Keeffe, the Indianapolis Museum of Art is celebrating American Modernism this fall with three new exhibitions reflecting the styles, influences and artists of this 20th century avant-garde movement. For a more personal look at the movement, visitors can explore the unconventional art collection of an Indiana native in The Onya La Tour Collection: Modernism in Indiana, in the IMA Alliance Gallery. The free exhibition showcases 30 works acquired by Onya La Tour, a Hoosier who befriended many artists while working for the Works Progress Administration in New York in the 1930s. When La Tour moved back to Indiana in 1940, she transformed her Brown County farmhouse into the Indiana ... More





Funerary mask, 1st century CE. Saudi Arabia; Thaj city, Tell al-Zayer site. Gold. Courtesy of National Museum of Saudi Arabia, Riyadh , 2061.





SAN FRANCISCO, CA.- In the shifting sands of Saudi Arabia outside the city of Thaj, archaeologists discovered the tomb of a young royal girl buried nearly 2,000 years ago, uncovering exquisite jewelry, a haunting gold mask and other objects—all made of gold. These funerary treasures are just a few of the surprising discoveries on display in the fascinating exhibition Roads of Arabia : Archaeology and History of the Kingdom of Saudi Arabia , opening Oct. 24, 2014 through Jan. 18, 2015 at the Asian Art Museum. The Asian Art Museum will offer West Coast audiences a first look at Roads of Arabia , a traveling exhibition originating from Arthur M. Sackler Gallery in 2012, featuring recent archaeological discoveries that have radically transformed our understanding of Saudi Arabia. The exhibition includes more than ... More
Terra Foundation announces national tour and published anthology of American masterpiece
New portraits by Grayson Perry from his Channel 4 series displayed at the National Portrait Gallery
The Chapman Brothers return to Hastings for major new exhibition at Jerwood Gallery




Gallery of the Louvre examined at Pennsylvania Academy of the Fine Arts.





CHICAGO, IL.- The Terra Foundation for American Art announced today that Samuel F. B. Morse's monumental painting Gallery of the Louvre will embark on a multi-year national tour in January. Kicking off at The Huntington Library, Art Collections, and Botanical Gardens, in San Marino, CA (January 24–April 20, 2015), the tour will visit nine museums across the country, including venues in Fort Worth, TX; Bentonville, AR; Detroit, MI; Salem, MA; and Winston-Salem, NC. "Our founder, Daniel Terra, believed American art was a dynamic and powerful expression of the nation's history and identity," explained Terra Foundation President & CEO Elizabeth Glassman. "He also held that engagement with original works of art could be a transformative experience, and we're thrilled to honor his legacy by sharing this masterwork from our collection with audiences across the country." The exhibition, Samuel ... More





Grayson Perry Photo: Penguin Books. ©Jochen Braun.





LONDON.- Politician Chris Huhne, a young female-to-male transsexual, Northern Ireland Loyalist marchers, and X-Factor and Celebrity Big Brother contestant Rylan Clark are among the subjects of a new display by Grayson Perry, to open at the National Portrait Gallery this autumn, and to be featured on his new Channel 4 series. In Who Are You? (25 October 2014-15 March 2015) 14 portraits of individuals, families and groups will be placed within the Gallery's nineteenth and twentieth-century Collection displays, including a self portrait and a major new tapestry. The portrait of Huhne, whom Perry visited on the day of his release from prison, will be seen alongside those of deaf parents, a Muslim convert and a couple living with Alzheimers in the display in a variety of media by the Turner Prize-winning artist and BAFTA Award-winning broadcaster. The new portraits have resulted from the artist's new Channel 4 series, Who Are You?, t ... More





Jake and Dinos Chapman, Coloured Human Rainbow, 2014





HASTINGS.- Notorious contemporary art duo, Jake and Dinos Chapman, are returning to the town where they grew up for a major new show at the Jerwood Gallery. The exhibition, which has been crowd funded through the Art Fund's new Art Happens platform, will feature previously unseen works plus pieces made exclusively for the exhibition. Jake and Dinos Chapman are known for their provocative and confrontational art. In the Realm of the Unmentionable will continue the brothers' exploration of issues surrounding consumer culture, Western identity and human mortality that have been central to their work. Following their reworking of Goya etchings and Victorian paintings in their Family Portrait series, the brothers will be sourcing artworks from antique and junk shops in Hastings, which will then be 'fixed' for the exhibition. Jake Chapman says: "Working on someone else's work ... More
Quote
Abstract art was for us (the Dadaists) tantamount to absolute honor. Richard Huelsenbeck
More News
---
After Dark at Tate Britain
---
---
Flashback
On a day like today, Russian oil magnate and art collector Roman Abramovich was born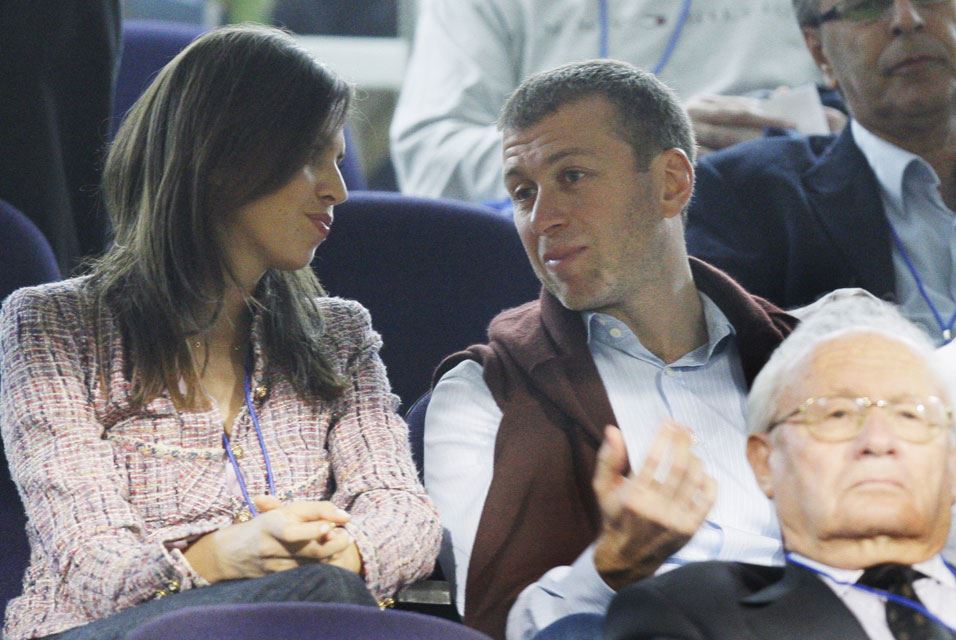 October 24, 1966. Roman Arkadyevich Abramovich (born 24 October 1966) is a Russian business tycoon and the main owner of the private investment company Millhouse LLC. In this image: Roman Abramovich, second from left, the owner of England's Chelsea soccer club sits, next to an unidentified woman during the Euro 2008 group E qualifying soccer match Israel vs Russia at the Ramat Gan stadium outside Tel Aviv, Israel, Saturday, Nov. 17, 2007.
---
---

Museums, Exhibits, Artists, Milestones, Digital Art, Architecture, Photography,
Photographers, Special Photos, Special Reports, Featured Stories, Auctions, Art Fairs,
Anecdotes, Art Quiz, Education, Mythology, 3D Images, Last Week,
.
Royalville Communications, Inc
produces: