Exhibition at Kunsthaus Zurich presents Joan Miró's large-scale mural works
Joan Miró, Peinture, 1936. Oil, casein, tar and sand on masonite, 78 x 108 cm. Nahmad Collection © Successió Miró / 2015 ProLitteris, Zurich.
ZURICH
.-
From 2 October 2015 until 24 January 2016
Kunsthaus Zürich
presents 'Joan Miró – Wall, Frieze, Mural', a ground-breaking exhibition that presents Miró's large-scale mural works in the context of his oeuvre as a whole and which proposes an atypical reading of the artist's approach to painting. It points out important constants in the artist's career, not least the inherently monumental quality of his art and his desire to work on a large scale. The exhibition presents some 70 works from the finest public and private collections in Europe and the US. Miró's work is distinguished by a compelling directness and an emphatically material quality. Unsurprisingly, then, his statements about his work often focus on 'pure', simple forms and on the surface of the wall as the wellspring of his painting. At first, it was the walls of the family farmhouse at Mont-roig. These formed the ...
More
The Best Photos of the Day
Museum Marmottan Monet presents masterpiece from the Arthur and Hedy Hahnloser Collection
Exhibition on view at Reynolda House Museum of American Art named among best exhibitions worldwide
"V. S. Gaitonde: Painting as Process, Painting as Life" opens at the Peggy Guggenheim Collection




Vincent van Gogh, La Fête du 14 juillet à Paris – 1886. Oil on canvas, 44 x 39 cm. © Collection particulière, Villa Flora, Winterthur. Photo: Reto Pedrini, Zürich.





PARIS.- The Museum Marmottan Monet, a museum of collectors par excellence, is presenting from September 10th 2015 to Februay 7th 2016 the most prestigious private collection of the Swiss couple Arthur and Hedy Hahnloser. For the first time in France, the masterpieces of this ensemble are shown. 75 masterpieces of Pierre Bonnard, Paul Cézanne, Giovanni Giacometti, Ferdinand Hodler, Aristide Maillol, Édouard Manet, Henri-Charles Manguin, Pierre-Albert Marquet, Henri Matisse, Odilon Redon, Pierre-Auguste Renoir, Félix-Édouard Vallotton, Vincent van Gogh and Édouard Vuillard illustrate the story of this couple, two passionated collectors of painting, drawing and sculpture, which they enthusiastically collected during their life together, from 1905 to Arthur's death in 1936. Living for art. Collecting. Such was the raison d'être of the couple formed by Hedy Bühler and the ophthalmologist Arthur Hahnloser. ... More





Childe Hassam (1859-1935), In the Garden (Celia Thaxter in Her Garden), 1892, Oil on canvas 22 1/4 x 18 in. Smithsonian American Art Museum, Gift of John Gellatly 1929.6.52/Art Resource, NY /Art Resource, NY.





WINSTON-SALEM, NC.- An exhibition of American Impressionism which opened Saturday, Oct. 3 at Reynolda House Museum of American Art has just been named one of the 28 best exhibitions around the world. "The Artist's Garden: American Impressionism and the Garden Movement, 1887-1920" was included among an elite group of exhibitions as a finalist for the Global Fine Art Awards announced by the awards organization Oct. 1. American Impressionism and the popularity of gardening as a leisure activity is the focus of "The Artist's Garden." Reynolda House is the third of only five venues nationwide to host the exhibition, which will be on view at the North Carolina museum through Jan. 3, 2016. This national exhibition, featuring what Philadelphia Magazine called "the best of the genre," includes the work of the American Impressionist artists William Merritt Chase, Childe ... More





Untitled, 1954. Oil on paper, 27.9 x 30.5 cm. Private collection, San Francisco. Photo: photo Sotheby's, courtesy Sotheby's, New York.





VENICE.- From October 3, 2015–January 10, 2016, the Peggy Guggenheim Collection, Venice, presents V. S. Gaitonde: Painting as Process, Painting as Life. Comprising over 40 major paintings and works on paper drawn from public institutions and private collections across Asia, Europe, and the United States, this is the first retrospective exhibition dedicated to the work of celebrated Indian modern painter Vasudeo Santu Gaitonde (1924–2001). As current scholarship revisits traditions of mid-twentieth-century modern art outside the Euro-American paradigm, Gaitonde's work presents an unparalleled opportunity to explore Indian modern art as it played out in the metropolitan centers of Bombay (now Mumbai) and New Delhi from the late 1940s through the end of the twentieth century. Venice is the second venue of this exhibition, which was previously presented at the Solomon R. Guggenheim Museum, New York ... More
One of the finest 16th-century illustrated Persian manuscripts in the US featured in exhibition
San Jose Museum of Art presents an exhibition of highlights from the gift of Dixon and Barbara Farley
Dr Jörn Günther Rare Books to exhibit museum-quality treasures at Frieze Masters 2015




Persian, Iran, Shiraz, Piran Visits Siyavush and Farigis, folio 95a from the Peck Shahnama, 1589–90.





PRINCETON, NJ.- Over 1,000 years ago, the Persian poet Abu'l-Qasim Firdausi (935-1020) narrated the history of Iran and its peoples – spanning 50 monarchs from the dawn of time to the 7th century A.D. – through gripping tales of ancient triumphs, larger-than-life heroes and grand adventures. Called the Shahnama, or Book of Kings, the epic has been a source of artistic inspiration in Persian culture for centuries and is the most frequently illustrated work of Persian poetry. Princeton University owns five illustrated versions of the Shahnama, one of which, the Peck Shahnama, named for its donor, ranks among the finest 16th-century Persian manuscripts in the U.S., due to its impressive size and the quality of its materials and decoration. Having recently undergone conservation treatment, for which the entire manuscript was disbound, ... More





Willem de Kooning, Woman II, 1967. Oil on brown paper, mounted to board, 24 x 19 inches.





SAN JOSE, CA.- This fall, the San Jose Museum of Art showcases for the first time artworks from a major gift of art from the collection of Dixon and Barbara Farley. SJMA received 44 works from the Farley collection in 2015 and an earlier gift of 29 works following Mr. Farley's death in 2011. Diebenkorn in the Bedroom, DeFeo in the Den: Generous Gifts from the Dixon and Barbara Farley Collection, on view October 3, 2015 through February 7, 2016, features highlights from this gift of modern and contemporary art, which includes works by nationally recognized artists as well as notable California artists. Among the highlights are works by Jay DeFeo, Willem de Kooning, Richard Diebenkorn, Philip Guston, Henry Moore, Claes Oldenburg, Richard Serra, James Siena, David Simpson, Richard Shaw, and Peter Wegner. "The Farleys built their ... More





A highlight is an unpublished compendium made for Juan II, King of Castile and Leon, circa 1425. Discovered in a private collection and fresh to the market, it is a unique example of medieval political literature.





LONDON.- Dr Jörn Günther Rare Books will join the impressive roster of international exhibitors at this year's Frieze Masters, which will take place from 14th-18th October 2015 in Regent's Park, London. Positioned alongside its contemporary counterpart, Frieze Masters offers a modern lens on historical art. Dr Jörn Günther Rare Books will accentuate this juxtaposition of old and new and present an assortment of museum-quality treasures that demonstrate the intellectual engagement and artistic creativity of humankind. Manuscripts, miniatures and rare early printed books from the Middle Ages to the Renaissance will be showcased within a modern context and stand design, and set amongst a backdrop ... More
Exhibition offers a panorama of Florentine portraiture in the 16th century
Mystery Greek tomb was dedicated to companion of Alexander the Great: Experts
Auction house Bonhams launches tv ad campaign; First auctioneer to take television advertising




Jacopo Pontormo (Pontorme, 1494 - Florence, 1557), Portraits of two friends, Circa 1522 - 1523, oil on panel, 88,2 x 68 cm Venise, Fondazione Giorgio Cini © Venezia, Fondazione Giorgio Cini, Matteo De Fina.





PARIS.- In the 16th century, the art of portraiture became increasingly common among the Florentine elite, who had found in it a means of capturing their facial characteristics and social status for posterity. They drew on literary characters such as Petrarch, musical references or a staged production full of symbols to describe the model's life in all its facets. The Musée Jacquemart-André has devoted an unrivalled exhibition to the great Florentine portrait painters of the 16th century, based on around forty works. Alongside the presentation of masterpieces by Pontormo, a pupil of Andrea del Sarto and master of mannerism, there is a chance to appreciate the refined and graceful features, typical of the portraits of Bronzino or Salviati, which are testimony to a meaningful sense of sophistication. This exhibition offers ... More





Marble pieces found outside the tomb dating back to the Alexander the Great era (356-323 BC) at the ancient Amphipolis archeological site. AFP PHOTO / GREEK MINISTRY OF CULTURE.





THESSALONIKI (AFP).- A massive ancient tomb recently opened in northern Greece was likely a monument to Hephaestion, the close companion of Alexander the Great, experts working on the monument said Wednesday. "We surmise it was a funerary heroon (hero worship shrine) dedicated to Hephaestion," the site's head archaeologist Katerina Peristeri told reporters, adding however: "I do not know if he is buried inside." According to ancient historian Plutarch, when Hephaestion died suddenly in Ecbatana, Iran, "Alexander asked (his architect) Deinokrates to erect shrines all over the country," she added. The tomb at Amphipolis, some 60 kilometres (37 miles) from the northern city of Serres, is the largest ever discovered in the country. It was dug up in 2012 and opened last summer amid speculation that it was built for ... More





As it rolls out, the campaign also focuses on Fine Art, Chinese Art and other collecting areas.





LONDON.- The auction house Bonhams launched an integrated brand campaign Be Part of the Story centred on television advertising. This is the first time that an international auction house has advertised on TV. The Be Part of the Story campaign broke in the UK on 24 September. The two films in this opening stage of the campaign both tell a compelling story narrated by the celebrated actor, Michael Gambon. They focus on how objects and works of art outlive us all and how buyers and sellers can add their own chapter to their history. The first two films feature stories about a car and a piece of jewellery. As it rolls out, the campaign also focuses on Fine Art, Chinese Art and other collecting areas. The campaign, which features adverts on Sky Adsmart supported by press, billboards, taxis and social media platforms, has been masterminded by the award-winning advertising agency Contagious London under ... More
Blanton Museum announces groundbreaking for Ellsworth Kelly's "Austin", organizes symposium
Exhibition of 45 color-photographs by Elliott Erwitt opens at The Lumiere Brothers Center for Photography
"In Pursuit of Antiquity: Drawings by the Giants of British Neo-Classicism" opens at Tchoban Foundation




Ellsworth Kelly, Austin, 2015 (model; interior view). Artist-designed building with installation of colored glass windows, marble panels, and redwood totem, 60 ft. x 73 ft. x 26 ft. 4 in. © 2015 Ellsworth Kelly Image courtesy the Blanton Museum of Art.





AUSTIN, TX.- The Blanton Museum of Art at the University of Texas at Austin has announced that it will begin construction of Ellsworth Kelly's Austin in October. A groundbreaking ceremony is scheduled for October 31, and the building is projected to open to the public in late 2016 or early 2017. In celebration, the Blanton will host, on October 31, a symposium on Kelly with leading scholars and curators from across the country. The project was announced in February, and the Blanton has received formal approval from the university's Board of Regents, clearing the way for construction to begin this fall. The 2,715-square-foot stone structure—the only building ever designed by Kelly—will include luminous colored glass windows, a totemic wood ... More





Elliott Erwitt, Saint Tropez, France, 1959 (detail).





MOSCOW.- The Lumiere Brothers Center for Photography announces an exhibition of one of the most important photographers of XX century - Elliott Erwitt. 45 color-photographs – mostly Kodachrome and Ektachrome - that haven't been shown to the wide audience yet are being displayed at the Small Hall of the Lumiere Center. Born in France from Russian parents, educated in Italy and successively immigrated in the US, New York based Elliott Erwtt has a background as eclectic as his personality. Photographer, director, producer, Erwitt worked with some of the most influential photographers of the mid century, like Robert Capa, and for leading newspapers and magazines. The exhibition will feature Erwitt's professional photography spanning four decades (from 1950s through the early 1990s) of magazine photojournalism, corporate image making, and advertising – images from all over the world, portraits of movie stars ... More





John Soane. Drawing showing a Student measuring a Capital of the Temple of Jupiter Stator (Castor and Pollux), Rome, pencil, pen and watercolour, 1010 x 730 mm © Sir John Soane's Museum.





BERLIN.- Important architectural drawings held by Sir John Soane's Museum, one of the most significant collections of its kind in Great Britain, form a new temporary exhibition at the Museum for Architectural Drawing in Berlin. The exhibition illustrates the ambition of leading British architects of the late 18th century who strove to create new architecture in the Classical tradition that could compete – in terms of public works, private houses, mausolea, interior detail and even furnishings – with the glories of the Ancient World. Illustrating this central theme, some of the finest drawings and designs by Sir John Soane himself, Robert Adam, George Dance the Younger, Sir William Chambers and James Wyatt are being shown for the first time in Germany. The exhibition: In Pursuit of Antiquity: Drawings from ... More
Quote
Art has always been employed as an instrument of domination. Diego Rivera
More News
---
---
---
Flashback
On a day like today, German painter Lucas Cranach the Younger was born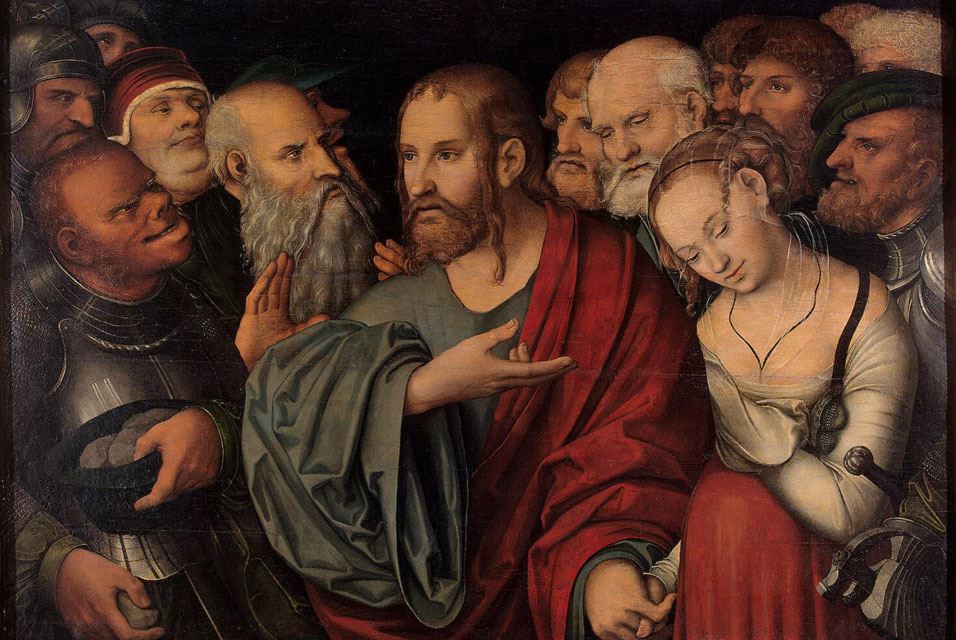 October 04, 1515. Lucas Cranach the Younger (October 4, 1515 - January 25, 1586) was a German Renaissance artist, known for his woodcuts and paintings.He was the youngest son of Lucas Cranach the Elder and Barbara Brengebier, and began his career as an apprentice in his father's workshop alongside his brother Hans. Henceforth, his own reputation and fame grew. After his father's death, he assumed control over the workshop. They lived in the city of Kronach, in Franconia (in Germany). In this image: Christ and the Woman Taken in Adultery. Hermitage Museum, Russia
---
---

Museums, Exhibits, Artists, Milestones, Digital Art, Architecture, Photography,
Photographers, Special Photos, Special Reports, Featured Stories, Auctions, Art Fairs,
Anecdotes, Art Quiz, Education, Mythology, 3D Images, Last Week,
.
Royalville Communications, Inc
produces: