23,000 year-old limestone statuette of a woman found by archaeologists in France
A 23,000 year-old chalk statue of a woman, which was found in July outside the northern French city of Amiens. Called the "Venus of Renancourt," the statue was found at the paleolithic site of Renancourt, west of Amiens AFP PHOTO/DENIS CHARLET.
AMIENS
(AFP)
.-
A limestone statuette of a shapely woman some 23,000 years old has been discovered in northern France in what archaeologists Thursday described as an "exceptional" find. Archaeologists stumbled on the Paleolithic-era sculpture during a dig in the summer in Amiens, the first such find in half a century. "The discovery of this masterpiece is exceptional and internationally significant," said Nicole Phoyu-Yedid, the head of cultural affairs in the area, on showing the find to the media. "We were expecting to find classical vestiges such as tooled flint or bones," said archaeologist Clement Paris. But on their second day of fieldwork, the team found a pile of limestone that included fragments which did not seem natural. ...
More
The Best Photos of the Day
Kunstmuseum Bern releases the lists of the artworks that were discovered in Cornelius Gurlitt's homes
'Connecting Continents: Indian Ocean Trade and Exchange' opens at the British Museum
'Stuart Little' helps lost Hungarian painting come home after nine decades


The lists can be downloaded here.



BERN.- After accepting the legacy of Cornelius Gurlitt, next steps are being taken after the Kunstmuseum Bern, the German Federal Government, and the Free State of Bavaria signed the agreement in Berlin on 24 November, 2014, and thus formally sealed it. As promised by the Kunstmuseum Bern, in the interests of transparency it is now making public the lists of the artworks that were discovered in Cornelius Gurlitt's flat in the Schwabing district of Munich and his house in Salzburg. The Kunstmuseum Bern is actively fulfilling its obligations after accepting the Gurlitt legacy. In consultation with the parties of the agreement and the task force of Schwabing Art Trove, the Kunstmuseum management has decided to release the lists of the artworks discovered in Schwabing and Salzburg as a first step. "We have promised transparency and are now acting accordingly. We are therefore happy to be able to release, only three da ... More





Indian pot, 7th–9th century AD. Found at Siraf, a major port city frequented by merchants from across the Indian Ocean, in what is now Iran. © The Trustees of the British Museum.





LONDON.- Objects connected to the long history of trade in the Indian Ocean can be found throughout the British Museum. The new exhibition, 'Connecting continents: Indian Ocean trade and exchange', is the first time a selection of these have been exhibited together to tell the story of how this vast oceanic space has connected people and cultures from Asia, East Africa, the Middle East and beyond. This intimate yet far-reaching exhibition features objects dating from around 4500 years ago to the present, and opened on Thursday 27 November 2014. 'Connecting continents: Indian Ocean trade and exchange' explores trade from several perspectives. The exhibition features the commodities traded, such as textiles, precious stones and ceramics, which might have been found thousands of miles ... More





The painting was used as a prop in the Hollywood film "Stuart Little".





BUDAPEST (AFP).- A long-lost avant-garde painting has returned home to Hungary after nine decades thanks to a sharp-eyed art historian who spotted it being used as a prop in the Hollywood film "Stuart Little". In 2009 Gergely Barki, a researcher at Hungary's National Gallery, noticed "Sleeping Lady with Black Vase" by Robert Bereny (1888-1953) in the 1999 kids' movie about a mouse as he watched TV with his daughter Lola. "I couldn't believe my eyes when I saw Bereny's long-lost masterpiece on the wall behind Hugh Laurie, I nearly dropped Lola from my lap," Barki, 43, told AFP on Thursday. "A researcher can never take his eyes off the job, even when watching Christmas movies at home," he said. The painting disappeared in the 1920s but Barki recognised it immediately even though he had only seen a faded black-and-white ... More
Sale at Hotel des Ventes in Geneva opens another page on the history of Imperial Russia
A rare and important Yongzheng vase fetches HK$ 76,280,000 at Bonhams Hong Kong
Important Judaica to be offered at Sotheby's New York on 4 December 2014




François Pascal Simon Gérard (1770-1837), Portrait de François-Gédéon Reverdin, huile sur panneau. Estimate: CHF 30000-50000.





GENEVA.- Now a tradition in December, Geneva's Hotel des Ventes opens another page on the history of Imperial Russia. This year, the Russian works of art will attest to the great history of master craftsmanship that Imperial Russia afforded (Bolin, Fabergé, Ovchinnikov…) with objects originating exclusively from private collections and families (Boutourline, Simon, Thyssen…) that have never before appeared on the market. Also featuring in the sale on Tuesday 9 December of historical interest is a collection of memorabilia from King Peter II, the last monarch of Yugoslavia. This winter, Hôtel des Ventes has the pleasure of presenting the Olivier Reverdin collection – a prominent Swiss political and cultural figure who is a direct descendant of General Dufour. This eclectic collection consisting of antiquarian books, Asian art, furniture and paintings highlights the scholarly nature of this important Genevan ... More





A rare and important blue and white garlic-mouth vase, Yongzheng seal mark and of the period. Sold for HK$76,280,000 inc. premium. Photo: Bonhams.





HONG KONG.- Bonhams' auction of Fine Chinese Ceramics and Works of Art in Hong Kong achieved spectacular results, with more than 90 percent sold by value, on 27 November 2014. The sale was led by the extraordinarily rare blue and white garlic-mouth vase from the Yongzheng Period of the Qing Dynasty, which sold for HK$76,280,000, more than 12 times the pre-sale estimates (HK$6,000,000-8,000,000). As soon as the vase went on the block, frenzied bidding in the saleroom and on the telephone led to a rapid escalation in the bid price. The most expensive piece of Chinese ceramics sold at auction at Bonhams Hong Kong eventually went to a private collector from mainland China. Important jade works also made waves in the sale. A magnificent Imperial pale green jade archaistic vase from the Somerset de Chair Collection sold for HK$19,160,000 (estimate: HK$12,000,000-15,000,000), while an Imperial white jade vase and cover achieved ... More





The dignified Portrait of a Rabbi (est. $200/300,000) shows celebrated Jewish painter Isidor Kaufmann at the height of his powers. Photo: Sotheby's.





NEW YORK, NY.- Sotheby's annual auction of Important Judaica on 4 December 2014 features an outstanding array of Hebrew books and manuscripts, important paintings, and ritual silver and metalwork. The sale is headlined by over 80 rare books and manuscripts from a Distinguished Collection, which together chronicle more than five centuries of Jewish culture. Carefully curated over the past four decades, the collection offers a wide range of works with price points accessible to both new collectors as well as to those with more established collections. The auction, which presents works from across the globe, also features an important selection of Judaica Americana, including important synagogue foundational documents from the 19th and 20th centuries. A further highlight of the sale is a volume of the earliest ever printing of the Hebrew bible, which includes the first edition of Kimhi's commentary on Psalms. ... More
Exhibition at Tate Modern brings together photographers who have looked back at moments of conflict
Christie's to offer an important private collection of French 18th century furniture and old master paintings
Thirty gouaches inspired by India and hand-painted by Howard Hodgkin on view at Gagosian London




Pierre Antony-Thouret, Plate XXXVIII 1927, from Reims after the war. The mutilated cathedral. The devastated city. Private collection, London.





LONDON.- Conflict, Time, Photography brings together photographers who have looked back at moments of conflict, from the seconds after a bomb is detonated to 100 years after a war has ended. Staged to coincide with the centenary of the First World War, this major group exhibition offers an alternative to familiar notions of war reportage and photojournalism, instead focusing on the passing of time and the unique ways that artists have used the camera to reflect on past events. Conflicts from around the world and across the modern era are depicted, revealing the impact of war days, weeks, months and years after the fact. The works are ordered according to how long after the event they were created: images taken weeks after the end of the American Civil War are hung alongside those taken weeks after the atomic bombs fell on Japan in 1945. Photographs from Nicaragua taken 25 years after the revolution are ... More





The sale is led by an elegant pair of Italian walnut commodes, circa 1784-85, designed and mounted by Luigi Valadier (one pictured above). Estimate: £600,000-1 million. Photo; Christie's Images Ltd 2014.





LONDON.- Christie's will present a superb collection of French paintings and decorative arts in Un Moment de Perfection: An Important Private Collection of French 18th Century Furniture and Old Master Paintings on 3 December 2014. Formed by an erudite and sophisticated collector of both French and Spanish origins, the quality and breadth of this collection demonstrate the distinguished gentleman's deep understanding of art and history, which developed and matured through endless curiosity, extensive travels and friendships formed in the art world. Comprising 83 lots, the wide array of important treasures include a pair of Italian walnut commodes designed and mounted by Luigi Valadier (estimate: £600,000-1 million); a pair of impressive ormolu candelabra attributed to the ciseleur-doreur Pierre Gouthière ... More





Sea Fog 1990 - 1991 (detail). Hand-painted gouache on intaglio impressed Khadi paper, 28 3/4 x 36 3/8 inches.





LONDON.- Gagosian London presents Indian Waves by Howard Hodgkin, some thirty gouaches inspired by India and hand-painted by Hodgkin in England between 1990 and 1991. These strongly evocative impressions of the exotic horizon so beloved by Hodgkin were forgotten for more than twenty years. Brought to light recently, their emotional immediacy and bright vigour is undiminished by time. Hodgkin made the first of many trips to India in 1964 and a steady stream of paintings—from Coming Up From the Beach (1970–72) to The Sea, Goa (2013)—and works on paper—Indian Views (1971) and Indian Leaves (1982)—has ensued from the kaleidoscope of experiences it has offered him over time: personal encounters and visits to specific places; the seasons and times of day; and the more ineffable qualities of mood and emotion provoked by difference. For the first stage of Indian Waves, Hodgkin employed the carborundum printing technique for ... More
Exhibition at Ben Brown Fine Arts unveils fifteen new, large-scale works by British artist Tony Bevan
Exhibition of works by Moscow-based artist Olga Chernysheva opens at Pace London
Christie's to offer firearms from the royal household of the late King Alfonso XIII of Spain




Tony Bevan (b. 1951), Archive (PP1430), 2014. Acrylic and charcoal on paper, 103 x 78 cm. Courtesy of Ben Brown Fine Arts.





LONDON.- This winter Ben Brown Fine Arts presents Trees and Archives, an exhibition unveiling fifteen new, large-scale works by British artist Tony Bevan. Bevan's distinctive graphic style and continued exploration of figurative and abstract representation have made him one of the UK's leading contemporary painters. This exhibition showcases the artist's investigations into his two most recent themes, trees and archives, together with a selection of his new self-portraits, accessing inchoate spaces and the innermost recesses of the mind. Bevan's oeuvre is founded on the unpredictable quality of charcoal and the richness of his own pure acrylic pigments. By forcing charcoal into the pores of unstretched canvases on the floor of his Deptford studio, he creates splinters and shards that are locked in with the acrylic medium. Occasionally marking his canvases with a hand, foot, or item of clothing, ... More





This exhibition features selections of Olga Chernysheva's photography capturing the streets of Moscow alongside drawings, videos and a projection.





LONDON.- Pace London presents an exhibition of works by Moscow-based artist Olga Chernysheva. The exhibition is on view from 26 November 2014 to 17 January 2015 at 6–10 Lexington Street. The first presentation of Chernysheva's work at Pace, this exhibition features selections of her photography capturing the streets of Moscow alongside drawings, videos and a projection. Moving fluidly between media, Chernysheva offers a lens into the world of post-Soviet Russia. She became well known in the 1990s for her exploration of the ironies and idiosyncrasies to emerge in the aftermath of the USSR's dissolution. Fascinated with capitalism and individualism as notions once alien to Russian life, Chernysheva depicts the residuals of collectivism, once central to the Russian experience, in tension with the domineering tendencies of individualism and consumerism that permeate the public ... More





Detail of a very fine 12-bore toplever pigeon hammergun by J. Purdey & Sons bearing the Spanish Royal Arms and presentation escutcheon Estimate: £20,000-25,000. Photo: Christie's Images Ltd 2014.





LONDON.- Christie's announces the December sale of Sporting & Military Firearms, which will be held at South Kensington on 15 December 2014. The sale presents two important collections: the first the Giovanni Gilardi collection, alongside a collection of firearms belonging to the late the King Alfonso XIII of Spain. This collection represents an unrivalled opportunity for collectors to own a piece of Spanish royal history. From flintlock to sidelock, the sale features sporting and military firearms that span two centuries of development and innovation, from the late 18th through to the late 20th century. Estimates range from £200 up to £125,000 and the pre-sale viewing will be open from 9 through to 15 December. The auction features an unparalleled group of firearms from the royal household of the late King Alfonso XIII of Spain. This ... More
Quote
Abstract art? Made by the untalented, sold by the unprincipled to the utterly bewildered. Al Capp
More News
---
Installing a Colossal Statue of a Man
---
---
Flashback
On a day like today, French graphic artist Tomi Ungerer was born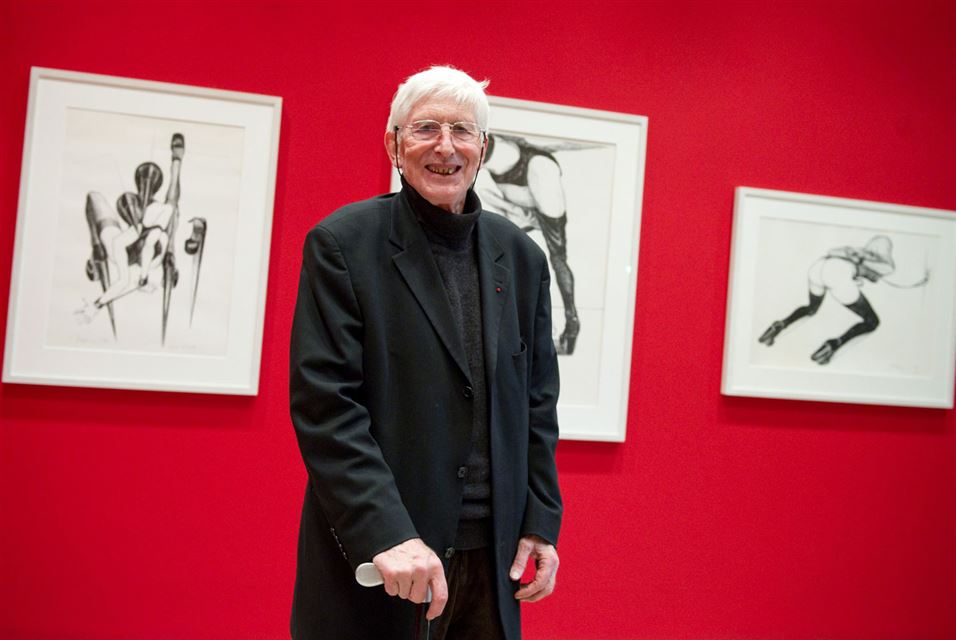 November 28, 1931. Jean-Thomas "Tomi" Ungerer (born November 28, 1931) is a French illustrator best known for his erotic and political illustrations as well as children's books. In this image: Drawer, illustrator and author Tomi Ungerer stands in front of three of his artworks in the exhibition 'Eklips - Neues fuer die Augen 1960 bis 2010' ('Eclipse - New things for the eyes 1960 to 2010') at the Wuerth art gallery in Schwaebisch Hall, Germany, 11 May 2010. The largest Ungerer exhibition ever displays some 600 artworks from five decades.
---
---

Museums, Exhibits, Artists, Milestones, Digital Art, Architecture, Photography,
Photographers, Special Photos, Special Reports, Featured Stories, Auctions, Art Fairs,
Anecdotes, Art Quiz, Education, Mythology, 3D Images, Last Week,
.
Royalville Communications, Inc
produces: