Major presentation of stunning and vibrant works by Emil Nolde opens in Edinburgh
Emil Nolde, Landscape (North Friesland), (Landschaft (Nordfriesland)),1920 (detail). Oil on canvas, 86.5 x 106.5 cm © Nolde Stiftung Seebüll.
EDINBURGH
.-
This summer sees a major presentation of stunning and vibrant works by pioneering German Expressionist artist Emil Nolde (1867-1956) at the
Scottish National Gallery of Modern Art
in Edinburgh. This is the most ambitious exhibition of Nolde's work in the UK in more than two decades and only the second ever exhibition to be held in Scotland, with over 120 paintings, drawings, watercolours and prints generously loaned by Nolde Stiftung Seebüll. This full-scale retrospective charts the career of one of Germany's most accomplished modern artists from 1901 up until 1950, just a few years before his death. Many of the works have rarely been seen outside Germany. Nolde was one of the first Expressionists and is recognised as one of the pivotal figures of the European avant-garde, renowned for his bold use of colour. Emil Nolde: Colour is Life encompasses a rich and diverse range of work from the artist's early atmos ...
More
The Best Photos of the Day
Tourists charged with stealing bricks from Auschwitz memorial
Christie's announces highlights from the Contemporary Edition, First Open, and MoMA Photographs sales
MoMA opens firt major exhibition in the U.S. dedicated to Socialist Yugoslav architecture


Visitors from around the world pass under the infamous Arbeit Macht Frei "Work Sets You Free" sign over the main gate at the former Nazi death camp Auschwitz, in Poland.



WARSAW (AFP).- Two Hungarian tourists have admitted to trying to steal bricks from the ruins of a crematorium at the site of the former Nazi German death camp Auschwitz-Birkenau, according to police. The 30-year-old woman and 36-year-old man were caught on Saturday when another pair of foreign tourists saw them stuffing the bricks into a bag and notified security. "The man and woman were charged with theft of a cultural asset. They both admitted to wrongdoing," said regional police press officer Mateusz Drwal. "They explained that they had wanted to bring back a souvenir and didn't realise the consequences of their actions," he told the Polish news agency PAP. The Hungarian tourists were each fined 1,500 zloty ($400, 350 euros) and handed a suspended sentence of one year in jail. Auschwitz-Birkenau has become a symbol of Nazi Germany's genocide of European Jews, one million of whom were killed ... More



David Hockney, Paper Pools. Overall: 11Ľ x 9˝ x 1⅛ in. (286 x 241 x 29 mm.). Estimate: USD 18,000 - 25,000. © Christie's Images Limited 2018.



NEW YORK, NY.- Christie's announces the summer season of FIRST OPEN, encompassing a standout selection of contemporary art, prints, and photographs with a wide range of styles and price points offered in three online-only sales. The sales opened for bidding starting July 9, with Contemporary Edition closing on July 17, FIRST OPEN | Post-War & Contemporary Art closing on July 18, and MoMA: Tracing Photography's History closing on July 19. All lots are on view to the public at 20 Rockefeller Plaza throughout the duration of the online auction from July 13-17. Contemporary Edition features over 200 striking prints and multiples from the art world's leading post-war and contemporary artists such as Roy Lichtenstein, Ed Ruscha, Wayne Thiebaud, and Jonas Wood. With estimates starting under $1,000, the sale features something for those just beginning their collecting journey and seasoned collectors alike. The July First Open auction in Ne ... More



Ivan Vitić. Apartment Building on Laginjina Street. 1957–62. Zagreb, Croatia. Perspective drawing, 1960. Tempera, pencil, and ink on paper, 27 15/16 × 39 3/8″ (71 × 100 cm). Ivan Vitić Archive, Croatian Academy of Sciences and Arts.



NEW YORK, NY.- The Museum of Modern Art presents Toward a Concrete Utopia: Architecture in Yugoslavia, 1948–1980, the first major US exhibition to study the remarkable body of architectural work from Yugoslavia that sparked international interest during the 45 years of the country's existence. On view from July 15, 2018, through January 13, 2019, the exhibition investigates architecture's capacity to produce a shared civic space and common history in a highly diverse, multiethnic society through more than 400 drawings, models, photographs, and film reels culled from an array of municipal archives, family-held collections, and museums across the region. Tasked with constructing a socialist society based on "self-management," modern architecture was a key instrument in the implementation of a utopian vision in a perpetual state of emergence ... More
Mel Chin's animatronic sculpture Wake and companion mixed reality piece Unmoored unveiled in Times Square
A curated group exhibition of over 25 Chemould artists explores modes, methods and processes across media
The Whitney opens a full-scale retrospective of the work of David Wojnarowicz


Mel Chin, Unmoored.



NEW YORK, NY.- Times Square Arts, No Longer Empty and Queens Museum present artist Mel Chin's large-scale sculpture Wake and companion mixed reality piece Unmoored — developed with Microsoft — to explore a surrealistic experience of rising waters in Times Square. The works are active July 11 to September 5 at the Broadway Plaza between 46th Street and 47th Street as part of Mel Chin: All Over the Place. Visitors are being invited to engage with the sixty-foot animatronic installation Wake, which evokes the hull of a 19th century shipwreck crossed with the skeletal remains of a marine mammal. Viewers can simultaneously explore the blending of physical and digital worlds in Unmoored through a Microsoft HoloLens headset (July 11-13) or their mobile phones. Through the ambitious paired works Wake and Unmoored in Times Square, Chin takes on the 19th century origins of celebrity and marketing, our changing relationship with nature, and the 21st Century ability to project an audience deep int ... More



Jitish Kallat, Untitled (Wind Study), 2018. Burnt adhesive and graphite on Seawhite paper, 21 cm x 15 cm.



MUMBAI.- This July, Chemould Prescott Road presents Modus Operandi, a show that has been devised by Shireen Gandhy and the Chemould team, bringing together a large number of Chemould artists and showcasing their modes, methods and processes of art making. Borrowed from Latin, modus meaning "manner, method" and operandī meaning "of working"; form the crux of this show. With a comprehensive showcase of over 25 artists and their unique artistic language in dialogue with each other through digital prints, pigment paint based studies, photographs, videos, watercolor, textile, scrolls, ink and much more, this show bears an instructive introduction into contemporary art as it exists in India today. With a robust history of nurturing artists since 1963, Chemould has played a crucial role in the narrative of contemporary art in India. As Chemould embraces its 55th year, it has reflected on the most important ... More



avid Wojnarowicz, Something from Sleep III (For Tom Rauffenbart), 1989. Acrylic on canvas, 49 x 39 in. (124.5 x 99.1 cm). Collection of Tom Rauffenbart. Image courtesy of the Estate of David Wojnarowicz and P.P.O.W., New York.



NEW YORK, NY.- This summer, the most complete presentation to date of the work of artist, writer, and activist David Wojnarowicz is on view in a full-scale retrospective organized by the Whitney Museum of American Art. David Wojnarowicz: History Keeps Me Awake at Night is the first major re-evaluation since 1999 of one of the most fervent and essential voices of his generation. Running through September 30, David Wojnarowicz: History Keeps Me Awake at Night features more than a hundred works by the artist and is organized by two Whitney curators, David Breslin, DeMartini Family Curator and Director of the Collection, and David Kiehl, Curator Emeritus. The exhibition, which has been installed in the Museum's fifth floor Neil Bluhm Family Galleries through September 30, draws upon the scholarly resources of the Fales ... More
Den Frie Centre of Contemporary Art explores every aspect of Vinyl, Terror & Horror's artworks and soundworks
Delaware Art Museum hosts civil rights-themed exhibition trio
Richard Saltoun Gallery exhibition explores the global Conceptual art movement over two decades


Installation view of The Magic of Vinyl, Terror & Horror Den Frie. Photo: David Stjernholm.



COPENHAGEN.- There is never a dull moment with the art duo Vinyl, Terror & Horror! Their deconstruction of materials and habitual thinking, their remix of uninhibited quantities of hi-fi equipment, used furniture and vehicles, all delivered with the surplus energy, oblique slapstick humour, and exceptional inventiveness that is the hallmark of their art. Vinyl, Terror & Horror – Camilla Sřrensen and Greta Christensen – are the most insistent, consistent and experimental artists working with sound, sculpture, fiction and reality on the Danish art scene today. For almost fifteen years Vinyl, Terror & Horror have been modifying and smashing up the medium of vinyl in every imaginable way. Record players, LPs and loudspeakers have been sawn into pieces and glued back together beyond recognition. They have broken down every system imaginable to invent it anew in unpredictable constellations. The exhibition The Magic of Vinyl, Terror & Horror explores every aspect of their artworks and soundworks. Old wo ... More



Danny Lyon (born 1942), Segregated drinking fountains in the county courthouse in Albany, Georgia, 1962. Gelatin silver print, 14 x 11 in. © Danny Lyon, New York & Magnum Photos, New York / Courtesy Edwynn Houk Gallery, New York.



WILMINGTON, DE.- Looting and fires following the assassination of Dr. Martin Luther King, Jr., prompted a request for the National Guard to restore peace in Wilmington, Delaware. Although other American cities experienced the same level of uprising after April 4, 1968, the National Guard occupation in Wilmington spanned a staggering nine and a half months. This extensive patrol drastically changed Delaware's largest city from the inside out. Residents went about their days and nights watched, restricted, angry, and fearful. Numerous businesses along Market Street-Wilmington's main thoroughfare-closed and many families moved out of city neighborhoods. Throughout the summer, the Delaware Art Museum continues to reflect on the aftermath of these events with three complementary exhibitions examining the local and national struggle for equality. The exhibitions ... More



John Hilliard, 765 Paper Balls, 1969. Signed and dated on reverse. Vintage black and white photograph mounted on board, 122 x 122 cm. Edition of 3. © the Artist Courtesy of Richard Saltoun Gallery.



LONDON.- Richard Saltoun Gallery presents Aktion: Conceptual Art & Photography (1960 – 1980), an exhibition which explores the global Conceptual art movement over two decades of photography, through the work of 26 artists from 13 countries. The presentation investigates different conceptual uses of photography within practices dealing with Feminism, political activism, performance and social critique. Highlights include… Eleanor Antin's 100 Boots (1971): Antin travelled the US photographing 100 black rubber boots in different scenarios, as a comment on the displaced people in America. To advertise her photos, she distributed them as postcards in a revolutionary global mail-art project. Ger van Elk's The Co-founder of the Word O.K. (1971): Comprising three photographs taken on Hollywood Boulevard of the artist miming the word 'O.K', this work which makes light of tourist attractions, was described ... More
Simon Lee Gallery, Hong Kong opens exhibition of works by Jeff Elrod, Alex Hubbard and Yang Shu
Guggenheim Museum Bilbao opens exhibition of works by Javier Téllez
First UK survey of the work of Swiss architects and designers Trix & Robert Haussmann opens at Nottingham Contemporary


Alex Hubbard, Untitled, 2011. Acrylic, resin and fiberglass on canvas, 238 x 198 cm (93 3/4 x 78 in.).



HONG KONG.- Simon Lee Gallery, Hong Kong, is presenting a group exhibition of works by Jeff Elrod, Alex Hubbard and Yang Shu. Working across the painted medium, all three artists share a commitment to gesture, colour and graphic mark-making, albeit in very different ways. Yet a common approach to antihierarchical materials and techniques unites the three artists, each of whom continues to challenge the traditions of painting in bold and experimental ways, not least in their handling of the performative gesture and the ways in which it can be relayed in two dimensions. Jeff Elrod's large-scale abstract paintings are concerned with the relationship between hand-painted and digitally-created mark-making. Central to Elrod's practice is the development of sophisticated software and print technology, which has enabled him to combine typically 'analogue' and 'digital' techniques, resulting in an ... More



Javier Téllez, Shadow Play, 2014. Film installation, 35 mm film projection, 10' 56''. Courtesy of the artist and Peter Kilchmann galerie, Zurich © Javier Téllez.



BILBAO.- The work of New York-based artist Javier Téllez (b. 1969, Valencia, Venezuela) investigates the history of the moving image—its icons, social norms, and specific relational forms—while it systematically tackles institutional dynamics, disability, and mental illness as states of marginalization and cultural invisibility. Individuals living on the edges of the social and rational canon thus critically take part in the production, writing, and performance of Téllez's film works and installations, as it is the case of the two works presented from July 12 through November 15 at the Guggenheim Museum Bilbao, in the second iteration of of this year's Film & Video exhibitions program. Both Bourbaki Panorama and Shadow Play—from which the exhibition borrows its title—are the result of a collaboration with refugees seeking asylum in Switzerland, and were produced for the Kusthaus ... More



Forefront: Trix & Robert Haussmann, Chair Fun: Choco-Chair, 1967/2012, Stahlrohr verchromt, Courtesy Zürcher Hochschule der Künste, Museum für Gestaltung Zurich; Hintergrund. Background: Inside Out / Petra Blaisse, Jubilee in Gold, 2017, Courtesy Inside Out / Petra Blaisse; installation view KW Institute for Contemporary Art, 2017, photo: Frank Sperling.



NOTTINGHAM.- Nottingham Contemporary presents the first UK survey of the work of Swiss architects and designers Trix & Robert Haussmann. This retrospective explores the duo's playful innovations and speculations, bringing together works from the last 50 years. Trix & Robert Haussmann are among the most significant and intriguing Swiss architects of the twentieth century. Blending popular culture with 16th-century Mannerism, their work concerns illusion and ambiguity, and spans architecture, product design, installation, furniture and textiles. Through their critical commentary and subversive design, they have provided a key contribution to contemporary ... More
Quote
I have one aim- the grotesque. If I am not grotesque I am nothing. Aubrey Beardsley
More News
---
A Fire in My Belly (Full Version)
---
Flashback
On a day like today, English painter Joshua Reynolds was born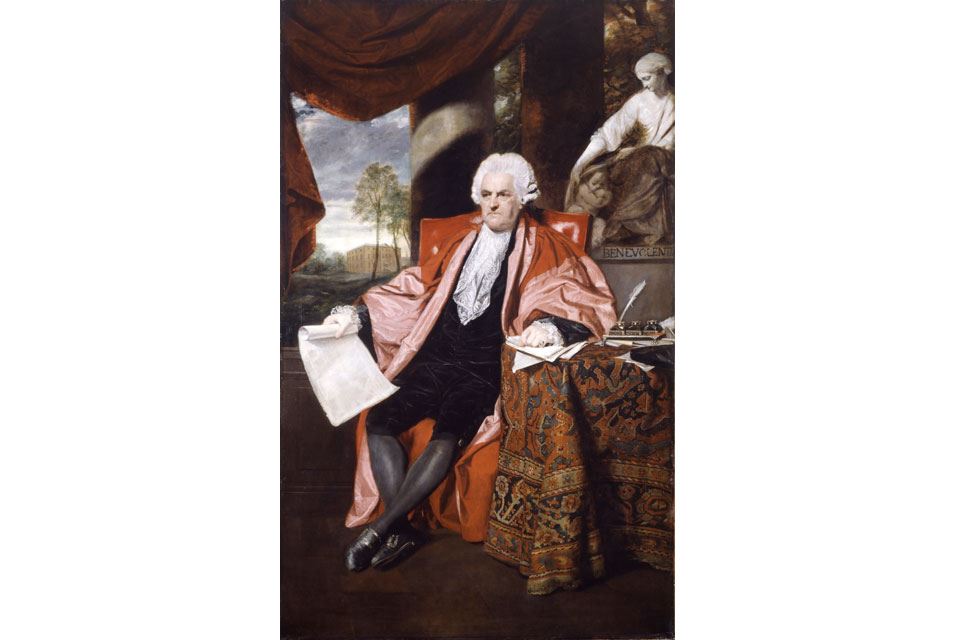 July 16, 1723. Sir Joshua Reynolds RA FRS FRSA (16 July 1723 - 23 February 1792) was an English painter, specialising in portraits. John Russell said he was one of the major European painters of the 18th Century. He promoted the "Grand Style" in painting which depended on idealization of the imperfect. In this image: Portrait of Dr John Ash' by Sir Joshua Reynolds (1788) Birmingham Museum & Art Gallery.
---

Museums, Exhibits, Artists, Milestones, Digital Art, Architecture, Photography,
Photographers, Special Photos, Special Reports, Featured Stories, Auctions, Art Fairs,
Anecdotes, Art Quiz, Education, Mythology, 3D Images, Last Week,
.
Royalville Communications, Inc
produces:







Tell a Friend
Dear User, please complete the form below in order to recommend the Artdaily newsletter to someone you know.
Please complete all fields marked *.
Sending Mail

Sending Successful