Every end is a new beginning: New Musée Fin-de-Siècle opens in Brussels
Vistors at the new 'Musee Fin-de-Siecle', part of the Royal Museums of Fine Arts of Belgium, on December 5, 2013, in Brussels. AFP PHOTO /LAURIE DIEFFEMBACQ.
BRUSSELS
.-
From 6 December 2013, the general public will be able to discover the
Musée Fin-de Siècle
and its outstanding collection of works by Belgian artists such as James Ensor, Fernand Khnopff, Léon Spilliaert, Victor Horta, Henry Van de Velde, and Philippe Wolfers, as well as by foreign artists such as Paul Gauguin, Auguste Rodin, Pierre Bonnard, Emile Gallé, Louis Majorelle, and Alphonse Mucha, among others. Four years after the opening of the Musée Magritte, which marked the first stage in the redeployment of the federal collections, the Royal Museums of Fine Arts of Belgium announced the culmination of the second stage with the birth of the Musée Fin-de-Siècle. The new museum will situate the Belgian heritage at the centre of the international scene. The Musée Fin-de-Siècle presents Brussels as Europe's creative crossroads at the turn of the century. Thanks ...
More

The Best Photos of the Day
The Norton Simon Museum presents an installation of a portrait by Francisco de Goya y Lucientes
Sale of Contemporary Art at Sotheby's Paris achieves €19.8 M; Joan Mitchell painting sells for €3,569,500
Transport intersects with art in Naples' ever-expanding network of "art stations"




Francisco de Goya y Lucientes (Spanish, 1746–1828), Don Pedro, Duque de Osuna, c.1790s. Oil on canvas, 54 1/4 x 43 x 4 in. (137.8 x 109.2 x 10.2 cm). The Frick Collection; photo: Michael Bodycomb.





PASADENA, CA.- The Norton Simon Museum presents a special installation of the splendid portrait of Don Pedro, Duque de Osuna, by Francisco de Goya y Lucientes (1746–1828), on loan from The Frick Collection, New York. Painted sometime in the 1790s, this large-scale painting elegantly portrays one of Goya's most important clients, and its installation at the Simon marks the first time the painting has been on loan to a West Coast institution. On view from Dec. 6, 2013, through March 3, 2014, the portrait joins the three other Goya paintings and one drawing on view in the Museum's permanent collection galleries. And to mark the occasion, the Museum also presents a companion exhibition, Unflinching Vision: Goya's Rare Prints, which features exceptional examples from the Museum's substantive collection of Goya etchings and ... More





Highest Price for Joan Mitchell since 2008 – €3.6m for a work from her Grande Vallée series (1983). Photo: Sotheby's.





PARIS.- Results for Part I of the Contemporary Art Sale rewarded Sotheby's strategy of offering a rigorously selected, high-quality ensemble of 32 lots, combining quality of execution, large formats, key dates in artists' careers, prestigious provenance and market-freshness. International connoisseurs were out in force as the session yielded €19.8 million against a pre-sale estimate of €10.3-14.7m, helping Sotheby's Paris to post a record annual total for contemporary art (from two sales) of €51m in 2013. The work in greatest demand was Joan Mitchell's monumental La Grande Vallée XIII (279.4 x 200cm), which soared past estimate to €3,569,500 – the highest price for a work by Mitchell since 2008 (lot 13). This is one of the finest paintings from her landmark Grande Vallée series of 20 works produced between Autumn 1983 and Autumn 1984. The previous record price for Simon Hantaï – €720,75 ... More





Italian artist Michelangelo Pistoletto who designed mirrors of the Garibaldi metro station, poses in Naples. AFP PHOTO/MARIO LAPORTA.





NAPLES (AFP).- Commuting has never been so arty -- taking the metro in Naples is an increasingly cultural experience with its ever-expanding network of "art stations" created by international designers. For the price of a 1.3 euro ($1.8) metro ticket, tourists and locals have access to 16 stations filled with 200 colourful works of art -- including sculptures, murals, mosaics and floor decorations. Beneath the smog-filled streets and faded beauty of this bustling southern Italian city, officials boast of "an underground contemporary art museum" complementing the city's ultra-modern transport system. "It is one of the most beautiful metro systems in the world," said Naples Mayor Luigi de Magistris. At Toledo station, travellers descend into a tunnel clad in sparkling blue mosaic -- like an underwater sea cavern -- lit from above by a funnel of daylight pouring a rainbow of colours into a vast hall. At ... More
Jean-Honoré Fragonard portrait makes £17 million at Bonhams and sets new world record
Top dollar for American art at Bonhams New York; Rockwell illustrations triple estimates
Rare "Bat" Lamp leads Important Tiffany Sale at Sotheby's New York on 18 December




The painting was the leading work in the sale of paintings and sculpture from the renowned collection of the German philanthropist, the late Dr Gustav Rau which raised more than £19 million. Photo: Bonhams.





LONDON.- A major work by the 18th century French artist Jean-Honoré Fragonard, The Portrait of François-Henri d'Harcourt, sold for £17,106,50 this evening (5 December) setting a world record price for the artist at auction. (The previous record was £5,300,000 for a painting sold in London in 1999). It is also the highest price for an Old Master Painting sold at auction anywhere in the world this year. The painting was the leading work in the sale of paintings and sculpture from the renowned collection of the German philanthropist, the late Dr Gustav Rau which raised more than £19 million. The proceeds will be used to benefit the Foundation of the German Committee for UNICEF – for the children of the world. Bonhams Director of Old Master Paintings, Andrew McKenzie, said, "The Portrait of François-Henri d'Harcourt is one of the paintings on which Fragonard's reputation as an artistic genius rests. It is ... More





Norman Rockwell (American, 1894-1978), Girl Choosing Hat, 1931. Oil on canvas, 38 1/2 x 30in. Sold $$ 1,205,000. Photo: Courtesy of Bonhams.





NEW YORK, NY.- Bonhams American Art sale on December 4 saw excellent prices realized for some of the field's most influential artists. The auction was 81% sold by lot and an exceptional 95% sold by value, bringing the final sale total to over $5.2 million. Hundreds of bidders vied for the celebrated art on offer, and the saleroom buzzed with activity. Interest in the sale was international, with participants from as far as Hong Kong taking part online and via the telephone. Bidding war after bidding war ensued, with attendees taking home the lion's share of the top lots. "We are very pleased with the results of the December 4 auction," said Kayla Carlsen, Bonhams American Art Specialist and Head of Sale. "The prices reflect renewed interest in the field, especially from collectors abroad. We are seeing the market respond to quality pieces with desirable estimates and pristine provenance." Of particular note were two Norman ... More





A rare "Bat" table lamp circa 1905 with an exquisite mosaic glass base embellished with bats. Est. $550/750,000. Photo: Sotheby's.





NEW YORK, NY.- Sotheby's annual sale of Important Tiffany will take place on 18 December 2013 in New York and presents a highly curated selection of the firm's celebrated leaded glass lighting, favrile glass and bronze fancy goods. Among the highlights is a rare "Bat" table lamp circa 1905 with an exquisite mosaic glass base embellished with bats, formerly from the collection of the Louis C. Tiffany Garden Museum, Japan (est. $550/750,000). The present lot depicts nocturnal bats flying against a midnight azure blue sky dotted with stars. Only a few examples are presently known of this exceedingly rare model, each displaying variations in color palette and leading treatment. The exhibition will open to the public on Saturday, 14 December 2013 in New York. Another extraordinary offering in the auction is an important piano designed by Louis Comfort Tiffany for his studio in the Charles Tiffany Residence, ... More
Nye and Company announce sale featuring Property from the Collection of Dustin Hoffman
With just fourteen lots, Bruce Lee artefacts fetch over HK$2 million at Spink China
"Expression: A Philosophical Portrait of Humankind" opens at Ben Brown Fine Arts in Hong Kong




The Hoffman collection, of almost 200 lots with estimates ranging from $200/$300 to $3,000/$5,000.





NEW YORK, NY.- Nye and Company announced that their Holiday sale -- featuring the property from the collection of Academy Award-Winning Actor Dustin Hoffman-- is now live on www.igavelauctions.com, and open for bidding until December 17th. After years of living in a triplex in the San Remo, one of New York City's landmark residences, he is selling, at auction, a lifetime of collecting. The Hoffman collection, of almost 200 lots with estimates ranging from $200/$300 to $3,000/$5,000, reflects the actor's broad interests and eclectic taste. The offerings include such Folk Art item as copper cowboy boot molds, cobbler's shoe molds fitted as bookends and ceramic glove molds. He is also selling a George III leather-upholstered easy chair, and mid-18th century Irish mahogany pier table, a Regency étagère, an oversized gate-leg table and a pair of Chinese pier tables with other examples of Asian furniture. He is selling an ... More





Game of Death nunchaku.





HONG KONG.- After tremendous interest worldwide, Spink China's Bruce Lee Memorabilia Sale today (5 December) has surpassed the estimate of almost every lot, sometimes by hundreds of thousands. The sale total passed HK$2 million with just fourteen lots. This year marks the fortieth anniversary of Bruce Lee's death, and today Spink celebrated his remarkable life with a collection of memorabilia ranging from highly collectable autographs to personal clothing, jewellery and iconic weapons. Leading the highlights was Bruce Lee's 'Game of Death' jumpsuit, which was personally designed, commissioned and worn by Bruce Lee during the filming of 'Game of Death' in 1972. While estimated to fetch between HK$250,000 and HK$300,000, it reached an amazing HK$780,000. Another 'Game of Death' artefact surpassing its estimate by hundreds of thousands was his Nunchaku - one of the most iconic martial arts weapons of all time - which went for HK$540,000. ... More





Lucian Freud, Bella in her Pluto T-shirt, 1995. Etching on paper, 68.5 x 59.8 cm; (27 x 23 1/2 in.). Edition of 36.





HONG KONG.- Expression: A Philosophical Portrait of Humankind presents a unique survey of works grouped under the theme of portraiture. While portraiture is a traditional, time-honoured genre, this exhibition offers a new perspective by bringing together iconic portrait paintings by artists such as Max Beckmann, Lucian Freud and Frank Auerbach with more unconventional works by artists such as Lara Favaretto and John Bock. Many of the conceptual works in this show offer a philosophical portrait of humankind, presented through objects which evoke certain human activities. Ai Weiwei's Fairytale - 1001 Chairs elevates a mundane household object to an unexpected ebullience of form, but the familiar shape and scuffed feet of these chairs constantly draw the viewer back to their originally intended use as functional objects. Vik Muniz's Self-Portrait (Fall) is another iteration of portraiture, in this case a photographic ... More

Fake Holidays: Photographs by Reiner Riedler on view at Miami International Airport
Body Talk: Bonniers Konsthall explores the relationship between art and choreography
Art Miami showcases major works through curated projects and special exhibitions




Fake Holidays, Las Vegas.





MIAMI, FL.- Sous Les Etoiles Gallery is presenting, in partnership with Miami International Airport's Division of Fine Arts & Cultural Affairs, the series Fake Holidays by photographer Reiner Riedler. Thirty-six large-scale, boldly colored C-prints depicting imaginary getaways are on view beginning December 2013 in the airport's highly-trafficked Concourse F. Based on a series the artist began in 2004, Fake Holidays examines contemporary society's preoccupation with leisure travel and exotic locations (the more foreign and fantastic the better). The pervasive trend has led to the creation of kitschy and pseudo-destinations, surreal replicas of real-life locals that Reidler captures with both its playful and sometimes garish spirit intact. A documentary photographer whose work primarily examines human beings and their environment, Reiner Riedler has exhibited internationally at leading institutions ... More





Noa Eshkol Chamber Dance Group, Performance at Secession, 2012 Exhibition: Sharon Lockhart | Noa Eshkol, Thyssen-Bornemisza Art Contemporary – Augarten, 2012.





STOCKHOLM.- Since the start in 2006, Bonniers Konsthall has been exploring the relations between contemporary art and other areas of culture, including literature, theatre, film and music, in thematic group exhibitions. Now it is time for art and choreography. Body Talk opened as a part of Dans<3Stockholm, a brand new international contemporary dance festival. Sharon Lockhart, Noa Eshkol and An Kaler share an interest in the particularities of the human body. If there is one common denominator that should be pointed out, it would be their shared sensitivity for how a single body relates to space and given situations. The body is never addressed as something idealized or essential, but rather something that is situated and specific. From that insight the three artists develop their own individual and ... More





Raphaëlle de Groot, La réserve, 2012. Photo: z2o Galleria l Sara Zanin.





MIAMI, FL.- Art Miami, Miami's longest running contemporary art fair and anchor fair to the City of Miami along with sister fair CONTEXT, presents dynamic Special Projects and Exhibitions specially curated by LaRete Art Projects. Collectors have the opportunity to experience these installations from the outside entrances, public walkways, interior and exterior lounge areas of the fairs during the VIP Private Preview on December 3rd through the end of the fair on December 8, 2013. Art Miami and CONTEXT have grown to include more than 195 galleries from 20 countries and showcase more than 1,875 artists from 60 countries around the world. Art Miami annually features a compelling array of artwork from international galleries, including modern masters and the latest in contemporary paintings, drawings, sculpture, photography and prints from Europe, Asia, Latin America, India, the Middle ... More
Quote
Landscape painting is the obvious reasource of misanthropy. Hazlitt
More News
---
| | | |
| --- | --- | --- |
| | | The mummification process |
---
---
Flashback
On a day like today, German-born American photojournalist Alfred Eisenstaedt, was born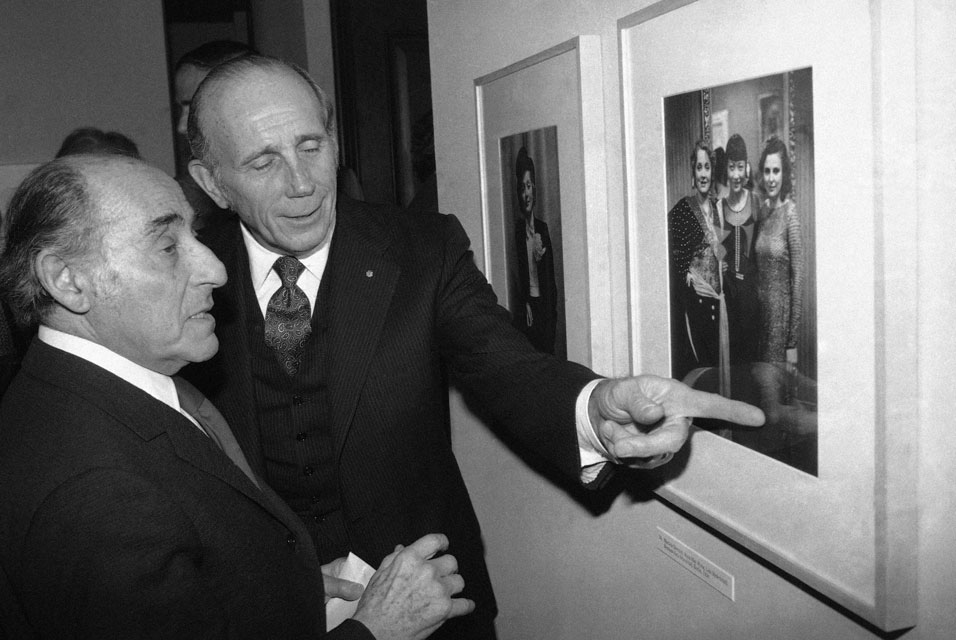 December 6, 1898.- Alfred Eisenstaedt (December 6, 1898– August 24, 1995) was a German-born American photographer and photojournalist. He is best known for his photograph of the V-J Day celebration and for his candid photographs, frequently made using a 35mm Leica camera. In this image: Harold Gray, chairman of the board of United Technologies Corp., points to a print as he discusses the photo with photographer Alfred Eisenstaedt at Manhattan's International Center for Photography in New York on Jan. 22, 1981.
---

Museums, Exhibits, Artists, Milestones, Digital Art, Architecture, Photography,
Photographers, Special Photos, Special Reports, Featured Stories, Auctions, Art Fairs,
Anecdotes, Art Quiz, Education, Mythology, 3D Images, Last Week,
.
Royalville Communications, Inc
produces: