German thief fined for taking discarded Richter art works
The defendant covers his face at the Cologne district court in Cologne on April 24, 2019. A German court fined a thief on Wednesday for taking works discarded in a bin by famed artist Gerhard Richter -- yet estimated to be worth 60,000 euros ($67,000). Oliver Berg / dpa / AFP.
BERLIN
(AFP)
.-
A German court fined a thief on Wednesday for taking works discarded in a bin by famed artist Gerhard Richter -- yet estimated to be worth 60,000 euros ($67,000). Cologne district court slapped the defendant with a 3,150-euro fine for trying to sell the pieces, which Richter had thrown into a wastepaper container in front of his villa in July 2016 because he thought they were not good enough. The judge ruled that even though the pieces were unsigned by the artist, and therefore not able to be sold on the official art market, they were not worthless. The exact value of the four postcard-sized pieces -- photos painted with oil -- could not be determined, but the court estimated them to be worth around 60,000 euros. Having taken the pieces from the bin at Richter's home in Cologne, the thief contacted a Munich auction house, which initially accepted them but demanded a certificate of authenticity. The 49-year-old defendant had presented three of the pictures to the head of the Gerhard Ric ...
More
The Best Photos of the Day
Workers smoked at Notre-Dame cathedral, admits contractor
Urban Culture Auctions' sale of Karl Lagerfeld original fashion drawings attracts intense worldwide bidding
Sarah Morris's first solo show in the UK in six years opens at White Cube Bermondsey


Workers install protective tarps on the roof of Notre-Dame de Paris cathedral in Paris on April 23, 2019, one week after a fire devastated the cathedral. Christophe ARCHAMBAULT / AFP.



PARIS (AFP).- Workers renovating Notre-Dame flouted a ban on smoking at the monument, a contractor admitted on Wednesday, while denying any link with last week's devastating blaze that ripped through the cathedral. "There were colleagues who from time to time broke the rules and we regret it," a spokesman for scaffolding company Le Bras Freres told AFP, before adding: "in no way could a cigarette butt be the cause of the fire at Notre-Dame". Spokesman Marc Eskenazi said some workers "had admitted in front of the police that they did smoke from time to time," confirming a report in the satirical newspaper Le Canard Enchaine. The company Parishad a strict ban on smoking up the scaffolding, which was erected around the steeple as it underwent major renovation to restore its lead covering and joints. Notre-Dame's now mostly-destroyed roof was made of wood, and included ... More



Karl Lagerfeld (German, 1933-2019), original drawing on card stock of peasant-style dress with wonderful hand coloring by the designer. Sold for $2,990.



WEST PALM BEACH, FLA.- On April 18, runway action halted temporarily as fashionistas worldwide grabbed their mobile devices to bid in Urban Culture Auctions' sale of original sketches by the late Chanel mastermind Karl Lagerfeld (1933-2019). After weeks of relentless media coverage, the auction of fashion drawings from Lagerfeld's days as a budding couturier had finally arrived. By the time the hammer came down on the last lot 4½ hours later, the auction had realized $247,520 and was 100% sold. "The auction far exceeded our expectations. We had many new-bidder sign-ups, and from everywhere you can imagine – Russia, Australia, Japan, probably a dozen European countries, and all over the United States," said auctioneer and Urban Culture Auctions co-owner Rico Baca. "Here at the gallery we served our Palm Beach-area guests refreshments of champagne, fresh strawberries and Godiva chocolates ... More



Sarah Morris, Machines do not make us into machines [Sound Graph], 2018 (detail) Household gloss on canvas, 84 1/4 x 84 1/4 in. (214 x 214 cm) © Sarah Morris. Photo © Tom Powel Imaging. Courtesy White Cube.



LONDON.- White Cube Bermondsey presents Sarah Morris's first solo show in the UK in six years. Featuring paintings, films, a site-specific wall painting as well as the artist's first sculptural work, the exhibition reflects Morris's interest in networks, typologies, architecture, language and the city. Employing an architecture of colourful and abstract forms, Morris's paintings play on the viewer's sense of visual recognition. She incorporates a wide range of references, from the graphic identity of multinational corporations and the structure of urban transport systems to the iconography of maps, GPS technology, as well as the movement of people within urban areas. Morris sees her paintings as being part of a larger self-generating system, always remaining open and allowing for interpretation, motion and change. Within her practice, each ... More
Christie's announces Latin American Art Auctions
Christie's to offer masterpieces from a Rothschild Collection
Cleveland Museum of Art announces new acquisitions


Remedios Varo, Simpatía (La rabia del gato) oil on Masonite 37¾ x 33½ in. (95.9 x 85.1 cm.) Painted in 1955. $2,000,000-3,000,000. © Christie's Images Ltd 2019.



NEW YORK, NY.- Christie's announces the spring season of Latin American Art, the only dedicated sale in the category at a major auction house, with a live evening auction on May 22, a live day auction on May 23 and an online auction running May 18-29. Combined, the sales include over 250 lots, offering a comprehensive selection from 17th and 18th-century colonial painting through modern and contemporary masterpieces, and together the sales expect to realize in excess of $17 million. Featured are works from private collections including Divine Splendor Spanish Colonial Art from The Collection of James Li, The Collection of Drue Heinz and The Collection of H.S.H. Princess "Titi" Von Fürstenberg. Works from the live and online auctions will be on view May 18-22 at Christie's Rockefeller Plaza. Leading the sale this season is the stunning painting Simpatía (La rabia del gato) (estimate: $2-3 million) by famed Surrealist Remedios V ... More



One of a pair of royal Flemish cabinets, was commissioned in Antwerp circa 1713 for Philip V King of Spain. Estimate: £1.5 – 2.5 million (1 of 2). © Christie's Images Ltd 2019.



LONDON.- Telling the remarkable story of objects collected across centuries and treasured for generations, Christie's will offer a landmark collection sale Masterpieces from a Rothschild Collection in London on 4 of July. Comprising approximately 57 lots each with exceptional provenance, this sale includes important European Furniture, Works of Art and Old Master Paintings, collected by members of the prominent Rothschild banking family, particularly by Baron Gustave de Rothschild (1829-1911), and housed in some of the family's magnificent residences. The sale captures the spirit of le goût Rothschild – the celebrated aesthetic that has influenced many European and American interiors since the 19th century – which follows the tradition of collecting at European Royal courts during the Renaissance, Baroque and Enlightenment periods. With estimates ranging from £10,000 to £2.5 million, select highlights ... More



Salome with the Head of John the Baptist, c. 1650. Nicolaes Knüpfer (Dutch, c. 1603–1655/60). Pen and brown ink, brown wash, and white heightening over black chalk or charcoal on antique laid paper; sheet: 33.4 x 27.9 cm. The Cleveland Museum of Art, John L. Severance Fund, 2019.8.



CLEVELAND, OH.- Significant recent acquisitions by the Cleveland Museum of Art include 17 drawings from the Golden Age of Dutch art; a fine painting by Louis Hayet, a key proponent of neo-impressionism; a contemporary sculpture by American artist Jenny Holzer from her iconic series Laments; and 13 photographs by modern American masters from generous donors Diann G. and Thomas A. Mann. The purchase of 17 important drawings greatly enhances the CMA's collection of Netherlandish works on paper and allows the museum more fully to represent the variety of subject matter and styles during this prosperous period in Dutch history. The group of drawings includes natural history scenes, portraiture, genre subjects, figure studies and historical and biblical subjects made in both urban and courtly contexts. ... More
Britain's Peter Brook wins top Spanish award
David Zwirner opens an exhibition of new work by American artist Josh Smith
Pace Gallery opens an exhibition of monumental sculptures by Tony Smith


In this file photo taken on February 27, 2018 British theatre and film director, playwright and actor, Peter Brook, poses during a photo session at the Bouffes du Nord theatre in Paris. Lionel BONAVENTURE / AFP.



MADRID (AFP).- Britain's prolific theatre director Peter Brook on Wednesday won Spain's top arts prize, the Princess of Asturias award, as "one of the great renovators of the performing arts". "Peter Brook opened new horizons to contemporary dramaturgy, contributing decisively to the exchange of knowledge between cultures as different as those of Europe, Africa and Asia," the jury said in a statement. Considered "the best theatre director of the 20th century," the 94-year-old recipient of Tony and Emmy awards "continues to intensely move audiences through stagings that display great purity and simplicity," it added. Best-known for his 1985 masterpiece "The Mahabharata", a nine-hour version of the Indian religious epic, Brook had moved to Paris in the 1970s, where he created the experimental Bouffes du Nord theatre. Born in London on March 21, 1925, he ... More



Josh Smith, Turtle, 2019 © Josh Smith. Courtesy the artist and David Zwirner.



NEW YORK, NY.- David Zwirner presents Emo Jungle, an exhibition of new work by American artist Josh Smith. On view in the gallery's West 19th Street spaces in New York, the show marks the artist's inaugural solo presentation with David Zwirner. Since the early 2000s, Smith has developed a prolific and expansive body of painting that employs specific visual motifs as a means of exploring the potentiality of the painted surface. These visual forms, which include his name, fish, skeletons, leaves, and palm trees, among others, serve as unassuming structures through which Smith pursues his investigation of the medium, resulting in works that forthrightly present themselves to the viewer. Though fully realized as individual artworks, each painting serves as a stage in an ongoing, interrelated, and heterogeneous process of image production and experimentation, in which motifs, colors, and visuals are recycled, refined, and reimagined. Emo ... More



Tony Smith, Tau, 1961.-62 steel, painted black, 14' × 21' 6" × 12' 4" (426.7 cm × 655.3 cm × 375.9 cm) Edition 2 of 3 Edition of 3 + 1 AP. Meadowland Park South Orange, New Jersey Installed November 2008. No. 68354.02 © 2019 Estate of Tony Smith / Artists Rights Society (ARS), New York.



NEW YORK, NY.- Pace Gallery is pleased to present an exhibition of monumental sculptures by Tony Smith. Encompassing three works—Tau (1961-62), Source (1967), and Throwback (1976-77)—the exhibition touches on key moments in the artist's evolving sculptural practice. Shaped by his training and prior career as an architect, Smith's work is animated by a dynamic concept of space and a commitment to sculpture as an object to be catalyzed by the direct engagement of the human body. Possessing no traditional front or back and occupying non-linear planes of space, Smith's sculptures reward an ambulatory viewing experience, offering a range of perspectives and understandings as one circulates the work. Pace represented Smith during his final years and ... More
Royal Air Force Museum's numbers grow to almost a million
Keith Haring's 1983 Untitled masterwork offered at Bonhams New York
Perrotin New York opens an exhibition of works by John Henderson


In total, 989,593 people visited the RAF Museum from 1 April 2018 – 31 March 2019.



LONDON.- The Royal Air Force Museum announced that its visitor figures enjoyed substantial growth on the back of a major redevelopment of its London site and a re-invigorated public events programme for the RAF Centenary at both its London and Cosford sites. In total, 989,593 people visited the RAF Museum from 1 April 2018 – 31 March 2019. This represents a spectacular growth of 39% on the previous year's figures. The Museum's London site recorded 544,628 visitors, up an unparalleled 59% on the previous year, while its site at Cosford in the West Midlands welcomed 444,965 visitors, a leap of 20%. Commenting on this growth in visitor numbers, Maggie Appleton, CEO for the Museum stated: "This growth is a fabulous response to the huge investment that the Museum made in the redevelopment of our London site in 2018 and a reflection on the public's support for the RAF during the UK's commemorations ... More



Keith Haring (American, 1958-1990), Untitled, 1983 (detail), acrylic on vinyl tarpaulin. Estimate on Request. Photo: Bonhams.



NEW YORK, NY.- On May 15, Bonhams Post-War & Contemporary Art sale will be led by Keith Haring's Untitled (1983), one of the artist's massive unabashed masterworks (estimate on request). Coming to auction for the first time, having its inaugural viewing alongside the 1984 Venice Biennale, this is the work's first public exhibition in over a decade. The painting will be on public view at Bonhams New York from May 4 to the 15. Muys Snijders, Head of Americas for Post-War & Contemporary Art, commented: "It is an honor to be presenting this extraordinary tarpaulin by Keith Haring to come to auction for the very first time. Untitled, 1983 is a truly exceptional work by the artist — exuberant, yet serious, striking and radiant. This multifaceted tarpaulin stands as a definitive example of the artist's work and shows his commitment to playfulness whilst challenging its viewers." By ... More



John Henderson, Untitled Painting, 2019. Oil on canvas, 155 x 94 cm | 61 x 37 in. Courtesy of the artist & Perrotin.



NEW YORK, NY.- Every artist has an individual relationship to knowledge. It should additionally be said that each artist develops their own specific relationship to the known and another specific relationship to the unknown. Diverse modes of reasoning, decision-making processes, and methods of recognizing precedents organize personalized relationships to the known and unknown. Inquiries take on new shapes and textures, and through time develop appearance and form. The general narrative of painting goes something like this: the painter builds material knowledge upward from support to ground, to figure. The wet paint is manipulated until it can be manipulated no further: the composition dries, thereby is fixed and assigned as finished. This is the progression of the deductive, a logical mode and truth-generating system that seeks to refine knowledge to the point ... More
Quote
I refuse to have the surface impersonally painted. Robert Motherwell
More News
---
Fairytales of Motion by Alan Warburton - Tate Exchange
---
Flashback
On a day like today, Dutch painter and sculptor Karel Appel was born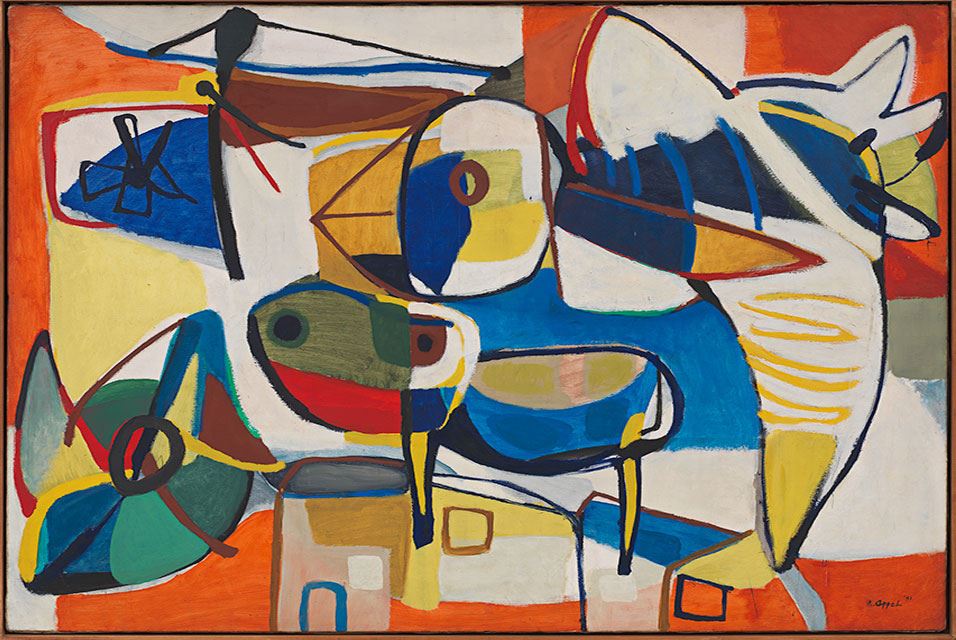 April 25, 1921. Christiaan Karel Appel (25 April 1921 - 3 May 2006) was a Dutch painter, sculptor, and poet. He started painting at the age of fourteen and studied at the Rijksakademie in Amsterdam in the 1940s. He was one of the founders of the avant-garde movement Cobra in 1948. He was also an avid sculptor and has had works featured in the museum of Great Samo and MoMA. In this image: Karel Appel, Big Bird Flying Over the City, 1951. Oil on canvas, 49 3/16 x 65 3/4 inches (125 x 167 centimeters)© Karel Appel Foundation, c/o ARS New York, 2014. Courtesy of the Karel Appel Foundation and Blum & Poe, Los Angeles.
---

Museums, Exhibits, Artists, Milestones, Digital Art, Architecture, Photography,
Photographers, Special Photos, Special Reports, Featured Stories, Auctions, Art Fairs,
Anecdotes, Art Quiz, Education, Mythology, 3D Images, Last Week,
.
Royalville Communications, Inc
produces:







Tell a Friend
Dear User, please complete the form below in order to recommend the Artdaily newsletter to someone you know.
Please complete all fields marked *.
Sending Mail

Sending Successful