'Indiana Jones of art' finds stolen Spanish carvings in English garden
Dutch art detective Arthur Brand poses for a photograph with two limestone Visigoth reliefs from the 7th century in north London on January 20, 2019, the reliefs, depicting evangelists, where both stolen from the Maria del Lara Church in Spain. Two priceless stone reliefs stolen from a mysterious ancient Spanish church in 2004 were handed back after they were traced to an English garden where they were displayed as ornaments. Dubbed the "Indiana Jones of the art world" because of his exploits, Dutch art detective Arthur Brand said he handed the carvings back to the Spanish embassy at a private ceremony in London. NIKLAS HALLE'N / AFP.

by Jan Hennop
THE HAGUE
(AFP)
.-
A Dutch art detective has returned two priceless stone reliefs stolen from an ancient Spanish church after tracing them to an English nobleman's garden where they were displayed as ornaments. Arthur Brand, dubbed the "Indiana Jones of the art world", said he handed over the centuries-old carvings to the Spanish embassy in London at a private ceremony on Monday. It was the culmination of a long search for the artworks, which were snatched in 2004 from the Santa Maria de Lara church in northern Spain, believed to be at least 1,000 years old. They turned up in the garden of an aristocratic British family who had unwittingly bought them, and it was there that Brand found them covered in mud and leaves. "These artworks are priceless. To find them in a garden after searching for eight years is just incredible," the art sleuth told AFP. ...
More
The Best Photos of the Day
Bodleian acquires rare medieval book chest, now featuring in a new display
Bruce Silverstein welcomes Daido Moriyama
Judith Hansen O'Toole appointed Interim Executive Director of The Frick Pittsburgh


The coffer is a small wooden chest complete with a vividly coloured woodcut print depicting 'God the Father in Majesty'. Photo: Bodleian Libraries.



OXFORD.- A rare 15th-century French Gothic coffer, believed to have been used for housing and transporting religious texts, has been acquired by the University of Oxford's Bodleian Libraries. Thousands of manuscripts and printed books survive from medieval Europe but just over 100 book coffers are known to be in existence. This book-box forms the centrepiece of a new display at the Bodleian's Weston Library, titled Thinking Inside the Box: Carrying Books Across Cultures, which opened on 19 January and continues until 17 February 2019. The coffer is a small wooden chest complete with a vividly coloured woodcut print depicting 'God the Father in Majesty'. It was acquired from a dealer with support from Art Fund, the Bodleian's Kenneth Rose Fund and the Friends of the Bodleian. The Bodleian Libraries hold one of the largest collections of medieval manuscripts and early printed texts in the world, but boxes and othe ... More



Daido Moriyama, Memory of a Dog 2, 1981 (detail). Gelatin silver print.



NEW YORK, NY.- Bruce Silverstein Gallery announced the representation of world-renowned contemporary artist Daido Moriyama. One of the few living modern masters of photography from Japan, Moriyama's work has been exhibited internationally for the last half-century, leaving a lasting impression on countless generations of artists and the medium as a whole. His decades of visual and literary work is noteworthy for its depiction of the disintegration of traditional values in post-war Japan; drawing upon his early experience working as assistant to Takeji Iwamiya and Eikoh Hosoe as well as the voices of his notable contemporaries, namely William Klein and Andy Warhol. In 1974, his work was included in the landmark exhibition New Japanese Photography at the Museum of Modern Art, New York, and traveled on to several destinations across the U.S., beginning to cement the enduring legacy of Moriyama in the American visual lexicon. His ... More



Ms. O'Toole is Director Emerita of The Westmoreland Museum of American Art in Greensburg, having served as Director/CEO for 25 years.



PITTSBURGH, PA.- The Board of Trustees of The Frick Pittsburgh announces the appointment of Judith Hansen O'Toole as Interim Executive Director while it undertakes a national search for the next Executive Director of the museum. In December 2018, the board announced that current Executive Director Robin Nicholson would be leaving in February 2019 to become Executive Director/CEO of Telfair Museums in Savannah, Ga. The Frick board expects to hire a permanent Executive Director by the end of this year. Ms. O'Toole is Director Emerita of The Westmoreland Museum of American Art in Greensburg, having served as Director/CEO for 25 years. Following her retirement from The Westmoreland in summer 2018, she served as Acting Director of The Mattress Factory, a contemporary art museum on Pittsburgh's North Side, for four months in the fall and winter of 2018–2019. Ms. O'Toole will officially assume her position ... More
Getty Conservation Institute completes work at the Tomb of Tutankhamen
Josh Sperling opens first solo exhibition in Perrotin's New York space
Exhibition presents the top art produced in the Netherlands over the past fifty years


Environmental monitoring in the burial chamber of the Tomb of Tutankhamen © J. Paul Getty Trust.



LOS ANGELES, CA.- The Getty Conservation Institute announced today the completion of almost a decade of research, conservation efforts, and infrastructure improvements at the Tomb of Tutankhamen in Egypt, one of the best known cultural heritage sites in the world. The project—a multi-year collaboration between the GCI and Egypt's Ministry of Antiquities—focused on conservation and the creation of a sustainable plan for continued management of the tomb. "This project has greatly expanded our under­standing of one of antiquity's most storied places," says Tim Whalen, John E. and Louise Bryson Director of the Getty Conservation Institute. "It's also representative of the collaborative partnership that the GCI undertakes with colleagues to create a model of practice that can be shared with professionals, and at other sites, around the world. We are grateful to our ... More



Red Eye (detail), 2018. Acrylic on canvas, 195.6 × 264.2 cm | 77 × 104 in. Courtesy of the artist and Perrotin.



NEW YORK, NY.- Perrotin presents Josh Sperling's third exhibition with the gallery, following two 2018 exhibitions in Paris and Seoul. This is the artist's first solo exhibition in the gallery's New York space, a kind of homecoming for Sperling, who lives and works in Ithaca, New York. For Big Time, Sperling has adapted his signature vocabulary of forms to the expansive architecture of Perrotin New York's third floor gallery. Swirling forms entwine, shapes—regular and organic—eclipse each other in what he calls "composites" or clusters of shaped canvases, as "squiggles" writhe and overtake entire walls. Sperling's work has a graphic immediacy, without the flatness that adjective may imply. The paintings, instead, are dimensional. Each begins with a meticulously crafted armature—feats of carpentry—over which canvas is stretched. The effect is not that of obscuring this engineering, bu ... More



Ferdi (1927-1969), Clementine's Dream, 1968. Foam rubber, 'Borg fabrics' fake fur, 70 x 90 x 170 cm. Giotta and Ryu Tajiri Collection © Photo: Egon Notermans.



ZWOLLE .- An exhibition entitled Freedom – The Fifty Key Dutch Artworks Since 1968 opened at Museum de Fundatie in Zwolle on 19 January 2019. This ambitious and somewhat unconventional project features the fifty 'key artworks', the leading works produced in the Netherlands over the past fifty years. Freedom is deliberately subjective, intended both as an invitation to debate and as a declaration of love for Dutch art. As such, Freedom is unmissable for anyone who wants to see all the top art produced in the Netherlands over the past fifty years brought together in one show. Freedom is being curated by art critic and author Hans den Hartog Jager (b. 1968). He has created a number of other exhibitions for Museum de Fundatie: More Light (2010) about the sublime in contemporary art, More Power (2014) about the possibility or impossibility of artists influencing processes in society ... More
National Portrait Gallery launches public appeal to raise funds for major transformation
'Roma,' 'The Favourite' lead Oscars nominations with 10 each
TEFAF Maastricht announces Loan Exhibition 2019


Proposed North Façade entrance and forecourt. Jamie Fobert Architects / image by Forbes Massie Studio.



LONDON.- The National Portrait Gallery has revealed the first images of proposed designs by Jamie Fobert Architects, working in partnership with Purcell, for the Gallery's biggest ever development since the building in St Martin's Place, London opened in 1896. The designs were unveiled as the Gallery launched Make History, a public appeal to raise funds for the £35.5 million project. Inspiring People will see a significant refurbishment of the building, restoring historic features and creating a new and more welcoming visitor entrance and public forecourt on the building's North Façade, enhancing the Gallery's visibility and accessibility. The re-development plans also include a complete re-display and re-interpretation of the Gallery's Collection across 40 refurbished galleries, presenting a greater and more diverse selection of portraits; the return of the Gallery's East Wing to public use as the new Weston Wing ... More



In this file photo taken on December 10, 2018 Mexican director Alfonso Cuarón arrives for the Los Angeles premiere of "Roma" at the Egyptian theatre in Hollywood. Robyn Beck / AFP.



LOS ANGELES (AFP).- Alfonso Cuaron's "Roma," an ode to his childhood in 1970s Mexico City, and offbeat royal romp "The Favourite" on Tuesday topped the Oscar nominations with 10 each, as streaming giant Netflix earned its first-ever best picture nod. Popular musical romance "A Star Is Born" and Dick Cheney biopic "Vice" scooped eight nominations each, while superhero blockbuster "Black Panther" finished with seven. The stage is thus set for the 91st Academy Awards in Hollywood on February 24 -- with a crowded field of nominees, and perhaps some surprises in store. For longtime Oscar watcher Sasha Stone, who runs Awards Daily, "all bets are mostly off. Truly anything could win at this rate." The sweeping success of "Roma" is history-making for Netflix -- not only did it earn its first crack at the gala's top prize, but ... More



Rembrandt van Rijn (1606 – 1669), 'The Abduction of Ganymede', 1635. Image courtesy of the Dresden State Art Collections.



HELVOIRT.- TEFAF will host 23 highlights from both the Paraderäume (State Apartments) of Dresden's Residenzschloss (Royal Palace) and the Semperbau (Semper Building), home to the Gemäldegalerie (Old Masters Picture Gallery) and Skulpturensammlung (Sculpture Collection) all of which form part of the Staatliche Kunstsammlungen Dresden (Dresden State Art Collections), in the loan exhibition hosted within TEFAF Paper at TEFAF Maastricht 2019. The exhibition will be a prelude to both the opening of the Paraderäume in September 2019 and the reopening of the Semperbau in December 2019 and will provide visitors with an extraordinary opportunity to see works such as 'The Abduction of Ganymede', 1635, by Rembrandt van Rijn (1606 – 1669) before they go on permanent display in Dresden. TEFAF Maastricht, the world's leading fine ... More
Exhibition celebrates three generations of internationally acclaimed Danish artists
Takako Nagasawa appointed Senior Vice President and International Specialist for 20th Century & Contemporary Art
Yinka Shonibare presents 'Creatures of the Mappa Mundi' at Hereford Cathedral


Asger Jorn, Enfant gloutonneux, 1971. Acrylic on paper mounted on canvas, 72.5 x 51 cm. 28 1/2 x 20 1/8 in © Donation Jorn, Silkeborg/ billedkunst.dk/ DACS 2019. Courtesy Private Lender and Galleri Bo Bjerggaard.



LONDON.- Victoria Miro presents an exhibition celebrating three generations of internationally acclaimed Danish artists: Asger Jorn (1914–1973), Per Kirkeby (1938–2018), and Tal R (born 1967). Asger Jorn, Per Kirkeby and Tal R are great artist-experimenters. Danish by birth or residence, each has looked simultaneously to Denmark and outwards to international movements and tendencies. United by an insistent materiality and characterised by an energised openness, the paintings and works on paper on view reveal a shared interest in the physical properties and expressive potential of their medium along with a deep understanding of its history and traditions. As emphatic as their command of colour and gesture are the methodologies and frameworks devised by each in order to bring into alignment their wide-ranging interests ­– including but by no means limited to Nordic mythology (Jorn), geology ... More



Ms. Nagasawa joins Phillips from Sotheby's, where most recently she was Head of Private Sales, Americas, and a Specialist, with added responsibilities for business development in Japan. Image courtesy of Phillips.



NEW YORK, NY.- Phillips announced the appointment of Takako Nagasawa as a Senior Vice President and International Specialist. The appointment reflects the growth of Phillips' Modern Art offerings and its importance to the company's global growth strategy. A well-regarded industry veteran, Ms. Nagasawa will strengthen the company's team of international specialists and broaden the range of expertise it offers collectors. While based in New York, she will spend a great deal of time increasing the auction house's presence in Asia by developing relationships with clients and collectors in this important region. Ms. Nagasawa joins Phillips from Sotheby's, where most recently she was Head of Private Sales, Americas, and a Specialist, with added responsibilities for business development in Japan. During her career, she has also served as a Director for Sotheby's Japan ... More



Yinka Shonibare CBE, 'Creatures of the Mappa Mundi – Gigantes', 2018, Patchwork, appliqué, embroidery and Dutch wax printed cotton textile, 141 x 121cm (55 1/2 x 47 5/8in). © Yinka Shonibare CBE. Courtesy the artist and Stephen Friedman Gallery, London. Commission by Meadow Arts, 2019. Photo: Mark Blower.



HEREFORD.- Celebrated artist Yinka Shonibare MBE (RA) is creating a new textile project to be exhibited in Hereford: Creatures of the Mappa Mundi has been commissioned by Meadow Arts with Hereford Cathedral and is being made with the input of diverse groups of people from Herefordshire. The work is inspired by one of the Cathedral's treasures, the Hereford Mappa Mundi, which is the largest medieval world map to survive to the present day. Drawn in ink on a large hide and then coloured with pigments, the map depicts the world as it was known around the year 1300. It is illustrated with strange people and animals that were inspired by myths or the exaggerated descriptions of travellers, returned from far off lands. Shonibare has reimagined these alien creatures for his new commission, ... More
Quote
Modern art can only be born where signs become symbols. Wassily Kandinsky
More News
---
Marie Antoinette's Personal Portraitist and the Unlikely Painting of an Indian Ambassador
---
Flashback
On a day like today, French painter Édouard Manet was born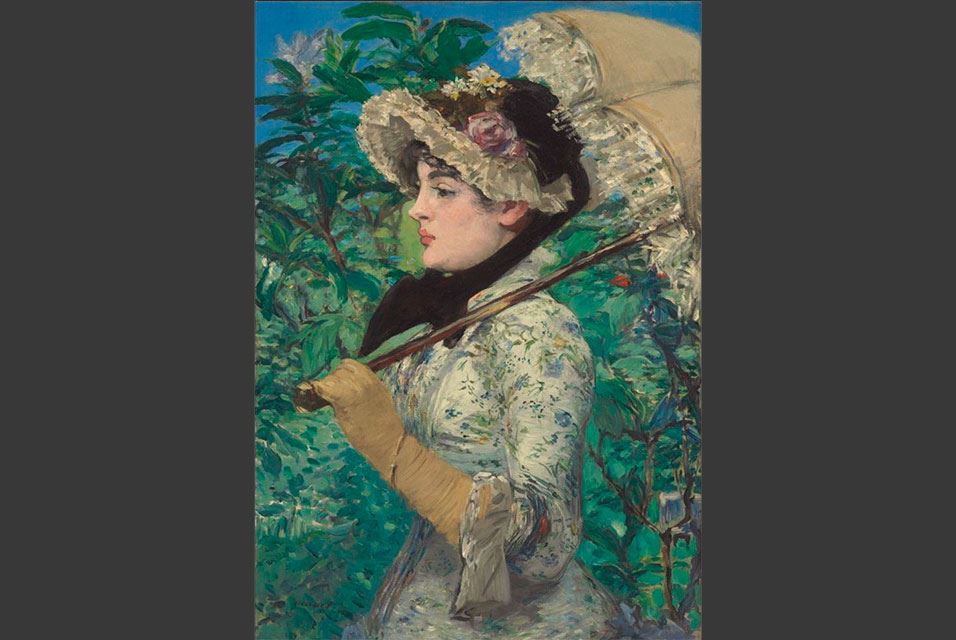 January 23, 1832. Édouard Manet (23 January 1832 - 30 April 1883) was a French painter. He was one of the first 19th-century artists to paint modern life, and a pivotal figure in the transition from Realism to Impressionism. In this image: Edouard Manet (1832-1883), Le Printemps oil on canvas, 29 1/8 x 20 1/4 in. (74 x 51.5 cm.), painted in 1881 Estimate: $25-35 million. Photo: Christie's Images Ltd 2014.
---

Museums, Exhibits, Artists, Milestones, Digital Art, Architecture, Photography,
Photographers, Special Photos, Special Reports, Featured Stories, Auctions, Art Fairs,
Anecdotes, Art Quiz, Education, Mythology, 3D Images, Last Week,
.
Royalville Communications, Inc
produces:







Tell a Friend
Dear User, please complete the form below in order to recommend the Artdaily newsletter to someone you know.
Please complete all fields marked *.
Sending Mail

Sending Successful