Israeli researchers drink to old times with ancient-style beer
This picture taken on May 22, 2019 shows ancient amphoras showcased during a press conference in Jerusalem, where Israeli researchers announced that they had managed to produce beer made with a yeast that descended from one some 3,000 years old, similar to that produced in the time of the Pharaohs. Yeast was also extracted that descended from some 5,000 years ago, according to the Antiquities Authority. The beer with a six-percent alcoholic strength and similar in taste to a wheat ale was presented to journalists, as was mead at 14-percent strength. Researchers from Israel's Antiquities Authority as well as three Israeli universities called it a first. THOMAS COEX / AFP.

by Mike Smith
JERUSALEM
(AFP)
.-
Israeli researchers said Wednesday they had managed to extract yeast from ancient jars and produced a head-spinning concoction with it: beer similar to what the pharaohs would have imbibed. Beer with a six-percent alcoholic strength and similar in taste to a wheat ale was presented to journalists, as was mead at 14-percent strength. Researchers from Israel's Antiquities Authority as well as three Israeli universities gathered at a Jerusalem pub to announce their findings and called the project a first. "I remember that when we first brought out the beer that we sat around the table and drank, we raised a cup to say l'chaim (a Hebrew toast meaning 'to life')," said Aren Maeir, an archaeologist with Bar-Ilan University. "And I said either we'll be good ...
More
The Best Photos of the Day
Dr. H. Alexander Rich to head Polk Museum of Art at Florida Southern College
Andrew Jones Auctions achieves a world record price for a rare antique Egyptology book
Banksy in Venice? New work appears and perhaps the artist himself


Dr. H. Alexander Rich, appointed as Executive Director and Chief Curator for the Polk Museum of Art at Florida Southern College in Lakeland.



LAKELAND, FLA.- The Polk Museum of Art at Florida Southern College has appointed Dr. H. Alexander Rich to be the Executive Director and Chief Curator for the Polk Museum of Art at Florida Southern College in Lakeland. Dr. Rich joined Florida Southern in August 2014 as assistant professor of art history, heading the art history program and directing the galleries and exhibitions. In June 2017, he assumed the additional role of curator and director of galleries and exhibitions for the Polk Museum of Art, as part of an affiliation agreement between the two organizations. "It's a great honor to be given the opportunity to lead a distinguished community and academic art museum," Dr. Rich said. "The Polk Museum of Art at Florida Southern College has long been a core contributor to the life and culture of Lakeland and Central Florida. Since its affiliation with Florida Southern, the Museum has begun to make new and ... More



Description de l'Egypte ou Recueil des observations et des recherches qui ont été faites en Egypte pendant l'expédition de l'Egypte. Paris: C.L.F. Panckoucke, 1820-1830, Second Edition ($220,000).



LOS ANGELES, CA.- An exceedingly rare and complete second edition of Description de l' Egypte, C.L.F. Panckoucke (1820-1830), including fold-out maps, elephant folios and atlas folio, sold for a world record price of $220,000 at Andrew Jones Auctions' Design for the Home and Garden Auction held May 18-19, online and in Los Angeles. The antique Egyptology book was the top lot of the sale, conducted in Andrew Jones Auctions' gallery at 2221 Main Street in downtown Los Angeles, as well as online via BidSquare.com, LiveAuctioneers.com and Invaluable.com. The auction featured over 550 lots of market-fresh fine art, design, antiques and Asian works of art from several important collections and estates. The sale included property from the collection of Kate Edelman Johnson, with proceeds going to benefit The Johnson Charitable Remainder Unitrust ... More



The piece, called "Venice in Oil", seemed to denounce the mass tourism which is endangering much of Venice. Photo: www.banksy.co.uk



VENICE.- The mysterious British artist Banksy has apparently left his mark on a crumbling wall in Venice, and even claimed to have set up an unlicensed art stall in Italy's famous "floating city". The image of a migrant child signalling for help, appeared, in the Banksy style, on a crumbling wall beside one of the Venice canals. Meanwhile a video posted on Banksy's Instagram account was said to show the secretive artist, buried in hat, coat or newspaper, setting up an unlicenced art stall in the central Saint Mark's Square. He sets up a series of nine oil paintings in the style of the 18th-century Venetian great Canaletto, which when placed together depict a huge cruise ship surrounded by tiny gondolas, plying their way through the Venice canals. The piece, called "Venice in Oil", seemed to denounce the mass tourism which is endangering much of Venice. At the end of the video, the artist figure, whose face is always hidden, is told to pack ... More
Schinkel Pavillon opens 'Straying from the Line' exhibition
First American Flag planted on Omaha Beach on D-Day offered at Heritage Auctions
'The Tiger Who Came To Tea' author Judith Kerr dead at 95


Sturtevant, Lichtenstein Girl with Hair Ribbon, 1966 – 67 (detail). Oil and acrylic on canvas. Courtesy Galerie Thaddaeus Ropac, London; Paris, Salzburg © Estate Sturtevant, Paris. Photo: Max Yawney, New York.



BERLIN.- 50 years ago, Lee Lozano articulated the relationship between artistic and social hierarchies, stating that "there can be no art revolution that is separate from a science revolution, a political
 revolution, an education revolution, a drug revolution, a sex revolution or a personal revolution." Understanding the personal as political became the driving force behind the central feminist movements of the time, bringing together a vibrant spectrum of activist, philosophical and artistic positions across political and social fields. Debates on personal experience and structural violence haven't lost their relevance and only recently entered the spotlight of political and public interest through social movements such as #metoo and #notsurprised. Whether in politics, media, business, science, culture or our daily lives, experiences of sexism, racism, discrimination and other forms ... More



D-Day: First American Flag Planted on Normandy Beachhead with August 1944.



DALLAS, TX.- An American flag believed to be the first planted when Allied forces stormed Omaha Beach in 1944 is being offered in Heritage Auctions' Arms & Armor, Civil War & Militaria auction June 9 in Dallas, Texas. D-Day: First American Flag Planted on Normandy Beachhead with August 1944 Newspaper Documentation (opening bid: $25,000) was planted on the busiest beach on of those on the northern coast of France that were stormed by Allied forces by First Sergeant John E. Horvath. A bartender-turned-Army engineer, most likely a member of the 121st Combat Engineer Battalion, attached to the 29th Infantry Division of V Corps (the moniker given to the Fifth Corp of the Army), Horvath appeared in a newspaper clipping (believed to be from The Columbus Citizen-Journal) entitled "First Flag on Beachhead in Normandy Arrives Here as Souvenir of Battle." The article includes a photo of Horvath's wife with the flag, and quotes a letter he had ... More



In this file photo taken on June 12, 2018 German-born British author and illustrator Judith Kerr, poses for a photograph at her home in west London on June 12, 2018. Tolga Akmen / AFP.



LONDON (AFP).- British author and illustrator Judith Kerr, who wrote the cherished children's book "The Tiger Who Came To Tea", has died aged 95, her publisher HarperCollins announced on Thursday. The writer behind a host of other classic children's books, including "When Hitler Stole Pink Rabbit" and "Mog the Forgetful Cat" passed away at home on Wednesday "following a short illness", it said. "It is with much sadness that we confirm the death of our beloved author and illustrator, Judith Kerr," HarperCollins said on Twitter. Ann-Janine Murtagh, the executive publisher of its children's books, said in a statement: "It has been the greatest honour and privilege to know and publish Judith Kerr. "She embraced life as one great big adventure and lived every day to the full." Kerr, one of Britain's most-loved children's authors, kept working well into her 90s, telling AFP in an interview last ... More
Jane Pickering named new director at Harvard's Peabody Museum
Regen Projects opens an exhibition of works by Los Angeles-based artist Liz Larner
Indian artist Nalini Malani wins the seventh edition of the Joan Miró Prize


Jane Pickering photo by Stephanie Mitchell. Copyright President and Fellows of Harvard College.



CAMBRIDGE, MASS.- As announced on May 21 by Claudine Gay, Edgerley Family Dean of the Faculty of Arts and Sciences, Jane Pickering will transition to her new role as the William and Muriel Seabury Howells Director of Harvard University's Peabody Museum of Archaeology & Ethnology on July 1st. She will serve a five-year term, reporting directly to Dean Gay, and collaborating closely with a newly appointed faculty executive committee to develop an institutional vision for the Peabody Museum's collections that is "strategic, inclusive, and enabling, as well as meeting the teaching and research needs of the University," according to Dean Gay's statement. The faculty executive committee will also report to Gay. Pickering has served as the Executive Director of the Harvard Museums of Science & Culture (HMSC) since 2013. The position was created six years ago to direct the public-facing roles–including exhibitions, publ ... More



Installation view of Elliott Hundley Clearing at Regen Projects, Los Angeles, May 17 - June 22, 2019. Photo: Evan Bedford, Courtesy Regen Projects, Los Angeles.



LOS ANGELES, CA.- Regen Projects is presenting As Below, So Above, the seventh solo exhibition by Los Angeles-based artist Liz Larner. On view is a selection of new works that demonstrate her ongoing examination into sculpture, painting, drawing, and ceramics. The environment – the personal and the entrenched – are set together in these artworks that reach for an understanding of vulnerability through what is and has been considered low and directed, made capital of, and endangered. Illusion and reality are intricately intertwined in Larner's work. At first glance Firestone appears as a large enigmatic composition of stone placed in the center of the gallery. Upon closer inspection the corporeal structure of the three dimensional form reveals its construction through numerous ceramic pieces in the shape of tessellated hematite crystals. Referencing the art historical ... More



Nalini Malani, Untitled II, 1970.



BARCELONA.- Marko Daniel, Director of the Fundació Joan Miró, and Elisa Durán, Deputy General Director of the "la Caixa" Foundation, have announced the winner of the 2019 Joan Miró Prize. Nalini Malani (Karachi, 1946) has been selected for this seventh edition of the prize, awarded every two years and whose past recipients have been Olafur Eliasson (2007), Pipilotti Rist (2009), Mona Hatoum (2011), Roni Horn (2013), Ignasi Aballí (2015) and Kader Attia (2017). The jury panel for the 2019 Joan Miró Prize included Iwona Blazwick, Director of the Whitechapel Gallery (London); Magnus af Petersens, Director of the Bonniers Konsthall (Stockholm); Alfred Pacquement, former Director of the Musée national d'art moderne, Centre Georges Pompidou (Paris); João Ribas, Curator of the Portuguese pavilion at the 58th Venice Art Biennale 2019; Nimfa Bisbe, Head of the "la Caixa" Foundation contemporary art collection, and Marko Dan ... More
Spink to offer master recordings of musical performances of eighteen world-renowned artists
Wyvern Collection of Medieval Art on view in short-term installation at Bowdoin College Museum of Art
The Holburne Museum opens the most extensive UK exhibition of works by Édouard Vuillard


The Michael Gleason Collection, comprised of the original master recordings of musical performances of eighteen world-renowned artists (including Ed Sheeran, Seal amongst many others), performing over sixty songs at Abbey Road Studios.



LONDON.- Spink will present the first part of the Michael Gleason Collection, comprised of the original master recordings of musical performances of eighteen world-renowned artists performing over sixty songs at Abbey Road Studios. The auction will take place on June 20th, 2019 at Spink's headquarters office in London. In 2005, Michael Gleason, a successful Texan entrepreneur and producer residing in London, decided to create and produce Live from Abbey Road, a new music television performance series. Inspired by the 1967 original idea of The Beatles to make live broadcast recordings at Abbey Road Studios, the idea was to record sublime musical performances from some of the world's greatest musical artists in the best studio in the world. A Star Masterpiece ... More



Spanish, Micro-Architectural Ceremonial Mace, ca. 1500, gilt silver. Wyvern Collection.



BRUNSWICK, ME.- Bowdoin College Museum of Art received the multiyear loan of more than 100 works of art from the Wyvern Collection, a premier private collection of medieval and Renaissance art, which it will preview in a short-term installation this month. Beginning in August 2020, BCMA will present the first dedicated exhibition of the collection in North America, providing new insights into this medieval visual culture and displaying many of these works publicly for the first time. With this loan, the quantity, quality, and diversity of medieval and Renaissance objects available for viewing and study at Bowdoin will be unsurpassed among small liberal arts colleges in the United States. The 2020 exhibition also builds upon the success and scholarly rigor of BCMA's 2017 international loan exhibition and catalogue Ivory Mirror: The Art of Mortality in Renaissance Europe. The Wyvern Collection has key strengths in ivory carving ... More



Madame Vuillard Arranging her Hair, 1900, Oil on cardboard, laid on panel, The Barber Institute of Fine Arts, University of Birmingham © The Henry Barber Trust, The Barber Institute of Fine Arts, University of Birmingham.



BATH.- This spring, The Holburne Museum will present the most extensive UK exhibition of works by Édouard Vuillard (1868-1940) in more than 15 years, including many that are rarely publically displayed. Vuillard was one of the leading figures in French art at the end of the 19th-century. He is famed for his small, subtle studies mostly of figures in interiors. The Poetry of the Everyday celebrates the unique qualities of his early work (from the 1890s) in which he balanced an obsession with patterned fabrics and wallpaper with subtle, domestic psycho-dramas to create paintings with a striking emotional intensity. Vuillard's art is renowned for its modest scale, intimate subject matter and subdued colouring. The Poetry of the Everyday will include around forty paintings and prints, including a number of rarely ... More
Quote
Abstract art was for us (the Dadaists) tantamount to absolute honor. Richard Huelsenbeck
---
How India Inspired the Barbier Family's Infatuation with Art
---
Flashback
On a day like today, Italian painter Pontormo was born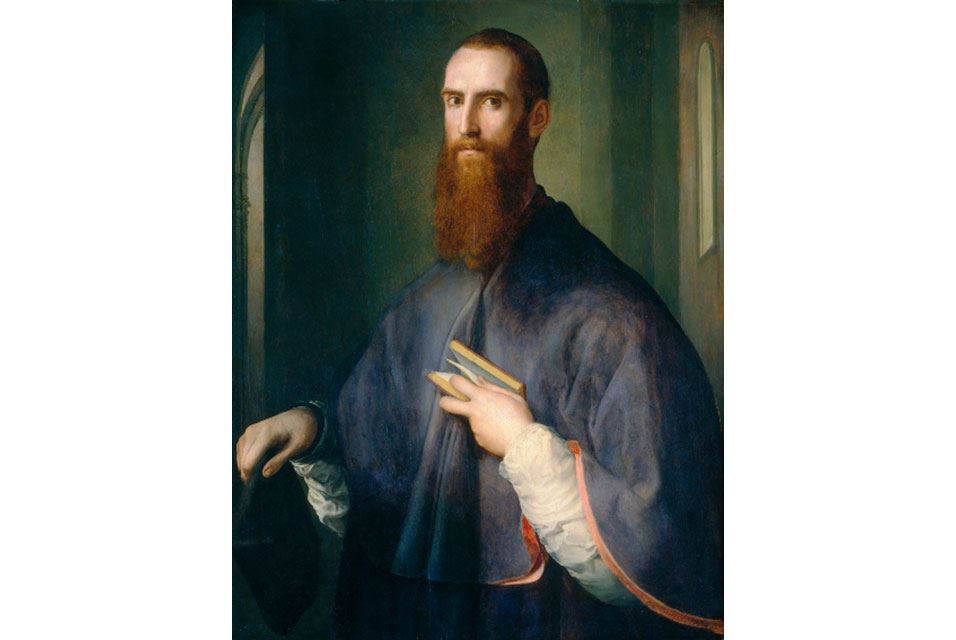 May 24, 1494. Jacopo Carucci (May 24, 1494 - January 2, 1557), usually known as Jacopo da Pontormo, Jacopo Pontormo or simply Pontormo, was an Italian Mannerist painter and portraitist from the Florentine School. His work represents a profound stylistic shift from the calm perspectival regularity that characterized the art of the Florentine Renaissance. In this image: Jacopo Carrucci, known as Pontormo (1494 - 1557), Portrait of a Bishop (Monsignor Niccolò Ardinghelli?), c. 1541 - 1542. Oil on panel; 102 x 78.9 cm. Washington, D.C., National Gallery of Art, Samuel H. Kress Collection, 1961.9.83
---

Museums, Exhibits, Artists, Milestones, Digital Art, Architecture, Photography,
Photographers, Special Photos, Special Reports, Featured Stories, Auctions, Art Fairs,
Anecdotes, Art Quiz, Education, Mythology, 3D Images, Last Week,
.
Royalville Communications, Inc
produces: