Palm Beach Modern Auctions offers blue-chip art, mid-century design
Peter Alexander (American, b. 1939-), Abstract encaustic painting on Rives paper (Blue), 19.75 x 22in, signed, 1970. Provenance: Brooke Alexander Gallery, New York. Est. $10,000-$15,000. Image courtesy of Palm Beach Modern Auctions.
WEST PALM BEACH, FLA
.-
By no coincidence, many of the names found on 20th-century art collectors' "most wanted" lists also happen to appear on
Palm Beach Modern
's auction roster for Saturday, May 25. Most of the artworks to be auctioned are from prestigious private, institutional or gallery collections and reflect a high level of connoisseurship. Additionally, the 532-lot offering of modern art and design features private collections of designer furniture, a world traveler's collection of fine and decorative arts; and monumental Larry Mohr outdoor sculptures from a South Florida corporate collection. The timeless chic of mid-century modern furniture sets the tone for the sale. Ten lots of desirable Knoll furniture come directly from a collector who purchased most of the pieces directly from the manufacturer's Manhattan showroom. The furnishings were chosen expressly for the consignor's homes in Palm Beach, Fla., an ...
More
The Best Photos of the Day
Banksy's home city an urban canvas for elusive artist
Hauser & Wirth announces worldwide representation of the John Chamberlain Estate
Germany returns papers of Kafka's friend Max Brod to Israel


A pedestrian walks past graffiti street art on the side of a building in Bristol, south west England, on May 8, 2019. GEOFF CADDICK / AFP.



BRISTOL (AFP).- Five years ago, British street artist Banksy adorned the side of a once uninspiring white brick building in Bristol with the familiar image of a girl gazing out solemnly. The dank courtyard beneath the stencil has, like many other spots the mysterious artist has decorated in his purported home city in southwest England, become one of Britain's most photographed places. A parody pastiche of "Girl with a Pearl Earring" by Dutch Golden Age painter Johannes Vermeer, it bears all the hallmarks of Banksy's cheekily irreverent style. The elusive Briton, whose identity is said to be known to only a handful of friends, has positioned the work so that a hexagonal security alarm box sits in place of the earring. The creation, now one of his most famous, is known as "The Girl with a Pierced Eardrum". It attracts admirers daily, many of them tourists on a well-trodden trail heavily documented on social media. "Well Hung Lover", ... More



John Chamberlain, PARISIANESCAPADE, 1999. Painted and stainless steel, 17 x 16 x 14 1/2 in © 2019 Fairweather & Fairweather LTD / Artists Rights Society (ARS), New York. Courtesy the John Chamberlain Estate and Hauser & Wirth. Photo: Thomas Barratt.



NEW YORK, NY.- Marc Payot, Partner and Vice President, Hauser & Wirth, today announced that the gallery will henceforth represent the John Chamberlain Estate exclusively worldwide. Born in Rochester, Indiana, and raised primarily in Chicago, John Chamberlain (1927 – 2011) was a quintessentially American artist, channeling the innovative power of the postwar years into a relentlessly inventive practice spanning six decades. He first achieved renown for sculptures made in the late 1950s through 1960s from automobile parts – these were path-breaking works that effectively transformed the gestural energy of Abstract Expressionist painting into three dimensions. Ranging in scale from miniature to monumental, Chamberlain's compositions of twisted, crushed, and forged metal ... More



Guests look at papers and manuscripts belonging to Max Brod, the friend and literary executor of Czech writer Franz Kafka, on display at the Israeli embassy after the stolen items were handed over to the Israeli ambassador. John MACDOUGALL / AFP.



BERLIN (AFP).- German police on Tuesday handed over to Israel thousands of stolen papers and manuscripts belonging to Max Brod, the friend and literary executor of Czech writer Franz Kafka. Brod, who died in Tel Aviv in 1968, is primarily responsible for Kafka's success as one of the 20th century's most influential writers, having published many of his works after the writer's death in 1924. Prague-born Brod had fled from Adolf Hitler's Nazi regime to Tel Aviv in 1939, carrying Kafka's estate in his suitcase, even though the writer of "The Trial" had insisted his works be destroyed after his death. A ceremony in Berlin at the residence of Israeli Ambassador Jeremy Issacharoff on Tuesday saw German police hand thousands of Brod's personal papers over to the National Library of Israel. It ends a decade-long struggle to retrieve ... More
Exhibition at Hazlitt Holland-Hibbert focuses on works from the 1930s by Barbara Hepworth and Ben Nicholson
Memphis Brooks Museum of Art selects Herzog & de Meuron for new building
First UK solo exhibition of works by Luchita Hurtado opens at the Serpentine


Barbara Hepworth, Single Form, 1937. Lignum Vitae.



LONDON.- 'Barbara Hepworth | Ben Nicholson: Sculpture and Painting in the 1930s brings together over thirty works created by two of the most influential artists of the Twentieth Century. As the first ever loan exhibition to focus solely on this pivotal period in their careers, co-curated by their grand-daughter Sophie Bowness and Professor Chris Green of the Courtauld Institute, it presents sculpture, paintings and works on paper produced during this formative decade. The show contains work borrowed from major private and public collections, including Abbot Hall Art Gallery, the Courtauld Gallery, the Pier Arts Centre, the Sainsbury Centre for Visual Arts and the National Galleries of Scotland, and will feature rarely seen works from the artists' family collections, as well as archival material from the Hepworth Estate. The story opens in 1930, the year in which Nicholson begins his striking painting 1930-31 (charbon) − a distinctively British take on Cubism and ... More



Jacques Herzog and Pierre de Meuron. Photo Marco Grob.



MEMPHIS, TN.- Memphis Brooks Museum of Art has selected the Pritzker Prize-winning firm Herzog & de Meuron, Basel/New York, as design consultant for its new $105 million facility overlooking the Mississippi River in downtown Memphis. The Memphis-based archimania will serve as architect of record. The news was announced today by the institution, the oldest and largest art museum in Tennessee and a cultural anchor for a tri-state area that includes Arkansas and Mississippi. The new Brooks will be the jewel in the crown of a newly animated and accessible Memphis riverfront. First-phase development is already underway on plans to connect six miles of the riverfront with parks, walking paths, and civic and recreational structures, as conceived by the Chicago-based firm Studio Gang for the Mayor's Riverfront Task Force in partnership with Memphis River Parks Partnership. This commitment to the creation of civic ... More



Luchita Hurtado, Untitled, c. 1951, Crayon and ink on paper, Unique, 61 x 45.9 cm © Luchita Hurtado, Courtesy Los Angeles County Museum of Art, Gift of Janet Dreisen Rappaport and Herb Rappaport through the 2019 Collectors Committee, Photo: Genevieve Hanson.



LONDON.- The Serpentine presents the first UK solo exhibition of works by Luchita Hurtado (b.1920, Maiquetía, Venezuela). The exhibition traces the trajectory of Hurtado's expansive, 80-year career and reveals the scale, experimentation and playfulness of her impressive oeuvre. At the age of 98, she is now receiving the recognition she has long deserved and was recently featured in Time Magazine's list of the 100 most influential people of 2019. Hurtado's work is characterized by an original view of the world that is both grounded and transcendental, and her subject matter makes use of unexpected perspectives – looking straight down or across her own body, or straight up to a glimpse of sky – using cosmic motifs and geometric ... More
Kestner Gesellschaft opens a solo exhibition by the Polish-British artist Goshka Macuga
Throckmorton Fine Art features an important collection of forty-one pre-Columbian masks
Christie's announces final details of Maharajas & Mughal Magnificence


Goshka Macuga. Photo: Kasia Bobula.



HANNOVER.- On the occasion of the 100th anniversary of the Bauhaus, the Kestner Gesellschaft is presenting a solo exhibition by the Polish-British artist Goshka Macuga (*1967 in Warsaw, lives and works in London). The internationally renowned artist questions historiography, especially key ideas of modernism such as a belief in progress, authorship, and utopia. In detective-like research, she finds breaks, pitfalls, and ambiguities in a supposedly linear narrative. This exhibition focuses on the Bauhaus, the influential school of art, architecture, and design, and its connection to the Kestner Gesellschaft. From 24 May to 4 August 2019, around forty installations, sculptures, textiles, and collages by Goshka Macuga will be on view throughout the building. The artist is creating new works specifically for the exhibition at the Kestner Gesellschaft, including a tapestry and one installation in collaboration ... More



Maya. Mosaic Deity Mask. Classic Period 600-900 CE. Green Jadeite with Shell and Obsidian. H: 3 3/4 in. W: 3 1/8 in.



NEW YORK, NY.- Throckmorton Fine Art will feature an important collection of forty-one pre-Columbian masks from the personal collection of Spencer Throckmorton from May 23 to June 22 at its New York gallery. "Faces For Eternity" – Small Masks from Pre-Columbian Mesoamerica dates to Spencer Throckmorton's first purchase in 1971. Over nearly four decades, Throckmorton has built a collection of some of the most beautiful and significant examples which he is now offering to his clients and collectors. He sees himself as a custodian of these objects, and he is delighted to now have a chance to share them with others. While masks are often seen as disguises and meant to terrify, ancient Mesoamerican ones often serve a protective function, guarding against adversaries. Throckmorton says, "These very small objects, largely measuring ... More



A Gem Set Mace India, 17th Century Set on finial with large Mughal-cut diamond and also set with rubies and emeralds. © Christie's Images Ltd 2019.



NEW YORK, NY.- Following the success of the global tour of highlights, Christie's announces final details of the most anticipated jewelry and objects sale of the season, Maharajas & Mughal Magnificence. This landmark auction is poised to be the most valuable and precious collection of jewelry and Mughal objects to ever come to auction. New confirmed details include availability of illustrated digital catalogues, exhibition dates, and sale details. The specially designed exhibition will be open to the public from 14-18 June and will feature the entire selection offered for auction ahead of the sale on 19 June 2019 at Christie's New York. Maharajas & Mughal Magnificence presents an unprecedented group of jewels, gemstones, and decorative objects. Consisting of almost four hundred lots spanning over ... More
Marlborough opens a solo exhibition of new paintings by the London-based artist Ansel Krut
Kurt Cobain's sweater sold for $75,000 & paper plate set list sold for staggering $22,400 at Julien's Auctions
Rare complete suite of La suite des Saltimbanques by Picasso leads Bonhams sale


Krut, Traffic Light, 2018, acrylic on paper, 30 x 22 in., 76.2 x 55.9 cm. Photo: Pierre Le Hors. Image © the artist and courtesy Marlborough, New York and London.



NEW YORK, NY.- Marlborough is presenting Back to Back Balloons, a solo exhibition of new paintings by the London-based artist Ansel Krut. The show is accompanied by a fully illustrated catalog with an essay by Barry Schwabsky which is excerpted below. A painted image can be at once blunt and ambiguous. That is its sometimes troubling power: a demonstration that what you feel and what you know may never be entirely in synch. At least until recently, Ansel Krut's paintings have tended to exemplify this disquieting ambiguity in a very particular way: a heavy, dark outlining of forms seems to speak the candid, ingenuous language of cartoons and graffiti; but the richly layered, smokily atmospheric color, often dominated by earth tones and distinctly moody in character, shows that Krut is no Pop artist, and still less an eighties-style neo-expressionist, but an artist earnestly involved in the traditional craft of oil painting and ... More



A green acrylic and mohair cardigan with geometric patterns worn by Kurt Cobain in his last photoshoot, taken in the summer of 1993 with photographer Jesse Frohman.



LOS ANGELES, CA.- Julien's Auctions held its marquee music auction event MUSIC Icons on Saturday, May 18 live in Hard Rock Café Times Square in front of a packed crowd of collectors and music fans bidding live on the floor, online and on the phone across the globe. The mega-star lineup featured 670 historical items of music legends Prince, Madonna, Kurt Cobain, Queen, Elton John, Bob Dylan, Elvis Presley, Lady Gaga, Greg Lake, Michael Jackson, Beyoncé and more. The top selling item of the auction was the sale of a Universal Audio Console 610a from Bill Putnam's legendary Western Recorders Studio #2 that was used to create iconic pop recordings such as Frank Sinatra's "Strangers in the Night," The Beach Boys' "Barbara Ann," Ricky Nelson's "Fools Rush In," Wayne Newton's "Danke Shoen" as well as the theme songs to The Beverly Hillbillies, Green Acres, and Hawaii Five-O and more ... More



La suite des Saltimbanques by Pablo Picasso. Estimate: £170,000-250,000. Photo: Bonhams.



LONDON.- A rare complete series of Picasso's first printed works La suite des Saltimbanques leads Bonhams Prints and Multiples sale in London on Thursday 13 June with estimate of £170,000-250,000. Towards the end of what is known as his Rose period (1904-06), Pablo Picasso (1881-1973) produced a body of work that focused on clowns, harlequins and carnival performers. He was fascinated by itinerant acrobats or saltimbanques, admiring their free spirit and independence, and he explored this theme in several key works. Alongside paintings such as the 1905 masterpiece La Famille des Saltimbanques, Picasso – then in his early 20s and living in bohemian Montmartre at the Bateau-Lavoir – worked on a series of 15 etchings and drypoints that showed gypsies and acrobats behind the scenes, caught in private moments. Some are shown rehearsing; others eating with their families, or taking a bath. Bonhams Director of Prints and Multiples Luc ... More
Quote
No architecture is so haughty as that which is simple. John Ruskin
---
BARD & VAROZZA - Fondation Herman Krikhaar
---
Flashback
On a day like today, Belgian author and illustrator Hergé was born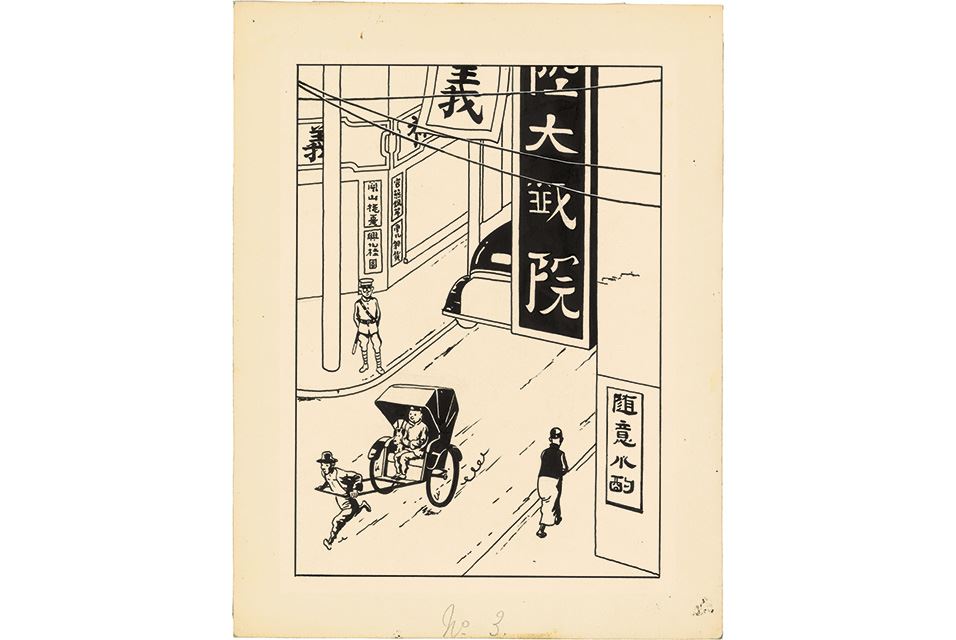 May 22, 2019. Georges Prosper Remi (22 May 1907 - 3 March 1983), known by the pen name Hergé, was a Belgian cartoonist. He is best known for creating The Adventures of Tintin, the series of comic albums which are considered one of the most popular European comics of the 20th century. In this image: Georges Remi aka Hergé, Le Lotus Bleu, 1936, vendu 1,1 M€ / 1,25 M$ / 9,6 MHK$ (estimate : 1 000 000 - 1 500 000 € / 8 600 000 – 13 000 000 H$K) © Hergé/Moulinsart 2015.
---

Museums, Exhibits, Artists, Milestones, Digital Art, Architecture, Photography,
Photographers, Special Photos, Special Reports, Featured Stories, Auctions, Art Fairs,
Anecdotes, Art Quiz, Education, Mythology, 3D Images, Last Week,
.
Royalville Communications, Inc
produces: