Buried treasure poses Holocaust puzzle for Hungary museum
An archaeologist, Hungarian Ferenc Redo examines a metal coin of a Holocaust victim's collection in the Balatoni Museum in the town of Keszthely, 200 km west of Budapest on May 22, 2019. A collection of thousands of antique coins found buried in a house that was part of a war-time ghetto in Hungary for Jews has posed a riddle for historians. ATTILA KISBENEDEK / AFP.
KESZTHELY
(AFP)
.-
A vast and "unique" trove of antique and Roman-era coins, unearthed in what was one of Hungary's wartime Jewish ghettos, is proving a conundrum for historians. Thrilled with the chance discovery of the 2,800 gold and silver coins spanning decades and continents, researchers are in the dark however about who collected and then hid them. That the coins were buried under a house whose one-time owner, the likely collector, is presumed to have been murdered in the Holocaust deepens the mystery. According to a Hungarian Jewish organisation, the hoard also exposes how gaps remain in what is known about Hungary's Jews during World War II. The current owners of the house in the town of Keszthely, 190 kilometres (120 miles) southwest of the capital Budapest, stumbled across the coins in February during work on the cellar. They were likely hidden by a Jewish owner who was later deported to a Nazi German death camp in 1944, said Balint Havasi, director of Keszthely's Balatoni Museum where the ite ...
More
The Best Photos of the Day
The National Maritime Museum opens the major exhibition The Moon
Tate acquires art archive of Ithell Colquhoun, transferred by the National Trust
Sotheby's Space Exploration auction skyrockets to $5.5 million


Camera carried on board the Columbia command module, Apollo 11 © Photo by Eric F. Long, Smithsonian National Air and Space Museum.



GREENWICH, CONN.- To celebrate 50 years since NASA's Apollo 11 mission landed the first humans on the Moon, the National Maritime Museum is staging The Moon, the UK's biggest exhibition dedicated to Earth's nearest celestial neighbour. Featuring over 180 objects from national and international museums and private collections, the exhibition presents a cultural and scientific story of our relationship with the Moon over time and across civilisations. Through artefacts, artworks and interactive moments, the exhibition enables visitors to reconnect with the wonders of the Moon and discover how it has captivated and inspired us. The exhibition explores how humans have used, understood and observed the Moon from Earth. Visitors will get the chance to relive the momentous events of the Space Race and the Moon landings ... More



Work by Ithell Colquhoun (1906-1988), watercolour and gouache on paper, from the uncatalogued archive recently transferred to Tate from the National Trust 2019. © Tate.



LONDON.- Tate has acquired a significant body of archives and artworks by British surrealist artist, Ithell Colquhoun, gifted by the National Trust. The collection of approximately 5,000 sketches, drawings and commercial artwork covering Colquhoun's career from the 1930s-1980s, which she bequeathed to the National Trust, reunites her work with the bequest of occult and other papers she left to Tate in 1989. The drawings in the archive in ink, graphite and some with gouache and watercolour wash, vary from small jottings and sketchbooks to highly worked drawings, prints and designs. They include architectural drawings, life paintings, portraits, abstract works and surrealist paintings, and pieces which reflect Colquhoun's interest in the occult and mythology. In recent years ... More



Saturn V Rocket Model. Courtesy Sotheby's.



NEW YORK, NY.- On the 50th anniversary of the Apollo 11 lunar landing, Sotheby's auction dedicated to Space Exploration totaled $5.5 million in New York, surpassing its high estimate by $1 million and with an exceptional 93% of all lots sold. The sale featured a wide variety of material from the Mercury, Gemini, and Apollo missions, including direct consignments from astronauts, an impressive collection of flown mission artifacts and hardware, the finest single owner collection of flown Robbins medallions, early contractor's models, spacesuits, maps, charts and more. Cassandra Hatton, Vice President & Senior Specialist of Sotheby's Books & Manuscripts Department in New York commented: "Fifty years ago, we achieved the world's greatest human accomplishment. Today, space exploration continues to capture the hearts and imagination of people around the world. This universal fascination was reflected in today's stellar sal ... More
Four seasons reunited: Mauritshuis acquires three paintings by Nicolaes Berchem
Exhibition allows visitors to travel back in time 600 million years
Hauser & Wirth exhibits works from the Ursula Hauser Collection


The four paintings show the seasons and were made around 1670 to decorate an Amsterdam canal house.



THE HAGUE.- The Mauritshuis has acquired three allegorical paintings by Nicolaes Berchem. Together with Allegory of Summer – which has been at the Mauritshuis since 1992 - they form an exceptional ensemble. The four paintings show the seasons and were made around 1670 to decorate an Amsterdam canal house. The series was broken up in the late nineteenth century, but has now been reunited. Emilie Gordenker, Mauritshuis Director: 'It was a golden opportunity to be able to bring Berchem's series of the seasons together again. The series was originally made to be displayed above doors and this is how the works will eventually be seen in the museum too. This acquisition would not have been possible without the support of the BankGiro Loterij and the Vereninging Rembrandt.' In each painting, a medallion with the personification of the season seated on a chariot appears, pulled along in a procession by a pair of animals. Spr ... More



Reconstruction of the predatory penis worm, Cricocosmia jinningensis, which burrowed in the Cambrian sea floor sediments and used its fearsome toothed proboscis to capture prey. Photo: Mighty Fossils.



OXFORD.- A fascinating new exhibition at Oxford University Museum of Natural History - First Animals and the Origin of Oceanic Ecosystems - challenges its visitors to question 'What is an animal?' The visitor journey begins by travelling back in time 600 million years, to when the very origins of all animals – including humans – began to develop in the world's oceans. In an extraordinary evolutionary event, which has never been repeated since, the Earth then experienced a huge increase in new life forms, many of which laid the foundations for the body plans of all subsequent animal life. This occurrence, termed the Cambrian Explosion, took place over a period of just 20 million years — a mere blink of the eye in geological terms – and First Animals reveals how amazing fossil evidence from this epoch is being uncovered and investigated ... More



Ursula Hauser in her New York home, 2018. Background: Martin Creed, Work No. 2197, 2015 © Martin Creed. All Rights Reserved, DACS 2019. Photo: Axel Dupeux.



LONDON.- Hauser & Wirth Somerset is presenting 'Unconscious Landscape. Works from the Ursula Hauser Collection', an exhibition focused entirely on female artists. Over the course of four decades Ursula Hauser has assembled a deeply personal collection of works that brings together a remarkable overview of late 20th century modern masters in dialogue with contemporary artists. The exhibition, which is curated by Ursula Hauser's daughter Manuela Wirth, together with Laura Bechter, Curator of the Ursula Hauser Collection, spans all five galleries in Somerset, presenting 65 works by female artists and artists' estates including Louise Bourgeois, Heidi Bucher, Sonia Gomes, Eva Hesse, Sheila Hicks, Maria Lassnig, Lee Lozano, Meret Oppenheim, Carol Rama, Sylvia Sleigh and Alina Szapocznikow. This presentation follows a series of Hauser & Wirth exhibitions ... More
The Robin Rice Gallery opens its annual photography exhibit Summertime Salon
'Holy Grail' item of Scottish silver comes to market at August sale
Tate appoints Victoria Cheetham as Chief Operating Officer


Leonardo Pucci, MIlano 00:07AM.



NEW YORK, NY.- The Robin Rice Gallery announces Summertime Salon 2019, an annual photography exhibit featuring gallery artists as well as a few newcomers. The show will be on view until September 22, 2019. Rice has brought together the works of 60 gallery artists and nearly a hundred photographs for this salon-style exhibition. From floor to ceiling, the walls of the gallery are a mosaic of various sized photographs in sepia, color and black & white, expertly hung to fit together like pieces of a puzzle. "This is my favorite exhibition even though it takes months to curate and a week to install," says Rice. "I love the moment when a viewer is first drawn to an image. Sometimes it's indefinable; a moment when the viewer not only shares but reconnects to an experience remembered." Each year, the Summertime Salon matures and Rice's annual masterpiece is revealed to showca ... More



The cup has been given an estimate of £6,000-£8,000



CAMBRIDGE.- An exceptionally rare solid silver tumbler cup made in a small town in Scotland nearly 340 years ago is expected to be one of the star lots at Cheffins' Jewellery, Silver & Watches Sale in Cambridge on Thursday 01 August 2019. Made during the reign of Charles II and bearing the marks of the assay office in Banff, a town in Aberdeenshire on the north east coast of Scotland, the cup is in remarkable condition for its age. Historically, there were nearly 30 assay offices in Scotland, testing and hallmarking precious metal items before sale. Now there is only one, in Edinburgh, and items marked from 'closed' assay offices have become extremely collectable. Banff had one of the smallest assay offices, with the result that only a small number of items were ever marked there and in the past ten years there does not seem to have been any other sizeable items ... More



Victoria Cheetham brings a wealth of experience to Tate, having been a member of the Southbank Centre Executive Team since 2010.



LONDON.- Tate announced the appointment of Victoria Cheetham as Chief Operating Officer. She will take up her role in autumn 2019. She is currently Executive Director, Arts at Southbank Centre, Europe's largest arts centre, where she leads strategy and delivery of the artistic programme across multiple art forms and sites in London, the UK and globally. Victoria Cheetham brings a wealth of experience to Tate, having been a member of the Southbank Centre Executive Team since 2010. In her time there she has been responsible for areas including visitor experience, ticketing, operations and delivery of over 4,000 artistic events a year. She has also overseen the successful transformation of business processes across arts administration at the institution. Previously she ... More
Kayne Griffin Corcoran exhibits new paintings on paper and wood panels by Monique Mouton
Crystal Bridges announces the opening date for the Momentary and unveils 2020 exhibition lineup
"Cool Clay" acquisitions highlight experimental nature of ceramics


Monique Mouton, Walk, 2019. Watercolor and soft pastel on paper, 75 1/8 x 62 1/2 x 2 3/4 inches framed (190.8 x 158.8 x 7 centimeters) Courtesy the artist and Kayne Griffin Corcoran. Photo: Flying Studio, Los Angeles.



LOS ANGELES, CA.- Kayne Griffin Corcoran is presenting Scene, Monique Mouton's first solo exhibition in Los Angeles. The exhibition includes new paintings on paper and wood panels. Scene features a group work that is saturated in both color and composition. This body of work pushes Mouton's interest in the marginal areas of the paintings. The artist draws attention to transitional spaces such as that between the paper and the frame by playing her irregular cuts off of the crisp structures that house them. The paintings elaborate softer signals as Mouton makes a case for gradual reception. In one painting a rainbow appears through a wash of a purple hue. Another's subtly arced perimeter comes into clarity slowly, one edge a ... More



Rendering of the Momentary.



BENTONVILLE, ARK.- Crystal Bridges Museum of American Art announced the 2020 temporary exhibition schedule which includes surveys of popular artists such as Hank Willis Thomas: All Things Being Equal… and Ansel Adams: In Our Time, an examination of the craft movement in Craft, and two exhibitions that will be featured at the Momentary during its inaugural season. The Momentary is a satellite to Crystal Bridges and a new contemporary art space that is set to open to the public on February 22, 2020 with State of the Art II, and will be followed by Nick Cave: Until in the summer. "We are excited to begin this new decade exploring art at Crystal Bridges and the soon-to-be opened Momentary," said Rod Bigelow, Crystal Bridges executive director & chief diversity and inclusion officer. "Whether the artists are familiar to our visitors or completely unknown, these exhibitions look at history, our natural landscape, ... More



Zemer Peled (Israeli, born 1983), Untitled 1, 2016. Ceramic, 22 x 19 x 19 in. Crocker Art Museum purchase, Becky B. Krisik Fund and Marcy and Mort Friedman Acquisition Fund, 2018.47.



SACRAMENTO, CA.- From raw textures to meticulous details, to glazes bursting with color, the Crocker Art Museum acquisitions featured in the exhibition "Cool Clay" provide insight into the experimental nature of the medium, and the diversity that will define its future. While the Crocker collection already includes one of the nation's premier ceramics collections, this exhibition of approximately 40 works features gifts that strengthen the scope and variation of the Museum's holdings. Pieces in the exhibition span six decades of studio practice and highlight ground-breaking achievements by 20th-century artists known for pioneering aesthetics and techniques. Erika Sanada (Japanese, born 1987) is one of many artists represented in the Crocker's collection for the first time. While her work is often ... More
Quote
Painting is not merely the gratification of sight. Sir Joshua Reynolds
---
Passion | Expertise | Results: Profile of Ana Wroblaski
---
Flashback
On a day like today, American painter Edward Hopper was born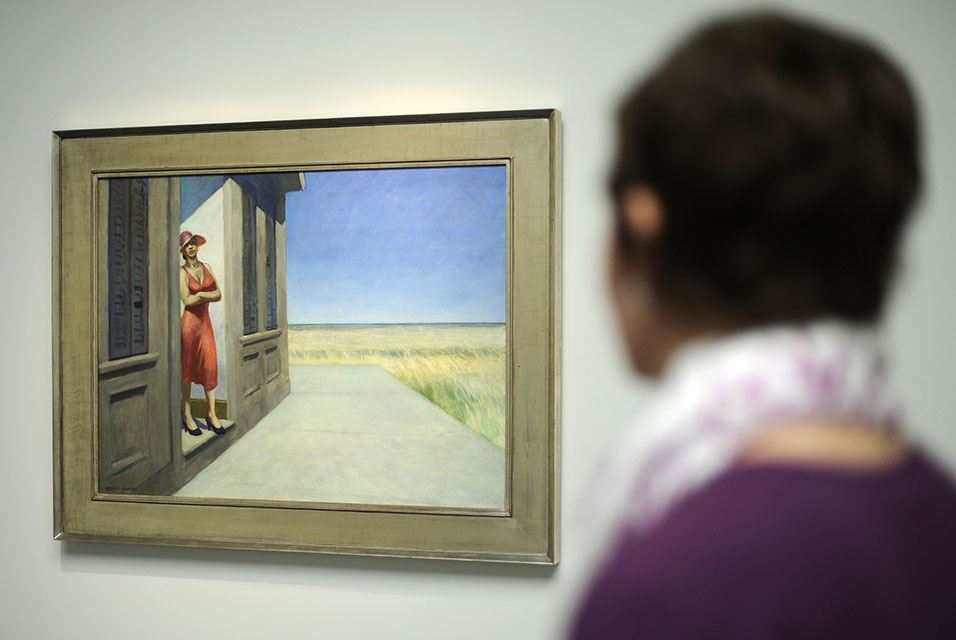 August 22, 1882. Edward Hopper (July 22, 1882 - May 15, 1967) was a prominent American realist painter and printmaker. While he was most popularly known for his oil paintings, he was equally proficient as a watercolorist and printmaker in etching. Both in his urban and rural scenes, his spare and finely calculated renderings reflected his personal vision of modern American life. In this image: A woman looks at the painting "South Carolina Morning" by American artist Edward Hopper during a press conference in Hamburg, Germany, on Thursday, May 7, 2009.
---

Museums, Exhibits, Artists, Milestones, Digital Art, Architecture, Photography,
Photographers, Special Photos, Special Reports, Featured Stories, Auctions, Art Fairs,
Anecdotes, Art Quiz, Education, Mythology, 3D Images, Last Week,
.
Royalville Communications, Inc
produces: