Exhibition of masterpieces from the Museum of Fine Arts in Budapest opens in Madrid
Velázquez, Tavern Scene with two Men and a Girl (The Luncheon) detail. circa 1618-1619. Oil on canvas. 96 x 112 cm. Museum of Fine Arts in Budapest.
MADRID
.-
The Museo Thyssen-Bornemisza
is presenting Masterworks from Budapest. From the Renaissance to the Avant-Garde, an exhibition which, for the first time in Spain, presents an important selection of paintings, drawings and sculptures from the collections of the Museum of Fine Arts in Budapest and the Hungarian National Gallery. In total the exhibition features 90 works from the 15th to the 20th centuries representing artistic schools such as the Italian, German, Flemish and Spanish and including great names from the history of art such as Dürer, Leonardo da Vinci, Rubens, Velázquez, Tiepolo, Cézanne and Manet, in addition to interesting works by Hungarian artists, together offering visitors a comprehensive idea of the collections housed in these institutions. Curated by Guillermo Solana, artistic director of the Museo Thyssen, and Mar Borobia, head of its Department of Old Master Painting, the exhibition is organised in coll ...
More
The Best Photos of the Day
Exhibition at Museum Ludwig gives visitors a chance to encounter Otto Freundlich's entire oeuvre
An Italian Baroque masterpiece from the Norton Simon Museum on view now at the National Gallery
The Morgan Library & Museum acquires important drawings by Hockney, Puryear, Corot


Otto Freundlich, Kosmisches Auge, 1921/22, 81 x 65 cm. Pastell auf Karton. Privatsammlung, Paris, Courtesy Applicat-Prazan. Photo: Applicat-Prazan, Paris.



COLOGNE.- He is one of the most original abstract artists of the twentieth century. Nearly forty years after the large retrospective, the Museum Ludwig now presents the oeuvre of Otto Freundlich (1878–1943). With around eighty objects, the exhibition traces the work, thought, and life of an artist who produced not only paintings and sculptures but also stained-glass windows and mosaics, and who in a searching reflection on the leading art movements of his time found his own path to abstraction—before being marginalized by the Nazis, denounced as "degenerate," and ultimately murdered as a Jew. This discrimination and eradication of both Freundlich and his work have marked the artist's reception to this day. Many of his works were destroyed in Germany under National Socialism. His Großer Kopf (Large Head), which the Nazis reproduced on the ... More



Guido Cagnacci, The Repentant Magdalene, after 1660 (detail).© Norton Simon Art Foundation



LONDON.- Visitors to the National Gallery have a unique opportunity to admire what is widely regarded as Guido Cagnacci's greatest work, The Repentant Magdalene, an exceptional loan from the Norton Simon Museum, Pasadena (California). Guido Cagnacci (1601–1663) is one of the most unconventional and sensual artists of the Italian Baroque period, and yet he is largely unfamiliar to people today as his paintings are not represented in any UK public collections. Cagnacci was born in Santarcangelo di Romagna, but by the age of 20 he was living in Bologna, having twice visited Rome where he is recorded as staying in Guercino's house. From 1649 Cagnacci was in Venice, where he worked entirely for a private clientele. In 1658 he moved to Vienna. Little documentation about Cagnacci survives, though some of the racier episodes in his personal life are mentioned in legal and criminal records of the time, which provide an insig ... More



Jean-Baptiste-Camille Corot (French, 1796-1875), Seated Camaldolese Monk, 1834, graphite on paper. The Morgan Library & Museum. Gift of Jill Newhouse.



NEW YORK, NY.- The Morgan Library & Museum announced today the acquisition of three major drawings by David Hockney, Martin Puryear, and Jean-Baptiste-Camille Corot. Each is a valuable addition to a drawings collection at the Morgan that is considered one of the greatest in the world. "We are delighted to announce the acquisition of these outstanding works," said Colin B. Bailey, director of the museum. "The Hockney is a superb and iconic example of his precise, delicate style of the 1960s and depicts one of his muses, fabric designer Celia Birtwell. The Martin Puryear comes on the heels of the successful exhibition of his drawings we held in 2015, while the Corot is characteristic of the artist's best portrait drawings of the 1830s. We are deeply grateful to the donors whose generous support made these acquisitions possible." One of the most popular British artists of the twentieth century, David ... More
Metropolitan Museum exhibition focuses on Seurat's 'Circus Sideshow'
Artist Profile: Richard Anuszkiewicz
Clark Art Institute opens new American Decorative Arts Galleries


Georges Seurat (French, Paris 1859-1891 Paris), Sidewalk Show (Une Parade) Ca. 1883–84. Conté crayon on paper 12 5/8 x 9 5/8 in. (32.1 x 24.5 cm). The Phillips Collection, Washington, D.C.



NEW YORK, NY.- Taking as its focus one of The Met's most captivating masterpieces, this thematic exhibition affords a unique context for appreciating the heritage and allure of Circus Sideshow (Parade de cirque), painted in 1887–88, by Georges Seurat (1859–91). Anchored by a remarkable group of related works by Seurat that fully illuminates the lineage of the motif in his inimitable conté crayon drawings, the presentation explores the fascination the sideshow subject held for other artists in the 19th century, ranging from the great caricaturist Honoré Daumier at mid-century to the young Pablo Picasso at the fin de siècle. This rich visual narrative unfolds in a provocative display of more than 100 paintings, drawings, prints, period posters, and illustrated journals, supplemented by musical instruments and an array of ... More



Richard Anuszkiewicz, Sun Keyed, 1972 (detail). Available at Barnebys.



LONDON.- The concept of 'Op art' - or optical art - was cemented in the mid 1960s in response to the use of optical illusions by abstract artists of the time. One of the leaders of this movement was American innovator, Richard Anuszkiewicz. Originally hailing from Pennsylvania, Anuszkiewicz moved to Ohio as a teenager to begin his training at the Cleveland Institute of Art. Though born into poverty, the artist has spoken of the immense support of his family in his choice to pursue a career in art - an unconventional move for a young man of the 1940s living in a steel-manufacturing state. Throughout his five years at the institute, Anuszkiewicz was awarded various scholarships and awards for his achievements, with his talents being recognised early on. Having completed his studies in Cleveland, Anuszkiewicz moved to the Yale University School of Art and Architecture, where he was a student of ... More



Gilbert Stuart (American, 1755–1828), George Washington, 1796–1803. Oil on canvas. Clark Art Institute, 1955.16.



WILLIAMSTOWN, MASS.- The Clark Art Institute opened the Henry Morris and Elizabeth H. Burrows Gallery on Sunday, February 19. The American decorative arts gallery, housed in 3,275 square feet of newly renovated space in the Manton Research Center, contains the Clark's important collection of early American paintings and furniture in addition to its exceptional Burrows collection of American silver. Designed by Selldorf Architects, the gallery includes new exhibition cases and an improved layout that enhance the experience of viewing the Clark's important collection of colonial to early-nineteenth-century American art. The gallery, located in former exhibition spaces on the upper level of the Manton Research Center, features more than 300 objects, many which have been off view since 2012 and some of which have never been exhibited. Highlights of the display ... More
Artisans break the mould in Britain's pottery capital
Hitler's phone sells for more than $240,000
Major gifts by Roger Ballen Foundation establish centre for photography


A worker hand-paints crockery in the Emma Bridgewater factory. OLI SCARFF / AFP.



STOKE-ON-TRENT (AFP).- At the 18th-century Spode pottery works in Stoke-on-Trent, start-up artisans like 22-year-old Emma Price are moving into abandoned buildings and breathing new life into a once-mighty industry. The 10-acre (four-hectare) site in the heart of the Staffordshire city in central England whose name worldwide is synonymous with pottery has become a creative hub that is drawing in a new generation. "It's a real privilege to be on this site," said Price, wearing blue overalls flecked in plaster, as she worked on the mould for a bowl. "This offers me the opportunity to do my own thing and gives me the space to work in and do what I'm passionate about," she told AFP. "A lot of people now are starting to move away from the mass-produced work and want something that's more bespoke." ... More



The auction house Alexander Historical Auctions, which did not reveal the winning bidder's identity, had estimated its worth between $200,000 and $300,000.



WASHINGTON (AFP).- Adolf Hitler's personal telephone, which the Fuehrer used to dictate many of his deadly World War II commands, sold at auction on Sunday for $243,000, the US house selling it announced. Originally a black Bakelite phone, later painted crimson and engraved with Hitler's name, the relic was found in the Nazi leader's Berlin bunker in 1945 following the regime's defeat. The auction house Alexander Historical Auctions, which did not reveal the winning bidder's identity, had estimated its worth between $200,000 and $300,000. The starting bid was set at $100,000. The Maryland company auctioned off more than a thousand items including the phone and a porcelain sculpture of an Alsatian dog for $24,300. Both winners bid by telephone. More ... More



Roger Ballen.



CAPE TOWN.- Ahead of its Grand Opening during South Africa Heritage Weekend in September 2017, the Zeitz Museum of Contemporary Art Africa (Zeitz MOCAA) today announced major gifts from the Roger Ballen Foundation and the Eiger Foundation to Zeitz MOCAA's endowment to establish and support a Centre for Photography. The gifts are the largest financial donations received by the museum, to date, from a Foundation. The investment of the donations will contribute to the long-term sustainability of the museum now, and for generations to come, and will also ensure a committed focus on photography as part of Zeitz MOCAA's mission. The Roger Ballen Foundation donation includes: 1. The largest financial gift to Zeitz MOCAA's endowment to date from a Foundation, to be invested to support the ongoing logistical, exhibition, programming and ... More
Crystal Bridges opens 'Border Cantos: Sight & Sound Explorations from the Mexican-American Border'
1936 Rolls Royce of artist who painted Mussolini & Churchill for sale with Mossgreen
Asian Art Museum presents new video art to commemorate 75th anniversary of Japanese incarceration during WWII


Guillermo Galindo, Zapatello, 2014. Tire, boot, glove, wood blocking used in construction of Border Wall, donkey jaw, ram's horn, and rawhide, 70 × 38 × 76 in.



BENTONVILLE, ARK.- Crystal Bridges Museum of American Art announces the temporary exhibition, Border Cantos: Sight & Sound Explorations from the Mexican-American Border, on view February 18 through April 24, 2017. Admission to Crystal Bridges and Border Cantos is free. Border Cantos, a unique collaboration between American photographer Richard Misrach and Mexican American sculptor/composer Guillermo Galindo, uses the power of art to explore the complex issues surrounding the United States-Mexico border. "Through exhibiting works by artists of different cultural backgrounds, we are able to broaden our understanding of the American experience. Border Cantos invites visitors to explore the migrant experience in a setting that's inclusive and respectful," said Rod Bigelow, Crystal Bridges Executive Director, Chief Diversity and Inclusion Officer. The exhibition features approximately 80 works of ... More



This 1936 royal blue Rolls Royce 25-30HP has a very elegant aluminium sportsman's saloon body. It is estimated to sell for A$120,000 - 160,000. (£75,000 to £100,000).



SYDNEY.- Francis ("Frank") Owen Salisbury (1874–1962) was an English artist who made a fortune on both sides of the Atlantic and was known as "Britain's Painter Laureate". The sale of his car is with Mossgreen, Australia, in Sydney on Sunday 28th May and features some 20 interesting cars. The FO Salisbury Rolls Royce, not surprisingly is a work of art itself. This 1936 royal blue Rolls Royce 25-30HP has a very elegant aluminium sportsman's saloon body by H.J.Mulliner which is in concourse winning condition. The vehicle arrived in Australia in 1962 with a complete set of tools. It is estimated to sell for A$120,000 - 160,000. (£75,000 to £100,000). In 1936 the car was the first choice for those wanting to be able to cruise down to the south of France for the weekend. A total of just 1,201 25-30 HP automobiles were built by Rolls-Royce in the two year period between 1936 ... More



When Rabbit Left the Moon, a video elegy by award-winning filmmaker Emiko Omori.



SAN FRANCISCO, CA.- Joyful picnics, seaside fun, prosperous storefronts, tidy homes: the typical California dream. This dream was uprooted in 1942 by the signing of Executive Order 9066, which resulted in the incarceration of 120,000 American Japanese during WWII. From Feb. 19 – Feb. 26, 2017, the Asian Art Museum is screening When Rabbit Left the Moon , a video elegy by award-winning filmmaker Emiko Omori to commemorate the 75th anniversary of this dark chapter in American history — a chapter with lessons that continue to resonate today. Omori experienced the devastating effects of forced relocation herself when she was transported to the Poston War Relocation Center in Arizona as a child. Her new work draws in part on the archival imagery of the Japanese American concentration camps first used in her award-winning 1999 documentary Rabbit in the Moon . For this year's important milestone, Omori has crafted an original visual "poe ... More
Quote
Architecture completes nature. Giorgio de Chirico
---
Agnes Gund and Oprah Winfrey Join Forces to Support Tomorrow's Women
---
Flashback
On a day like today, Dutch painter Jan de Baen was born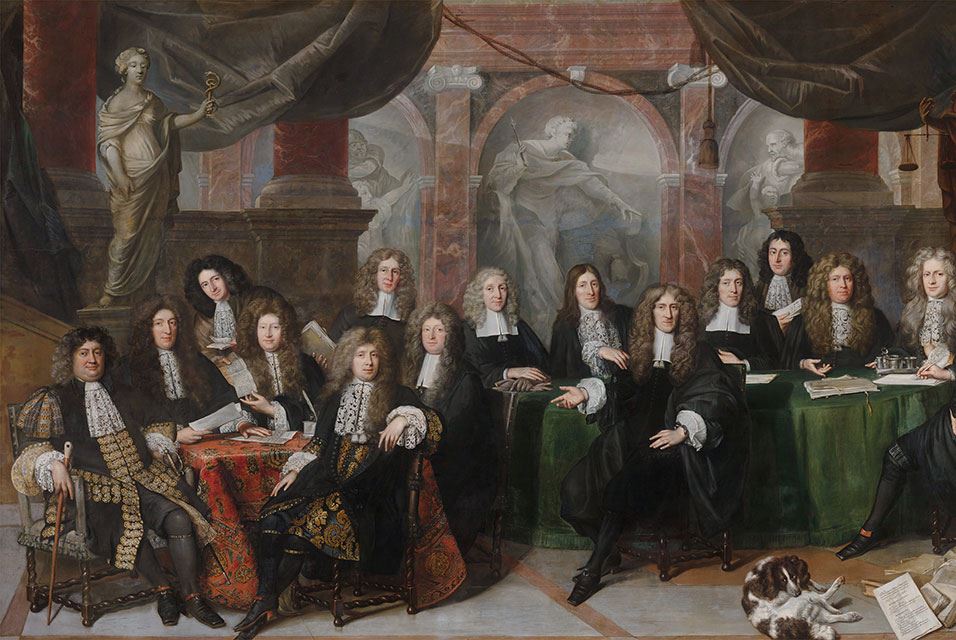 July 20, 1633. Jan de Baen (20 February 1633 - 1702) was a Dutch portrait painter who lived during the Dutch Golden Age. He was a pupil of the painter Jacob Adriaensz Backer in Amsterdam from 1645 to 1648. He worked for Charles II of England in his Dutch exile, and from 1660 until his death he lived and worked in The Hague. His portraits were popular in his day, and he painted the most distinguished people of his time. In this image: Members of the magistrate of The Hague, 1682.
---

Museums, Exhibits, Artists, Milestones, Digital Art, Architecture, Photography,
Photographers, Special Photos, Special Reports, Featured Stories, Auctions, Art Fairs,
Anecdotes, Art Quiz, Education, Mythology, 3D Images, Last Week,
.
Royalville Communications, Inc
produces: