Magnificent masterpieces by Artemisia Gentileschi on view at the Museo di Roma
The exhibition is on view at the Museo di Roma in Palazzo Braschi.
ROME
.-
A journey through the art of the first half of the 17th century in the footsteps of a great and true woman. A first-class painter with a lively effervescent mind, who did not limit herself to sublime painting techniques, but who could modulate it according to the demands of her different patrons, transform it after having absorbed the best from her contemporaries, as she did from the ancient masters, sculptors and painters. The personal and professional trajectory of Artemisia Gentileschi (1593-1653) enthrals the public also because she is seen as the forerunner of the affirmation of female talent, equipped as she was with a unique combination of strength of character and willpower. Her talent allowed her at a very young age, when she arrived in Florence from Rome, to be the first of her gender to be admitted to the Florentine Accademia delle Arti e del Disegno. And so, already an adult, she learned to read and write, to play the lute and to frequent the world of culture in its broades ...
More
The Best Photos of the Day
Fondazione Palazzo Blu presents exhibition of works by Salvador Dalí
Exhibition at Kunsthistorisches Museum focuses on painting by Jacopo da Ponte
MAXXI dedicates an exhibition to the "photographer of the mafia"


Salvador Dalí, Untitled. Giuliano de' Medici from the tomb of Giuliano de' Medici by Michelangelo, 1982, oil on canvas, 140 x 95 cm. Figueres, Fundació Gala-Salvador Dalí ©Salvador Dalí, Fundació Gala-Salvador Dalí by SIAE 2016.



PISA.- Salvador Dalí is one of the most famous and recognizable artists in the world, but also one of the most controversial. No other artist in the 20th century succeeded in exerting such a strong fascination on the general public, while at the same time receiving critical acclaim from museums and art historians. Behind the theatrical mask of his exuberant personality, Dalí was an extremely complex and sensitive artist and intellectual who engaged in serious and profound reflection on art. The ideas and images he developed made him one of the most influential artists of the 20th century; indeed, he paved the way for the evolution of contemporary art through his profound knowledge of, and great respect for, the art of the past, especially that of the Renaissance. Until 5 February 2017, Fondazione ... More



Jacopo da Ponte, called Bassano, Moses striking the Rock at Horeb, c. 1583/1585 (detail). Canvas, 82 x 114 cm © KHM-Museumsverband.



VIENNA.- The seventeenth Point of View showcases a "new discovery" from the world's largest collection of works by the Bassano dynasty of painters, which is in the Picture Gallery of the Kunsthistorisches Museum. Moses Striking the Rock by Jacopo da Ponte, called Bassano, was long regarded as the work of one of his followers and thus banished to the depot and hidden from both the general public and experts for five decades. However, the on-going research project analysing the Picture Gallery's Bassano holdings was able to identify the elegant painting as an important work by Jacopo (c. 1570-1575). Jacopo's skilful colour arrangement leads our gaze into the centre of the composition where the miracle has just taken place. Celebrated by seventeenth-century Venetian art critics for his virtuoso sense of colour, the artist chose the rolling countryside of the Alpine foothills ... More



Letizia Battaglia, Renato Guttuso nel suo studio Palermo, 1985. Courtesy l'artista.



ROME.- Born in Palermo in 1935 and known throughout the world for her photos of the mafia, Letizia Battaglia has provided and continues to provide one of the most extraordinary and acute visual testimonies to Italian life and society, in particular that of Sicily. Recognised as one of the most important figures in contemporary photography for the civic and ethical value of her work, Letizia Battaglia is not only the "photographer of the mafia" but also, through her artistic work and as a photo reporter for the daily newspaper L'Ora, the first woman and in 1985 in New York she became the first European photographer to receive the prestigious international W. Eugene Smith Award, the international prize commemorating the Life photographer. Shortly after the celebrations for her 80th birthday, MAXXI is organizing Letizia Battaglia.Just for passion, a major exhibition curated by Paolo Falcone, Margherita Guccione ... More
National Portrait Gallery to stage first major exhibition devoted entirely to Cézanne's portraits
Notable Sam Francis, Ed Ruscha works announced for Los Angeles Modern Auctions' Winter 2017 Auction
National Gallery of Victoria to present "The House of Dior: Seventy Years of Haute Couture"


Self Portrait in a Bowler Hat, 1885-86 by Paul Cézanne. Ny Carlsberg Glyptotek, Copenhagen. Photo: Ole Haupt



LONDON.- The National Portrait Gallery is to stage the first exhibition devoted entirely to portraits by Paul Cézanne, it was announced today, Thursday 8 December 2016. This major new exhibition, Cézanne Portraits, will bring together for the first time over 50 of Cézanne's portraits from collections across the world, including works never before on public display in the UK. Portraits previously unseen in the UK include the artist's arresting Self Portrait in a Bowler Hat (1885-6) on loan from the Ny Carlsberg Glyptotek gallery in Copenhagen. Also on UK display for the first time since the 1930s will be Boy in a Red Waistcoat (1888-90), one of a series of paintings of a young man in Italian clothes identified as Michelangelo de Rosa, from the National Gallery of Art, Washington DC, and Madame Cézanne in a Yellow Chair (1888-90) on loan from The Art Institute of Chicago, last exhibited in London in 1936 and 1939 ... More



Sam Francis, Untitled (SFF.535), 1969-70, Acrylic on canvas, Estimate: $250,000–350,000. Photo: Los Angeles Modern Auctions (LAMA)/Susan Einstein.



LOS ANGELES, CA.- Los Angeles Modern Auctions has announced the date of its Winter auction, which will take place on Sunday, March 5, 2017 at 12pm (PST). The curated LAMA auction will represent many of the most coveted examples of contemporary artwork in today's market. The LAMA auction will include rare paintings by Sam Francis, Ed Ruscha and Alma Thomas, sculptural works by Jenny Holzer and Harry Bertoia as well as prints, multiples and works on paper by Keith Haring, Richard Diebenkorn and Roy Lichtenstein. Additionally, the auction will have a strong representation of Modern Design with works by George Nakashima, and Sam Maloof among others. One of the twentieth century's most prolific Abstract Expressionists, Sam Francis is known internationally for his striking use of color, influenced by his time in Paris and later in Tokyo. Untitled (SFF.535) (1969-70, Acrylic on canvas, Est.: $250,000-350,000) ... More



Christian Dior, Paris (fashion house), John Galliano (designer), Red silk and wool dress, spring−summer 2009. Haute couture collection. Photo © Laziz Hamani.



MELBOURNE.- In celebration of the seventieth anniversary of the House of Dior, one of the most prestigious couture houses in the world, the National Gallery of Victoria will present the never-before-seen exhibition The House of Dior: Seventy Years of Haute Couture at NGV International from 27 August to 7 November, 2017. Exclusive to Melbourne, the exhibition is a collaboration between the NGV and the House of Dior and will feature a sumptuous display of over 140 garments from Christian Dior Couture designed 1947 to 2017. Highlights include examples from Christian Dior's iconic Spring 1947 'New Look' collection, magnificent displays of Dior's signature ballgowns and evening dresses, as well as current contemporary designs from the House's first female head designer, Maria Grazia Chiuri. Drawing primarily on material from the House of Dior archive in Paris and the NGV Collection, the exhibition will also feature acc ... More
Retrospective of the work of Bernard Buffet on view at the Musée d'Art Moderne de la Ville de Paris
Centre for Contemporary Art Ujazdowski Castle débuts Slavs and Tatars' mid-career survey
New Emily Carr University set to open doors in Fall 2017


Les Écorchés, Tête d'écorché, 1964. 146 x 114 cm, huile sur toile. Collection fonds de dotation Bernard Buffet, Paris © Fonds de dotation Bernard Buffet © ADAGP, Paris 2016.



PARIS.- The Musée d'Art Moderne de la Ville de Paris is organising a retrospective of the work of Bernard Buffet (1928–1999), one of the most famous French painters of the 20th century, but also one of the most contentious. In a choice of a hundred paintings this exhibition takes a fresh look at an oeuvre which in fact remains little known to the public at large. The Musée d'Art Moderne being the only public museum with a large Buffet collection – thanks to the substantial Girardin bequest in 1953 and the Ida and Maurice Garnier donation in 2012 – it seemed appropriate to proceed with a project dating back to a contact initiated with the artist's long-time dealer Maurice Garnier (1920–2014) some ten years ago, but delayed by the ongoing controversy surrounding the oeuvre. The passing of time brings greater objectivity, however, ... More



Slavs and Tatars, Qabaret, 2016.



WARSAW.- Imagine each breath an utterance: in and out, a repetition of equally sensual and semantic force. In Mouth to Mouth, Slavs and Tatars mid-career survey, the traditional flow of information and affect is scrambled and squeezed through organs, orifices and body parts not usually designated for such use. Defining an area "east of the former Berlin Wall and west of the Great Wall of China" as their remit, Slavs and Tatars repeatedly creolize, craft and collide a political and imagined geography to topple our brittle notions of identity, language, and beliefs. Throughout their ten-year practice, the artists have turned to Turkic language politics, medieval advice literature, the relationship between Iran and Poland, and transliteration, to name but a few of their areas of research. A region sandwiched between empires (Russian, Byzantine, Persian, to name a few), ideologies (Communism and political Islam), not to mention the Abrahamic faiths, Eurasia ... More



The new facility features greatly expanded studio and learning spaces.



VANCOUVER, BC.- The new year brings a major new chapter in the life of one of Canada's most renowned art and design universities: the spectacular new campus of Canada's prestigious Emily Carr University of Art + Design is set to open in September 2017. Designed by Canadian architects Diamond Schmitt, the purpose-built facility is 285-thousand square feet of state-of-the-art learning spaces. University president Ron Burnett says it will be "a centre for 21st Century learning in art, design, media, and applied research." The four-storey campus features a white Kalzip exterior, set against the inspiring backdrop of Vancouver's skyline and mountains. Vancouver artist and Emily Carr University professor Landon Mackenzie, in collaboration with noted painter and colleague Ben Reeves, conceived the colour selections highlighting the exterior of the new building. The two artists created a palette ... More
Vienna ovation for 11-year-old girl's Cinderella opera
In northern Italy, a real underground wine
London Art Fair launches the 2017 European art world year


The opera will be performed again on January 4 and January 5.



VIENNA (AFP).- An 11-year-old British girl has spoken of her immense pride after her opera was given a standing ovation in Vienna where it is playing as part of year end celebrations. Alma Deutscher's own take on Cinderella involves a poet prince being charmed by the melody of a female composer, rather than the singing of her pretentious two half-sisters. The characters are played by adults, with Alma accompanying them on the violin in some scenes. Thursday evening's premiere at the city's Casino Baumgarten Concert Hall was packed. "I am extremely proud. If anybody had told me a few years ago that my opera would be put on in Vienna, I'd have thought it was a joke," she told BBC Radio 4's Today programme. The production also has an adult director but Deutscher said in the interview she often passes on her own ideas about how the opera should play ... More



Angelo Gasca carries a box of wine inside the tunnel of a talc mine in Prali, near Turin. MARCO BERTORELLO / AFP.



PRALI (AFP).- He made his career in the quarrying business, but Mauro Camusso always had wine in his blood. Now he has brought the two strands together in the production of a champagne-style sparkling wine that he finishes deep in the bowels of a disused mineral mine. Located in the foothills of the Italian Alps, some 50 kilometres (30 miles) southwest of Turin, the Val Germanasca mine produced talc, the material used to make talcum powder, up until the mid-1990s. And now it has found a new role thanks to Camusso deciding to pick up where his winemaker grandfather left off and get into the business. Camusso, owner of an estate called L'Autin (little vine in local dialect), only planted his first grapes -- including parcels of Chardonnay and Pinot Noir -- in 2010 and made his first wines from grapes harvested in 2013. ... More



Lynn Chadwick, Walking Couple, 1987. Bronze. Courtesy of Osborne Samuel.



LONDON.- The 29th London Art Fair, the UK's premier Fair for Modern British and contemporary art, will be the most international edition to date when it returns to the Business Design Centre, Islington, from 18-22 January 2017. The Fair is renowned for providing a supportive environment for collectors of all levels, enhanced by an engaging programme of curated exhibitions, talks, tours, films and performances. With art spanning the early 20th century to the present day, London Art Fair 2017 sees 129 galleries present museum quality Modern British art alongside the very best international modern and contemporary art. Over one fifth (22%) of this year's exhibitors come from outside of the UK, with galleries from 18 different countries including China, France, Germany, South Korea and USA. New features and highlights for 2017 include: · A museum partnership ... More
Quote
To paint a picture is either easy or impossible. Salvador Dali
---
Adrian Piper: "What It's Like, What It Is #3" (360 VR Video)
---
Flashback
On a day like today, Italian painter Giovanni Boldini was born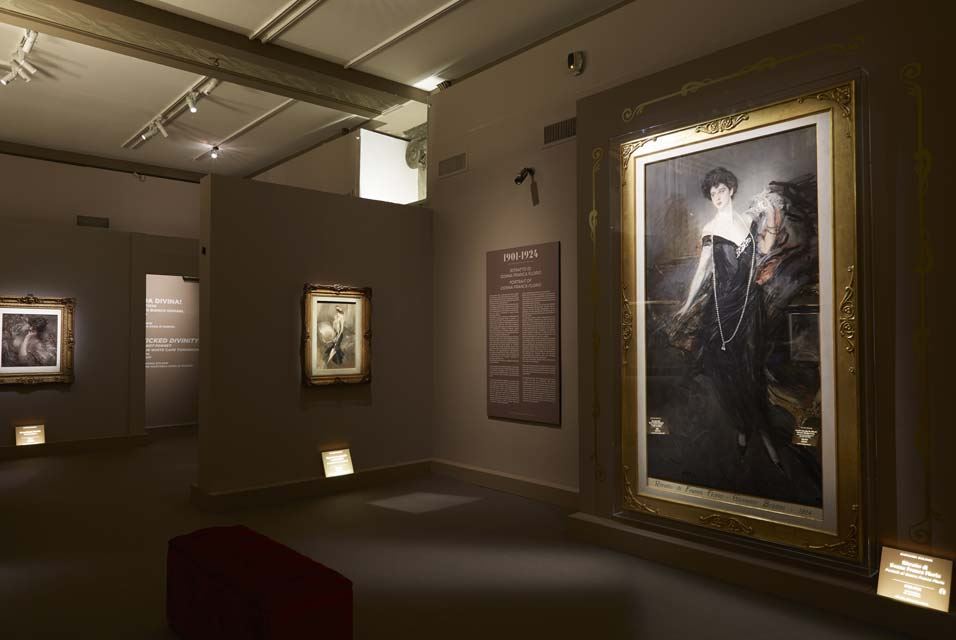 September 31, 1842. Giovanni Boldini (31 December 1842 - 11 July 1931) was an Italian genre and portrait painter who lived and worked in Paris for most of his career. According to a 1933 article in Time magazine, he was known as the "Master of Swish" because of his flowing style of painting.
---

Museums, Exhibits, Artists, Milestones, Digital Art, Architecture, Photography,
Photographers, Special Photos, Special Reports, Featured Stories, Auctions, Art Fairs,
Anecdotes, Art Quiz, Education, Mythology, 3D Images, Last Week,
.
Royalville Communications, Inc
produces: