The Museo del Prado presents an unpublished work by Diego Velázquez
The donor William B. Jordan next to Portrait of Philip III by Diego Velázquez. © Museo Nacional del Prado.
MADRID
.-
The first donation received by American Friends of the
Prado Museum
, on this occasion made by the art historian William B. Jordan, has entered the Museo del Prado as a long-term deposit. This is a previously unpublished Portrait of Philip III, which exhaustive research and technical analysis have confirmed to be an autograph painting by Velázquez. It is being exhibited at the Prado as a temporary, renewable deposit. The work is a preparatory painting for the face of Philip III executed by Velázquez in relation to his composition The Expulsion of the Moriscos, executed in 1627 but destroyed by the fire in the Real Alcázar in Madrid in 1734 and only known from written descriptions as no copy of it has survived. The addition of this work to the Museum's collections as a long-term deposit will contribute to completing its representation of Velázquez as a royal portraitist, given that it is a work of outstanding quality ...
More
The Best Photos of the Day
Smiley faced success for Japan's emoji creator
The Georgia O'Keeffe Museum receives significant gift of letters
French court upholds verdict in Picasso-in-the-garage case


Japanese Shigetaka Kurita, the man who created emoji charachters, shows an emoji charachter after drawing during an interview with AFP. Behrouz MEHRI / AFP.



TOKYO (AFP).- From a humble smiley face with a box mouth and inverted "V's" for eyes, crude weather symbols, and a rudimentary heart -- emoji have now exploded into the world's fastest-growing language. There are now about 1,800 emoji characters -- and counting. They cover everything from emotions and food to professions, are racially diverse and have become an integral part of the smartphone age. The digital hieroglyphics are regarded as so significant that New York's Museum of Modern Art, which is home to works by Andy Warhol and Pablo Picasso, is exhibiting the original 176 designs. Shigetaka Kurita, the man who created these characters, is still surprised by the success of his idea, but says he was meeting an obvious need. "It wasn't only Japanese who felt inconvenienced when they were exchanging text messages. We were all feeling the same thing, ... More



Georgia O'Keeffe, Winter Cottonwoods East V, 1954. Oil on canvas, 40 x 36 in. Georgia O'Keeffe Museum. Gift of The Burnett Foundation (1997.06.024) © Georgia O'Keeffe Museum.



SANTA FE, NM.- The Georgia O'Keeffe Museum announced the receipt of a generous gift of correspondence from a donor who wishes to remain anonymous. The gift is comprised of 110 letters from Georgia O'Keeffe to her sister Anita O'Keeffe Young, written between the years 1929 to 1976. The correspondence provides insight into the two sisters' close relationship and O'Keeffe's daily life in Northern New Mexico. "The gift is important to O'Keeffe's legacy and to the mission of the Georgia O'Keeffe Museum's Research Center because it provides context and insight into O'Keeffe's life and personality," said Eumie Imm Stroukoff, Emily Fisher Landau Director of the Research Center. "There are some absolutely remarkable passages in the letters," she continues. O'Keeffe also writes about the day-to-day aspects of dealing with paintings, for example in a letter ... More



This file photo taken on February 10, 2015 shows Pierre Le Guennec (R) sitting with his wife Danielle at the court in Grasse. VALERY HACHE / AFP.



AIX-EN-PROVENCE (AFP).- A French court on Friday upheld the two-year suspended sentences of Pablo Picasso's former electrician and his wife, who kept 271 of his artworks stashed in their garage for almost 40 years. Pierre Le Guennec and his wife were convicted last year of possessing stolen goods for hiding the works from Picasso's heirs. At his original trial Le Guennec, who is in his late seventies, claimed that Picasso had presented him with the artworks towards the end of his life to reward him for his loyal service. But he later changed his account, telling the appeal court that the works were part of a huge trove of art that Picasso's widow asked him to conceal after the artist's death in 1973. He claimed that Jacqueline Picasso later retrieved most of the works but left him a bag containing 180 single pieces and a notebook containing 91 drawings as a gift. The collection, whose value has not been assessed, includes drawings ... More
Exhibition at Ordrupgaard focuses on the work of Danish artist Laurits Andersen Ring
Exhibition at The Hague Museum of Photography celebrates the centenary of Werner Bischof's birth
Howard L. Bingham, the personal photographer of Muhammad Ali, dies


L.A. Ring, Spring. Ebba and Sigrid Kähler, 1895, The Hirschsprung Collection.



COPENHAGEN.- Winter became spring and melancholy turned to optimism when the painter L.A. Ring married the ceramist's daughter Sigrid Kähler. On 16 December, Ordrupgaard opened the doors to an exhibition that shows a brighter and more domestic side of the famous Danish symbolist and realist. The Danish artist Laurits Andersen Ring (1854-1933) is known and loved for his empathetic portrayals of peasants, artisans and workers, and for his condensed, mist-filled pictures of the Zealand landscape. But the private sphere and the painter's life as it unfolded within the four walls of his home was also a significant factor in L.A. Ring's motivic world. The significance of the home comes to expression at an early stage in a number of interior paintings from Ring's locality, in which he used family members and neighbours as models, often portrayed in domestic ... More



The exhibition includes around 220 original prints, plus contact prints, personal letters and photo books.



THE HAGUE.- Swiss Magnum photographer Werner Bischof (1916-1954) worked as a photojournalist for legendary magazines like Life and Picture Post. Over the two decades prior to his premature death in 1954, he produced a memorable and multifaceted oeuvre. To mark the centenary of his birth, the Hague Museum of Photography is mounting a major retrospective of his work. The exhibition includes around 220 original prints, plus contact prints, personal letters and photo books. It offers an extensive view of his studio work, his images documenting Europe in the immediate aftermath of World War II, and his travels in Asia, South America and the United States. The exhibition has been created by the photographer's eldest son, Marco Bischof in collaboration with Magnum Photos. For this showing in the Netherlands, it has been supplemented by some 30 ... More



Ali vs Liston II, 1965. © Howard Bingham.



NEW YORK, NY.- TASCHEN announced the passing of their friend and collaborator, Howard L. Bingham, who died in Los Angeles on December 15, 2016. A first copy of his new book The Fight, with Norman Mailer and Neil Leifer, had just arrived to his home the previous day. Perhaps no other single photographer is so closely associated with Muhammad Ali as Bingham, the man the Champ knighted his "personal photographer" in 1963, and who, over the years, became his closest friend. For over five decades, where Ali went, Bingham went, prompting Sports Illustrated to publish the pair on its cover in 1998 with the headline "Who's That Guy with Howard Bingham?" Born in Jackson, Mississippi, in 1939, Bingham moved to Los Angeles with his parents at age four. He was educated in the city's public schools and at Compton College. While working at the Sentinel in 1962 Bingham was assigned to cover Cassius Clay, who was ... More
Gift of works by Dali, Warhol, Miro and Pollock launches Te Papa Foundation in style
Exhibition celebrates the profusion of brash and adventurous paintings by female artists
Marilyn Monroe signed portrait from 'Gentlemen Prefer Blondes' sold for almost $25K


Dr Euan Sinclair. Photo: Kate Whitley Te Papa.



WELLINGTON.- An extraordinary gift by US-based New Zealander Dr Euan Sinclair and his wife Ann Sinclair was announced tonight at the launch of the Te Papa Foundation. The Te Papa Foundation is a charitable trust established to raise funds for the national museum. It was launched tonight by Her Excellency, the Rt Hon. Dame Patsy Reddy GNZM QSO, Governor-General of New Zealand. She will be the joint founding patron of the Te Papa Foundation, along with her husband Sir David Gascoigne, who is a noted arts patron and advocate. Contributions over $1,450,000 were revealed at the launch event. Among these was the announcement that Euan and Ann Sinclair will donate seven works from their extensive modern art collection to Te Papa. This includes works by some of the twentieth century's ... More



Charline von Heyl, Alastor, 2008. Collection Museum of Contemporary Art Chicago, gift of Mary and Earle Ludgin by exchange. © 2008 Charline von Heyl. Photo: Nathan Keay, © MCA Chicago..



CHICAGO, IL.- The Museum of Contemporary Art Chicago presents Riot Grrrls, an exhibition that celebrates the profusion of brash and adventurous paintings by female artists and also responds to the charges of sexism that pervade the art world, from male artists garnering the highest prices for their work, to their disproportionate representation in exhibitions. In reaction to these conditions, the MCA has been consciously collecting works by female artists who are making the boldest and most exciting painting today, presented together in this exhibition. Riot Grrrls is organized by Michael Darling, Chief Curator at the MCA and is on view from December 17, 2016 ... More



Glamorous, boldly signed 1953 Frank Powolny portrait of Marilyn.



BOSTON, MASS.- A Marilyn Monroe signed photograph sold to $24,959 according to Massachusetts-based RR Auction. The sultry vintage matte-finish portrait of Monroe taken during a Frank Powolny glamour shoot in 1953, signed and inscribed in white ink, "To Jimmie, Best regards, Marilyn Monroe." Monroe and Powolny most famously teamed up in 1953 for a series of stunning, artfully framed publicity stills for the 1953 film Gentlemen Prefer Blondes. "Powolny captured countless stars in photos that ended up in newspapers, magazines and theater lobbies around the world," said Robert Livingston, Executive VP at RR Auction. Immortalized for his classic World War II pinup of Betty Grable, Powolny remained a trusted photographer for Monroe throughout her career, and is noted as taking ... More
Important Judaica and Israeli & International Art achieve $9.1 million at Sotheby's
Japanese Neo-Pop artist Mr. opens exhibition at Galerie Perrotin, Seoul
Jack Shainman Gallery opens exhibition of works by Titus Kaphar at both Chelsea locations


Marc Chagall, Juif à la Thora. Oil, tempera, and colored inks on canvas, 36 1/4 by 28 3/4 in. 92 by 73.2 cm. Painted circa 1968-1976. Est. $1.5/2 million. Photo: Sotheby's.



NEW YORK, NY.- Sotheby's annual December auctions of Important Judaica and Israeli & International Art concluded last night in New York with a combined total of $9.1 million. From important manuscripts to ceremonial silver and fine art, below is a look at what drove these strong results: estate of Shlomo Moussaieff, featuring an impressive range of important manuscripts, ceremonial sliver and paintings. Works from the collection together realized $2.6 million, surpassing their high estimate of $2.2 million. The group was led by Simeon Solomon's Rabbi Carrying the Scrolls of Law, which set a new world auction record for the artist when it sold for $492,500 – nearly double its high estimate of $250,000. The same work had set Solomon's previous auction record in 2006 when it sold at Sotheby's London. Outside of the Moussaieff Collection, the various-owner offering of book ... More



MR. "Yoshii- (ch) !! Go", 2016 Acrylic and pencil on canvas mounted on wood panel 63 x 51 3/16 in / 160 x 130 cm ©2016 Mr./Kaikai Kiki Co., Ltd. All Rights Reserved Courtesy of the Artist and Galerie Perrotin.



SEOUL.- Galerie Perrotin, Seoul announces "Tokyo, the City I know, at Dusk: It's Like a Hollow in My Heart", the gallery's fifth exhibition with Japanese Neo-Pop artist Mr. For the exhibition, the entire gallery space has been transformed into an immersive environment, with the artist's new works interspersed throughout to activate the space. Following his recent artistic collaboration with Gucci at Gucci Ginza, Tokyo, Mr.'s first solo show in Seoul provides an invaluable opportunity for the Korean audience to immerse themselves into the artist's kaleidoscopic and multiplex universe. Mr.'s installations are essentially an embodiment of his artistic realm, offering a peek into the artist's secretive and imaginative mind influenced by Robert Rauschenberg's assemblages and the Italian Arte Povera movement. Against the backdrop of Tokyo at dusk, large cutouts of young girls' ... More



Reginald Dwayne Betts, 2016. Oil on canvas, 16 x 16 inches. ©Titus Kaphar. Courtesy of the artist and Jack Shainman Gallery.



NEW YORK, NY.- Jack Shainman Gallery presents Titus Kaphar's second solo exhibition, on view at both their Chelsea locations. Shifting Skies is an investigation into the highest and lowest forms of recording history. From monuments to mug shots, this body of work seeks to collapse the line of American history to inhabit a fixed point in the present. Historical portraiture, mug shots, and YouTube stills challenge viewers to consider how we document the past, and what we have erased. Rather than explore guilt or innocence, Kaphar engages the narratives of individuals and how we as a society manage and define them over time. As a whole, this exhibition explores the power of rewritten histories to question the presumption of innocence and the mythology of the heroic. Kaphar received an MFA from the Yale School of Art and is the distinguished recipient of the Gwendolyn Knight and Jacob Lawrence Fellowship. In 2016, he ... More
Quote
We must never forget that art is not a form of propaganda, it is a form of truth. John F. Kennedy
---
Auction highlights of 2018 -- the year in art and objects
---
Flashback
On a day like today, American painter and illustrator Paul Cadmus was born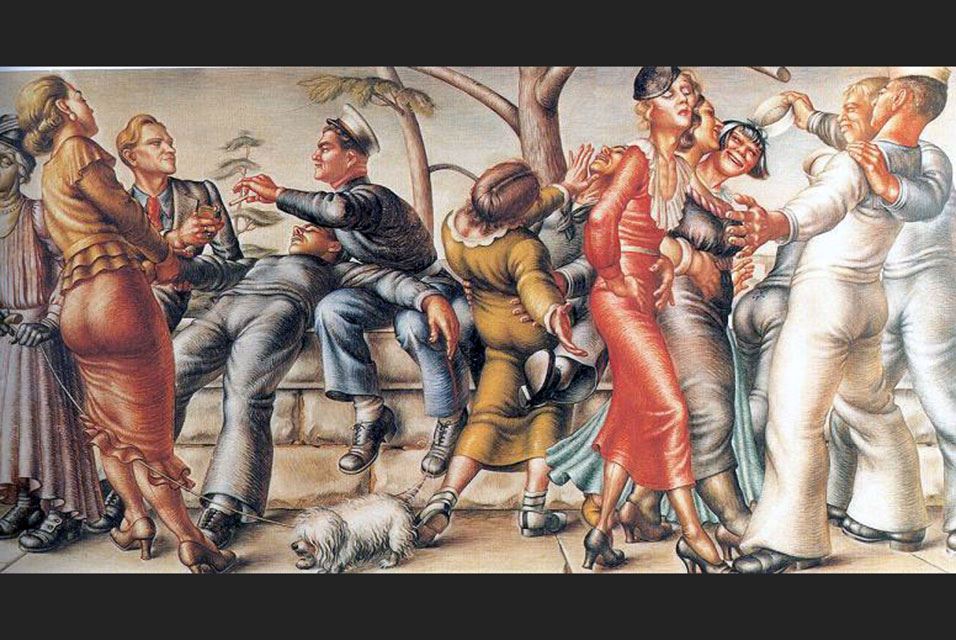 August 17, 1904. Paul Cadmus (December 17, 1904 - December 12, 1999) was an American artist. He is best known for his egg tempera paintings of gritty social interactions in urban settings. He also produced many highly finished drawings of single nude male figures. His paintings combine elements of eroticism and social critique in a style often called magic realism. In this image: The Fleet's In!, 1934 (cropped view).
---

Museums, Exhibits, Artists, Milestones, Digital Art, Architecture, Photography,
Photographers, Special Photos, Special Reports, Featured Stories, Auctions, Art Fairs,
Anecdotes, Art Quiz, Education, Mythology, 3D Images, Last Week,
.
Royalville Communications, Inc
produces: