The Best Photos of the Day
Quote
No art was ever less spontaneous than mine. What I do is the result of reflection and study. Edgar Degas
---
Martin Creed Interview: Things that Don't Add Up
---
Flashback
On a day like today, Russian-French painter Wassily Kandinsky died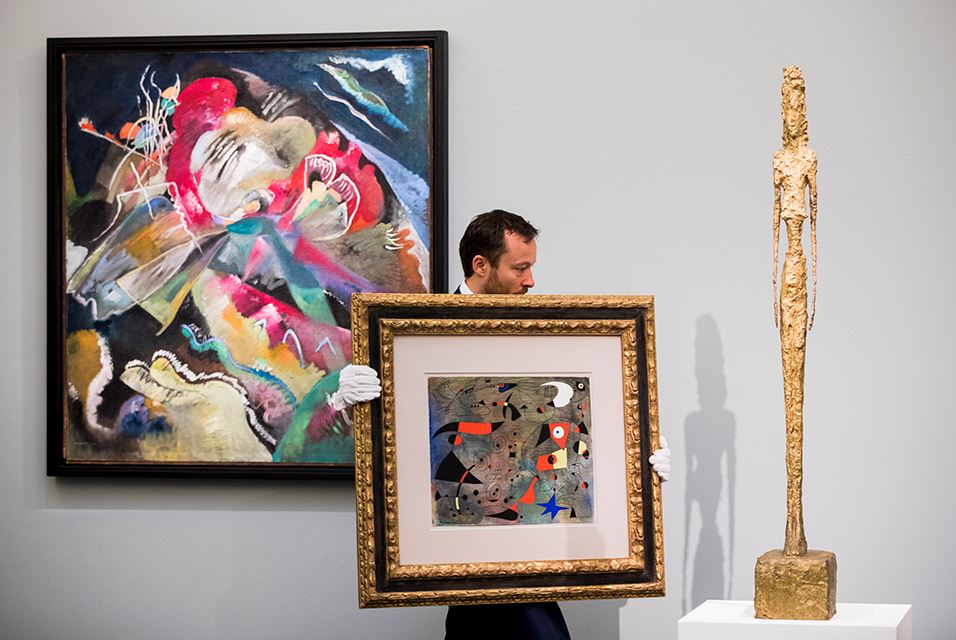 November 13, 2018. Wassily Wassilyevich Kandinsky (16 December [O.S. 4 December] 1866 - 13 December 1944) was a Russian painter and art theorist. He is credited with painting one of the first recognised purely abstract works.Born in Moscow, Kandinsky spent his childhood in Odessa, where he graduated at Grekov Odessa Art school. He enrolled at the University of Moscow, studying law and economics. Successful in his profession -- he was offered a professorship (chair of Roman Law) at the University of Dorpat -- Kandinsky began painting studies (life-drawing, sketching and anatomy) at the age of 30. From left to right: Wassily Kandinsky, Bild mit weissen Linien (Painting with White Lines), oil on canvas, 1913. Joan Miró, Femme et oiseaux, gouache and oil wash on paper, 1940. Alberto Giacometti, Grande figure, bronze, cast by the Alexis Rudier foundry in Paris in 1947. Courtesy Sotheby's.
---

Museums, Exhibits, Artists, Milestones, Digital Art, Architecture, Photography,
Photographers, Special Photos, Special Reports, Featured Stories, Auctions, Art Fairs,
Anecdotes, Art Quiz, Education, Mythology, 3D Images, Last Week,
.
Royalville Communications, Inc
produces:







Tell a Friend
Dear User, please complete the form below in order to recommend the Artdaily newsletter to someone you know.
Please complete all fields marked *.
Sending Mail

Sending Successful