It's a squeeze, but Paris Impressionist museum is still a hit after 30 years
This file photo taken on June 15, 2015 shows the Orsay museum and the Eiffel tower in Paris. One of the most densely populated museums in the world, located in an old station and dedicated to a short and turbulent artistic period: Orsay celebrates its 30th anniversary this weekend. JOEL SAGET / AFP.

by Antoine Froidefond
PARIS
(AFP)
.-
It is one of the greatest and most visited art museums in the world, and the only one in an old railway station. Thirty years after the Musee d'Orsay opened its doors for the first time, it has become as much a Paris landmark as its big sister the Louvre just across the River Seine. But the very success of the museum best known for its unrivalled collection of Impressionist paintings is now causing it problems. An average of 3.5 million visitors a year pour through its spectacular vaulted nave, making it the "most dense museum in the world", according to its director of collections Xavier Rey. There is simply not enough space, he said. Although the Musee d'Orsay is one of the top 10 most visited galleries in the world, it is several times smaller than its rivals. ...
More
The Best Photos of the Day
Christie's to offer African and Oceanic art in Paris
In Morocco's Fez, world's oldest library holds gems
Early dynastic treasures lead at Gianguan Auctions on December 10th


Luba Shankadi headrest attributed to The Master of the Cascade Coiffure. Democratic Republic of the Congo. Estimated value: €500,000-800,000. © Christie's Images Limited 2016.



PARIS.- This December 15th in Paris at the Hôtel Drouot, Millon, in cooperation with Christie's, will be auctioning nearly 80 objects of African and Oceanic art as well as a selection of 60 lots of archaeology from the estate of Madeleine Meunier. These remarkable works of art have remained out of the public eye for over half a century. Alexandre Millon, President of Millon auction house: "At the forefront of the Madeleine Meunier Collection are forgotten treasures of rare and captivating works of African and ancient art. The mythical figures of Aristide Courtois and Charles Ratton, at the heart of this collection, will also be celebrated. Their names live in perpetuity in the marketplace with this commemorative auction in two ways: In honor of the heirs who have given us their trust and with the appreciation of collectors and institutions, whose presence at Drouot will enhance the special atmosphere ... More



A man reads an encyclopedia about Maliki Muslim doctrine at the al-Qarawyin Library in the Moroccan city of Fez on November 21, 2016. FADEL SENNA / AFP.



FEZ (AFP).- Nestled in a labyrinth of streets in the heart of Morocco's ancient city of Fez, stands the world's oldest working library. Its sculpted dark wooden door stands almost hidden on the edge of a square where artisans hammer away at copper in a deafening din, delighting passing tourists. But for the few lucky enough to be allowed behind the door, a staircase tiled with green and blue hints at the written wonders beyond. As early writings from the Arabic-speaking world have come under increasing threat from extremists, the Qarawiyyin library is home to priceless treatises in Islamic studies, astronomy and medicine. Last year the Islamic State group burned thousands of rare manuscripts at the Mosul library in Iraq, and in 2013 Islamists torched countless early writings from the Islamic world and Greece in Mali's Timbuktu. The Qarawiyyin library has just emerged from years of restoration, although no date has yet been fixed for a public opening. ... More



Tang Zun of gilt silver and gold inlaid with turquoise, agate and diamond chips. with gold long-tailed phoenixes, a base that features dragons and lids covered with deer. $800,000—$1,500,000.



NEW YORK, NY.- On Saturday, December 10, Gianguan Auctions celebrates China's heightened artistic standards with an exceptional sale of antiquities and paintings. The emphasis is on Neolithic to Qing Dynasty works of art, jade carvings and classical paintings. Highlights of the early works of art follow. Kwong Lum, Gianguan's Founder and President, said the carefully curated collections emphasize rarity, aesthetics and craftsmanship at every price point, from top tier to mid-range and entry level. A pair of diamond encrusted, gold wine vessels with original covers, is the day's marquee item. Of the Tang Dynasty (618-907), the hexagonal Zun are decorated with gold long-tailed phoenixes with raised wings amidst other scrolling birds, a base that features dragons and lids covered with deer. Inlays include turquoise, agate and gold. The vessels The Sun pair is Lot 172, estimated at $800,000—$1,500,000. Another ... More
Colours inspired by the V&A Museum to be available as a luxury interior paint range
Important Judaica to be offered at Sotheby's New York
Gemeentemuseum Den Haag presents first complete biography of Piet Mondrian


V&A Classic Paint Collection in Owens Teal.



LONDON.- Colours inspired by the Victoria and Albert Museum, the world's leading museum of art and design will soon be available for the first time as a luxury interior paint range. A selection of 40 distinctive colours inspired by the V&A's unique architecture and decorative interiors, allowing people to bring the palette of the Museum into their own homes, has been created by Master Paintmakers, part of an international paint group. A first-look at the collection has been released today. The V&A Classic Paint Collection, developed in close collaboration between Master Paintmakers and the V&A, will use the finest pigments to achieve the highest quality paint product available in its category. Highlights from the 40 strong colour palette will include Reuben Red, a rich Victorian red echoing colours used in fabrics and carpets at the time and named after Reuben Townroe, who worked on architectural ... More



Simeon Solomon, Carrying The Scrolls Of The Law, oil on canvas, 30 1/4 by 24 in. 77 by 61 cm. Est. $150/250,000. Photo: Sotheby's.



NEW YORK, NY.- Sotheby's annual New York auction of Important Judaica on 15 December 2016 will offer a diverse array of Hebrew books and manuscripts, ritual silver and metalwork, as well as important textiles and paintings. The sale is headlined by 176 lots from the Collection of Shlomo Moussaieff, which span over seven centuries. The collection features an impressive range of items, including: ceremonial silver, with a particular emphasis on menorahs and candelabras of diverse forms that from Jewish communities all over the world; books and manuscripts, featuring important autographed Kabbalistic works and decorated Kettubahs (marriage contracts); and textiles and fine art, including Simeon Solomon's 1871 painting, Carrying the Scrolls of the Law (est. $150/250,000). Outside of the ... More



Piet Mondriaan. Een nieuwe kunst voor een ongekend leven is being published by Hollands Diep (only in Dutch), € 39.99, 656 pages.



THE HAGUE.- In 1942 Piet Mondrian began work on a painting he thought might well be his last – and which has since become world-famous under the title Victory Boogie Woogie. The new biography by Hans Janssen, Mondrian expert and curator of modern art at the Gemeentemuseum Den Haag, discloses previously unpublished photographs of Mondrian at work on the painting. Hans Janssen: 'For the first time we can see the technique Mondrian used to paint his final masterpiece.' The hitherto unknown photographs, one of which adorns the cover of the new book, have turned up recently in the archive of the National Gallery of Art in Washington and show Mondrian at work in his New York studio. The painting now known around the world as Victory Boogie Woogie lies flat on the table in front of him. In ... More
Kestenbaum & Company announces Auction of Israeli & International Art
700+ jewels make the season bright at Sotheby's New York
Fund set up to protect endangered heritage sites


Reuven Rubin, The Goldfish Vendor. Oil on canvas. 92 x 73 cm. Tel Aviv, 1972. Est: $30,000 - 50,000.



NEW YORK, NY.- Kestenbaum & Company's upcoming auction will feature important 20th century art, comprising highlights from the collection of the late Stanley I. Batkin. The offering of 48 paintings and drawings includes works by celebrated Israeli artists including Yaacov Agam, Avigdor Arikha, Ludwig Blum, Moshe Castel, Marcel Janco, Menashe Kadishman, Reuven Rubin, Yohanan Simon, Avigdor Stematsky and Ziona Tagger. Artwork from the Batkin collection has been exhibited at The Israel Museum, The Tel Aviv Museum of Art, New York's Jewish Museum and the Venice Biennale. The collection was formed by philanthropist Stanley Batkin (1914-2015) who set out, many decades ago, to collect the finest examples from each and every major Israeli artist. Batkin was a passionate supporter of the arts in Israel via numerous philanthropic endeavors, serving on the boards of many cultural and scholarly Jewish and Israeli institutions. Kestenbaum ... More



Pair of Platinum, Jadeite and Diamond Earclips, Cartier, London. Supporting two jadeite plaques carved with foliate motifs, measuring approximately 44.6 by 14.3 by 4.2 mm and 43.8 by 14.2 by 4.0 mm, with tops set with baguette, square and old European-cut diamonds weighing approximately 3.00 carats, signed Cartier London; circa 1925. Est. $100/150,000. Photo: Sotheby's.



NEW YORK, NY.- Just in time for the holidays, Sotheby's Magnificent Jewels and Fine Jewels auctions will be held in New York on 8 & 9 December 2016. Both sales feature a wonderful array of signed and iconic jewels by renowned houses including Van Cleef & Arpels, Cartier, Tiffany & Co. and David Webb, alongside rare designs by Suzanne Belperron, Paul Flato, JAR and René Lalique. This year, the sales are further distinguished by exceptional provenance from private collections that have been amassed over decades. This December, Sotheby's is privileged to offer jewels from the Whitney family collection, specifically, Property from the Family of Betsey Cushing Whitney and John Hay ... More



French Culture Minister Audrey Azoulay attends the closing ceremony of an international conference on protecting the world's cultural heritage on December 3, 2016, in Abu Dhabi. KARIM SAHIB / AFP.



ABU DHABI (AFP).- Representatives of around 40 countries on Saturday approved plans to establish a fund to protect heritage sites in war zones and a network of safe havens for endangered artworks. A closing statement issued after two days of talks in Abu Dhabi did not specify the total amount pledged for the fund but French President Francois Hollande said a target of $100 million remained achievable. The meeting, co-sponsored by France and the United Arab Emirates, was spurred by the systematic destruction and looting of archaeological treasures in Iraq and Syria by the Islamic State group. The world watched in dismay as the jihadists systematically destroyed temples and tower tombs in the ancient Syrian city of Palmyra last year. In Iraq, videos showed IS using bulldozers and explosives to destroy Nimrud, a jewel of the Assyrian empire, and ransacking ... More
Acclaimed contemporary artist showcases monumental paintings
Thomas Edison's lightbulbs, keys to Menlo Park laboratory bring $64,375 at Heritage Auctions
Dreweatts & Bloomsbury Auctions announces the Sporting and Country Life Sale


Untitled, 1989. Albert Oehlen (German, b. 1954). Oil on canvas; 240 x 200 cm. © Albert Oehlen. Private collection. Photo: Galerie Max Hetzler, Berlin | Paris.



CLEVELAND, OH.- In an exhibition as innovative and daring as the art it showcases, Albert Oehlen: Woods near Oehle is the most ambitious project devoted to the work of leading German artist Albert Oehlen ever presented in the United States. Developed by the Cleveland Museum of Art in close collaboration with the artist, the exhibition illustrates the depth and complexity of an artist who has been at the forefront of artistic innovation since the late 1970s. Albert Oehlen: Woods near Oehle features 45 works from the past 30 years and includes many new works. The exhibition brings together not only works by Oehlen, but contributions by some of his closest friends and other artists who have exerted profound influence throughout his oeuvre. Featured in the exhibition and the accompanying publication are curatorial, musical and written contributions ... More



[Thomas A. Edison]: Heinrich Goebel Patent Case Archive.



DALLAS, TX.- An archive of Thomas Edison's lightbulbs, court evidence and the keys to his famed Menlo Park, New Jersey, laboratory where he invented the phonograph, sold for a combined $64,375 at a Dec. 3 public auction of Historical Americana held by Heritage Auctions in Dallas. The archive included six, 19th century lightbulbs tied to a famous court case, which had descended in the family of Edison's own attorney for more than 100 years. "These bulbs were entered as evidence when Edison sued three different companies for allegedly infringing on his patent for the incandescent bulb," said Don Ackerman, a consignment director for Historical Americana for Heritage Auctions. "Edison's own keys were used to open the doors of his laboratory was where the genius earned his nickname as "The Wizard of Menlo Park." One bulb in the archive was created by Heinrich Göbel, a German inventor who ... More



Dame Laura Knight, R.A, R.W.S (1877-1970), Derby Day (detail), Watercolour and pencil, Signed, lower right, 24 x 35cm (9 1/2 x 13 3/4in.), Est. £10,000-£15,000.



NEWBURY.- The Sporting and Country Life sale at Dreweatts & Bloomsbury Auctions' Newbury base, Donnington Priory, will take place on 13th December 2016 at 10am. Prize lots include beautiful equestrian paintings, silver objects and striking bronze sculptures, with auction estimates ranging from £2,000-£22,000. One of many auction highlights is Peter Biegel's depiction of Newmarket (est. £8,000-£12,000). Biegel's family members were also horsemen; his father was Dutch and was also a keen horseman, known as the 'Flying Dutchman' in the hunting field. Continuing the racing theme is Dame Laura Knight's watercolour painting, Derby Day, estimated at £10,000-£15,000. Dame Laura Knight is one of the most iconic and prolific female artists of the twentieth century; she was the first woman to be elected as a Royal Academician ... More
Quote
I am old and ill, and I have sworn to die painting. Paul Cézanne
---
Cecily Brown Interview: Totally Unaware
---
Flashback
On a day like today, French impressionist painter Claude Monet died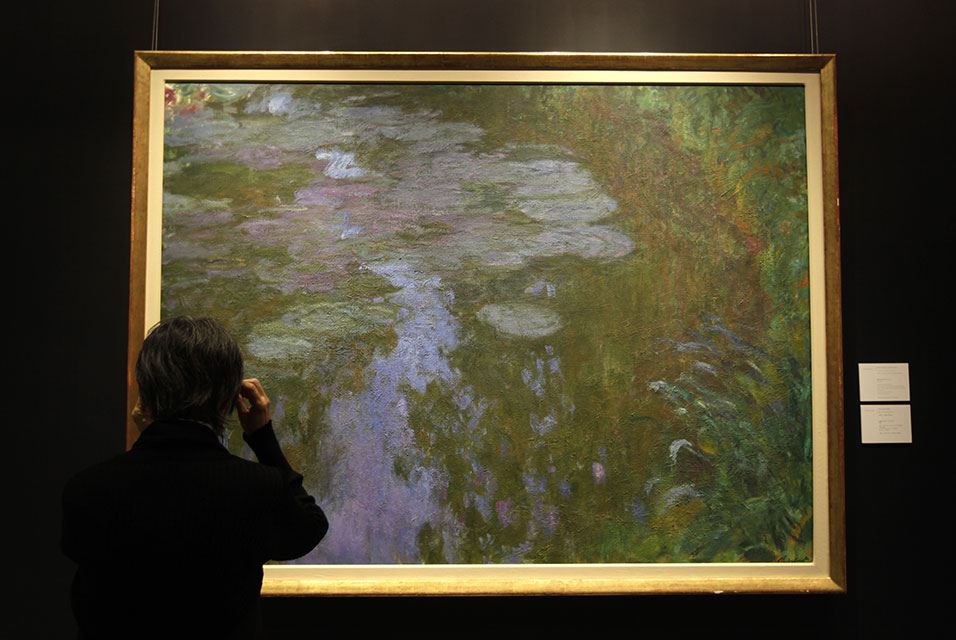 August 04, 1926. Claude Monet (14 November 1840 - 5 December 1926) was a founder of French impressionist painting, and the most consistent and prolific practitioner of the movement's philosophy of expressing one's perceptions before nature, especially as applied to plein-air landscape painting. The term Impressionism is derived from the title of his painting Impression, Sunrise (Impression, soleil levant). In this image: A visitor looks on a painting by French artist Claude Monet (1840-1926) entitled Nympheas during a press preview in Hong Kong, China, 27 May 2011. The painting was expected to fetch in excess of 17 to 24 million GBP (19 to 27 million Euro), at auction at Christies London Impressionist Modern Paintings on 21 June 2011.
---

Museums, Exhibits, Artists, Milestones, Digital Art, Architecture, Photography,
Photographers, Special Photos, Special Reports, Featured Stories, Auctions, Art Fairs,
Anecdotes, Art Quiz, Education, Mythology, 3D Images, Last Week,
.
Royalville Communications, Inc
produces: