The Best Photos of the Day
Quote
The corruptest art is the sentimental - that makes pale woman faint. Camille Pissarro
---
Rashid Johnson 'The Hikers'
---
Flashback
On a day like today, French painter Camille Pissarro died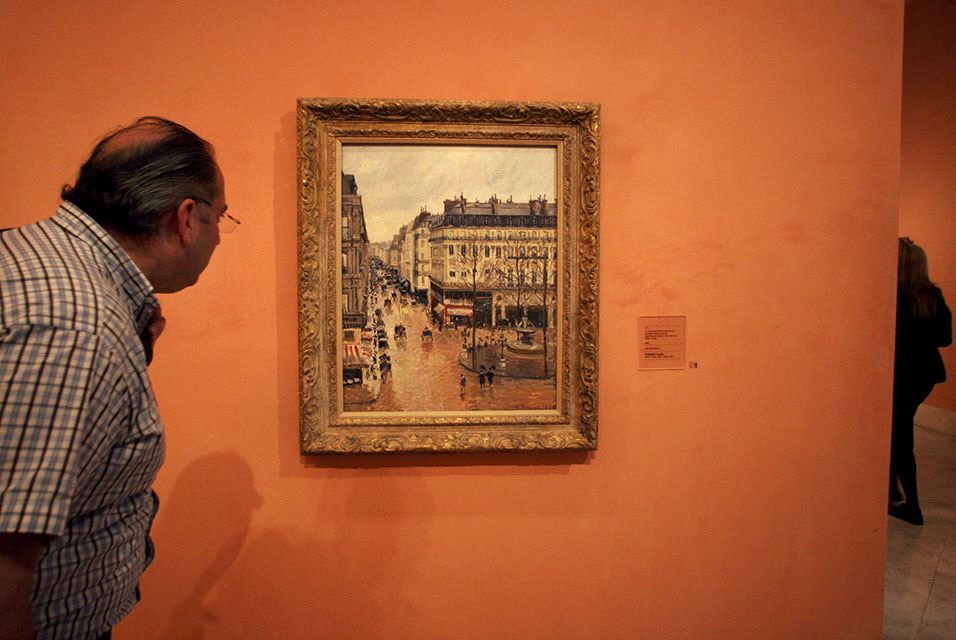 December 13, 1903. Camille Pissarro (10 July 1830 - 13 November 1903) was a French Impressionist and Neo-Impressionist painter born on the island of St Thomas (now in the US Virgin Islands, but then in the Danish West Indies). His importance resides in his contributions to both Impressionism and Post-Impressionism. Pissarro studied from great forerunners, including Gustave Courbet and Jean-Baptiste-Camille Corot. He later studied and worked alongside Georges Seurat and Paul Signac when he took on the Neo-Impressionist style at the age of 54. In this image: An unidentified visitor looks at the Impressionist painting by Camille Pissarro called the "Rue Saint-Honore apre-midi. Effet de Pluie (Rue Saint-Honore Afternoon, Rain Effect)," in the Thyssen-Bornemisza Museum in Madrid, Thursday May 12, 2005.
---

Museums, Exhibits, Artists, Milestones, Digital Art, Architecture, Photography,
Photographers, Special Photos, Special Reports, Featured Stories, Auctions, Art Fairs,
Anecdotes, Art Quiz, Education, Mythology, 3D Images, Last Week,
.
Royalville Communications, Inc
produces:







Tell a Friend
Dear User, please complete the form below in order to recommend the Artdaily newsletter to someone you know.
Please complete all fields marked *.
Sending Mail

Sending Successful