French premier Manuel Valls reopens Rodin Museum after three years of renovation work
French Prime Minister Manuel Valls walks past "The Thinker" by Auguste Rodin during the inauguration ceremony of the Rodin Museum in Paris after three years of renovation work on November 9, 2015. AFP PHOTO / POOL / ERIC FEFERBERG.
PARIS
(AFP)
.-
The French prime minister inaugurated the revamped
Rodin Museum
in Paris after three years of renovation work. The museum, dedicated to the work of French sculptor Auguste Rodin, famed for his statue "The Thinker", is one of the country's most popular museums with around 700,000 visitors a year. French premier Manuel Valls recalled visiting the museum with his artist father and hailed the sculptor's determination to present "his vision, how things really are" in the face of convention. The 18th-century palace required extensive updating and a redesign of its interior to meet the standards of a modern museum. It had not undergone full renovation since Auguste Rodin himself used it as his Paris studio until his death in 1917. The renovation has allowed the museum to completely rethink its exhibition space, and to show the work of Rodin and some of his ...
More
The Best Photos of the Day
Russia finds two other paintings under avant-garde masterpiece by Kazimir Malevich
British Museum's priceless treasures go online in Google Cultural Institute partnership
'Blackboard' painting by Cy Twombly goes for record $70.5 million at Sotheby's New York


Malevich first embraced Cubo-Futurism, a Russian avant-garde art movement of the 1910s combining Cubism with the ideas of European Futurism. Photo: Wikipedia.org.



MOSCOW (AFP).- Art experts in Russia say they have discovered two earlier paintings hidden under a monochrome masterpiece by Kazimir Malevich, and an inscription by the Russian avant-garde artist that may shed light on the meaning of the work. Moscow's Tretyakov Gallery -- which houses one of three versions of the iconoclastic art work "Black Square" -- uncovered two Cubist images underneath the top coat of black paint as they investigated it using X-rays for its centenary this year. "It was known that under the Black Square, there was some underlying image. We found out that there is not one image, but two," Yekaterina Voronina, an art researcher at the Tretyakov, told the state-run Kultura television channel. "We proved that the initial image is a Cubo-Futurist composition, while the painting lying directly under the Black Square -- the colours of which you can see in the ... More



Google and British Museum said in a statement that the collections would be "the largest space to be captured on indoor Street View".



LONDON (AFP).- Thousands of artefacts from the British Museum's priceless collections went online Thursday in a partnership with Google that will allow web-users to take a virtual stroll through its galleries. The deal with the Google Cultural Institute, which has 800 partners from over 60 countries, also allows objects to be scrutinised by researchers around the world thanks to high-definition Gigapixel technology. Among artefacts viewable online is the famous Rosetta Stone, which helped unlock the secret of Egyptian hieroglyphs, and sculpture from the Parthenon in Athens. "The world today has changed, the way we access information has been revolutionised by digital technology," British Museum director Neil MacGregor said in a statement. "It is now possible to make our collection accessible, explorable and enjoyable not just for those who physically visit, but to everybody with a computer or a ... More



Cy Twombly's Untitled (New York City) was the outstanding highlight of the sale, selling for $70,530,000. Photo: Sotheby's.



NEW YORK (AFP).- It may look little more than blackboard scrawls to the untrained eye, but a Cy Twombly work fetched $70.53 million in New York on Wednesday, setting a new auction record for the painter. A smattering of applause broke out in the room after bidding concluded for the star lot of Sotheby's main evening post-war and contemporary art auction of the season. "Untitled" was produced by the US artist as part of his acclaimed Blackboard series in 1968, using oil-based house paint, wax crayon and pencil on canvas. The former army cryptographer painted six bands of repeated loopy lines on a gray background, which was sold by a prominent US collector to benefit a reform temple in Los Angeles. Sotheby's said the price set a new record at auction for the artist, just edging out the previous record of $69.6 million. It marked a phenomenal investment for a picture that British collector Charles Saatchi ... More
Special installation of works by Jean-Étienne Liotard now on view at the J. Paul Getty Museum
Monaco gives go-ahead to million-dollar art fraud trial between Dmitry Rybolovlev and Yves Bouvier
Royal Ontario Museum announces Josh Basseches as Director and Chief Executive Officer


Jean-Étienne Liotard. (Swiss, 1702-1789), Portrait of Maria Frederike van Reede-Athlone at Seven Years of Age, 1755-1756. Pastel on vellum. 21 5/8 x 17 5/8 in. The J. Paul Getty Museum, Los Angeles.



LOS ANGELES, CA.- Swiss artist Jean-Étienne Liotard (1702-1789) excelled at the delicate art of pastel. His finest portraits display an astonishing realism achieved through intense observation and remarkable technical skill and feature royalty, aristocrats, and the bourgeoisie. Jean –Étienne Liotard: A Cosmopolitan Artist, comprised of pastels and drawings from the Getty Museum's collection and two spectacular loans from a private collection, is now open and continues through April 24, 2016, at the Getty Center. "For most of his very long career, Liotard worked as an itinerant portraitist," says Timothy Potts, director of the J. Paul Getty Museum. "The works of art in this room testify to the artist's numerous travels and fame as well as to his astonishing facility in the medium of pastel." The remarkable success of pastel in the eighteenth century was due to the high demand for portraits from the nobility ... More



A November 22, 2014 file photo shows AS Monaco football club's Russian President Dmitry Rybolovlev. AFP PHOTO / VALERY HACHE.



MONACO.- The fraud case against a Swiss art dealer accused of swindling up to a billion dollars from the owner of Monaco football club should go ahead, a court ruled Thursday. Russian billionaire and club owner Dmitry Rybolovlev bought a total of 37 masterpieces worth two billion euros ($2.1 billion) through art dealer Yves Bouvier over the space of a decade. But their relationship disintegrated last year after he accused Bouvier of inflating prices, rather than finding him the best price, and taking a commission. Rybolovlev's lawyers say Bouvier pocketed "between $500 million and $1 billion" from the inflated prices. On Thursday, the Monaco appeals court rejected Bouvier's request that the case be dismissed, and ruled he should face fraud and money-laundering charges. The woman who introduced the two, Tania Rappo, Rybolovlev's translator and godmother to his youngest daughter, will also face prosecution for taking a commission on the sales, her lawyer ... More



Basseches joins the ROM from the Peabody Essex Museum (PEM) in Salem, Massachusetts, where he is Deputy Director. Photo: Courtesy Peabody Essex Museum (PEM) / Photograph by Kathy Tarantola.



TORONTO.- Bonnie Brooks, Chair of the Royal Ontario Museum Board of Trustees, announced today the appointment of Josh Basseches as the new Director and CEO, following an extensive international search. A museum leader for more than two decades, Basseches brings an extraordinary depth of global museum knowledge and experience to his new role at the ROM. "Josh is a proven leader with a strong vision for museums in the 21st century. We look forward to welcoming him to the ROM and its passionate community, and working with him to realize our ambitious and exciting plans to grow this important institution," said Bonnie Brooks. Basseches joins the ROM from the Peabody Essex Museum (PEM) in Salem, Massachusetts, where he is Deputy Director. He played a central role in the decade-long transformation of PEM into one of America's leading museums, with a reputation for innovation and creativity, as well ... More
What a gem: Hong Kong tycoon Joseph Lau buys daughter $48 million diamond at Sotheby's
Exhibition of new work by James Turrell on view at Kayne Griffin Corcoran in Los Angeles
"Masters of the Everyday: Dutch Artists in the Age of Vermeer" opens at The Queen's Gallery, London


A model smiles as she wears the 'Blue Moon' diamond. AFP PHOTO / FABRICE COFFRINI.



HONG KONG.- A Hong Kong billionaire spent a record $48.4 million buying a 12.03-carat diamond dubbed "Blue Moon" for his daughter in an auction in Geneva, his spokeswoman confirmed to AFP Thursday. Property tycoon Joseph Lau, who last year was found guilty of bribery in neighbouring Macau, bought the rock at a Sotheby's auction on Wednesday and immediately renamed it "The Blue Moon of Josephine" after his seven-year-old daughter. The sale comes the day after he spent $28.5 million buying a rare 16.08-carat pink diamond -- the largest of its kind to ever go under the hammer -- from rival auction house Christie's, which he rebaptised "Sweet Josephine". A Hong Kong-based spokeswoman for Lau confirmed the two purchases to AFP. "The first was the pink one 'Sweet Josephine' and the second one was the 'Blue Moon of Josephine'," she said. David Bennett, head of Sotheby's international jewellery division, said the "Blue Moon" sale broke several records, making the ... More



James Turrell, Elliptical Wide Glass, 2014. L.E.D. light, etched glass and shallow space, 50 ¾ x 82 ¼ inches. © James Turrell. Courtesy Kayne Griffin Corcoran, Los Angeles.



LOS ANGELES, CA.- Kayne Griffin Corcoran announces an exhibition of new work by James Turrell, his fifth with the gallery over the last decade. The exhibition includes three major, large-scale Elliptical Glass works as well as a selection of unique graphic works taken from Aten Reign, the large work created for the atrium of the Solomon R. Guggenheim Museum in 2013. The Elliptical Glass series developed out of Turrell's larger group of Tall Glass works, begun in 2006, was significant in its introduction of a temporal element. Over a two-and-a-half-hour time period the unique composition sweeps through thousands of different color themes. Across the Elliptical Glass's plane light gently diffuses to make the shallow space indeterminable to the eye. Vivid combinations of colors seep into and against each other as they slowly shift over time, this change moving so softly as to be at first barely perceptible to the eye. Turrell e ... More



Johannes Vermeer, 'Lady at the Virginals with a Gentleman or 'The Music Lesson'', 1662-5. Royal Collection Trust/ © Her Majesty Queen Elizabeth II 2015.



LONDON.- Twenty-seven of the finest 17th- and 18th-century Dutch paintings in the Royal Collection, including Vermeer's 'The Music Lesson', will be brought together in a new exhibition opening this November at The Queen's Gallery, London. Masters of the Everyday: Dutch Artists in the Age of Vermeer includes works by some of the finest artists of the day, among them Gerrit Dou, Pieter de Hooch and Jan Steen. Produced during the Dutch 'Golden Age', when the Netherlands was at the forefront of commerce, science and art, these works represent a high point in 'genre painting' –  ordinary scenes of everyday life rendered in extraordinary detail. Renowned for their exquisite depiction of space and light, Dutch artists of the period also included humorous or moralising messages in their work for the contemporary viewer to decode. Johannes Vermeer is perhaps the most highly regarded genre painter of h ... More
147 international galleries and 27 art book dealers present at 19th edition of Paris Photo
Susan Hiller's first solo exhibition in London since her Tate retrospective opens at Lisson Gallery
Private estates and prestigious collections result in $1.7 million for Freeman's


Visitors look through art books during the opening of the 19th edition of the Paris Photo Fair. AFP PHOTO/MIGUEL MEDINA.



PARIS.- The 19th edition of Paris Photo opened at the Grand Palais, the cultural event for the discovery of photography through the world's largest panorama of the medium, from its first expressions to the latest contemporary trends. At the heart of the fair are 147 international galleries who bring to light the greatest talents in photography, each chosen for their prestige, the excellence of their represented artists and the quality of their projects to satisfy the fair's audience of collectors, art professionals, and enthusiasts. 27 specialized art book dealers and publishers join the fair, affirming the historic and artistic importance of the photobook. PRISMES, inaugurated this year, is a new sector in the Salon d'Honneur, dedicated to the exploration of the photographic medium in all its forms. This edition, the accent is on exceptional large format and serial works presented ... More



Susan Hiller © Susan Hiller. Courtesy Lisson Gallery. Photograph: Carla Borel.



LONDON.- In her debut exhibition at Lisson Gallery, Susan Hiller will present a number of recently discovered early pieces as well as celebrated classics and new works made this year. This is the artist's first solo exhibition in London since her Tate retrospective of 2011. A widely influential artist, Hiller has spent the past six decades questioning belief systems and the production of meaning. Her strategies and methodologies involve the examination of real and imagined phenomena, probing the unseen and the unheard in order to create art that evokes absences, memories and ghosts. Hiller has described her work as "a kind of archaeological investigation, uncovering something to make a different kind of sense of it" and "concentrating on what is unspoken, unacknowledged, unexplained and overlooked." Her art has repeatedly been ground-breaking in its diversity of materials and forms, combining an astonishing ra ... More



Attributed to John Hesselius (1728-1778), Portrait of Slator (Slater) Clay (1754-1821), Sold for $55,000.



PHILADELPHIA, PA.- Freeman's celebrated the 10th Anniversary of The Pennsylvania Sale on Tuesday, November 10, followed by the bi-annual American Furniture, Folk & Decorative Arts auction on Wednesday the 11th. Combined, the two days of Americana brought $1.7 million in sales, much of which came from private and corporate collections represented by The Estate of William F. Hamilton, Property from the Estate of Nancy duPont Reynolds Cooch, The Linda Abegglen Trust and Property from the Reed & Barton Archives. Buyers from across the country and overseas competed against distinguished museums and other institutions to bid on a wide range of works including 20th century design, fine silver, furniture, folk art, and early American portraiture. "We were thrilled with the results for the 20th Century Design section of The Pennsylvania Sale and equally delighted with the results achieved by ... More
Quote
Creative experience foreshadows a new Heaven and a new Earth. Nikolai Berdyaev
---
Emanuel Gottlieb Leutze's Romantic Vision of the American Frontier
---
Flashback
On a day like today, Italian painter Ludovico Carracci died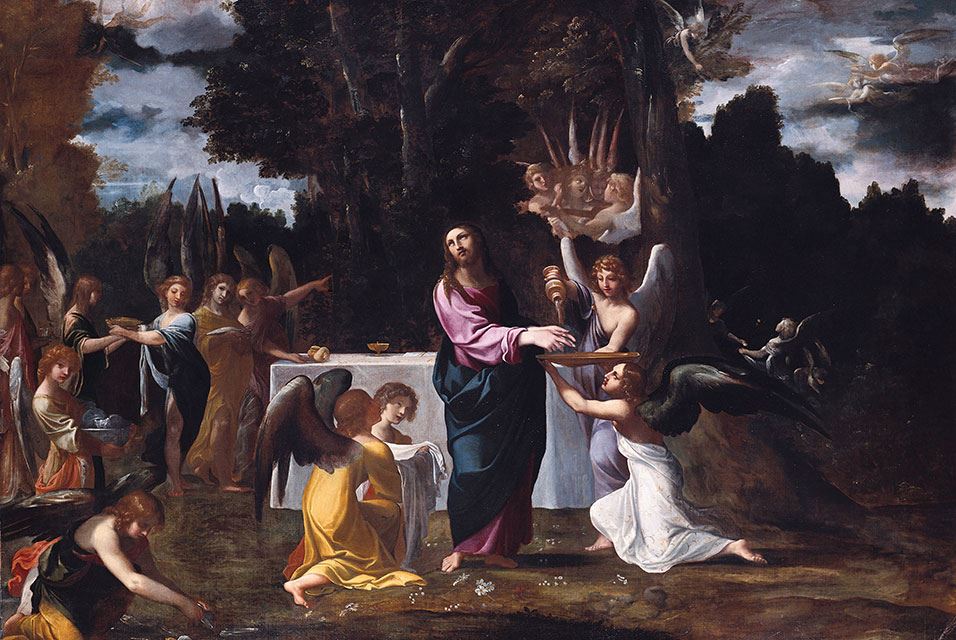 August 13, 1619. Ludovico (or Lodovico) Carracci (21 April 1555 - 13 November 1619) was an Italian, early-Baroque painter, etcher, and printmaker born in Bologna. His works are characterized by a strong mood invoked by broad gestures and flickering light that create spiritual emotion and are credited with reinvigorating Italian art, especially fresco art, which was subsumed with formalistic Mannerism. He died in Bologna in 1619. In this image: Ludovico Carracci, Christ in the Wilderness, Served by Angels.
---

Museums, Exhibits, Artists, Milestones, Digital Art, Architecture, Photography,
Photographers, Special Photos, Special Reports, Featured Stories, Auctions, Art Fairs,
Anecdotes, Art Quiz, Education, Mythology, 3D Images, Last Week,
.
Royalville Communications, Inc
produces: