Christie's New York sets world record prices for Amedeo Modigliani and Roy Lichtenstein
Auctioneer Jussi Pylkkanen stands next to a picture of Amedeo Modigliani's "Nu couche" during the "Artist Muse: A Curated Evening Sale" November 9, 2015 at Christie's New York November 9, 2015 . The painting sold for USD170,405,000. Managing only one solo exhibition in his life and giving his work away in exchange for meals in restaurants, Modigliani died destitute. AFP PHOTO / TIMOTHY A. CLARY.

By: Brigitte Dusseau
NEW YORK
(AFP)
.-
Christie's on Monday smashed world record prices at auction for Amedeo Modigliani and Roy Lichtenstein, selling works by the artists for $170.4 million and $95.37 million respectively. Modigliani's "Nu Couche" or "Reclining Nude," painted in 1917-18, sold in New York after a frantic nine-minute bidding war in the first time the painting has ever come to auction. It was the second highest price ever achieved at auction for a work or art, Christie's said. Applause erupted in the packed room when the sale concluded. The world record is $179.4 million for Picasso's "The Women of Algiers (Version 0)" -- which the auction house sold in New York last May in a record-breaking spring season. ...
More
The Best Photos of the Day
1,500-year-old frieze with human figures found at Peru shrine: Archaeologists report
Outstanding Van Dyck portrait acquired for Bowes Museum, accepted in lieu of tax
Team of architects and scientists find 'anomalies' in thermal scanning of Egypt pyramids


The Huanca monolith in the Caral archaeological complex, in Supe-Peru on November 8, 2015. 5,000-year-old Caral is South America's most ancient city, and had one of the oldest cultures in the world after Egypt and Mesopotamia. AFP PHOTO/Ernesto Benavides.



LIMA (AFP).- Archaeologists in Peru have unearthed a 1,500-year old frieze with human figures believed to be from the indigenous Moche culture, the latest find at a site famous for its pre-Incan treasures. The discovery, in Peru's northern La Libertad region, was made at the Huaca de la Luna, or Shrine of the Moon, the El Comercio newspaper reported on Sunday. Ten sculpted human figures on the work measure 1.6 meters (roughly 5'3") tall, archaeologists working at the site told the paper. The Huaca de La Luna sanctuary, which pre-dates the Spanish conquest, is located a few kilometers (miles) outside the current city of Trujillo and is a site rich in ancient archaeological treasures. The large adobe brick structure was largely spared the ... More



Sir Anthony Van Dyck, Portrait of Olivia Mrs. Endymion Porter. Oil on canvas, 137.2 by 110.2 cm.



LONDON.- Arts Council England has today (9 November) announced the acceptance in lieu of inheritance tax of a painting by Sir Anthony Van Dyck of his close friend Olivia Porter. This exceptional portrait which has been allocated to The Bowes Museum, Barnard Castle, County Durham, is a major acquisition for the North of England. Portrait of Olivia Mrs. Endymion Porter by Van Dyck, one of the most important painters working in England in the seventeenth century, was painted circa 1637 when the artist was at the height of his career and is one of his finest female portraits. Olivia Porter (née Boteler) (d. 1663) was the daughter of John Boteler, 1st Baron Boteler of Brantfield (1566-1637) and his wife Elizabeth Villiers (the sister of the 1st Duke of Buckingham, the King's Favourite). Olivia Porter was a lady-in-waiting to Queen Henrietta Maria. In 1619 she married Endymion Porter (1587-1649), who was also a major figure of the peri ... More



Egyptian Minister of Antiquities Mamdouh el-Damati (L), Jean Claude Barre (C) of Heritage Innovation Preservation (HIP) institute and Hany Helal (R) of the Faculty of Engineering of Cairo University, speak in front of the great pyramid of Khufu (Cheops) in Giza. AFP PHOTO / KHALED DESOUKI.



CAIRO (AFP).- Anomalies have been found in Egypt's Khufu pyramid two weeks into a thermal scanning project aimed at discovering the famed pharaonic monument secrets, officials said on Monday. Operation Scan Pyramids began on October 25 to search for hidden chambers inside four pyramids including Khufu's, the tallest and also known as the Great pyramid of Giza. Two weeks on, the team of architects and scientists from Egypt, France, Canada and Japan said in a joint statement they had observed "thermal anomalies" on the monuments, including on the Khufu pyramid. "The teams have concluded the existence of several thermal anomalies that were observed on all monuments during the heating up or the cooling down phases," the statement ... More
New giant raptor discovered by University of Kansas researchers in South Dakota
Russian artist Pyotr Pavlensky detained for torching security service headquarters door
Palm Beach Modern Auctions merges art and furniture sales into one design timeline event, Nov. 21-22


Dakotaraptor claw workbench. Photo: Robert DePalma, of the Palm Beach Museum of Natural History.



LAWRENCE, KS.- A research team led by a University of Kansas alumnus has identified a new giant raptor, the largest specimen ever found with wing feathers. Named Dakotaraptor, the fossil from the Hell Creek Formation in South Dakota is thought to be about 17 feet long, making it among the largest raptors in the world. "This new predatory dinosaur also fills the body size gap between smaller theropods and large tyrannosaurs that lived at this time," KU Paleontologist and co-author David Burnham said. Robert DePalma, curator of vertebrate paleontology at the Palm Beach Museum of Natural History and lead author of the research, led the expedition to South Dakota where the specimen was found. At the time, he was a graduate student studying with former KU paleontology professor and curator Larry Martin, who died in 2014. "This Cretaceous period raptor would have been lightly built and probably just as agile ... More



Russian artist Pyotr Pavlensky poses after setting fire to the doors of the headquarters of the FSB security service, the successor to the KGB, in central Moscow. AFP PHOTO / NIGINA BEROEVA.



MOSCOW (AFP).- Russia on Monday detained a political performance artist best known for nailing his scrotum to Red Square after he torched the doors to the headquarters of the FSB security service, the successor to the KGB. Pyotr Pavlensky set fire to the wooden doors of the sprawling FSB building in downtown Moscow around 1:00am (Sunday 2200 GMT), his lawyer Olga Chavdar told AFP from the Moscow police station where he was being held. Police later opened a criminal investigation into vandalism for political reasons over the incident, a Moscow police spokesman told AFP. If charged and found guilty of vandalism -- defiling or damaging property -- Pavlensky could face up to three years in prison. A video posted online on Pavlensky's social media account shows flames leaping to the top of the doorway as the artist stands in front of it holding a petrol ... More



Andy Warhol (American, 1928-1987), silkscreen titled 'Mao,' est. $30,000-$40,000. All images courtesy of Palm Beach Modern Auctions.



WEST PALM BEACH, FLA.- The eye-catching cover of Palm Beach Modern Auctions' catalog speaks a thousand words about what to expect at the company's Nov. 21-22 auction. Andy Warhol's vibrant pop-art depiction of a Campbell's Chicken 'N Dumplings Soup can serves as the visual appetizer for an 817-lot selection of sleek modern design, art and decorative accessories, with an emphasis on midcentury. Adding a crowning touch is the boutique array of luxury goods and jewelry. The winter-season opener for South Florida's modern-art auction headquarters will combine two sessions that, in previous years, had been conducted two weeks apart. "We're sure our clients will appreciate having to make only one trip during the month of November instead of two. Now they can bid on furniture, decorative accessories and luxury goods in the Saturday session and modern art, rare editions and sculptures in the Sunday session," said ... More
Wallraf-Richartz-Museum opens first-ever exhibition to survey Godefridus Schalcken's oeuvre
Selfies on paper: Self-portraits from Rembrandt to Willink on view at the Rijksmuseum
Major new gallery for the display and study of Spanish art commissioned in County Durham


Godefridus Schalcken, Self-Portrait, Leamington Spa Art Gallery and Museum, Leamington Spa.



COLOGNE.- A lady looking into a mirror in the soft candlelight, proud, a little pert perhaps, but certainly enigmatic. Few artists have matched the ability of Godefridus Schalcken (Made near Breda 1643 – 16 November 1706 The Hague) to capture such magical moments on canvas so powerfully that they still compel attention three centuries later. In autumn 2015 the Wallraf-Richartz-Museum & Fondation Courboud launched in cooperation with the Dordrechts Museum the first-ever exhibition to survey Schalcken's oeuvre as a whole, inviting a reassessment of this unique painter and seducing visitors to have a detailed look at the charming and enchanting art of Schalcken. More than eighty loans from public and private collections worldwide are on show, a third of his known painted oeuvre. Lenders include the Leiden Collection, New York, The Rose-Marie and Eijk van Otterloo Collection, ... More



Johannes Lutma, Zelfportret Tekenend, 1643 - 1689.



AMSTERDAM.- The Rijksmuseum is exhibiting ninety drawings, prints and photographs spanning a period from the seventeenth century to the twentieth to tell the story of the 'selfie' on paper. Virtually every artist in the past looked in a mirror and captured his or her image for posterity – just as we do now. Self-portraits by such artists as Rembrandt, Moses ter Borch, Leendert van der Cooghen, Wouter Johannes van Troostwijk, Käthe Kollwitz, Jan Toorop, Oskar Kokoschka and Carel Willink can be found in the print rooms on every floor of the museum. There is one model who is always available, never complains of aching feet, doesn't harp on about more pay and is prepared to adopt every conceivable pose and facial expression – the artist himself. But the reasons why artists recorded themselves were very different over the course of the centuries. Self-portraits made in the seventeenth century are ... More



The collection will be based around a core of Golden Age masterpieces by artists including El Greco, Ribera,Velàzquez and Zurbaràn, forming the heart of the collection.



COUNTY DURHAM.- Ambitious £5.5m plans have been unveiled for a pioneering new gallery dedicated to the display and research of Spanish art to be created in County Durham as part of the Auckland Castle restoration and redevelopment project. Monumental works from some of the most significant artists of the 16th and 17th centuries, including El Greco, Ribera, Velàzquez and Zurbaràn, are among a collection spanning Spanish and Hispanic art history from the Medieval period to the late 20th Century in the groundbreaking new development opening in 2018. This internationally significant new gallery is expected to bring academics and tourists to Bishop Auckland, acting as a catalyst for the regeneration of the area. Dedicated to the study and appreciation of Spain's ... More
Major showing of woodcuts at the National Museum from Albrecht Dürer to Edvard Munch
New Harley Gallery to open in March 2016 with rarely seen work by Michelangelo
Luc Tuyman's first exhibition in Scotland on view at the Talbot Rice Gallery


The Kiss.



OSLO.- The "Impressions: Five Centuries of Woodcuts" exhibition opened on 6 November at the National Gallery showcasing a wide array of Norwegian and international woodcuts. The selection is wide-ranging, spanning from Albrecht Dürer to a newly produced installation by Thomas Kilpper. The exhibition features woodcuts by artists such as Hanne Borchgrevink, Tore Hansen, the Kierulf sisters, and Mamma Andersson. It also displays exquisitely executed Japanese colour woodcuts from the eighteenth and nineteenth centuries. Though the formats and styles vary greatly, the works are linked by their use of graphic techniques. The age-old technique of woodcuts has been the subject of renewed interest in recent years, and the democratic idea of widely reproducing and distributing images remains relevant. Most of the works featured in the exhibition, nearly a hundred in total, hail from the museum's abundant collection ... More



Michelangelo Buonarroti, Madonna del Silenzio, c. 1538. © The Portland Collection.



WORKSOP.- The new Harley Gallery at Welbeck, Nottinghamshire, opens on 20 March 2016. Designed by Hugh Broughton Architects, known for their award-winning Halley VI Antarctic Research Station, the new gallery will house changing displays of the historic Portland Collection. The new 800 square meters building includes a glazed entrance pavilion and two spacious galleries. The Picture Gallery has a barrel-vaulted ceiling divided in two to allow light to fill the space from above. The Treasury Gallery provides a flexible display space to show light-sensitive objects. The new gallery will showcase masterpieces from the Portland Collection, including: • Michelangelo's rarely seen Madonna del Silenzio (c.1538) will go on show for the first time in fifty years • The pearl earring worn by Charles I at his execution in 1649 • The Portland Tiara by Cartier worn by Winifred, Duchess of Portland • George ... More



Luc Tuymans (2015) Orange Red Brown. Courtesy David Zwirner, NY / London.



EDINBURGH.- Luc Tuymans is one of the most influential painters working today. For his first exhibition in Scotland, at the University of Edinburgh's Talbot Rice Gallery, this provocative artist brings together his work with that of the most significant of Scottish Enlightenment portrait painters, Henry Raeburn. Utilising images of yellow and pink canaries, anonymous gatherings of people and Raeburn's sombre black-robed academics, Birds of a Feather associates themes of independence, enlightenment and social control. Within the exhibition the canaries, being one of the most recognisable domesticated birds, evoke a natural world reformed through biological and social engineering. In this light they inculcate Raeburn's sitters, including William Robertson and John Playfair (Scottish Historian, Minister and University Principal on one ... More
Quote
America is a pioneer in throw away art. Brian O'Doherty when referring to Pop Art
---
The Opulent Modernity of Nelson & Happy Rockefeller's Collection
---
Flashback
On a day like today, English painter William Hogarth was born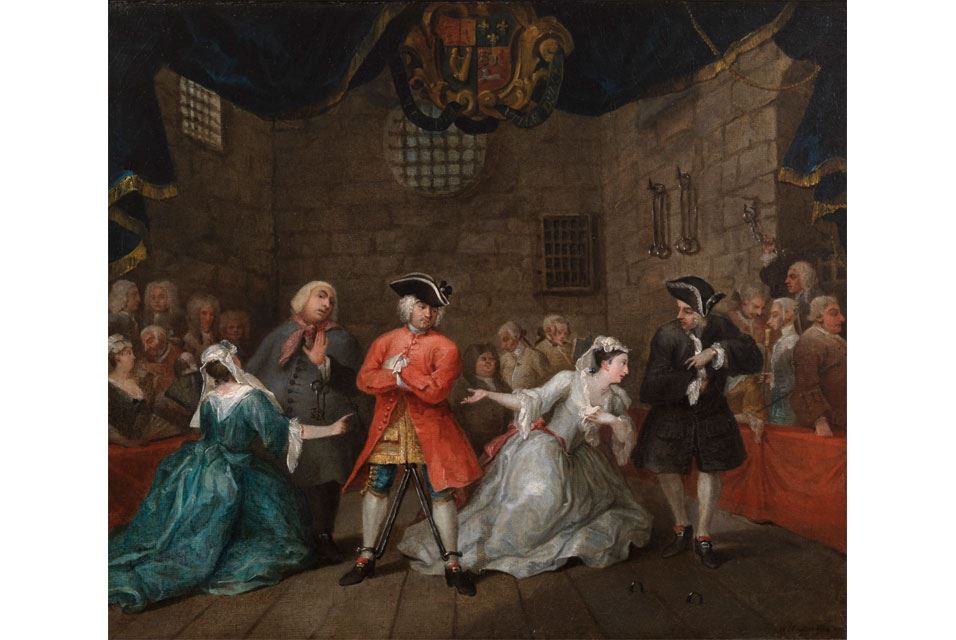 August 10, 1697. William Hogarth FRSA (10 November 1697 - 26 October 1764) was an English painter, printmaker, pictorial satirist, social critic, and editorial cartoonist. His work ranged from realistic portraiture to comic strip-like series of pictures called "modern moral subjects", perhaps best known being his moral series A Harlot's Progress, A Rake's Progress and Marriage A-la-Mode. In this image: William Hogarth, The Beggar's Opera II, 1728. Oil on canvas, signed, 47 x 54.6 cm, courtesy of The Fine Art Society.
---

Museums, Exhibits, Artists, Milestones, Digital Art, Architecture, Photography,
Photographers, Special Photos, Special Reports, Featured Stories, Auctions, Art Fairs,
Anecdotes, Art Quiz, Education, Mythology, 3D Images, Last Week,
.
Royalville Communications, Inc
produces: