Trevi Fountain reopens after $2.2 million makeover funded by Italian fashion house Fendi
A picture shows the restored Trevi fountain during its inauguration on November 3, 2015 in central Rome. Its elaborate Baroque facade now sparkles in the sun, scaffold-free : Rome's Trevi Fountain will gush its emerald waters once again today at 5pm after a clean-up funded by Italian fashion house Fendi. Crowds of frustrated tourists have spent months peeking at bits of the monument from a special walkway put in over the fountain while repairs were carried out to the tune of over 2.0 million euros ($2.2 million). AFP PHOTO / ALBERTO PIZZOLI.

By: Ella Ide
ROME
(AFP)
.-
Emerald waters gushed from Rome's Trevi fountain on Tuesday and spotlights lit up its gleaming Baroque facade as the taps were turned back on after a 16-month clean-up to cheers from delighted tourists. Crowds packed the small square in the Eternal City's historic centre for the ceremony, with excited couples hugging and kissing next to the ornate fountain where tradition has it they can ensure eternal love by drinking its waters. Frustrated tourists have spent months peeking at bits of the monument from a special walkway put in over the fountain while repairs, funded by Italian fashion house Fendi, were carried out to the tune of over two million euros ($2.2 million). The basin was drained but the most determined visitors had still been slinging coins over their shoulders -- a tradition that is said to ensure a return to Rome -- in the hope of getting them into a small substitute pool. As the water cascaded once more from the base of the fountain's sea-god scene, a hail of coins plopp ...
More
The Best Photos of the Day
Russian experts are preparing to take DNA samples from the remains of Tsar Alexander III
Dominique Lévy exhibits Robert Motherwell's "Elegy to the Spanish Republic"
Looted Chokwe masks and a rare statue to be returned to Dundo Museum in Angola


Alexander III of Russia. Photo: Wikipedia.org.



SAINT PETERSBURG (AFP).- Russian investigators began examining the grave of Tsar Alexander III Tuesday ahead of his exhumation in a probe looking to finally identify the remains of the last tsar Nicholas II and his family. The Peter and Paul Cathedral in Saint Petersburg where Tsar Alexander III is buried was closed to visitors as the state commission examined the 121-year-old grave, its press service said. Alexander III, the father of the last Romanov Tsar Nicholas II, died in 1894, and the preparatory work on his grave began with a religious service. The full exhumation is expected to take place in several weeks. "We have discussed how to do this in an extremely tactful way so as not to destroy the cultural heritage," said criminal investigator Vladimir Solovyov in charge of the probe, quoted by the news website Fontanka.ru Before the exhumation, there will be a requiem mass, the city's Orthodox Church diocese said. ... More



Motherwell's Greenwich studio, March, 1980. Art © Dedalus Foundation, Inc./Licensed by VAGA, New York, NY. Photo by Renate Ponsold ©Renate Ponsold.



NEW YORK, NY.- Beginning November 4, 2015, Dominique Lévy will present Robert Motherwell: Elegy to the Spanish Republic, the first gallery exhibition in over twenty years to offer a fresh survey of the monumental series that marked a pivotal moment in the history of modern art. Begun in 1948, Motherwell's Elegies were intended as public laments, deeply political in their condemnation of the violence of the Spanish Civil War and the isolationist fascism of General Francisco Franco. The artist also described them as "general metaphors of the contrast between life and death, and their interrelation." Returning again and again to this central preoccupation of his oeuvre over the course of decades, Motherwell would ultimately create more than 250 paintings and works on paper exploring the subject. The last work in the series, ... More



Manche de Hochet (Chokwe).



LUANDA.- Fundação Sindika Dokolo has acquired two ancestral female Pwo masks and a rare statue representative of the male figure of the Chokwe people from private European collections .The classical works, which have been identified as looted from Angola during the civil war, will be repatriated to the Dundo Museum in Angola, their original home and where they were last exhibited. These masterpieces, created around the end of the 19th century to the beginning of the 20th century, hold historic and cultural significance for the Chokwe people. The Chokwe people inhabit north eastern Angola, the southern part of Congo (Kinshasa) from the Kwango River to the Lualaba and, since 1920, the north western corner of Zambia. The 'found' pieces belonged to the Dundo Museum which held one of the most distinguished collections of ethnographic art from wooden traditional masks and wooden sculptures of the local heterogeneous ... More
Heart of British-born queen Marie of Romania laid to rest after 77-year journey
350 historic and personal lots belonging to Margaret Thatcher will be offered at Christie's
Exhibition of paintings from the 60's and 70's by Larry Zox opens at Stux + Haller


A Romanian guard soldier put in a car the gilded silver casket containing the heart of the Queen Marie of Romania covered by a national flag on their way to the Pelisor Palace. AFP PHOTO / DANIEL MIHAILESCU.



BUCHAREST (AFP).- The heart of British-born queen Marie of Romania was finally laid to rest on Tuesday after criss-crossing the nation for 77 years. Encased in a small silver casket, the heart was brought to Pelisor Castle in the Carpathian Mountains and placed in the room where, in the former royal family's words, it "beat for the last time". Marie's descendants were among those watching as the casket, draped in the British and Romanian flags, was carried out of the National History Museum in Bucharest by two soldiers, accompanied by eight officers on horseback, to the tune of both nations' anthems. A crowd of several hundred watched as the heart of Marie, a grand-daughter of Britain's Queen Victoria, was carried in a procession along the wide Calea Victoriei boulevard before being transported by car to Pelisor, 120 ... More



A glamorous dress and matching coat of shot fuschia pink silk by Tomasz Starzewski which was made for Margaret Thatcher in 2007. Estimate: £500-800. Photo: Christie's Images Ltd 2015.



LONDON (AFP).- Personal items belonging to Britain's "Iron Lady" prime minister Margaret Thatcher, including some of her famous handbags, are to be sold in London next month, Christie's auction house said Tuesday. Around 350 lots including clothes and jewellery accrued during her 87 years -- 11 of which were spent in Downing Street -- are being sold after the Victoria & Albert Museum turned them down. An emerald and diamond Chaumet necklace, valued between £120,000 ($185,000, 168,000 euros) and £180,000, is expected to fetch the highest price, with proceeds to be split between Thatcher's children Mark and Carol, and her grandchildren. "In the year that 'The Iron Lady' would have celebrated her 90th birthday, approximately 350 historic and personal lots will be offered across two landmark ... More



Larry Zox, Esso Lexington, 1968, 79 x 64 inches, acrylic, epoxy on canvas.



NEW YORK, NY.- Stux + Haller presents an intimate exhibition of important paintings by the late great artist Larry Zox (1937-2006). Larry Zox: Master of Color and Form includes iconic paintings from the 60's and 70's to select lyrical abstractions from his later works. The exhibition opens November 4th and runs through December 19th. Larry Zox, a distinctly American artist, was born in the heartland - Des Moines, Iowa. He started his studies there at the prestigious Des Moines Art Center under George Grocz. When he arrived in New York as a young man Zox quickly emerged as a talented master of painting and a gifted colorist. Those were the heady days of the 60's and 70's when artists from across the arts jostled one another in the bawdy, boozy, smoky atmosphere of famed artist hangouts such as MAX'S KANSAS CITY - a Larry Zox painting hung over the bar there. Zox distinguished himself among artists who sought to ... More
Musée de la Vie romantique opens "Faces of terror, violence and fantasy from David to Delacroix"
"World's greatest cat painting" by Carl Kahler sells for $826,000 at Sotheby's New York
Liebieghaus Skulpturensammlung presents key artworks from the French Rococo in an exhibition


Eugène Delacroix (1798-1863), Roméo et Juliette devant le tombeau des Capulets, huile sur papier marouflé sur toile, Paris, musée national Eugène Delacroix © RMN-Grand Palais (musée du Louvre) / Gérard Blot.



PARIS.- With a collection of more than 100 paintings, drawings and sculptures by David, Girodet, Gericault, Ingres and Delacroix, Faces of terror presents French forms of fantastical Romanticism. This darker part of 19th century art reveals a certain strength of spirit and provides a fascinating perspective on imagination during the romantic period. Romanticism, although often reduced to a feeling of discontentment among the people of the 18th century that was generated by the upheavals of the time, without a doubt expresses the feeling of disenchantment of a whole generation, built on the ruins of the Ancien Régime and the tumult of the French Revolution. In the overflow of extreme emotions these artists skilfully found subjects for a new kind of aesthetic, exploring the dark side of the human soul, at a time when dreams ... More



Carl Kahler, My Wife's Lovers (detail), oil on canvas, 70 by 101 3/4 in. 177.8 by 258.4 cm. Est. $200/300,000. Sold for: $ 826,000.



NEW YORK, NY.- Today at Sotheby's New York, during the 19th Century European Art sale, Austrian artist Carl Kahler's 'My Wife's Lovers' commissioned in 1891 by San Franciscan millionaire Kate Birdsall Johnson sold for $826,000, more than two times the high estimate, setting an auction record for a painting by the artist. The large-scale painting depicts 42 of Mrs. Johnson's 350 much-loved cats who lived in her 3000 acre summer residence, Buena Vista, located near Sonoma. California. The 19th Century European Art sale brought a sale total of $9,871,250. Kahler established his career primarily as a painter of horse racing scenes in Australia and New Zealand, where he had worked for seven years. Upon arriving in the United States, he was invited to visit a cat enthusiast with a preference for Persian and Angora breeds. Although Kahler had never painted a cat before, Mrs. Johnson hired him and ... More



Jean-Honoré Fragonard (1732–1806), The Seesaw (La Bascule), 1750–1755. Oil on canvas, 120 × 94,5 cm. Museo Thyssen-Bornemisza, Madrid © Museo Thyssen-Bornemisza, Madrid.



FRANKFURT.- It is key artworks from the French Rococo that the Liebieghaus Skulpturensammlung presents from 4 November 2015 to 28 March 2016 in a comprehensive special exhibition. Featuring more than eighty outstanding exhibits on loan, the show entitled "Dangerous Liaisons" focuses on the newly emerging concept of sentimental love and its preferred style of representation in French art around 1750, vividly illustrating the seductive powers of the Rococo. On view will be sculptures, biscuit-porcelain statuettes, paintings, and prints as well as arts-and-crafts objects from renowned international lenders such as the Rijksmuseum, Amsterdam, the Musée du Louvre, Paris, the British Museum or the Victoria and Albert Museum, London, the Museo Thyssen-Bornemisza, Madrid, as well as the Wallraf-Richartz Museum & Fondation Corboud, Cologne, or the Bayer- ... More
Noel Barrett taps into prime collections of European & American toys, trains & dollhouses for fall auction
Major collection of over 250 works on paper by Natalia Goncharove offered at Sotheby's
"Royal Taste: The Art of Princely Courts in Fifteenth-Century China" on view at the Ringling Museum


One of several E.B. Segner original advertising agency-commissioned artworks featuring Sunbeam Bread mascot 'Miss Sunbeam,' est. $1,000-$2,000. All images courtesy of Noel Barrett Auctions.



CARVERSVILLE, PA.- There's an international quality to every one of Noel Barrett's auctions, and it's not accidental. The company's consignments come in equal measure from distinguished collectors in Continental Europe, the United Kingdom and all over North America. Variety is one of Barrett's strong suits, and it has never been more evident than in the diverse 975-lot selection of toys, trains, dolls, miniatures and advertising set to cross the auction block on November 20-21. Barrett's 2015 Fall Antique Auction is like a global marketplace reserved exclusively for blue chips. Headliners include the definitive TootsieToy and Ives train collections of Charles Bloom, the marvelous Schoenhut Circus and comic character collection of Fran Oakland, and coveted Vindex cast-iron toys from one of America's best-known collecting ... More



Natalia Goncharova, La Princesse Cygne, Study for a Panel in the Koussevitzky Villa (circa 1922), estimate £60,000-80,000. Photo: Sotheby's.



LONDON.- Over 250 works on paper by Natalia Goncharova (1881-1962), the greatest female Russian artist of the 20th century, will be offered at Sotheby's sale of Russian Art in London on 1 December 2015. Together they constitute the largest and most comprehensive collection of Goncharova's work ever to come to auction, including her ground-breaking set and costume designs for Diaghilev's Ballet Russes in the 1910s, alongside fashion designs, studies for well-known paintings and sketches dating right up until the 1940s. The vast majority of the works have never been exhibited in public before; they will be unveiled in London for the first time on 27 November 2015 ahead of the sale. The works were acquired directly from Goncharova and her husband artist Mikhail Larionov (1881-1964) by the Lefebvre-Foinet family, who for over a century provided artistic materials ... More



Gilded bronze statue of a Daoist deity, 15th century, Bronze, Height 68 cm, Wudang Museum.



SARASOTA, FLA.- Royal Taste: The Art of Princely Courts in Fifteenth-Century China, featuring many works of art never seen outside of China, is on view Oct. 9, 2015-Jan. 10, 2016 at The John and Mable Ringling Museum of Art, Sarasota, Florida. Royal Taste brings together works from the Hubei Provincial Museum and its affiliated institutions, along with The Ringling's own Asian collection, to offer a rare glimpse into the lives of princely courts in early- to mid-Ming Dynasty China (1368-1644). The exhibition is the first in a series of exhibitions devoted to Asian art, and serves as a precursor to the opening of The Ringling's Center for Asian Art in the Dr. Helga Wall-Apelt Gallery of Asian Art, scheduled for opening in 2016. The loans from the Hubei Provincial Museum, one of the leading museums in China, mark the beginning of significant collaboration between The Ringling and major museums in Asia. All the loans are on public ... More
Quote
I want to murder painting. Joan Miró
---
Rafael Lozano-Hemmer | Kochi-Muziris Biennale 2014
---
Flashback
On a day like today, French painter Gustave Caillebotte was born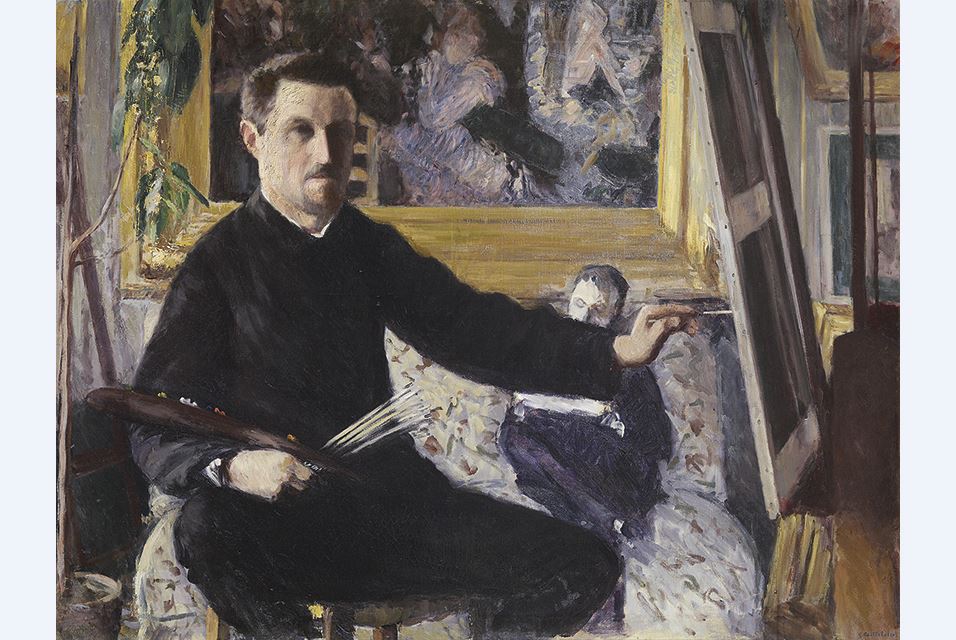 August 19, 1848. Gustave Caillebotte (19 August 1848 - 21 February 1894) was a French painter, member and patron of the artists known as Impressionists, although he painted in a more realistic manner than many others in the group. Caillebotte was noted for his early interest in photography as an art form.In this image: Gustave Caillebotte, Self-­-Portrait at the Easel, 1879–80. Oil on canvas, 35 7/16 × 45 1/4 in. (90 × 115 cm). Private collection.
---

Museums, Exhibits, Artists, Milestones, Digital Art, Architecture, Photography,
Photographers, Special Photos, Special Reports, Featured Stories, Auctions, Art Fairs,
Anecdotes, Art Quiz, Education, Mythology, 3D Images, Last Week,
.
Royalville Communications, Inc
produces: