Christie's and Sotheby's prepare to auction off $2 billion worth of works in New York
A view of general atmosphere during the collection of A. Alfred Taubman at Sotheby's on October 24, 2015 in New York City. Grant Lamos IV/Getty Images for Sotheby's/AFP.
NEW YORK
(AFP)
.-
It's fall. Leaves in Central Park are golden and so are profits in the art world, as Christie's and Sotheby's prepare to auction off $2 billion worth of works in New York. From November 4 to 12, the two auction houses go head to head in selling hundreds of pieces of modern, impressionist, post-war and contemporary art, six months after the spring season smashed a string of records and netted more than $2.6 billion. Fuelled by rising demand from Asia and the Gulf, it was 10 days of eye-watering extravagance that set a new world record for any work of art sold at auction -- $179.4 million for a Picasso. "Buyers in the art market have never been more diversified," explained Michael Macaulay, head of evening sales in contemporary art at Sotheby's. "Ten years ago you'd say an American abstract expressionist painting is probably going to end up in the States but I think now genuinely, as never before, it could go to any corner of the world." Sotheby's kicks off the season by selling the priv ...
More
The Best Photos of the Day
New horseshoe bat species found in London's Natural History Museum collection
Norwegian hiker finds 30-inch wrought iron sword from the beginning of the Viking era
Russia opens major gulag museum as Vladimir Putin blanks victims' commemorations


This female bat in the Museum's collection is the type specimen for the new species Rhinolophus francisi. It has been stored in alcohol for over 30 years.



LONDON.- A bat preserved in alcohol for 30 years in the Natural History Museum's collection has been recognised as a new species of horseshoe bat. The female bat was collected in Malaysia in 1983 by Charles M Francis. The new species is named Rhinolophus francisi, or Francis' woolly horseshoe bat, in his honour. As the first example of this new species ever found and described, the Museum specimen has been designated as the type specimen. This means it will be used as a reference point by scientists trying to classify similar bats in the future. 'This new species of bat highlights once more the value and importance of natural history collections,' says Roberto Portela Miguez, an author of the study and Curator of Mammals at the Museum. 'Our current and future understanding of the world's biodiversity depends to a great extent on these collections and those who study them.' Bats in the ... More



The hiker found the sword three years ago but only recently turned it over to archeologists.



OSLO (AFP).- A hiker has stumbled across a 1,200-year-old Viking sword in remarkably good condition in Norway's mountains, archeologists said Thursday, in what could be another sign that global warming is benefitting archeology. The 30-inch (80-centimetre) wrought iron weapon dates "from the beginning of the Viking era, around the end of the eighth century," according to archeologist Jostein Aksdal in the western town of Bergen where the sword will go on display. "At this time, all the swords were very valuable because it was a weapon for people of high rank," Aksdal told AFP. "Most (Vikings) had to get by with a simple knife or an axe." The hiker found the sword three years ago but only recently turned it over to archeologists. Experts don't know why the sword would have been left in the mountains. "Maybe there is a grave there, or was it left there by a trader? Was it hidden there for one reason or another? The only limits are our imagination," Aksdal said. "Did ... More



A visitor attends the opening ceremony of new museum dedicated to the Soviet Gulag labour camp system on the national day commemorating the victims of Stalin-era repression on October 30, 2015 in Moscow. AFP PHOTO / VASILY MAXIMOV.



MOSCOW (AFP).- Russia on Friday opened a major new museum on the horrors of the Soviet gulag labour camp system but President Vladimir Putin blanked the day commemorating victims of state terror. The hi-tech state-run museum tracing the history of the brutal camp system will be a rare memorial to some of the millions who suffered under Communist rule. The authorities under Putin have often sought to play down the crimes of the Soviet regime, focusing on Communist supremo Joseph Stalin's role in defeating Nazism and industrialising the country rather than the estimated 20 million victims of his rule. The four-storey exhibition in central Moscow -- the largest ever museum on the gulag in Russia -- includes documents signed by Stalin sending thousands to camps. It allows visitors to watch nearly 100 newly recorded interviews ... More
Exhibition at Di Donna Galleries shows how the Surrealists expanded upon the genre of landscape
Exhibition highlights the innovative way in which Claude Monet explored the motif of the bridge
Art Gallery of Ontario hosts major exhibition of rare Joseph Mallord William Turner works this fall


Giorgio de Chirico, Thébes, 1928 (detail), Oil on canvas, 90.5 by 116.5 cm (35⅝ by 45⅞ in.), Private Collection © 2015 Artists Rights Society (ARS), New York / SIAE, Rome.



NEW YORK, NY.- Di Donna Galleries is presenting Fields of Dream: The Surrealist Landscape running until December 18, 2015 at their 981 Madison Avenue galleries. This major exhibition features over six dozen artworks, several loaned from prominent foundations and private collections. Fields of Dreams includes works by Hans Bellmer, Victor Brauner, André Breton, Alexander Calder, Federico Castellón, Leonora Carrington, Salvador Dalí, Adrien Dax, Paul Delvaux, Giorgio de Chirico, Oscar Domínguez, Enrico Donati, Paul Eluard, Jimmy Ernst, Max Ernst, Leonor Fini, Arshile Gorky, Marcel Jean, Jacqueline Lamba, René Magritte, Man Ray, Matta, Joan Miró, Gordon Onslow Ford, Wolfgang Paalen, Pablo Picasso, Kay Sage, Kurt Seligmann, Yves Tanguy, Dorothea Tanning, and Antoni Tàpies. Encyclopedic in scope, the exhibition opens chrono- ... More



Claude Monet, Le pont de bois, 1872, oil on canvas, 54 × 73 cm. VKS Art Inc., Ottawa. Photo © NGC, Ottawa.



OTTAWA.- The National Gallery of Canada presents in a world exclusive Monet: A Bridge to Modernity, a dossier exhibition highlighting the innovative way in which Claude Monet (1840−1926) explored the motif of the bridge. On view until February 15, 2016, Monet: A Bridge to Modernity is the first monographic exhibition in Canada devoted to the artist in almost two decades. This focus exhibition brings together twelve seminal paintings from prestigious public and private collections around the world. Monet painted these works in Argenteuil, a bustling suburb of Paris where he settled in late 1871 after his self-imposed exile in London and Holland during the Franco-Prussian war (1870–1871). Monet's early masterpiece Le pont de bois, the centrepiece of the exhibition, depicts the Argenteuil highway bridge under repair following the destruction wrought by the war⎯a tribute to France's return to order. Monet's friend ... More



Joseph Mallord William Turner, "The Hero of a Hundred Fights," c. 1800-10 (detail), reworked and exhibited 1847. Oil paint on canvas. Tate Britain. Accepted by the nation as part of the Turner Bequest 1856. Image © Tate, London 2015.



TORONTO.- This fall the Art Gallery of Ontario hosts a major exhibition celebrating the experimental and contemplative works of Joseph Mallord William Turner (1775–1851), a giant of British art. J.M.W. Turner: Painting Set Free features more than 50 large-scale paintings and watercolours on loan from Tate Britain and makes the case that the radical works created in the final 15 years of Turner's career, with their arresting use of light, represent a fulfillment of the artist's upward trajectory. "By bringing an exhibition of this calibre to Toronto this fall, the AGO will offer an exceptional experience to its members and visitors, and we're delighted to be partnering with one of the world's most renowned art institutions to do so," says Stephanie Smith, the AGO's Chief Curator. "Turner was ... More
Exhibition at Allan Stone Projects features paintings and works on paper by Alfred Leslie
Edwynn Houk Gallery is now representing English photographer Nick Brandt
Exhibition of significant collage works by Robert Motherwell on view at Andrea Rosen Gallery


Alfred Leslie, Cough Control, 1961-62. Oil on canvas, 96 1/4 x 72 1/4 inches.



NEW YORK, NY.- Allan Stone Projects announces Alfred Leslie: Abstraction 1951 – 1962 on view October 29 – December 24, 2015. The exhibition features paintings and works on paper by one of the seminal artists of the New York art world in the 1950's and 1960's. Early in his career, Leslie was an Abstract Expressionist who experimented ambitiously with collage, grid compositions, and gestural and geometric abstraction. The incorporation of chance and control, of hard and soft, of active and passive modes, express the artist's singular reaction to the explosive aftermath of abstract art in Postwar America. Following major breakthroughs led by Pollock, de Kooning, Kline, and others, Leslie explored Abstract Expressionist and proto-Pop techniques. His method portrays a balance between vigorous expression and hard-edged control, featuring loaded brush strokes against architectural compositions as in The ... More



Nick Brandt (English, b. 1964), Elephant Drinking, Amboseli, 2007. Platinum print, 36 5/8 x 28 inches (93 x 71.12). Courtesy of the Artist and Edwynn Houk Gallery, New York and Zurich.



NEW YORK, NY.- Edwynn Houk Gallery announces representation of Nick Brandt (b. 1964, London, United Kingdom). Best known for his three-part series On This Earth, A Shadow Falls, Across The Ravaged Land, Brandt has spent his career photographing the disappearing natural world of East Africa in a style that transcends expected depictions of the subject. Brandt's direct and carefully framed images capture not only the beauty of his location but also evoke implications of the tenuous balance between East Africa's magnificent landscape and its escalating urbanization. The gallery will debut Brandt's innovative and complex new body of work Inherit the Dust with a solo exhibition in March 2016, accompanied by a large monograph of the same title published by Edwynn Houk Editions and distributed by D.A.P. In ... More



Robert Motherwell, Arches Cover, 1976. Acrylic and pasted papers on canvas mounted on board, 39 x 29 inches (99.1 x 73.7 cm) © The Dedalus Foundation. Photo: Pierre Le Hors. Courtesy Andrea Rosen Gallery, New York.



NEW YORK, NY.- Andrea Rosen Gallery presents an intimate exhibition of significant collage works by Robert Motherwell spanning the most prolific period of the artist's collage practice from the late 1950s to the late 1970s. It is a particularly apt time to examine this body of work as there has been increased in depth attention on the artist with the concurrent Elegy exhibition at Dominique Levy Gallery, and earlier this year the Lyric Suite drawing exhibition at the Metropolitan Museum of Art and the Opens painting exhibition at Andrea Rosen Gallery. The practice of collage was one that Motherwell visited often throughout his career, and is reflective of the evolution of Motherwell's oeuvre, from the emotionally charged expressionistic collages of the 1940s to the serene and minimal ... More
Artcurial announces the first ever auction dedicated to "The World of Tardi"
Christie's New York to offer important private collection of Art Deco masterpieces
Marian Goodman Gallery announces first U.S. presentation of Rineke Dijkstra's "The Gymschool"


Tardi, La gare de banlieue (detail), charcoal drawing on paper (estimate : 100 000 – 150 000 € / 113 650 – 170 500 $)



PARIS.- In Artcurial's next major Comic Strips sale on 21 November there will be an entire section devoted to Tardi, comprising some 26 works. This is the first time that there has been an auction sale dedicated to the artist. There will be free access to the preview exhibition at Artcurial between 29 October and 4 November. Here the public will be able to view a group of important charcoal drawings that formed part of the exhibition Tardi en banlieue (organised in 1990 at the Escale gallery), superb illustrations for Voyage au bout de la nuit and Mort à crédit by Louis-Ferdinand Céline, and canvases from the series Tardi par la fenêtre . « Organising this sale event is a great opportunity. Tardi is not only the creator of Adèle Blanc-Sec and Nestor Burma, but also one of the major authors of the ninth art. He is someone who, like Hergé, Edgar P. Jacobs and Enki Bilal, has crossed the boundaries of traditional ... More



Armand Albert Rateau (1882–1938) A Pair of 'Col de Cygne' Appliques, circa 1920 (one pictured above). Gilt-bronze, silk cord · each 14 1/2 (36.8 cm.) high Estimate: US$300,000–400,000. Photo: Christie's Images Ltd 2015.



NEW YORK, NY.- Christie's announces a single-owner sale of Art Deco masterpieces on December 17 in New York. This sale will be among a series of four design sales held on December 17 and 18. An Important Private Collection of Art Deco Masterpieces will include works by the artists universally acknowledged as the great tastemakers of their day, led by Jean Dunand, Eugène Printz, Albert-Armand Rateau, Emile-Jacques Ruhlmann, Katsu Hamanaka and Diego Giacometti. Comprised of 44 lots, the full formal repertoire of Art Deco is represented, from the highly stylized figural, animal and plant motifs of Rateau to the geometric modernism of Dunand or the clean-lined silhouettes of Printz. Included in this exquisite tribute to French creativity in the inter-war years are examples of the ... More



Rineke Dijkstra, (video still from) The Gymschool, St. Petersburg, 2014. 3 channel HD video installation, surround sound, 15 min 16 sec, looped. Courtesy of the artist and Marian Goodman Gallery.




NEW YORK, NY.- Marian Goodman Gallery New York presents new work by Rineke Dijkstra which will be on view through December 19, 2015. In the South Gallery Dijkstra presents The Gymschool, St Petersburg, 2014 a three channel video installation originally commissioned for Manifesta, the European Biennial of Contemporary Art 2014. This is its first U.S. presentation. Beginning with her photographic portraits in 1991 and video portraits in 1996, Rineke Dijkstra's work has often captured transitional moments within stages of identity formation from childhood through adolescence and has been marked by an intimacy and empathy with her subjects. Highlighting these qualities and others in her new work The Gymschool, St Petersburg, 2014 Dijkstra reveals how physical gestures ... More
Quote
A house is a machine for living in. Le Corbusier
---
An Allegory of Man | TateShots
---
Flashback
On a day like today, American painter William Merritt Chase was born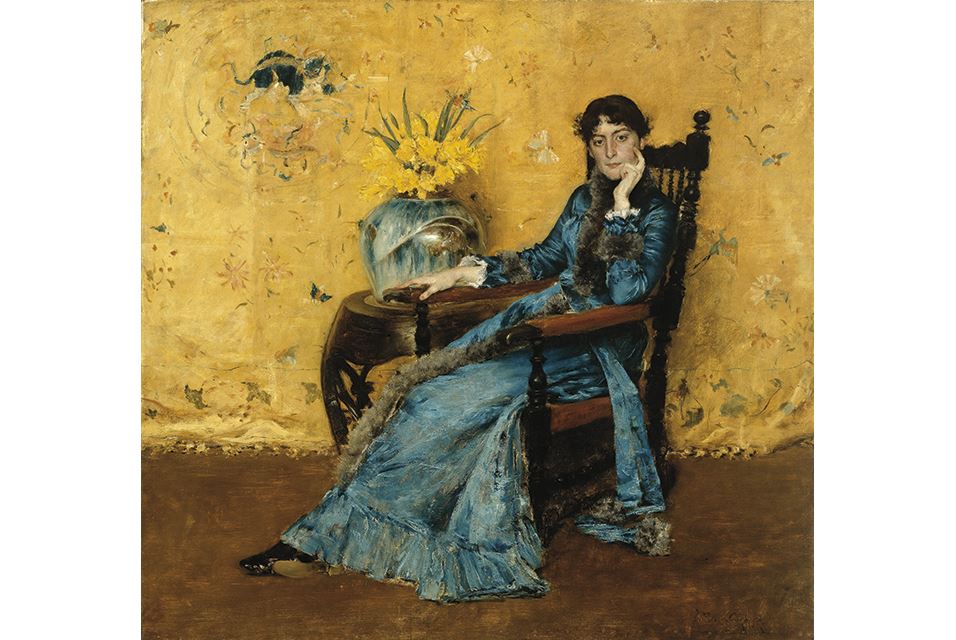 August 01, 1849. William Merritt Chase (November 1, 1849 - October 25, 1916) was an American painter, known as an exponent of Impressionism and as a teacher. He is also responsible for establishing the Chase School, which later would become Parsons School of Design. In this image: William Merritt Chase, Portrait of Dora Wheeler, 1882 - 83. Oil on canvas, 62 5/8 x 65 1/8 in. The Cleveland Museum of Art, Gift of Mrs. Boudinot Keith in memory of Mr. and Mrs. J. H. Wade.
---

Museums, Exhibits, Artists, Milestones, Digital Art, Architecture, Photography,
Photographers, Special Photos, Special Reports, Featured Stories, Auctions, Art Fairs,
Anecdotes, Art Quiz, Education, Mythology, 3D Images, Last Week,
.
Royalville Communications, Inc
produces: