Palm Springs Art Museum introduces "A Passionate Eye: The Weiner Family Collection"
Marc Chagall, The Village (Le Village), 1952, paint on ceramic tiles, 16 tiles (16 carreaux), Collection of Palm Springs Art Museum, Gift of Gwendolyn Weiner, © 2015 Artists Rights Society (ARS), New York / ADAGP, Paris.
PALM SPRINGS, CA
.-
Palm Springs Art Museum
presents the exhibition A Passionate Eye: The Weiner Family Collection, on view at the main museum October 3 through January 31, 2016. This exhibition is one of the most important collections of modern art ever assembled in the Southwest, and now represents the foundation of the museum's installations. It is a fundamental element in its identity as a great museum. The exhibition is comprised of sixty-one sculptures and paintings. Among the well-known works on view are multiple sculptures by Pablo Picasso, Henry Moore, Jacques Lipchitz, and Marino Marini, and individual masterworks by Amedeo Modigliani, Jean Arp, and Isamu Noguchi. There are also significant sculptures by Aristide Maillol, Giacomo Manzu, Georg Kolbe, and Eduardo Paolozzi. And, notably, an early donation to the collection by Ted and Lucile ...
More
The Best Photos of the Day
David Skorton installed as 13th Secretary of the Smithsonian in ceremony
Frieze London 2015: Record collector attendance, strong sales and exceptional presentations
Museum-quality cultural antiquities, Asian & ethnographic art featured in Artemis Gallery's Oct. 22 auction


Dr. David J. Skorton is the 13th Secretary of the Smithsonian. Photo: Courtesy Cornell University Photography.



WASHINGTON, DC.- David J. Skorton was installed as the 13th Secretary of the Smithsonian Institution during a ceremony held today Monday, Oct. 19, at the Smithsonian's Arts and Industries Building on the National Mall. The Hon. John G. Roberts, Jr., Chief Justice of the United States and Chancellor of the Smithsonian, presided over the ceremony and presented Skorton with a ceremonial brass key that once opened one of the massive oak doors of the Smithsonian Castle. In his remarks, Skorton stressed the important role the Smithsonian must play in the world. "We face national and global challenges that cry out for the arts, social sciences and humanities to act side-by-side with the life sciences and physical sciences….Our country, and others around the world, look to us for insight and inspiration….We are so fortunate to be the custodians of the greatest treasures ... More



Tanya Bonakder, Frieze London 2015. Photograph by Linda Nylind. Courtesy of Linda Nylind/Frieze.



LONDON.- The 13th edition of Frieze London closed on Saturday 17th October having seen major acquisitions by international institutions and significant sales to private collectors. The fair, which brought together 164 galleries from 27 countries, attracted a record number of collectors to the preview. Attendance across both fairs was higher this year at over 105,000, up from 100,000 in 2014, thanks to an uplift in visitors at Frieze Masters - the fair had nearly 50,000 visitors, up from 37,000 in 2014. The Frieze directors warmly welcomed the large number of gallery stand re-hangs, artist signings, talks and tours which created a dynamic environment, drawing collectors to return to the fair throughout the week. Frieze London is supported for the 12th consecutive year by Main Sponsor Deutsche Bank. Evolving into the definitive destination for young galleries, the Focus section, advised by curators Raphael Gygax (Migros ... More



Circa-1750 CE Indian bronze of Uma (Parvati), 19½ inches tall, provenance includes purported gift in 1946 from Mahatma Gandhi. Est. $13,000-$19,000.



BOULDER, CO.- Provenance is always desirable, no matter what the collecting category may be, but when the object of pursuit is a premier cultural antiquity, prior ownership and the assurance that an item is legal to purchase escalate from "important" to "absolutely essential." Artemis Gallery's owners, Bob and Teresa Dodge, established their company on a foundation of knowledge and integrity, issuing an unconditional guarantee that every piece they offer is authentic and unquestionably legal for bidders to purchase. And it is that steadfast business mantra that continues to bring Artemis Gallery the caliber of consignments such as those seen in their Oct. 22 online auction of Exceptional Ancient, Asian and Ethnographic Art. "We have a very selective and uncompromising clientele," said Bob Dodge, co-owner of Artemis Gallery. "Many ... More
For the second time, Magna Carta exhibition venue switched again in China
Exhibition at Chiostro del Bramante recounts James Tissot's passions, torments and experiences
Getty Villa displays collection of early 19th century illustrations and panoramas of Greece


File photo of one of the British Library's Magna Carta manuscripts being prepared for display.



SHANGHAI (AFP).- A Magna Carta exhibition scheduled for a Shanghai museum has been switched to the British Consulate -- the second time the historic declaration of rights has been moved from a public venue in communist-ruled China. A display of one of only four existing examples of the charter -- considered to represent the foundation of rule of law in the West -- was originally advertised for the Guanfu Museum in China's commercial hub. But it will now be shown at Britain's diplomatic mission in the city, an invitation to media revealed. It is the second time on its China tour that a display of the document has been moved from a public place to diplomatic premises -- to which ordinary Chinese citizens have limited access. A showing in Beijing was last week moved from a university to the British ambassador's residence at the last minute. The document is on a world tour to mark ... More



James Tissot, Portsmouth Dockyard, 1877 (detail). ca, Oil on canvas, UK, London, Tate © Tate, London, 2014.



ROME.- A refined leading figure in the elite of his time, both envied and loved, James Tissot is a painter whose art in some respects is still an enigma today, a blend of Impressionist influences and Pre-Raphaelite echoes. Tissot was French by birth but British by adoption and felt equally at ease among conservatives and liberals. His paintings celebrate the life of the upper middle class ¬– the class that was at its height during the Victorian era between the industrial revolution and colonialism – by transforming the quotidian into heroic and celebratory exploits, turning every gesture into a stereotype, but one that was not devoid of originality. Dart - Chiostro del Bramante and Arthemisia Group present the monographic exhibition featuring the work of this great artist James Tissot (…) from 26 September 2015 to 21 February 2016 at the Chiostro del Bramante in Rome. The 80 works in the ... More



Edward Dodwell and Filippo Maria Giuntotardi, West Portico of the Parthenon, Athens, After 1805. Watercolor. Framed: 81.3 × 55.9 cm. Accession No. VEX.2015.1.34. The Packard Humanities Institute.



LOS ANGELES, CA.- "Almost every rock, every promontory, every river, is haunted by the shadows of the mighty dead," wrote the English antiquarian Edward Dodwell of his travels in Greece at the beginning of the nineteenth century. During this time, he and the Italian artist Simone Pomardi traversed the country, producing around one thousand watercolors and drawings of the ancient Greek countryside. On view at the Getty Villa October 21, 2015 – February 15, 2016, Greece's Enchanted Landscapes: Watercolors by Edwa rd Dodwell and Simone Pomardi presents, for the first time in the United States, a selection of 44 magnificent illustrations from the expansive archive acquired by the Packard Humanities Institute, as well as four photographs from the Getty Museum's photographs ... More
New book documents the expansion of the Van Gogh Museum with lustrous images and elegant texts
Eli Wilner contributes essay to the catalog "The Lunder Collection: A Gift of Art to Colby College"
A private collection of scarce American prints leads Swann Galleries' November 3 & 4 print offerings


The Van Gogh Museum now constitutes Museumplein's third major museum to expand.



AMSTERDAM.- The Van Gogh Museum in Amsterdam is internationally recognized as one of the most important museums of the Netherlands. With major renovations of the Rijksmuseum and the Stedelijk Museum completed, the Van Gogh Museum now constitutes Museumplein's third major museum to expand and modernize in order to accommodate the ever growing numbers of visitors. Kisho Kurokawa Architect & Associates created an elegant sketch for a new entrance building, to complement the existing elliptical building that was realized by the office in 1999. The idea was further developed and materialized with great attention to detail by Hans van Heeswijk architects. This book documents the expansion of the Van Gogh Museum with lustrous images and elegant texts. Complementing images from acclaimed architecture photographers Luuk Kramer and Ronald Tilleman, architect and critic ... More



William McGregor Paxton, The Open Book, 1922, in period frame ( 43 ¼ X 38 ¼ X 3 5/8 inches).



NEW YORK, NY.- Eli Wilner has contributed an essay to the catalog "The Lunder Collection: A Gift of Art to Colby College." Mr. Wilner's chapter, entitled "Surrounding Beauty: Period Frames in the Lunder Collection," discusses both the exquisite frames in the collection, and his treasured friendship with Peter and Paula Lunder, now spanning over twenty-five years. With them he shares an appreciation for the important relationship between a painting and its frame, and together they have had the opportunity to explore how specific frames complement and enhance individual artworks in the collection. Mr. Wilner's essay discusses many of the frame styles included in the collection, from the complex and elaborate 19th century frames created of applied, molded ornament to the refined and elegant hand-carved frames of early 20th century Boston and New York. He examines the frames on Eastman Johnson's Party ... More



Rembrandt van Rijn, The Great Jewish Bride, etching and drypoint, 1635. Estimate $50,000 to $80,000. At auction November 4.



NEW YORK, NY.- On Tuesday, November 3 & Wednesday, November 4, Swann Galleries' Prints & Drawings department will offer a two-part sale of Old Master Through Modern Prints, leading with American Prints from a Private Collection on November 3. The sale will begin on Tuesday with American Prints from a Private Collection, headlined by a scarce Martin Lewis drypoint, the luminous Wet Night, Route 6, 1933 (estimate $20,000 to $30,000). Only 5 other impressions of this print, which depicts a Connecticut highway, have come to auction in the past 30 years. Other highlights from this private collection include Childe Hassam's etching of a historic home in Easthampton, Lion Gardiner House, 1920 ($15,000 to $20,000); Thomas Hart Benton's 1942 lithograph, The Race, a compelling image of a horse running alongside a locomotive ($15,000 to $20,000); and a run ... More
First survey exhibition in Italy of French artist Philippe Parreno opens at HangarBicocca
Julien's Auctions announces Sports Legends 2015 Online Auction featuring New York Yankees memorabilia
Baltimore Museum of Art receives $3 million gift to support new education center


Philippe Parreno, TV Channel, 2013 (detail). On screen: Alien Seasons, 2002. Exhibition view, "Anywhere, Anywhere, Out Of The World", Palais de Tokyo, 2013 Courtesy the Artist, Pilar Corrias and Esther Schipper Photo: © Andrea Rossetti.



MILAN.- HangarBicocca, the contemporary art space wholly supported by Pirelli, presents, from 22 October 2015 to 14 February 2016, "Hypothesis" the first survey exhibition in Italy of French artist Philippe Parreno. The show, curated by Andrea Lissoni, will be inhabited by a series of key pieces together with recent works and music according to a mise-en-scène devised by Parreno. Over the last twenty years Parreno has redefined the experience of the exhibition exploring the possibilities beyond the presentation of single artworks. He conceives his exhibitions as choreographed spaces that follow a script where a series of events unfold. His practice – that spans a diversity of media including film, video, sound, writing and drawing – has always explored the borders ... More



A New York Yankees flannel home jersey game worn by legendary Yankees catcher Thurman Munson during the 1971 Major League Baseball season. Estimate: $20,000-$30,000.



BEVERLY HILLS, CA.- Julien's Auctions has announced the Sports Legends 2015 exclusive online auction featuring an extraordinary collection of sports memorabilia offered via julienslive.com beginning on Monday, October 26, 2015 and ending at 5:00 p.m. PST on Monday, November 9, 2015. This historic collection of items to be auctioned includes game worn items from the New York Yankees including Thurman Munson's 1971 game worn Yankees home flannel jersey, Derek Jeter's 2013 game worn home Yankees jersey and Mariano Rivera's 1996 game worn home Yankees jersey. Property from other Yankees legends such as Babe Ruth, Joe DiMaggio, Mickey Mantle, Roger Maris and many others are also being offered. Memorabilia from other sport icons including Muhammad Ali, ... More



Merrick Historic Entrance, exterior. Photo by Mitro Hood.



BALTIMORE, MD.- BMA Board of Trustees Chair Clair Zamoiski Segal announced today that The Baltimore Museum of Art has received an extraordinary $3 million gift from Patricia and Mark Joseph to support the museum's new 5,500-square-foot education center. This is one of the largest individual gifts the museum has ever received. The Patricia and Mark K. Joseph Education Center is a new area of the BMA that connects visitors with art, creativity, and community. The $4.5 million, 5,500-square-foot center, opening on Sunday, October 25, continues the BMA's long tradition of pioneering art education that began in 1929 when it started one of the country's first museum education departments. It also concludes the BMA's multi-year renovation to provide more imaginative experiences with the artworks in the galleries and improve visitor amenities and infrastructure. "Pat and I are delighted to support this ground-breaking ... More
Quote
I felt everything had to have a mouth... Willem de Kooning
---
Bruce Nauman: Disappearing Acts | MoMA LIVE
---
Flashback
On a day like today, Italian painter Domenichino was born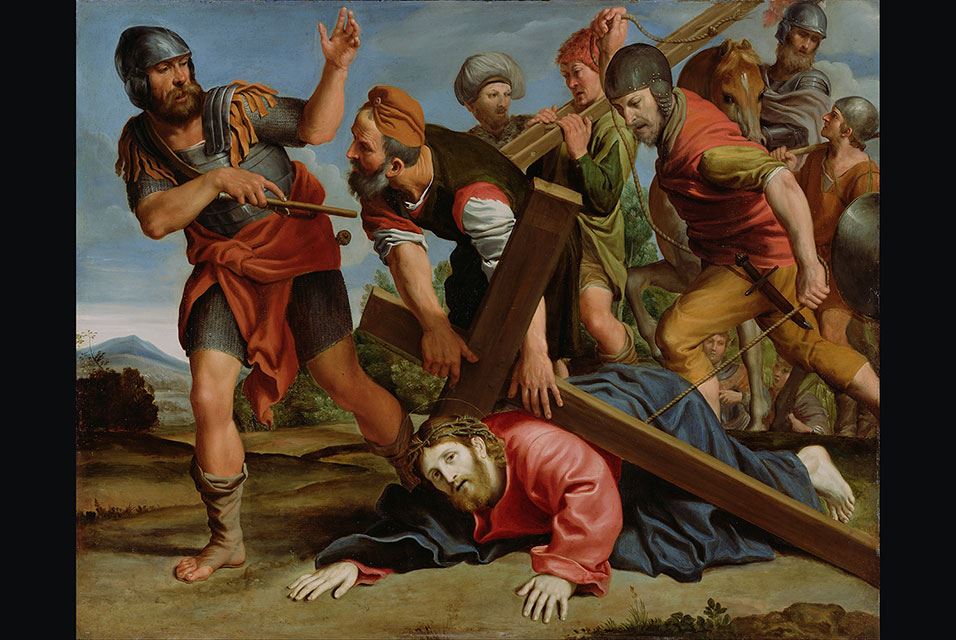 August 21, 1581. Domenico Zampieri, known as Domenichino for his shortness (October 21, 1581 - April 6, 1641), was an Italian Baroque painter of the Bolognese or Carracci School of painters. Domenichino was born in Bologna, son of a shoemaker, and there initially studied under Denis Calvaert. In this image: Domenichino (Domenico Zampieri) The Way to Calvary.
---

Museums, Exhibits, Artists, Milestones, Digital Art, Architecture, Photography,
Photographers, Special Photos, Special Reports, Featured Stories, Auctions, Art Fairs,
Anecdotes, Art Quiz, Education, Mythology, 3D Images, Last Week,
.
Royalville Communications, Inc
produces: