Palmer Museum presents exhibition on unconventional French printmaker Félix Buhot
Félix Buhot, Convoi funèbre au Boulevard de Clichy (Funeral Procession on the Boulevard de Clichy), 1887, etching, drypoint, aquatint, roulette, soft ground, lift ground, and stop-out over heliogravure, printed from two plates, second state of three, plate: 11 13/16 x 15 3/4 inches. B/G 159. Private collection.
UNIVERSITY PARK, PA
.-
This fall the
Palmer Museum of Art
at Penn State spotlights one of the most original French printmakers of the nineteenth century. Fantasy and Reality: The World According to Félix Buhot opened September 25 and will be accompanied by related gallery talks and programs throughout the fall. "Felix Buhot's achievement as a visionary artist-etcher is unprecedented," stated museum director Erin M. Coe. "This exquisite and evocative exhibition provides visitors the space to study exceptional examples of Buhot's experimental techniques and rich atmospheric effects for which he is best known." Félix Buhot (1847–1898) was a uniquely experimental printmaker in France during the last quarter of the nineteenth century. This period was marked by a growing interest among artists in the evocation of thoughts and emotions, which competed in the art world with lingering realist tendencies. Buhot found co ...
More
The Best Photos of the Day
So you want to be an auctioneer? Sold!
Italy to lend Leonardo da Vinci works to France in a masterpiece swap
Brexit? What Brexit? The art world carries on unfazed at Frieze London


Hugh Edmeades, who has worked in auction houses for 43 years, including 35 as an auctioneer, in a showroom at Christie's in London, on Sept. 10, 2019. Edmeades has handled more than $2.75 billion in sales at Christie's. Now he teaches a new generation the finer points of conducting an auction. (Shannon Jensen Wedgwood/The New York Times)



NEW YORK (NYT NEWS SERVICE ).- At his core, Hugh Edmeades is a salesman, albeit a dynamic and entertaining one. He runs fine art and charity auctions, having wielded one of his many gavels on more $2.75 billion in final bids at more than 2,600 auctions for Christie's. He has juggled bids on items as varied as old master and impressionist paintings, antique furniture, and more contemporary treasures that once belonged to Elizabeth Taylor, Margaret Thatcher and Eric Clapton. Formerly the international director of auctioneering for Christie's, Edmeades is now an international freelance auctioneer who spoke in London recently about why auctioneers need to be performance artists, the future of his field and how he shares the tools and tips ... More



The sun sets behind the Pyramid of The Louvre Museum (Pyramide du Louvre) in Paris on July 3, 2019. Ludovic MARIN / AFP



PARIS (NYT NEWS SERVICE ).- Leonardo da Vinci's famous drawing of a spread-eagled male figure, known as the "Vitruvian Man," will soon travel to Paris to star in a blockbuster Leonardo exhibition at the Louvre Museum. It will make the trip as part of an exchange agreement signed Tuesday by the culture ministers of France and Italy, after many months of sometimes bitter negotiations. The drawing — a study of the proportions of a human body — is one in a series of works that Italian museums are sending to the Louvre for a show to mark the 500th anniversary of the Renaissance master's death. The show is set to open Oct. 24 and run until February. As part of the swap, the Louvre will send Raphael masterpieces, including "Portrait of Baldassare Castiglione" and "Self-Portrait with a Friend," to Italy for a 2020 exhibition of his work at the Scuderie del Quirinale in Rome. The principle of an exchange of works by ... More



Frieze London 2019. Photo by Linda Nylind. Courtesy Linda Nylind / Frieze.



LONDON (NYT NEWS SERVICE ).- Britain might be convulsed by Brexit, but the contemporary art world, and the 0.1% of the population that makes it go around, carries on as normal. At least, so it seems. This week, thousands of international collectors, dealers and curators gathered here for the Frieze London and Frieze Masters fairs in Regent's Park, as well as a dizzying array of dealer shows, auctions and other satellite events. "Geopolitically, it may seem as though the world is going sideways, but the art market chugs ahead," said Wendy Cromwell, an art adviser based in New York, in town for "Frieze Week." "Primary sales are alive and well, as is the secondary market for top quality, rare, in-demand work," added Cromwell, referring to the "primary" market for new works from commercial galleries and the "secondary" trade in re-offered pieces, such as at auction. "Auction material is a little weak this fall with concerns around Brexit," said Cromwell ... More
Therme Art Program acquires 2019 Serpentine Pavilion and marks second year of partnership with Serpentine Galleries
Pierre Le-Tan, illustrator with a quiet touch, dies at 69
Deep looking, with Vija Celmins


Serpentine Pavilion 2019 Designed by Junya Ishigami, Serpentine Gallery, London (21 June – 6 October 2019), © Junya Ishigami + Associates, Photography © 2019 Taran Wilkhu.



LONDON.- To mark the second anniversary of its global art initiative Therme Art Program, Therme Group announced the acquisition of the 2019 Serpentine Pavilion designed by Japanese architect Junya Ishigami. The announcement follows Therme Group's acquisition of Mexican architect Frida Escobedo's 2018 Serpentine Pavilion, establishing Therme Group's second consecutive year in partnership with Serpentine Galleries to support its annual architecture commissions. The acquisition was announced at the Serpentine Galleries' Frieze breakfast, on the occasion of the opening of Frieze London. The event featured remarks by Hans Ulrich Obrist, Serpentine Galleries Artistic Director, and Mikolaj Sekutowicz, Curator of Therme Art Program and Vice President of Therme Group, who commented: "It has become incredibly important to ... More



New Yorker March 11th 1972 by Pierre Le-Tan.



NEW YORK (NYT NEWS SERVICE ).- The moon shines through a window, its light falling on a chair and a table holding a bottle and three tomatoes. A toy horse, a locomotive and a Santa Claus ornament sit among discarded ribbons and ornaments. A car approaches from the distance along a wooded lane on a rainy night, its headlights and their reflections the only bright spots in the engulfing gloom. Each of these quiet scenes was created by Pierre Le-Tan, one of Paris' pre-eminent illustrators, and each became a cover for The New Yorker, three of the 18 he made during a long, eclectic career. His work, often conveying whimsy, melancholy or nostalgia, was shown in art galleries and museums, and he illustrated and wrote books and collaborated with major fashion brands. He died on Sept. 17 at a cancer research institute in Villejuif, France. He was 69. The cause was cancer, his family said. Le-Tan's drawings, usually rendered with meticulous crosshatching in ink and watercolor, frequently depict interiors populated b ... More



Vija Celmins' paintings "Heater" (1964), left, and "Lamp #1" (1964) in New York, Sept. 23, 2019. A retrospective of Celmins' work, both intimate and cosmic, is at the Met Breuer through Jan. 12, 2020. (Haruka Sakaguchi/The New York Times)



NEW YORK (NYT NEWS SERVICE ).- In the 1960s art world, illusion was a dirty word. The old tradition of a painting as a window onto imaginary realities seemed beyond exhausted — just more proof of painting's death. Abstract painting was tolerated, especially if big and flatly painted so that it was undeniably an object. Magic and poetry were banished. "What you see is what you see," said the young Frank Stella, the moment's dominant painter. Even before pocketing her MFA in 1965, Vija Celmins refused to accept such formalist tyranny. Painting wasn't dead to her, and bigness and abstractness were not de rigueur. Celmins (her name is pronounced VEE-ya SELL-mins) emerged from the University of California in Los Angeles art program determined to be in step with her time yet go her own way. Now in its sixth decade, the artist's way has ... More
Deyan Sudjic and Alice Black to step down as co-Directors of the Design Museum
Female artists lead Sotheby's $4.3 Million Photographs Auctions in NYC
A solo exhibition of recent works by Francesco Clemente on view at Blain│Southern


Alice Black and Deyan Sudjic OBE. Photo: Phil Sharp.



LONDON.- After over a decade at the Design Museum helm, co-directors Deyan Sudjic OBE and Alice Black will step down from their leadership positions at the end of January 2020. Having worked together for 12 years leading the transformation of the Design Museum, from a small specialist institution to an award-winning museum dedicated to contemporary design and architecture, relocated in a refurbished landmark from the 1960s, Deyan Sudjic and Alice Black will step down in January 2020 as co-directors of the Design Museum. Deyan Sudjic and Alice Black made possible the museum's £82m move to its present home in Kensington, tripling its size and attracting more than 1.9 million visitors in the past three years. Under their leadership, the museum has seen annual visitors grow fivefold, from 120,000 to 600,000. Since 2006, the museum has staged more than 90 exhibitions and installations on contemporary design of all kinds from fashion to t ... More



Francesca Woodman's haunting Polka Dots fetches $200,000. New record for the artist at auction. Courtesy Sotheby's.



NEW YORK, NY.- Sotheby's annual fall auctions of Classic and Contemporary Photographs concluded yesterday in New York, with 120+ works selling for an overall total of $4.3 million. Emily Bierman, Head of Sotheby's Photographs Department in New York, commented: "We are thrilled with the results from our Contemporary and Classic Photographs sales. It is especially exciting to see both sales led by women artists, including a new auction record for Francesca Woodman. We saw strong results for key works from the 19th Century, notably Albert Frisch's series of rare photographs of the Amazon region which has never before in its entirety appeared at auction – and are so delighted that these important photographs will be returning to Brazil at the Instituto Moreira Salles. It was a pleasure to offer at auction for the first time the work of Kansuke Yamamoto, whose ... More



Francesco Clemente, Watchtowers, Gates and The Sea of Stories, Installation View, 2019, BlainSouthern Berlin, Photo Trevor Good.



BERLIN.- Blain|Southern Berlin is presenting Watchtowers, Gates and The Sea of Stories, a solo exhibition of recent works by Francesco Clemente (b.1952, Naples) and the first presentation of the artist's sculptures in Europe. The exhibition comprises The Sea of Stories, a monumental mural spanning the length of the gallery that has been created on site, and two bodies of sculpture created in collaboration with local artisans in Rajasthan. Often described as a 'nomadic artist', Clemente first travelled to India in the early 1970s and continues to live and work between the subcontinent, Europe and the US. Influenced by India's traditions, symbolism and the artistic approaches of its artisans, Clemente has created a deeply personal visual vocabulary inspired by his experiences. Whilst celebrated as a painter, his lesser-known sculptural practice relates to the pictorial ... More
Academy Museum of Motion Pictures appoints Bill Kramer as Director
Ogden Museum opens major survey of pioneering photographer William Christenberry
Christie's announces Classic Week in New York, bringing together nine auctions


Kramer served as managing director of development and external relations of the Academy Museum from 2012 to 2016.



LOS ANGELES, CA.- Bill Kramer has been named director of the Academy Museum of Motion Pictures, the museum's Board of Trustees announced today. Kramer, who served as managing director of development and external relations of the Academy Museum from 2012 to 2016, will take the reins as the institution's new leader on January 1, 2020, guiding its artistic and cultural vision and overseeing the final phase of the museum's completion. "The board unanimously welcomes Bill Kramer as the Academy Museum's new director," said Ron Meyer, Chair of the Academy Museum Board of Trustees and Vice Chairman of NBCUniversal. "Bill's experience and influence in the worlds of design, culture, and academia, coupled with his institutional knowledge of the museum, position him as an ideal leader to guide the museum to its opening and beyond." "We are all very enthusiastic about working with Bill again ... More



William Christenberry, Church, Sprott, AL, 1971 (detail), Dye-transfer, printed 2003, AP V, 8 x 10 inches, The Estate of William Christenberry, Courtesy of Hemphill Fine Arts.



NEW ORLEANS, LA.- Artist William Christenberry, long hailed as a pioneer in establishing color photography as a fine art medium, receives a wide-ranging career survey at the Ogden Museum of Southern Art this October. The exhibition features a selection of his iconic photographs of Hale County, Alabama alongside drawings, paintings, sculptures, assemblages, and installations, positioning his acclaimed photography practice within the context of his broader oeuvre. Titled Memory Is a Strange Bell: The Art of William Christenberry, the exhibition also explores the importance of poetry to the development of Christenberry's vision and approach, highlighting the ways in which the artist's engagement with poetry enhanced his ability to infuse simple tableaus with meaning and emotion. The exhibition is accompanied by scholarly texts by the exhibition ... More



A Roman marble torso of an athlete, circa 1st century B.C.-1st Century A.D., 30 inches, 76.2 cm. high. Estimate: USD 200,000 – USD 300,000. © Christie's Images Ltd 2019.



NEW YORK, NY.- Christie's announces Classic Week in New York, bringing together nine auctions featuring 19th-century European Art, Old Master paintings and sculpture, Antiquities, The Exceptional Sale, and Books and Manuscripts, which is joining the marquee sales week for the first time. Three distinguished private collections will be offered in dedicated sales: The Collection of Dr. Anton Pestalozzi of important Greek and Roman portraiture; The Collection of Lewis and Ali Sanders of superb French furniture and clocks; and a private collection of 17th-century Dutch and Flemish Old Master paintings. Sales run from 25–29 October with viewings from 18-28 October. To add to the multidimensional viewing experience at our Rockefeller Center galleries, the creators behind the scent branding agency 12.29 will introduce a bespoke scent evocative of the artworks, adding an olfactory ... More
Quote
The reason for my painting large canvases is that I want to be intimate and human. Mark Rothko
---
Jeff Wall Interview: Pictures Like Poems
---
Flashback
On a day like today, Swiss architect Le Corbusier was born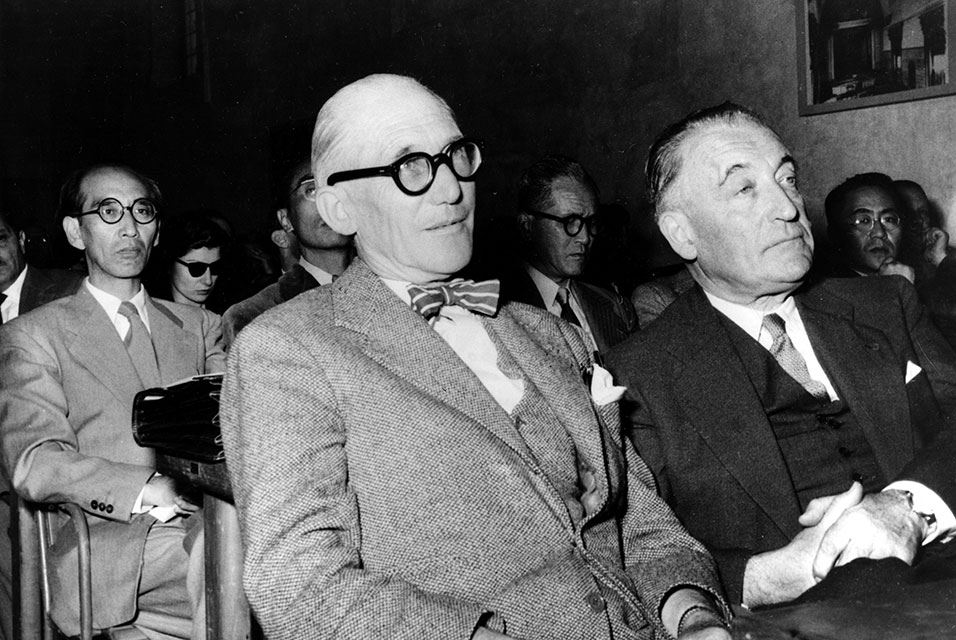 October 06, 1887. Charles-Édouard Jeanneret, better known as Le Corbusier (October 6, 1887 - August 27, 1965), was an architect, designer, urbanist, and writer, famous for being one of the pioneers of what is now called modern architecture. He was born in Switzerland and became a French citizen in 1930. His career spanned five decades, with his buildings constructed throughout Europe, India and America. He was a pioneer in studies of modern high design and was dedicated to providing better living conditions for the residents of crowded cities. Le Corbusier adopted his pseudonym in the 1920s, allegedly deriving it in part from the name of a distant ancestor, "Lecorbésier." He was awarded the Frank P. Brown Medal and AIA Gold Medal in 1961. In this image: French architect Georges Le Corbusier, left, and French writer Jules Romains are shown during a session of the conference of artists from around the world in the Palace of the Doges in Venice, Italy, in Sept. 1952.
---

Museums, Exhibits, Artists, Milestones, Digital Art, Architecture, Photography,
Photographers, Special Photos, Special Reports, Featured Stories, Auctions, Art Fairs,
Anecdotes, Art Quiz, Education, Mythology, 3D Images, Last Week,
.
Royalville Communications, Inc
produces: