Brussels to open Pompidou Centre art museum at a former Citroen garage
Pompidou Center President Serge Lasvignes (R) and Brussels region President Rudi Vervoordt unveil a project to transform the former Citroen car garage into a museum for modern and contemporary art, at the Citroen garage in Brussels on September 29, 2016. The Brussels government purchased the building in 2015 and unveiled on September 29, 2016 that the 16,000 square-metre garage featuring large windows of art nouveau architecture from the 1930s will house a new Pompidou Center by 2020. Citroen, who still actively use the building, will move their operations to the suburbs. EMMANUEL DUNAND / AFP.
BRUSSELS
(AFP)
.-
The European "capital" of Brussels is going to get its own version of the Pompidou Centre, the contemporary art gallery in Paris that has become one of world's biggest cultural attractions. The new Pompidou branch will be housed in a landmark building which residents of Brussels more closely associate with grease and grime, a 16,000 square-metre car garage on the banks of the city's rustbelt canal. "The Brussels region and the Pompidou Centre have signed a deal for the creation of a Pompidou Centre Brussels at the heart of a cultural hub," the Paris-based museum said in a tweet. Brussels has a somewhat grey reputation as home to the headquarters of the European Union and NATO and it is hoped that the new gallery will promote the city as a destination for the arts. The regional government of Brussels bought the vast location from French car manufacturer Citroen in 2015 for 20.5 million euros ($23.0 million) with the ambition of creating a cultural site to rival the MOMA in New York or t ...
More
The Best Photos of the Day
US-France court battle tied to Picasso comes to a head
Gagosian exhibits works by Duane Hanson and Olivier Mosset
The Morgan opens retrospective of drawings by Jean Dubuffet


This file photo taken on April 20, 2016 shows visitors as they enter Pablo Picasso's exhibition, the 'Transfiguration', in the Hungarian National Gallery in Budapest. ATTILA KISBENEDEK / AFP.



WASHINGTON (AFP).- A French family holding rights to photographs of Pablo Picasso's artwork won a major victory against an American art editor in US federal court this week, in a 20-year legal battle that has outlived the plaintiff. A lawyer for American art publisher and dealer Alan Wofsy, who reproduced the photographs in volumes he sold, told AFP on Wednesday he would seek to have the court hear the case again, so the court fight may not be over. Plaintiff Yves Sicre de Fontbrune never saw his hard-fought victory come to fruition. He died last year, leaving his wife and three children to continue the battle with Wofsy. The saga has its roots in the strong ties between the celebrated Spanish painter, sculptor and printmaker with art critic Christian Zervos, who founded the prestigious Cahiers d'art journal. The Greek-born Zervos, who died in 1970 in Paris, produced a massive catalogue of more than 16,000 photographs of Picasso's artwork, which Cahiers d'art published as 33 volumes between 1932 and 1978 ... More



Duane Hanson, Housepainter I, 1984-1988 Autobody filler, polychromed, mixed media, with accessories 86 x 24 x 26 inches. © The Estate of Duane Hanson. / Olivier Mosset, Untitled, 2016 Sprayed polyurethane on canvas 120 x 120 inches. © Olivier Mosset, photography by Robert McKeever. Courtesy Gagosian Gallery.



PARIS.- Gagosian is presenting an exhibition of works by Duane Hanson and Olivier Mosset. The hyperrealistic sculptures of Duane Hanson and the minimalist paintings of Olivier Mosset are brought together in this exhibition for the first time. The two artists, radically different and equally extreme in their respective lines of inquiry, seek, each in his own way, to test the boundaries of human perception. For Duane Hanson, highly detailed and precisely realized figuration became tools through which to resist objectivity and neutrality. Hanson's startlingly lifelike human figures that portray people, with an emphasis on the American working class, distinguished his oeuvre over forty years. At the beginning of his career, Hanson created tableaux of traumatic and violent social upheaval, such as Abortion (1966) and Race Riot (1969–71), many of which he destroyed later, wishing to be remembered for ... More



Jean Dubuffet, Le Métro, March 1943, Gouache. Centre national d'art et de culture Georges Pompidou, Paris. Musee national d'art moderne / Centre de creation industrielle. Photography by Philippe Migeat. © 2016 Artists Rights Society (ARS), New York / ADAGP, Paris.



NEW YORK, NY.- In the mid-1940s, French artist Jean Dubuffet (1901–1985) shocked the art establishment with his paintings inspired by children's drawings, graffiti, and the art of psychiatric patients. Rejecting conventional notions of beauty and good taste, Dubuffet asserted that invention and creativity could only be found outside traditional cultural channels. In his efforts to emulate the immediacy of the untrained and untutored, he often turned to drawing, a medium in which he could indulge his passion for research and experimentation. Opening at the Morgan Library & Museum on September 30, Dubuffet Drawings, 1935–1962 is the first museum retrospective of the artist's works on paper. The exhibition includes approximately one hundred drawings from Dubuffet's most innovative decades and features rarely seen works borrowed from private and public collections in France and the United States. His favorite subjects were ... More
Moscow gallery attack targets Ukrainian troop photos
US painter Shirley Jaffe, 93, dies in Paris
Tate acquires British Impressionist masterpiece


The Sakharov Centre, which promotes human rights, wrote on Facebook that the activists on Thursday were "people in camouflage and Cossacks. Photo: A.Savin.



MOSCOW (AFP).- Dozens of pro-Kremlin activists have attacked a Moscow exhibition of photographs of Ukrainian forces in the separatist conflict, defacing images, tearing down signs and forcing its temporary closure, organisers said on Thursday. A group of several dozen activists stormed into the Andrei Sakharov exhibition centre in protest at a display of documentary photographs of Kiev's troops in Donetsk, calling themselves defenders of the separatist region. The attacker targeted images shot by Sergei Loiko, a journalist who covered the conflict for the Los Angeles Times, and Belarusian Alexander Vasukovich, the centre said. The exhibition included Loiko's 2014 images of pro-Kiev fighters inside Donetsk's ravaged airport. The activists targeted the exhibition after a lone activist on Wednesday evening sprayed red paint on around a dozen pictures, ... More



Untitled, n. d., mixed media on paper, 25 5/8 x 19 ¾ inches (65 x 50 cm), Courtesy Tibor de Nagy Gallery, New York.



PARIS.- US artist Shirley Jaffe, an influential painter in contemporary abstract art, died on Thursday aged 93, after spending most of her life living and working in France, the gallery that represented her announced. Born in 1923 in New Jersey, Jaffe moved to Paris in 1949 after studying fine art in New York and Washington. A close friend of fellow Americans Sam Francis and James Bishop, both painters, the adopted daughter of Paris was represented for several decades by the prestigious art gallery Jean Fournier. Jaffe first came to be known in the art scene for her abstract expressionist work. She broke away from this style in the early 1960s, adopting instead a colourful, geometric style. "Considered one of the most influential painters in contemporary abstract art, she caught the attention of artists from younger generations, such as Jessica Stockholder and Bernard Piffaretti,". ... More



William Stott of Oldham, La Passeur (The Ferry), 1882 (detail) © Tate.



LONDON.- The painting has been bought with funds provided by Art Fund, Heritage Lottery Fund and The Hintze Family Charitable Foundation and will be on display at Tate Britain in April 2017. It will then tour to three other galleries, Gallery Oldham, Aberdeen Art Gallery and Museum and Southampton City Art Gallery. The majority of Stott's work is in Gallery Oldham, in the artist's home town. This work will join another piece, Girl in a Meadow from 1880 in Tate's collection. Stott was an important member of the group of British artists who were influenced by French naturalism in the late 19th century. After training at Manchester School of Art he went to Paris where he was taught by Léon Bonnat and Jean-Léon Gérôme. He exhibited a number of paintings at The Salon which were admired by French critics. Le Passeur demonstrated what British Impressionism could achieve and gave the movement international recognition. ... More
Mayor of London Sadiq Khan unveils David Shrigley's "Really Good" on Fourth Plinth
Lark Mason Associates announces Fall Sale of Asian, Ancient, and Ethnographic Works of Art
Leading Brazilian architect to receive United Kingdom's highest honour for architecture


Really Good by David Shrigley. © Gautier Deblonde.



LONDON.- The new commission for the Fourth Plinth, Really Good by artist David Shrigley, was unveiled by the Mayor of London Sadiq Khan this morning, Thursday 29 September, in London's Trafalgar Square. Commissioned by the Mayor of London as part of the Fourth Plinth Programme, Really Good is the eleventh sculpture to stand on Trafalgar Square's celebrated plinth. It is the first major public art commission to be unveiled by the new Mayor. Really Good sees a seven-metre-high hand giving a thumbs up. Cast in bronze, with the same dark patina as the other statues in Trafalgar Square, the thumb is disproportionately long. Shrigley's ambition is that this simple gesture will become a self-fulfilling prophecy; that things considered 'bad' such as the economy, the weather and society, will benefit from a change of consensus towards positivity. Born in 1968 in Macclesfield, David Shrigley lives and works in ... More



Detail of an 18th century Chinese Hand Scroll, After Wen Peng, Colored Ink on Silk, Landscape.



NEW YORK, NY.- Lark Mason, founder and president of Lark Mason Associates,
announces that over 750 lots of Asian works of art will be up for bidding on iGavelAuctions.com, in a sale that goes live on October 4 through October 18. The works of art represent Asian periods and disciplines, from the Sui dynasty through the 21st century. One of the sale's standouts is an important collection of Japanese Netsuke, which date from the 17th century to the Meji Period, with estimates ranging from $800,000 to $1.2 million. The majority of the pieces have extensive documentation including CITES (Convention for International Trade in Endangered Species) import documents from for the ivory pieces. Says Lark Mason, "We are delighted to present and preview this important sale of Asian, Ancient and Ethnographic Works of Art for Fall's Asian Art ... More



Paulo Mendes da Rocha. ©Paulo Mendes da Rocha.



LONDON.- The Royal Institute of British Architects announced that Paulo Mendes da Rocha, Brazil's most celebrated living architect, will receive the 2017 Royal Gold Medal. Given in recognition of a lifetime's work, the Royal Gold Medal is approved by Her Majesty The Queen and is given to a person or group of people who have had a significant influence "either directly or indirectly on the advancement of architecture". Awarded since 1848, past Royal Gold Medallists include Zaha Hadid (2016), Frank Gehry (2000), Norman Foster (1983), Frank Lloyd Wright (1941) and Sir George Gilbert Scott (1859); Oscar Niemeyer (1998) is the only other Brazilian architect to have received the honour. Born in Vitória, Brazil in 1928, Paulo Mendes da Rocha has received international acclaim for his significant contribution to architecture. Mendes da Rocha's numerous notable cultural buildings, built in his particular Brazilian Brutali ... More
Myriad masterworks unveiled at Sotheby's biggest-ever Dubai exhibition
Phillips announces highlights from the October Auctions of Evening & Day Editions, including Works on Paper
Anne Mosseri-Marlio Galerie announces the death of artist Nils Erik Gjerdevik


Shakir Hassan Al-Said, The Boy Wearing a Hat, 1955. Oil on canvas. Estimate: £40,000-60,000. Photo: Sotheby's.



DUBAI.- Sotheby's is presenting its biggest-ever public exhibition in Dubai, bringing together works from the broadest range of selling categories, ahead of the Dubai office opening. The exhibition, which is being held from 10am – 8pm at Level 1, Gate Village Building 3, Dubai International Financial Centre, UAE, stars highly sought-after masterpieces by celebrated artists from the region, alongside treasures of historical importance from the Islamic world. This is accompanied by a series of talks and guided tours to showcase these worldwide highlights. These works will then be offered for sale at Sotheby's London, as part of a week dedicated to the Arts of the Middle East and India. Born in 1976, the work of internationally acclaimed artist Ali Banisadr is heavily influenced by his childhood experiences as a refugee of the Iran-Iraq war. His intoxicating ... More



Frank Stella (b. 1936), Waves I, 1985-89. Estimate: $50,000-70,000. Image courtesy of Phillips.



NEW YORK, NY.- Phillips announces highlights from the upcoming sale of Evening & Day Editions, including Works on Paper. Comprised of over 400 lots that span the 20th and 21st centuries, the day session will be held on 26 October at 10am and 2pm, with the evening session following at 6pm on the same day. Modern highlights include Käthe Kollwitz's Selbstbildnis (Self - Portrait) , Egon Schiele's Das Graphische Werk von Egon Schiele , and Joseph Albers' portfolio of 12 screenprints, entitled SP . Contemporary lots include several works by Andy Warhol, notably his 1981 Mickey Mouse and 1985 Queen Elizabeth II of the United Kingdom , Roy Lichtenstein's Ten Landscapes, Richard Artschwager's Exclamation Point , and Jasper Johns' Skin with O'Hara Poem . Over 35 lots of unique works on paper and prints from the Schulhof Collection will also be included in the sale, featuring pieces by Pablo Picasso, Morris ... More



Nils Erik Gjerdevik's works are in numerous collections throughout Europe, North and South America.



BASEL.- It is with great sadness that that I write to you today as my dear friend, great artist and champion of the arts Nils Erik Gjerdevik has died unexpectedly. Born in Norway (1962) but living since early childhood in Denmark, he studied at the Academy of Fine Arts in Prague (CZ) and taught at the Royal Academy of Fine Arts in Copenhagen. He had a very firm knowledge and respect for art history, contemporary art as well as deep knowledge of color, architecture and design. Aside from his professional qualities, he had an insatiable curiosity for culture of all kinds that he shared with his fellow colleagues, friends and acquaintances. He was always ready with a big smile, good humor, a bear hug, enthusiasm and contagious lust for life. Since the first day we met I sensed that he was a gentleman and someone who cared for others. Over the past three decades he has mastered ... More
Quote
I am aware that the realist period is finished. André Derain
---
Kathryn Hart, Daunting Transitions Exhibition, Krakow 2018
---
Flashback
On a day like today, two paintings by Vincent Van Gogh were recovered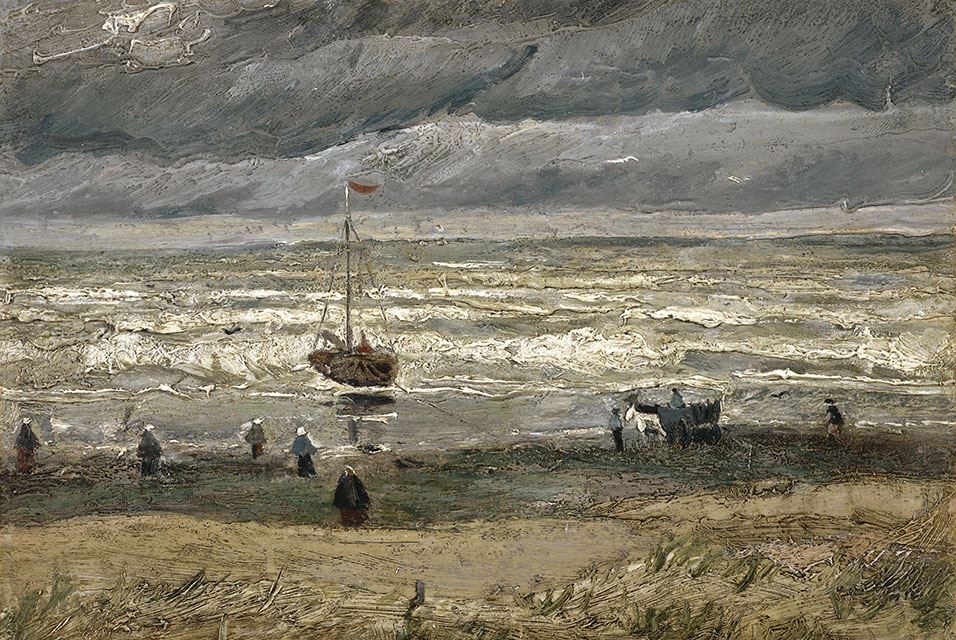 August 30, 2016. Two paintings by Vincent Van Gogh with a combined value of $100 million, Seascape at Scheveningen and Congregation Leaving the Reformed Church in Nuenen, were recovered after having been stolen on December 7, 2002 from the Van Gogh Museum in Amsterdam. In this image: Seascape at Scheveningen in Stormy Weather.
---

Museums, Exhibits, Artists, Milestones, Digital Art, Architecture, Photography,
Photographers, Special Photos, Special Reports, Featured Stories, Auctions, Art Fairs,
Anecdotes, Art Quiz, Education, Mythology, 3D Images, Last Week,
.
Royalville Communications, Inc
produces: