First major exhibition in 40 years to tell the story of the Celts opens at the British Museum
An assistant poses for photographers looking at the Gundestrup cauldron, a decorated silver vessel thought to have been made between 200 BC and 300 AD, during a press preview of "Celts: art and identity" exhibition at the British Museum in London on September 23, 2015. The exhibition tells the story of the different peoples who have used or been given the name 'Celts' through the stunning art objects that they made. The name 'Celts' does not refer to a single people who can be traced through time, but has been appropriated over the last 300 years to reflect modern identities in Britain & Ireland and beyond. The iconic silver cauldron from Gundestrup is has been loaned for the exhibition by the National Museum of Denmark. AFP PHOTO / JUSTIN TALLIS.
LONDON
.-
Celts: art and identity opens at the
British Museum
on 24 September and draws on the latest research from Britain, Ireland and Western Europe. The exhibition tells the story of the different peoples who have used or been given the name 'Celts' through the stunning art objects that they made, including intricately decorated jewellery, highly stylised objects of religious devotion, and the decorative arts of the late 19th century which were inspired by the past. The exhibition then opens at the National Museum Scotland in March 2016. As part of the National Programme activity around the Celts exhibition, the British Museum and National Museums Scotland are showcasing two rare Iron Age mirrors as a Spotlight tour to partner museums across the UK. Today the word 'Celtic' is associated with the distinctive cultures, languages, music and traditions of Scotland, Ireland, ...
More
The Best Photos of the Day
Sotheby's announces the first dedicated sale of classical Chinese paintings in Asia for over a decade
Gold leaf masks anti-Semitic graffiti on British-Indian artist Anish Kapoor sculpture in Versailles
Guggenheim relatives lose French court case over art treasures in Peggy Guggenheim museum


Wang Shimin (1592 – 1680), Landscape After Dong Yuan. Ink on paper, hanging scroll. Est: HK$200,000 – 280,000 / US$25,000 – 35,000. Photo: Sotheby's.



HONG KONG.- Following the launch of the Chinese Classical Paintings department in Hong Kong earlier this year, Sotheby's Hong Kong debuts the first dedicated sale of classical Chinese paintings during the Hong Kong Autumn 2015 sale series, adding to its existing saleroom for the category in New York. The sale, to take place on 5 October at the Hall 3 of the Hong Kong Convention and Exhibition Centre, offers more than 50 lots, estimated in excess of HK$64 million/ US$8.2 million*. It will feature rare works from the masters of the Song Yuan through Qing dynasties. Highlights include a Song Yuan dynasty album leaf and calligraphy from the Qianlong Emperor; works from the 'Four Wangs' and 'Four Monks' from the Qing Dynasty, many of which have distinguished provenance from prominent literati figures. Rongde Zhang, Head of Classical Chinese Paintings, Sotheby's, said, "To mark the first dedicated sale ... More



"Dirty Corner", a 2011 Cor-Ten steel, earth and mixed media monumental artwork by British contemporary artist of Indian origin Anish Kapoor. AFP PHOTO / PATRICK KOVARIK.



PARIS (AFP).- British-Indian artist Anish Kapoor has covered anti-Semitic graffiti on a controversial sculpture that was vandalised in France with gold leaf -- but only just. Dabs of white paint could still be seen Wednesday at the edges of the gold leaf placed on the massive, funnel-like sculpture at the Palace of Versailles, which has been dubbed the "queen's vagina" for its sexual overtones. In an interview with the artnet website, Kapoor said the choice to leave bits of the graffiti visible was deliberate. "I have to transform it. Unravelling, finding an answer to a crime of hate and turn it into something else." The 60-metre (200-foot) long, 10-metre high structure, officially called "Dirty Corner", was first vandalised in June and then cleaned. Then two weeks ago it was covered in white paint with phrases such as "SS blood sacrifice" and "the second rape of the nation by deviant Jewish activism". ... More



Peggy Guggenheim Collection (right) on the Grand Canal in Venice. Photo: David M. Heald © The Solomon R. Guggenheim Foundation, New York.



PARIS (AFP).- The descendants of heiress and art collector Peggy Guggenheim lost their case in a French court Wednesday over her extensive collection of works housed in an 18th century palace on Venice's Grand Canal. The French branch of the family launched legal action against the New York-based Solomon Guggenheim Foundation, which manages the collection. The relatives are angry at the way the collection of paintings by artists including Picasso, Miro and Matisse are displayed and have called for it to be restored to its original configuration. One of Peggy's grandsons, Sandro Rumney, and other family members complain that works from other collectors are now being displayed at the Palazzo, diluting the quality of the collection. In the original hearing in May, lawyer Olivier Morice said the family felt moved to take the action "to respect the wishes of Peggy Guggenheim to see the collection intact". But the Court of Appeal in ... More
Auction house Bearnes Hampton & Littlewood to offer an oil painting by John Constable
John Lennon's detention sheet to be offered at Sotheby's Rock & Pop sale in London
Nasher Sculpture Center announces 'Giuseppe Penone: Being the River, Repeating the Forest'


Detail of Ponies and Donkey in a Forest Clearing by John Constable (1776-1837), oil on canvas, 24cm x 36cm.



EXETER.- Bearnes Hampton & Littlewood is offering an oil sketch by John Constable RA (1776-1837) entitled forest clearing with ponies and donkey in the Picture Auction on 6th October 2015 as part of the Authumn 2015 Fine Sale. This is a rare discovery of an important painting with impeccable provenance and specialist authentication that will be available well in advance of the sale. The pre-sale estimate for the painting is £40,000-£60,000. The sketch Ponies and Donkey in a woodland clearing is catalogued by Graham Reynolds as "Landscape with horses" in the Yale catalogue raisonne with a date of 1810. The date, 8th October 1810, was recorded on an old label (now believed lost) by Lionel Bicknell Constable (Constable's son) who presumably copied this from an original inscription by John Constable on the back of the sketch, but which was later covered ... More



Shining a light on the rebellious schooldays of one of the greatest songwriters of all time. Photo: Sotheby's.



LONDON.- A lined sheet torn from John Lennon's High School detention book, shining a light on the musician's mischievous schooldays, will be offered at Sotheby's London auction on Tuesday 29th September with an estimate of £2,000-3,000. Inscribed at the top with the pupil's surname "Lennon", the page records the 29 occasions between 9 September 1955 and 11 July 1956 that he was sent to detention at Quarry Bank High School in Allerton, Liverpool. The frequent entries on this sheet from six different teachers reveal that John Lennon's rebellious nature and irreverence for authority were well established traits of his character even at the age of fifteen. On one day - 12 September 1955 - Lennon received no fewer than five separate detentions from two different teachers beginning with: "No Hwk" [homework] and continuing with ..."Impertinence"..."Talk after 2 warnings" and "Further talk". John's ... More



Soffio 3 (Breath 3), 1978. Terracotta, 58 ¼ x 28 3/8 x 25 ½ in. (148 x 72 x 65 cm). Private Collection Installation view, Kunstmuseum Winterthur 2013 Photo © Archivio Penone.



DALLAS, TX.- Nasher Sculpture Center announces a major exhibition of the work of the influential Italian artist, Giuseppe Penone, in an exhibition called Being the River, Repeating the Forest which opened September 19, 2015 and runs through January 10, 2016. Italian artist Giuseppe Penone has played an integral role in the development of art over the past five decades. From his conceptual and performative works of the 1960s and 70s to the large-scale sculptural installations of the past ten years, Penone has explored intimate, sensate, and metaphysical connections with nature. Working in a stunning variety of materials—including clay, wood, stone, metal, plaster, resin, acacia thorns—the artist makes palpable and present the analogous processes of nature and art: carving large trees along their growth patterns to reveal the ... More
artnet and the China Association of Auctioneers announce Global Chinese Art Auction Market Report 2014
Mural sketch made in 1969 by Joan Miró donated to Fundació Joan Miró in Barcelona
2 x 2 x 2 x 2: Exhibition of works by Robert Irwin opens at WHite Cube Bermondsey


The Chinese art and antiques auction market is frequently subject to a great deal of scrutiny, as concerns have been raised about the various problems concurrent with its rapid growth through 2011.



NEW YORK, NY.- artnet, in collaboration with the China Association of Auctioneers, has released the third edition of its Global Chinese Art Auction Market Report, providing an in-depth look at the Chinese art and antiques auction market in 2014, aimed at creating a new standard of transparency in the marketplace. The Chinese art and antiques auction market is frequently subject to a great deal of scrutiny, as concerns have been raised about the various problems concurrent with its rapid growth through 2011. Amidst this uncertainty, data analysis on the Chinese art market has also been called into question. In a continued effort to present the most accurate representation of the auction market in China, artnet has again partnered with CAA to produce a definitive study of the market, which only these two trusted organizations ... More



Joan Miró, Sketch for the mural on the windows of the Association of Architects of Catalonia and the Balearic Islands for the exhibition "Miró otro", 1969 (detail). Ink and wax crayon on paper 15.5 x 176 cm (made up of 21 parts).



BARCELONA.- "The young architects wanted to organise a confrontational exhibition, an attack on the official retrospective that had been held earlier: the museums' painter. I hadn't attended the official opening. I was in Barcelona, but at the last moment I said I wouldn't make it, in order to avoid running into the authorities. I was there for the young architects, however; at three in the morning –so there wouldn't be people around, because it wasn't a performance–, I was on the pavement painting. Then we went for a coffee and a croissant to warm up a little. What I was interested in was the immediate gesture, on a background prepared in advance with messages in Catalan in favour of the freedom of Catalonia." That is how Joan Miró described to Georges Raillard (Georges Raillard. Miró. Ceci est la couleur de mes rêves. ... More



Robert Irwin, Niagara, 2015. Light + Shadow + Reflection + Color, 97 3/16 x 45 1/2 x 4 1/2 in. (246.8 x 115.6 x 11.4 cm)© Robert Irwin. Photo © 2015 Philipp Scholz Rittermann Courtesy White Cube.



LONDON.- White Cube presents 2 x 2 x 2 x 2, an exhibition by Robert Irwin, one of the pivotal figures in recent American art. Irwin's oeuvre has spanned more than 60 years and includes painting, sculpture, installation and large-scale architectural projects. Minimal and perceptual, his works attempt to highlight particular spatial situations, acting like brackets for our phenomenological experience. This exhibition brings together three groups of works, including fluorescent works, transparent acrylic columns and a diptych. Since the 1970s, Irwin has used light and subtle alterations of space to refocus the habituated eye, encouraging an awareness of the visual field around us. He has said that 'the pure subject of art is human perception': a conditional activity determined by context. In the 'cuts', Irwin creates a sequential experience of colour for the viewer, with a series of long, coloured fluorescent ... More
Exceptional works by modern and contemporary South Asian masters for sale at Bonhams
New beeswax sculptures by Wolfgang Laib on view at the Buchmann Gallery in Berlin
Heritage Auctions announces first Modern and Contemporary Art Auction in New York


Untitled (Figure), by Tyeb Mehta; estimate £300,000 - 500,000. Photo: Bonhams.



LONDON.- Bonhams' Modern and Contemporary South Asian Art sale at 101 New Bond Street on 5 October offers 33 exceptional works from Indian and South Asian masters including M F Husain, FN Souza, Tyeb Mehta and Ismail Gulgee. The star lot is a poignant and important early work by one of the most successful Indian artist in the world, Tyeb Mehta (1925-2009). Never before offered at auction, the painting, Untitled (Figure), 1959, comes from a private UK collection and is estimated at between £300,000 – 500,000. As with Mehta's other early pictures it shows the influence of the Parisian school in its heavy use of impasto as well as displaying the cinematic quality which characterised so much of his work throughout his long career. Untitled by M F Husain (1915 – 2011) is estimated at between £120,000-150,000. Husain once said, "When I make nude paintings of women you will find that there is no nakedness in this nudity." T ... More



Wolfgang Laib, Step Pyramid, 2015. Bienenwachs / beeswax, 45 (h) x 32 x 11 cm / 17¾ x 15½ x 4¼. All images Courtesy Buchmann Galerie. Photo: Roman März.



BERLIN.- The Buchmann Gallery is presenting a series of new beeswax sculptures by Wolfgang Laib (*1950 in Metzingen, Germany), which the artist created this summer in his studio. Positioned on a wall bracket that spans the entire breadth of the room, these small objects made of fragrant, golden-yellow beeswax have a sensuous and very compelling presence. Each object is hand-shaped using 5cm slabs of beeswax. The concentration and purity of the natural material gives the sculptures a serene beauty and a certain sacrosanctity. Wolfgang Laib succeeds in transcending the pure form, for instance a ziggurat, to imbue each piece with an auratic presence. The pieces have an astonishing power, particularly if one considers that it takes around 150,000 bees to produce one kilogram of beeswax. Since ancient times, ... More



Ai Weiwei (b. 1957), Surveillance Camera, 2010. Marble, 14 x 15-1/2 x 7-1/2 inches. Estimate: $400,000-$600,000 USD.



NEW YORK, NY.- Surveillance Camera, 2010 — an evocative sculpture, never before at auction, by celebrated artist Ai Weiwei who has dedicated his art to champion the cause of a free and open government — leads Heritage Auctions' fall Modern & Contemporary Art Auction to be held for the first time ever in New York on October 28. The auction's carefully curated selection includes important works by Robert Motherwell, Andy Warhol, Robert Rauschenberg, and Tom Wesselman, among others; as well as a collection of five works from a Distinguished New York Collection featuring works by Richard Diebenkorn, Robert Graham, Arshile Gorky, Franz Kline and Bob Thompson. "Heritage Auctions is increasingly attracting important Modern and Contemporary artworks and the time has come to bring it these auctions to the New York stage," said Leon Benrimon, Director of Modern ... More
Quote
I would like not to reproduce but to reinvent the structure of light in a way pertinent to painting rather than to optics. Piero Dorazio
---
Tara Donovan Interview: Sculpting Everyday Materials
---
Flashback
On a day like today, American photographer Linda McCartney was born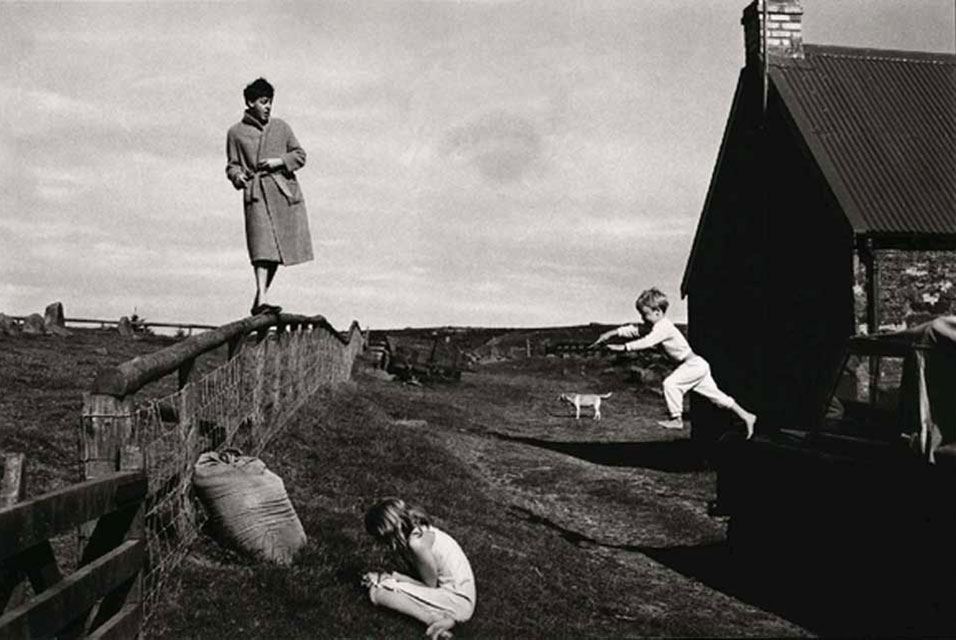 July 24, 1941. Linda Louise McCartney, Lady McCartney (née Eastman; formerly See; September 24, 1941 - April 17, 1998) was an American musician, photographer, and animal rights activist. She was married to Paul McCartney of the Beatles. McCartney was a professional photographer of celebrities and contemporary musicians. Her photos were also published in the book Linda McCartney's Sixties: Portrait of an Era in 1992. In this image: Linda McCartney (1941-1998), Paul, Stella and James in Scotland, Platinum photograph, 1982. Courtesy James Hyman Gallery.
---

Museums, Exhibits, Artists, Milestones, Digital Art, Architecture, Photography,
Photographers, Special Photos, Special Reports, Featured Stories, Auctions, Art Fairs,
Anecdotes, Art Quiz, Education, Mythology, 3D Images, Last Week,
.
Royalville Communications, Inc
produces: