Lost '$170 million Caravaggio' snapped up before French auction
A technician works on the hanging of a painting believed by some experts to be Caravaggio's "Judith Beheading Holofernes" for its public presentation at the Marc Labarbe auction house on June 16, 2019 in Toulouse before it goes under the hammer next June 27, five years after it was discovered in the attic of an old house in Toulouse. ERIC CABANIS / AFP.

by Hervé Gavard in Toulouse with Fiachra Gibbons in Paris
TOULOUSE
(AFP)
.-
A painting thought to be a "lost masterpiece" by Italian painter Caravaggio has been bought two days before it was due to go under the hammer in France. "Judith and Holofernes", which was found under an old mattress in the attic of a house in the French city of Toulouse, was snapped up by a foreign buyer, the auction house selling it said on Tuesday. Art expert Eric Turquin -- who authenticated the painting -- said it was worth between 100 and 150 million euros (up to $170 million), although several Italian specialists have doubts about the canvas. But Turquin, France's leading authority on Old Masters paintings, had staked his reputation on the work being the fiery artist's lost "Judith and Holofernes". The painting depicting a grisly biblical scene of the beautiful ...
More
The Best Photos of the Day
Infamous botched art restoration in Spain gets makeover
The Art and Antique Dealers League announces exhibitor line-up for October Fine Art & Antiques Show
Christie's Post-War and Contemporary Art Evening Auction Aachieves $57,558,619


The wooden statue of St George charging a horse in the San Miguel church in Estella, a town in Spain's northern Navarra region, had turned a dark brown with age.



MADRID (AFP).- A 16th century sculpture of Saint George in Spain whose amateur restoration left it looking like what many said was a cartoon character has been brought back to its original state, regional authorities said Monday. The botched restoration sparked anger when it came to light last year, drawing comparisons with a similar infamous renovation in 2012 by an elderly parishioner of a fresco of Jesus Christ which resembled a pale-faced ape with cartoon-style eyes. The wooden statue of St George charging a horse in the San Miguel church in Estella, a town in Spain's northern Navarra region, had turned a dark brown with age. But its restoration by a local crafts business left the soldier with a pink face and a surprised look. Some Twitter users likened the restored statue to Tintin or Woody from "Toy Story". Authorities fined the church and the crafts business 6,010 euros ($6,840) each. Now, after three months of work ... More



Theophile Soyer (1853-1940), Joan of Arc After Jean A.D. Ingres. Circa 1880, Wall Plaque. Enamel on Copper; Troubador Style Wood Frame, 22 X 14". Signed. European Decorative Arts.



NEW YORK, NY.- The Art & Antique Dealers League has announced that their third annual Fine Art & Antiques Show—with 24 dealers—will open for a 5-day run starting Thursday October 31st at the St. Ignatius Loyola Church in Wallace Hall, 980 Park Avenue on New York's Upper East Side. According to show manager Brad Reh, five galleries have joined the show. They include: Betty Krulik Fine Art, Ltd., from New York (19th and 20th century American art); Philadelphia's Dolan/Maxwell Gallery (modern and contemporary art), Denmark-based Greg Pepin Silver (hollowware, silverware, and jewelry); New York-based Rehs Galleries (19th through contemporary paintings); and from Nantucket, Lynda Willauer Antiques (Chinese export porcelain, Majolica, Staffordshire ceramics). "We're delighted to welcome these distinguished dealer to our roster," says Reh. "Each enhances the wonderful offerings of our existing ... More



Jean Dubuffet's Cérémonie (Ceremony) (£8,718,750), Jean-Michel Basquiat's Sabado por la Noche (Saturday Night) (£8,378,250) and Francis Bacon's 'Man at Washbasin' (£5,109,450) achieved top prices in the Post-War and Contemporary Art Evening Auction. © Christie's Images Ltd 2019.



LONDON.- Jean Dubuffet's Cérémonie (Ceremony), a visceral portrait of cosmopolitan life from 1961, led the Post-War and Contemporary Art Evening Auction in London, selling for £8,718,750 / $11,107,688 (including buyer's premium). The sale totalled £45,179,450 / $57,558,619 — 94 per cent sold by lot and 99 per cent by value. For full results, see below. Channelling the currents of Pop Art, Abstract Expressionism and Tachisme, the top-priced work, which stands among the largest paintings in Dubuffet's celebrated 'Paris Circus' series, was made just a few months after the artist's return to Paris after six years in the countryside. Alive with kaleidoscopic texture and colour, it captures the newfound joie de vivre that swept the French capital during the early 1960s. The second and third highest prices on the night came for ... More
Sotheby's to offer most valuable Gainsborough ever to come to auction
Venus de Milo to get an extra whiff of glamour
Sotheby's 40th Anniversary Sale of Swiss Art totals CHF 5.1 million, led by masterworks by Hodler and Vallotton


Thomas Gainsborough, Going to Market, Early Morning (detail). Estimate: £7 - 9 million. Courtesy Sotheby's.



LONDON.- This summer, Sotheby's will present a roll-call of the greatest names in Western art history at its flagship Old Masters Evening Sale on 3 July. With an overall estimate of £4665.9m/ $59.5-83.7m, the sale next week is one of the strongest sales ever staged in this category, both in value as well as in the quality of works on offer. From some of the finest works by the three key British landscape painters remaining in private hands, to masterpieces and newly discovered works by Renaissance and Baroque masters, the sale features works by the biggest household names spanning six centuries. Going to Market, Early Morning is unquestionably one of Gainsborough's finest masterpieces remaining in private hands, and one of the finest eighteenth century British landscapes by any artist ever to likely come to market. Painted in 1773 it is one of an important group of three major landscapes Gainsborough painted at this period that dea ... More



In this file photo taken on June 17, 2009 tourists look at the "Venus de Milo" sculpture as they visit the Louvre museum in Paris. LOIC VENANCE / AFP.



PARIS (AFP).- She was one of the great beauties of antiquity, and soon we are going to find out what the "Venus de Milo" smells like. The Louvre in Paris has asked two of France's top "noses" -- otherwise known as perfume creators -- to come up with fragrances to go with some of its greatest treasures. Ramdane Touhami and Victoire de Taillac roped in some of the biggest stars of the olfactory universe to help them find the right notes to go with statues of the goddess of love as well as the "Winged Victory of Samothrace". The pair, founders of the Officine Universelle Buly perfumerie, were also asked to pair fragrances with Ingres' two most sensual works, the "Grande Odalisque" and "The Valpincon Bather" as well as Gainsborough's "Conversation in a Park". But for now there will be no perfume for "Mona Lisa" -- the museum's most famous work -- who will guard her fragrance, like so much else, secret. Controversially, among ... More



Ferdinand Hodler, Bildnis von Emma Schmidt-Mueller. Sold for CHF 1,340,000 / EUR 1,203,162. Courtesy Sotheby's.



ZURICH.- Celebrating 40 years of Swiss Art sales at Sotheby's, this evening's auction, Swiss Art / Swiss Made in Zurich was led by Ferdinand Hodler's masterful and painterly portrait of Emma Schmidt-Müller, which sold on behalf of a Swiss non-profit foundation for CHF 1,340,000 / EUR 1,203,162. Among the other main highlights of the sale was Félix Vallotton's ethereal landscape, Bord de Seine à Tournedos, effet gris, which soared above its high estimate to sell for CHF 956,000 / EUR 858,375. Works of 19th-century painting from the Asbjorn Lunde Collection also stood out, led by Alexandre Calame's majestic Torrent de montagne par orage, 1850, another work which sold in excess of the pre-sale estimate for CHF 200,000 / EUR 179,576. Participation in the sale hailed from 25 countries, reflecting the increasing international interest for Swiss Art from beyond the country's borders. The total for the sale was CHF ... More
Perrotin opens Xavier Veilhan's first solo exhibition on Chinese territory
The Michael Hoppen Gallery presents a selection of new still lifes from Jeff Bark's latest body of work
Top lots sold online on Bidsquare showcase strong art and modern design


Manfredi (detail), 2019. Stainless steel, polyurethane paint, 160 x 142 x 72 cm | 63 x 55 7/8 x 28 3/8 in. Photo: Claire Dorn © Veilhan / ADAGP, Paris 2019. Courtesy Perrotin.



SHANGHAI.- Xavier Veilhan's first solo exhibition on Chinese territory presents a series of newly produced works from each of his significant formal research fields: variations on both human and animal statuary, mobile sculptures and Rays installations. It is an introduction to his oeuvre in its present state of development. Like a true landscape of sculptures, with variable perspectives yet on a single horizon, the ensemble steers our gaze in many directions, but anchors on the color orange of Manfredi and Mobile n°5. Choice of color with Xavier Veilhan is often aesthetic but always in regards to the context, either of the piece or of the physical space where it lives. Channel Orange is a title in homage to Frank Ocean. It is the name of his first album and refers to the phenomenon of synesthesia1 and the color he once perceived during ... More



The Conversation Piece © Jeff Bark. Courtesy of Michael Hoppen Gallery.



LONDON.- The Michael Hoppen Gallery is presenting a selection of new still lifes from American photographer Jeff Bark's latest body of work Paradise Garage. The exhibition, opening June 26th, will run alongside his solo show at the Palazzo delle Esposizioni in Rome (from 7th June – 29th July). Bark's small garage in upstate New York, a once plain, blank-walled space, has been transformed into the unlikely setting for enigmatic scenes created through the merging of exquisite details and iconographic references to the art of the past. Bark takes an approach that is both meticulous and cinematic, one that resembles more the creation of a painting than the assembly of inspirations. This new project originated two years ago: a visit to the Italian capital inspired him to recreate his own Grand Tour. His vision brings a sense of poetry and meaning to seemingly insignificant objects; souvenirs found in American flea mar ... More



Ron Arad, (Israeli, b. 1951), Victoria and Albert Chair, 2001 Artist Proof 2/5, from an Edition of 20 and 5 Artist Proofs; Sold for $30,240 on Bidsquare in Hindman's Modern Design auction May 9, 2019.



NEW YORK, NY.- Spring auction season is proving to be strong online, as bidders turn to Bidsquare for art and design finds. Modern design, 20th Century and fine art lead sale results in May and early June on Bidsquare. Highlights include a Lino Tagliapietra wall sculpture; a George Nakashima Pedestal Desk; a Sonia Delaunay on paper and more. A standout piece by glass maestro Lino Tagliapietra was the highlight of Hindman's May Modern Design auction, realizing a final price of $113,400 from a Bidsquare bidder - two times the original estimate. Hudson Berry, Specialist, Modern Design at Hindman, stated: "It's no surprise the Lino Tagliapietra surpassed the presale estimate in the way it did. The work truly has a presence both in scale and color. The sculpture also displays some of the finest handwork which varies wildly ... More
New acquisition at the Montreal Museum of Fine Arts: 1,000 Platitudes by Rafael Lozano-Hemmer
Jesper Just's Servitudes transforms Kunsthal Charlottenborg's spaces into a performative and immersive installation
Dallas Museum of Art names Sue Canterbury Pauline Gill Sullivan Curator of American Art


Rafael Lozano-Hemmer (born in 1967), 1,000 Platitudes, 2003, Chromogenic prints mounted on aluminum, video, artist's proof. Duration: 25 min. MMFA, anonymous gift. © Rafael Lozano-Hemmer / SOCAN (2019).



MONTREAL.- The Montreal Museum of Fine Arts invites visitors to discover 1,000 Platitudes (2003), on display in the Jean-Noël Desmarais Pavilion. This recent acquisition is a work by artist Rafael Lozano-Hemmer, internationally renowned for his interactive technological installations. The result of a major photographic project, the work joins Lozano-Hemmer's installation Last Breath (Último Suspiro), which the Museum acquired in 2013. Through his digital art, Lozano-Hemmer combines technology with humanist ideas. Since the start of his career, the Mexican-Canadian artist has worked in the tradition of guerrilla art, using public spaces as projection surfaces without obtaining the required approvals. With 1,000 ­Platitudes, the artist was interested in the discourse used ... More



Jesper Just, Servitudes, 2015. Kunsthal Charlottenborg, 2019. Foto af David Stjernholm.



COPENHAGEN.- This summer, Kunsthal Charlottenborg opens the doors to internationally renowned Danish artist Jesper Just with the one-work exhibition Servitudes. By presenting a spatial installation that disrupts the visitor's experience, Just questions ideas of representation and agency that permeate contemporary society. The exhibition is initiated in collaboration with MAAT – Museum of Art, Architecture & Technology in Lisbon, and curated by Irene Campolmi. Servitudes is a video installation that shows eight synchronised 9-minute films on a loop. It investigates the ambiguity and sensuality of youth, the striving for beauty, and how humankind's agency inverts the conventional understanding of ability and disability. The work traces a journey into opposed yet interdependent ideas of agency and representation that permeate contemporary society, and which are central to Just's practice. Using the ... More



Canterbury assumes this position after serving for nearly eight years as the DMA's Associate Curator of American Art



DALLAS, TX.- Dr. Agustín Arteaga, The Eugene McDermott Director of the Dallas Museum of Art (DMA), announced today that Sue Canterbury has been named The Pauline Gill Sullivan Curator of American Art. Canterbury assumes this position after serving for nearly eight years as the DMA's Associate Curator of American Art, and will take on official leadership of the department, where she will continue to steward the Museum's extensive collection of American art through acquisitions, exhibitions, and scholarship. The DMA's collection of American art includes paintings, sculptures, and works on paper spanning three centuries and encompassing the United States and Canada. During her tenure as Associate Curator, Canterbury also oversaw the collections of Spanish Colonial and modern Latin American art, which will now be overseen by the new Jorge Baldor Curator ... More
Quote
Critics are a gang of spiteful rascals always baiting us as if we had murdered. Carracci
---
The Incredible Discovery of a Lost Rosso Drawing
---
Flashback
On a day like today, illustrator and graphic designer Milton Glaser was born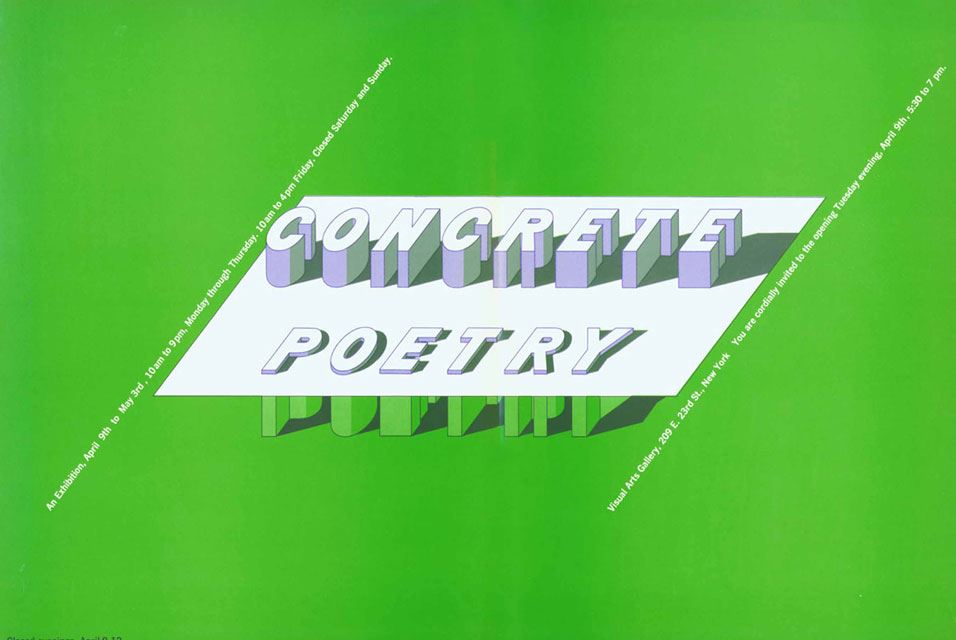 July 26, 1929. Milton Glaser (born June 26, 1929) is an American graphic designer. His designs include the I ♥ NY logo, the psychedelic Bob Dylan poster, and the Brooklyn Brewery logo. In this image: Milton Glaser, Concrete Poetry, exhibition poster, 1968.
---

Museums, Exhibits, Artists, Milestones, Digital Art, Architecture, Photography,
Photographers, Special Photos, Special Reports, Featured Stories, Auctions, Art Fairs,
Anecdotes, Art Quiz, Education, Mythology, 3D Images, Last Week,
.
Royalville Communications, Inc
produces: