McNay Art Museum presents Immersed: Local to Global Art Sensations
Yayoi Kusama, Aftermath of Obliteration of Eternity, 2009. Wood, metals, glass mirrors, plastic, acrylic paint, and LED lighting system. Edition 3/3. The Museum of Fine Arts, Houston, Museum purchase funded by the Caroline Weiss Law Accessions Endowment Fund, 2016.34. Copyright Yayoi Kusama. Photography by Carrithers Studio / Courtesy of the Museum of Fine Arts, Houston.
SAN ANTONIO, TX
.-
Immersed: Local to Global Art Sensations, opening at the
McNay Art Museum
on June 7 and continuing through September 2, transforms the Tobin Exhibition Galleries into a unique interactive environment — one that invites visitors to immerse themselves in the distinct visions of four highly original artists. Organized in conjunction with the San Antonio Tricentennial celebrations and the 50th anniversary of HemisFair '68, the exhibition features installations by Yayoi Kusama and Philip Worthington, a film by Andy Warhol, and a new commission by San Antonio-based artist Chris Sauter. "Our founder, Marion Koogler McNay, was devoted to showcasing the art of her time right here in her home in San Antonio," says Richard Aste, Director of the McNay. "This summer, the McNay Art Museum very proudly upholds her commitment to both local and global contemporary art through Immersed, a special presentation of four mesmerizing ...
More
The Best Photos of the Day
Dia reveals multi-year upgrade and expansion plan, plus relaunch of Dia:Soho
Archives of American Art announces major promised gift from the Roy Lichtenstein Foundation
Exhibition features over 20 rare vintage black and white prints by Sandra Weiner


Dia:Chelsea, 541 West 22nd Street, New York. Photo: Don Stahl. Courtesy Dia Art Foundation, New York.



NEW YORK, NY.- Jessica Morgan, the Nathalie de Gunzburg Director of Dia, today announced a comprehensive, multi-year campaign to advance Dia's mission and program, including the upgrade, revitalization, and ongoing stewardship of its key programmatic spaces and artist sites. The plan encompasses the restoration, renovation, and expansion of Dia's two principal gallery spaces in Chelsea and Beacon; the reactivation of one of its original programming spaces in Soho; the revitalization of two landmark installations by Walter De Maria, The New York Earth Room and The Broken Kilometer, which have been maintained by Dia since first installed in the 1970s; and the development of Dia's endowment, supporting operations across all of its sites nationally and internationally. This comprehensive initiative to strengthen the non-profit institution's programming, resources, and facilities is being supported by ... More



Photographs of Roy Lichtenstein in various studios, NY, circa 1949-1986. Photograph by Laurie Lambrecht © Roy Lichtenstein Foundation.



WASHINGTON, DC.- The Smithsonian's Archives of American Art announced that it is the beneficiary of a major promised gift from the Roy Lichtenstein Foundation: the expansive Roy Lichtenstein Foundation records and Roy Lichtenstein papers comprising over 500 linear feet. The gift constitutes the most complete research resource anywhere on the art and life of the artist and his times, illuminating Lichtenstein's wide-reaching influence and legacy. The foundation will support the digitization of the collection in collaboration with the Archives and will gift the papers in stages. Initial processing of these comprehensive records has begun, and access to the collection will be free and available on the Archives' website. The material includes the artist's voluminous studio records, approximately 300 oral-history interviews that have been transcribed, exhibition ... More



Man and children by the window



NEW YORK, NY.- Steven Kasher Gallery presents Sandra Weiner: New York Kids, 1940-1948. The exhibition features over 20 rare vintage black and white prints, many exhibited for the first time. Weiner's photographs are celebrated for their perceptive depiction of everyday life in New York City's close-knit neighborhoods of the 1940s. Her photographs of children at play create a palpable sense of place. Weiner's photographs reveal random moments of grace, transforming social documentation into a broadly humanist mode of street photography. Her sensitive and subtle renderings of neighborhood atmosphere make her photographs of New York heartwarming. Also on view is the exhibition Dan Weiner: Vintage New York, 1940-1959. This is the first time that exhibitions of the husband and wife photographers have been on view concurrently. Weiner focused on New York's poorer children, possibly because she identified with them but more so b ... More
World Monuments Fund and Google launch online platform for threatened Iraqi heritage
Gagosian exhibits three large papier-mâché sculptures by Franz West
Gauguin: Voyage to Tahiti stars Vincent Cassel as the famed French artist


Drone footage, 3D models bring dozens of cultural heritage sites at risk to your fingertips.



NEW YORK, NY.- World Monuments Fund and Google Arts & Culture today announced the launch of an online platform via Google Arts & Culture that showcases the unique stories of Iraq's endangered heritage sites and the extraordinary efforts to preserve them. The platform allows anyone, anywhere, the opportunity to experience a diverse range of sites, from the earliest settlements of ancient Mesopotamia, to the great 18th and 19th century cities of trade. In recent years, Iraq's cultural heritage has been particularly impacted by conflict, from the US-led invasion in 2003, to the explosion of Mosul's al-Nuri mosque by ISIS in 2017. Other factors including changing environmental conditions, neglect, and lack of resources have affected many of the country's iconic sites. Because of Iraq's long history of human habitation, its heritage uniquely reflects vast multicultural influences ... More



Franz West, Sisyphos V, 2002. Papier-mâché, Styrofoam, cardboard, lacquer and acrylic, 60 x 48 x 48 inches, 152.4 x 121.9 x 121.9 cm © Archiv Franz West. Photo by Rob McKeever. Courtesy Gagosian.



LONDON.- Gagosian presents three large papier-mâché sculptures by Franz West, from the Sisyphos series (2002). Throughout his career, West manipulated everyday materials and imagery in order to examine art's relation to life and collective experience. From collages and interactive sculptures to tables, seating, and large abstract forms, his works focus on the tensions between public and private, considering the controlled behaviors and impulsive actions of the body. Despite their lighthearted ambiguity, West's sculptures often flirt with philosophical archetypes, alluding to common myths, linguistic theories, and conceptual paradoxes. The Sisyphos sculptures are amorphous masses of papier-mâché, Styrofoam, and cardboard, expressively painted with lacquer ... More



In director Edouard Deluc's Gauguin: Voyage to Tahiti, acclaimed French actor Vincent Cassel (La Haine, Elizabeth, Irreversible, Black Swan, Jason Bourne) takes on the role of Gauguin in this lush, imaginative biopic, inspired by Gauguin's own memoir Noa Noa.



NEW YORK, NY.- When he died in 1903 at the age of 54, all alone and living in French Polynesia, Paul Gauguin was an uncelebrated French artist with nary a franc to his name. But in the years following his death, thanks to well-funded exhibitions and a change in the cultural zeitgeist, Gauguin gained renown as one of the boldest and most illustrious painters of his or any other time. In 2014, the artist's 1892 masterpiece Nafea Faa Ipoipo (When Will You Marry)? sold at auction for $210 million, placing it among the most expensive artworks in the world. In movies, Gauguin was portrayed by Anthony Quinn (opposite Kirk Douglas as Vincent Van Gogh) in the Van Gogh biopic Lust for Life (1956). Quinn only appeared onscreen for eight minutes but was so memorable ... More
Exhibition explores the relationship between studio photography and music in Burkina Faso
Tomma Abts opens her first solo exhibition in a UK public institution
Exhibition explores the photographer/printer collaboration


Ibrahima Sanlé Sory. Tiamodjan, the lead guitarist for Echo del Africa Nacional, 1965/75. The Art Institute of Chicago, promised gift of Ralph and Nancy Segall. © Ibrahima Sanlé Sory. Courtesy of Florent Mazzoleni.



CHICAGO, IL.- The Art Institute of Chicago is presenting an exhibition that explores the relationship between commercial studio photography and popular music in the former West African country of Upper Volta. Featuring the photography of Sanlé Sory and the music of Volta Jazz, this immersive installation brings the complex culture of Upper Volta to life through more than 100 of Sory's photographs from the 1960s and '70s; objects from Volta Photo such as its signature backdrop, studio lights, and props; digitized music from the era; and 45-rpm record covers. Through this dynamic unification of image and sound, Volta Photo examines the postcolonial culture of an economically challenged but recently liberated country negotiating its identity on the world stage. Volta Photo presents photographs by Sanlé Sory (born 1943) who opened his studio, Volta Photo, in 1960 at the center ... More



Tomma Abts, Jeels, 2012. Acrylic & oil on canvas, 48 × 38 cm, 18 7/8" × 15". Courtesy Collection of Sascha S. Bauer.



LONDON.- This summer, the Serpentine presents the work of Tomma Abts (b. 1967, Kiel, Germany) in the artist's first solo exhibition in a UK public institution. One of the most significant artists of her generation and the winner of the 2006 Turner Prize, Abts is known for her acrylic and oil paintings whose extraordinary magnetism belies their modest scale. Her methodical process and use of the 48cm x 38cm format have remained more or less constant for the past twenty years. Yet within these self-imposed parameters Abts finds endless possibilities for experimentation. This survey at the Serpentine – the largest exhibition of her work to date – includes paintings and casts, mostly produced over the last 10 years. Beginning with no source material and no preconceived notion of the final composition, Abts is guided by a series of intuitive decisions that enable the internal logic of each work to gradually unfold. Shap ... More



Peter Hujar, Will, 1985, printed 1987. Gelatin silver print. Harvard Art Museums/Fogg Museum, Schneider/Erdman Printer's Proof Collection, partial gift, and partial purchase through the Margaret Fisher Fund, 2016.176. © Peter Hujar Archive. Image © President and Fellows of Harvard College.



CAMBRIDGE, MASS.- Analog Culture: Printer's Proofs from the Schneider/Erdman Photography Lab, 1981–2001 is now on display at the Harvard Art Museums, running through August 12, 2018. The exhibition takes an unprecedented look at the dynamic collaboration between photographer and printer, through the lens of the museums' recently acquired Schneider/Erdman Printer's Proof Collection, a remarkable group of nearly 450 photographs printed over three decades by Gary Schneider in his Manhattan-based photography lab. As co-owners of Schneider/Erdman, Inc., Schneider and his partner, John Erdman, adopted the practice of retaining a "printer's proof": a print given to them by the artists with whom they worked, often in partial exchange for their ... More
New book on Suriname completes Rijksmuseum's Country Series
Hollis Taggart Galleries opens exhibition of works by Andrew Balkin
Albertinum opens largest exhibition of Slavs and Tatars collective's works in Germany to date


Rijksmuseum Country Series: Shackles and Bonds: Suriname and the Netherlands from 1600. Author: Eveline Sint Nicolaas. Design: Irma Boom. ISBN 978 94 6004 349 9, hardback, 20 x 25 cm, richly illustrated in colour, 268 pages | € 24,50



AMSTERDAM.- On Friday June 1, the Rijksmuseum launched the final volume of a series of eight books about trading and colonial relations between the Netherlands and eight other countries. The Country Series concludes with a volume that explores the shared history of Suriname and the Netherlands since 1600, illustrated with objects from the Rijksmuseum collection. Shackles and Bonds: Suriname and the Netherlands from 1600 was written by Eveline Sint Nicolaas, curator at the History Department. Objects in the Rijksmuseum collection that testify to historical relations between the two countries include paintings of sugar and coffee plantations, maps of Suriname that chart conquests ... More



Andrew Balkin (b. 1947), Spatial Construct, Series III, No. 5, 2016. Mixed media on stenciled and embossed paper, 30 x 22 inches.



NEW YORK, NY.- Hollis Taggart Galleries is presenting Andrew Balkin: Spatial Constructs. Andrew Balkin constructs dynamic dialectics between the "void" and meticulously drawn geometric spaces. His images come from a blank slate, a 'Tabula Rasa' that Balkin constructs and deconstructs intuitively to create space with new objects from positive lines and tones. He does this painstakingly, evolving his personal content-images, until he develops a supra-structure that defines a new visionary geometric realm. Balkin has embraced the traditions of non-objective art with roots in the Russian Suprematists, Latin American Constructionists, and American Geometric Abstractionists. From his early in-depth studies of 18th, 19th, and 20th Century philosophies, Balkin's drawings and ... More



Slavs and Tatars, Love Letters No1.



DRESDEN.- Dschingis Kahn? Dschebel? Dschunk food? Dschin and tonic? The Slavs and Tatars collective takes the idea of art as translation absolutely literal. In their Dresden survey exhibition "Slavs & Tatars. Made in Dschermany" the artists focus on language and its ambiguity, examining, among other things, the tetragraph "dsch" which, in German, is mainly used to represent the "j" sound in foreign words. Just like this foreign sequence of letters is added to the word "Dschermany", visitors are invited to explore the individual in the foreign and the foreign in the individual, to open their minds and engage with the Slavs and Tatars way of thinking. The Albertinum, run by Staatliche Kunstsammlungen Dresden, is presenting the largest exhibition of the artist collective's works in Germany to date. Large-format installations, works of sound, sculpture, videos and wall hangings all ... More
Quote
Art, like morality, consists in drawing the line somewhere. Gilbert K. Chesterton
More News
---
Volta Photo
---
Flashback
On a day like today, American painter Robert Motherwell was born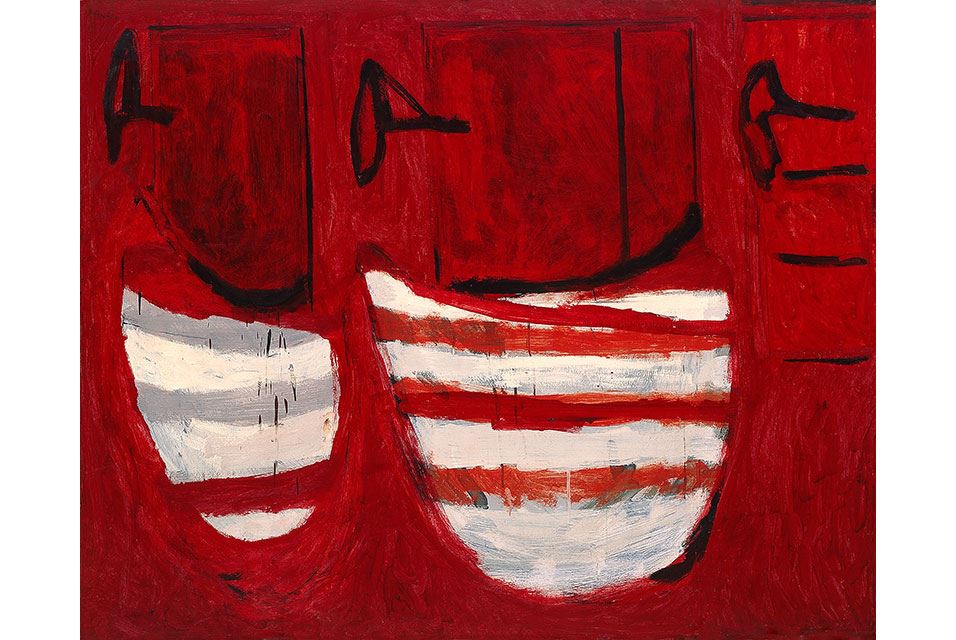 January 24, 1915. Robert Motherwell (January 24, 1915 - July 16, 1991) was an American painter, printmaker, and editor. He was one of the youngest of the New York School (a phrase he coined), which also included Philip Guston, Willem de Kooning, Jackson Pollock, and Mark Rothko. In this image: Robert Motherwell, The Hotel Corridor, 1950. Oil on masonite, 44 x 55 inches, 111.8 x 139.7 cm. © Dedalus Foundation, Inc./ Licensed by VAGA, New York, NY.
---

Museums, Exhibits, Artists, Milestones, Digital Art, Architecture, Photography,
Photographers, Special Photos, Special Reports, Featured Stories, Auctions, Art Fairs,
Anecdotes, Art Quiz, Education, Mythology, 3D Images, Last Week,
.
Royalville Communications, Inc
produces:







Tell a Friend
Dear User, please complete the form below in order to recommend the Artdaily newsletter to someone you know.
Please complete all fields marked *.
Sending Mail

Sending Successful