French artist JR makes Louvre pyramid disappear in an optical illusion
French artist and photographer JR jumps in front the Louvre pyramid after recovering it 'with a surprising anamorphic image', according to the museum in Paris on May 25, 2016. This recovering introduces the opening of JR exhibition 'Contemporary art – JR at the Louvre' will run from May 25 to June 27, 2016. JOEL SAGET / AFP.
PARIS
.-
JR has chosen the biggest gallery in the world to showcase his art: public spaces. For some ten years now, the artist's monumental photographic pastings have been popping up on the walls of cities in all four corners of the globe. "The most important thing," he ex-plains, "is where I put my photos and the meaning they take on depending on the place." Whether it be the Middle East, the favelas of Rio, slums of Kenya, New York, Le Havre, or Shanghai, JR's works leave no one indifferent, because they cut to the very heart of our innermost selves. His spectacular mode of intervention pos-es questions about artistic creation, the role of images in the age of globalization, and their widespread use, from intimate circles to mass distribution. Invited by the "biggest museum in the world", JR has set his sights on one of the
Louvre
's symbols, the Pyramid, which ...
More
The Best Photos of the Day
Rare Shakespeare first edition sold for nearly £2m
Ancient Chinese pottery reveals 5,000-yr-old beer brew
Indiana University and Uffizi Gallery partner to digitize collection in 3-D


An assistant poses with first editions of the First Four Folios of William Shakespeare's collected plays during a press preview at Christie's auction house in London on April 19, 2016. JUSTIN TALLIS / AFP.



LONDON (AFP).- A rare first edition of British playwright William Shakespeare's works from 1623 sold for £1.87 million (2.46 million euros, $2.75 million) at Christie's on Wednesday, the auction house said. A private US collector bought the book as well as three subsequent Shakespeare collected works from 1632, 1664 and 1685 for a total of £2.48 million. "The universality and timelessness of Shakespeare's insight into human nature continues to engage and enthrall audiences the world over," Margaret Ford, international head of books and manuscripts for Christie's, said in a statement. Ford said earlier: "It is deeply moving to handle the first printed record of his collected plays and to be reminded of their tremendous impact." The book, known as a First Folio, was published just seven years after Shakespeare's death. Around 750 copies are believed to have been printed and only around 200 ... More



A Mijiaya funnel analysed for this study (in total 2 funnels have been analyzed). Photo: Jiajing Wang.



MIAMI (AFP).- Residue on pottery from an archeological site has revealed the earliest evidence of beer brewing in China left from a 5,000-year-old recipe, researchers said Monday. The artifacts show that people of the era had already mastered an "advanced beer brewing technique" that contained elements from East and West, according to a study in the Proceedings of the National Academy of Sciences, a peer-reviewed US journal. Yellowish residue gleaned from pottery funnels and wide-mouthed pots show traces of ingredients that had been fermented together -- broomcorn millet, barley, a chewy grain known as Job's tears, and tubers. "The discovery of barley is a surprise," lead author Jiajing Wang of Stanford University told AFP, saying it is the earliest known sign of barley in archeological materials from China. "This beer recipe indicates a mix of Chinese and Western traditions -- barley from the West; millet, Job's tears and tubers from China." The ... More



Lottatori, (wrestlers), first century B.C. Roman sculpture, is part of the Uffizi Gallery collection in Florence, Italy, to be digitized in 3-D.



BLOOMINGTON, IN.- A cooperative agreement between Indiana University and the Uffizi Gallery in Florence, Italy, will result in an unprecedented initiative to digitize in 3-D the museum's entire collection of 1,250 pieces of irreplaceable Greek and Roman sculpture. The project between the Uffizi, one of the oldest and most renowned art museums in the world, and IU's Virtual World Heritage Laboratory will create high-resolution 3-D digital models of the Uffizi sculptures and make them freely available online by IU's bicentennial in 2020. The Uffizi collection is located at the gallery as well as the Pitti Palace and Boboli Gardens, other famous cultural sites in Florence. The 1,250 works of art comprise the third largest collection of its kind in an Italian state museum. Largely assembled by the Medici family from the 15th to the 18th centuries, the sculptures include some of the most admired classical antiquities in the history of art, notably t ... More
Marion Ackermann announced as the new Director General of Staatliche Kunstsammlungen Dresden
Rare work by 19th century artist comes home to the northwest: Major purchase by Tacoma Art Museum
The Bronx Museum of the Arts launches major architectural upgrade of its facility


An experienced museum director and art historian, she possesses global connections and is highly communicative.



DRESDEN.- Saxony's Minister for the Arts, Dr Eva-Maria Stange, introduced Dr Marion Ackermann as the new Director General of Staatliche Kunstsammlungen Dresden to the public today in Dresden. Marion Ackermann will take up the post on 1 November 2016, and will, as Director General, be responsible for overseeing the directors of the 14 museums. "We are delighted that Marion Ackermann is exchanging the Rhine for the Elbe. She was the selection committee's first choice, and I was most pleased to act on its recommendation," explained the Minister for the Arts. She continued: "We were seeking a long-term solution for the head of the SKD's Executive Board which would guarantee continuity, and Marion Ackermann fulfils this brief perfectly. An experienced museum director and art historian, she possesses global connections and is highly communicative. Not only will she continue to extend Staatliche Kunstsammlungen ... More



Grafton Tyler Brown (1841–1918), A Canyon River with Pines and Figures (Yellowstone), circa 1886 (detail). Oil on canvas, 35¾ × 56 inches. Tacoma Art Museum, Museum purchase with funds from the Art Acquisition Fund and the Black Collective, 2016.5.



TACOMA, WA.- Tacoma Art Museum announced the purchase of a significant, rare landscape painting by artist Grafton Tyler Brown (1841–1918), whose works are highly sought by museums. The artist has strong Northwest connections; Brown painted A Canyon River with Pines and Figures (Yellowstone), circa 1886, while living in Portland, Oregon. He traveled extensively throughout the Pacific Northwest and the broader western region. The stunning scene depicts the Grand Canyon of the Yellowstone with pine forests in the foreground, rugged sunlit rock walls leading the eye into the distance, and the Yellowstone River winding through the canyon. At nearly five feet wide, it will have a big impact in the galleries at TAM, where it will be unveiled on Wednesday, May 25, in the Liliane and Christian ... More



Project is public-private partnership with the City of New York.



BRONX, NY.- The Bronx Museum of the Arts announced plans for a major architectural enhancement and upgrade of its facility to better serve its community and visitors, add new spaces for public programs and exhibitions, and to strengthen its crucial contribution to the civic fabric of the Bronx. The project is a public-private partnership with The City of New York, including the Mayor's Office, the City Council, Office of the Bronx Borough President, and New York State Assembly to support the Museum's growing role as a vital resource for the community and destination for the Bronx and visitors to the City, and to meet the demands of significantly increased attendance. The project, funded through the NYC Department of Cultural Affairs and managed by the NYC Department of Design and Construction, will advance the Museum's openness and expand connections with the neighborhood it has called home since 1971. The Museum concurrently ... More
Finnish artists Helene Schjerfbeck and Albert Edelfelt command strong prices at Sotheby's
Heritage solidifies its middle market position exceeding $6.8M in Modern and Contemporary Art auctions
An American dream at Freeman's American Art & Pennsylvania Impressionists Auction


Albert Edelfelt, La laitière. Oil on canvas, 73.5 by 60.5cm., 29 by 24in. Estimate: 300,000-500,000 GBP. Sold for: 353,000 GBP (461,371 EUR). Photo: Sotheby's.



LONDON.- Today at Sotheby's in London, Finnish artists Helene Schjerfbeck and Albert Edelfelt commanded strong prices when two rare and important works came under the hammer in an auction of 19th Century European Paintings. Schjerfbeck's The Red-Haired Girl II was pursued by three determined bidders, driving the final sale price to £1,205,000 (€1,574,934), more than double its pre-sale low estimate (£500,000-700,000 / €635,000-890,000). The painting was acquired by the Gösta Serlachius Fine Arts Foundation in Finland – one of the finest collections in the Nordic region, embracing Finnish art from the Golden Age through to the 20th century, alongside works by other European masters from the 15th to the 19th centuries. This was preceded by La laitière, a long- ... More



Fernand Léger (1881-1955), Composition, 1925. Watercolor on paper, 14 x 10-3/4 inches.



DALLAS, TX.- A record-setting season of fresh-to-market Modern & Contemporary Art surpassed $6.86 million and set a house record during Heritage Auctions' spring offering, including its first auction dedicated to Prints & Multiples. "Once again, we proved Heritage's distinct competitive advantages in the middle market," said Frank Hettig, Director of Modern & Contemporary Art. "Last spring our auction reached $3.8 million and unlike other houses where sales have dramatically reduced in size, we have grown selling more six-figure works than ever before." The New York sale held May 2 was 78 percent sold by value and set a record for the highest number of six-figures lots selling at a Heritage art auction. In the afternoon session, bidders focused on international artworks such as Composition by Fernand Léger, a classic 1925 watercolor that soared past its $150,000 low ... More



"Manolita Marequis" is an excellent example of Henri's fascination with Spanish subjects.



PHILADELPHIA, PA.- With paintings from three generations of Wyeths, two members of The Eight, and representatives of the New Hope School among others, Freeman's American Art & Pennsylvania Impressionists auction touches on important genres and subjects of great American art, in short a collector's dream. The June 5 auction includes 125 lots and begins at 2pm. "It's a solid sale with good names and good paintings; ones that will appeal to private buyers. They are fresh to the market, which we always strive for. Some have been hanging in homes for many years," said Vice Chairman Alasdair Nichol. After selling four works of illustration art by N.C. Wyeth within the past year for a total of $1.3 million, another exceptional illustrative work by Wyeth comes to auction at Freeman's. "After the Day's Work (Arriving Home)" (Lot 80, est. $150,000-250,000) is an idyllic ... More
H&H Classics make four new appointments to build on its success
Rare books auction at Ketterer Kunst in Hamburg: €36,000 for a "Kra"
Harmonious proportions: Design Auction at Dorotheum on 16th June


Dominic Lyncker: joins H&H Classics on June 1st as Managing Director.



LONDON.- Simon Hope Chairman of H&H Classics today announces four new appointments to bolster the company's dynamic sales, marketing and new business development team. Simon Hope, who has led this change, comments: "After 23 years of steady growth which has seen H&H become one of the most trusted and recognised names in the Classic Car industry, we are capitalising on that achievement by investing in some of the best people in the classic car and auction worlds. Our current team is massively talented but these new appointments will help take us to new levels and new markets and help embed our success for the future. They will ensure that when we tell clients that we can compete at the top level they will know we mean just that. The new arrivals will work closely with Chairman Simon Hope as he directs this next phase of development with new Managing Director, Dominic Lyncker, who will continue to be helped by Damian Jones, Auction Sa ... More



Kurt Schwitters and Käte Steinitz, HahnePeter. Familie Hahnepeter Nr. 1. Väterchen gewidmet First edition. Hanover 1924. Calling price: € 4,000. Result: € 36,000.



HAMBURG.- With total proceeds of more than € 1.65 million*, the two day auction of Rare Books at Ketterer Kunst in Hamburg on 23/24 May realized an excellent result. The amount topped last spring's figure by around € 250,000 and even slightly exceeded the last autumn result. One of the finest and most scarce works by Kurt Schwitters was particularly sought-after. In cooperation with Käte Steinitz, Kurt Schwitters created an unusual children's book and at the same time a gem of Dada literature in 1924. The "HahnePeter" (lot 96), who says "Kra" when being tickled, fascinated a great number of art lovers. While three of them were bidding in the salesroom, five were represented on the phones and almost a dozen had placed written bids. Accordingly, the price soared to five digit realms in no time. The hammer went down at a result of € 36,000 and it showed that the first edition, published in a print run of o ... More



Lot 37 An important "Organic Chair", Model No. A3501, designed by Eero Saarinen & Charles Eames, USA 1940. Estimate: €35,000-€50,000. © Dorotheum.



VIENNA.- At the heart of the upcoming Dorotheum design auction on 16th June 2016 is a piece of furniture with a special history: The event presents an important early example of organic design, the result of a cooperation between two exceptional architects and design artists of the 20th century, Charles Eames and Eero Saarinen. Their "Organic Chair" was created in 1940, for a competition on "Organic Design in Home Furnishings" held by the Museum of Modern Art New York. The definition of organic design referred to the "harmonious proportions of individual elements within the object as a whole, with regard to structure, material, and purpose". The conditions of the competition stipulated that the furniture item could be manufactured on an industrial scale. As a result of the war, this goal was not achieved. Even the intended aluminium legs had to be replaced by wooden ones owing to shortages – though this did ... More
Quote
If the future belongs to the working class then my work can be called art. George Grosz
---
Artist | Icon | Inspiration: Whoopi Goldberg
---
Flashback
On a day like today, American photographer Dorothea Lange was born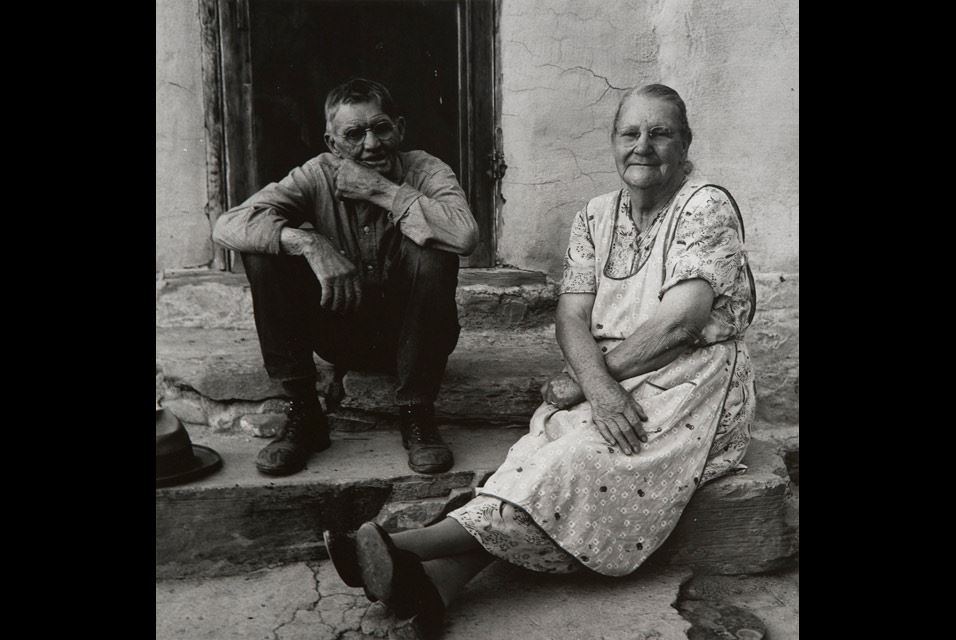 August 26, 1895. Dorothea Lange (May 26, 1895 - October 11, 1965) was an American documentary photographer and photojournalist, best known for her Depression-era work for the Farm Security Administration (FSA). Lange's photographs humanized the consequences of the Great Depression and influenced the development of documentary photography. In this image: Dorothea Lange (1895-1965), Couple Seated on Porch, Gunlock, Utah, 1953, Gelatin silver print, Brigham Young University Museum of Art, purchased with funds donated by Jack and Mary Lois Wheatley. ©Dorothea Lange Collection, Oakland Museum of California, City of Oakland. Gift of Paul S. Taylor
---

Museums, Exhibits, Artists, Milestones, Digital Art, Architecture, Photography,
Photographers, Special Photos, Special Reports, Featured Stories, Auctions, Art Fairs,
Anecdotes, Art Quiz, Education, Mythology, 3D Images, Last Week,
.
Royalville Communications, Inc
produces: