Hidden Michelangelo Buonarroti drawing goes on show at Musei Capitolini in Rome
Visitors look at Michelangelo Buonarroti's drawing on paper in black pencil, red pencil and pen of 'The Sacrifice of Isaac' (Verso/back) in Rome's Capitolini Museums on April 21, 2017.
ROME
(AFP)
.-
A newly-discovered drawing by Renaissance master Michelangelo, found during the restoration of his "Sacrifice of Isaac", has gone on show in Rome, along with another drawing found by restorers 30 years ago. "The discovery of this drawing is a really lovely story," Italy's Culture Minister Dario Franceschini said Friday as he unveiled the exhibition in the capital, which runs until May 7. Restorers painstakingly working last year on the "Sacrifice of Isaac", a biblical drawing executed in black pencil by the Florentine artist in 1530, found a hidden sketch for the same scene on the back. "Between the end of the 19th century and the beginning of the 20th, (works of art done on) old sheets of paper were protected by sticking a piece of cardboard on the back," said Pina Ragionieri, head of the Casa Buonarroti foundation. It was when restorers removed the cardboard that they discovered the secret sketch by the Italian sculptor, painter and architect who was famed perhaps above all for his f ...
More
The Best Photos of the Day
Exhibition offers a fabulous journey to the heart of Amazonia, its river, its forest and its peoples
Something special in Palm Beach Modern's May 6 auction
Museum of Fine Arts, Boston, presents largest-ever display of paintings by Sandro Botticelli in the U.S.


Diadème cérémoniel masculin me-àkà Brésil, État du Pará, Rio Chiché Kayapó Mekrãgnoti. Années 1960-1970 Plumes de perroquet, coton. Photo: © MEG, J. Watts.



MONTREAL.- Pointe-à-Callière, the Montréal Archaeology and History Complex, is presenting Amazonia. The Shaman and the Mind of the Forest, a journey along the fabled Amazon River, a voyage through the heart of the Earth's largest forest, and a fabulous introduction to the history of the Indigenous peoples living in these little-known places. Adapted by Pointe-à-Callière from an original concept by the Musée d'ethnographie de Genève (MEG) and with the participation of the Royal Museums of Art and History (RMAH), Brussels, the exhibition features over 500 remarkable objects from some thirty different ethnic groups, from nine countries in the Amazon basin. For the first time, the unique and fragile splendours of amazing Amazonia are on display in Montréal! Amazonia. The name alone summons up images of vast greenery, powerful rivers and spectacular birds. But the reality is infinitely more beautiful… and worrying: close to one-fi ... More



Francois-Xavier Lalanne (French, 1927-2008), Centaure Attele (Petit), bronze, ed. 5/8. Provenance: Christie's NY, Wolfgang Roth & Partners Fine Arts, Miami. Estimate $60,000-$80,000. All images courtesy of Palm Beach Modern Auctions.



WEST PALM BEACH, FLA.- There are 495 beautiful reasons why the owners of Palm Beach Modern Auctions think their May 6 double-session auction could end up being their most successful ever. Two of the most compelling reasons are: a flock of five highly sought-after Francois-Xavier Lalanne sculptural sheep, and a large, original 1987 Sam Francis painting. "The Lalanne sheep and Sam Francis painting are unquestionably the stars of the show, but all of the nearly 500 auction lots were chosen with utmost care, keeping in mind the buying trends we've observed in recent sales," said auctioneer and co-owner Rico Baca. "This auction is going to inspire and delight modern and contemporary art lovers because it contains so many rare and wonderful works from respected collections." Known as Nouveaux Moutons, the Lalanne sheep were created in 1996-97 and cast at the Landowski Fondeur in ... More



Sandro Botticelli (Italian (Florentine), 1444 or 1445–1510), Portrait of a Young Man with a Hat, 1470s. Tempera on wood panel. Galleria Palatina, Palazzo Pitti, Florence. Courtesy, Museum of Fine Arts, Boston.



BOSTON, MASS.- This spring, the Museum of Fine Arts, Boston, presents the largest exhibition of paintings by Sandro Botticelli (about 1445–1510) ever to be shown in the US. Perhaps more than any other painter, Botticelli exemplifies the artistic achievement of Renaissance Florence in the 15th century, and his signature style of strong contours, lyrical poses and flowing drapery remains instantly recognizable more than five centuries later. Featuring 33 works, Botticelli and the Search for the Divine assembles 15 paintings by the master—loans from museums and churches in Italy, including the world-renowned Galleria degli Uffizi in Florence, as well as three important works from the MFA, the Isabella Stewart Gardner Museum and the Harvard Art Museums. Many of the international loans are on view for the first time in the US, including the life-size Venus (about 1484–90, Galleria Sabauda, Turin)—a reworking of the famous Birth of Venus& ... More
Exhibition of new work by Lari Pittman and Silke Otto-Knapp opens at Regen Projects
Fashion Arts auction at Artcurial to honor Christian Dior
Piguet Auction House announces the sale of the Molly de Balkany Collection


Installation view of Lari Pittman / Silke Otto-Knapp Subject, Predicate, Object at Regen Projects, Los Angeles, April 22 - May 27, 2017. Photo: Fredrik Nilsen, Courtesy Regen Projects, Los Angeles.



LOS ANGELES, CA.- Regen Projects is presenting Subject, Predicate, Object, an exhibition of new work by Lari Pittman and Silke Otto-Knapp. Titled after a text by modernist poet Marianne Moore, the installation is conceived as a dialogue between the two artists. At first the superficial differences between the works on view belie their respective similarities. Yet upon closer inspection established affinities are revealed that unify this otherwise unexpected pairing. Placed in the center of the gallery, Lari Pittman's ten large-scale artist books entitled A History of Human Nature (I-X) are presented on an interconnected constellation of pedestal tables designed by LA-based firm Michael Maltzan Architecture. Arranged along the tables like a series of sequences, each book is assigned a distinct color palette ... More



Christian Dior, by Yves Saint Laurent, collection fall-winter collection 1958 – 1959, Jacket and dress set « Djebel » in wool, Estimate : €700 – 900 / $748 – 961.



PARIS.- After honouring Elisabeth de Senneville, an essential figure in fashion in July 2016, the creator of a world-recognised brand will be honoured during the Fashion Arts auction organised by Artcurial on 20th June 2017, preceding Paris Haute Couture fashion week. Thanks to three remarkable collections, the sale will offer an in depth glimpse into the various creative expressions of the early days of maison Christian Dior (haute-Couture, jewellery, advertising). The models proposed in the auction create a time capsule, delving into the archives of the avenue Montaigne label, created 70 years ago and which has ceaselessly embodied French elegance. A set of souvenirs from the Duke and Duchess of Windsor, photographs by Françoise Huguier as well as the hat worn by Héléne Rochas at the surrealist dinner organised by Marie-Hélène de Rothschild in 1972, complement ... More



A spectacular and rare mantel clock attributed to Feuchère. Estimate: CHF 40,000 – 60,000.



GENEVA.- Piguet Auction House announces the sale of the entire contents of Aigue-Marine Villa, home of the Molly de Balkany Collection. In its beautiful setting on the banks of Lake Geneva, the dwelling holds almost 1000 lots, all to be sold at auction with no reserve prices (500 of which will be sold through a silent auction). The sales will take place on Saturday 6 May and have a global estimate of CHF 1.3-1.8 million (roughly € 1.2 to 1.7 million). Following the success of the Gingins castle sale in 2013 welcoming 4,500 visitors and the Hauteville Manor sale in 2015 which attracted almost 11,000, Piguet Auction House will organise a third country house sale, confirming its place as leader in Switzerland for this type of auction. Villa Aigue Marine sits in an enchanting spot. Hidden behind a thick layer of wisteria, the house is surrounded by gardens not dissimilar to those of Villa Borghese and boasts fabulous views across ... More
Berry Campbell Gallery presents the early geometric paintings of Larry Zox
Hauser and Wirth presents Stefan Brüggemann's first solo exhibition in Zurich
Bread and Circuses: rodolphe janssen presents the work of Italian artist Patrizio Di Massimo


Larry Zox (1937-2006), Esso Lexington (Diamond Drill), 1968. Acrylic, epoxy on canvas, 79 x 63 3/4 in. (200.7 x 161.9 cm).



NEW YORK, NY.- Berry Campbell announces an exhibition of twenty-two paintings and works on paper by Larry Zox (1937-2006). A painter who played an essential role in the Color Field discourse of the 1960s and 1970s, Larry Zox is best known for his intensely and brilliantly colored geometric abstractions that question and violate symmetry.1 Zox stated in 1965: "Being contrary is the only way I can get at anything." Berry Campbell is pleased represent the Estate of Larry Zox and present its first exhibition of Zox's early geometric abstract paintings from 1962-1972. The exhibition runs through May 26, 2017. To Zox, this position was not necessarily arbitrary, but instead meant "responding to something in an examination of it [such as] using a mechanical format with X number of possibilities."2 What he sought was to "get at the specific character and quality of each painting in and for itself," as ... More



Stefan Brüggemann, Time, 2014. Vinyl, 195 x 655 cm / 76 3/4 x 257 7/8 in. © Stefan Bruüggemann. Courtesy the artist and Hauser & Wirth.



ZURICH.- Stefan Brüggemann's oeuvre is characterised by an ironic conflation of Conceptualism, Minimalism and a post-Pop aesthetic. Hauser & Wirth Zürich is presenting the artist's first solo exhibition in Zurich, showcasing new and recent painting and sculpture. In 'TAKE, PUT AND ABANDON' Brüggemann's masterful wordplay and conceptual rigour coalesce to create a bold and pertinent body of work focusing on themes of appropriation and displacement. The philosophy of language is an important tenet in Brüggemann's practice, in which text functions as a fluid medium, utilised for both form and meaning; his choice of words typically provocative, acerbic and topical. The collection of works presented in Zurich – Joke and Definition paintings, Cartoon paintings, TEXT PIECES, and the latest iteration of the artist's best-known series, Headlines and Last Lines in the Movies – all exemplify his sharp ... More



Patrizio Di Massimo, The Sword Swallower, 2017. Oil on linen, 150.4 x 120.4 x 2.8 cm 59 1/4 x 47 3/8 x 1 1/8 in. Courtesy of the artist and rodolphe janssen, Brussels. Photo: Hugard & Vanoverschelde photography.



BRUSSELS.- With his newest body of works, London-based Italian artist Patrizio Di Massimo devotes himself entirely to painting, the crux of his artistic practice. For an artist who is known to engage across many media, this essentialist return to works on canvas is born from his ongoing desire to confront the medium exclusively and directly. For his first solo exhibition at rodolphe janssen it becomes Di Massimo's prevailing language, as the self-taught painter explores the body as a cultural site. Standing before Di Massimo's towering figures, our gaze rests on spectacles of human behavior. The curtain pulls back and subjects pose and perform as if on a stage or in a scene along a mysterious plot line. If portraiture is the exploration of human nature, then Di Massimo reveals a human being entangled in situations of violence, ... More
Spring exhibition season begins at the Studio Museum in Harlem
Brains & Lip Takeover: All woman group show opens at CNB Gallery
Marlborough Contemporary exhibits works by Julius Von Bismarck and Lucas Ajemian


Rico Gatson, St. James #3, 2015 (detail). Colored pencil, marker, photocollage on paper, 22 × 30 in. Courtesy Mead Art Gallery, David Little.



NEW YORK, NY.- Thelma Golden, Director and Chief Curator of The Studio Museum in Harlem, announced a roster of six wide-ranging new exhibitions and projects being presented in the museum's spring season, beginning April 20, 2017. The Studio Museum presents three exhibitions highlighting the ways in which figurative art can both reflect and address African-American history and culture. The major survey exhibition Regarding the Figure explores more than a century of portraiture and figurative work, much of it drawn from the Museum's permanent collection. Rico Gatson: Icons 2007–2017 presents a selection from Gatson's ongoing series depicting renowned African Americans; while Jamel Shabazz: Crossing 125th includes portraits taken on the neighborhood's iconic main street. These exhibitions are accompanied by two presentations of archival materials. ... More



Alice Steffen, Thicket, 2015, Barbie Shoes, Steel, H 77CM, W 58cm, B 45cm.



LONDON.- CNB Gallery presents Brains & Lip Takeover, showcasing the work of nine female artists, a group show curated by Alice Steffen and Claire Orme. Controversial, brash and witty, the artworks on view challenge and reclaim what it means to be a woman in contemporary society. The subversive painting, illustration and sculpture that feature in the exhibition explore discourses of identity, sexuality and female empowerment, resisting the restrictive expectations of the elitist, patriarchal art world. Exhibiting artists include its curators and the creative duo behind Brains & Lip, Alice Steffen and Claire Orme, as well as Karina Akopyan, Nicky Carvell, Jess De Wahls, Hells Gibson, Rebecca Mason, Lottie Hughes and Riikka Hyvonen. Says exhibition curator and co-founder of Brains & Lip, Claire Orme: 'Now more than ever, female artists and women in general need to demonstrate solidarity, utilise our collective strength and ... More



Lucas Ajemian, Laundered Painting (36x25) II, 2017. Painting on canvas, 36 x 25 in. | 91.44 x 63.5 cm.



NEW YORK, NY.- Marlborough Contemporary is presenting its second solo exhibition by Julius von Bismarck. Although based in Berlin, this globetrotting artist rarely sits still and has visited four continents, including Antarctica, in the past four months alone. Emerging from recent trips to Colombia, Venezuela and Mexico, this body of work continues von Bismarck's explorations of the intersection of human beings and the relentless forces of nature. The sculptures, photographs and video included here investigate the territory between our Victorian inclination toward a taming taxonomy and a cruel and chaotic reality. The exhibition as a whole acts as a highly distilled and museologically ordered document of extreme power and violence. Situating the jungle as both a potent symbol of Western fear and a romanticized rainforest ecosystem, von Bismarck creates a visceral tension for his audience. The ... More
Quote
Every brushstroke is, in a sense, some kind of accident. Raphael Soyer
---
Princess Cecilie of Prussia's Fabulous Fabergé Tiara
---
Flashback
On a day like today, Danish painter Michael Ancher died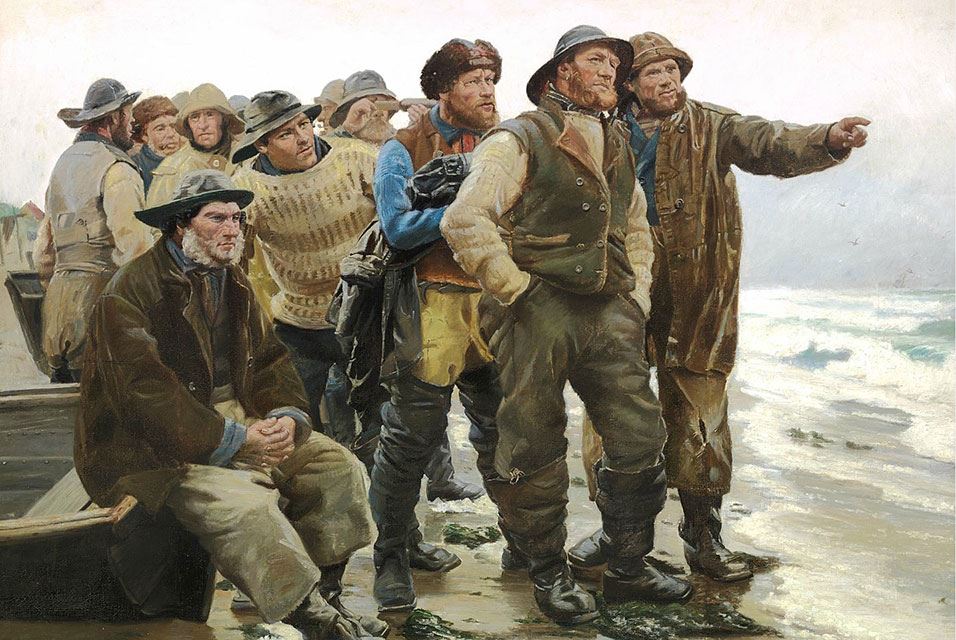 September 19, 1927. Michael Peter Ancher (9 June 1849 - 19 September 1927) was a Danish realist artist. He is remembered above all for his paintings of fishermen and other scenes from the Danish fishing community in Skagen. In this image: Vil han klare pynten (Will he round the point?, detail, 1879)
---

Museums, Exhibits, Artists, Milestones, Digital Art, Architecture, Photography,
Photographers, Special Photos, Special Reports, Featured Stories, Auctions, Art Fairs,
Anecdotes, Art Quiz, Education, Mythology, 3D Images, Last Week,
.
Royalville Communications, Inc
produces: