Mauritshuis rediscovers Jan Steen painting 'As if it's fresh from Jan Steen's studio'
Conservation experts Marya Albrecht and Sabrina Meloni from the Mauritshuis examines The Mocking of Samson from the collection of the Royal Museum of Fine Arts Antwerp. © Mauritshuis, The Hague. Photographer: Ivo Hoekstra.
THE HAGUE
.-
The Mocking of Samson, a painting in the collection of the Royal Museum of Fine Arts Antwerp (KMSKA), has been reattributed to Jan Steen. After extensive research, specialists from the
Mauritshuis
have concluded that the painting -- long thought to have been an eighteenth-century copy after Jan Steen – is by the master himself. Its style of painting, technique and subject matter are entirely in keeping with Steen's oeuvre. The painting has undergone technical examination at the Mauritshuis in collaboration with Shell and conservation treatment by conservators from the museum. The newly restored and rediscovered Steen from Antwerp will feature as one of the highlights of the upcoming exhibition Jan Steen's Histories, on at the Mauritshuis from 15 February. Emilie Gordenker, director of the Mauritshuis: 'During the process of selecting the loans for the Jan Steen's Histories exhibition, our curator Ari ...
More
The Best Photos of the Day
Artistic evolution of masterful artist Edgar Degas revealed through more than 100 artworks
Almine Rech Gallery opens exhibition of works by Günther Förg
New important "Art in Art" painting exhibition by Jenness Cortez


Edgar Degas, Dance Examination (Examen de Danse, 1880. Pastel on paper; 24-1/2 x 18 in. Denver Art Museum: anonymous gift, 1941.6.



DENVER, CO.- The Denver Art Museum will be the sole American venue for Degas: A Passion for Perfection, an exhibition showcasing prolific French artist Edgar Degas' works from 1855 to 1906. The exhibition is presented and organized in association with the Fitzwilliam Museum in Cambridge, England, whose Degas holdings represent the most extensive in the United Kingdom across the various media in which Degas worked. The Denver venue will include more than 100 works consisting of paintings, drawings, pastels, etchings, monotypes and sculptures in bronze. Additional works by J.A.D. Ingres, Eugène Delacroix and Paul Cézanne also will be shown, adding significant depth to the exhibition's narrative. Degas: A Passion for Perfection will be on view at the DAM from Feb. 11‒May 20, 2018, following its debut at the ... More



Organized with the Estate of Günther Förg, this new exhibition at Almine Rech Gallery in London follows the artist's reflexive principles.



LONDON.- After studying at the Academy of Fine Arts in Munich during the mid to late 1970s, Günther Förg started producing monochromatic wall paintings, which echoed colours found in their immediate surroundings. Thus integrating the environment into his practice from the very beginning, whereas architecture would eventually become one of the main components of his oeuvre and allow him to rethink not only the context of the exhibition space, but also the wider context of 20th century art. Organized with the Estate of Günther Förg, this new exhibition at Almine Rech Gallery in London follows the artist's reflexive principles. Förg's works could be regarded as windows opening onto the history of Modern Art. Indeed, the artist somewhat reflects on its continuum, and sometimes even literally when he installed real ... More



"Sisters" by Jenness Cortez ©2018. Acrylic on Mahogany panel, 24 by 20 inches.



NAPLES, FLA.- Harmon-Meek Gallery of Naples, Florida, will host a solo exhibition by internationally acclaimed artist Jenness Cortez. On view February 11 through April 9, 2018, Cortez presents the latest installment in her series of thought-provoking paintings depicting iconic images that inspire viewers to rediscover and revalue their own creative potential. Robert Yassin, former Executive Director of the Indianapolis Museum and Palos Verdes Art Center, refers to Cortez as one of the world's most eloquent and successful visual conversationalists. Yassin says that, "All art is a dialogue . . . In Cortez's paintings, each work talks to us at many levels and creates in us a sense of both understanding and wellbeing. This happens because there is nothing arbitrary in Cortez's paintings. The choice of the painting reproduced, the elements surrounding it, th ... More
For their first exhibition of 2018 the Lever Gallery returns to the pleasures of Pulp Fiction
The Hermitage Museum announces forthcoming exhibition highlights
Works by Baziotes, Gottlieb, Hofmann, and Motherwell and others featured at the Neuberger Museum of Art


Renato Fratini, The Snake, c. 1967 (detail). Gouache on board. © Lever Gallery.



LONDON.- Pulp art rose up in the brand new world of the post-war 50s, and crested in the 60s as colour printing processes became ever more affordable. It lost out to the new kid on the block – photography - in the 70s, which ushered in a harder edged realism. Its appeal was its lack of subtlety, tempting readers into a best-selling world where men were men, women voluptuous, good was good and bad was really evil. It sold the promise of sex because sex always sells. The visual language of Pulp was an obvious tight fit for a new generation of writers able to mould their output to suit the genre. Hard-boiled Mickey Spillane, the verbal Earl Stanley Gardner, escapists like Hammond Innes and Alistair Mclean and romantics like Helen McInnes sold in huge numbers alongside many more less memorable, and probably less talented, authors mining the same rich vein. But what makes Pulp so fascinating, and its appeal so durable, was that it didn't ... More



The Hermitage Museum announced four highlights from its exhibition schedule opening in the first half of 2018.



ST. PETERSBURG.- The Hermitage Museum announces four highlights from its exhibition schedule opening in the first half of 2018. These include the first exhibition dedicated to Arte Povera to take place in Russia; a major retrospective of Ilya and Emilia Kabakov; a survey of the life of the reformist Tsar Alexander II; and the most comprehensive exhibition ever dedicated to the Lombards. Details of these highlights are below: The first dedicated exhibition of Arte Povera to take place in Russia, this show will include important works of art from the Galleria d'Arte Moderna in Turin and will take place in the thirdfloor rooms of the Winter Palace. Arte Povera was a crucial movement which emerged in Italy in the early 1960s, and which saw artists creating works with non-aesthetic materials that liberated art from the boundaries of traditionalism. The exhibition will include important ... More



Hans Hofmann, Heraldic Call, 1962, Oil and ducco on canvas , 60 1/4 x 48 3/8 in (153 x 122.9 cm), Courtesy of the University of California, Berkeley Art Museum and Pacific Film Archive, Gift of Hans Hofmann, 1965.17, © 2017 Estate of Hans Hofmann/ARS (Artists Rights Society), New York, NY.



PURCHASE, NY.- From Motherwell to Hofmann: The Samuel Kootz Gallery, 1945–1966 is the first exhibition to examine the critical role Kootz (1898–1982) played in establishing modern American art as an international force. It focuses on the ways in which Kootz's New York gallery (operational 1945–1966) was instrumental in promoting the careers of several major Abstract Expressionist artists, including William Baziotes, Adolph Gottlieb, Hans Hofmann, and Robert Motherwell. It features works by these artists and focuses on a selection of important exhibitions that were held at the Kootz Gallery, including a 1946 show of the collection of Roy R. Neuberger, Kootz's first customer at the gallery, and founding patron ... More
93-year-old artist of Pulp Fiction featured in exhibition at Norman Rockwell Museum
Voorlinden presents key work by Song Dong
Exhibition at Spruth Magers offers a retrospective look at the work of Axel Kasseböhmer


Gloria Stoll Karn, Square Dancers, c. 1941. Oil on board, 24" x 20". Cover illustration for Rangeland Romances, February 1947. ©Gloria Stoll Karn. All rights reserved.



STOCKBRIDGE, MASS.- Norman Rockwell Museum presents Gloria Stoll Karn: Pulp Romance, an exhibition of works by Ms. Stoll Karn, one of just a few female illustrators working during the heyday of popular romance and dime store magazines of the 1940s. On view at the Museum from February 10 through June 10, 2018, the exhibition looks at the artistic contributions that Stoll Karn made to the pulp fiction industry, and her unexpected journey in a world previously assigned to male artists. Born in 1923 to an artistic family in New York City, Gloria Stoll Karn graduated from the High School of Music and Art in 1940. After graduation, she took a position as an insurance agency clerk to help support the family following the death of her father. Discouraged that her efforts to find employment as an artist did not ... More



Song Dong, Through the Wall (2016). Collection museum Voorlinden, Wassenaar. Photo: Dawn Blackman, courtesy Pace Gallery.



WASSENAAR.- Voorlinden presents the installation Through the Wall (2016) by Chinese artist Song Dong (1966) in the garden room of the museum. Whereas a wall typically poses an impenetrable barrier, Through the Wall instead offers an entryway into an endless secret passage. This monumental work of art was one of the main features of 2017's Art Basel Unlimited and is now being displayed for the first time in a European museum. The piece is part of museum Voorlinden's highlights collection. Like the works by Richard Serra, Roni Horn and James Turrell, among others, this installation defies description: visitors must simply experience it for themselves. With this enormous installation, which measures 4.5 metres high and 9 metres long and forms a free-standing partition in the space, Song lends a new dimension to the concept of 'wall' by adding an interior. Here, in fact, ... More



Axel Kasseböhmer, Stoff I, 1981. Oil on canvas, 206 x 232 cm © Axel Kasseböhmer. Courtesy Sprüth Magers.



BERLIN.- The new exhibition in Sprüth Magers ' Berlin gallery offers a retrospective look at the work of Axel Kasseböhmer, who passed away last year after a long illness. Though Kasseböhmer consciously pivoted away from various painting trends throughout his lifetime, his work impacted the 1980s Cologne art scene and played a key role in the development of West German painting. He leaves behind a vast, influential body of work characterized by a radical, conceptual approach to painting. This spotlight exhibition of Axel Kasseböhmer's oeuvre is the second show taking over the whole Berlin gallery. Many paintings in the exhibition have long been inaccessible to the public. The show's main focus is the Walchensee (Lake Walchen) series created during the last years of his life—a never-before-seen body of work and the brilliant finale to a singular, lifelong exploration of painting as a medium. Axel ... More
Mullin Automotive Museum's 1936 Bugatti Type 57SC Atlantic awarded The Peninsula Classics "Best Of The Best"
Exhibition of new assemblages by Maria Martinez-Cañas on view at Julie Saul Gallery
Ottocento Art Gallery to offer a remarkable masterpiece painted on canvas by Camillo Innocenti


The Mullin Automotive Museum's 1936 Bugatti Type 57SC Atlantic.



PARIS.- The Mullin Automotive Museum's 1936 Bugatti Type 57SC Atlantic was named The Peninsula Classics "Best of the Best" during a private dinner held at the Peninsula Paris on February 8th. In three years of the annual award, the Mullin Museum has won twice, claiming the inaugural title with its 1937 Talbot-Lago T150-C SS. Late last year, the Atlantic was nominated to compete against seven other "Best in Show" winners from prestigious Concours events around the globe. After being judged by a panel of 24 experts, including Henry Ford III and The Duke of Richmond, the car received the prestigious title, signifying its status as one of the world's finest automobiles. The car will now return to the Mullin Museum, where it will continue to be on display. "The Atlantic represents the pinnacle of everything I adore about the French automotive styling and widely described as the Mona Lisa of the au ... More



Maria Martinez-Cañas, SI_031, 2017. Pigment print, 20 x 16". Edition of 3.



NEW YORK, NY.- Julie Saul Gallery announces their seventh solo exhibition of new works by Cuban born, Miami based artist, Maria Martinez-Cañas, in an ambitious and powerful show entitled Transformative Structures (Estructuras Transformativas). Supported by a grant from the Pollock-Krasner Foundation, these new assemblages created between 2016 and 2017 introduce a dramatic shift in style and medium. With the presence of drawing and sculpture, Cañas questions conventional practices in the field of conceptual photography. The earliest works in the show derive from her Rebus + Diversion collage series and are formed from personal memorabilia, largely the archive of Cuban curator and critic José Gómez-Sicre and artist Cundo Bermúdez, both of whom have close family ties to Cañas' family going back to pre-revolution. With this recent work, she is attempting to synthesize all that ... More



Camillo Innocenti (Trieste 1871 – Rome 1961), The man with the dogs. Oil on cm 108 x 105 canvas, signed (Innocenti) and located (Roma) lower left © Ottocento Art Gallery.



ROME.- Among latest acquisitions, Ottocento Art Gallery offers a masterpiece by Italian painter Camillo Innocenti (1871–1961) which embodies a beautiful proof of his pictorial talent. L. Seitz's pupil, Camillo Innocenti begins to paint influenced by D. Morelli and A. Mancini, achieving remarkable success with folkloristic works. The divisionist experience (1903 – 04) and subsequently the interest for the Nabis led him to a clearer painting, who developed in his typical, bright interior images with female figures. In 1912 he was among the founders of the Roman Secession, born in controversy with the Society of Amateurs and Cultures of Fine Arts, considered to be overdue and overly tied to official environments. The first exhibition of the group took place at Palazzo delle Esposizioni in 1913 but Innocenti, while being among the protagonists, presented ... More
Quote
The nature of the work is to prepare for a good accident. Sidney Lumet
---
The Little Gothic Bridge that Inspired Feininger's Cubist Masterpiece
---
Flashback
On a day like today, English photographer Henry Fox Talbot, was born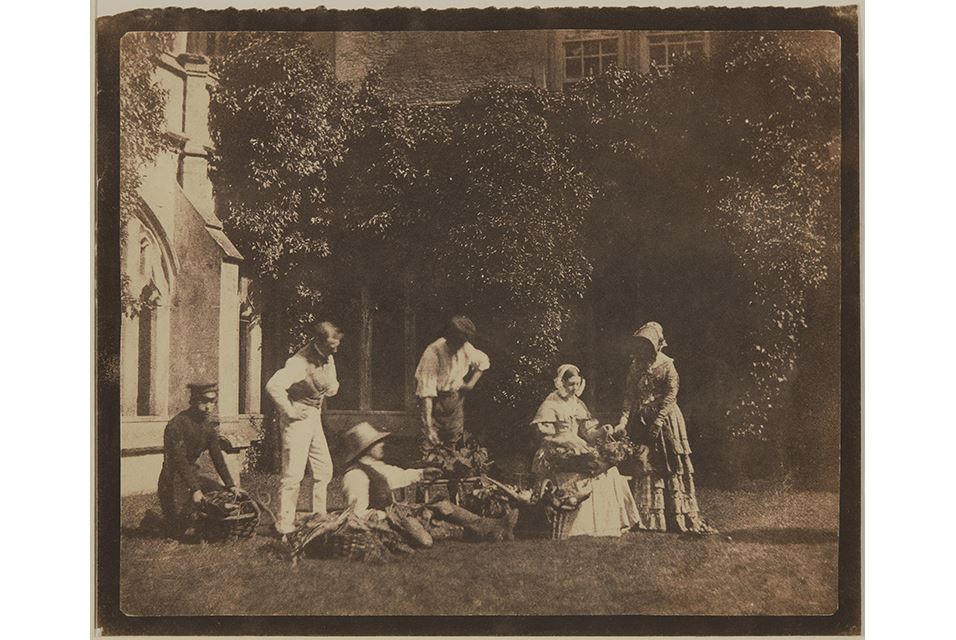 August 11, 1800. William Henry Fox Talbot (11 February 1800 - 17 September 1877) was a British scientist, inventor and photography pioneer who invented the salted paper and calotype processes, precursors to photographic processes of the later 19th and 20th centuries. His work in the 1840s on photomechanical reproduction led to the creation of the photoglyphic engraving process, the precursor to photogravure. In this image: William Henry Fox Talbot, Rev. Calvert Richard Jones, "The Fruit Sellers," before December 13, 1845, salted paper print from a calotype negative, H: 6 11/16 x W: 8 1/4 in. image, Gift of the William Talbott Hillman Foundation.
---

Museums, Exhibits, Artists, Milestones, Digital Art, Architecture, Photography,
Photographers, Special Photos, Special Reports, Featured Stories, Auctions, Art Fairs,
Anecdotes, Art Quiz, Education, Mythology, 3D Images, Last Week,
.
Royalville Communications, Inc
produces: