Legendary guitarist Jimi Hendrix's restored flat a glimpse into swinging London life
Kathy Etchingham, the former girlfriend of US musician Jimi Hendrix, poses for photographs in his former bedroom in central London, on February 8, 2016, to promote a forthcoming exhibition. Located above the Handel House museum, Hendrix's former bedroom has been dressed to resemble how it was when he lived there in 1968-69. From February 10, 2016, the upper floor rooms of 23 Brook Street, will be open to the public, and includes galleries of images and videos showing his story.

By: Robin Millard
LONDON
(AFP)
.-
"It's like travelling in a time capsule," enthused Jimi Hendrix's former girlfriend, marvelling at their old London flat which has been painstakingly recreated to look exactly the way he left it in the swinging Sixties. The apartment where Hendrix and Kathy Etchingham lived between 1968 and 1969, which opens to the public on Wednesday, reveals the ordered domestic life behind the extraordinary US rock star's mind-blowing music. Using photographs, Etchingham's crystal-clear recollections and original items, their bedroom has been restored precisely as it was. The music he listened to is stacked up by the record player, while the acoustic guitar on which he sketched out the riffs that shattered the boundaries of rock guitar stands close by. By chance, the third floor flat is next door to the townhouse of 18th-century baroque composer George Handel, a musical ...
More
The Best Photos of the Day
£5.3m raised to restore Moat Brae House, where Peter Pan began, as National Centre for Storytelling
Selection of key drawings from 1960-1969 revisits the premise of a landmark MoMA exhibition
Indiana State Museum unveils Abraham Lincoln undocumented artifact in time for Lincoln birthday


J M Barrie's original Neverland will help give young local people a great start in life and regenerate Dumfries with investment, jobs and visitors. Photo: Colin Hattersley.



DUMFRIES.- A total of £5.3 million of capital funding has been secured to transform the derelict Georgian house and gardens where Peter Pan began into a national centre for storytelling and children's literature. The finance, which includes £1.78m from the Heritage Lottery Fund, £680,000 from Creative Scotland and £500,000 from Dumfries and Galloway Council, means the historic Moat Brae House has finally been saved and will soon bring a whole range of benefits to Dumfries and its people. The Peter Pan Moat Brae Trust (PPMBT) will create a visitor attraction which is expected to welcome 40,000 visitors a year from all round the world contributing a much-needed additional £1.3 million for the local economy. Children ... More



Roy Lichtenstein, The Kiss, 1962. Graphite on paper, 21 1/4 x 16 1/2 inches (53.3 x 41.9 cm) © Estate of Roy Lichtenstein.



NEW YORK, NY.- Dominique Lévy is presenting Drawing Then: Innovation and Influence in American Drawings of the Sixties. The exhibition investigates revolutionary developments in the practice of drawing that emerged in the United States during a decade of radical social and political upheaval. Drawing Then is inspired by—and coincides with the 40th anniversary of—the 1976 exhibition Drawing Now, organized by Bernice Rose at The Museum of Modern Art, New York. In her seminal catalogue essay, Rose wrote that "a number of artists have, and with increasing intensity since the middle sixties, seriously investigated the nature of drawing, investing major energies in a fundamental reevaluation of the medium, its disciplines, and its uses." Forty years after Drawing Now, ... More



Lincoln's mallet.



INDIANAPOLIS, IN.- The Indiana State Museum has unveiled a previously unknown artifact from Abraham Lincoln's life in Indiana. Lincoln's bench mallet (circa 1829) will be on public display for the first time in 188 years, on his birthday, February 12 and remain on view through 2016 at the museum. "The mallet is an extremely rare and important find that connects Abraham Lincoln to his Hoosier roots and to the rail-splitter legend that every schoolchild in America has been taught for 150 years," said Dale Ogden, chief curator of history & culture and the Lincoln Financial Foundation Collection at the Indiana State Museum and Historic Sites. The mallet descended through the family of Barnabas Carter of Spencer County, Ind. The Carters were among the earliest settlers to pioneer the rocky hills of southern Indiana. Lincoln's bench mallet has passed to Barnabas Carter's great-great-great-great ... More
History of Nothing: Exhibition explores the idea of the 'supersized' American dream
Candles blown on 'Happy Birthday' copyright after long feud between filmmakers and Warner/Chappell
Curator and rector of the Royal Institute of Art Marta Kuzma named dean of Yale School of Art


Eduardo Paolozzi, History of Nothing, c.1961-62 (detail). Film still. Duration to be confirmed © the artist. Courtesy White Cube.



LONDON.- White Cube presenting the group show 'History of Nothing'. Titled after a 1962 film by Eduardo Paolozzi, the exhibition explores the idea of the 'supersized' American dream and features the work of Thomas Bayrle, Katherine Bernhardt, Mike Bouchet, Nicholas Cheveldave, Anthea Hamilton, Eloise Hawser, Zak Kitnick, Josh Kline, Josephine Meckseper, Eduardo Paolozzi and Timur Si Qin. In his seminal film History of Nothing, Paolozzi creates a complex sequence of objects, architecture and landscapes, collaged together and accompanied by sounds. This layering of images serves to enhance and exploit the surreal and uncanny in mass media, everyday objects and the mechanical processes of industrial production. Continuing this vernacular, the artists in this exhibition employ branding strategies and use consumer iconography to explore the increasingly insatiable appetite for acquisition, whether material, cultural or ideological. All ... More



The dispute began in 2013 after makers of a low-budget film on the history of "Happy Birthday to You" balked at the $1,500 the publisher demanded for the song's use.



LOS ANGELES (AFP).- "Happy Birthday to You," often considered the most popular song in the world, looks finally set to be free for everyone to sing. After prolonged legal wrangling, US publisher Warner/Chappell Music agreed to pay $14 million in a settlement that would effectively end its claims to the song's copyright. The dispute began in 2013 after makers of a low-budget film on the history of "Happy Birthday to You" balked at the $1,500 the publisher demanded for the song's use. The filmmakers filed a class action suit on behalf of people who paid to use the song, which became widely known in the United States a century ago and has since spread globally. In a settlement submitted to a federal court in Los Angeles on Monday, the publishing house, which is part of the Warner Music conglomerate, agreed to pay $14 million and end its efforts to collect royalties for the song. "By declaring the song to be in the ... More



With more than 25 years of experience in leading international institutions of contemporary art as a curator, writer, and academic, Kuzma brings to Yale a deep knowledge of contemporary art, artists, and the role of art in broader social change. Photo: Karin Alfredsson.



NEW HAVEN, CONN.- Marta Kuzma, vice chancellor and rector of the Royal Institute of Art in Stockholm, Sweden, will be the next dean of the Yale School of Art, announced President Peter Salovey today in a message to the Yale community. Kuzma will be the first woman to lead the School of Art, which opened in 1869 as the nation's first art school connected with an institution of higher learning. She was chosen after an international search that drew interest from candidates representing a wide variety of perspectives and communities in art and design, said Salovey. "Marta is an independent and creative thinker with a track record of making deep connections to students and faculty. I am confident that she will develop a distinctive vision for the Yale School of Art," said Salovey. "She has an appreciation for developing 'courageous' students, ... More
UNESCO executive director Irina Bokova enters race for United Nations leadership
Bangladesh show covers up Tibetan art after Chinese embassy in Dhaka complains
Former Antiques Roadshow host brings more than 40 years of experience to the Invaluable team


This file photo taken on November 12, 2015 shows Unesco director general Irina Bokova.



SOFIA (AFP).- Bulgaria's foreign ministry on Tuesday formally announced its nomination of UNESCO chief Irina Bokova for UN secretary-general. "The ministry of foreign affairs sent a letter, nominating Mrs Irina Georgieva Bokova for the post of secretary-general of the United Nations," the ministry said in a statement. "Given her background and experience, Mrs Bokova may be one of the top candidates in the upcoming campaign for UN secretary-general," it added. The UN's next chief will take up their post on January 1, 2017, replacing Ban Ki-moon who has held the job for two five-year terms. Bulgaria's Bokova, 63, was the first woman to head the UN's culture body UNESCO, and the first leader from the ex-Soviet bloc when she was elected in 2009. UNESCO's admission of Palestine as a member in October 2011 spelled problems for Bokova, with the United States immediately suspending its funding of the UN body. But the former foreign minister won re-election ... More



Exhibits belonging to filmmakers Ritu Sarin of India and her husband Tenzing Sonam are covered at a prestigious art show in Dhaka. AFP Photo/ Munir uz ZAMAN.



DHAKA (AFP).- One of Bangladesh's biggest art shows has covered up an exhibit by Tibetan artists after the Chinese embassy in Dhaka said it was "offended" by the artwork, an organiser said Monday. A photographic exhibit entitled "Last Words", featuring the letters of five Tibetans who self-immolated in protest at Chinese rule, was covered with white sheets at the Dhaka Art Summit, an AFP correspondent said. The work belonged to Indian filmmaker Ritu Sarin and her husband Tenzing Sonam, a Tibetan living in exile, and were part of a larger multimedia installation on Tibetan self-immolations in the past six years. "The Chinese ambassador was offended when he saw the artworks. He sent us a mail in protest and asked us to remove the works. And we've covered up the five works with white sheets," Sazzad Hossain, head of administration at the Dhaka Art Summit, told AFP. ... More



As an advisor to the company, Jussel will assist Invaluable with growing the company's network of auction houses and dealers.



NEW YORK, NY.- Invaluable, the world's leading online marketplace for fine art, antiques and collectibles, today announced the appointment of Chris Jussel, the original host of the PBS television series Antiques Roadshow, as an advisor to the company. In this role, he will work closely with Invaluable's Leadership Team to lend his deep industry expertise to both current and future projects as the company continues its trajectory of record-breaking growth. As an advisor to the company, Jussel will assist Invaluable with growing the company's network of auction houses and dealers. He will also act as a brand ambassador at industry events, and will be a regular contributor to In Good Taste, Invaluable's blog. "With more than 40 years of experience, Chris brings a tremendous wealth of industry knowledge to the Invaluable team. We couldn't be more excited to leverage his expertise as we continue to grow our ... More
Stair Sainty opens its second survey of oil paintings by the Spanish artist Federico Beltran Masses
Exhibition celebrates Norman Parkinson's influential contributions to fashion photography
Harn Museum of Art conserves paintings by Jamini Roy through a generous donation


Las hermanas de Venecia (The Venetian Sisters), 1920. Oil on canvas, 91 x 96 cm.



LONDON.- Stair Sainty presents its second survey of oil paintings by the Spanish artist Federico Beltran Masses (1885–1949). A figurative painter who rose to prominence in the Jazz Age, the Cuban-born artist was compared by contemporary critics with the Venetian masters Tiepolo, Titian and Tintoretto, as well as Veronese, and the Spanish painters El Greco and Goya; yet at the same time he was seen as a modernist, albeit one steeped in traditions of the past. Federico Beltran Masses: Under the Stars seeks to explore this paradox. Comprised of sixteen large, medium and small-scale works executed between 1911 and 1934, the exhibition's centrepiece is his erotically charged painting Salome (1918). Highly controversial in its time – when it was displayed in London in 1929 one newspaper claimed it was 'the most daring nude picture ever painted' – it is unflinching in its representation of the human form. Sal ... More



Norman Parkinson, Jerry Hall, Jamaica, British Vogue, 1975. Digital C-type Print on Fuji Crystal Archive paper, 20 x 16 in / 51 x 40 cm. Limited Edition of 21. Images courtesy of Eleven, London – and the Norman Parkinson Archive.



LONDON.- Eleven Fine Art and the Norman Parkinson Archive announces an exhibition celebrating Norman Parkinson's influential contributions to fashion photography specifically through his work for Vogue. The exhibition has been organised to coincide with the National Portrait Gallery's Vogue 100: A Century in Style (11th February to 22nd May 2016) where a number of Norman Parkinson's works will be shown. In a career that spanned over five decades, Norman Parkinson photographed for Vogue for most of this time. He worked consistently for British Vogue from 1941 to 1960, and after a stint at Queen, returned again in 1965 working with British Vogue through 1975. His long association with Vogue brought him worldwide recognition and he is now considered one of the ... More



Rustin Levenson conserving Three Boatmen by Jamini Roy.



GAINESVILLE, FLA.- The Harn Museum of Art at the University of Florida recently completed the conservation of seven paintings by modern Bengali artist Jamini Roy. This was made possible by a $50,000 grant award from the E. Rhodes and Leona B. Carpenter Foundation in the Summer of 2015. The Harn Museum's Asian collection contains 45 works by Jamini Roy (1887-1972) and ranks among the largest public collections of distinguished holdings by the artist outside of India. Inspired by Indian village artisans, Roy often used paint colors made from organic matter including rock-dust, tamarind seeds, mercury powder, etc. and painted on woven palm fiber mats or canvas on board. Regardless of the ephemeral nature of these materials, conservation scientists are able to successfully preserve this important imagery by consolidating lifting and flaking paint, stabilizing the canvas supports, and cleaning using dry methods. The ... More
Quote
I hope with all my heart that there will be painting in heaven. Jean Baptiste Corot
---
Jewelry: The Body Transformed Exhibition Galleries
---
Flashback
On a day like today, French illustrator and painter Honoré Daumier died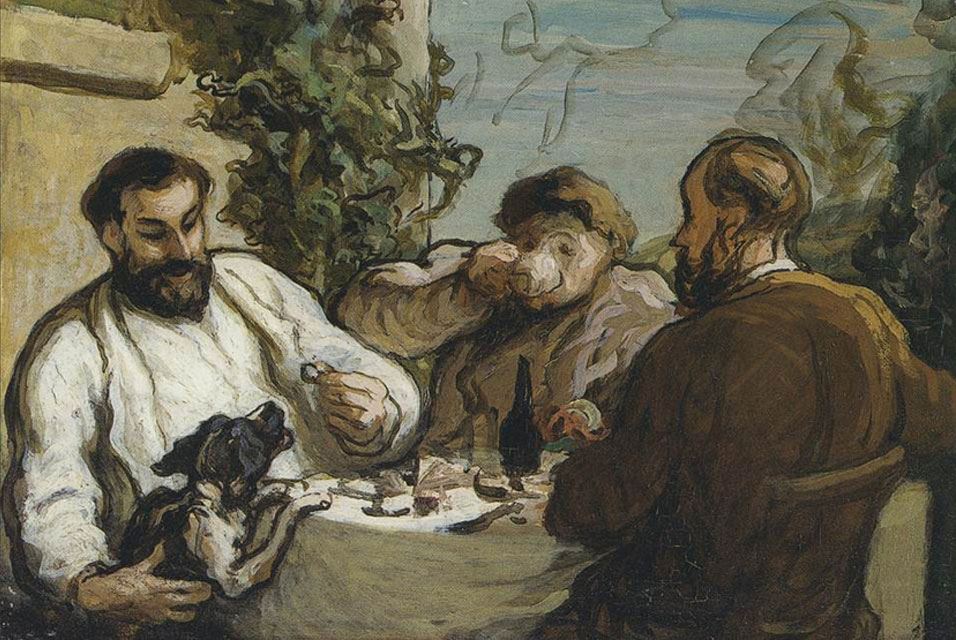 August 10, 1879. Honoré-Victorin Daumier (February 26, 1808 - February 10, 1879) was a French printmaker, caricaturist, painter, and sculptor, whose many works offer commentary on social and political life in France in the 19th century. In this image: Honore Daumier, Lunch in the Country, c. 1867-1868. Oil on panel, 26 x 34 cm. National Museum of Wales, Cardiff. Photo © National Museum of Wales
---

Museums, Exhibits, Artists, Milestones, Digital Art, Architecture, Photography,
Photographers, Special Photos, Special Reports, Featured Stories, Auctions, Art Fairs,
Anecdotes, Art Quiz, Education, Mythology, 3D Images, Last Week,
.
Royalville Communications, Inc
produces: