The Royal Academy of Arts brings together the work of Bill Viola and Michelangelo
Bill Viola, Nantes Triptych, 1992. Video/sound installation. Courtesy Bill Viola Studio. Photo: Kira Perov.
LONDON
.-
In January 2019, the
Royal Academy of Arts
brings together the work of the pioneering video artist, Honorary Royal Academician Bill Viola (b. 1951), with drawings by Michelangelo (1475 -1564). Though working five centuries apart and in radically different media, these artists share a deep preoccupation with the nature of human experience and existence. Bill Viola / Michelangelo creates an artistic exchange between these two artists and is a unique opportunity to see major works from Viola's long career and some of the greatest drawings by Michelangelo, together for the first time. It is the first exhibition at the Royal Academy largely devoted to video art and has been organised in partnership with Royal Collection Trust. The exhibition comprises 12 major video installations by Viola, from 1977 to 2013, being shown alongside 15 works by Michelangelo. They include 14 highly finished drawings, considered to be the high po ...
More
The Best Photos of the Day
Banksy work stolen from Paris terror attack venue
'Discriminating Thieves: Nazi-Looted Art and Restitution' opens at Nelson-Atkins
Bob Dodge to debut Jan. 28 as guest appraiser on HISTORY Channel's 'Pawn Stars'


The white stencilled oeuvre showing a sad-faced girl on one of the emergency doors of the famed Parisian venue was cut out and taken away.



PARIS (AFP).- A painting in homage to terror victims by famous street artist Banksy has been stolen from the Bataclan concert hall in Paris, where 90 people were killed in 2015 in a jihadist attack. The white stencilled oeuvre showing a sad-faced girl on one of the emergency doors of the famed Parisian venue was cut out and taken away. "Banksy's work, a symbol of recollection and belonging to all: locals, Parisians, citizens of the world has been taken from us," the establishment said, stressing the staff's "deep indignation." A source close to the investigation told LCI television that "a group of hooded individuals armed with angle grinders cut the painting and took it away in a truck" on the night of Friday to Saturday. This work along with other similarly-themed paintings popped up in Paris last June and has been attributed to the reclusive British street artist. Banksy, whose identity ... More



Nicolas de Largillière, French (1656–1746). Augustus the Strong, Elector of Saxony and King of Poland, about 1715. Oil on canvas. Purchase: William Rockhill Nelson Trust, 54-35.



KANSAS CITY, MO.- Discriminating Thieves: Nazi-Looted Art and Restitution follows the journey of four works of art that were once in the hands of the Nazis. The exhibition opened Jan. 26 and explores the circumstances surrounding their thefts, their return to their rightful owners, and their subsequent legal acquisition by The Nelson-Atkins Museum of Art in Kansas City. During World War II, Adolf Hitler and the Nazis looted art on an unprecedented scale. They stole thousands of objects across Europe between 1933 and 1945, keeping art for their own collections or stashing art for use in the museum Hitler planned to build. Other works, considered by the Nazis to be immoral, or "degenerate," were destroyed, sold, or used as Nazi propaganda. "This exhibition was extensively researched by MacKenzie ... More



Antiquities appraiser Bob Dodge in Las Vegas for the taping of the 19th season of Pawn Stars. Artemis Gallery image.



LAS VEGAS, NV.- On Monday, January 28, renowned antiquities expert and auction gallery owner Bob Dodge will debut as a guest appraiser on HISTORY Channel's smash-hit reality show Pawn Stars. Dodge is the founder and executive director of Artemis Gallery in suburban Boulder, Colorado, a boutique auction house with an international clientele and impeccable reputation for selling premier antiquities and ethnographic art. Through his reputation in the antiques trade, he was invited to join the cast of colorful characters at the "World Famous Gold & Silver Pawn Shop" in Las Vegas for the taping of three episodes in this, the series' 19th season. Pawn Stars is centered on the multi-generational Harrison family, who use their sharp-eyed skills to assess what's real and what's fake from the endless flow of merchandise that passes through their establishment's doors. ... More
Oscar-winning French composer Michel Legrand dies aged 86
Journalist, screenwriter donates his papers to the Harry Ransom Center
Exhibition provides a comprehensive overview of American artist Jacob Lawrence's printmaking oeuvre


In this file photo taken on October 23, 2004 French music composer Michel Legrand looks on on stage during the festival international de Musique et Cinema in Auxerre. Legrand died aged 86, AFP reported on January 26, 2019. Martin BUREAU / AFP.



PARIS (AFP).- Prolific French composer Michel Legrand, who won three Oscars and five Grammys during a career spanning more than half a century, died aged 86 on Saturday, prompting an outpouring of tributes for his "inexhaustible genius". Legrand's music spanned a wide range of styles and genres. He composed for more than 200 film and TV productions and was associated with over 100 albums. "Since I was a child, my ambition has been to live completely surrounded by music, my dream was to not miss anything, which is why I have never focused on a single musical discipline," he once said. He first won an Academy Award in 1969 for the song "The Windmills of Your Mind" from Norman Jewison's hit thriller "The Thomas Crown Affair". He followed that with Oscars for his music for "Summer of '42" in 1972 and for "Yentl" in 1984. Legrand, who had been ... More



Aaron Latham's notebooks for his story, "The Ballad of the Urban Cowboy: America's Search for True Grit," and the film Urban Cowboy, ca. 1978–1979. Photos by Pete Smith. Aaron Latham Papers, Harry Ransom Center.



AUSTIN, TX.- Author, journalist and screenwriter Aaron Latham has donated his papers to the Harry Ransom Center at The University of Texas at Austin. Latham's 1978 Esquire article "The Ballad of the Urban Cowboy: America's Search for True Grit" was adapted into the 1980 movie "Urban Cowboy," and his 1983 Rolling Stone cover article "Looking for Mr. Goodbody" served as inspiration for the film "Perfect" (1985). Latham co-wrote the screenplays for both films. "Thank you Ransom Center for providing an ark for the preservation of literature," said Latham. "I am proud to be one of those lucky enough to be plucked from the storm. Noah saved the world two by two, but at the Ransom Center most everything is one of a kind." A contributor to such magazines as Esquire, Harper's, New York magazine and Rolling Stone, Latham wrote in-depth journalistic profiles ... More



Jacob Lawrence, The Studio, 1996. Lithograph on paper, 30 x 22 1/8 in. © 2019 The Jacob and Gwendolyn Knight Lawrence Foundation, Seattle / Artists Rights Society (ARS), New York.



SACRAMENTO, CA.- History, Labor, Life: The Prints of Jacob Lawrence provides a comprehensive overview of influential American artist Jacob Lawrence's (1917–2000) printmaking oeuvre, featuring more than 90 works produced from 1963 to 2000, including complete print portfolios, such as the Toussaint L'Ouverture series, The Legend of John Brown series, and others. The exhibition explores three major themes that occupied the artist's graphic works: history, labor, and life. Lawrence was born in Atlantic City, New Jersey, where his family had moved from the rural South in the hope of finding a better life. After his parents separated, Lawrence and his two younger siblings lived in settlement houses and foster homes in Philadelphia until 1930, when the children rejoined their mother in New York City. Lawrence's education in art was both informal, observing the activity and rhythms of the streets of Harlem, and formal, ... More
Underground in Jerusalem, a rare look at an ancient tomb
A complete archive of Supreme skate decks sells for $800,000
Phoenix Art Museum presents global exhibition on art and Islam spanning a millennium


One of the several burial chambers of the Tombs of the Kings, owned and administered by the French Consulate of Jerusalem, is pictured on December 28, 2018 in East Jerusalem. THOMAS COEX / AFP.



JERUSALEM (AFP).- Flashlight beams pierce the darkness and reveal an archaeological gem in underground Jerusalem few have had the chance to glimpse in recent years. The elaborate, 2,000-year-old tomb's stone shelves once held sarcophagi, and its steps are hewn from rock connecting its chambers. It serves as a remarkable example of a Roman-era tomb -- considered among the largest in the region -- but it remains closed for now and largely forgotten in a corner of east Jerusalem. Talks are ongoing between France, which owns the site known as the Tomb of the Kings, and Israel to reopen it, and AFP was recently given an exclusive tour. "We are talking about probably the most important, fascinating and large monument in Jerusalem outside the Old City," said Yuval Baruch, Jerusalem regional archaeologist for the Israel Antiquities Authority. The tomb ... More



The only privately-held collection of all 248 decks produced by the iconic streetwear brand over 20 years from 1998 – 2018. Courtesy Sotheby's.



NEW YORK, NY.- The only complete archive of Supreme skate decks in private hands sold for $800,000 today at Sotheby's. Diligently and passionately assembled over decades by collector Ryan Fuller, the archive comprises all 248 decks produced by the iconic streetwear brand over 20 years from 1998 –2018. Sotheby's welcomed fans of Supreme, streetwear, skateboard culture and contemporary art & design to view the entire archive in a public exhibition at their New York galleries from 11 – 20 January. On 23 January, Sotheby's and StockX celebrated the collection with a private reception and exhibition of contemporary artist collaboration decks from the collection. Noah Wunsch, Sotheby's Global Head of e-Commerce, commented: "As the only complete archive of Supreme skate decks in private hands, this collection is of singular rarity and importance. We have been overwhelmed by the response we have received ... More



Molded Luster Tile with Sentence Fragment in Raised Calligraphy, Floral, Avian and Geometric Motifs, Kashan, Iran, first half of the 13th century. Molded fritware polychrome painted over white slip under transparent glaze Newark Museum Gift of Herman A. E. Jaehne and Paul C. Jaehne, 1938 38.242.



PHOENIX, AZ.- Phoenix Art Museum is presenting Wondrous Worlds: Art & Islam Through Time & Place, the first exhibition on art and Islam at the Museum in more than two decades, from January 26 through May 26, 2019 in the Art of Asia galleries. The comprehensive exhibition, organized by the Newark Museum, features more than 100 artworks, including handwritten texts, ceramics, textiles, jewelry, photographs, and paintings, from across centuries and from nearly every continent, with the exception of Antarctica. Unlike previous national and international exhibitions on the subject, Wondrous Worlds is organized around the Five Pillars of Islam instead of geography, time period, or material, offering a fresh perspective on the intersection of art and Islam. "We are delighted ... More
Medieval Africa as a cultural force is subject of major exhibition at Block Museum
Kamel Mennour opens its third solo exhibition of the work of Liam Everett
Exhibition features works from the Museum of Contemporary Art Chicago Collection with a focus on new acquisitions


Seated Figure, Possibly Ife, Tada
Nigeria, is unpacked inside The Block Museum.



EVANSTON, ILL.- The Block Museum of Art at Northwestern University invites audiences to travel to a time when West African gold fueled expansive trade and drove the movement of people, culture and beliefs. On view now, "Caravans of Gold, Fragments in Time: Art, Culture and Exchange across Medieval Saharan Africa" is a first-of-its-kind exhibition that celebrates West Africa's historic and underrecognized global significance and showcases the objects and ideas that were exchanged at the crossroads of West Africa, the Middle East, North Africa and Europe from the 8th to 16th centuries. The opening celebration includes an open house event with hands-on artmaking, West African music and a program featuring Gus Casely-Hayford, director of the Smithsonian National Museum of African Art, "Caravans of Gold" curator Kathleen Bickford Berzock and Nigerian-born author and Northwestern English professor ... More



Installation view « The Winds », kamel mennour (6 rue du Pont de Lodi), Paris, 2019. © Liam Everett. Photo. archives kamel mennour. Courtesy the artist and kamel mennour, Paris/London.



PARIS.- Kamel Mennour announced the gallery's third solo exhibition of the work of Liam Everett. The American painter's new works have made an unexpected recovery. After the Camp Fire that destroyed thousands of acres of forest and caused at least 85 deaths in California in autumn 2018, Everett, based in the north of San Francisco and deeply touched by the terror of the catastrophe and its consequences, destroyed the works that he had previously begun for the exhibition in Paris. 'These fires caused a great distress because what was happening was uncontrollable. For almost two weeks it was necessary to stay inside because of the toxic levels of smoke. All this destabilized me and the result was a desire for raw clarity. During the fires, I destroyed several of the of the paintings and started over with new material, ... More



Bruce Nauman, Life, Death, Love, Hate, Pleasure, Pain, 1983. Collection Museum of Contemporary Art Chicago, Gerald S. Elliott Collection, 1995.74 © 2018 Bruce Nauman / Artists Rights Society (ARS), New York Photo: Nathan Keay, © MCA Chicago.



CHICAGO, IL.- In January, the Museum of Contemporary Art Chicago presents the exhibition Prisoner of Love which explores the heights and depths of human experience, featuring works from the MCA Collection with a focus on new acquisitions. The centerpiece is artist Arthur Jafa's masterwork Love Is the Message, the Message Is Death, a film that celebrates the African-American experience in the 20th and 21st centuries, set to the soaring, gospel-infused song "Ultralight Beam" by Kanye West. The exhibition captures the intensities of love, fear, and grief, as well as other extremes of human emotion. On view from January 26 to October 27, 2019, Prisoner of Love is curated by MCA Senior Curator Naomi Beckwith. Jafa's work is a turbulent montage that reveals intense ... More
Quote
In art the content will always be individual. Piet Mondrian
---
Artemisia Gentileschi as a Paradigm of 17th Century Feminism
---
Flashback
On a day like today, Dutch painter Hendrick Avercamp was born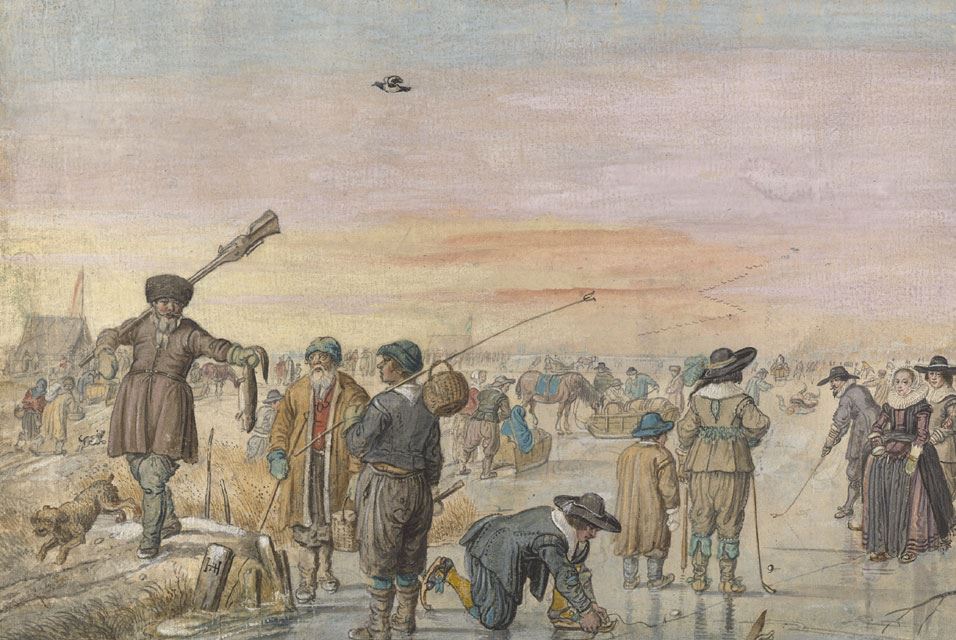 August 27, 1585. Hendrick Avercamp (January 27, 1585 (bapt.) - May 15, 1634 (buried)) was a Dutch painter. Avercamp was born in Amsterdam, where he studied with the Danish-born portrait painter Pieter Isaacks (1569 - 1625), and perhaps also with David Vinckboons. In 1608 he moved from Amsterdam to Kampen in the province of Overijssel. Avercamp was mute and was known as "de Stomme van Kampen" (the mute of Kampen). In this image: Hendrick Avercamp, IJsgezicht met jager die een otter toont. Rijksmuseum Amsterdam.
---

Museums, Exhibits, Artists, Milestones, Digital Art, Architecture, Photography,
Photographers, Special Photos, Special Reports, Featured Stories, Auctions, Art Fairs,
Anecdotes, Art Quiz, Education, Mythology, 3D Images, Last Week,
.
Royalville Communications, Inc
produces: