Archaeologists discover a major church with a splendid mosaic from the Byzantine period
Israeli archaeologists excavate a 1500-year-old floor mosaic depicting the resurrection of Jesus Christ, in a newly-discovered church dating back to the Byzantine era, in the village of Aluma in southern Israel on January 22, 2014. Experts say the Christogram deliberately excluded human depiction of Jesus because of its position on the floor where worshippers would tread. AFP PHOTO/MENAHEM KAHANA.
JERUSALEM
.-
The discovery was made during a salvage excavation as part of development work by the Israel Land Authority prior to the construction of a new neighborhood at Moshav Aluma, near Pelugot Junction * Israel Antiquities Authority archaeologists say, "The church probably served as a center of Christian worship for neighboring communities." Impressive archaeological finds including a major church some 1,500 years old with a magnificent mosaic and five inscriptions were uncovered during Israel Antiquities Authority salvage excavations, prior to the construction of a new neighborhood at Moshav Aluma in Shafir Regional Council, near Pelugot Junction. The excavations were directed by archaeologists Dr. Daniel Varga and Dr. Davida Dagan, and funded by the Israel Land Authority. According to archaeologist Dr. Daniel Varga, directing the excavations on behalf of ...
More
The Best Photos of the Day
"Elysian Plain + Early Works by Keith Sonnier" opens at Pace Gallery New York
Piero della Francesca's devotional paintings brought together for the first time
Antoine de Saint-Exupéry's The Little Prince is the subject of a major exhibition at the Morgan


Torso Trunk , 2013. Neon, acrylic, aluminum, electrical wire and transformer, 9'6" x 88" x 4" (289.6 cm x 223.5 cm x 10.2 cm).



NEW YORK, NY.- Pace Gallery announces Elysian Plain + Early Works by Keith Sonnier. The exhibition will include 11 works in neon featuring the first series created in Sonnier's new studio in Bridgehampton. The exhibition will include early work from the artist's BA-O-BA, Neon Wrapping Incandescent and Neon Wrapping Neon series. Elysian Plain + Early Works will be on view at 510 West 25th Street from January 24 through February 22, 2014. Sonnier was part of a group of artists who challenged preconceived notions of sculpture in the late 1960s by experimenting with materials. In Sonnier's case, materials ranged from latex and satin, to found objects, transmitters and video. In 1968, the artist began creating wall sculptures using incandescent light and sheer fabric. Frustrated by the standardized forms of incandescent light, he started experimenting with neon. Using copper tubing as a template, Sonnier began sketching lines, arches ... More



Piero della Francesca, Madonna and Child with Two Angels, Ca. 1464–74 (?). Tempera and oil on wood (walnut), 24 11/16 x 20 ¾ in. Galleria Nazionale delle Marche, Palazzo Ducale, Urbino.



NEW YORK, NY.- Through a special collaboration with the Gallerie dell'Accademia, Venice, and the Galleria Nazionale delle Marche, Urbino, The Metropolitan Museum of Art is hosting a focused presentation on the devotional paintings of Piero della Francesca, addressing Piero's work for private devotion for the first time. The four works on view have never before been brought together; the exhibition, therefore, makes an important contribution to the study of this major figure of the Renaissance. Piero della Francesca: Personal Encounters features the following paintings: Saint Jerome and a Supplicant (ca.1460–64) from the Gallerie dell'Accademia, Venice; Saint Jerome in the Wilderness (dated 1450) from the Gemäldegalerie, Staatliche Museen zu Berlin; Madonna and Child with Two Angels (ca. 1464–74?), also known as the "Senigallia Madonna," from the ... More



Antoine de Saint-Exupéry (1900–1944), The Little Prince, New York: Reynal & Hitchcock, 1943. The Morgan Library & Museum, New York. Photography by Graham S. Haber, 2013.



NEW YORK, NY.- Since its publication seventy years ago, Antoine de Saint-Exupéry's The Little Prince has captivated millions of readers throughout the world. Remarkably, this French tale of an interstellar traveler who comes to Earth in search of friendship and understanding was written and first published in New York City, during the two years the author spent there at the height of the Second World War. The Little Prince: A New York Story, a major exhibition at the Morgan Library & Museum, features Saint-Exupéry's original watercolors and heavily-revised working manuscript. Focusing on the story's American origins, it is the first exhibition to explore in depth the creative decisions Saint-Exupéry made as he crafted what would become one of the best-selling books of all time—now translated into more than two hundred fifty languages. The Little Prince: A New ... More
Premier selection of galleries to participate in Art Basel's second edition in Hong Kong
History Unfolding: Bonhams New York to offer select treasures from the Caren Archive
Holburne Museum's Dr Alexander Sturgis appointed Director of Ashmolean Museum


Art Basel in Hong Kong 2013. General Impressions. MCH Messe Schweiz (Basel) AG.



HONG KONG.- Art Basel announced today details of its second edition in Hong Kong, taking place Thursday, May 15, to Sunday, May 18, 2014 at the Hong Kong Convention and Exhibition Centre (HKCEC). The Hong Kong show of Art Basel, whose Lead Partner is UBS, will feature 245 premier galleries, from 39 countries and territories. With over half of its galleries having exhibition spaces in Asia and the Asia-Pacific region – including 24 galleries with exhibition spaces in Hong Kong – Art Basel underlines its commitment to showcasing the best art from the region. The show will include for the first time a Film sector, curated by Li Zhenhua, and hosted in collaboration with the Hong Kong Arts Centre. Galleries, the main sector of the show, will present 171 Modern and contemporary art galleries. Returning galleries will be joined by 19 exhibitors who will be new to the Art Basel show including: Anna Schwartz Gallery, Applicat-Prazan, Brame & L ... More



Declaration of Independence. The New-England Chronicle. Boston: Powars and Willis, July 18, 1776. 4-page newspaper, 395 x 255 mm. Est. $60,000-80,000. Photo: Courtesy of Bonhams.



NEW YORK, NY.- On April 7 Bonhams will offer nearly 300 specially selected items from the world-renowned Caren Archive. The sale encompasses rare newspapers, broadsides, photographs, books, and manuscripts dating from the 16th century through the 1960s. The Caren Archive, comprising over a million items, is the largest and most significant private collection of historical paper in America. Proprietor Eric Caren, who began collecting as a child, retains a particular passion for the artifacts of major events and news stories: "I understood even as a small boy that they were special…that they offered a chance to travel across space and time, to be in the historical moment and to experience it as those at the time did." The April 7 sale has generated an unusual level of anticipatory buzz in collecting circles, something Christina Geiger, ... More



Dr Sturgis has had a distinguished career as the Director of the Holburne Museum, Bath, since 2005.



OXFORD.- The University of Oxford announced the appointment of Dr Alexander Sturgis as the new Director of the Ashmolean Museum of Art and Archaeology. He will take up the appointment on 1 October 2014, succeeding Professor Christopher Brown CBE, who has been the Museum's Director since 1998. Dr Sturgis has had a distinguished career as the Director of the Holburne Museum, Bath, since 2005 and previously held various posts over 15 years at the National Gallery, London, including Exhibitions and Programmes Curator from 1999–2005. Welcoming the appointment of Dr Sturgis, the University's Vice-Chancellor, Professor Andrew Hamilton, said: 'We are delighted that Dr Sturgis has agreed to come to Oxford to lead the Ashmolean. The Museum has undergone a substantial transformation in recent years under the outstanding leadership of Christopher Brown. I am fully confident that Dr Sturgis will take forward with equal ... More
Exhibition of new paintings by Daniel Rich opens at Peter Blum Gallery in New York
Sean Kelly Gallery announces representation of London-based painter James White
Photography a key attraction at Arte Fiera Bologna as it broadens the scope of exhibitors


Daniel Rich, Lloyd's of London, 2014. Image courtesy the artist and Peter Blum Gallery, New York.



NEW YORK, NY.- Peter Blum announces an exhibition of new paintings by Daniel Rich entitled Systematic Anarchy at 20 West 57th Street, New York. Daniel Rich's new body of work continues to examine how the reproduction and proliferation of images shape our perception of physical structures and the ideologies that they embody. By translating found images into paintings, Rich seeks to call attention to implicit political and social narratives transcribed in the built environment. According to Rich, a pervasive theme in his work is the "highly symbolic role architecture plays in politics and its power to function as a vehicle for the inscription of history." The artist's meticulous and systematic approach to the making of the paintings mimics the construction of the architectural forms that he depicts. The result is a densely layered surface where each form in the sourced image corresponds to a mapped out and stenciled shape ... More



Portrait of James White. Photo: Ken Nevis/Courtesy: Sean Kelly, New York.



NEW YORK, NY.- Sean Kelly announced that the gallery now represents London-based painter James White. James White began his career as part of a collaborative duo exhibiting large-scale works in the early 1990s, coming to the public's attention at the same time as his fellow YBAs. After parting ways with his artistic partner in 2001, White turned from installation to painting, dedicating himself to producing the finely wrought, luminous black and white oil paintings for which he is well-known. White's commitment to an apparent tradition of representational painting imbues his work with a fundamental permanence, underscoring the continuity in moments of silence, doubt and repose that have been the subject of art for centuries, whilst profoundly updating its implications. Painted on aluminum, wood or plastic, his work has its origin in snapshot photographs taken of his environment both domestically and when travelling ... More



Alberto Biasi, Variable round image, 1962, rilievo in PVC su tavola, diam. cm 153 - Courtesy: Galleria Allegra Ravizza, Lugano.



BOLOGNA.- Signature photography will be one of the great new features of Arte Fiera 2014. There will be a special section dedicated to this art form, represented exclusively by galleries specializing in art photography. BolognaFiere has signed a multi-year agreement with MIA Fair, Italy's first and most important art photography and video tradeshow, developed and directed by Fabio Castelli, who will be bringing top art photography galleries to Bologna's up-coming edition of Arte Fiera . The decision of Arte Fiera to broaden the scope of Exhibitors to include photography, initiating collaboration between two highly rated Italian tradeshows is indicative of the growing importance of photography as a contemporary art medium. The upcoming Arte Fiera acknowledges this artistic expression with a special new section. "ARTEFIERA is working with the Milan show to develop Arte ... More
First book devoted to the early years of the Institute of Contemporary Arts published
PIASA's Sale of 20th Century Design, including the Interior of a Paris apartment, totals 1,150,000 euros
Gavin Kenyon's first solo-presentation in Los Angeles opens at Blum & Poe in Los Angeles


The book is dedicated to the first twenty years of the ICA.



LONDON.- Institute of Contemporary Arts: 1946 - 1968 is the first book devoted to the early years of the ICA by art historian Anne Massey and Gregor Muir. Each section provides an overview of key ICA personalities and events, interspersed with a more detailed analysis of 24 key exhibitions. From Picasso and Parallel of Life and Art to Francis Bacon and The Popular Image, this book combines a wealth of images with first class research and an approachable writing style. It also includes scans of original material from the archives, many previously unpublished and regarded as ephemera until now. Dedicated to the first twenty years of the ICA, the driving force behind Institute of Contemporary Arts: 1946 - 1968 is one of its best-known luminaries – Richard Hamilton. The timing of this publication is connected to three related events, two of which directly concern this remarkable artist. The first is Tate Modern's 2014 Hamilton retrospect ... More



Ado Chale, Paire de guéridons . Bronze doré et piètement en acier laqué, 1980. H 31 × Ø 57 cm. Estimate: 25 000 / 35 000 €. Sold for: 63780 €.



PARIS.- On Tuesday 21 January in their Rue du Bac venue, PIASA staged their first sale of the year devoted to Design and Contemporary Art, directed by Frédéric Chambre. It totalled a premium-inclusive €1,150,000. The Armand Jonckers table, in nickel silver and resin incrusted with aluminium, prompted several minutes of fierce bidding on the telephone, in the saleroom and online to attain €57,580, a new record price for the artist (lot 184). Items from a Paris Interior enjoyed great success. Buoyed by an enthusiastic saleroom, most of the hundred or so lots found takers for well over estimate, underlining PIASA's ability to attract and promote private collections. The ensemble combined decorative art, Design, post-war and contemporary works, including leading names from the 20th century. The Ado Chale tables flew to €63,780 against an estimate of €25,000-35,000 (lot 2). Drawings included one ... More



Gavin Kenyon, Installation view, 2014. Blum & Poe, Los Angeles.



LOS ANGELES, CA.- Blum & Poe announces New York artist Gavin Kenyon's first solo-presentation in Los Angeles, featuring a selection of new sculptures that address size and scale. Two large sculptures – an arch and a column – are comprised of multiple forms stacked from floor to ceiling. Their architectural proportions contrast with several mid-sized sculptures whose humanistic scale alludes to bodies loosely arranged in groups. Kenyon's anthropomorphic works are seemingly approachable figurative forms, yet they elicit a sense of deviance upon further investigation. Drawing inspiration from such realms as American quilting traditions and the pioneering spirit of Paul Thek, the allure of Kenyon's artwork lies in the inscrutable brilliance that often occurs in the vastness of contradiction. Resting in the balance between chance and control, masculine and feminine, and figuration and abstraction, these sculptures ... More
Quote
The citizens of Toledo never tire of seen El Greco's painting. Alonso de Villegas
---
Portraiture's Power to Penetrate the Human Soul
---
Flashback
On a day like today, American painter Robert Motherwell was born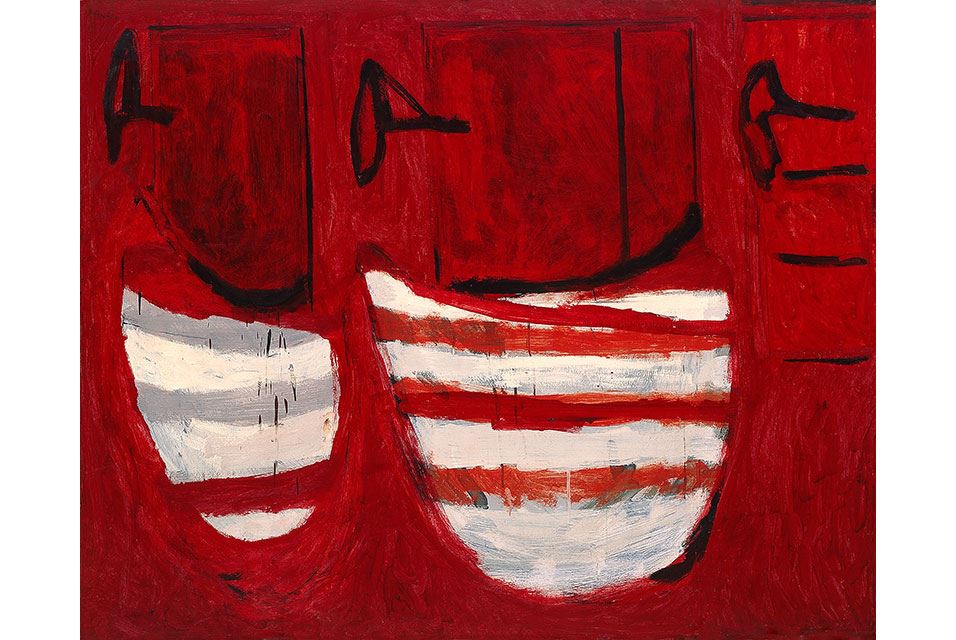 August 24, 1915. Robert Motherwell (January 24, 1915 - July 16, 1991) was an American painter, printmaker, and editor. He was one of the youngest of the New York School (a phrase he coined), which also included Philip Guston, Willem de Kooning, Jackson Pollock, and Mark Rothko. In this image: Robert Motherwell, The Hotel Corridor, 1950. Oil on masonite, 44 x 55 inches, 111.8 x 139.7 cm. © Dedalus Foundation, Inc./ Licensed by VAGA, New York, NY.
---

Museums, Exhibits, Artists, Milestones, Digital Art, Architecture, Photography,
Photographers, Special Photos, Special Reports, Featured Stories, Auctions, Art Fairs,
Anecdotes, Art Quiz, Education, Mythology, 3D Images, Last Week,
.
Royalville Communications, Inc
produces: