John Michael Kohler Arts Center celebrates 50th anniversary with yearlong exhibition
"An Encounter with Presence: Emery Blagdon + Shannon Stratton" (gallery view) is one of 15 exhibitions featured in THE ROAD LESS TRAVELED series at the John Michael Kohler Arts Center throughout 2017.
SHEBOYGAN, WIS.
.-
The Road Less Traveled, a yearlong series of 15 exhibitions at the
John Michael Kohler Arts Center
in Sheboygan, Wis., offers fresh perspectives on the unique field of art environments. This series presents a rare opportunity to experience the work of more than a dozen artist-environment builders from the Arts Center's world-renowned collection. In addition, it incorporates new writing and works of art produced by scholars, curators, musicians, visual artists, and theorists from wide-ranging disciplines in response to art environments. Through connecting its collection with internationally respected thinkers, the Arts Center aims to expand the conversation surrounding of this compelling art form. Since the 1970s, the John Michael Kohler Arts Center has preserved, studied, and exhibited art environments. Today, with well over 20,000 individual works of art by 30 different art-environment builders in the collection, the Arts Center is ...
More
The Best Photos of the Day
Modern art, Picasso pottery + Studio 54 celebrity-photo archive headline Palm Beach Modern auction
Bountiful and beautiful: Skinner's January Fine Art Auctions feature fresh-to-market works
Exhibition series devoted to contemporary photography and video art from Asia opens in New York


Richard P. Manning (American, 1941-2013) gelatin silver print of then-married Alana and Rod Stewart at Studio 54. Photo copyright Estate of Richard P. Manning/image to be sold without copyright. Est. $400-$800. All images courtesy of Palm Beach Modern Auctions.



WEST PALM BEACH, FLA.- While it would have been quite enough for co-owners Rico Baca and Wade Terwilliger to showcase their finest-ever selection of vetted art for Palm Beach Modern's (PBMA) Feb. 4-5, 2017 auction, they didn't stop there. To create an event that would spark interest worldwide, they also secured several spotlight collections that are headline-makers on their own. There's a collection of 16 original T.H. Robsjohn-Gibbings furnishings from a celebrated mid-century residence in California, the estate archive of uncensored Studio 54 gelatin silver prints taken by photographer Richard Manning, and eight exceptional pieces of Picasso pottery. A fascinating backstory accompanies 13 major Latin-American artworks in the ... More



Roy Lichtenstein, The Art Critic (Lot 88, $25,000-35,000).



BOSTON, MASS.- Skinner, Inc. presents an outstanding two-session auction on Friday, January 27 in its Boston gallery. Fine Prints & Photographs starts at 12PM, followed by Fine Paintings & Sculpture at 4PM. Previews will be held on Wednesday, January 25, 12 to 5PM; Thursday, January 26, 12 to 8PM; and Friday, January 27, 9 to 10AM. Robin S. R. Starr, Vice President and Director of American & European Works of Art, notes that in addition to a broad selection of pre-20th-century material, the auction offers an especially robust quantity of modern and contemporary work in all categories. "The market is hungry for this," Robin says, and that hunger can be satisfied with selections that are affordable for beginning collectors, as well as masterworks for the advanced connoisseur. A considerable number of items are from private collections and fresh to market, including notable examples that have descended in the families of the ... More



Daido Moriyama, Untitled, from "a room," 2015 Courtesy The Walther Collection.



NEW YORK, NY.- The Walther Collection inaugurated a yearlong exhibition series devoted to contemporary photography and video art from Asia, to be presented in thematic exhibitions in New York over the course of 2017. Stemming from the collection's first acquisitions of Chinese and Japanese photography in the early 2000s, and highlighting important recent additions, this program features an expansive range of photographic and video work exploring notions of performance, social identity, sexuality, and urban transformation. The first exhibition, Acts of Intimacy: The Erotic Gaze in Japanese Photography opened on Thursday, January 19, 2017. It is organized by guest curator Christopher Phillips, with curatorial coordination and support from Daniela Baumann and Oluremi C. Onabanjo. Acts of Intimacy: The Erotic Gaze in Japanese Photography brings together three key photographic ... More
Galerie Thaddaeus Ropac opens new exhibition by Swiss artist Not Vital
SFMOMA presents "diane arbus: in the beginning" in the new Pritzker Center for Photography
A selection of works by Gianfranco Pardi on view at Cortesi Gallery London


Exhibition view, POLES 2017. Courtesy Galerie Thaddaeus Ropac, London • Paris • Salzburg © Not Vital. Photo: Philippe Servent.



PARIS.- Galerie Thaddaeus Ropac presents POLES, a new exhibition by Swiss artist Not Vital in the Paris Pantin space. Bringing together monumental sculpture, painting, drawing and installation, this large-scale exhibition features a selection of Not Vital's works from the last decade. Not Vital is a singular and unclassifiable artist. Born in 1948 in Sent, a small village located at the end of the Engadine valley in the Swiss Alps, he grew up surrounded by nature. As he says "It took me twenty years to realise that I could make a sculpture of the mountain in front of me. I have seen this mountain since I was born." At the age of 18, he started a nomadic life, immersing himself in the cultures of the places where he settled successively: New York, India, Niger, Brazil, Patagonia, Philippines and China. Over the course of his travels, Not Vital has continuously reflected on the habitat, on the relationship between sculpture and ar ... More



Diane Arbus, Lady on a bus, N.Y.C., 1957; courtesy The Metropolitan Museum of Art, New York / copyright © The Estate of Diane Arbus, LLC. All rights reserved/



SAN FRANCISCO, CA.- The San Francisco Museum of Modern Art presents the West Coast debut of the acclaimed exhibition diane arbus: in the beginning, on view January 21 through April 30, 2017. Organized by The Metropolitan Museum of Art, diane arbus: in the beginning considers the first seven years of the photographer's career, from 1956 to 1962. Bringing together over 100 photographs from this formative period, many on display for the first time, the exhibition offers fresh insights into the distinctive vision of this iconic American photographer. The exhibition is on view in the museum's new Pritzker Center for Photography, made possible by the Lisa and John Pritzker Family Fund. SFMOMA is the only American venue other than The Metropolitan Museum of Art to present this exhibition. A lifelong New Yorker, Diane Arbus (1923–1971) found the city and its citizens an endlessly rich subject for her art. Working in Times Square, ... More



Diagonale, 1982. Acrylic on canvas, 125 × 100 cm. Photo by: Bruno Bani Courtesy: Cortesi Gallery, London – Lugano.



LONDON.- Cortesi Gallery London is presenting a selection of works by Gianfranco Pardi (Milan, 1933–2012), which marks the first-ever solo exhibition in the UK dedicated to this important Italian artist, whose works have been previously displayed in 1982 in a group show at Hayward Gallery, London (Arte italiana, 1960–1982). The exhibition features works from Pardi's Giardino Pensile made in 1968 to his artistic production during the 1980s and complements a previous exhibition held at Cortesi Gallery in Lugano in early 2016 (Gianfranco Pardi. Opere 1968–1982. Architetture, Poeticamente, curated by Bruno Corà). Pardi's artistic research, from its beginning to its very end, offers a continuous survey of space and its representation. By way of rigorous planning, Pardi integrates the techniques of painting, drawing and sculpture to reveal the dynamics and relationships of form and matter. This process was ... More
Albertina opens exhibition of works by Markus Prachensky
Gallery Wendi Norris' second solo exhibition for Vienna-based artist Eva Schlegel opens in San Francisco
Chrysler Museum hires Director of Communications


Markus Prachensky, Rot auf schwarz-Puglia, 1976. Acrylic on paper © Atelier Markus Prachensky.



VIENNA.- Markus Prachensky's radiant, dynamic, and contrast-rich red brushstrokes virtually dance through his oeuvre. His individual works, at turns wild in their gestures and serene in their composition, are at once energetic and meditative. Prachensky, whose strong anchoring in Austria's art scene dates back to the 1950s, is among today's best-regarded Austrian artists internationally. And the Albertina, with its tribute on what would have been his 85th birthday, is bringing together prominent works from its own collection with hitherto unknown works from Prachensky's extensive artistic estate. This exhibition also presents Prachensky's generous gift to the Albertina of four important paintings—key works in his oeuvre—as well as a number of outstanding drawings. Markus Prachensky was born in Innsbruck in 1932 and began studying architecture at the Academy of Fine Arts Vienna in 1952. The ... More



Eva Schlegel, Untitled (225), 2015. Print on Hahnemühle Bütten, 74 1/2 x 53 inches, 202 x 134.7 cm ( ). Edition 3/3 + 1AP. Photo: Courtesy of the artist and Gallery Wendi Norris, San Francisco.



SAN FRANCISCO, CA.- Gallery Wendi Norris is presenting Subverting Solidity, the gallery's second solo exhibition for Vienna-based artist Eva Schlegel. Schlegel's new large and mid-scaled photographs depict the abstraction of architectural space. Minimal and ethereal, set mostly in tones of white, gray and black, these 17 images float the eye through physical environments in ways impossible in real time and space. By denying the eye the hard line rationality of familiar architecture and the grounding effect of gravity, these photographs free the viewer from a building's intended function, permit the imagination to roam and encourage the mind to reimagine the experience of place. This new body of work, part of the artist's continuing series of blurred spaces, asks the viewer to reconsider the role that architecture ... More



Gray most recently served as the marketing manager of software developer Welligent, which offers a cloud-based electronic health record system serving healthcare providers nationwide.



NORFOLK, VA.- The Chrysler Museum of Art announced the appointment of Meredith Gray as Director of Communications. She will lead the Museum's marketing and communications efforts and work with teams across the Museum to engage the local community and continue to expand the Chrysler's reach. "The Chrysler is more than a museum; it is a multifaceted experience. It is an anchor to the fast-growing NEON district and creative community in Norfolk, Va., which is such a draw to our region," says Gray. "I look forward to sharing the Chrysler's mission and playing a role in broadening access to art through the various programs the Chrysler has to offer." Chrysler Director Erik Neil says Gray brings valuable experience in strategic marketing and communications including website development and social media management, ... More
Vleeshal Markt opens exhibition on the work of choreographer, theorist and textile artist Noa Eshkol
One of the largest collections of Alice in Wonderland books and memorabilia goes on sale
Jennifer Rubell's first New York solo exhibition on view at Sargent's Daughters


Noa Eshkol, Coconut Trees, 1979 (detail). Courtesy Galerie neugerriemschneider.



MIDDELBURG.- I Look at the Moon and Think about my Daughter-in-Law is an exhibition in two parts on the work of influential choreographer, theorist and textile artist Noa Eshkol (Israel, 1924-2007). Disappointed with the existing notation systems for dance (Rudolf von Laban's Labanotation for example), Noa Eshkol set out to develop a new notation system for movement. She wanted her system to provide the means for the most accurate description of "transitions" (as opposed to notating fixed poses and taking the transition from one pose to another for granted). In collaboration with architect Abraham Wachman, she succeeded in developing a unified method of writing and recording: the Eshkol-Wachman Movement Notation (EWMN) system. It uses numbers and a minimal alphabet of symbols in a grid format, offering dancers and choreographers a systematised tool to compose and notate dance - and all other forms of movement. The conceptual ... More



A silk covered folder titled An Easter Greeting to Every Child who Loves Alice, together with two examples of The Wonderland Postage-Stamp-Case with a leaflet titled Eight or Nine Wise Words About Letter Wring by Lewis Carroll.



OXFORD.- A remarkable collection of Alice in Wonderland books and memorabilia, among the largest in the world, goes on sale with Mallams auctioneers in Oxford next month. The 'Oxford Authors Sale' at Mallams on February 8 includes more than 3,000 Alice items acquired across a 25-year collecting odyssey by the late Thomas Schuster and his wife Greta. Thomas E Schuster, who died in 2013, aged 76, was an international antiquarian books and prints dealer based in Maddox Street in Mayfair, London. His interest in English children's literature was first ignited by a client in Japan and he became a recognised expert in the works of Kate Greenaway, Beatrix Potter and the Enid Blyton character 'Noddy'. He published the Kate Greenaway catalogue raisonne in 1986. But it was the Victorian writer, photographer and mathematician ... More



Jennifer Rubell, Vessel, 2017. Resin, food-safe paint, oatmeal chocolate chip cookies (from Hillary Clinton's recipe) 65 x 36 x 36 inches.




NEW YORK, NY.- Sargent's Daughters is presenting Housewife, Jennifer Rubell's first New York solo exhibition. The show includes new participatory sculptures and interactive paintings. Housewife is on view through February 26, 2017. The works in Housewife engage the public through temptation, humor and physical suggestion. The traditional viewer/artwork relationship is reconfigured to place the viewer and object in positions of equal power. Interaction is Rubell's core medium, which she uses to explore a tricky question of female self-definition: the role of others in feminine identity. The second-wave feminism of Rubell's formative years instilled in the artist the courage to define herself however she pleased, with one glaring exception. "I always had all the skills of a housewife," says Rubell, "I thought about other people almost all the time, I liked home life, I loved ... More
Quote
I have handled color as a man should have. Josef Albers
---
Marie Antoinette's Personal Portraitist and the Unlikely Painting of an Indian Ambassador
---
Flashback
On a day like today, French painter Édouard Manet was born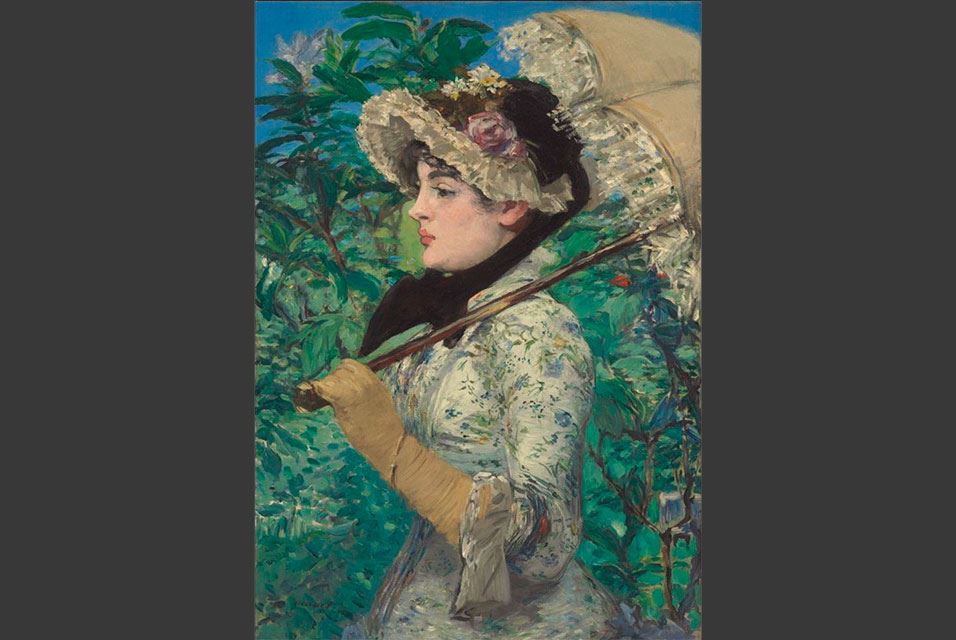 August 23, 1832. Édouard Manet (23 January 1832 - 30 April 1883) was a French painter. He was one of the first 19th-century artists to paint modern life, and a pivotal figure in the transition from Realism to Impressionism. In this image: Edouard Manet (1832-1883), Le Printemps oil on canvas, 29 1/8 x 20 1/4 in. (74 x 51.5 cm.), painted in 1881 Estimate: $25-35 million. Photo: Christie's Images Ltd 2014.
---

Museums, Exhibits, Artists, Milestones, Digital Art, Architecture, Photography,
Photographers, Special Photos, Special Reports, Featured Stories, Auctions, Art Fairs,
Anecdotes, Art Quiz, Education, Mythology, 3D Images, Last Week,
.
Royalville Communications, Inc
produces: