Bauhaus design turns 100 as disputes over its legacy churn
A student at the Bauhaus University works on his project in the metal workshop, in Weimar, eastern Germany, on January 15, 2019. Bauhaus, the design school that left its mark on everything from teapots to tower blocks and iPhones to Ikea, marks its centenary this year, touching off a politically charged debate about its lasting impact. John MACDOUGALL / AFP.

by Deborah Cole
WEIMAR
(AFP)
.-
Bauhaus, the design school that left its mark on everything from teapots to tower blocks and iPhones to Ikea, marks its centenary this year, touching off a politically charged debate about its lasting impact. The influence of Bauhaus, created during the turbulent period between the world wars and finally chased out of Germany by the Nazis, can hardly be overstated. Its radical "form follows function" and "less is more" tenets have become so commonplace that the aesthetics of the modern world are unthinkable without them. Weimar, with its winding cobblestone alleys and primly restored historical buildings, might seem like an unlikely ground zero for the bombshell launched by Walter Gropius with the school's founding on April 1, 1919. But the small city 250 kilometres (150 miles) southwest of Berlin has ...
More
The Best Photos of the Day
Tacoma Art Museum's new Benaroya Wing designed by award winning architects Olson Kundig opens to the public
Tomás Saraceno's first-ever solo exhibition in Los Angeles on view at Tanya Bonakdar Gallery
Pioneering female artists to highlight Sotheby's Sale of 19th Century European Art in New York


The addition includes 4,800 square feet of new gallery space, which contains works from TAM's permanent collection, including the Benaroya Collection.



TACOMA, WA.- The newest addition to flank the Tacoma Art Museum is the Rebecca and Jack Benaroya Wing, a 6,595-squarefoot expansion to showcase the Rebecca and Jack Benaroya Collection gift. The wing opened to the public on January 19. Led by Design Principal Tom Kundig, FAIA, RIBA, and Principal Kirsten R. Murray, FAIA, the design of the Benaroya Wing balances opacity and transparency providing symmetry with the recent TAM addition of the Haub Family Galleries, also designed by Olson Kundig. The addition also strengthens the visual connection between TAM and the city by activating the north end of the museum and offering a new platform for visitors to observe the urban context from the galleries. "With the new Benaroya Wing, I'm most excited about the opportunity to break down traditional thresholds between the museum and the public. The new vista gallery is designed to entice people inside to view the Benaroya Collection ... More



Tomás Saraceno, Installation view at Tanya Bonakdar Gallery, Los Angeles, January 12—March 2, 2019. Photo by Joshua White. Courtesy the artist and Tanya Bonakdar Gallery, New York / Los Angeles.



LOS ANGELES, CA.- Tanya Bonakdar Gallery is presenting the first-ever solo exhibition in Los Angeles of renowned artist Tomás Saraceno. This is the artist's seventh solo exhibition with the gallery. On view from January 12 through March 2, 2019, the exhibition features a variety of new sculptures, installations, and two-dimensional works that continue Saraceno's mediations into the ecologies in which we are embedded and our perception and understanding of them. Directly following the artist's critically acclaimed solo presentation ON AIR at Palais de Tokyo in Paris, the most visited exhibition in the history of the institution, the gallery exhibition presents an ecosystem that hosts a choreography of multiple voices, belonging to human and non-human universes. This exhibition tells stories from the perspective of the web—which is not separate to the spider, but a material extension of its senses and thoughts, an ... More



Elizabeth Jane Gardner Bouguereau, La Captive, signed Elizabeth Gardner (lower left), oil on canvas, 68 by 47 in. 172.7 by 119.4 cm. Estimate: $250/350,000. Courtesy Sotheby's.



NEW YORK, NY.- Sotheby's auction of 19th Century European Art on 1 February 2019 will present over 200 works that reflect the rich diversity of artistic production of the period. Paintings by Rosa Bonheur, Virginie Demont-Breton and Elizabeth Gardner Bouguereau are among the highlights from The Female Triumphant – a group of masterworks by trailblazing female artists from the 16th through the 19th centuries, which will be offered across the Masters Week sales this January. The sale is further distinguished by William Bouguereau and Jules Breton's portraits of rural life, Sir Lawrence Alma-Tadema and John William Godward's epic visions on the Ancient world, and Pascal Adolphe Jean Dagnan-Bouveret and Jean Béraud's views of life in the Belle Époque – many of which are from private collections and resurfacing at auction for the first time in over a century. Open to the public on 25 January, the sale will be ... More
Marc Newson's first exhibition of limited-edition furniture pieces in more than a decade opens at Gagosian
Kayne Griffin Corcoran opens an exhibition of works made between 1958-1967 by Beverly Pepper
Solo exhibition of new work by Nicolas Deshayes on view at Modern Art


Marc Newson, Chair, 2017, cast glass, 29 1/8 × 27 1/4 x 21 5/8 inches (74 × 69 × 55 cm) © Marc Newson.



NEW YORK, NY.- Gagosian is presenting new works by designer Marc Newson. This is Newson's first exhibition of limited-edition furniture pieces in more than a decade. From the outset of his singular career, Newson has pursued parallel activities in limited and mass production of functional design objects. From the iconic Lockheed Lounge (1986) to the streamlined Extruded Tables and Voronoi Shelf (both 2006), carved from single blocks of Carrara marble, Newson approaches design as both an exploratory technical exercise and a process of conceptual, aesthetic, and physical refinement. Employing sculptural principles to address issues of efficiency, luxury, and use value, he has produced a broad array of highly crafted commodities—watches, footwear, luggage, furniture, transport—upholding the principle that engineering and aesthetics are inseparable. Revisiting his roots as a jeweler and silversmith, in this exhibition ... More



Beverly Pepper, Bedford Column, 1980. Bronze, 21 3/4 x 5 3/4 x 5 1/4 inches, 55.2 x 14.6 x 13.3 cm. Images courtesy of the artist and Kayne Griffin Corcoran, Los Angeles.



LOS ANGELES, CA.- Kayne Griffin Corcoran is presenting the gallery's second solo exhibition of work by, 96 year-old American born, Italy based sculptor, Beverly Pepper. The presentation highlights the work this great artist created early on in her career between 1958 – 1967. During this period, Pepper carved out a niche in her own signature sculptural language. In addition to early works, the exhibition includes works from later years: 1970 – 1980. The show title, "New Particles From The Sun" is culled from a poem written by Frank O'Hara and included in a catalogue published in support of an exhibition staged in Rome 1965. In the poem, O'Hara uses descriptions of minerals such as sand and bronze, New World travel, and fragments of prose to assimilate the expressive nature of the works included in the exhibition. In ancient Greek ... More



Nicolas Deshayes, Blister, 2018, glazed slip-cast earthenware, 13 x 31 x 26 cm, 5 1/8 x 12 1/4 x 10 1/4 ins. Photo: Robert Glowacki. © Nicolas Deshayes. Courtesy the artist & Modern Art, London.



LONDON.- Modern Art is presenting a solo exhibition of new work by Nicolas Deshayes entitled Swans. This is his second solo exhibition with Modern Art. Working primarily with various methods of industrial casting, Nicolas Deshayes's sculptures tend to be hard, made from materials such as plastic, ceramic, vitreous enamel, aluminium or cast iron. Formally, however, his works reference soft, moving and malleable things; things that are alive and functioning. Recent works have operated as working metal radiators that pump water around a room, or water fountains in public ponds, while being formally suggestive of the interior of a body. Deshayes is concerned with turning the inside out. Plumbing systems that are usually hidden, both of the body – intestines, bowels — but also of the domestic and civic environment that carries ... More
Outsider Art Fair opens 27th edition with strong sales & attendance
Exhibition centers on a group of rarely or never-before-seen works by Richard Artschwager
Salon du Dessin to put the spotlight on drawing 27th March- 1st April in Paris


Jessica Lange looks at a work of art at the Outsider Art Fair. Photo: Olya Vysotskaya.



NEW YORK, NY.- On Thursday night, over 2,500 fair-goers attended the opening day of the 27th edition of the Outsider Art Fair, the only fair dedicated to Self-Taught Art, Art Brut and Outsider Art from around the world. Guests representing the art, culture, fashion, and entertainment milieu attended an early preview held at the The Metropolitan Pavilion, located at 125 West 18th Street in New York City, including Actresses Edie Falco, Jessica Lange, Elizabeth Marvel, and Susan Sarandon; Musicians Jack Antonoff, Lee Ranaldo, Andy Rourke; Artists Maurizio Cattelan, Hugo Guinness, and Peter McGough; Curators Jason Busch, Matthew Higgs, Jeanne Greenberg, Anne Pasternak, Valérie Rousseau, Stephanie Stebich, and Max Hollein; Collectors Monty Blanchard & Leslie Tcheyan, Michael & Eileen Cohen, Marty & Rebecca Eisenberg, Agnes Gund, and Jacqueline Schnabel. "We are thrilled with the turnout. Our booth ... More



Installation view of Richard Artschwager: Self-Portraits and the American Southwest.



NEW YORK, NY.- David Nolan Gallery is presenting Richard Artschwager: Self-Portraits and the American Southwest, an exhibition centering on a group of rarely or never-before-seen works by the late American artist. Spanning the final years of his life, from 2008 to his death in 2013, the display examines the markedly personal nature of this last phase, in which Artschwager's oeuvre came full circle to his earliest explorations of landscape and self-representation. On view in our second gallery is a selection of sculptures – "blps", bristle works, and corner pieces – ranging in date from 1969 to 1995. Artschwager grew up in the American Southwest in Las Cruces, New Mexico whose dramatic vistas and unbounded topography left a lasting impression on the artist throughout his life. At an early age, his mother, Eugenia (herself a painter), taught Artschwager how to draw, and took him on frequent trips out into the desert ... More



Egon Schiele (1890-1918), Femme debout se couvrant le visage avec les deux mains, 1911, gouache, aquarelle et crayon sur papier, 44,7x31,5cm, signé et daté au centre à droite.



PARIS.- The eagerly anticipated Salon du Dessin will take place again this spring under the vaulted roof of Paris's Palais brongniart and will once again feature a selection of outstanding works on paper. among the 39 exhibitors from around the world will be four handpicked new galleries and two that are returning after an absence of a few years. among the treasures on display will be rare drawings by Egon Schiele and Gustav Klimt, presented by the Austrian gallery Wienerroither & Kohlbacher, and a solo show of the work of contemporary artist Jean-Baptiste Sécheret on the stand of Galerie Jacques Elbaz. The German dealer Martin Moeller will celebrate 100 years of drawings from his country, while the Galerie de la Présidence features drawings by sculptors. The 28th edition of the art fair will also host two museum-level ... More
Exhibition presents a new sound installation and sculptural works by Oliver Beer
Marianne Boesky Gallery opens Atlanta-based artist Paul Stephen Benjamin's first solo exhibition in New York
Italy's Matera in cultural limelight after slum 'shame'


Oliver Beer. Photo: Benjamin Westoby.



PARIS.- With Household Gods, Galerie Thaddaeus Ropac Paris is presenting an exhibition of new sound installation and sculptural works by Oliver Beer, which reflects the artist's current exploration of the relationship between sound and form, and the innate musicality of the physical world. The "Household Gods" of the title are physical objects, placed on plinths in a whitened room and idolized to the point where they can sing. In the main space of the gallery, they are given voice and raised to the status of household divinities. Beer uses microphones to amplify the ambient sound ricocheting within the internal spaces of the objects, creating gentle acoustic feedback loops, that allow us to hear the innate sound of each object. These notes are determined by volume and form of empty space, and have remained unchanged since the day each piece was created. Reflecting the omnipresent tradition of animism ... More



Paul Stephen Benjamin, Ceiling, 2017. Tempered glass Dimensions variable, 16 x 24 inches, 40.6 x 61 cm. Edition of 3, with 2 AP. Courtesy of the artist and Marianne Boesky Gallery, New York and Aspen. © Paul Stephen Benjamin. Photo: Jason Wyche.



NEW YORK, NY.- On January 19, Marianne Boesky Gallery opened Pure, Very, New, Atlanta-based artist Paul Stephen Benjamin's first solo exhibition in New York. Presented across both of the gallery's Chelsea locations, at 509 and 507 W. 24th Street, the exhibition features Benjamin's paintings, photographs, sculpture, and single and multi-channel video installations, as well as a new site-specific black light installation created in the internal passageway between the two spaces. Curated by independent curator Lisa Freiman, the exhibition highlights Benjamin's years-long examination of the word "black" as a linguistic, conceptual, and cultural construct. Pure, Very, New, which is accompanied by a catalogue, will remain open through February ... More



A man walks in the evening through a small street on October 19, 2018 of the southern Italian city of Matera, which has been selected as the 2019 European capital of culture. Filippo MONTEFORTE / AFP



MATERA (AFP).- European Capital of Culture status has shone a spotlight on Italy's oldest city, whose previous claims to fame were as a cinematic "New Jerusalem" but also its "shameful" slums. Matera, around 9,000 years old and one of the world's longest continuously inhabited cities, after Aleppo and Jericho, was Saturday embarking on a 48-week extravaganza ushering it out of the shadows into the global cultural limelight. The city shares its mantle this year with Bulgaria's similarly ancient provincial city of Plovdiv, which is known not least for its 4th Century BC conquering by the father of Alexander the Great. But Matera's story is quite literally one born of a down-at-heel experience, the southern city nestling close to that part of Italy's boot-shaped peninsula. Centuries ... More
Quote
The cypresses are always occupying my thoughts. Vincent van Gogh
---
Treasures from Another Era: The Gilded Age Revisited
---
Flashback
On a day like today, French painter Jean-François Millet died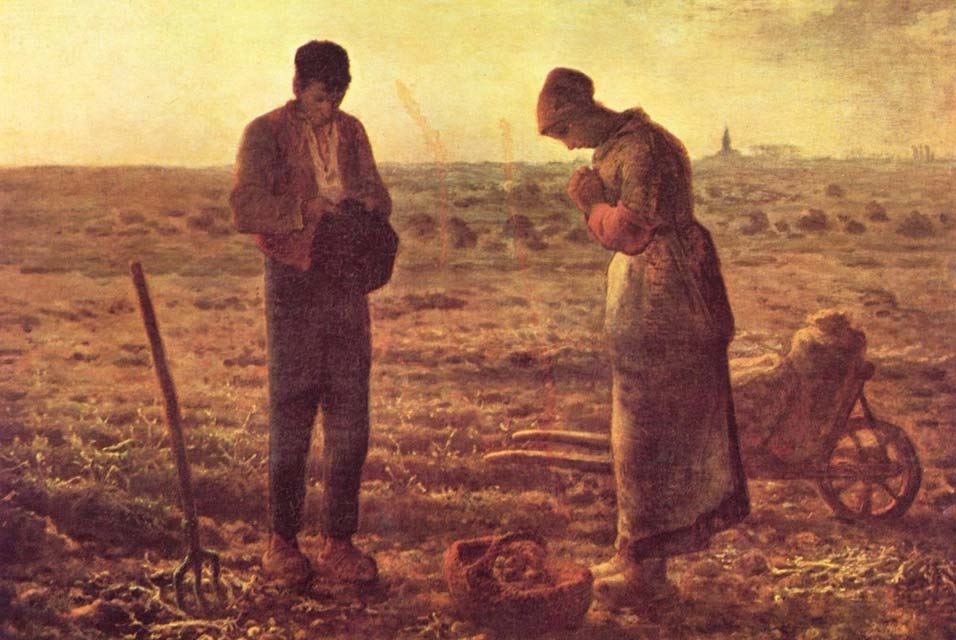 August 20, 1875. Jean-François Millet (October 4, 1814 - January 20, 1875) was a French painter and one of the founders of the Barbizon school in rural France. Millet is noted for his scenes of peasant farmers; he can be categorized as part of the Realism art movement. In this image: The Angelus by Jean Francois Millet.
---

Museums, Exhibits, Artists, Milestones, Digital Art, Architecture, Photography,
Photographers, Special Photos, Special Reports, Featured Stories, Auctions, Art Fairs,
Anecdotes, Art Quiz, Education, Mythology, 3D Images, Last Week,
.
Royalville Communications, Inc
produces: