Photographs by Spencer Tunick from the collection of Stéphane Janssen on view in Tempe
Spencer Tunick, Dead Sea 4. Chromogenic print mounted between plexi, 30" x 37 1/2" (76.2 x 95.2 cm) 2011. Photo: Courtesy of the artist and Stéphane Janssen.
TEMPE, ARIZ
.-
On Jan. 14, 2016, the Arizona State University Art Museum opens the exhibition Participant: Photographs by Spencer Tunick from the Stéphane Janssen Collection, which includes more than 20 photographs by Spencer Tunick from 1997 to 2013 drawn from the collection of Stéphane Janssen. Tunick will give a gallery talk Wednesday, Jan. 13, at 1:30p.m., and both Tunick and Janssen will attend the exhibition opening Thursday, Jan. 14, from 5–7 p.m. Since the early 1990s, Tunick has traveled the globe to create staged images of multiple nude figures in public settings. And since 2000, collector Stéphane Janssen has been a participant in Tunick's photographs, which have ranged from a handful of figures in an art museum to thousands of volunteers in the Dead Sea in Israel. Janssen, who is now 80, posed for the first time on a street in Harlem, New York, with 25 other people. Most recently, Janssen was one of 1,000 people covered from head to toe in dramatic red and gold body paint in fro ...
More
The Best Photos of the Day
Electric shock: £4M Warhol leads Bonhams' Post-War and Contemporary Art Sale
Getty acquires 31 pieces of French decorative arts from collection of Dr. Horace Wood Brock
Solo exhibition of select paintings by Ronnie Landfield opens at Stux + Haller


The monumental canvas, which measures more than two metres high, is drawn from two of the most celebrated series of Warhol's entire output. Photo: Bonhams.



LONDON.- Featuring the swipe of a finger and paint in some places a centimetre thick, Andy Warhol's Fourteen Small Electric Chairs will come to market publicly for the first time in 20 years on 11 February. It leads Bonhams' Post-War and Contemporary Art sale at Bonhams New Bond Street with an estimate of £4,000,000-6,000,000. The monumental canvas, which measures more than two metres high, is drawn from two of the most celebrated series of Warhol's entire output. Devised in 1980 as part of the Pop Art master's Reversals series, a post-modern reworking of his best-known compositions, Fourteen Small Electric Chairs transforms the iconography from Warhol's 1960s Death and Disaster series. As if he was re-appropriating his own signature, Warhol reconstructed the 14 electric chair paintings he had created for his ... More



Wall Clock, about 1785. Unknown; Clock movement probably by Nicolas Thomas (French, died after 1806, master 1778). Gilt bronze, enameled metal, glass. 49.5 x 55.9 cm (19 1/2 x 22 in.) The J. Paul Getty Museum, Los Angeles, Partial gift of Dr. Horace W. Brock in memory of Philippe Kraemer.



LOS ANGELES, CA.- The J. Paul Getty Museum today announced the acquisition of an important collection of eighteenth-century French decorative arts assembled by Dr. Horace Wood (Woody) Brock, one of the world's foremost economists. The acquisition is a combined gift and purchase. The thirty-one works of art include seven clocks; six gilt-bronze mounted porcelain, feldspar and porphyry objects; five works in gilt bronze including a pair of candelabra, two sets of firedogs, and two sets of decorative vases; a carved gilt-wood console table; a porcelain inkstand; and a leather portrait medallion of Louis XIV. The collection substantially enhances the Getty Museum's extraordinary holdings of French decorative arts, ... More



Ronnie Landfield, East Hudson (for Sarah), 2009. Acrylic on canvas, 82 x 53 inches (208 x 135 cm).



NEW YORK, NY.- Stux + Haller announce the opening of Ronnie Landfield: Five Decades, a solo exhibition of select paintings spanning the artist's career from the late 1960's to his most recent work in 2015. The exhibition opens on January 13th and runs until February 20th. During the five decades of his career Ronnie Landfield has stayed true to his course as a painter of soaring veils of color. Louis Zona, Director of the Butler Institute of American Art, wrote: "To stand in front of a Landfield painting is to be transported into a world where color feeds upon color and every inch of the canvas is considered." Ronnie Landfield was the youngest of the youthquake generation of American artists of the 1960's. He began painting in 1962 at the tender age of 15. At 16 he was at the Kansas City Art Institute. By 1969 his luminous paintings had already been exhibited in museum exhibitions such as the Whitney Annual (la ... More
Bottle of Canadian beer still drinkable after 120 years: Researcher from Dalhousie University in Halifax
Exhibition at Galerie Perrotin in Paris meaningfully traces back the footprints of Origin
Sculptures, objets d'arts, and works on paper by David Beck on view at Allan Stone Projects


The bottle from the "Alexander Keith" brewery was nearly full when a diver recovered it from the bottom of the Atlantic in November. Photo: Andrew MacIntosh.



MONTREAL (AFP).- A bottle nearly as old as Canada discovered last year contained a bitter-tasting beer that was just about drinkable but not very good, a researcher who tested it said Thursday. The bottle from the "Alexander Keith" brewery was nearly full when a diver recovered it from the bottom of the Atlantic in November. It was brewed in Halifax sometime between 1872 and 1890, just a few years after the birth of the Canadian Confederation in 1867, according to the team that studied it. Andrew MacIntosh, who carried out the tests with colleagues at Dalhousie University in Halifax, said they determined the bottle's age by its construction and inscriptions on its cap. Tests indicated that the liquid had a low pH, that it still contained alcohol and was not toxic, he told AFP. "It's not good. Beers don't age well, especially in the bottom of the ocean," said MacIntosh, an expert on fermentation who took a sip of it. He said the beer gave off a whiff of sulfur, as well ... More



LEE Seung-Jio, "Nucleus 85-1", 1985. Oil on canvas, 145.5 x 112 cm / 57 5/16 x 44 1/8 inches. Photo : Claire Dorn Courtesy Galerie Perrotin.



PARIS.- The current exhibition entitled ORIGIN organized at Galerie Perrotin, Paris, meaningfully traces back the footprints of Origin, a group founded in 1962 by a few elite artists comprised of graduates of the painting department at Hongik University, a prestigious private school in Korea. Origin has continued its development for over fifty years, which is exceptional for an art group, and has contributed in refreshing and broadening the boundaries of abstract art. Artists participating in this exhibition are the original founding members of Origin; CHOI Myoung-Young, SUH Seung-Won, and LEE Seung-Jio. These artists are prominent members who exude distinct individuality while consistently exploring abstract art. The artists participating in this exhibition were born in the early 1940s and are live witnesses of the Japanese occupation, the Korean War, and the 4.19.1960 Revolution. Political turmoil such as the dark ... More



David Beck, Momentary Indiscretions, 1984. Mixed media: wood, glass, modeling clay, metal, wire and hair, 65 x 10 1/2 x 21 1/2 in.



NEW YORK, NY.- Allan Stone Projects presents David Beck: Alligator Maintenance and Other Esoterica, on view from January 12- February 20, 2016. Selected from the Allan Stone Collection, this solo exhibition surveys sculptures, objets d'arts, and works on paper spanning over thirty years by the multidisciplinary artist. The exhibition highlights two monumental works including the DODO MUSEUM, 1980, which was recently exhibited at the Smithsonian American Art Museum in 2014-2015, and a mechanized self-portrait sculpture of the artist. The DODO MUSEUM is a sophisticated example of Beck's refined carving techniques. Referencing Greek revival and Victorian architectural motifs, the museum opens up to a replicated skeleton of the extinct bird and a gallery of miniature paintings recounting its poignant history. Unlike most sculptors, Beck invites the viewer to explore a sculpture's insides, to witness its ... More
Buttersworth painting at the helm of Important Maritime Paintings Auction at Bonhams
Exhibition of circus-themed works by the Austrian-born American sculptor, Chaim Gross on view at Forum Gallery
"Language of the Birds: Occult and Art" opens at New York University's 80WSE


James Edward Buttersworth, The American clipper ship Black Warrior outward bound (detail), 29 x 36 in. (73.6 x 90.4 cm.). Estimate: US$ 300,000 - 500,000. Photo: Bonhams.



NEW YORK, NY.- Bonhams announces the upcoming auction of Important Maritime Paintings and Decorative Arts on Thursday, Jan. 28 in New York. Leading the sale is a painting by James Edward Buttersworth (1817-1894) and a model of a 120-gun ship (1841). The oil on canvas signed work by Buttersworth, estimated at U.S. $300,000-500,000, is of an American clipper ship "Black Warrior" that first sailed from New York to London, then Australia, covering three continents in the initial years after its launch. The English-born painter is one of the foremost maritime artists of the 19th century. "Important Maritime Paintings is one of the most interesting sales that Bonhams presents. It is tightly curated, and represents masterpieces by some of the most prominent maritime painters, including James E. Buttersworth, Robert Salmon, Montague Dawson, ... More



Chaim Gross, Tightrope Dancer, 1974. Bronze, 63 x 16 1/2 x 14 1/2 inches. Edition of 4 © Estate of Chaim Gross, Courtesy of Forum Gallery, New York.



NEW YORK, NY.- Forum Gallery is presenting On with the Show, an exhibition of circus-themed works by the Austrian-born American sculptor, Chaim Gross (1904-1991). For Gross, a figurative sculptor who carved in wood, modeled in clay, and cast in bronze, the physicality of circus performers and their gravity-defying feats presented rich contrasts and juxtapositions for his art. As Susan Greenberg Fisher, Executive Director of the Renee and Chaim Gross Foundation, states in her essay for the exhibition catalogue, "The experience of the circus was a temporary journey to the brink of danger and even death through the performers' feats of strength and endurance…circus performers offered Gross a way to rethink the sculptural depiction of the body, particularly the female body. Acrobats, strongwomen, and bareback riders were athletic, colorful, graceful, and strong, and they took their bodies to extremes." As ... More



Leonora Carrington, El Nigromante (The Conjuror), ca. 1950. Oil on canvas, 28.75 x 21.25 in. Courtesy of Weinstein Gallery.



NEW YORK, NY.- Language of the Birds: Occult and Art considers over 60 modern and contemporary artists who have each expressed their own engagement with magical practice. Beginning with Aleister Crowley's trance portraiture and Austin Osman Spare's automatic drawing of the early 20th century, the exhibition traces over 100 years of occult art, including Leonora Carrington and Kurt Seligmann's surrealist explorations, Kenneth Anger and Ira Cohen's ritualistic experiments in film and photography, and the mystical probings of contemporary visionaries such as Francesco Clemente, Kiki Smith, Paul Laffoley, BREYER P-ORRIDGE, and Carol Bove. Their concerns and influences are as eclectic as the styles in which they work. While several of their pieces deal with "high" or ceremonial magic, others draw from so-called "low magic" practices and have deeply chthonic roots. The approaches in technique are varying ... More
Simon Lee Gallery presents New York-based artist Valerie Snobeck's first solo exhibition in Asia
Lark Mason Associates announces January Sale of Fine And Decorative Works of Art Live on iGavel Auctions
Emily Sano named Senior Advisor for Asian Art at the San Antonio Museum of Art


Valerie Snobeck, 1972/1857 (Biscayne Bay), 2014. Debris netting, partially removed mirror, peeled prints, linen, burlap on plastic, wood, water-based sealant, hardware, door barricade brackets, 152.4 x 114.3 x 5.1 cm (60 x 45 x 2 in.). Courtesy of the artist and Simon Lee Gallery.



HONG KONG.- Simon Lee Gallery presents for the first time in Asia, an exhibition of new works by New York-based artist Valerie Snobeck. They are used plastic reservoirs; stained with wiper fluid, burnt by the engine, patterned with dust, grease, the traces of speed. Their shape and volume engineered to fit perfectly into the voids of the machine's most essential components. The fluid washes away parts of the environment that have accrued with movement. They are mold-formed blown glass. Sculpted with exhalation. Breathed into the atmosphere, captured by oceans and plants, consumed and eventually pushed into the inner voids of the mold. At once industrial and organic, they remind us of the impossibility of such segregation. The once ... More



An Italian Rococo Revival Gilt Wood and Onyx-Top Table, 19th Century and Later.



NEW YORK, NY.- Lark Mason, founder and president of Lark Mason Associates, has announced that more than 250 lots of important fine and decorative arts will be up for bidding on iGavel Auctions in a sale that goes live on January 19th through February 9th th. The works represent an exemplary selection of European and American works of art from the 17 to 2oth centuries. Consigned by two Texas private collections, the sale includes a large selection of Western subject paintings and prints by artists including Thomas Hart Benton, Grant Wood, James Allen, and Michael Gregory and represent a wide spectrum of subjects and media. Decorative arts are highlighted by a large selection of works from a New York estate and include a pair of important gilt-bronze and malachite torchères signed by Pierre-Philippe Thomire, the eminent bronze sculptor active in the late 18th and early 19th century. Rounding out the auction are a large group ... More



Sano is Director Emerita of the Asian Art Museum of San Francisco.



SAN ANTONIO, TX.- The San Antonio Museum of Art announces Emily J. Sano, PhD, has been appointed Coates-Cowden-Brown Senior Advisor for Asian Art. Sano will oversee Asian art: mentoring junior colleagues, overseeing the extensive collections, and devising exhibition plans. She begins at the Museum on January 12, 2016. Last year, Sano was guest curator for the San Antonio Museum of Art's Ancient to Modern: Japanese Contemporary Ceramics and Their Sources. Sano is Director Emerita of the Asian Art Museum of San Francisco. She previously worked at the Dallas Museum of Art as Deputy Director and Chief Curator of Non-Western Art and at the Kimbell Art Museum in Fort Worth, where she served as the Curator of Asian Art and Deputy Director of Academic Services. "Emily has already brought her considerable powers of connoisseurship and scholarship to the good of our collections. We ... More
Quote
Art is a revolt against fate. Andre Malraux
---
HOW TO SEE | Charles White: A Retrospective
---
Flashback
On a day like today, Belarusian-French painter Chaim Soutine was born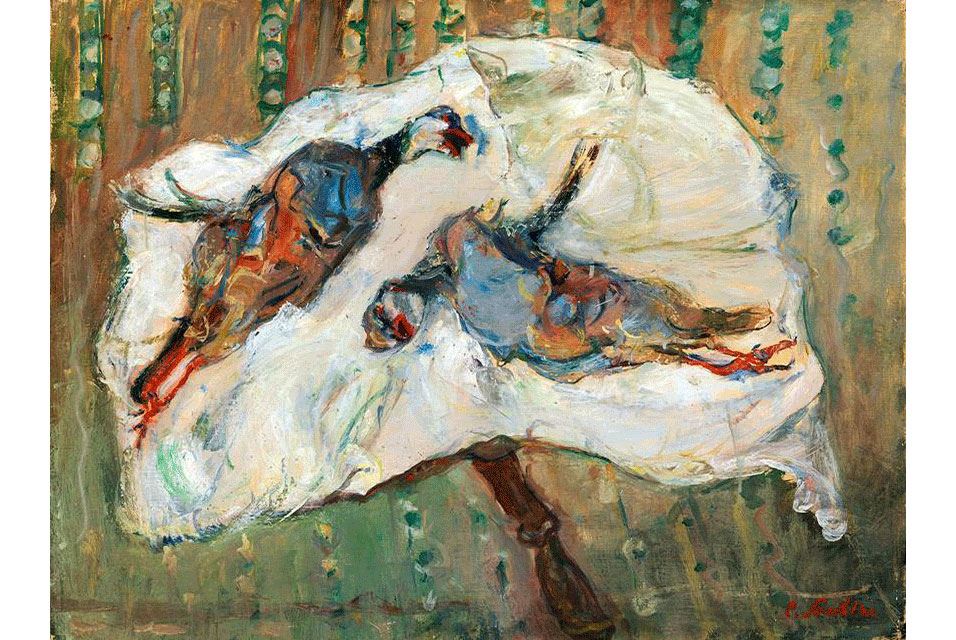 August 13, 1893. Chaïm Soutine (13 January 1893 - 9 August 1943) was a Russian-French painter of Jewish origin. Soutine made a major contribution to the expressionist movement while living in Paris. Inspired by classic painting in the European tradition, exemplified by the works of Rembrandt, Chardin and Courbet, Soutine developed an individual style more concerned with shape, color, and texture over representation, which served as a bridge between more traditional approaches and the developing form of Abstract Expressionism. In this image: Chaim Soutine, Two Pheasants.
---

Museums, Exhibits, Artists, Milestones, Digital Art, Architecture, Photography,
Photographers, Special Photos, Special Reports, Featured Stories, Auctions, Art Fairs,
Anecdotes, Art Quiz, Education, Mythology, 3D Images, Last Week,
.
Royalville Communications, Inc
produces: