Outcry in UK as Natural History Museum's Dippy goes the way of the dinosaurs
The 1905 diplodocus cast has been on display for 35 years and was donated to the museum by the wealthy businessman Andrew Carnegie, based on the original specimen in the Carnegie Museum in the United States. Photo: Art Fund.

By: Mohammed Abbas
LONDON
(AFP)
.-
Plans to move "Dippy" the dinosaur from his home in London's Natural History Museum made national news on Thursday, triggering an outcry from fans, an online petition and even a fake Twitter account. Longer than two London buses, the cast of fossilised diplodocus bones will be moved from the entrance hall in 2017 after more than 30 years and replaced by a blue whale suspended from the roof. As the Sky News channel asked pundits whether "whales are more relevant than dinosaurs", #savedippy began to trend on Twitter and many Britons spoke of their fond childhood memories of visiting the skeleton. "The blue whale is just a one-hit wonder. He's no icon that leaves tens of thousands of children staring upward in awe. He's no glimpse at the past, no celebration of the future, no palaeontologist's wet dream," the Metro newspaper said in an online petition. ...
More
The Best Photos of the Day
Seattle Art Museum and Clark Art Institute wager major works of art on Super Bowl XLIX
Exhibition recognises Alan Cristea's significant contribution to print publishing
Rediscovered preparatory work for one of Constable's most celebrated masterpieces soars to $5.2 million


Winslow Homer, West Point, Prout's Neck, 1900.



WILLIAMSTOWN, MASS.- Seattle Art Museum and New England's Clark Art Institute are wagering temporary loans of major paintings based on the outcome of Super Bowl XLIX between the Seattle Seahawks and the New England Patriots. The masterpieces that have been anted up showcase the beautiful landscapes of the Northwest and the Northeast respectively. The majestic Puget Sound on the Pacific Coast from 1870 by Albert Bierstadt from SAM's American art collection is wagered by Kimerly Rorschach, SAM's Illsley Ball Nordstrom Director and CEO. Winslow Homer's masterpiece, West Point, Prout's Neck (1900), one of the greatest works in the Clark's noted Homer collection, is wagered by Michael Conforti, director of the Clark Art Institute. The winning museum will receive a three-month loan of the prized artwork. All shipping and expenses will be paid by the losing museum. "I am sure that this beautiful Homer painting will ... More



Jim Dine, Alan smoking at Sydney Close in the 90's, 2014. Copper plate etching on Hahnemühle Copperplate warm white paper. Paper and image: 46.7 x 37.4 cm. Image courtesy Jim Dine and Alan Cristea Gallery, London.



LONDON.- To celebrate its 20th birthday, and to recognise Alan Cristea's significant contribution to print publishing, the gallery is staging a special Anniversary Exhibition. Unbeknownst to Alan himself, they asked twenty-one of their artists to make a print in an edition of 40 for an anniversary portfolio. The prints cover a wide range of techniques including woodcut, etching, screenprinting, lithography and carborundum relief. They gave the artists no specific brief beyond a size limitation, and whereas some, such as Jim Dine and Julian Opie, chose to refer specifically to Alan, others were slightly more oblique in their reference, such as Michael Craig-Martin's Ashtray, 2014. All profits from the sale of the portfolios will be donated to the ... More



John Constable, R.A., Salisbury Cathedral from the Meadows (detail). Oil on canvas, 45.7 by 61 cm.; 18 by 24 in. Est. $2/3 million. Sold for $5,205,000. Photo: Sotheby's.



NEW YORK, NY.- Sotheby's 2015 Masters Week Sales are currently underway in New York and the opening session of Master Paintings just concluded bringing a strong total of $57,070,500, above the low estimate. Thus far, twelve lots have sold for more than $1 million, including Salisbury Cathedral from the Meadows, a rediscovered preparatory work for one of John Constable's most celebrated masterpieces, now in the Tate, which soared to $5.2 million after an extended battle, well in excess of expectations (est. $2/3 million). The top selling lot was Willem van de Velde the Elder's Dutch Harbor in a Calm with Small Vessels, one of the greatest examples of a penschilderij (pen and ink painting) remaining private hands, which brought $5.4 million, above the high estimate and a new record for ... More
The Story of Disneyland: Huge collection goes to auction celebrating 60 years of Disneyland
Banksy prints star as Bonhams Contemporary Auction fetches over £1 million
Exhibition of new paintings by Luc Tuymans opens at David Zwirner London


A visionary and master showman, Walt Disney was inspired to build his theme park after spending time with his daughters at a local Los Angeles park and carousel.



LOS ANGELES, CA.- Van Eaton Galleries, one of the world's premier animation artwork and collectible galleries located in Sherman Oaks, California has announced The Story of Disneyland Collection exhibit and auction to take place February 28th and March 1st at Van Eaton Galleries, 13613 Ventura Blvd, Sherman Oaks, CA. The Story of Disneyland Collection is the most comprehensive and complete collection to ever come to market and provides an unprecedented narrative into the story of Walt Disney's beloved Disneyland theme park. With memorabilia dating from the very beginning of Walt's planning to his expansions in Florida and beyond, this one-of-a-kind rare collection has been amassed over thirty years and includes an extraordinary glimpse into the life of Walt Disney, his close group of original Imagineers, the initial plans for Disneyland and the amazing legacy he left behind. ... More



Banksy (British, born 1975), 4 Soup Cans - Gold on Cream, 2006. Photo: Bonhams.



LONDON.- The Steve Lazarides collection of Banksy prints made £434,600 at Founded 1793, the contemporary lifestyle auction which took place at Bonhams New Bond Street yesterday (28 January). The sale, which also introduced a large-scale painting by Conor Harrington and works by leading contemporary artists such as Peter Doig, Damien Hirst and Marc Quinn fetched more than £1,000,000 in total. Continuing the Bonhams tradition of successful involvement with Banksy's market, his works performed extremely well, with 30 selling above their high estimates. The top-selling lot was Rude Copper (2002), a screen-print and spray-paint on paper depicting a policeman raising a middle-finger to the viewer, which sold for £32,500 against a high estimate of £12,000. Christ with Shopping Bags (2004), a thought-provoking reimagining of traditional crucifixion imagery, made £22,500 against a high estimate of £12,000 and Laugh Now (2004) and ... More



Luc Tuymans © Jonas Lampens, 2014. Courtesy David Zwirner, New York/London.



LONDON.- David Zwirner presents an exhibition of new paintings by Luc Tuymans. On view at the London gallery, which Tuymans inaugurated in October 2012 with the exhibition Allo!, The Shore includes work specifically made for this space. Widely credited with having contributed to the revival of painting in the 1990s, Tuymans continues to assert its relevance by addressing a diverse range of topics. Quiet, restrained, and at times unsettling, his works engage equally with questions of history and its representation as with quotidian subject matter cast in unfamiliar and eerie light. Painted from pre-existing imagery, they often appear slightly out-of-focus and sparsely colored, like third-degree abstractions from reality. Whereas earlier works were based on magazine pictures, drawings, television footage, and Polaroids, recent source images include material accessed online and the artist's own iPhone photos, printed out and ... More
Hauser & Wirth to represent Mike Kelley Foundation for the Arts worldwide
Exhibition of recent photographs by Vera Lutter opens at Gagosian Gallery in New York
Eli Wilner & Company framed a Benjamin-Constant for the Montreal Museum of Fine Arts


Mike Kelley. Courtesy Mike Kelley Foundation for the Arts © Walker Art Center. Photo: Cameron Wittig.



NEW YORK, NY.- Mike Kelley Foundation for the Arts and Hauser & Wirth jointly announced today the gallery's exclusive worldwide representation of the Foundation. Established in 2007, the Mike Kelley Foundation for the Arts seeks to further the artist's philanthropic initiatives through grants for innovative and challenging projects in the areas in which Kelley worked. The Foundation also preserves the artist's legacy and advances the understanding of Mike Kelley's life and creative achievements. Information will soon be available on the Foundation's website. In representing the Foundation, Hauser & Wirth will further advance the legacy of Mike Kelley through exhibitions and public programs at its gallery spaces internationally, as well as through development of new publications and research on the artist's work, and the sale of artworks. Mike Kelley (b. Detroit, 1954, d. Los Angeles, 2012) is widely considered one of the most influen ... More



Vera Lutter, Chrysler Building, V: July 12, 2014, 2014 (detail). Unique gelatin silver print, 95 1/4 x 56 inches, (241.9 x 142.2 cm). © Vera Lutter. Courtesy Gagosian Gallery.



NEW YORK, NY.- Gagosian New York presents recent photographs by Vera Lutter. Inspired by New York's light, architecture, and perpetual state of flux, Lutter turned to photography in the early 1990s as a means to record the continuously changing cityscape. To capture an immediate and direct imprint of her surroundings, she transformed her apartment into a large pinhole camera, employing the space that contained her personal experience as the apparatus that would document it. Through a simple pinhole, instead of an optically carved lens, the city outside flooded the interior of the room and projected inverted images onto wall-size sheets of photo-sensitive paper. Modifying shipping containers and empty rooms to create site-specific camera obscuras, Lutter has since applied her technique to subjects across the world: the Empire State and ... More



Constant Frame - Eli Wilner Studio.



MONTREAL.- Eli Wilner & Company recently completed the re-framing of Evening on the Terrace (Morocco), 1879, by Jean Joseph Benjamin-Constant, 49 x 78 inches, in the collection of the Montreal Museum of Fine Arts. A period-appropriate Eli Wilner replica of a 19th century salon style frame was chosen to compliment the painting. The frame selection was based on an archival photograph provided by the museum that showed what is believed to be the lost original frame for the painting. Like the original, the chosen frame has a laurel leaf and berry element on the top rail, an acanthus leaf cove, incised frieze design, and passages of lamb's tongue and bead ornamentation, and is nearly 11 inches wide. The exhibition Marvels and Mirages of Orientalism: Benjamin-Constant in His Time was on view at the Musée des Augustins, Toulouse until earlier this month, and opens January 31 at the Montreal Museum of Fine Arts. The exhibition will remain on ... More
Birmingham Museum of Art presents paintings by Dutch and Flemish masters
Broad Art Museum at Michigan State University appoints Caitlin Doherty as Curator
Exhibition of work by Harold "Doc" Edgerton opens at Sikkema Jenkins & Co.


Gerrit Dou, Self-Portrait, circa 1638–42, oil on panel, 4 7/8 x 3 1/4 in. (rounded top), The Kremer Collection.



BIRMINGHAM, AL.- The Birmingham Museum of Art will host an exhibition featuring works of the greatest masters of the Dutch and Flemish Golden Age titled, Small Treasures: Rembrandt, Vermeer, Hals, and Their Contemporaries. The exhibition, which was organized by the North Carolina Museum of Art and is sponsored by PNC, will be on view from January 30 – April 26, 2015. Small Treasures brings together 40 small-scale oil paintings, most of which are no more than ten inches in height, by 28 artists who lived and worked in what is today the Netherlands and Belgium during the 17th century. These small paintings played an important part of many artists' practices but have historically been overlooked by scholars and museum exhibitions. The exhibition will, for the first time, explore this little known field and show the extraordinary richness of this genre of work. More than half of the works in the exhibition are drawn ... More



Doherty previously served as Exhibitions and Speaker Curator at Virginia Commonwealth University in Qatar.



EAST LANSING, MICH.- The Eli and Edythe Broad Art Museum at Michigan State University has appointed Caitlín Doherty as Curator and Deputy Director of Curatorial Affairs. Doherty—who previously served as Exhibitions and Speaker Curator at Virginia Commonwealth University in Qatar (VCUQatar)—will continue to build upon Broad MSU's ambitious program of international contemporary art, and further establish the museum as a center for education and dialogue in the visual arts. "Caitlín Doherty comes to the Broad MSU at an exciting time in the evolution of our young museum," said Michael Rush, Founding Director of Broad MSU. "Caitlín has worked at the forefront of the international arts community, and her experience engaging with artists, students, and members of local communities across the globe will make her an invaluable asset to our growing team." As Exhibitions and Speaker Curator at VCUQatar, Doherty organized m ... More



Harold Edgerton, Water From a Faucet, 1932. Gelatin silver print, 48 x 36 inches, 121.9 x 91.4 cm © Estate of Harold Edgerton at MIT; courtesy of Palm Press, Inc.



NEW YORK, NY.- Sikkema Jenkins & Co. presents an exhibition of work by Harold "Doc" Edgerton, on view from January 28 through February 28, 2015 in the back galleries. Harold Eugene "Doc" Edgerton (1903 – 1990) was a photographer, engineer, inventor, and life-long educator known for his iconic images taken with the aid of the electric strobescope. Originally developed by Edgerton during his time as a doctoral student to study the motion of motors, the strobescope was able to capture motion too fast to be observed by the naked eye through the use of use of rapid, short electronic flashes. Edgerton later applied this signature technique to observe and document everyday phenomena: the wings of a hummingbird in flight, a golf swing, the splash of a drop of milk, or a bullet piercing a balloon. While rooted in scientific observation, Edgerton's powerful visual aesthetic produced unique and ... More
Quote
Bernini's design for the Louvre I would have given my skin for. Sir Cristopher Wren
---
Urs Fischer: Images at Gagosian Beverly Hills
---
Flashback
On a day like today, British painter Patrick Heron was born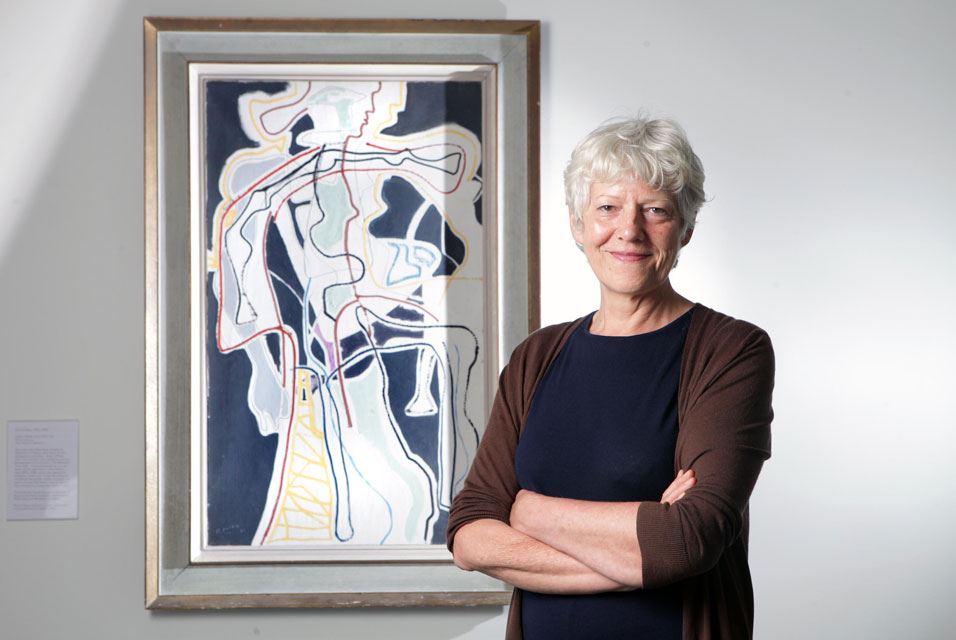 July 30, 1920. Patrick Heron (30 January 1920 - 20 March 1999) was a British abstract and figurative artist, writer, and polemicist, who lived in Zennor, Cornwall. Throughout his career, Heron worked in a variety of media, from the silk scarves he designed for his father's company Cresta from the age of 14, to a stained-glass window for Tate St Ives, but he was foremost a painter working in oils and gouache. In this image: Susanna Heron poses with Patrick Heron's Nude in Wicker Chair, 1951.
---

Museums, Exhibits, Artists, Milestones, Digital Art, Architecture, Photography,
Photographers, Special Photos, Special Reports, Featured Stories, Auctions, Art Fairs,
Anecdotes, Art Quiz, Education, Mythology, 3D Images, Last Week,
.
Royalville Communications, Inc
produces: