First two-man exhibition of Gerhard Richter & Sigmar Polke since 1966 opens at Christie's
A Christie's employee poses for photographs during a preview of an exhibition featuring the works of German Artists Gerhard Richter and Sigmar Polke, as she looks at Sigmar Polke's "Untitled" (L), Sigmar Polke's "Transparent 10#" (C) and Sigmar Polke's "Untitled" (R) at the Christie's gallery in London on April 24, 2014. The exhibition sees the works of the two artists reunited for the first time since 1966. Including 65 works from 30 collections, the exhibition highlights the artists' intent to resurrect painting and bring it into the world of modern art. AFP PHOTO / LEON NEAL.
LONDON
.-
On 24 April 2014
Christie's
Mayfair opened Polke/Richter-Richter/Polke, celebrating two giants of painting: Gerhard Richter (b.1932) and Sigmar Polke (1941-2010). The show brings together 65 works from 30 collections to create the artists' first joint show in almost 50 years, since their now legendary 1966 exhibition at Galerie h in Hanover. This show was a declaration of their intention to resurrect painting, a medium presumed dead, by deconstructing it and opening up new possibilities. Christie's Polke/Richter-Richter/Polke reunites two of the works from this show (Flemish Crown, by Richter and Bavarian by Polke), as well as others from the period, and then surveys the artists' careers since then, until Polke's death. Francis Outred, Christie's Head of Post-War & Contemporary Art, Europe, says: "Richter and Polke are the dynamic duo of German painting in the past ...
More
The Best Photos of the Day
First-caliber antique Oriental rugs, important contemporary art highlight eclectic interior design
The Andy Warhol Museum announces newly discovered Amiga computer experiments
Spring Poppy Fields: Exhibition of new works by Zhang Huan opens at Pace London




Modern architecture and contemporary art seamlessly integrate with collectible Persian rugs. (Design: Madelyn Crafts, Studio 104: Interior Design).





OAKLAND, CA.- While prices for 15th-18th century historic Oriental rugs are only recently approaching the level of comparable contemporary works of art, collectors and aficionados have long been accumulating first-caliber 19th century Persian and Caucasian tribal rugs to display as complementary signature art pieces in their residences, according to Jan David Winitz, internationally recognized Oriental rug expert and founder of Claremont Rug Company (www.claremontrug.com). Such juxtapositions of antique rugs with other forms of art or pieces from different eras are not only not unusual, they are currently highlighted in an exhibition at the Metropolitan Museum of Art (through June 29), entitled "Carpets from the East in Paintings from the West," which was favorably reviewed in the Wall Street Journal. Said Winitz, ... More





Andy Warhol, Campbell's, 1985, ©The Andy Warhol Foundation for the Visuals Arts, Inc., courtesy of The Andy Warhol Museum.





PITTSBURGH, PA.- The Andy Warhol Museum announces newly-discovered experiments created by Andy Warhol on an Amiga computer in 1985. Warhol's saved files, trapped on Amiga floppy disks held by The Warhol's archives collection, were extracted by members of the Carnegie Mellon University (CMU) Computer Club and its Frank-Ratchye STUDIO for Creative Inquiry in a complex recovery process. The Hillman Photography Initiative at Carnegie Museum of Art (CMOA) initiated and then documented this process for its The Invisible Photograph series. Warhol's Amiga experiments were the result of a commission by Commodore International to demonstrate the computer's graphic arts capabilities. They vary from doodles and camera shots of a desktop, to experimenting with Warhol's classic images of a ... More





Zhang Huan in his studio. © Zhang Huan studio.





LONDON.- Pace London presents Spring Poppy Fields, an exhibition of new works by the Chinese artist Zhang Huan from 25 April to 31 May 2014 at 6 Burlington Gardens. Zhang Huan is one of the most vital, influential and provocative contemporary artists working today. Having explored the full spectrum of media, from performance to photography, installation, sculpture and painting, Zhang Huan's Spring Poppy Fields oil paintings is the subject of his first exhibition at Pace London. Spring Poppy Fields features fourteen vividly coloured, oil on linen paintings that have occupied the artist's practice between 2011 and 2014. Alluding to Buddhist masks and iconography, the series is inspired by Zhang Huan's extensive travel to Tibet, Nepal, Bhutan and India. Employing an almost pointillist technique, Zhang Huan's application of the thick pigment performs an optical illusion. From a distance, the canvas metamorphoses into a f ... More
Six finalists announced for £100,000 Art Fund Prize for Museum of the Year 2014
World-renowned artist architect Santiago Calatrava opens exhibition at Marlborough Gallery
Sotheby's Paris to present a monumental masterpiece by Nicolas de Staël




The new Tate Britain, which was unveiled to the public in 2013, has today been announced as a finalist for the Art Fund Prize for Museum of the Year 2014. Photo: ©Marc Atkins.





LONDON.- The Art Fund tonight (Thursday 24 April 2014), announced the six museums which have been selected as finalists for the Art Fund Prize for Museum of the Year. The museums are: Ditchling Museum of Art + Craft, East Sussex; Hayward Gallery, London; The Mary Rose Museum, Portsmouth; Sainsbury Centre for Visual Arts, Norwich; Tate Britain, London; and Yorkshire Sculpture Park, Wakefield. The Art Fund Prize for Museum of the Year, awarded annually with a value of £100,000, was established in 2003 (formally the Gulbenkian Prize for museums and galleries 2003-2007) to recognise the very best of the UK's internationally acclaimed museums. It has been supported by the Art Fund since 2008. Previous winners include the William Morris Gallery, Walthamstow, London (2013); the Royal Albert Memorial Museum, Exeter (2012), and the British Museum, London (2011). The ... More





Santiago Calatrava, Untitled (no. 201), 2012. Bianco P marble, edition of 3, 112 x 19 1/2 x 19 1/2 in., 284.5 x 49.5 x 49.5 cm © Santiago Calatrava and Courtesy Marlborough Gallery, New York.





NEW YORK, NY.- Marlborough Gallery announces the exhibition of the Spanish-born, world-renowned artist architect, Santiago Calatrava. This is Calatrava's first solo exhibition with Marlborough Gallery, and is comprised of drawings, ceramics, and sculpture. The show opened on Thursday, April 24, and continues through May 31. Santiago Calatrava's work continues to shape and redefine the boundaries that have historically separated fine arts from architecture and engineering. Calatrava challenges such boundaries through the creation of a broad range of works including ceramics, drawings, paintings, sculpture, architecture and engineering projects that in total express a unified esthetic anchored in the artist's belief that the origins of artistic invention reside in the evolutionary structure of the natural world. His work often begins in loosely drawn sketches that become more formally ... More





Nicolas de Staël, Composition, 1950 (detail), 204 x 404,5 cm; 80 5/16 x 159 ¼ in. Estimate: €2.5 – 3.5 million. ©Sotheby's/ArtDigital Studio.





PARIS.- To coincide with the centenary of the birth of Nicolas de Staël (1914-55), Sotheby's announced the sale of his impressive 1950 Composition, last shown in public at the Pompidou Centre's De Staël retrospective in 2003. This monumental oil on canvas (6ft 7in x 13ft 1in) will be one of the highlights in the Contemporary Art Evening Sale on June 3. This spectacular work was the largest canvas De Staël had ever painted when it was bought by Denys Sutton (1917-91) in 1950. It has remained in Sutton's family ever since. Denys Sutton was an accomplished and committed British art critic who edited Apollo magazine for over 25 years, and also curated numerous landmark exhibitions (devoted to Constable, Picasso, Matisse among others) in the 1960s and '70s. Sutton met De Staël in Paris at the end of the 1940s, and convinced him to show his works in England. De Staël duly went to London in the summer of 1950, and ... More
Christie's Hong Kong presents Classical Paintings and Calligraphy Spring Auctions 2014
National Museums Scotland acquires rare cabinet painted by James Abbott McNeill Whistler
LAPADA, The Association of Art & Antiques Dealers, announces Rebecca Davies as new Chief Executive




Zhang Daqian, Lady. Estimates: HK$800,000–1,000,000/ US$104,000- 130,000). Photo: Christie's Images Ltd 2014.





HONG KONG.- Christie's Hong Kong Fine Chinese Classical Paintings and Calligraphy auction and Fine Chinese Modern Paintings auction will take place on 26th and 27th May 2014. Featuring more than 750 works from the classical and modern masters, the 2-day sales are estimated to realize in excess of HK$311 million/ US$39 million. A Chinese contemporary ink private sale exhibition will be held during the auction week at the Hong Kong Convention and Exhibition Centre and then afterwards at the James Christie Room. For classical paintings, Christie's will offer a rare work from the Qing master Bada Shanren, Landscape, as well as an exquisite hanging scroll, Two Ladies, by the renowned figure painter Chen Hongshou. Born Zhu Da, Bada Shanren was a ninth-generation descendant of the Ming-dynasty prince Zhu Quan. After the fall of the Ming dynasty, he became a Buddhist monk and ... More





The Whistler cabinet © Ian Jacobs Photography.





EDINBURGH.- National Museums Scotland has acquired a magnificent maple cabinet designed by Edward William Godwin and painted by the renowned artist, James Abbott McNeill Whistler. The acquisition has been made possible by generous funding from the Art Fund and the National Museums Scotland Charitable Trust. The object is hugely important in the history of nineteenth century art and applied arts. In the style of the Anglo-Japanese aesthetic movement, the cabinet is the result of an artistic collaboration between Edward William Godwin, an influential designer of the aesthetic movement and James Abbot McNeill Whistler, the most controversial and celebrated painter of the aesthetic movement. The cabinet was manufactured by William Watt Art Furniture. Made circa 1878 and entitled Harmony in Yellow and Gold – The Cloud Cabinet it is birds eye maple veneer on mahogany and intricately carved with Japanese-style floral, bird and geometric ... More





Rebecca is currently Managing Director of contemporary art gallery Blain|Southern, a position she has held since the gallery's inception in 2010.





LONDON.- LAPADA, The Association of Art & Antiques Dealers , announces the appointment of Rebecca Davies as Chief Executive. Rebecca Davies will take up this key role on 12 May 2014, in this, the Association's 40th anniversary year. As a figurehead for the art and antiques trade she will lead LAPADA, the UK's largest association of professional art and antique dealers, through its next exciting phase of development. Rebecca is currently Managing Director of contemporary art gallery Blain|Southern, a position she has held since the gallery's inception in 2010. Playing a pivotal part in all aspects of the business, she helped set up the original London gallery, expanding the business internationally to New York and Berlin. Prior to this Rebecca worked as European Business Director for Haunch of Venison, and at Christie's within the Impressionist and Modern Department. ... More
Modern masters and a rediscovered Futurist drawing lead Bonhams sale in New York
Norman Rockwell's "The Rookie" called up for six days only at MFA Boston
David Zwirner's first exhibition with Colombian artist Oscar Murillo opens in New York




Gino Severini, Train de blessés, signed 'GSeverini' (lower right); signed, inscribed and dated 'Gino Severini/ "Train de blessés"/ Paris 1915' (verso) charcoal and graphite on paper, 21 3/4 x 17 3/4 in. (55.3 x 45.3 cm). Drawn in 1915. Estimate: $150,000-200,000. Photo: Courtesy of Bonhams.





NEW YORK, NY.- Bonhams presents Gino Severini's Futurist masterpiece "Train de Blessés" (est. $150,000-200,000), an extremely rare drawing from a pivotal moment in art. Unseen for more than 50 years, its reappearance coincides with the Futurist retrospective at the Guggenheim Museum in New York City. Severini's work on paper combines the energy and dynamism of Futurism with the Cubist ideas of his friend Picasso. Drawings of this size and complexity rarely appear at auction. It is being sold to benefit a New York foundation. Bonhams is the third largest international fine art auction house. Another highlight in the May 6 sale is Franz Marc's jewel-like watercolor Pferd und Rind (est. $200,000-300,000). Painted in 1913, it clearly shows the German artist searching ... More





Norman Rockwell (1894-1978), The Rookie (Red Sox Locker Room). Oil on canvas; 41 x 39 in.; Painted in 1957. Estimate: $20,000,000-30,000,000. Photo: Christie's Images Ltd 2014.





BOSTON, MASS.- After a third World Series Championship in a decade, the Museum of Fine Arts, Boston (MFA), celebrates the legendary Red Sox with a special loan of the beloved Norman Rockwell painting, The Rookie (The Red Sox Locker Room) (1957). Before being offered at auction at Christie's (New York) on May 22, the MFA has the opportunity to display the work of art for six days only, April 29–May 4, 2014. The MFA is the only place where the public will be able to see the celebrated painting in Boston—which depicts the Red Sox locker room in 1957 during spring training in Sarasota, Florida—before it goes on the auction block. Rockwell's classic work, portraying a group of seasoned veterans giving the once-over to the team's newest player, will be on view in the MFA's Sharf Visitor Center. The painting was also on display at the MFA in 2005 and 2008, following World Series wins. Fans ... More





The artist's mother (center) working at Colombina, La Paila, Colombia, 1988. Photo: Collection of Oscar Murillo.





NEW YORK, NY.- David Zwirner presents its first exhibition with Oscar Murillo, who joined the gallery in September 2013. The artist will implement a candy-making factory at 519 West 19th Street in New York in collaboration with Colombina, one of the premier food companies in Colombia. Now a global industry leader and one of the main exporters of candy to the United States, Colombina was founded in Murillo's hometown of La Paila in the early twentieth century. It gradually became the connecting link in the surrounding area, fostering a community that expanded symbiotically as the factory grew in stature. Several generations of Murillo's family, including his parents, have worked there in various capacities, and the artist, who was born in 1986 and moved to the United Kingdom in the 1990s, retains close ties to the site. Murillo frequently invokes his cultural heritage in his practice and broader issues of migration, sub-localities, ... More
Quote
Landscape painting is the obvious reasource of misanthropy. Hazlitt
More News
---
Henri Matisse:The Cut-Outs
---
---
Flashback
On a day like today, Dutch painter Willem de Kooning was born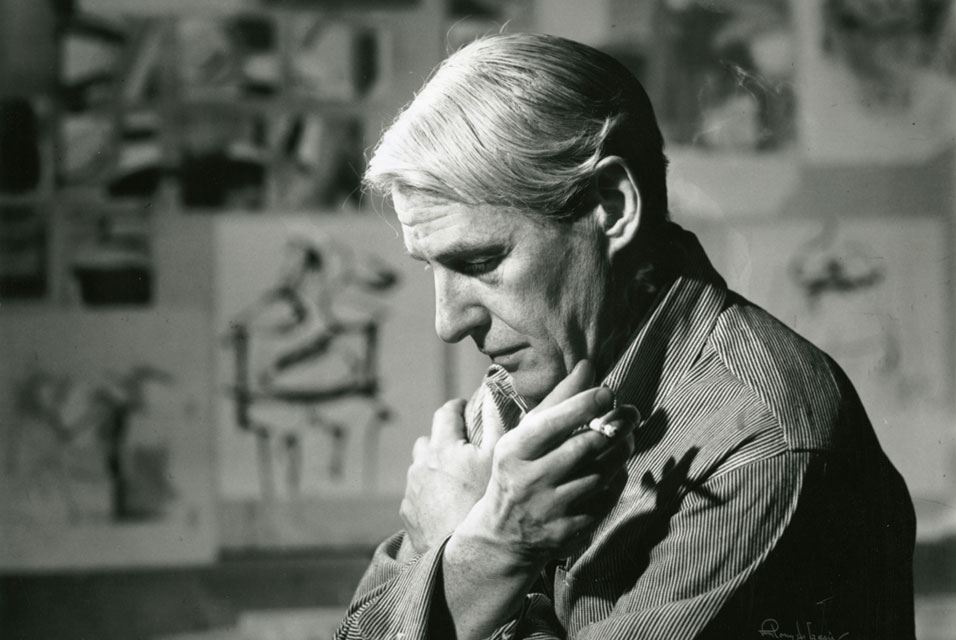 April 24, 1904. Willem de Kooning (April 24, 1904 - March 19, 1997) was a Dutch American abstract expressionist artist who was born in Rotterdam, the Netherlands. In the post-World War II era, de Kooning painted in a style that came to be referred to as Abstract expressionism or Action painting, and was part of a group of artists that came to be known as the New York School. Other painters in this group included Jackson Pollock, Elaine de Kooning, Lee Krasner, Franz Kline, Arshile Gorky, Mark Rothko, Hans Hofmann, Adolph Gottlieb, Robert Motherwell, Philip Guston, and Clyfford Still.
---
---

Museums, Exhibits, Artists, Milestones, Digital Art, Architecture, Photography,
Photographers, Special Photos, Special Reports, Featured Stories, Auctions, Art Fairs,
Anecdotes, Art Quiz, Education, Mythology, 3D Images, Last Week,
.
Royalville Communications, Inc
produces: