Canaletto exhibition reunites two of the Venetian master's greatest series of paintings
Canaletto, Venice: The Bacino di S. Marco on Ascension Day, c.1733-4 (detail). Royal Collection Trust/©Her Majesty Queen Elizabeth II 2017.
LONDON
.-
A new exhibition at
The Queen's Gallery, Buckingham Palace
reunites two of Canaletto's finest sets of paintings, displayed side by side for the first time in almost 40 years. Canaletto & the Art of Venice, shows six views of Venice produced early in the artist's career in the 1720s, alongside the painter's series of five Roman views from over 20 years later. Both sets were commissioned from Canaletto by Joseph Smith, the artist's agent and the greatest patron of art in Venice at the time. Smith's collection was bought almost in its entirety by George III in 1762 to furnish the newly purchased Buckingham House (later Buckingham Palace). Smith probably intended both series of paintings to decorate particular rooms in his palazzo on the Grand Canal in Venice. Six drawings relating to the Venetian views, also in the exhibition, are likely to have been the basis of initial discussions between patron and artist. Smith co ...
More
The Best Photos of the Day
Junk sale diamond ring bought for £10 worth a fortune
Asia Week New York Contemporary concludes with healthy sales and collector enthusiasm
George Tooker painting and a Neo-Renaissance portrait join the Huntington's collections


A member of Sotheby's staff poses holding a 26.27 carat, cushion-shaped, white diamond, for sale at Sotheby's auction house in London on May 22, 2017. Justin TALLIS / AFP.



LONDON (AFP).- A diamond ring bought for next to nothing in a London junk sale is expected to fetch up to £350,000 ($455,000, 405,000 euros), Sotheby's auction house said Monday. The owner bought the 26-carat, white diamond ring for £10 in the 1980s and wore it while doing shopping and chores, thinking it was costume jewellery, Sotheby's said. "The owner would wear it out shopping, wear it day-to-day. It's a good-looking ring," said Jessica Wyndham, head of Sotheby's London jewellery department. "No one had any idea it had any intrinsic value at all. "The majority of us can't even begin to dream of owning a diamond that large." The diamond is thought to have been cut in the 19th century, when the style was to cut to conserve the weight rather than to make it as sparkly as possible, hence its relatively dull brilliance. "It ... More



Wu Qiang (b. 1977), Spirited Away, 2011 Ink-and-color on silk, 28.5 x 7.0 cm (11 1/4 x 22 1/2). Photo: Kaikodo LLC.



NEW YORK, NY.- The inaugural Asia Week New York Contemporary concluded its nine-day run on an upbeat note with healthy sales and an enthusiastic response from collectors. Initially launched to coincide with TEFAF and Frieze, this new adjunct to the well-established Asia Week New York surpassed participating dealers' expectations and all are keen to return for a second edition next year. "After more than three years of planning, it was a wonderful confluence to have the opening of our exhibition, Beyond Kutani featuring Nakamura Takuo and Takegoshi Jun, coincide with Asia Week New York Contemporary," said Joan Mirviss of her namesake gallery. "It was exciting to welcome many new faces to our events and see the artists engaged in conversation with a different group of art enthusiasts. Nearly eighty percent of the pieces have been spoken for with thirty-seven works sold. Both ... More



George Tooker, Bathers (Bath Houses), 1950, egg tempera on gessoed board, 20 3/8 x 15 3/8 in.



SAN MARINO, CA.- At its annual meeting this spring, the Art Collectors' Council of The Huntington Library, Art Collections, and Botanical Gardens voted to acquire a major painting by George Tooker (1920-2011), exemplar of the American "Magic Realist" group who was best known for capturing the angst of alienated urban dwellers in the mid-20th century. The rare and haunting Bathers (Bath Houses) (1950) becomes the first Tooker painting to join a museum collection in the western United States. The Council also acquired for The Huntington Woman with a Fan (ca. 1895), a Renaissance-style portrait by Beaux-Arts muralist and illustrator Albert Herter (1871–1950). "This year was a particularly exciting one for the Art Collectors' Council, whose members voted to add two very different paintings to the American art collection," said Catherine Hess, chief curator of European art and interim director of the art ... More
Exhibition at Mazzoleni London investigates the idea of colour
Christie's presents an outdoor exhibition of modern sculpture in St James's Square
Striking Torres Strait islander masks on display at National Museum Australia


Lucio Fontana (1899-1968), Concetto Spaziale, Attese, 1967. Waterpaint on green canvas, 61 x 50 cm. Courtesy Mazzoleni.



LONDON.- Mazzoleni London announces 'Colour in Contextual Play', an installation by American conceptual artist Joseph Kosuth (b. 1945). Part of a series in which Kosuth installs contemporaries or forebears, the exhibition incorporates a selection of work by artists proposed by influential Arte Povera artist Emilio Prini (1943–2016), namely Enrico Castellani (b. 1930), Lucio Fontana (1899–1968), Yves Klein (1928–1963), Kosuth himself and Piero Manzoni (1933–1963). The exhibition investigates the idea of colour, a theme that is explored by each of these Post-War artists conceptually as well as technically. The exhibition is curated by Dr. Cornelia Lauf, an art historian based in Rome and Sicily. The exhibition juxtaposes monochrome works by Castellani, Fontana, Klein and Manzoni with works from Kosuth's 1968 series 'Art as Idea as Idea'. This series made a conceptual investigation into the relation ... More



Dame Elisabeth Frink, Horse, bronze with a grey/brown patina, conceived in 1980, 252 cm wide, estimate: £700,000-1,000,000. © Christie's Images Limited 2017.



LONDON.- Christie's will present Sculpture in the Square an outdoor sculpture garden set within St James's Square, London, on view to the public from 23 May to 29 June 2017. The exhibition will display seven works that will be offered in the Modern British Art and Impressionist & Modern Art sales as part of 20th Century at Christie's, a series of sales that take place from 26 to 29 June 2017. Artists include Anthony Caro, Lynn Chadwick, Elisabeth Frink, Barbara Hepworth and Henry Moore. Presented in the garden square adjacent to Christie's headquarters on King Street, the one-off exhibition will showcase the works as they were intended to be seen, in a landscape setting. Sculpture in the Square will coincide with the opening of this year's Chelsea Flower Show, which runs from 23 to 27 May 2017. Exhibition curator Nicholas Orchard, Senior Director, Modern British ... More



Keris by Eddie Nona - Badhu (Badu), Kala Lagaw Ya language group - Gab Titui Cultural Centre. Photo: George Serras, National Museum of Australia.



CANBERRA.- An exhibition of 12 striking masks and related cultural materials celebrating the rich and continuing tradition in the Torres Strait opened this weekend at the National Museum of Australia in Canberra. Created by the Gab Titui Cultural Centre on Waiben (Thursday Island) in 2016, Evolution: Torres Strait Masks explores the artistic and spiritual tradition of mask making that still resonates with communities today. National Museum director, Dr Mathew Trinca, said he was thrilled that the Museum is the first venue to host the exhibition, which will tour until 2019. 'This is a wonderful opportunity to showcase these striking objects, which explore key cultural practices in the Torres Strait from both historical and contemporary perspectives,' he said. 'The Museum has had a longstanding relationship with Gab Titui since it opened in 2004 and the centre has provided us with valuable assistance and advice, ... More
Eleventh edition of Blickachsen Sculpture Biennale focuses on artists from Austria
Fotomuseum Winterthur opens comprehensive retrospective view of the work of Danny Lyon
Victoria Miro opens exhibition of works by Alice Neel


Johann Feilacher, Roter Keil, 2015.



BAD HOMBURG.- 37 artists with some 80 works are on display in Bad Homburg and seven further locations in the Rhine-Main region for the eleventh "Blickachsen" Sculpture Biennale from 21 May to 1 October. The eleventh edition of "Blickachsen", curated by Christian K. Scheffel and Dr. Maria Schneider, presents some 80 works by 37 artists. The list of participants reveals a diverse and exciting spectrum of sculptural positions of the recent past, right up to the present day. The focus is on artists from Austria, thanks to the fruitful co-operation with the Museum Liaunig in Carinthia, this year's partner museum for "Blickachsen". In a variety of ways, different conceptions of three-dimensional space are on display in the Rhine-Main region – for example, by looking back to a modern classic: Fritz Wotruba (1907-1975), one of the most important Austrian sculptors of the twentieth century, defines the world in an ... More



Danny Lyon, Leslie, Downtown Knoxville, 1967 © Danny Lyon / Magnum Photos. Courtesy Gavin Brown's Enterprise.



ZURICH.- Message to the Future presents a comprehensive retrospective view of the work of American photographer and filmmaker Danny Lyon (*1942). As a dedicated and sharp-eyed observer fascinated by outsiders and subcultures, Lyon has spent more than fifty years documenting sociopolitical issues, delving deep into the heart of the matter and always building a close rapport with the people in front of his camera. Determined to counter the one-sided preoccupations of the mainstream media by offering an alternative viewpoint, he has developed an increasingly subjective and participatory form of documentary photography in the tradition of Walker Evans and Robert Frank. In addition to his iconic images, this wide-ranging retrospective exhibition also includes, for the first time in Europe, some of his ... More



Alice Neel, Building in Harlem, 1945. Oil on canvas. 41 5/8 x 31 5/8 x 1 1/2 in. © The Estate of Alice Neel. Courtesy David Zwirner, New York/London and Victoria Miro, London.



LONDON.- Curated by the celebrated US critic and author Hilton Als, Alice Neel, Uptown focuses on paintings made by the artist during the five decades in which she lived and worked in upper Manhattan, first in Spanish (East) Harlem, where she moved in 1938, and, later, the Upper West Side, where she lived from 1962 until her death in 1984. An accompanying catalogue, jointly published by David Zwirner Books and Victoria Miro, includes essays by Hilton Als on individual portraits and their sitters, in addition to new scholarship by Jeremy Lewison. Intimate, casual, direct and personal, Alice Neel's portraits exist as an unparalleled chronicle of New York personalities – both famous and unknown. A woman with a strong social conscience and equally strong left-wing beliefs, ... More
Bloomsbury Auctions announces Vintage Poster Auction
Europeana Photography opens up Europe's rich photographic heritage
Kerlin Gallery opens an exhibition of new paintings and works on paper by Paul Winstanley


Goldfinger (detail), est. £1,500-£2,500.



LONDON.- Bloomsbury Auctions will be hosting a sale of Vintage Posters at their new London base, 16-17 Pall Mall on 15th June, from 11am. The auction comprises 216 lots, with estimates ranging from £500-£6,000. Sale highlights include posters from the iconic spaghetti westerns, A Fistful of Dollars (est. £500-£800) and The Good, The Bad and The Ugly (est. £400-£600), as well as rare posters from the perennially popular James Bond films: Dr No (est. £3,000-£5,000), From Russia With Love, Goldfinger (est. £1,500-£2,500) and Thunderball (est. £1,200-£1,400). The 1960s is also well represented with posters for the critically-acclaimed films, The Graduate, 1967 (est. £800-£1,200) and They're Off (est. £1,500-£2,500) with the American thriller, Bullet from 1968 and starring Steve McQueen, estimated at £800-£1,200. Posters for The Beatles' films, Help! (est. £500-£700), Yellow Submarine (£400-£600) and Let It Be (est. £400-£600) feature ... More



Paris World Fair. The river Seine, the Eiffel Tower and the giant terrestrial globe at night, Paris (France), 1900, photograph by Neurdein, © Neurdein/Roger Viollet.



THE HAGUE.- Europeana and PHOTOCONSORTIUM are launching Europeana Photography, an online collection bringing together and sharing a vast archive of historical images. Featuring early photography from some of Europe's finest historical collections, Europeana Photography is the latest thematic collection to be published on Europeana Collections, joining Europeana Art, Europeana Music and Europeana Fashion. Europeana Photography presents images from the first 100 years of photography, sourced from photographic archives, agencies and museum collections across Europe. Photography enthusiasts, students and academics are invited to explore over 2 million historical images from more than 50 institutions across 34 countries, including photographs by pioneers like Julia Margaret ... More



Paul Winstanley, Faith (After Saenredam), 2016, oil and gold leaf on gesso on panel, 72 x 66 cm / 28.3 x 26 in.



DUBLIN.- Kerlin Gallery is presenting Faith After Saenredam and Other Paintings, an exhibition of new paintings and works on paper by Paul Winstanley. In this exhibition, Winstanley reimagines lost paintings and drawings by the Dutch Golden Age artist Pieter Saenredam (1597–1665). Best-known for his depictions of whitewashed church interiors, Saenredam captured the restrained character of Dutch Reformation architecture and popularised a new style of realism in the 17th Century. His reverence for serene, deserted interiors, precise use of perspective and muted tones find an echo in Winstanley's work, which has depicted similarly ascetic spaces in the past: British art schools during summer break, vacant walkways, veiled windows and empty TV lounges. Winstanley began this body of work with Lost (After Saenredam), which recreates a missing Saenredam painting of Utrecht's Mariakerk (1647) from a surviving, ... More
Quote
We artists are mythmakers, and we participate with everybody else in the social constructionof reality. Helen Mayer Harrison
More News
---
Charles I: King and Collector
---
Flashback
On a day like today, English architect John Wood, the Elder died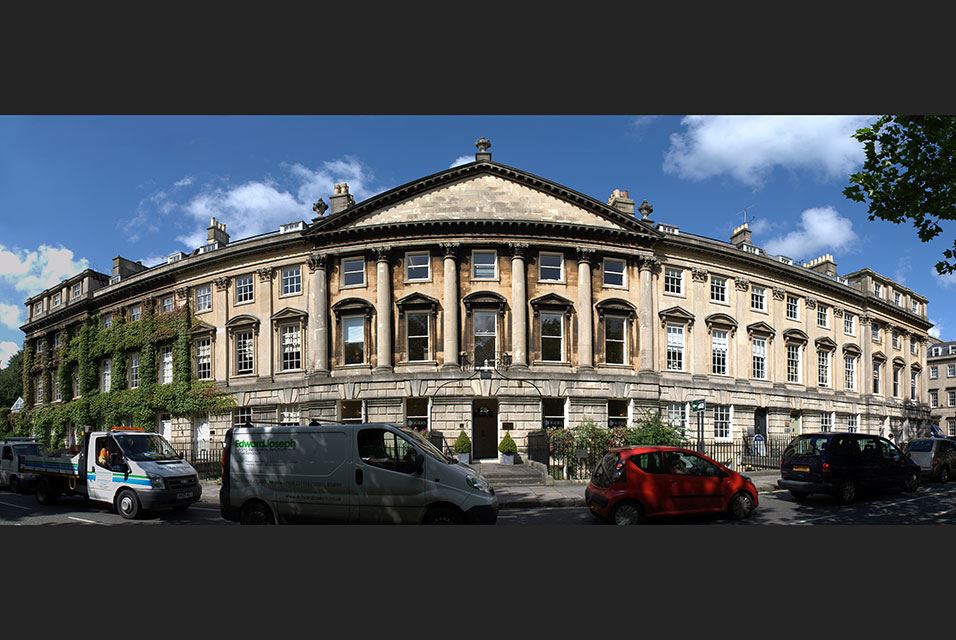 May 23, 1754. John Wood, the Elder, (1704 - 23 May 1754, Bath), was an English architect, working mainly in Bath. In 1740 he surveyed Stonehenge and the Stanton Drew stone circles. He later wrote extensively about Bladud and Neo-Druidism. Because of some of his designs he is also thought to have been involved in the early years of Freemasonry. In this image: North side, Queen Square.
---

Museums, Exhibits, Artists, Milestones, Digital Art, Architecture, Photography,
Photographers, Special Photos, Special Reports, Featured Stories, Auctions, Art Fairs,
Anecdotes, Art Quiz, Education, Mythology, 3D Images, Last Week,
.
Royalville Communications, Inc
produces:







Tell a Friend
Dear User, please complete the form below in order to recommend the Artdaily newsletter to someone you know.
Please complete all fields marked *.
Sending Mail

Sending Successful