First exhibition devoted to comparing Picasso and Lautrec opens in Madrid
Henri de Toulouse-Lautrec, Desnudo de pelirroja agachada, 1897. (Femme rousse nue accroupie). Óleo sobre cartón, 46,4 x 60 cm. San Diego Museum of Art. Donación de la Baldwin M. Baldwin Foundation, 1987
MADRID
.-
The Museo Nacional Thyssen-Bornemisza
presents Picasso/Lautrec, the first monographic exhibition devoted to comparing these two great masters of modern art. Although their artistic link has been repeatedly established by literature and contemporary critics, this is the first time their works have been displayed alongside each other in an exhibition. The show also examines this fascinating relationship from new viewpoints, as it does not merely explore the cliché of the young Picasso as an admirer of Lautrec in Barcelona and his early years in Paris, but traces the latter's lingering influence throughout the Spanish artist's lengthy career, including his final period. Curated by Professor Francisco Calvo Serraller, professor of the department of Art History at the Universidad Complutense in Madrid, and Paloma Alarcó, chief curator of Modern Painting at the Museo Nacional Thyssen-Bornemisza, Picasso/Lautrec brings togeth ...
More
The Best Photos of the Day
Hammershøi's 'Interior with Woman at Piano' to be offered by Sotheby's in New York
Louis XIV, Napoleon diamond to be auctioned off in Geneva
Tate Modern opens first major museum exhibition in the UK of artists Ilya and Emilia Kabakov


Vilhelm Hammershøi, Interior with Woman at Piano. Estimate: $2,500,000-3,500,000 / DKK 15.8-22.2 million. Courtesy Sotheby's.



NEW YORK, NY.- This Autumn, Sotheby's will offer an elegant and introspective work from Vilhelm Hammershøi's most accomplished period. Painted in 1901, Interior with Woman at Piano, Strandgade 30 is distinguished by its refined palette of chromatic greys, spare compositional elements, and a mesmeric psychological complexity. Estimated at $2,500,000-3,500,000 (DKK 15.8-22.2 million), the painting will come to auction at Sotheby's in New York on 14 November 2017 as a highlight of the Evening Sale of Impressionist & Modern Art. In the twenty-five-year period since the work was last offered on the market, Hammershøi has been the subject of numerous retrospective exhibitions in Europe, Asia and America, prompting overdue recognition of one of Denmark's most innovative and celebrated artists. Claude Piening, Head of 19th Century European Paintings in London, commented: "Interior with Woman at Piano epitomises Hammershøi's s ... More



A woman poses with the 'Le Grand Mazarin', a 19.07 carat pink diamond, at Christie's auction house in London on October 17, 2017. 'Le Grand Mazarin' is estimated to reach 6-9 million dollars on auction in Geneva on November 14, 2017. CHRIS J RATCLIFFE / AFP.



GENEVA (AFP).- A large, pink diamond once set in the crowns of numerous French kings and emperors will go under the hammer in Geneva next month, the Christie's auction house said Wednesday. "Le Grand Mazarin", a 19.07-carat light pink diamond, was a gift to Louis XIV in 1661 and was set in the crowns of almost all of the monarchs and emperors of France who followed, Christie's said. The diamond is "a timeless symbol of beauty, a French royal treasure adorning no fewer than seven kings and queens beginning with the Sun King Louis XIV," Christie's chairman for Europe and Asia Francois Curiel said in a statement. "Above all, it is a witness to 350 years of European history. This stone belongs to a class of its own," he said. The gem was named after Cardinal Mazarin, an Italian cardinal and diplomat, as well as ... More



Ilya Kabakov (b. 1933), The Man Who Flew Into Space From His Apartment, 1985. Six poster panels with collage. Centre Georges Pompidou, Paris. Musée national d'art moderne/Centre de Création industrielle. Purchased 1990. © Ilya & Emilia Kabakov.



LONDON.- This October, coinciding with the 100th anniversary of the 1917 Russian Revolution, Tate Modern is staging the first major museum exhibition in the UK of artists Ilya and Emilia Kabakov (b.1933 and b.1945). Curated in close dialogue with the artists and organised in collaboration with the State Hermitage Museum, St Petersburg and the State Tretyakov Gallery, Moscow, the exhibition explores this pioneering couple's place in the international story of conceptual art and offers the chance to view rarely seen works together for the first time in the UK. The Kabakovs are amongst the most celebrated Russian artists of their generation, widely known for their large-scale installations which draw upon the visual culture of the former Soviet Union and narrative traditions of Russian literature, often addressing universal themes such as utopia, dreams, fears and the human ... More
Hermann Historica auction presents a fascinating array of objects from antiquity and the Middle Ages
Migrants, women inspire at London design award show
Canada's Tragically Hip singer Gord Downie dies at 53


Magnificent and perfectly preserved Kylia idol from the prehistoric period. Starting price:12000 Euros. © Hermann Historica GmbH 2017.



MUNICH.- The 75th auction of Hermann Historica GmbH in Munich will take place from 6 to 17 November with the usual wide range of high quality, precious objects from numerous eras and originating from all over the world, including three special collections. Approximately 6,800 collector's items, some without equal, from all specialist areas represented by the auction house – antiquities, arms and armour, works of art, hunting antiques, orders and collectibles from all fields of history and military history – are to come under the hammer. First up, with a starting price of 60,000 euros, is a spectacular example of Attic vase painting and the exquisite highlight of the antiquities catalogue: a red-figure, Attic chalice krater by the Hector Painter, dating from the fourth decade of the 5th century B.C. Of highly characteristic shape, the elegant vessel is mounted on a curving base and furnished with two handles, ... More



Installation view.



LONDON (AFP).- From a refugee flag to a puzzle campaign highlighting gender bias in the workforce, migrants and women inspired some of the innovative international designs on show in London starting on Wednesday. "Design is real life, it is not something safe in a gallery," said Glenn Adamson, curator of the Design Museum exhibition which showcases 60 projects nominated for the Beazley Designs of the Year awards. The aim was to "show what design could do both symbolically and practically," Adamson told AFP. One of the pieces shortlisted for the prize is a pink "Pussyhat" placed on a mannequin. The knitted hat became a symbol in January after featuring at the Women's March in Washington, DC, and was replicated around the world to protest against the presidency of Donald Trump. The "Pussyhat Project" was created by four young women in California and it quickly spread through social media, aided by having the pattern made freely available online. It became "the most visually effective and ... More



This file photo taken on July 2, 2005 shows Gordon Downie of the Tragically Hip performing during the Live 8 concert in Barrie, Canada. Donald Weber / GETTY IMAGES NORTH AMERICA / AFP.



OTTAWA.- Rock poet and Tragically Hip frontman Gord Downie, whose evocative lyrics helped define Canada, has died at age 53. Downie was diagnosed with terminal brain cancer after suffering a seizure during a walk in his hometown of Kingston, Ontario in December 2015. According to a statement from his bandmates, he passed away on Tuesday evening surrounded by his family. "Gord knew this day was coming -- his response was to spend this precious time as he always had -- making music, making memories and expressing deep gratitude to his family and friends for a life well lived, often sealing it with a kiss... on the lips," said the statement. "He loved this country with everything he had... He loved every hidden corner, every aspect of this country," an emotional Prime Minister Justin Trudeau said, tears streaming down his face. "He wanted to make it better. He ... More
Special exhibition honoring the works of the late Mel Casas opens at Ruiz-Healy Art
Natural History Museum of Los Angeles County unveils concept for new project
Exhibition pairs monumental Murakami works with historic Japanese masterpieces


Stiletto Confrontation.



SAN ANTONIO, TX.- Ruiz-Healy Art is presenting Mel Casas: Iconic Reality, a special exhibition honoring the works of the late Mel Casas. The exhibition opened on Wednesday, October 18, 2017. A catalogue is available including an essay by the respected Chicano Art scholar and Associate Professor and Chair of Chicana/o Studies at the University of California at Davis, Carlos Francisco Jackson. Mel Casas (b. 1929- d. 2014) was an artist of national and international renown. He was also an educator and cofounder of the San Antonio Artist Collective Con Safo—considered by many to be one of the most significant Chicano Art groups of the 60s and 70s. In regards to the future of Chicano art, Casas is quoted for the landmark exhibition, Chicano Art: Resistance and Affirmation (CARA), that his wishes were to make "Chicano art relevant to everyone." Casas constructed a diagram outlining his vision to balance the "national ... More



Natural History Museum west wing at night. Courtesy of the Natural History Museum of Los Angeles County.



LOS ANGELES, CA.- The Natural History Museum of Los Angeles County has unveiled concept designs by Los Angeles architecture firm Frederick Fisher and Partners that would support new uses for the west and south sides of the 104-year-old museum and establish new points of entry into the building from Exposition Park. Following a period of strategic planning for the future, the NHM West/South Project is the first major step of an ambitious 10-year program to revitalize NHM's profile as the historic hub of Exposition Park, and reimagine the physical space and programs of its world-renowned Ice Age fossil site at the La Brea Tar Pits and Museum in Hancock Park. "Exposition Park, and the Natural History Museum as its anchor, is about to enter the world stage as a cultural, entertainment, sports, and education destination," said County Board Chairman Mark Ridley-Thomas. "Its audiences ... More



Takashi Murakami, And then, and then and then and then and then / Green Truth, 2006 (detail). Acrylic on canvas mounted on board, 100 x 100 cm © 2006 Takashi Murakami/Kaikai Kiki Co., Ltd. All Rights Reserved. Courtesy Museum of Fine Arts, Boston.



BOSTON, MASS.- Over the course of nearly three decades, Takashi Murakami (born 1962) has established himself as one of today's most imaginative artists. Drawing influences from the aesthetics of manga, anime and other elements of contemporary pop culture, he has become renowned for instantly recognizable characters, happy-faced flowers and highly saturated colors, as well as boundary-blurring collaborations with high-profile figures in music and fashion. On view this fall at the Museum of Fine Arts, Boston, Takashi Murakami: Lineage of Eccentrics highlights a collaboration of a different kind, revealing how the artist's vision is also guided by an in-depth exploration of the past, fostered by his mentor, the eminent Japanese art historian Professor ... More
Dorotheum announces highlights from its Design Auction
Littlejohn Contemporary opens exhibition of works by Kate Breakey
New Curator of Art appointed at UT Austin's Harry Ransom Center


Adolf Loos - A rare table lamp, Vienna c. 1902, classically reduced construction in glass, brass and porcelain, height approx. 59,5 cm, Adolf Loos used this lamp model for the Turnovsky apartment in Vienna, estimate € 40,000 - 50,000.



VIENNA.- From rare or unique objects, prototypes or fine furniture and objects of the 20th century – the Dorotheum design auction on 2nd November 2017 has something to offer every kind of design fan. The auction looks right back to the beginnings of modern design in the early 1900s with tables and chairs from the Café Museum designed by Adolf Loos, along with his Dodecahedra lamps (€ 15,000 – 20,000, € 20,000 – 25,000), which have lost nothing of their contemporary quality. This is also true of designs such as Ettore Sottsas' "Vienna" series (€ 5,000 – 7,000). Two armchairs by Otto Prutscher, designed for a residence in Brno and first presented at the 1914 Werkbundausstellung, might easily be mistaken for architectural elements rather than furniture, while two other armchairs ... More



Kate Breakey, Copse of Trees near The Coorong , South Australia, 2017 (detail), archival digital inkjet prints hand-colored with pencil and pastel, edition of 20 unique various, 28.5 x 41



NEW YORK, NY.- Kate Breakey is an internationally recognized artist whose photographic processes include hand-colored archival digital photographs, goldleaf prints on glass called orotones, and photograms on paper. The images in the current show, comprised of copses, trees, tumbleweeds, and landscapes -- selected from the artist's prodigious travels to various parts of the world – are archival digital photographic prints lightly hand-colored with pencil, pastel, or oil paint which amplifies the otherworldly appearance of her subjects. At the heart of Breakey's art is a scientist's curiosity about the natural world joined with an artist's passion for its heartbreak and beauty. The content of her photographs, orotones, and photograms become a metaphor for both dramatic and quiet personal events that deeply impact her life. Her ... More



Tracy Bonfitto was named the curator of art on June 12 and started her new duties Sept. 12.



AUSTIN, TX.- The Harry Ransom Center at The University of Texas at Austin has appointed a new curator of art who will focus on improving the Ransom Center's ability to support students, scholars and the public through the interpretation of its rich art holdings. Tracy Bonfitto was named the curator of art on June 12 and started her new duties Sept. 12. Her professional experience includes affiliations with the Getty Research Institute, the Fowler Museum at UCLA and the Los Angeles County Museum of Art. She was previously a lecturer in the Art History Department at the University of California, Los Angeles. "Tracy brings the expertise and skills needed to advance our service to students, researchers and the public," said Ransom Center Director Stephen Enniss. "I look forward to the imaginative uses she will make of the Ransom Center's art holdings and her reconceptualization of the role of visual art in a research libra ... More
Quote
There is no progress in art. Ilia Ehrenburg
More News
---
By Design: The Most Puzzling Chair
---
Flashback
On a day like today, Italian painter and sculptor Umberto Boccioni was born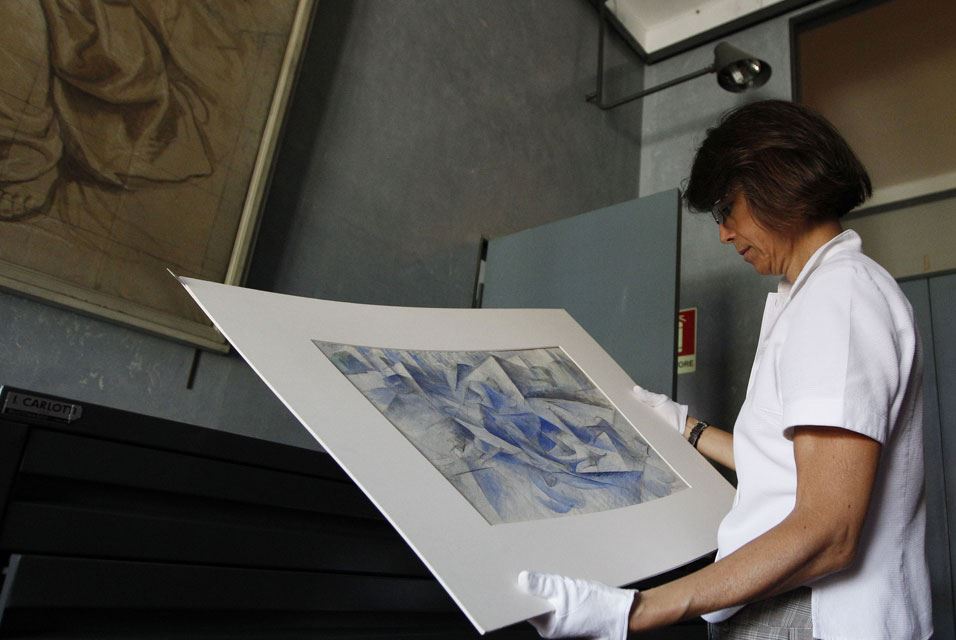 October 19, 1882. Umberto Boccioni (19 October 1882 - 17 August 1916) was an Italian painter and sculptor. Like other Futurists, his work centered on the portrayal of movement (dynamism), speed, and technology. He was born in Reggio Calabria, Italy. In this image: Francesca Rossi, curator in charge of the Sforzesco Castle drawings collection, looks at a work by Umberto Boccioni, in the same room where sketches by mannerist painter Simone Peterzano are preserved, in Milan, Friday, July 6, 2012.
---

Museums, Exhibits, Artists, Milestones, Digital Art, Architecture, Photography,
Photographers, Special Photos, Special Reports, Featured Stories, Auctions, Art Fairs,
Anecdotes, Art Quiz, Education, Mythology, 3D Images, Last Week,
.
Royalville Communications, Inc
produces:







Tell a Friend
Dear User, please complete the form below in order to recommend the Artdaily newsletter to someone you know.
Please complete all fields marked *.
Sending Mail

Sending Successful