Rare and important works by Orientalists on view at Antik A.S. in Istanbul
Founders of Antik A.S. Nurcan – Turgay Artam in the "orientalists" exhibiton gallery.
ISTANBUL
.-
Leading collectors of Turkey are sharing their valuable works of art with the society. Collections comprising the masterpieces of Western artists depicting the Ottoman Empire and İstanbul are on display in the exhibition halls of
Antik Palace
. The exhibition which received great interest with the invitations, seminars and conferences realized with the participation of the esteemed collectors of art, aims sharing of many hidden treasures of masterpieces. The exhibition highlights the orientalist trend in Western paintings. The works in the exhibition cover a wide period from the 17th to the early 19th centuries. Orientalism was the defining of the studies on the religions, languages and the histories of the people of the East. Orientalism which specifies the attitudes of the westerners against the World of Islam, comprised all the Moslem Mediterranean countries, being ...
More
The Best Photos of the Day
Joint Amadeus Mozart and Antonio Salieri composition found at a Czech museum
Fire hits roof of Prague's National Museum; The museum's collections were not affected
Creative Time announces Deputy Director Katie Hollander as new Executive Director


Anonymous portrait of the child Mozart, possibly by Pietro Antonio Lorenzoni (1721-1782). Portrait owned by the Mozarteum, Salzburg.



PRAGUE (AFP).- A long-lost collaborative effort between composers and putative rivals Wolfgang Amadeus Mozart and Antonio Salieri has been found at a Czech museum, its spokeswoman said Friday. "It's a really valuable work... long thought to have been lost," said Czech National Museum spokeswoman Sarka Dockalova, adding that staff discovered it in the reserve collection. "It's a joint composition by Mozart and Salieri, a libretto by Lorenzo Da Ponte put to music," she told AFP, saying it would be performed on Tuesday at a press conference in Prague. The discovery is especially interesting in light of a legend discounted by historians: Italy's Salieri was said to have fatally poisoned Mozart out of jealousy over the Austrian wunderkind's talent. First appearing in Alexander Pushkin's 19th-century poetic drama "Mozart and Salieri," the rumour was later featured in the play and 1984 film "Amadeus", which historians say ... More



The sprawling neo-Renaissance building, a dominant feature of many a picture postcard from Prague, was built in 1885-1891. Photo: Haridas/Wikipedia.org.



PRAGUE (AFP).- A large fire torched the roof of the Czech National Museum in Prague's central Wenceslas Square in the early hours of Friday morning, firefighters told AFP. "The fire hit about 200 square metres (2,150 square feet) of the roof and the attic," Prague fire brigade spokeswoman Pavlina Adamcova told AFP, adding the museum's collections were not affected. One security guard suffering from smoke inhalation was taken to hospital. "The fire was reported at 0032 GMT. We had it under control about two hours later," said Adamcova, adding the cause of the fire and the extent of the damage were under investigation. The sprawling neo-Renaissance building, a dominant feature of many a picture postcard from Prague, was built in 1885-1891. It is currently undergoing an extensive reconstruction worth over 1.35 billion koruna (50 million euros, $56.5 million), which started in 2011 and is due to be completed ... More



With over twenty years of nonprofit experience, Hollander joined Creative Time as Deputy Director of Development in 2008. Photo by Kelly Taub. Courtesy of Creative Time.



NEW YORK, NY.- Creative Time announced the appointment of Katie Hollander as Executive Director. Hollander has been at Creative Time for eight years, serving in a variety of roles and overseeing acclaimed projects during a period of unprecedented expansion. Her appointment comes after a rigorous national search. Creative Time Board of Directors Co-Chair Jed Walentas says, "For the past eight years, Katie has been instrumental in the rise and success of Creative Time. She has a deep appreciation and understanding of our mission, the experience and know-how to ensure Creative Time stays at the forefront of public art, and a clear vision for our future." With over twenty years of nonprofit experience, Hollander joined Creative Time as Deputy Director of Development in 2008. The following year, she became Deputy Director, providing leadership and strategic ... More
Exhibition at Princeton University Art Museum chronicles Jewish culture in America
ARKEN exhibits the work of performance pioneer and rebellious feminist Niki de Saint Phalle
Masterworks from the Kasser Mochary Art Foundation at Tampa Museum of Art examine the human figure


Thomas Sully. Rebecca Gratz (1781-1869), 1831. Oil on panel. 51 x 43 cm. Courtesy of The Rosenbach of the Free Library of Philadelphia, 1954.1936.



PRINCETON, NJ.- The Princeton University Library announces the opening of the exhibition By Dawn's Early Light: Jewish Contributions to American Culture from the Nation's Founding to the Civil War, on Saturday, Feb. 13, 2016, at the Princeton University Art Museum The exhibition continues through June 12, 2016, and is open to the public free of charge. By Dawn's Early Light showcases a rich variety of Jewish voices and imagery from the first decades of the American Republic. Among the more than 170 objects displayed are some of the earliest novels, poems, religious works, paintings, photographs, newspapers and scientific treatises produced by Jews in the United States. Based on gifts and loans to the Princeton University Library by Leonard L. Milberg, Class of 1953, the exhibition also features loans from nearly two dozen museums, synagogues and private collections around the country. Together, they ... More



Niki de Saint Phalle, Lili ou Tony (Lili or Tony), 1965 © 2015 NIKI CHARITABLE ART FOUNDATION, All rights reserved. Photo: Aurélien Mole.



COPENHAGEN.- From wild shooting actions to sensual, dancing female sculptures and exuberant sculpture parks. The French/American artist Niki de Saint Phalle stands as one of the most radical and visionary artists of the 20th century. From 13 February she can be experienced at ARKEN in a comprehensive exhibition of a good 100 works, photographs and documentary film clips. Dragons and demons, heroines and plump ladies in large-flowered bathing suits. Niki de Saint Phalle's universe is both violent and colourful, sombre and humorous. In her art Saint Phalle combines powerful attitudes to gender roles and equality with eternal themes like love, joie de vivre and personal liberation. She had her breakthrough on the international art scene in 1961 and became famous and notorious for her sensational shooting actions and exploratory depictions of women. However, it was not in the cards that this girl with her Catholic upbringing and aristocratic ... More



Mary Cassatt, Portrait of Katharine Kelso Cassatt, c. 1905. Oil on canvas, 31 5/8 x 25 1/2 x 3 1/4 in. Loaned by the Kasser Mochary Art Foundation, Montclair, New Jersey.



TAMPA, FLA.- The Tampa Museum of Art announces the opening of Public and Private – The Figure Examined: Masterworks from the Kasser Mochary Art Foundation. This exhibition opened on February 12, 2016, and will be on view through May 30, 2016. Comprising approximately 100 works of art, this survey examines the portrayal of the human figure through paintings, sculpture, and works on paper by noted 19th- and 20th-century European and American artists. Included in the exhibition are works by Pablo Picasso, Pierre-Auguste Renoir, Mary Cassatt, Diego Rivera, Henri Matisse, Alberto Giacometti, Edgar Degas, Andy Warhol, Auguste Rodin, and many others. In the figure, concepts of beauty and notions of universal and individual identity are revealed through the aesthetics of the human form, the earliest, most dominant and inexhaustible subject of art. Public and Private –The Figure Examined: Masterworks ... More
Exhibition at Haus der Kunst covers all periods of James Casebere's 40-year artistic career
£2M Auerbach leads sequence of smashed estimates in Bonhams' Post-War and Contemporary Sale
Works by El Anatsui, Bernd and Hilla Becher, and Maya Lin on view at Jack Shainman Gallery


James Casebere, Fork in The Refrigerator, 1975. Gelatin silver print, 25 x 20 cm, Edition 9/10. Collection of Martin Z. Margulies, Miami, Florida. Courtesy: the artist and Sean Kelly, New York.



MUNICH.- In the mid-1970s, when James Casebere (born 1953 in Lansing, Michigan, United States) began his career in art, the medium of photography was in a state of transition, as artists were formulating different approaches to the medium. Casebere belongs to a generation of artists who have questioned the veracity of images from the beginning and for whom a photograph is something other than a document. Casebere's early representations questioned the established codes of American Midwestern middle-class value system. A well-known work from this period is the latently violent and somewhat morbid photograph of a refrigerator penetrated by an oversized fork (Fork in the Refrigerator, 1975). In general, the detailed images depict architectural models made by the artist using materials such as polystyrene, paper and plaster. The ... More



E.O.W. on her Blue Eiderdown V, by Frank Auerbach; estimate £1,000,000-1,500,000. Photo: Bonhams.



LONDON.- E.O.W. on her Blue Eiderdown V, a stunning work by the leading British artist Frank Auerbach, doubled its pre-sale estimate at Bonhams' Post-War and Contemporary Art sale in London on 11 February, selling for £2,042,500 – the highest price ever for a figurative work by the artist. Other highlights included Untitled (Red Fan), the first sculpture by Gutai co-founder Kazuo Shiraga ever to come to the auction market, which sold for £1,538,500, the highest price achieved for any Gutai sculpture. Peju's Robe, by El Anatsui, also smashed its pre-sale estimate of £450,000-550,000 to sell for £806,500. E.O.W. on her Blue Eiderdown V had not been seen in public for half a century. It is a painting of Estella West, Auerbach's most inspirational model. Auerbach met West, a widowed mother of three in her thirties, when he was just a teenager – he moved into her basement as a lodger and they became lovers. ... More



Bernd and Hilla Becher, Grain Elevators, Bins, 2003 (detail). 12 gelatin silver prints from photographs made 1978-2000, 68 x 75 inches. Unique. Courtesy of the artist and Yancey Richardson Gallery.



NEW YORK, NY.- Jack Shainman Gallery is presenting Of a Different Nature, featuring works by El Anatsui, Bernd and Hilla Becher, and Maya Lin. The exhibition juxtaposes these three masters who all engage the environment and share roots in a rigid formality that breaks apart into unexpected and often lyrical beauty. Bernd and Hilla Becher spent their shared but extensive career photographing industrial landscapes across Europe and the United States. Water Towers, 2011 is from their iconic "typologies" series, in which structures or buildings are uniformly documented in black and white and arranged in a grid. Here, the formal similarities between nine New York water towers unfold, imbuing these utilitarian colossuses with a strangeness and familiarity all at once. The meticulous yet organic seriality of the Bechers' imagery is also ... More
Four summer houses to join the pavilion as Serpentine architecture programme expands for 2016
Pointe-à-Callière presents the first major exhibition dedicated to Québec archaeology
Stedelijk Museum exhibits a newly acquired site-specific installation by Saskia Noor van Imhoff


NLÉ: Makoko Floating School, Lagos, Nigeria, 2012; Image by George Osodi.



LONDON.- The Serpentine announced today that, in tandem with the 16th Pavilion, it expands its internationally acclaimed programme of exhibiting architecture in a built form by commissioning four architects to each design a 25sqm Summer House. The four Summer Houses are inspired by the nearby Queen Caroline's Temple, a classical style summer house, built in 1734 and a stone's throw from the Serpentine Gallery. In line with the criteria for the selection of the Pavilion architect, each architect chosen by the Serpentine has yet to build a permanent building in England. The Serpentine Pavilion will be designed by Bjarke Ingels Group (BIG) (Copenhagen/New York); the four Summer Houses will be designed by Kunlé Adeyemi – NLÉ (Amsterdam/Lagos); Barkow Leibinger (Berlin/New York); Yona Friedman (Paris); and Asif Khan (London). The expanded scheme will be submitted to Westminster City ... More



Installation view.



MONTREAL.- Fragments of Humanity. Archaeology in Québec is the first major exhibition dedicated entirely to Québec archaeology, in which some 350 significant pieces will be featured, celebrating 50 years of archaeological discovery in Québec. Chosen from among collections and finds from archaeological digs carried out on over 10,000 sites throughout the territory of Québec, the objects reflect our past and tell its story while revealing an astonishing range of diversity. The great majority of the pieces have never been seen by the general public and are being taken out of the Ministry of Culture and Communications' (MCC) archaeological reserve for the very first time. Produced by Pointe-à-Callière, the exhibition also features objects from about ten other lenders including the City of Montréal, Québec City, Pointe-du-Buisson/Musée québécois d'archéologie, the Musée des Ursulines in Trois-Rivières, Avataq Cultural Institute, and Par ... More



Saskia Noor van Imhoff #+14.11.01, 2013, c-print, nutwood frame, 59,4 x 42 cm. Photo door Gert Jan van Rooij, courtesy Galerie Fons Welters.



AMSTERDAM.- The work # +14.11 by Saskia Noor van Imhoff was acquired by the Stedelijk Museum in 2015. It is a spatial installation comprising photos, various objects, and a humidifier. For the inaugural presentation of this work at the Stedelijk, the artist is making a site-specific installation. The piece references both the architecture of the museum galleries and the collection of the Stedelijk. In her work, Van Imhoff retrieves (little-known) objects from the museum's storage depot and integrates methods of conserving, classifying, and storing art into her installations. To construct the installation in galleries 28 and 29 (the innermost galleries of the design circuit), Van Imhoff conducted an intensive investigation of the museum's storage depot. The artist uses original objects, such as those she discovered in the depot, in her installations, as well as replicas. This strategy reveals one ... More
Quote
Bad artists always admire each other's works. Oscar Wilde
More News
---
3,000 Years of History, 1 Week of Sales
---
---
Flashback
On a day like today, German artist Max Beckmann, was born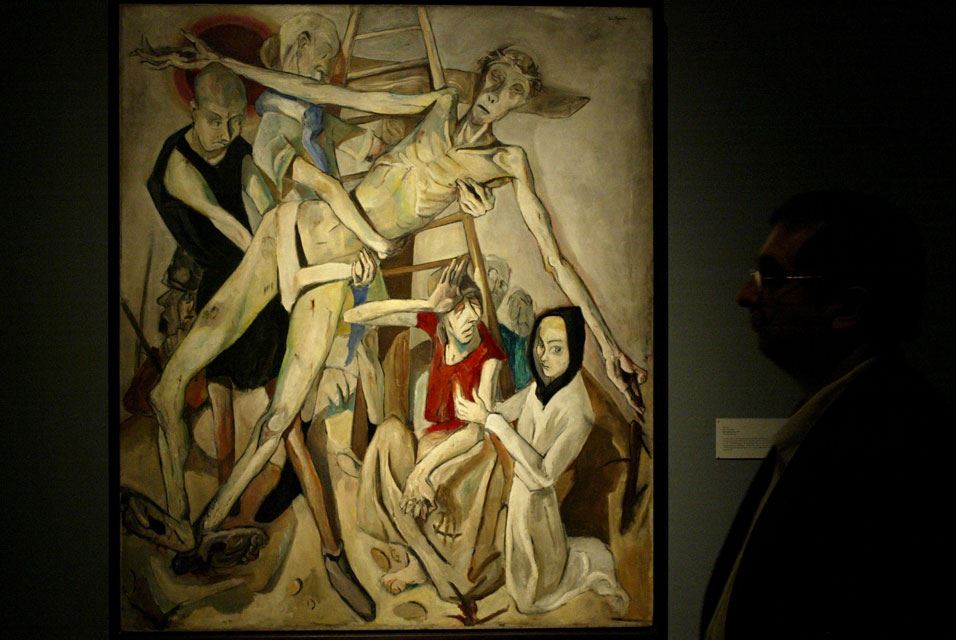 February 12, 1884. Max Beckmann (February 12, 1884 - December 28, 1950) was a German painter, draftsman, printmaker, sculptor, and writer. Although he is classified as an Expressionist artist, he rejected both the term and the movement. In the 1920s, he was associated with the New Objectivity (Neue Sachlichkeit), an outgrowth of Expressionism that opposed its introverted emotionalism. In this image: A visitor looks at the painting "Descant" of Max Beckmann in the Wallraf-Richartz-Museum in Cologne, western Germany, Thursday, June 30, 2005.
---
---

Museums, Exhibits, Artists, Milestones, Digital Art, Architecture, Photography,
Photographers, Special Photos, Special Reports, Featured Stories, Auctions, Art Fairs,
Anecdotes, Art Quiz, Education, Mythology, 3D Images, Last Week,
.
Royalville Communications, Inc
produces:







Tell a Friend
Dear User, please complete the form below in order to recommend the Artdaily newsletter to someone you know.
Please complete all fields marked *.
Sending Mail

Sending Successful