The Weston Cast Court: Victoria & Albert Museum opens refurbished Italian Cast Court
Conservator Johanna Puisto works on the cast of Michelangelo's David, June 2014 in the Weston Cast Court. ©Victoria and Albert Museum, London.
LONDON
.-
On Saturday 29 November 2014, the
V&A
will open the newly refurbished Italian Cast Court as the first phase in the renovation of the Museum's vast, day-lit courts is completed. First opened in 1873, the Cast Courts were purpose built to house one of the most comprehensive collections of casts of post-classical European sculpture. 24 metres in height, the two galleries house some of the V&A's largest objects and are among the most popular in the Museum. Collecting plaster cast reproductions and electrotypes reached the height of popularity in the mid to late 19th-century when few people could afford to travel abroad. The South Kensington Museum (as the V&A was then known) was at the forefront of this enthusiasm, enabling visitors to admire and study faithful reproductions of important European monuments and works of art. The V&A's cast collection is now ...
More
The Best Photos of the Day
Frick Collection announces acquisition of Bartolomé Esteban Murillo's Self-Portrait
The British Museum acquires a watercolour view of Rome by Giovanni Battista Lusieri
American artist Lawrence Weiner receives 2015 Roswitha Haftmann Prize




Murillo, Self-Portrait, c. 1650–55, oil on canvas, 42 x 30 ½ inches, The Frick Collection, New York, gift of † Dr. and Mrs. Henry Clay Frick II; photo: Michael Bodycomb.





NEW YORK, NY.- In recent years, The Frick Collection has showcased its strength in Spanish paintings through acclaimed exhibitions, publications, events on Velázquez, El Greco, and Goya, and the collecting taste for such works. The focus is warranted, given founder Henry Clay Frick's early travels to Spain and his deep interest in Spanish artists. Less known, however, is the fact that his first acquisition of Iberian painting was a significant self- portrait by Bartolomé Esteban Murillo (1617–82), a work that has remained in the Frick family since its purchase in 1904. The painting now comes to the New York museum as the gift of Mrs. Henry Clay Frick II and the late Dr. Henry Clay Frick II. It will be installed in the South Hall and viewable starting Tuesday, December 2. Comments Director Ian Wardropper, "We are pleased to share ... More





Giovanni Battista Lusieri', Panoramic view of Rome: Capitoline Hill to the Aventine Hill, circa 1778–1779 (detail). Watercolour.





LONDON.- The British Museum has acquired a rare early surviving work by one of the eighteenth century's most innovative and technically gifted landscape artists, with the support of the Art Fund, the Ottley Group, the Oppenheimer Fund, Jean-Luc Baroni, the Society of Dilettanti Charitable Trust and individual contributions. Giovanni Battista Lusieri's watercolour Panoramic view of Rome: Capitoline Hill to the Aventine Hill (circa 1778–1779) shows a panoramic view of his native city Rome from Piazza San Pietro in Montorio on the Janiculum, stretching from the Capitoline Hill on the left to the Aventine Hill on the right. It is one of three surviving views from a four-sheet 180 degree watercolour panorama of Rome from the Janiculum at different times of day from morning to evening. These were bought or commissioned by Philip Yorke (1757- ... More





Lawrence Weiner. © Moved Pictures Archive NYC.





ZURICH.- The Board of the Roswitha Haftmann Foundation has awarded Europe's best endowed art prize, worth CHF 150,000, to the American artist Lawrence Weiner (b. 1942). Weiner is considered an especially independent-minded practitioner of Conceptual Art, which grew out of Minimalism in the 1960s. Lawrence Weiner, who currently divides his time between his native New York and Amsterdam, gave up studying literature and philosophy to become an artist. At his first solo show in 1964 he presented Shaped Canvases, experiments with materials, and performances. In the second half of the 1960s he was attracted to Conceptualism; the idea became the starting point for his art, and language as a medium for conveying it has been central to his work ever since. Unlike some of his contemporaries, Weiner deploys language not as a way of reflecting on art but as an art form in its own right: one that triggers sensations, ... More
'Marc Chagall: Colours for the Bible' opens at Marc Chagall National Museum
Museum de Lakenhal presents final design for its restoration and expansion
Modern and Contemporary lead upcoming fine art auctions at Leslie Hindman




Marc Chagall, Joseph berger, 1931, huile et gouache sur papier, musée national Marc Chagall © RMN Grand Palais / Adrien Didierjean © Adagp, Paris 2014.





NICE.- For Marc Chagall's whole life (1887-1985), The Bible was a major source of inspiration. The seventeen paintings of the Biblical Message kept in the Marc Chagall National Museum provide the best testimony evidence: painted between 1956 and 1966, their message of universal love and their creative freedom make them one of the most important spiritual legacy of the artist. The exhibition offers a return in the past, some thirty-five years earlier when the artist began his studies on biblical themes by producing a masterly series of gouaches. In 1930, Marc Chagall and the publisher Ambroise Vollard (1866-1939) begin their third collaboration. After creating the illustrations for Gogol's Dead souls and for La Fontaine's Fables, the Parisian publisher asked Marc Chagall to produce engravings to illustrate the Bible. It was the beginning of a remarkable publishing project, which for economic ... More





Museum De Lakenhal is a museum of the arts, of artistry and of the history of Leiden.





LEIDEN.- The municipality of Leiden and Museum De Lakenhal present the final design for the restoration and expansion of Museum de Lakenhal. The design for the restoration has been provided by Julian Harrap Architects, of London, while the new structures have been designed by the young but talented Dutch agency Happel Cornelisse Verhoeven. The expansion and restoration of the museum are set to take place over the period 2015-2017. Within just one year, the architects developed a definitive design that is both cost-conscious and of a very high quality. The four separate museum structures will be naturally connected through a central courtyard, which will be realized by reopening the historic Laecken-Halle's own 'back court'. This 'back court' is directly linked to the museum's historical entrance. The new structures, meanwhile, will add two additional exhibition halls that will feature a natural skylight and a vie ... More





Alex Katz, Portrait of Elaine de Kooning, 1965 (detail). Estimate: $150,000/250,000.





CHICAGO, IL.- Leslie Hindman Auctioneers announces three upcoming Fine Art sales with a unique concentration of modern and contemporary work. The Modern and Contemporary Art sale will take place on Thursday, December 11 at 10 a.m. CST alongside the Fine Prints sale to begin at 3 p.m. the same day. Preceding these two auctions is the American and European Art sale that will take place on Wednesday, December 10 at 10 a.m. CST. The Modern and Contemporary Art sale will feature over 160 lots from artists working in the Post-War period to contemporary artists practicing today. The painting session is highlighted by a mid-sixties portrait of Elaine de Kooning by Alex Katz ($150,000/250,000), which was exhibited in his 1971 and 1972 traveling retrospective. Elaine also worked during the Postwar period as a painter utilizing an expressionist style. She married painter Willem de Kooning who is represented ... More
Pierre Bergé & associés to offer an exceptionnal oil on canvas by Jacques-Emile Blanche
With £2.77 million in funding, green light for phase II of the Painted Hall conservation
Painting by El Greco is first work from the Alte Pinakothek to be shown at the Pinakothek der Moderne




Jacques-Emile Blanche (1861-1942) Portrait of the opera singer Marya Freund with her children Stefan Freund and the future Doda Conrad, 1913. Oil on canvas (original canvas). Signed and dated 1913 in lower left. H: 101 cm W: 80 cm. Estimate 30 000/ 40 000 €.





PARIS.- On Wednesday, 17th of December, as part of the Old master paintings, classical furniture and works of art sale, held by Pierre Bergé & associés at Drouot, an oil on canvas by Jacques-Emile Blanche will be offered for bid: the portrait of the opera singer Marya Freund and her children. Jacques-Emile Blanche (1861-1942), was altogether a French painter, engraver and writer. He was a self-made painter who acquired a famous reputation as a portraitist. He was a friend of the « Surrealists » and of the « dada » group, such as Jean Cocteau, whose mother was very close to the Blanche family. He was elected a member of the French « Académie des Beaux Arts » in 1935. A portrait seldom displays two generations of great artists. Nevertheless, this is the case of this many-faceted painting. ... More





Centrepiece of the spectacular lower hall ceiling in the Painted Hall which will be conserved as part of the Phase II project.





LONDON.- The Heritage Lottery Fund today announced that it has earmarked funding of £2.77 million, including a development grant of £98,800, to The Greenwich Foundation towards its £7m scheme to complete the conservation of the Painted Hall at the Old Royal Naval College (ORNC). This first round pass will enable the Foundation to proceed with it plans for the conservation of the remaining 3,700 square metres of paintings: one of the most ambitious painting conservation projects ever undertaken within a historic interior. It will also support improved interpretation and accessibility, the delivery of conservation skills training, and a programme of associated community, learning and public events including scaffolding tours which proved immensely popular during Phase I of the conservation. Created in the early 18th century by Sir James Thornhill for Sir Christopher Wren's Royal Hospital for Seamen, the spectacular, Grade 1 Listed, ... More





El Greco (Doménikos Theotokópoulos) (1541-1614) and workshop, The Disrobing of Christ, bet. 1580 and 1595, oil on canvas, 165 x 98,8 cm © Bayerische Staatsgemäldesammlungen, Alte Pinakothek, Munich.





MUNICH.- El Greco's 'The Disrobing of Christ' is the first work from the Alte Pinakothek to be shown at the Pinakothek der Moderne. This guest appearance highlights a noteworthy phenomenon – around 1910, a young generation of Expressionist painters enthusiastically celebrated El Greco as a prophet of Modernism. Munich contributed significantly to promoting this view of El Greco. 'The Disrobing of Christ' had already been acquired for the Alte Pinakothek in 1909 and, in 1911, was shown at the influential exhibition of works from the Nemes Collection along with other paintings by El Greco. During the partial closure of the Alte Pinakothek due to renovation work, this picture – that is very popular among visitors – has now been placed next to a number of works by Expressionist artists who indentified with El Greco's painting in particular. These include Heinrich Maria ... More
Tokyo Chuo Auction's inaugural Hong Kong auctions achieve spectacular results
Pope Benedict XVI Harley Davidson to be sold for charity at Bonhams Paris sale
One of the last paintings by War artist Walter Sickert sells for £44,600 in London auction




Changshuo and Wang Zhen, Bamboos, Cranes by Pine Tree (detail). SOld for: HK$6,900,000/ US$890,323.





HONG KONG.- Tokyo Chuo Auction's inaugural Hong Kong sales held at the Four Seasons Hotel on 26 November 2014 achieved an impressive total of HK$162,508,800/ US$20,969,877 and were 93% sold. Over 200 lots of fine and rare Chinese paintings, calligraphy pieces, works of art and tea wares were offered in the sales. Mr Ando Shokei, Founder of Tokyo Chuo Auction, said: "We are delighted with the excellent results of this exciting sale. In a packed saleroom, bidding was consistently active throughout the day, pushing the prices of many lots well above their estimates. Works of rarity, impeccable provenance and freshness to the market were particularly sought after and achieved fantastic prices. Tokyo Chuo Auction endeavours to foster cultural exchange between Japan and China. We are fully committed to developing our business in Hong Kong and the region, bringing more superb works from eminent ... More





The motorcycle is to be offered as part of Bonhams Grand Palais auction, entered at no reserve, with an estimate of €15,000-25,000 (£11,700-19,600). Photo: Bonhams.





PARIS.- A Harley-Davidson motorcycle blessed with the signature of Pope Emeritus Benedict XVI, and later received by Pope Francis, is to be sold for charity at Bonhams 5 February Paris Sale. The motorcycle is to be offered as part of Bonhams Grand Palais auction, entered at no reserve, with an estimate of €15,000-25,000 (£11,700-19,600). In a special countdown to Harley-Davidson's 110th anniversary celebrations, two commemorative motorcycle petrol tanks were presented to Pope Emeritus Benedict XVI. These were signed, and returned to the motorcycle legends US headquarters where they were mounted to their respective motorcycles. Of these, one remains in the Harley-Davidson museum in Milwaukee, USA. The remaining motorcycle – the FLSTC 103 Heritage Softail Classic destined for Bonhams 2015 sale - lay waiting for ... More





Walter Richard Sickert (1860-1942), Vineyards, 1941 (detail). Sold for £44,640.





LONDON.- One of Walter Sickert's last great paintings, a 1941 view in Bath entitled Vineyards, captivated and mystified the art world when it was offered in the Modern & Contemporary British Art sale at Bloomsbury Auctions on Wednesday 26th November. After frenetic bidding on the phone and in the room, the highly desirable work was finally secured by a private London collector for £44,640. Vineyards was produced in the year prior to Sickert's death, making it one of his last ever paintings. Geographically the work is a view of Roman Road in Bath, outside Bladud Buildings where Sickert had a studio in 1917. However, whilst the painting was on view at the auction house's Mayfair saleroom, the topographical relevance to Sickert and its execution in the final months of his life, fuelled speculation about the mysterious shadow-less figure hovering in the foreground of the painting. Perhaps this ghoulish figure, dressed in an Edw ... More
Quote
There are some days when I think I'm going to die from an overdose of satisfaction. Salvador Dalí
More News
---
Installing a Colossal Statue of a Man
---
---
Flashback
On a day like today, French graphic artist Tomi Ungerer was born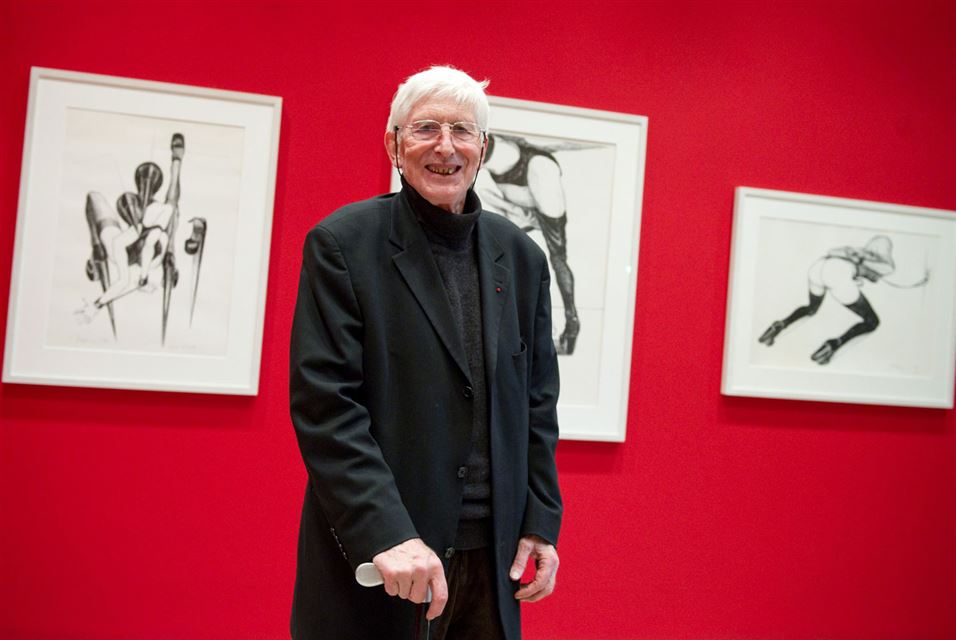 November 28, 1931. Jean-Thomas "Tomi" Ungerer (born November 28, 1931) is a French illustrator best known for his erotic and political illustrations as well as children's books. In this image: Drawer, illustrator and author Tomi Ungerer stands in front of three of his artworks in the exhibition 'Eklips - Neues fuer die Augen 1960 bis 2010' ('Eclipse - New things for the eyes 1960 to 2010') at the Wuerth art gallery in Schwaebisch Hall, Germany, 11 May 2010. The largest Ungerer exhibition ever displays some 600 artworks from five decades.
---
---

Museums, Exhibits, Artists, Milestones, Digital Art, Architecture, Photography,
Photographers, Special Photos, Special Reports, Featured Stories, Auctions, Art Fairs,
Anecdotes, Art Quiz, Education, Mythology, 3D Images, Last Week,
.
Royalville Communications, Inc
produces: