Exhibition highlights a major body of paintings by Monet produced in Giverny
Claude Monet's Secret Garden culminates in a phenomenal body of work produced in Giverny, a small village in northern France where Monet resided from 1883 to the end of his life in 1926.
VANCOUVER
.-
The Vancouver Art Gallery
is presenting the most comprehensive exhibition of French painter Claude Monet's work in Canada in two decades. Claude Monet's Secret Garden presents thirty-eight paintings spanning the career of one of the most important figures in Western art. Claude Monet's Secret Garden culminates in a phenomenal body of work produced in Giverny, a small village in northern France where Monet resided from 1883 to the end of his life in 1926. A creative endeavour in their own right, the gardens that Monet designed and cultivated in Giverny became the central inspiration of his art. Its waterlilies—populated with exotic strains from as far as South America and the Middle East—weeping willows and the famed Japanese bridge endure as some of the most iconic imagery in art. These audaciously expressive works represent the summation of Monet's lifelong dialogue with nature that guided him ...
More
The Best Photos of the Day
Exhibition focuses on artists who lived in Düsseldorf and worked together during the 1970s
Exhibition at Leopold Museum focuses on depictions of women as well as on works created by female artists
Exhibition presents a history of the Cobra movement


Memphis Schulze u. a. Hochzeitsbild, 1977 (detail). Kaseinfarbe, Sprühlack auf Papier auf Leinwand kaschiert, 230 x 280 cm © Nachlass Memphis Schulze, Düsseldorf; VG Bild-Kunst, Bonn 2017.



DUSSELDORF.- The focus at this exhibition is on artists who lived in Düsseldorf and worked together during the 1970s: Michael Deistler, Bruno Demattio, Achim Duchow, Astrid Heibach, Candida Höfer, Christof Kohlhöfer, Ingrid Kohlhöfer, Klaus Mettig, Lutz Mommartz, Tony Morgan, Angelika Oehms, Sigmar Polke, Ulrike Rosenbach, Stephan Runge, Conrad Schnitzler, Emil Schult, Memphis Schulze, Katharina Sieverding, Klaus vom Bruch, Ilona & Wolfgang Weber. With these protagonists, we take a fresh look at how the arts began to set out along more differentiated paths in the post-war years, and at sproutings of subculture in German-speaking countries and around Europe; most of the works on display in Singular / Plural have never before been shown at an exhibition. A pivotal factor is that this loose-knit group of cosmopolitans developed their predilections and strategies ... More



Ferdinand Georg Waldmuller, Portrait of Mrs. Josefa Ernst, 1856 © Leopold Museum, Vienna.



VIENNA.- The series of themed presentations featuring the permanent collection continues with the exhibition Female Images – From Biedermeier to Early Modernism, which focuses on depictions of women as well as on works created by female artists from the 19th and early 20th century. In keeping with the emphasis of the Leopold Collection, the selected works hail from the period between 1830 and 1930. The first part of the presentation shines the spotlight on various themes, including female portraits, mother-and-child depictions and women as nude models. Female depictions can initially be found predominantly in the portrait genre. These portrayals of women are strongly informed by certain expectations of their commissioners, such as the demand for beauty, charm and grace. Along with portrait depictions, female images often show women assuming traditional roles, such as that of wife, mother and caregiver to the family. An importan ... More



Corneille, Tête Pensive (Pensive Head), 1980. Color lithograph NSU Art Museum Fort Lauderdale; Cobra Collection; gift of Golda and Meyer Marks, M-­659 © 2017 Artists Rights Society (ARS), New York / ADAGP, Paris.



FORT LAUDERDALE, FLA.- Cobra, the interdisciplinary and trans-national European avant-garde movement named after its home cities --- Copenhagen, Brussels and Amsterdam – caused a revolution in modern art during just three years of creative activity (1948-1951) that continues to influence artists working today. A new exhibition at NSU Art Museum Fort Lauderdale examines Cobra artists' innovative use of animal images and their expression of popular visual culture. Human Animals: The Art of Cobra is part of NSU Art Museum's Regeneration series of exhibitions, and features works from the Museum's celebrated Golda and Meyer Marks Cobra Collection, the largest Cobra art collection in America. The exhibition is on view from July 9 – October 8, 2017. "Cobra has undergone considerable reevaluation ... More
Display showcases the Heide Museum of Modern Art's rich collection of works by various members of the Boyd dynasty
Art and craft meet in experimental textiles by international artists
ICA Miami unveils inaugural program of its new permanent home, opening December 1, 2017


Arthur Boyd, Family Group c.1946. Oil on hardboard, 104.1 x 121.9 cm. Heide Museum of Modern Art, Melbourne. Gift of Beverly Brown in memory of her father Dr Joseph Brown AO OBE 2014 © Courtesy Bundanon Trust



MELBOURNE.- The third exhibition in the Making History series, this display showcases the museum's rich collection of paintings, works on paper and ceramic objects by various members of the acclaimed Boyd dynasty and their close collaborators. With a focus on the achievements of the 1940s and 50s, the exhibition's highlights include elegant art nouveau-style pots by family patriarch Merric Boyd, Arthur Boyd's masterful group portrait painted in 1946 and a vibrant array of domestic ware produced by artists working for the Arthur Merric Boyd Pottery in the postwar period. In 1913 potter Merric Boyd and his wife and artistic collaborator Doris Gough settled at Open Country, a property in Murrumbeena in Melbourne's south-east. Over subsequent decades they established a pottery and studios and encouraged their five children ... More



Paulina Olowska, Oksza, 2014, Gobelin and polymid, 77 ½ x 44 x 10 inches. Courtesy of the artist at Metro Pictures. Photo: Jerry Birchfield. © MOCA Cleveland 2016.



KATONAH, NY.- This summer, the Katonah Museum of Art presents Wall to Wall: Carpets by Artists, an exhibition that studies some of the best contemporary art through the lens of craft: the woven carpet. Featuring seventeen artists from across the globe, the exhibition proves carpets to be a powerful agent of meaning today, one that cuts across subjects of design, art, décor, production, and geopolitics. The "artist carpet" is a form that bears a long and distinguished pedigree, from Raphael and Peter Paul Rubens to Pablo Picasso, Fernand Léger, and Joan Mirò. Unlike exhibitions that examine artist carpets through an ethnographic lens, Wall to Wall takes as its point of departure the history of art, focusing on the ways in which the medium advances relevant explorations in contemporary artistic practice. The exhibition examines the increasing prominence of carpets ... More



Preliminary rendering of the new ICA Miami in the Design District, designed by Aranguren & Gallegos.



MIAMI, FLA.- The Institute of Contemporary Art, Miami opens the doors to its new permanent home in the Miami Design District on December 1, 2017, with a bold inaugural program that reflects the museum's commitment to championing new narratives in contemporary art and to providing a platform for the exchange of art and ideas. With more than double the exhibition space in its new permanent home, ICA Miami presents its first thematic survey and most ambitious exhibition to date, bringing together the work of contemporary innovators with that of modern masters. The new building also enables the museum to expand its commitment to mounting monographic presentations that offer new insight on under-recognized artists and deepen scholarship in the field; and to commissioning boundary-pushing works of art through the debut of six new large-scale works, on view throughout the museum and its sculpture garden. Highlights of the inaugural ... More
'Faraway Focus Photographers Go Travelling' on view at the Berlinische Galeri
A new book celebrates the neglected work of 19th-century social realist painter Frederick Walker
Crossroads art fair relaunches in London the week before Frieze


Thomas Hoepker, Werbung für ein Mittel gegen Sodbrennen an einem Bus, New York, 1963 © Thomas Hoepker / Magnum Photos / Agentur Focus.



BERLIN.- Travelling has been a major theme in photography for over a hundred years. As a genre, travel photography emerged around the same time as mass tourism in the late 19th century, when it reinforced expectations of foreign parts as somehow exotic. Only since the 1920s has travel inspired photographers to respond artistically to cultural, political and social conditions in other countries. These pictures might be spontaneous reactions to the unknown or else prompted by a preconceived plan. The exhibition presents over 180 works by 17 photographers and reflects the history of 20thcentury art photography. The different approaches illustrate changes in visual idiom and perceptions from early travel photography down to our globalised world. Max Baumann (*1961), Kurt Buchwald (*1953), Marianne Breslauer (1909–2001), Tim Gidal (1909–1996), Thomas Hoepker ... More



This is the first book in over a century to examine the important work of the watercolour artist and illustrator Frederick Walker.



LONDON.- Lund Humphries presents the first comprehensive survey of the neglected work of 19th-century watercolour artist Frederick Walker and his Idyllist contemporaries. This is the first book in over a century to examine the important work of the watercolour artist and illustrator Frederick Walker (1840–1875) and his closest artistic allies. He was greatly admired (and collected) by Vincent van Gogh and was described by Millais as 'the greatest artist of the century' and yet his premature death at the age of 35 cut short his promising career. Walker, together with his close friends George John Pinwell (1842–1875), John William North (1842–1924) and friends sought unexpected beauty and charm in the everyday world of Victorian Britain. This aim was marked by a strong sympathy for the downtrodden and those on the margins of society, a sentiment which characterised their often ... More



Liv Vaisberg, 2017. Photo by Pablo Cepeda.



LONDON.- Crossroads announces a new artistic direction, returning to London from 30 September to 4 October at Victoria House Basement. The art fair is being transformed by new director Liv Vaisberg, who brings a vision for a curated fair to show emerging and mid-market galleries in the best possible conditions. Vaisberg comes to Crossroads having previously co-directed Independent Brussels and co-founding Poppositions in Brussels, which was conceived as an experimental counterpoint to mainstream art fairs. She states: "The decision to turn Crossroads into something completely new came from a desire to make it more relevant to London. I strongly believe there is a role for a small and focused fair that will gear all of its efforts towards the emerging and mid-sector galleries, where some of the most exciting artists' works are to be found. So far, the support for this initiative has been incredible." Alejandro Zaia, founder and former director of Crossroads, ... More
Experience the Norse mythology story of Ragnarök at the Fine Arts Center
Racine Art Museum expanding the definition of what a vessel could be
In 2018, Art Paris Art Fair will bring together 140 galleries from some twenty different countries


De Lane Bredvik, Sudden Aspen Decline.



COLORADO SPRINGS, CO.- The Fine Arts Center announces a site-specific art installation Wendy Mike and De Lane Bredvik: Ragnarӧk Anthropocene, on view July 15, 2017-Jan 7, 2018. Hailing from the Pikes Peak region, visual artists Wendy Mike and De Lane Bredvik prove that art is inherently powerful and transformational. The installation is inspired by Ragnarök, a series of future events in Norse mythology in which the death of major figures, various natural disasters, and the complete submersion of the world in fire and water ultimately result in a fertile rebirth, reconciliation of the gods, and re-population of the human race. Given the destructive wildfires and floods that have wreaked havoc on the region in recent years, Ragnarök serves as a cautionary tale, asking us to consider our sacred and practical responsibilities to the earth, to think of our family as something far beyond our kin, and to envision a more holistic world ... More



Giles Bettison, Vista Series #54, 2000. Glass, 8 ½ x 6 ½ x 1 7/8 inches. Racine Art Museum, Gift of Holly Hotchner and Franklin Silverstone. Photo: Jon Bolton, Racine.



RACINE, WI.- In Racine Art Museum's extensive holdings of contemporary craft, a variety of approaches to the idea of a "vessel" are represented. Open July 16, 2017 – January 21, 2018, Variations on a Theme: Vessels from RAM's Collection is the second in a series of museum exhibitions surveying the landscape of craft through theory, design, and history. As evidenced by the more than 50 examples on display in this exhibition, there are many ways contemporary artists interpret or investigate what a vessel could or should look like. Since the mid-twentieth century, many craft artists have purposefully made objects that challenge the idea of function. The works they created could be functional in an expected way, functional but not seeming to be, or wholly sculptural and not meant to function ... More



View of the main entrance. © Photo: Emmanuel Nguyen Ngoc.



PARIS.- From April 5th - 8th 2018, Art Paris Art Fair will bring together 140 galleries from some twenty different countries at the Grand Palais. Diversity and discovery are the key words of this leading springtime event for modern and contemporary art in Paris that combines a region-by-region exploration of European art from the post-war years to the present day and a cosmopolitan perspective on emerging scenes from around the world. In 2018, Art Paris Art Fair will be celebrating its 20th anniversary. True to its original vocation to support the French art scene, the fair will be juxtaposing the subjective, historical and critical perspective of an exhibition curator, with a selection of specific projects focussing on artists in France who, both in the past and today, have managed to preserve their independence from dominant trends, or were situated on the margin of ... More
Quote
This grandiose tragedy that we can call Modern Art. Salvador Dalí
More News
---
The Artist Project: Cory Arcangel
---
Flashback
On a day like today, Italian painter Francesco Albani was born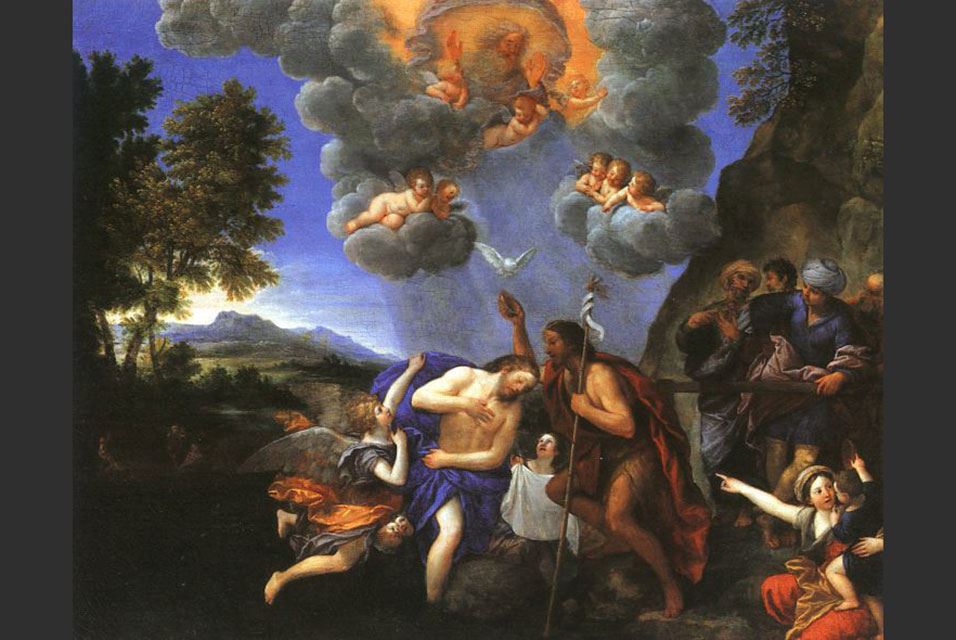 August 17, 1578. Francesco Albani or Albano (17 March or 17 August 1578 - 4 October 1660) was an Italian Baroque painter. Albani never acquired the monumentality or tenebrism that was quaking the contemporary world of painters, and in fact, is derided often for his lyric, cherubim-filled sweetness, which often has not yet shaken the mannerist elegance. While Albani's thematic would have appealed to Poussin, he lacked the Frenchman's muscular drama. His style sometimes appears to befit the decorative Rococo more than of his time. In this image: Baptism of Christ ca 1640 (State Hermitage Museum, St. Petersburg.
---

Museums, Exhibits, Artists, Milestones, Digital Art, Architecture, Photography,
Photographers, Special Photos, Special Reports, Featured Stories, Auctions, Art Fairs,
Anecdotes, Art Quiz, Education, Mythology, 3D Images, Last Week,
.
Royalville Communications, Inc
produces:







Tell a Friend
Dear User, please complete the form below in order to recommend the Artdaily newsletter to someone you know.
Please complete all fields marked *.
Sending Mail

Sending Successful