Two thousand year old ritual bath found during renovations in private house in Jerusalem
Tal looks at an immersion pool in an ancient Jewish ritual bath (mikveh), dating from the Second Temple Period and believed to be over 2000 years old, which the family discovered under their living room during renovations at the private house in the picturesque Jerusalem neighborhood of Ein Kerem. Ein Karem is also considered a holy place for Christians since according to the New Testament, John the Baptist was born there, and it is where his pregnant mother, Elisabeth, met the Virgin Mary, the mother of Jesus Christ. AFP PHOTO / GALI TIBBON.
JERUSALEM
.-
An ancient, two thousand year old ritual bath (miqwe) was discovered below a living room floor during renovations carried out in a private house in the picturesque neighborhood of 'Ein Kerem in Jerusalem. Archaeologists of the
Israel Antiquities Authority
were amazed to discover that a pair of wooden doors beneath a stylized rug in the middle of a pleasant family's living room concealed an ancient ritual bath. The owners of the place were awarded a certificate of appreciation by the Israel Antiquities Authority for exhibiting good citizenship in that they reported the discovery of the miqwe and thereby contributed to the study of the Land of Israel. The miqwe, which is complete and quite large (length 3.5 m, width 2.4 m, depth 1.8 m), is rock-hewn and meticulously plastered according to the laws of purity appearing in the halacha. A staircase leads to the bottom of the immersion pool. ...
More
The Best Photos of the Day
Intriguing unseen portrait by 18th century Venetian master for sale at Bonhams
Stedelijk Museum Amsterdam presents an historic survey of the innovative avant-garde artists' group ZERO
Whistler's 'Arrangement in Grey and Black No. 1' arrives at the Clark Art Institute




Portrait of a girl with a basket of fruit and flowers is thought to have been painted between 1720-1725 when Tiepolo was rapidly establishing a career in Venice. Photo: Bonhams.





LONDON.- An intriguing early portrait by the Venetian master, Giovanni Battista Tiepolo, is to be offered at Bonhams Old Master Paintings Sale in London on 8 July. The work, which has never before appeared on the market, is estimated at £200,000-300,000. Portrait of a girl with a basket of fruit and flowers is thought to have been painted between 1720-1725 when Tiepolo was rapidly establishing a career in Venice, the city of his birth. During this period he worked on important commissions including the vast Crucifixion at San Martino in Burano; the Madonna of Mount Carmel for the Confraternity of the Virgin of Carmel at Sant'Aponal and the Glory of Saint Theresa on the vault of the chapel of Saint Theresa in the church of Santa Maria di Nazareth, Venice. Around 1725 the artist completed the decorations in fresco and on canvas for the Palazzo Sandi in Corte dell'Albero. ... More





Yves Klein realizing a Fire painting, 1962. Testing Center of Gaz de France, Saint-Denis, France © Yves Klein / ADAGP, Paris / Pictoright, Amsterdam, 2015 © Photo Louis Frédéric.





AMSTERDAM.- Fire, light, movement, space, demonstrations, and performances: the Stedelijk Museum Amsterdam presents an historic survey of the innovative, international avant-garde artists' group, ZERO. In the '50s and '60s, the ZERO artists' group experimented with the most innovative materials and media. In 1962, the Stedelijk Museum staged the first museum presentation of ZERO. A few years later, a more comprehensive survey, Nul 1965, followed, a presentation widely considered as one of the movement's highlights. Now, precisely fifty years later, the Stedelijk presents an historical survey that sheds light on how the network's artists – Armando, Heinz Mack, Henk Peeters, Otto Piene, Jan Schoonhoven, Günther Uecker, Lucio Fontana, Yves Klein, Piero Manzoni, Jean Tinguely, and Yayoi Kusama – redefined the meaning and form of art forever. Beatrix Ruf, director of the ... More





James McNeill Whistler, Arrangement in Grey and Black, No. 1 (Portrait of the Artist's Mother), 1871 (detail). Oil on canvas, 56 4/5 x 64 in.. Musée d'Orsay, Paris © RMNGrand Palais / Art Resource, NY. Photo: Jean-Gilles Berizzi).





WILLIAMSTOWN, MASS.- Independence Day brings an American icon to the Clark Art Institute with the arrival of Arrangement in Grey and Black No. 1 (Portrait of the Artist's Mother) (1871) by James McNeill Whistler as part of the exhibition Whistler's Mother: Grey, Black, and White, on view July 4 through September 27, 2015. Better known as Whistler's Mother, the painting has been owned by the French state since 1891 and is in the collection of the Musée d'Orsay, Paris. It is one of the most renowned works of art by an American artist and is considered by many to be the most important American painting not held on American soil. The painting serves as the centerpiece of an exhibition featuring a selection of Whistler's prints and drawings, Japanese woodblock prints that inspired the artist, and ephemera that explore the image's role in popular ... More
Prague-born writer Franz Kafka papers belong to Israel national library: Israeli court
In time for July 4, replica of French frigate that brought Lafayette to America arrives in New York
John Jacob joins curatorial staff at the Smithsonian American Art Museum as its Curator for Photography




Franz Kafka. Photo: Atelier Jacobi: Sigismund Jacobi (1860–1935)/ Wikipedia.org





JERUSALEM (AFP).- An Israeli court has awarded a rare collection of Franz Kafka's manuscripts to the country's national library, ending a long legal battle worthy of one of the Prague-born writer's complex stories. The judgement, published Wednesday, ordered Tel Aviv resident Eva Hoffe to hand all the papers in her possession to the National Library of Israel. Kafka died in 1924, with most of his work published after his death. The author of "The Metamorphosis," who wrote in German, entrusted his manuscripts and works to his friend, Max Brod, and instructed him to burn them after his passing. But Brod did not honour Kafka's wishes, and took the papers with him to Palestine when he fled Nazi persecution in 1939. Brod, who died in 1968, bequeathed the Kafka collection, including unpublished writings, to his secretary, Esther Hoffe. She was to "publish his work and ensure after her death that his literary estate be placed for ... More





A replica of the French frigate Hermione, that ferried the Marquis de Lafayette to America during the Revolutionary War, docks at South Street Seaport July 1, 2015 in New York. AFP PHOTO / TIMOTHY A. CLARY.





NEW YORK, NY.- A replica of a majestic 18th century tall ship that brought French General Lafayette to America arrived in New York Wednesday to take part in July 4 Independence Day festivities. The original three-masted Hermione brought the general to America to rally US rebels fighting for independence from Britain. To much fanfare and applause, the ship docked at Pier 15 in south Manhattan on the East River. The Hermione replica, which took almost two decades to build, left from France's western coast on April 18 and retraced the 3,700-mile (6,000-kilometer) journey across the Atlantic. It arrived June 5 for a first stop in Yorktown, Virginia, where American forces led by General George Washington and French soldiers scored a decisive victory over the British in 1781, prompting their ... More





John Jacob. Photo: Friedrich Nill.





WASHINGTON, DC.- The Smithsonian American Art Museum has appointed John Jacob as its McEvoy Family Curator for Photography. Jacob will be responsible for research, exhibitions and acquisitions related to the museum's collection. He joins 11 curators currently on staff for contemporary art, craft and decorative art, Latino art, media art, sculpture, works on paper, folk and self-taught art and 19th- and 20th-century painting. Jacob begins work at the museum July 13. "John Jacob brings to the Smithsonian American Art Museum a deep knowledge of the field as well as valuable experience in publishing and exhibition planning," said Virginia Mecklenburg, chief curator at the Smithsonian American Art Museum. "John will bring new energy to our photography program." Jacob comes to the museum from the Inge Morath Foundation, where he was director and vice-president facilitating programs related to Morath and support of women phot ... More
Kunsthaus Zürich receives permanent loans from Walter A. Bechtler Foundation
New York's Eric Edwards, who owns a $10 million collection, works to open African art museum
'Measured Perfection: Hiram Powers' Greek Slave' on view at the Smithsonian's American Art Museum




Rebecca Warren, La Monte, 2012. Hand painted bronze on painted pedestal, 215 x 34 x 24 cm. On permanent loan from the Walter A. Bechtler Foundation, 2013 © Rebecca Warren.





ZURICH.- The Kunsthaus Zürich has received 23 works of contemporary art on permanent loan from the Walter A. Bechtler Foundation. Five of the works are now on display: room-sized installations by Liam Gillick and Fischli/Weiss, and three sculptures by Rebecca Warren. The planned long-term collaboration between the Foundation and the Kunsthaus will strengthen the latter's offerings in art after 1960, which the Kunsthaus aims to highlight in particular with the opening of its Extension. Over the years to come the Kunsthaus Zürich will integrate permanent loans from the Walter A. Bechtler Foundation into the presentation of its Collection. Works by Liam Gillick, Fischli/Weiss and Rebecca Warren are the first on display. 'The Two Hundred and Twenty Second Floor' (2005), a 200-m2 installation by British artist Liam Gillick, is on view until early August, Rebecca Warren's three delicate painted bronze sculptures until Nov ... More





Collector of African art Eric Edwards stands among some of the pieces in his collection. AFP PHOTO/DON EMMERT.





NEW YORK, NY.- Open the door of a seemingly normal New York apartment and the unwary visitor is transported to another world. Tribal drums jostle for space with forbidding statues and flamboyant masks. Eric Edwards, a retired phone company executive born and bred in Brooklyn, has spent 44 years amassing an astonishing African art collection. Friends thought he was crazy but now he plans to put the whole exotic, chaotic collection on public display. "Most people thought I was totally out of my mind for spending so much money on these things," he says from a tiny sofa, hemmed in by art from all 54 countries in Africa crammed floor to ceiling in his duplex. Visitors tread a narrow path from door to kitchen, careful not to knock over any ancient Nubian relics or ceremonial drums. "I just had this huge love of African art, because it was not just about the art. It was about me," Edwards said. His interest was sparked by his Barbadian father, who sought to counter racism in New York by ... More





Hiram Powers, Ginevra, modeled 1838, marble, Smithsonian American Art Museum, Museum purchase in memory of Ralph Cross Johnson.





WASHINGTON, DC.- This one-gallery exhibition reveals the inner workings of the studio of Hiram Powers (1805–1873), who was among the most innovative sculptors of the nineteenth century, eagerly adapting long-standing sculpture traditions to new technologies of his age. The display draws from an extensive collection acquired by the Smithsonian American Art Museum directly from Powers' studio in Florence, Italy, in 1968. Finished and unfinished artworks and a selection of tools reveal Powers' creative process and ingenious experiments, including the highly controversial practice of body casting. A key object in the exhibition is the life-size plaster of Powers' Greek Slave, the most highly acclaimed sculpture of the nineteenth century, so famous that Powers applied for a U.S. patent on the composition. This example of the Greek Slave is studded with the metal points in preparation for replication by the pointing machine—a c ... More
LAPADA Art & Antiques Fair 2015: Ashmolean Museum announced as Cultural Partner
Spink to offer a fine collection of Polish coins and medals in its summer sale in London
Flemish artist Pieter Vermeersch opens exhibition at Galerie Perrotin, Hong Kong




Director Alexander Sturgis in front of the Ashmolean Museum.





LONDON.- LAPADA the Association of Art & Antiques Dealers welcomes the University of Oxford's award-winning Ashmolean Museum as exclusive Cultural Partner of the LAPADA Art & Antiques Fair 2015, Berkeley Square, London, 22 – 27 September. The Ashmolean Museum, which is the oldest public museum in Britain, houses the largest collection of drawings by Raphael, the most significant collection of Anglo-Saxon artifacts outside the British Museum and the greatest Chinese collection in the West. Catherine Whistler, the Museum's Acting Keeper of Italian and Spanish paintings, drawings and prints; French art before 1800; and textiles, will deliver the LAPADA Art & Antiques Fair's Headline Lecture on 25th September, offering important curatorial insights into the Ashmolean's forthcoming exhibition: Drawing in Venice: Titian to Canaletto, which runs from 15th October 2015 until 10th January 2016. Featuring drawings from th ... More





A gold medal by Jean Höhn and struck in Gdansk (Danzig) in 1646. Estimate: £12,000 – 15,000.





LONDON.- On the 15th July 2015, Spink will be holding the summer sale of Ancient, British & Foreign Coins and Commemorative Medals. The auction boasts a wide variety of rarities and highly valuable items, from a Catherine II Russian commemorative platinum medal of her accession, (Lot 237, estimated: £40,000 – 50,000) to a fine collection of Karl Goetz medals. The Collection of Goetz Medals was formed by Walter R Johnson M.D. in the 1960s. Spink has much of the collector's original correspondence, and buyers may request copies. From Germany to Poland, the sale contains a selection of Polish coins and medals of the finest quality. They are from an extensive collection formed by a Polish gentleman living in England after the war and contains some exceptionally beautiful rarities. Out of the 20 coins in the collection, two stand out in particular. The first being an 8 Ducat piece from Poland showing King Wladyslaw IV, ... More





Pieter Vermeersch, Untitled, 2015. Oil on canvas, 76 x 56 cm / 30 x 22 1/16 inches. Courtesy Galerie Perrotin.





HONG KONG.- Galerie Perrotin, Hong Kong presents the second exhibition dedicated to Flemish artist Pieter Vermeersch, following his first solo show at Galerie Perrotin, Paris in 2013. Born in 1973, Pieter Vermeersch has developed since the turn of the 2000s a highly conceptual practice of monochromatic painting seemingly at the crossroads between Color Field and Minimalism. While his strictly analytical approach to colors allows him to paint extremely subtle shades of limited hues in a smooth gradient fade that he meticulously unfolds on either canvases or murals, the artist's monochromatic and immersive fields programmatically tend toward what he personally refers to as the pictorial "degré zéro": that is an image balanced between the two polar and antagonistic conditions of its possible existence, abstraction versus figuration, an opposition to which there is supposedly no escaping. In order to engage in this ... More
Quote
The things that I have apparently parodied I actually admire. Roy Lichtenstein
More News
---
Ben Uri 100 Years in 100 seconds July '15
---
---
Flashback
On a day like today, American artist Barnett Newman died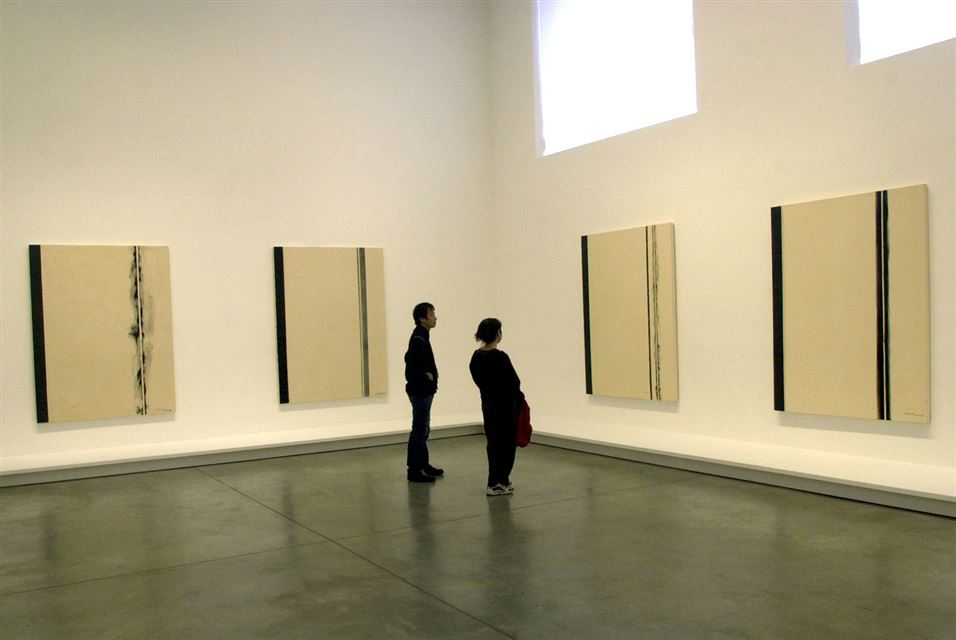 July 04, 1970. Barnett Newman (January 29, 1905 - July 4, 1970) was an American artist. He is seen as one of the major figures in abstract expressionism and one of the foremost of the color field painters. In this image: Part of artist Barnett Newman's "Stations of the Cross" is seen Tuesday, March 12, 2002, at the Philadelphia Museum of Art in Philadelphia.
---
---

Museums, Exhibits, Artists, Milestones, Digital Art, Architecture, Photography,
Photographers, Special Photos, Special Reports, Featured Stories, Auctions, Art Fairs,
Anecdotes, Art Quiz, Education, Mythology, 3D Images, Last Week,
.
Royalville Communications, Inc
produces: