Deutsche Bank KunstHalle in Berlin showcases Jackson Pollock's masterpiece "Mural"
Measuring 8' 1¼ " x 19' 10", the immensely dynamic "Mural" is the largest painting Pollock ever created and it continues to cast a long shadow over the course of American art down to the present day.
BERLIN
.-
Jackson Pollock's "Mural" (1943), one of the twentieth century's most historic and influential paintings, is now in Germany after its monumental cleaning campaign at the Getty Conservation Institute, Los Angeles. The exhibition "Jackson Pollock's 'Mural': Energy Made Visible" focuses upon this seismic masterpiece and sets it in the context of more than forty other pieces by artists and photographers including Lee Krasner, Roberto Matta, Aaron Siskind, Gjon Mili, Barbara Morgan, Robert Motherwell, and Andy Warhol. Organized by the University of Iowa Museum of Art (UIMA), the exhibition features at the
Deutsche Bank KunstHalle
from November 25, 2015, through April 10, 2016. "This show offers a fresh insight into Jackson Pollock's achievement, its roots and its vast impact on subsequent art", says Sean O'Harrow, director of the UIMA. "Pollock's ...
More
The Best Photos of the Day
Art Loss Register successfully resolves case of Anish Kapoor 'Water Pendant'
Hauser & Wirth announces worldwide representation of the estate of David Smith
Culture Minister Ed Vaizey places export bar on Dieric Bouts' St Luke Drawing the Virgin and Child


The American tourist reported the loss to his insurer who paid out on the claim. Photo: Bonhams.



LONDON.- The Art Loss Register has successfully resolved the case of a lost Anish Kapoor 'Water Pendant' which sold at Bonhams this week for £8,125, exceeding its estimate. The pendant was bought by an American tourist as an anniversary gift for his wife in 2013. The pendant, one of an edition of just five, is made from polished white and rose gold. It features mirrored concave and convex surfaces similar to those often seen in Kapoor's monumental sculpture. It was bought from the London-based Louisa Guinness Gallery, which works with leading sculptors and painters to create jewellery. The pendant was lost immediately after purchase - the buyer had not even returned to his hotel room. It had been left in the original box in the back of a London taxi. The American tourist reported the loss to his insurer who paid out on the claim. Soon afterwards, the insurance company registered the missing pendant with ... More



David Smith, Circles Intercepted, 1961. Steel, painted, 227.3 x 142.2 x 50.8 cm / 89 1/2 x 56 x 20 in. Photo: Robert McKeever.




NEW YORK, NY.- The Estate of David Smith and Hauser & Wirth jointly announced today the gallery's exclusive worldwide representation of the Estate of the renowned late American sculptor and painter. Hauser & Wirth will be exploring and expanding the legacy of David Smith (1906 – 1965), a titan of 20th-century art who, over the course of his 33-year career, transformed modernism into a robust but nuanced new artistic language spanning abstraction and figuration. 'We are deeply honored by this extraordinary opportunity to work with the Estate of David Smith', said Iwan Wirth, President, Hauser & Wirth. 'It's a privilege to fully engage with the vision and achievements of such a towering figure. From our perspective, Smith stands among the greatest innovators – Alberto Giacometti, Constantin Brancusi, Henry Moore, ... More



Dieric Bouts, St Luke Drawing the Virgin and Child.



LONDON.- The painting St Luke Drawing the Virgin and Child from Dieric Bouts' workshop is at risk of being exported from the UK unless a buyer can be found to match the asking price of £3,300,000 (plus VAT of £83,320). Culture Minister Ed Vaizey has placed a temporary export bar on the 15th century oil painting to allow time for a UK buyer to come forward. Culture Minister Ed Vaizey said: This distinctive painting is the only example of St Luke drawing the Virgin Mary and Christ by a Northern European artist on display in this country. I hope that a buyer comes forward to save this iconic piece for the UK. The painting depicts St Luke drawing the Virgin Mary and Christ, a popular subject in 15th Century Netherlands. Dieric Bouts was one of the leading and most influential Netherlandish painters of this period. He was one of the pioneers of the oil painting technique and was also one of the first of his Northern European contemporaries to make use of single-point perspective, ... More
To mark 100 years of the Dada movement, Kunsthaus Zürich digitizes Dada collection; Results online in 2016
China authorities 'shut down' anti-violence art show: Organiser and curator Cui Guangxia
Four pre-Inca tombs found in the middle of a residential neighborhood in Lima


Restorer Jean Rosston removing a work from its frame. Photo: Kunsthaus Zürich.



ZURICH.- The Kunsthaus Zürich holds around 700 historic Dada documents and artworks: paintings, sculptures, photographs, works on paper, letters, notes, books, magazines, flyers, posters and manuscripts. To mark 100 years of the Dada movement, all the documents and works on paper are being digitized, and in some cases restored, to make them accessible to a global audience. The Kunsthaus Zürich holds one of the world's most extensive Dada collections. Following presentations in 1966 and 1980, many years of collection and research activity at the Kunsthaus Zürich culminated in the 'Dada global' exhibition in 1994. The comprehensive catalogue of the exhibition and collection edited by Raimund Meyer documents all the holdings at that time in detail. Since 1994, the Kunsthaus's Dada collection has continued to grow. The two largest groups are the approximately 180 works in the Collection of Prints and Drawings, and 540 Dadaist publications and documents in the ... More



Restrictions have increased since President Xi Jinping came to power, artists say, with the country's premier independent film festival shut down for the last two years. AFP PHOTO / POOL / WANG ZHAO.



BEIJING (AFP).- An art show highlighting domestic violence has been shut down at the last minute by Beijing authorities, organisers said Thursday, apparently the latest victim of Chinese cultural controls. More than 60 artists -- half of them women -- contributed work to the show, timed for Wednesday's United Nations-designated International Day for the Elimination of Violence Against Women. But when the artists arrived at the venue in the centre of the capital for the opening they found themselves locked out, while gallery staff were absent. Curator Cui Guangxia told AFP a source close to the venue said the show had "not received approval from relevant departments". Beijing's municipal cultural bureau said it was not responsible for overseeing visual art shows, while a gallery employee told AFP that it only provided the space for the exhibition, and was not involved in the organisation. She could not comment on the reasons for ... More



A Peruvian archaeologist works at the Huaca (ancient burial ground) Pucllana in the heart of Lima. AFP PHOTO / CRIS BOURONCLE.



LIMA (AFP).- Archaeologists in Peru have found four tombs that are more than 1,000 years old in a pyramid-shaped cemetery that now sits in the middle of a residential neighborhood in Lima, experts said Thursday. "There are four human burial sites, for adult individuals, three women and one man, who lived between the years 1000 to 1450," said archaeologist Isabel Flores, director of the program in Huaca Pucllana, a ceremonial complex in Miraflores district. The find confirms the historical presence in Lima of the Ichma culture. It took hold on the central coast around 1000 and disappeared around 1450 as Inca civilization began to spread. "These are the first four tombs of the Ichma culture. We think that we may still find more" despite long-term looting, said Flores, who has been researching the site for more than three decades. The tombs featured seated remains, looking toward the sea, wrapped up in textile and hand-woven natural materials alongside offerings ... More
Lawren Harris masterpieces propel Heffel's fall sale to national fine art auction record
Masterstrokes of a 20th century legend: Christie's to offer a series of exceptional paintings by Zhang Daqian
Group exhibition at White Cube Bermondsey brings together paintings by close to fifty artists


The leading lot in the fall sale was the extraordinary Lawren Harris canvas Mountain and Glacier, which outperformed its estimate of $1,000,000 to 1,500,000 and sold for a record $4,602,000.



TORONTO.- Yesterday in Toronto, Heffel Fine Art Auction House held the highest grossing fine art auction in Canadian history as 157 important works of art were offered at the semi-annual live auction. Starring museum-quality works by Group of Seven artist Lawren Harris, Heffel's international auction achieved monumental sales of $23.4 million, exceeding presale estimates of $10 million to $15 million. Strong competition for major masterpieces from bidders across North America, Europe and Asia resulted in the sale of six individual works for more than $1 million (all prices are in Canadian dollars and include an 18 per cent buyer's premium). This has proven to be an exciting year for Canada's Lawren Harris, as a retrospective at the Hammer Museum in Los Angeles, California continues to garner deserved recognition for the artist. The Idea of North: The Paintings of Lawren Harris, co-curated by actor and art-lover ... More



Living in the Spring Mountains. Scroll, mounted and framed, ink and colour on gold paper, 53 x 40.8 cm. Estimate: HK$3,000,000-4,000,000 / US$390,000-520,000. Photo: Christie's Images Ltd 2015.



HONG KONG.- From 30 November to 1 December 2015, a group of masterworks by Zhang Daqian, one of the most prodigious Chinese 20th century artists, will be offered at auction at Christie's Hong Kong. Consigned from several distinguished collections, the rich selection of works beautifully represents a cross section of the artist's highly revered body of work with a special highlight on his splashed ink series. Zhang Daqian's splashed ink works are a culmination of his life-long dedication and represent the pinnacle of his career, rich with the accumulated skill and experience from his travels around the globe and shaped heavily by his continuous striving for re-invention and greatness. Abstract in nature (these works are clearly influenced by the West), they harkening back to his cultural roots and Chinese heritage. This harmony is beautifully represented in the amalgamation of the uncontrollable ... More



Francis Bacon, Study for Portrait of Isabel Rawsthorne, 1982. Oil and pastel on canvas, 14 x 12 in. (35.6 x 30.5 cm), 19 1/2 x 17 5/16 x 3 9/16 in. (49.5 x 44 x 9 cm) (framed) © the artist. Photo © White Cube (George Darrell).



LONDON.- The group exhibition 'Tightrope Walk' brings together paintings by close to fifty artists in an effort to illuminate how the act of making a representational painting became redefined over the past century, following the emergence of abstraction as a competing proposition. Since then, representational painting has always been made in cognisance of abstraction – sometimes polemically against it but more often incorporating aspects of it into a new synthesis. The exhibition draws on some of the forms in which this contentious encounter has taken place and its impact on the many ways painters have revised their conception of what representation can be. Francis Bacon explained his art to David Sylvester as 'a kind of tightrope walk between what is called figurative painting and abstraction.' He continued, 'It will go right out from abstraction, but will really have ... More
The Fondation Beyeler launches Speed Art, a rapid reaction game about the works in its collection
Rem Hoolhaas wins international competition to design The Factory Manchester
"Me and You: Mario Testino and Ed van der Elsken" opens at Annet Gelink gallery


The game focuses on artworks and artists included in the Beyeler Collection.



BASEL.- As part of its commitment to art education for children and young people, the Fondation Beyeler is launching the fast-paced card game Speed Art. The game focuses on artworks and artists included in the Beyeler Collection, provides information about them and encourages art lovers who are young or young at heart to take a very close look at their cards. In the process, players discover connections between works by famous artists such as van Gogh, Cézanne, Klee, Mondrian and many others. Speed Art, which is immediately available from the Fondation Beyeler's Art Shop, both in the museum and online, is a light-hearted Christmas present about art and culture that is suitable for the entire family. Its creation has been made possible by UBS, a long-standing and dedicated sponsor of the Fondation Beyeler and its partner for art education for families and young people. Art enriches daily life and opens up new perspectives. It gives visible form to our feelings, thoughts, fears ... More



The Factory will be a new kind of large-scale venue that captures the extraordinary creative vision and depth of Manchester's cultural life. ©OMA. Image Courtesy of The Factory Manchester.



MANCHESTER.- Rem Koolhaas' Office for Metropolitan Architecture (OMA) has won the international competition to design The Factory Manchester, the city's cutting-edge arts venue that will take a radically new approach to cultural production and performance. The project will be OMA's first major public building in the UK. The government has agreed revenue funding for the project of £9m per annum from 2018/19 as part of its Spending Review. The Factory will be a new kind of large-scale venue that captures the extraordinary creative vision and depth of Manchester's cultural life. It will be a flagship cultural centre for the North and North West, commissioning original works in partnership with leading national and international organisations. The Factory will build on the success of the Manchester International Festival and create innovative commissions all year round, playing a significant ... More



Mario Testino at Mr. Chow's New York, 1998.





AMSTERDAM.- The invitation for this exhibition sets the tone. The two photos rhyme with one another convincingly. Each catches two women going about their business – the one on the left, by Mario Testino (1954), the one on the right by Ed van der Elsken (1925-1990). In 1997, Testino photographed the models Stella Tennant and Kristen McMenamy while they were changing during a Dior fashion show in Paris. The unguarded moment undermines the glamour of fashion. In 1966, Van der Elsken saw two strikingly dressed young women in Dam Square in Amsterdam. He followed them, and took a number of shots, of which this is one. The photo documents the changing times in which women were beginning to dress more daringly, as skirts became shorter and the taboo against women wearing pants crumbled. The dialogue makes it immediately obvious that the fashion photographer Mario Testino also has an eye of a street photographer, and the ... More
Quote
The art of drawing is the art of omission. Max Liebermann
More News
---
The Art of Installation: Installing Louise Bourgeois's "Maman"
---
---
Flashback
On a day like today, French graphic artist Tomi Ungerer was born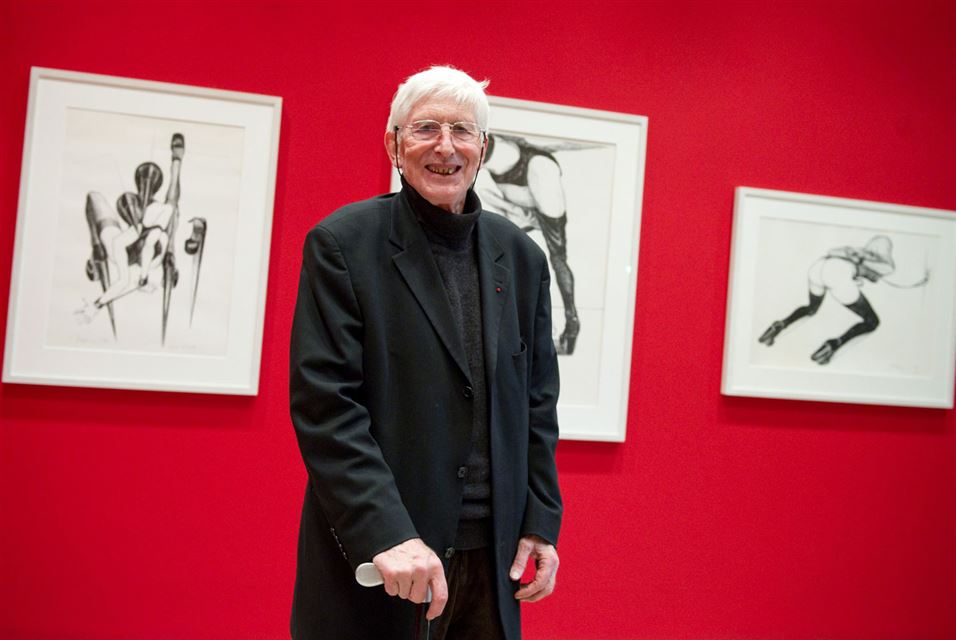 November 28, 1931. Jean-Thomas "Tomi" Ungerer (born November 28, 1931) is a French illustrator best known for his erotic and political illustrations as well as children's books. In this image: Drawer, illustrator and author Tomi Ungerer stands in front of three of his artworks in the exhibition 'Eklips - Neues fuer die Augen 1960 bis 2010' ('Eclipse - New things for the eyes 1960 to 2010') at the Wuerth art gallery in Schwaebisch Hall, Germany, 11 May 2010. The largest Ungerer exhibition ever displays some 600 artworks from five decades.
---
---

Museums, Exhibits, Artists, Milestones, Digital Art, Architecture, Photography,
Photographers, Special Photos, Special Reports, Featured Stories, Auctions, Art Fairs,
Anecdotes, Art Quiz, Education, Mythology, 3D Images, Last Week,
.
Royalville Communications, Inc
produces:







Tell a Friend
Dear User, please complete the form below in order to recommend the Artdaily newsletter to someone you know.
Please complete all fields marked *.
Sending Mail

Sending Successful