First exhibition in the UK to examine Rubens' influence on art history opens in London
Peter Paul Rubens, Pan and Syrinx, 1617. Oil on panel, 40 x 61 cm. Museumslandschaft Hessen Kassel, Gemäldegalerie Alte Meister, Kassel. Photo: Museumslandschaft Hessen Kassel, Gemäldegalerie Alte Meister/Ute Brunzel
LONDON
.-
The Royal Academy of Arts
presents the first major exhibition in the UK to examine Rubens' influence on art history. Rubens and His Legacy: Van Dyck to Cézanne is an exploration of the artistic legacy of Peter Paul Rubens (1577–1640), the most influential of Flemish painters. The exhibition brings together masterpieces by Rubens and the artists who were inspired by him, during his lifetime and up until the twentieth century, including Van Dyck, Watteau, Turner and Delacroix, as well as Manet, Cézanne, Renoir, Klimt and Picasso. Rubens and His Legacy presents over 160 works, comprising paintings, drawings and prints drawn from some of the finest collections world-wide. Each work has been carefully considered ...
More
The Best Photos of the Day
Jane Wilson, painter of luminous landscapes, dies at the age of 90 in New York
Works by Leonardo da Vinci on display the Phoenix Art Museum for the first time
Sotheby's London announces dedicated Surrealist Art Evening Sale on 3rd February 2015




Jane Wilson in her studio, New York, June 4, 2000. Photograph by John Jonas Gruen. Courtesy of DC Moore Gallery, New York.





NEW YORK, NY.- DC Moore Gallery mourns the loss of Jane Wilson, whose sixty-year career established her as one of the leading landscape painters of the postwar era. Wilson died on January 13, 2015 in New York. She was 90. Wilson's most recent exhibition at DC Moore Gallery in New York in November of last year featured her luminous landscapes that hover between abstraction and representation, inspired by the sky, sea, and land of the East End of Long Island, New York. Her art is focused on events of the natural world—seasons of the year, times of day, and the many moods of the weather. Evoking these constant occurrences, Wilson directed her energies to making the most passing phenomena visible, to capturing the effects of shimmering light, heavy air, and passing thunderstorms. In many of her paintings, the sky, which can just as easily be taken as an abstract field of pattern and color, ... More





Leonardo da Vinci (1452 – 1519, Italian), Codex Leicester, c.1506-10 (detail). Ink on paper. Each double sheet 11 ¾" x 17 5/8" Image Courtesy ©bgC3.





PHOENIX, AZ.- Leonardo da Vinci's Codex Leicester and the Power of Observation opened at Phoenix Art Museum on January 24, 2015. The exhibition is focused around the Codex Leicester—comprised of 18 double-page and double-sided sheets (72 pages total). This is the only manuscript by Leonardo in a private American collection and one of the world's most important intellectual manuscripts. Focused primarily on Leonardo's study of water and the moon, the codex pages display his creative process, the way he reasoned through a concept, and how he influenced artists throughout centuries. Along with the Codex Leicester are 31 additional artworks by artists ranging from Claude Monet and Gustave Courbet, to Ansel Adams and Bill Viola. Included are paintings, photographs and a video installation, depicting a broad range of subject matter including water, waves, shells, peppers, milk, geysers, leaves, sand, oceans ... More





Francis Picabia, Lunaris, 1929. Oil, brush and ink and black crayon on panel, 120 by 94.5cm. Estimate: £800,000-1,200,000. Photo: Sotheby's.





LONDON.- On 3rd February 2015, Sotheby's London will present masterworks of Surrealist Art in a dedicated Evening sale which will stand alongside the Impressionist & Modern Art Evening Sale. The market for Surrealist Art has continued to grow from strength to strength in recent years, with new benchmarks set in the field at Sotheby's each season, including the highest price at auction for any work by Salvador Dalí, Joan Miró, René Magritte and Francis Picabia. James Mackie, Sotheby's Senior Director, Impressionist & Modern Art, said: "This year's dedicated Surrealist sale offers an extremely rich and broad range of works by the key names of the Surrealist art movement. The outstanding works, many of which are fresh to the market having remained in private collections for decades, have each been selected to represent the artists at their best." Important highlights of the forthcoming February sale include Ren ... More
The Morgan exhibits the final works of Italian draftsman and classicist Giovanni Battista Piranesi
Exhibition of Modern and Postwar Art opens at the Mildred Lane Kemper Art Museum
The 1970s are reborn in new photorealism exhibition at the Currier Museum of Art




Giovanni Battista Piranesi, View of the Interior of the Basilica, Looking North (Study for plate V of the Différentes vues de Pesto), ca. 1777-78. Black chalk and wash with pen and brown ink and red chalk on paper. Courtesy of the Trustees of Sir John Soane's Museum.





NEW YORK, NY.- In 1777, the great Italian draftsman and printmaker Giovanni Battista Piranesi (1720-1778) visited the haunting and majestic archaeological site of Paestum on the Gulf of Salerno, about 60 miles south of Naples. A Greek colony dating to circa 600 B.C., Paestum had long been abandoned when it was rediscovered in the eighteenth century. Antiquarians eagerly studied the site, visiting its three ancient Doric temples, then identified as the Basilica, the Temple of Neptune, and the Temple of Ceres. The Basilica and the Temple of Neptune are among the best-preserved early Greek temples. Piranesi immediately began a set of monumental drawings that combined an antiquarian's interest in the buildings with an appreciation for the picturesque qualities of the ruins. The drawings were preparatory ... More





Jean Dubuffet, Actes légendaires (Legendary Acts), 1961. Oil on canvas, 39 3/8 x 32". Mildred Lane Kemper Art Museum, Washington University in St. Louis. Gift of Mr. and Mrs. Richard K. Weil, 1975. © 2014 Artists Rights Society (ARS), New York / ADAGP, Paris.





ST. LOUIS, MO.- During the 1950s and 1960s, international abstraction played a crucial role in Cold War cultural politics. Abstract Expressionism, with its emphasis on the authentic, unmediated gesture, was seen to represent individual freedom and American democracy. European movements, such as Cobra and art informel, were presented as symbols of hope and revitalization. In St. Louis, the Mildred Lane Kemper Art Museum (then the Washington University Gallery of Art) emerged as one of the nation's most important regional centers for postwar abstract art. This was in large part due to the efforts of William N. Eisendrath Jr., a seasoned curator with deep connections to the national and international art world, who served as curator and then director of the collection from 1960-68. This spring, the Kemper Art Museum presents "From ... More





In the 1970s, a loosely-knit group of primarily American artists including Richard Estes, Duane Hanson, Tom Blackwell and Audrey Flack decided that art should accurately reflect the world we see around us.





MANCHESTER, NH.- Imagine paintings that look so real that you feel you can walk into the canvas and back in time, or sculptures so lifelike that you want to reach out and become part of the scene. Still Life: 1970s Photorealism, on view at the Currier Museum of Art from January 24 through May 3, 2015, takes you back to a world filled with muscle cars, endless highways, diners, 1970s cityscapes and more. If you lived through the 1960s and 1970s, these images will seem intensely familiar. The artworks that are on view in this exhibition reflect a passion for hyperrealism and provide today's audiences with an unflinching journey back in time to life 40 years ago. "People are immediately drawn to these works of art," said Kurt Sundstrom, Currier curator. "Most baby boomers will view this show nostalgically but everyone will appreciate each artist's precision in creating these seemingly real scenes. The ... More
Electronica pioneer Edgar Froese of futuristic sounding Tangerine Dream dead at 70
The Contemporary Austin presents first ever exhibition of works by Tom Sachs in Texas
Capitain Petzel announces the first exhibition with Israeli artist Yael Bartana




Edgar Froese of Tangerine Dream. Ilya S. Savenok/Getty Images/AFP.





NEW YORK (AFP).- Edgar Froese, whose band Tangerine Dream crafted an ambient and futuristic sound that set the stage for generations of electronic artists, has died, his son said Friday. He was 70. Trained as a sculptor, the German multi-instrumentalist shocked the musical world in the early 1970s by using synthesizers to generate a trance-like but minimalist atmosphere that had only passing connections to the rock sound that then dominated the airwaves. His son Jerome Froese, who later joined him in the band, said that his father died unexpectedly from a pulmonary embolism while in Vienna on Tuesday. "Edgar once said, 'There is no death, there is just a change of our cosmic address.' Edgar, this is a little comfort to us," a statement from the band said. Froese was born in what is now the Russian city of Sovetsk on June 6, 1944 -- the same day as the D-Day invasion -- and has described growing up in a ... More





Tom Sachs, Guru's Yardstyle, 1999. Mixed media. 53 x 24 x 25 inches. Courtesy Tom Sachs Studio.





AUSTIN, TX.- From January 24 through April 19, The Contemporary Austin presents an immersive and interactive exhibition of assemblages, sculptures, objects, and audio installations by New York-based artist Tom Sachs. Titled Boombox Retrospective 1999–2015, the project demonstrates the artist's unique, imaginative, and rigorous DIY aesthetic and is composed largely of works that riff on the idea of the "boombox," the iconic emblem of 1980s hip-hop culture. A music lover and connoisseur himself, Sachs has recently constructed a series of ceramic boomboxes in a variety of sizes. As functional works of art, these boomboxes—along with other sculptures and installations on view in the exhibition—actually work and feature a collection of playlists contributed by pop icons and friends of the artist and curated by Sachs. While Sachs's work has been exhibited worldwide and has garnered substantial critical ... More





Yael Bartana, "Inferno", 2013, Alexa camera transferred onto HD, 22 minutes, Film still, Courtesy of the artist, Capitain Petzel, Berlin; Petzel Gallery, New York; Annet Gelink Gallery, Amsterdam; and Sommer Contemporary, Tel Aviv.





BERLIN.- Capitain Petzel announces the first exhibition with Israeli artist Yael Bartana. The show marks the Berlin debut of her film True Finn, which is presented together with Inferno. In Inferno, Yael Bartana films the inauguration of a grand temple, the destruction of it, and the worship of its debris. The starting point is the construction of a replica of Solomon's Temple in São Paulo by an evangelical neo-Pentecostal church called the Universal Church of the Kingdom of God (UCKG). The temple is built with stones imported from Israel as the UCKG intends to bring part of the Holy Land to São Paulo, thus inverting the traditional path taken by pilgrims who would leave Brazil for the Holy Land. The film's conflation of place, history, and belief allows Bartana to weave connections between the complex realities of São ... More
Exhibition at De La Warr Pavilion features over 200 original illustrations from Ladybird books
Ryder Ripps' first solo exhibition with Postmasters Gallery opens in New York
Exhibition of new paintings by Markus Lüpertz opens at VW (VeneKlasen/Werner)




The Policeman, 1962, John Berry.





BEXHILL ON SEA.- Ladybird By Design at De La Warr Pavilion presents over 200 original illustrations from Ladybird books between the late 1950s to the early 1970s. Focusing on the world in which the reader lived, the exhibition features selections from series including People At Work, Shopping With Mother, Science, Nature, Well Loved Tales and Key Words. The exhibition has been inspired by a new book by Lawrence Zeegen published in March 2015 that portrays a unique slice of Britain's social and design history, as seen through the eyes of Ladybird. The success of Ladybird was as much due to clever format and compelling design, as it was the quality of the writing, presenting a portrait of the time through the use of specifically commissioned illustration. Unparalleled in their perfectly observed attention to detail and unique sense of place, Ladybird's full-colour, full-page illustrations were often created by well-known illustrators ... More





Ryder Ripps, Sippy, 2014. Oil on canvas, 72 x 72 inches (183 x 183 cm). Courtesy of Postmasters Gallery, New York.





NEW YORK, NY.- Ryder Ripps' first solo exhibition, titled Ho, opened on January 24th at Postmasters Gallery in New York. The show features large scale oil paintings, portraits once removed, derived from the Instagram of model Adrianne Ho (300,000 followers). Ripps (6,000 followers) transforms self-portraits Adrianne Ho posts online into expressive, highly distorted pictures. Ho's carefully staged, posed and styled photos are digitally processed, then painted. In creating striking, warped images Ripps strains techniques that are commonplace in the fashion industry to make models appear more "attractive" to the point of abstraction. Abstract passages referencing the heroic gestures of the Action Painters are generated through fingers moving across the decidedly unheroic touchscreen- the new site of aggression and anxiety in the age ... More





Markus Lüpertz, "Träumer", 2014. Mixed media on canvas in artist frame 200 x 162 cm 78 3/4 x 63 3/4 in. Photo: Galerie Michael Werner Märkisch Wilmersdorf, Köln & New York.





BERLIN.- VW (VeneKlasen/Werner) presents an exhibition of new paintings by Markus Lüpertz. Neue Bilder is the artist's first major gallery exhibition in Berlin in more than five years, following his 2014 project at Paul-Löbe-Haus which presented a series of paintings illustrating the German constitution. First exhibited at Galerie Michael Werner in 1968, Markus Lüpertz has proven himself an uncompromising and provocative artist, who has distinguished himself in the medium of painting as well as sculpture, drawing and poetry. Lüpertz ultimately insists on the primacy of painting in his artistic oeuvre, a fact the exhibition at VeneKlasen/Werner testifies with its presentation of recent work. Markus Lüpertz describes his urge to paint as a "defect", like the "pearl in the oyster". The pearl, ... More
Quote
No architecture is so haughty as that which is simple. John Ruskin
More News
---
Important Dutch and Flemish Paintings at Sotheby's
---
---
Flashback
On a day like today, German painter Lucas Cranach the Younger, died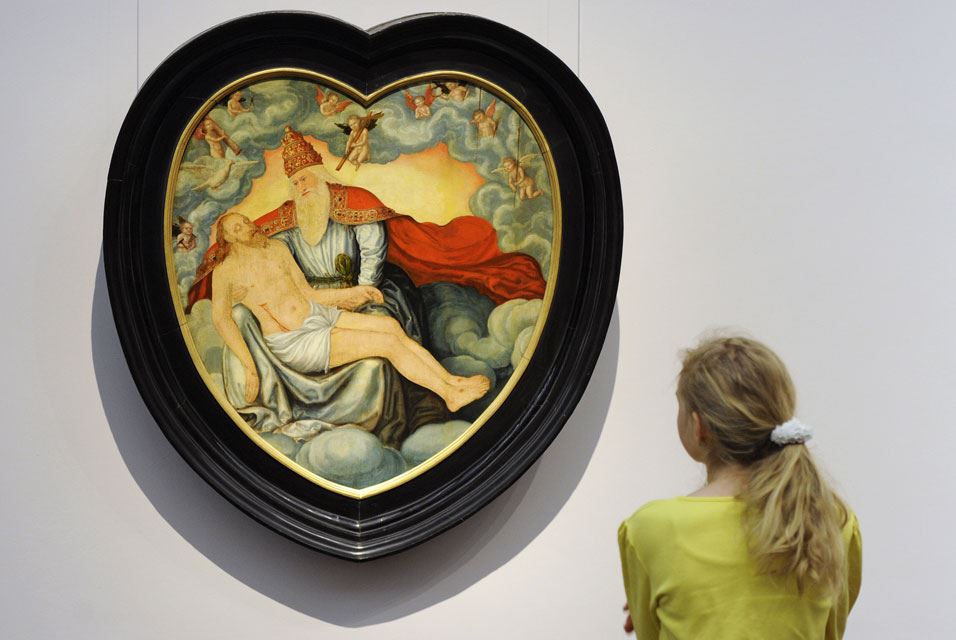 January 25, 1586. Lucas Cranach the Younger (October 4, 1515 - January 25, 1586) was a German Renaissance artist, known for his woodcuts and paintings. In this image: A child stands besides the picture 'The Trinity' (around 1584) by Lucas Cranach the Younger (1515-1586) at the Gemaeldegalerie Alte Meister Dresden (Old Masters Picture Gallery) of the Staatliche Kunstsammlungen Dresden (Dresden State Art Collections) in Dresden, eastern Germany, on Tuesday, Dec. 28, 2010. The gallery possesses the world's largest collection of works by both Lucas Cranach the Older and Lucas Cranach the Younger as well as pieces from their workshop. Containing 58 pictures - among them four portraits from the Ruestkammer (Armoury) - this addition of the permanent exhibition in the Gobelinsaal and the adjoining rooms now displays one of the most representative collections of old German art.
---
---

Museums, Exhibits, Artists, Milestones, Digital Art, Architecture, Photography,
Photographers, Special Photos, Special Reports, Featured Stories, Auctions, Art Fairs,
Anecdotes, Art Quiz, Education, Mythology, 3D Images, Last Week,
.
Royalville Communications, Inc
produces: