World's first museum dedicated to Tiananmen crackdown to open in Hong Kong
A "statue of democracy" is unpacked by Labour Party lawmaker Lee Cheuk-yan (R) at the soon to be opened Memorial museum in Hong Kong on April 18, 2014, a space dedicated to the remembrance of the bloody 1989 Tiananmen Square crackdown. Hong Kong and Macau, which reverted to Beijing's rule in the late 1990s have semi-autonomous status, making them the only places in China where the brutal military intervention is openly marked. AFP PHOTO / Philippe Lopez.
HONG KONG
(AFP)
.-
The world's first museum dedicated to the bloody Tiananmen Square crackdown wants to convince Chinese visitors to fight for democracy when it opens in Hong Kong next week, almost 25 years on, organisers said Friday. The permanent exhibition, which is scheduled to open next Saturday, commemorates those killed in the authorities' brutal crushing of pro-democracy protesters in Beijing on June 3-4, 1989. All reference to the crackdown is banned on the mainland, where many remain unaware of it. The museum is funded by the Alliance in Support of Patriotic Democratic Movements of China, which also organises the annual June 4 candlelit vigil in Hong Kong attended by tens of thousands. "A lot of people have forgotten what has happened and mainlanders are not allowed to remember. So here, we preserve that memory and remind the people what has happened and also to drive the people to fight for democracy in China," the group's chairman Lee Cheuk-yan told reporters. ...
More
The Best Photos of the Day
Eocasea martini: Paleontologists discover land herbivores' earliest ancestor
Sotheby's to sell manuscript of Rachmaninov's Second Symphony in E Minor, OP. 27
Exhibition of masterpieces from the Austrian Habsburg dynasty brings imperial splendor to the U.S.




A partial fossil of the animal, called Eocasea martini, is "the first link between carnivores and herbivores, the transition," said Robert Reisz.





WASHINGTON (AFP).- Paleontologists unearthed the oldest ancestor of land-dwelling herbivores with the discovery of a 300-million-year-old skeleton, shedding light onto plant eaters' emergence on land, a study said Wednesday. A partial fossil of the animal, called Eocasea martini, is "the first link between carnivores and herbivores, the transition," Robert Reisz, the article's principal author and professor at Canada's University of Toronto Mississauga, told AFP. Eocasea was a carnivore, but had certain skeletal features that indicate it was a close relative of herbivores, Reisz said. Only part of the skull, most of the vertebral column, the pelvis and a hind limb of the eight-inch (20-centimeter) animal were discovered when it was unearthed in the US state of Kansas, according to the study published in the scientific journal PLOS ONE. Eocasea, which lived 80 million years before the dinosaur age, was part of a group ... More





The autograph manuscript of Sergei Rachmaninov's Second Symphony in E Minor, Op.27. Est: £1,000,000 – 1,500,000. Photo: Sotheby's.





LONDON.- Sotheby's announced the London sale of the only surviving autograph manuscript for Sergei Rachmaninov's Second Symphony in E Minor, OP.27 on 20th May 2014 (est. £1,000,000-1,500,000). Presumed lost since soon after the symphony's premiere in St Petersburg in 1908, it was rediscovered nearly a century later in 2004 in the estate of a European private collector. It is one of the few autograph manuscripts of a symphony, central to the international orchestral repertory, remaining in private hands. In its 320 pages, it contains a wealth of new information, revealing Rachmaninov's compositional processes when he was at the height of his powers, in one of his greatest works. There is even new unpublished material, unknown to Rachmaninov scholars and absent in any edition of the symphony. It is the only surviving manuscript providing any insight into the genesis and evolution of this celebrated work. No early sources, w ... More





Giuseppe Arcimboldo, Fire, 1566. 66.5 x 51 cm. Kunsthistorisches Museum Wien.





MINNEAPOLIS, MN.- In 2015, a major American collaboration will bring masterworks amassed by one of the longest-reigning European dynasties to the United States. "Habsburg Splendor: Masterpieces from Vienna's Imperial Collections" showcases masterpieces and rare objects from the collection of the Habsburg Dynasty—the emperors of the Holy Roman Empire and other powerful rulers who commissioned extraordinary artworks now in the collection of the Kunsthistorisches Museum in Vienna. The exhibition, largely composed of works that have never traveled outside of Austria, will be on view at the Minneapolis Institute of Arts (MIA); the Museum of Fine Arts, Houston (MFAH); and the High Museum of Art, Atlanta. Debuting in Minneapolis in February 2015 before traveling to Houston and Atlanta, "Habsburg Splendor: Masterpieces from Vienna's Imperial Collections" explores the dramatic rise and fall of the Habsburgs' global empire, ... More
National Portrait Gallery announces 25th anniversary BP Portrait Award shortlist
Leading photographers donate major works to help save the Fox Talbot Archive
Joslyn Art Museum announces opening of Post-War Galleries featuring new acquisitions




Man with a Plaid Blanket by Thomas Ganter. ©Thomas Ganter.





LONDON.- In a record-breaking year for entries, three artists have been short-listed for the twenty-fifth anniversary BP Portrait Award 2014 at the National Portrait Gallery, London. Their sitters are a homeless man in Germany who earns money by cleaning car windscreens, an American woman who was reluctant to sit for a portrait painted by her son, and the Bath-based grandmother and model featured in Channel Four's Fabulous Fashionistas. One of the world's most prestigious art competitions, the First Prize was increased last year by £5,000 to £30,000 making the prize one of the largest for any global arts competition. The winner also receives a commission to paint a portrait for the National Portrait Gallery's permanent collection worth £5,000, to be agreed between the Gallery and the artist. The Second Prize winner will receive £10,000 and the Third Prize winner £8,000. While the competition is open to everyone ... More





Helmut Newton, Maitresse et Chauffeur, Paris, 1976. Estimate: £10,000-15,000. Photo: Sotheby's.





LONDON.- Photographs, dating from the early 19th century to the current decade, will make a welcome return to Sotheby's in London when the Company stages a 148-lot sale on 7 May 2014. Simone Klein, Sotheby's Head of Photographs, Europe, commented: "Featuring works by established names and shooting stars, and with estimates starting at £2,000, the auction will appeal to collectors looking for exceptional examples of photography, specifically images that beguile and seduce the viewer for all the reasons that have made this medium an art form in its own right." The sale opens with a 16-lot selection of generously donated photographs by leading contemporary photographers in support of the Bodleian Library's campaign to save the personal archive of William Henry Fox Talbot. The bid to acquire the archive of Fox Talbot's life and work was launched by the institution in 2012, in an effort to preserve a major record in the h ... More





Red Grooms (American, b. 1937), King Don the V, 2007, oil on canvas, 40 x 30 inches, Gift of Red and Lysiane Grooms, 2013.15, Collection of Joslyn Art Museum (Omaha, NE).





OMAHA, NE.- At a private reception last night, Joslyn Art Museum officially reopened its Pavilion galleries, debuting the reinstallation of its collection of modern and contemporary art. Special guests for the evening were members of the family of Omaha art collector Phillip Schrager — his widow Terri, brother Harley, and sister-in-law Beth — who generously donated an important mixed-media work by Frank Stella from the Phillip Schrager Collection of Contemporary Art to Joslyn earlier this year. The monumental piece, Nogaro (1982), is the first major work by Stella to enter Joslyn's collection and one of four new acquisitions on view for the first time at the Museum. Karin Campbell, Joslyn's Phil Willson Curator of Contemporary Art, noted, "With the addition of several significant recent acquisitions, this new installation provides a fresh ... More
First U.S. solo museum exhibition for artist Virginia Overton opens at MOCA, North Miami
Collection of rare and important thimbles to be auctioned at Leslie Hindman Auctioneers in Chicago
British-born artist Penny Slinger's first solo exhibition in Los Angeles opens at Blum & Poe




Virginia Overton: Flat Rock. Installation Views. Courtesy of the artist and Mitchell-Innes & Nash. Photo: Daniel Portnoy.





NORTH MIAMI, FLA.- The Museum of Contemporary Art (MOCA), North Miami, presents the work of Virginia Overton in Flat Rock, a major new large-scale and site-responsive exhibition. Marking the artist's first solo exhibition at an American museum, Flat Rock features both works from the artist's studio and commissioned sculpture compiled with objects sourced in the area around the exhibition site to reframe the relationship between work and environment. On view from April 18 through July 16, 2014 and curated by MOCA's Interim Director and Chief Curator Alex Gartenfeld, the exhibition reflects the museum's commitment to identifying new directions in contemporary art by providing a major institutional platform for emerging artists. Overton is known for an artistic process that involves found and readily available materials—wood, pipes, cement, rope. ... More





A Meissen Porcelain Thimble, circa 1735-1740. Estimate: $4,000-6,000.





CHICAGO, IL.- A highly rare and historically significant American gold thimble attributed to Paul Revere Jr. will be sold on May 21 at Leslie Hindman Auctioneers in Chicago. The only other Revere thimble is a nearly identical example in the collection of the Museum of Fine Arts, Boston, and it is known that only four attributed Massachusetts thimbles exist. The three other Colonial thimbles are in museum collections, making this thimble the only one left in private ownership. The thimble is part of a single-owner auction of the Ann Blakeslee Black Collection of Thimbles, Needlework Tools and Vertu. Ms. Blakeslee Black began her collecting odyssey around 1961, traveling the world in her search for the rarest and best. She called on museum curators for education and advice, as well as a small circle of fellow thimblers with whom she kept in touch via "round-robin" letters. Her collection includes 272 lots of fine needleworking tools, ... More





Penny Slinger, Orgasm, 1969/2014. C-print, 16 x 11 3/8 inches image size (40.6 x 29 centimeters). Courtesy of the artist and Blum & Poe, Los Angeles.





LOS ANGELES, CA.- Blum & Poe announces British-born artist Penny Slinger's first solo exhibition in Los Angeles, bringing together collages from different eras and never-before-seen film footage. Slinger mined surrealism in the 60s and 70s to plumb the depths of the feminine psyche and subconscious, which led her to discover the tool kit of Tantra and to examine and express the more liberated realms of super consciousness. During her studies at the Chelsea College of Art in late 1960s London, Slinger became interested in the world of dreams and myths which deeply influenced Slinger's own practice, as seen in her first book 50% The Visible Woman (1971). Using photographic collage and poetry, Slinger's lexicon of symbols examines how a woman is seen and how she sees herself—woman as goddess, woman as object of desire, woman as mother, and other ... More
Ayyam Gallery announces The Young Collectors Auction including a special section of Modern masterpieces
"Turi Simeti: The Primary Form of Painting" opens at De Buck Gallery in New York
Inaugural edition of Silicon Valley Contemporary points to burgeoning art market in the Valley




Mohannad Orabi, Self Portrait, 2008. Acrylic on wood, 190 x 150 cm. Estimate: $15,000 - $20,000.





DUBAI.- Ayyam Gallery Dubai announces the twentieth edition of The Young Collectors Auction, along with a special section dedicated to a few rare modern masterpieces, to be held at its Al Quoz location in Dubai on 27 May 2014. This forthcoming auction presents an opportunity for both experienced and aspiring collectors to bid on an array of carefully selected works from established and emerging artists of the region, including painting, photography, limited-edition prints, sculpture and installation. The May auction brings forth a treasure-trove of works by influential Syrian painters including modernists Nasser Chaura, Fateh Moudarres, Louay Kayyali, and Omar Hamdi, and contemporary figures Asaad Arabi, Moustafa Fathi, Abdullah Murad, Ahmad Moualla, and Safwan Dahoul. This staggering lineup of seminal painters provides seasoned buyers with an exclusive opportunity to expand their collections with rare works that chart the region's development in art. Highlights ... More





Simeti's work since the 1960s represents a cornerstone of twentieth century Minimalist tenets.





NEW YORK, NY.- De Buck Gallery announces The Primary Form of Painting by Italian artist Turi Simeti. The exhibition includes black and white works dating from the 1980s to present and is accompanied by a comprehensive catalogue with an essay by curator Elena Forin. The exhibition is on view at the gallery from April 17 to June 8, 2014, with an opening reception on April 24, which the artist is scheduled to attend. A member of the Italian branch of the international Zero movement alongside such prominent artists as Lucio Fontana and Enrico Castellani, Simeti's work since the 1960s represents a cornerstone of twentieth century Minimalist tenets. Best-known for his recurrent use of the ovale to shape the surface of monochromatic canvases, Turi Simeti has dedicated his half-century long career to exploring variations of graceful arrangements of these geometric forms within solid fields of bold color. Simeti's work embodies the desire of Zer ... More





Ultimately, the fair indicated strong interest in the region for viewing and collecting fine art, spread across mediums and demographics.





SAN JOSE, CA.- On Sunday, April 13th, Silicon Valley Contemporary closed a successful inaugural year for the Valley's first art fair. The premier event drew over 6,500 attendees to the San Jose McEnery Convention Center, with over 2,000 lining up for the VIP Opening Night Preview to benefit the San Jose Museum of Art. Silicon Valley Contemporary delivered on its aim of building bridges between the art and tech worlds and grooming a new collector base for cutting edge contemporary art works. Ultimately, the fair indicated strong interest in the region for viewing and collecting fine art, spread across mediums and demographics. The fair's robust panel discussion program proved immensely popular, with standing room only audiences learning about the fine art market and collecting from national art experts. As an exercise in new market disruption, one of the Valley's core tenets, Silicon Valley Contemporary's ... More
Quote
I start from something considered dead and arrive at a world. Joan Miró
More News
---
Painter Arcimboldo and His Unique Style of Portraiture
---
---
Flashback
On a day like today, Italian artist Canaletto died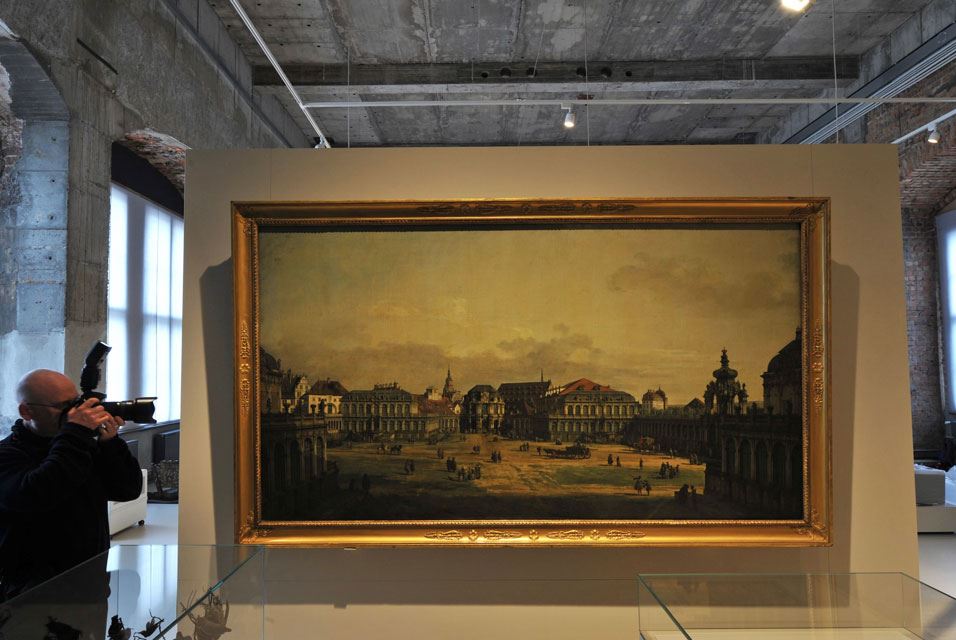 April 19, 1697. Giovanni Antonio Canal (28 October 1697 - 19 April 1768) better known as Canaletto, was a Venetian painter famous for his landscapes, or vedute, of Venice. He was also an important printmaker in etching. In this image: A photographer stands next to the painting 'Der Zwingerhof' (1751/52) by Italian artist Canaletto on display during the Dresden Art Collections special exhibition 'Zukunft seit 1560' ('Future since 1560') in Dresden, Germany, 14 April 2010. The exhibiton presented some 350 artworks from 17 April to 07 November 2010. The State Art Collections celebrated their 450th anniversary in 2010.
---
---

Museums, Exhibits, Artists, Milestones, Digital Art, Architecture, Photography,
Photographers, Special Photos, Special Reports, Featured Stories, Auctions, Art Fairs,
Anecdotes, Art Quiz, Education, Mythology, 3D Images, Last Week,
.
Royalville Communications, Inc
produces: