Film Director Guillermo del Toro's first museum retrospective opens at LACMA
Portrait of Guillermo del Toro at Bleak House. Photo © Josh White/ JWPictures.com.
LOS ANGELES, CA
.-
The Los Angeles County Museum of Art
announces Guillermo del Toro: At Home with Monsters (August 1–November 27, 2016), the filmmaker's first museum retrospective. The exhibition explores del Toro's creative process by bringing together elements from his films, objects from his vast personal collections, drawings from his notebooks, and approximately 60 objects from LACMA's permanent collection. The diverse range of media—including sculpture, paintings, prints, photography, costumes, ancient artifacts, books, maquettes, and film— totals approximately 500 objects and reflects the broad scope of del Toro's inspirations. "To find beauty in the profane. To elevate the banal. To be moved by genre. These things are vital for my storytelling," said del Toro. "This exhibition presents a small fraction of the things that have moved me, inspired me, and consoled me as I transit through life. It ...
More
The Best Photos of the Day
"Colour: The Art and Science of Illuminated Manuscripts" opens at the Fitzwilliam Museum
National Museum of American History seeks historian for paid beer drinking
Centennial exhibition celebrates landmark acquisition of Benkaim collection of imperial Mughal paintings


The Macclesfield Psalter, The Anointing of David, England, East Anglia, probably Norwich, c.1330-1340. © Fitzwilliam Museum, Cambridge.



CAMBRIDGE.- Dazzling treasures combining gold and precious pigments - some of the finest illuminated manuscripts in the world - have gone on display on Saturday 30 July in celebration of the Fitzwilliam Museum's bicentenary. The majority of the exhibits are from the Museum's own rich collections, and those from the founding bequest of Viscount Fitzwilliam in 1816 can never leave the building and can only be seen at the Museum. For the first time, the secrets of master illuminators and the sketches hidden beneath the paintings are revealed in a major exhibition presenting new art historical and scientific research. Spanning the 8th to the 17th centuries, the 150 manuscripts and fragments in COLOUR: The Art and Science of Illuminated Manuscripts guide us on a journey through time, stopping at leading artistic centres of medieval and Renaissance Europe. Exhibits highlight the incredible diversity of the Fitzwilliam's ... More



The Washington, DC-based museum, part of the prestigious Smithsonian Institution, wants to hire a beer specialist for three years to taste beer in breweries across the country.



WASHINGTON (AFP).- Attention beer lovers: the National Museum of American History may have your dream job -- traveling the country drinking brews, all expenses paid. The job, which pays $64,650 a year, is no joke. The Washington, DC-based museum, part of the prestigious Smithsonian Institution, wants to hire a beer specialist for three years to taste beer in breweries across the country. "Brewing and beer have been an important part of the American experience since before the nation's founding, and continue to shape industry and community life into the present day," said Susan Evans, the Smithsonian's director of Food History Programs. The lucky historian would write articles, gather archive material and conduct research into the history of food and drink for use in exhibits. Overwhelmed by a deluge of applicants, the museum's online job site crashed after news about the ... More



Nur Jahan holding a portrait of Emperor Jahangir, about 1627; borders added 1800s. Mughal India. Opaque watercolor and gold on paper; 30 x 22.1 cm (page); 13.6 x 6.4 cm (painting). The Cleveland Museum of Art, Gift in honor of Madeline Neves Clapp; Gift of Mrs. Henry White Cannon by exchange; Bequest of Louise T. Cooper; Leonard C. Hanna Jr. Fund; From the Catherine and Ralph Benkaim Collection, 2013.325 (recto).



CLEVELAND, OH.- Art and Stories from Mughal India presents the story of the Mughals— and stories for the Mughals—in 100 exquisite paintings from the 1500s to 1800s. The exhibition and accompanying Mughal painting collection catalogue celebrate the Cleveland Museum of Art's centennial with works drawn from the 2013 landmark acquisition of the Catherine Glynn Benkaim and Ralph Benkaim Collection of Deccan and Mughal paintings, many exhibited and published for the first time. Complementing the paintings are 39 objects including costume, textiles, jewelry, arms and armor, architectural elements and decorative arts, some ... More
Drouot to offer the Collection of Prince Felix Yusupov and his wife Princess Irina of Russia
Three exhibitions take radically different perspectives on the idea of "home"
Exhibition by Mark Wallinger marks Freud Museum London's 30th anniversary


The items offered for sale during this auction are a real testimony of the private and official history of the Russian Empire.



PARIS.- More than 120 personal and historic items belonging to the Prince and Princess Yusupov will be offered for sale during this auction. Preserved by Victor Contreras, a friend of the princely couple, in Cuernavaca, Mexico, for 60 years, this collection is comprised of paintings, icons, and part of the Prince's wardrobe, along with a set of 25 "grotesques" drawings made by the Prince himself at the end of the 1930's. The Prince Felix and his wife, through their names and actions, are major figures of the Russian Empire history. They lived in the splendors of the royal imperial court, and ended up in a private hotel of the 16th arrondissement of Paris after the Revolution. Their incredible life trajectory, as well as the part they played in Rasputin's assassination, is today legendary. In memory of her parents after their ... More



Claes Oldenburg, Clothespin – 4 Ft. – (Soft Version), 1975. Canvas painted with latex and filled with kapok with metal hanger and wooden clothespin, 56 1/2 x 16 x 4 in. (143.5 x 40.6 x 10 cm). Courtesy Paula Cooper Gallery, New York. Photograph by Steven Probert © 1975 Claes Oldenburg.



SAINT LOUIS, MO.- This summer, Pulitzer Arts Foundation presents three exhibitions of art that, while from different eras and in radically different styles and mediums, are all related to the material aspects of everyday life. They range from an exhibition devoted to Claes Oldenburg's soft sculptures, depicting such common objects as a three-way plug, a fried egg, and a folding chair; to an intimate display of seven exquisite eighteenth-century French and Italian decorative-arts objects, among them a chamber pot, a potpourri vase, and an armchair; to a large-scale, site-specific installation by the Berlin-based architecture collective raumlaborberlin—commissioned by the Pulitzer—that transforms an ... More



Installation view. Photo: Karolina Urbaniak/Freud Museum London.



LONDON.- A special exhibition by Turner Prize winning artist Mark Wallinger marks the Freud Museum London's 30th anniversary and the 160th anniversary of the birth of Sigmund Freud. The artist has created a transformative work for Freud's study and a permanent sculpture to be situated in the Museum garden. For Self Reflection Wallinger installed a mirror across the entire ceiling of the iconic study offering visitors a dramatic new perspective effectively doubling the space. In the artist's words: 'The relative posture of the sitting analyst and the recumbent analysand are latent in Freud's chair and the couch. We can easily imagine his patient's self-reflection.' The sculpture Self takes the form of the most basic expression of what it means to exist as an individual: the letter "I," as a free-standing figure. It has been placed in the garden in clear view from Freud's desk. In the context ... More
Gert & Uwe Tobias debut their most recent group of works in Munich
Japan exhibition mourns fading sex culture
Ancient Australian flesh-eating marsupial discovered


Gert & Uwe Tobias, Untitled (Munich Veduta VI), 2016. Woodcut on canvas, 78 ¾ x 66 ¼ in. Photo: Alistair Overbruck © Gert & Uwe Tobias / VG Bild-Kunst, Bonn / Courtesy Contemporary Fine Arts, Berlin.



MUNICH.- Exuberant fantasy, subtle lightness and humorous profundity distinguish the large-format woodcuts, luminous collages, and delicately nuanced typewriter drawings of Gert & Uwe Tobias. The artist duo has ranked internationally among the best-known German graphic artists for over a decade. Their pictorial worlds consistently cause a stir in the realm of contemporary art. To this day their inimitable signature style blurs the boundaries between "high-" and "low-brow" in contemporary art in an unprecedented manner and has lost nothing of its radicalism and consistency. Their most recent group of works, GRISAILLE, also holds true to the promise of the artists' reputation. With this exhibition project, exclusively created for their Munich debut in the Staatliche Graphische Sammlung, Gert & Uwe Tobias rediscover the centuries-old technique of grisaille painting and repeatedly sound out new and ... More



Photographer Kyoichi Tsuzuki stands before his erotic photos at the Erotopia Japan exhibition in Tokyo.TORU YAMANAKA / AFP.



TOKYO (AFP).- A sex exhibition smack in the middle in one of Tokyo's hippest areas is shining a nostalgic light on Japanese erotica -- a culture the curator believes is dying out. Kyoichi Tsuzuki's "Erotopia Japan" deals with Japanese sexuality and fantasies, the gallery located in the heart of Shibuya's trendy fashion district plastered from floor to ceiling with eye-boggling prints, one wall dedicated to love hotel beds. "This kind of Showa period (1926-1989) culture is being wiped out, as Japan is held to a global standard," Tsuzuki told AFP. "We might not be able to save it from being killed off completely but we can preserve it for posterity." Against a backdrop of erotic photos, the centre of the exhibition is dominated by life-like female dolls tied up in bondage ropes and screaming in agony. Another sex doll is strapped to a table with a suction hose protruding from her crotch and plugged into a television. "Sex culture in the West and Asia are completely ... More



UNSW students Georgia Soares and Naomi Machin in Whollydooley Quarry. Photo: Mike Archer.



SYDNEY (AFP).- A new species of extinct flesh-eating marsupial that terrorised Australia's forests some five million years ago has been identified from a recently discovered fossil site, scientists said Tuesday. The animal, weighing 20 to 25 kilograms (44 to 55 pounds) and named Whollydooleya tomnpatrichorum, is a distant and bigger cousin of Australia's largest living flesh-eating marsupial -- the Tasmanian Devil. It is the first creature to be formally identified from a range of strange new animals whose remains have been found at a fossil site in remote northwestern Queensland. "W. tomnpatrichorum had very powerful teeth capable of killing and slicing up the largest animals of its day," said University of New South Wales professor Mike Archer, the lead author of a study into the find published in the Memoirs of Museum Victoria. The late Miocene period between 12 and five million years ago, when Australia began to dry out and megafauna began to evolve, is one of the least understood in the vast con ... More
Kunsthaus Bregenz exhibits works by Egyptian artist Wael Shawky
Hudson River Museum announces appointment of new Director
Eerie rendition locations as art in new London show


Wael Shawky, 2016. Installation view ground floor/detail, Kunsthaus Bregenz. Photo: Markus Tretter. Courtesy of Wael Shawky © Wael Shawky/Kunsthaus Bregenz.



BREGENZ.- The foreign and the other are currently topics of fierce discussion. The Egyptian artist Wael Shawky (born 1971) uses his filming of puppet theater to tell the story of the Crusades. In his film trilogy Cabaret Crusades, based on a book by the French-Lebanese writer Amin Maalouf, the story of the war is told from an Arab perspective. The puppets are clad in sumptuously oriental clothing, their heads evoking molten crystal rocks or honey-colored amber, which Shawky has had fabricated from Murano glass. Two parts of the Cabaret Crusades trilogy are being screened in Bregenz: part three, Secrets of Karbala, tells the story of the second (1147 — 1149) and third (1189 — 1192) Crusades, which finally ended in 1204 with the destruction of Constantinople. Pope Innocent III had called for the conquest of the Holy Land, using the Venetian fleet. However, the enterprise ... More



Ms. Turchinsky joins the Hudson River Museum following 19 years at The Metropolitan Museum of Art.



YONKERS, NY.- The Hudson River Museum announced the appointment of Masha Turchinsky to the post of Director to succeed Michael Botwinick. Mr. Botwinick, the longest serving Director in the Museum's history came to the Museum in 2001. He has announced his plans to retire at the end of this year. Turchinsky will join the Museum in mid-September as Director designate working together with Botwinick to complete program planning for the next two seasons. They will also focus on the design phase of the Museum's $5.5 million expansion in partnership with the City of Yonkers to create new climate-controlled special exhibition galleries, expanded space for the permanent collection, a 100-seat performance space and the first special purpose art storage space in the Museum's nearly 100 year history. Turchinsky will assume the Directorship in January 2017. Ms. Turchinsky joins the Museum ... More



Home, Guantanamo © Edmund Clark, courtesy of Flowers.



LONDON (AFP).- A haunting picture of a forest and photographs of Guantanamo Bay -- eerie rendition locations lift the veil in art form on government methods to counteract terror. "Extraordinary rendition involved very ordinary places," says artist Edmund Clark, pointing at the forest picture, part of a new exhibition, "War of Terror," which opened in London on Thursday. The exhibition's loose sequence starts with the theme of extraordinary rendition followed by photographs of the Guantanamo Bay prison and ends with the experience of a man subject to a form of house arrest for suspected jihadists in Britain. Award-winning British photographer Clark uses multimedia installations to portray "the unseen processes, sights, and forms of control and incarceration" used by governments in the name of counter-terrorism. Extraordinary rendition, whereby suspects were transferred covertly to a third country or to US-run detention centres, became controversial immediately after it ... More
Quote
The artist draws what he has to make others see. Edgar Degas
More News
---
James Turrell on Moving Towards a New Landscape
---
Flashback
On a day like today, French painter and sculptor Jean Dubuffet was born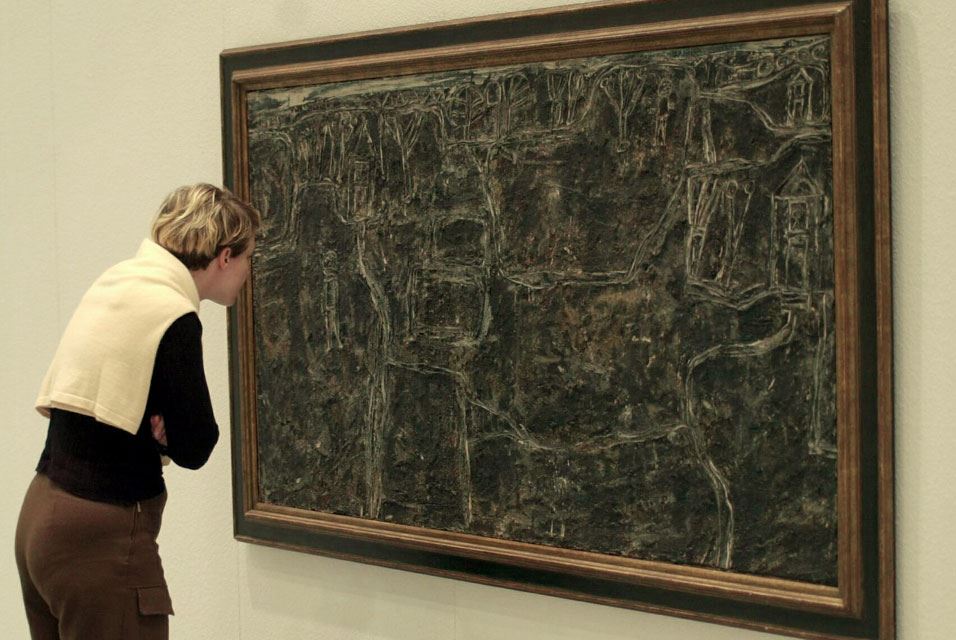 July 31, 1901. Jean Philippe Arthur Dubuffet (31 July 1901 - 12 May 1985) was a French painter and sculptor. His idealistic approach to aesthetics embraced so called "low art" and eschewed traditional standards of beauty in favor of what he believed to be a more authentic and humanistic approach to image-making. In this image: A young lady looks at "Paysage charbonneux" by French artist Jean Dubuffet dated 1946, and valued at 3.5 million Marks (1.5 million Dollars) at the 34th International fair for modern art "Art Cologne" in Cologne, Germany, Friday, November 3, 2000.
---
---

Museums, Exhibits, Artists, Milestones, Digital Art, Architecture, Photography,
Photographers, Special Photos, Special Reports, Featured Stories, Auctions, Art Fairs,
Anecdotes, Art Quiz, Education, Mythology, 3D Images, Last Week,
.
Royalville Communications, Inc
produces:







Tell a Friend
Dear User, please complete the form below in order to recommend the Artdaily newsletter to someone you know.
Please complete all fields marked *.
Sending Mail

Sending Successful