7.8-magnitude earthquake deals heavy blow to Nepal's rich cultural heritage
Nepalese rescue members and onlookers gather at the collapsed Dharahara Tower in Kathmandu on April 25, 2015. A powerful 7.9 magnitude earthquake struck Nepal, causing massive damage in the capital Kathmandu with strong tremors felt across neighbouring countries. AFP PHOTO / PRAKASH MATHEMA.
KATHMANDU
(AFP)
.-
Reduced to piles of rubble and splintered wood, Nepal's rich cultural heritage has suffered a devastating blow from a massive earthquake that tore through the country, experts said Sunday. In the heart of Kathmandu, many of a cluster of temples and statues built between the 12th and 18th centuries by the ancient kings of Nepal have collapsed, killing scores and trapping others underneath. The nine-storey Dharahara tower, a major tourist attraction in the city's Durbar square with its spiral staircase of 200 steps, was reduced to just its base when the 7.8-magnitude quake struck at lunchtime on Saturday. "I had just bought tickets to climb the tower and was at its base when I felt a sudden shaking," Dharmu Subedi, 36, said from a hospital bed in Kathmandu. "Within minutes, the Dharahara had crumbled to the ground with maybe more than 100 people in it," Subedi told AFP. UNESCO was trying to gather information on the extent of the destruction, including at three palace-filled squares in ...
More
The Best Photos of the Day
Exhibition of works by French artist Claude Lévèque opens at Musée Soulages in Rodez
United States returns Egyptian artifacts smuggled by an international criminal network
Miguel Falomir announced as new Deputy Director at the Museo del Prado in Madrid




French visual artist Claude Leveque poses in front of a part of his creation, at the Soulages museum in Rodez, southwestern France, on April 22, 2015. The Rodez's Soulages museum presents from April 25 to September 27, 2015, the Claude Leveque exhibition "The blue of the eye". AFP PHOTO / REMY GABALDA.





RODEZ.- In thinking about his project for the exhibition for musée Soulages in 2014, Claude Lévêque chose this passage from a novel by Austrian author Peter Handke as a lead or powerful starter. The Great Fall takes the form of a haunting initiation story in which the banality of the action (storyline) rivals its sense of mystery. Handke, we know, has worked on his language to take it to the very brink of reality. The efficient simplicity with which words here combine with images is not to be underestimated. Awoken from his sleep one morning by a powerful thunderclap, an actor leaves a woman's house and walks through a dense forest and a large clearing. He wants to reach the capital and meet this woman. On the way he encounters people who warn ... More





A sarcophagus is displayed for the press at Cairo International airport. AFP PHOTO / HOSAM ATEF.





WASHINGTON (AFP).- The United States returned Wednesday dozens of ancient artifacts that had been smuggled out of Egypt by an international criminal network, US Immigration and Customs Enforcement (ICE) said. The items -- including a Greco-Roman style Egyptian sarcophagus discovered in a Brooklyn garage in 2009 -- were handed back to the Egyptian government at a ceremony in Washington. "To think that some of these treasured artifacts were recovered from garages, exposed to the elements, is unimaginable," said ICE director Sarah Saldana in a statement. The discovery of the nesting sarcophagus generated leads that resulted in the 2010 seizure of more smuggled Egyptian items, including a funerary boat model and hundreds of ancient coins, ICE said. The items have been linked to a global crime network that is the subject of a five-year-old ICE effort known as Operation Mummy's Curse. ... More





Miguel Falomir (born Valencia, 1966) has a PhD in Art History and is a professor in that subject at the University of Valencia.





MADRID.- The Royal Board of Trustees of the Museo Nacional del Prado approved the appointment of Miguel Falomir Faus, current head of the Department of Italian Renaissance painting, as the Museum's new Deputy Director for Collections and Research, succeeding Gabriele Finaldi, who has recently been appointed the new Director of the National Gallery in London. Miguel Falomir will take over the post on 1 June. Gabriele Finaldi will continue to be associated with the Prado until 17 August (the date he joins the National Gallery) in order to complete his catalogue of the drawings of José de Ribera. Miguel Falomir (born Valencia, 1966) has a PhD in Art History and is a professor in that subject at the University of Valencia. He has been a curatorial department head at the Museo del Prado since 1997. During that time he has been responsible for significant advances in the study ... More
Steven Kasher Gallery exhibits over 150 vintage prints by Fred W. McDarrah
Bertoia's March 27-28 auction of Max Berry toy collection Part II boosts series total to more than $6 million
Kunstmuseum Wolfsburg survey exhibition presents text-image combinations




Fred W. McDarrah, Alice Neel in Her Studio, East Harlem, with Milton Resnick, Pat Passlof and Frank O'Hara in Paintings, February 1, 1961. Vintage gelatin silver, printed ca. 1970 14 x 11 in. Signed, titled and dated by photographer recto; signed, stamped, titled and dated by photographer verso.





NEW YORK, NY.- Steven Kasher Gallery presents Fred W. McDarrah: The Artist's World. The exhibition features over 150 vintage prints, including the original book prints for the 1961 publication The Artist's World in Pictures. Fred W. McDarrah's (1926 - 2007) interest in photographing artists can be traced to a 1949 introduction to the painter William Littlefield (1902 - 1969). Littlefield opened a window into a world that McDarrah, who came from poverty and matriculated on the streets of Brooklyn, had never previously seen. Beginning in the early 1950s Littlefield and sculptor Philip Pavia hosted informal gatherings of artists at the Waldorf Cafeteria on 6th Avenue in Greenwich Village. These get-togethers evolved into The Club, an artist membership association. ... More





'Darky Kicking Watermelon' mechanical bank, J. & E. Stevens Co., designed by Charles A. Bailey, patented 1888, one of four known examples, provenance: Wally Tudor, F. H. Griffith, Leon Perelman and Stan Sax collections; $270,000. Bertoia Auctions image.





VINELAND, NJ.- Washington attorney Max Berry left Bertoia's gallery on March 28th with a smile on his face – not because Part II of his collection had just been auctioned for $2.92 million, but because of the enthusiastic way in which the toy community had come together over a two-day period to celebrate his lifetime of achievement in the hobby. "Max was happy to see who the next caretakers of his toys would be," said Bertoia Auctions associate Rich Bertoia. "He was very focused throughout the entire auction and did a lot of positive nodding." Added to the $3.1 million realized by Part I of Berry's collection last Nov. 14-15, the March 27-28 auction pushed the series grand total to $6.02 million. All prices quoted in this report are inclusive of buyer's premium. The top-selling lot was a J. & E. Stevens Darky Kicking ... More





Katharina Hinsberg, spatien, 2011/2015. Photo: Marek Kruszewski © VG Bild-Kunst, Bonn 2015.





WOLFSBURG.- "What's up, people?" This comment, written by a teenager in the guestbook of the Kunstmuseum Wolfsburg, was used by Christian Jankowski for his neon text that shines as the leitmotif above the exhibition: "Walk the Line!" The show explores the articulation possibilities between image and writing, between line, area and space and finds new paths in drawing in often installative works. Featuring 105 works, the Kunstmuseum Wolfsburg's survey exhibition presents text-image combinations (Marcel Dzama, Nedko Solakov, Raymond Pettibon), animation sequences (William Kentridge, Katie Armstrong), cut-outs and gravures (Mario BieRende, Pia Linz, Awst & Walter), adaptations of musical structures (Jorinde Voigt, Angela Bulloch, Gregor Hildebrandt) in addition to space-filling light installations (Mariana Vassileva, Carsten Nicolai). Ten of the 37 participating artists produced new ... More
80 large-scale photographs by Wim Wenders on view at Museum Kunstpalast
Papermania!, Bleicke Bleicken, and highlights from its collection on view at Museum Kunst der Westküste
Exhibition explores aspects of photography and modernity in the Ottoman Empire




Wim Wenders, Yellow Bus, Uluru, 1977, C-Print, 124 x 163 cm, © Wim Wenders. Courtesy Blain | Southern.





DUSSELDORF.- If you travel a lot, writes Wim Wenders, if you like roaming about in order to lose yourself, you can end up in the strangest places. I think it must be a kind of built-in radar, which often takes me to places that are either peculiarly quiet or peculiar in a quiet sort of way. Wim Wenders (born in Düsseldorf in 1945) is internationally renowned primarily for his movies, such as Wings of Desire, Pina and The Salt of the Earth, a portrait of the Brazilian photographer Sebastião Salgado. But the filmmaker acknowledges: Photographic work is the other half of my life. For decades he has created a photographic oeuvre quite independent of his filmic work: photographs of lonely, at times somewhat bizarre places and landscapes, of settings that have their own story. On the occasion of the artist's 70th birthday in 2015, Museum Kunstpalast in collaboration with Wenders Images ... More





Installation view. Photo: Lukas Spoerl.





ALKERSUM.- The exhibition Papermania! brings together ten international artists whose works have two things in common: on the one hand their support, paper, whose materiality allows for tremendous artistic variety, and on the other the subjects of "sea and coast" and "travel and nature." Brittle-seeming, small-scale works and richly detailed narrative scenes, such as paper travel objects in miniature, compete with expansive installations, paper cuts, sculptures, and videos. Swarms of moths, designed by Carlos Amorales, cover the high walls and, in a projection, evoke Alfred Hitchcock's "The Birds." A shipwreck that most recently put out to sea from Rostock along with its builder, Frank Bölter, has now found its berth at the museum. In fascinating ways viewers get to see how the material can be perceived as sometimes tender and fragile, sometimes sturdy and rough and at the same time highly resistant. The artists included in the exhibition ... More





Installation view.





ISTANBUL.- Koç University's Research Center for Anatolian Civilizations in Istanbul hosts the exhibition Camera Ottomana: Photography and Modernity in the Ottoman Empire, 1840 - 1914 between 21 April and 19 August 2015. Curated by Zeynep Çelik, Edhem Eldem and Bahattin Öztuncay, the exhibition mainly consists of albums and archival materials from Ömer M. Koç Collection as well as photographs from the albums commissioned by Sultan Abdülhamid II. The exhibition explores some of the most striking aspects of the close connection between photography and modernity in the specificity of the Ottoman Empire. After the birth of photography in 1839, the Empire embraced the new technology with great enthusiasm. In fact, the impact and meaning of photography were compounded by the thrust of modernization and westernization of the Tanzimat movement. By the turn of the century, photography in the Ottoman lands ... More
Morphy's announces May 16 Automobile auction at Pennsylvania gallery
What is Luxury? Victoria & Albert Museum interrogates and expands understandings of luxury
Guns in the Hands of Artists: A book of art and essays on guns and gun violence in America




1970 Chevelle SS LS6 with 454 cubic inch 450 h.p. motor, Turbo 400 automatic transmission, 4.10 rear axle, positraction and many extras. Estimate: $75,000-$100,000. Morphy Auctions image.





DENVER, PA.- Since the days of Henry Ford, Americans have had a love affair with cars – driving them, showing them off, and collecting them. Morphy Auctions' automobile division caters to the luxury, sports and classic car collector with its boutique sales of rare, premium-quality vehicles, such as the approximately 50-lot event planned for Saturday, May 16 at the company's flagship gallery. Sleek examples of motoring and design perfection, the cars entered in the auction are in magnificent condition and ready for their close-ups. Leading the five-star fleet is Lot 37, a 1957 Chrysler 300C convertible coupe with push-button Torqueflite transmission, consigned by a collector from Hershey, Pa. "Fewer than 500 of these cars were produced, so it's very rare," said Bill Windham, VP of Morphy's ... More





The Second Space Travellers Watch, George Daniels, 1983. © Jasper Gough, Sotheby's.





LONDON.- What is Luxury? aims to interrogate and expand understandings of luxury by presenting exceptional examples of contemporary design and craftsmanship alongside conceptual projects which interrogate fundamental ideas of luxury, its production and future. From a diamond made from roadkill to a vending machine stocked with DNA, a golden crown for ecclesiastical use to traditional military tailoring, over 100 objects address how luxury is made and understood in a physical, conceptual and cultural capacity. The opening section of the exhibition considers objects defined as luxurious by the excellence of their design and craftsmanship. On display are objects which celebrate the investment of time and application of skill in the process of making, including the Space Travellers' Watch, an entirely handcrafted mechanical timepiece by renowned British watchmaker George Daniels, a ... More





Luke Dubois, Take A Bullet For The City.





NEW ORLEANS, LA.- "Guns" and "art" are not frequently mentioned alongside one another. They seem unlikely bedfellows. Guns are masculine, brawny, populist; by contrast, art is thought to be feminine, intellectual, elitist (both incorrectly and unfortunately). Art is the mirror of life, but it must be more: it must be an agent of change, a vehicle for dialogue and the betterment of the world. In the 1990s, New Orleans' murder rate exploded. In 1996, it reached 350: the highest in the city's history and the highest in the nation. In response to this crisis, artist Brian Borrello and I mounted the first Guns in the Hands of Artists exhibition. Decommissioned guns (taken off the streets via a goods-for-guns swap) were given to over 60 artists to use as raw materials in their art. Painters, glass artists, sculptors, photographers, poets, and other artists turned the decommissioned firearms into art. Each artist used the guns in their medium to ... More
Quote
Not everybody trusts paintings but people believe photographs. Ansel Adams
More News
---
---
---
Flashback
On a day like today, The foundation stone for the new Palace of Westminster was laid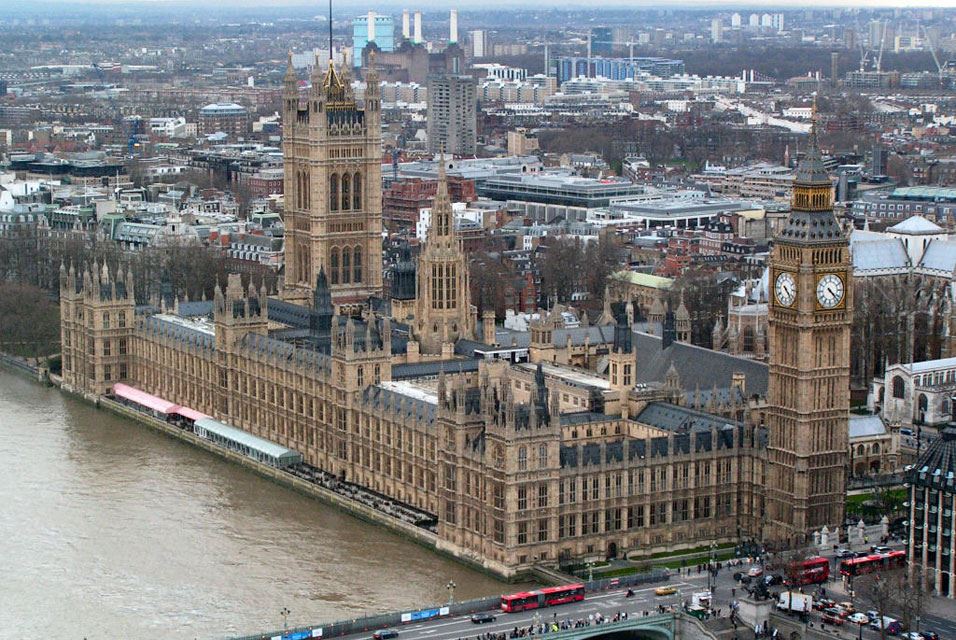 April 27, 1840. LONDON.- The Palace of Westminster, also known as the Houses of Parliament or Westminster Palace, is the meeting place of the two houses of the Parliament of the United Kingdom - the House of Lords and the House of Commons. It lies on the north bank of the River Thames in the heart of the London borough of the City of Westminster, close to the historic Westminster Abbey and the government buildings of Whitehall and Downing Street. The name may refer to either of two structures: the Old Palace, a medieval building complex most of which was destroyed in 1834, and its replacement New Palace that stands today; it has retained its original style and status as a royal residence for ceremonial purposes.
---
---

Museums, Exhibits, Artists, Milestones, Digital Art, Architecture, Photography,
Photographers, Special Photos, Special Reports, Featured Stories, Auctions, Art Fairs,
Anecdotes, Art Quiz, Education, Mythology, 3D Images, Last Week,
.
Royalville Communications, Inc
produces: