Hebrew University archaeologists find 20-meter-high corridor at Herodium National Park
Photo of unique palace entry complex discovered at Herodian Hilltop Palace by Hebrew University archaeologists. Photo: The Herodium Expedition at the Hebrew University of Jerusalem.
JERUSALEM
.-
Archaeologists from
The Hebrew University of Jerusalem
's Institute of Archaeology have discovered a monumental entryway to the Herodian Hilltop Palace at the Herodium National Park. The unique complex was uncovered during excavations by The Herodium Expedition in Memory of Ehud Netzer over the past year, as part of a project to develop the site for tourism. The main feature of the entryway is an impressive corridor with a complex system of arches spanning its width on three separate levels. These arches buttressed the corridor's massive side-walls, allowing the King and his entourage direct passage into the Palace Courtyard. Thanks to the supporting arches, the 20-meter long and 6-meter wide corridor has been preserved to a height of 20 meters. The Hebrew University archaeologists — Roi Porat, Yakov Kalman and Rachel Chachy — suggest ...
More
The Best Photos of the Day
Berkeley Art Museum acquires the Steven Leiber Conceptual Art Collection and Library
British royals mull removal of hunting trophies from Queen Elizabeth II's Sandringham residence
Rossetti's intimate portrait of his lover, lost for 150 years, to sell at Bonhams in London




Bas Jan Ader, Untitled (In Search of the Miraculous), 1975 (detail); vintage gelatin silver print; 5 in. x 8 in.; purchase made possible through a gift from Robin Wright and a partial gift of the Steven Leiber Trust.





BERKELEY, CA.- The University of California, Berkeley Art Museum and Pacific Film Archive has acquired the Steven Leiber collection of Conceptual art and ephemera as well as Leiber's library of Conceptual art reference and artists' books. Steven Leiber, who was a world-renowned dealer, scholar, and collector with a special interest in Conceptual art, died in 2012. In recognition of Leiber's impact on the history of art and on the museum's own collection, BAM/PFA will name the area of its new building that will house these works "The Steven Leiber Conceptual Art Study Center." BAM/PFA's new building, designed by Diller Scofidio + Renfro, is currently under construction in downtown Berkeley and is slated to open in early 2016. With this new acquisition, BAM/PFA is poised to become one of the world's leading centers for the study of Conceptual art. The newly acquired ... More





File photo of Britain's Prince William talking to Spencer Turner. AFP PHOTO / POOL / ANDREW YATES.





LONDON (AFP).- Britain's royal family could remove some hunting trophies that include elephant tusks and stuffed rhinos from Queen Elizabeth II's Sandringham residence to avoid a possible debate with the EU over their legality. Buckingham Palace said it will remove any items from the 62-piece collection that could break European Union rules on endangered species, according to a statement. The collection is on public display in the museum at the country estate in eastern England, where the royal family traditionally spends Christmas. The collection of stuffed lions, tiger and leopard skins, elephant tusks and two rare rhinos -- all bagged by royal marksmen between 1870 and 1941 -- is particularly uncomfortable for Prince William, the monarch's grandson, who has launched a campaign against illegal hunting and the trafficking of endangered species. "The EU regulation covering such displays is complex and has been open to interpretation," said the statement. "At Sandringham the ... More





Portrait of Jane Morris was recently rediscovered in America. Photo: Bonhams.





LONDON.- A very personal sketch by renowned Pre-Raphaelite artist Dante Gabriel Rossetti is set to go under the hammer in the 19th Century European, Victorian and British Impressionist Art sale, taking place on 21 January 2015 at Bonhams New Bond Street salerooms. Portrait of Jane Morris, a pen and brown ink drawing from 1873, is estimated at £20,000-30,000, and depicts the great love of Rossetti's life in a private moment, reclining on a couch and reading a book. With her voluptuous lips, penetrating eyes, strong bone structure and cascade of dark hair, Jane Morris became the embodiment of Pre-Raphaelite beauty whose striking features shine out from many of Rossetti's more important works of art. Known to her friends and family as Janey, she is best remembered as the wife of William Morris who became Rossetti's muse and lover and modelled for him as well as others within the Pre-Raphaelite circle; in her own right she was also an accomp ... More
The National Gallery of Canada acquires seven major 19th-century works
Final installment of photographs from the collection of the Art Institute of Chicago to be offered online
Laumeier Sculpture Park completes $200,000 conservation project for Donald Judd's Untitled, 1984




Jules Dalou, A Young Mother from Boulogne Feeding her Child, 1876. Terracotta, 137 cm. National Gallery of Canada, Ottawa. Photo © Sotheby's, London, UK.





OTTAWA.- The National Gallery of Canada has enhanced its collection of nineteenth-century French art with the recent acquisition of seven major works of art: six by Gustave Doré, perhaps the most renowned illustrator of all time; and one by the great sculptor Aimé-Jules Dalou. A number of these were gifts to the Gallery. Most of the works by Doré were featured in the Gallery's critically acclaimed summer exhibition, Gustave Doré (1832–1883): Master of Imagination, including a large landscape painting, the grandiose Souvenir of Loch Lomond (1875), and a masterful bronze sculpture, Fate and Love (1877). Dalou's magnificent terracotta A Young Mother from Boulogne Feeding her Child (1876), is one of the few sculptures he made depicting this intimate subject. The sculptures and landscape painting are particularly timely ... More





Edward Weston, 7 a.m. Pacific War Time, 1945 (detail). Gelatin silver print from The Photographs of Edward Weston, printed circa 1953 by Brett Weston. Estimate $3,000 - 5,000. Image courtesy of Phillips.





NEW YORK, NY.- Phillips announces the third and final installment of its great fall 2014 sale: Photographs from the Collection of The Art Institute of Chicago. The sale is an online-only auction which offers 146 lots from the same distinguished source at a more accessible price point. "Phillips has achieved an admirable performance with the twin sales in New York and London, prepared with handsome, impeccably written catalogues and presale presentations of the works across the United States and Europe. The Art Institute is proud to have worked with this nimble and devoted auction house to produce results that honor the legacy of our museum while building a path for future acquisitions in Photography." Matt Witkovsky, Richard and Ellen Sandor Chair and Curator, Department of Photography, ... More





Donald Judd, Untitled, 1984.





SANT LOUIS, MO.- Laumeier Sculpture Park announced the successful completion of its $200,000 conservation project for Donald Judd's Untitled, 1984, located on the South Lawn at Laumeier. The two-year conservation project was made possible by a 2012 Art Works grant from the National Endowment for the Arts (NEA) for $100,000, with a 1:1 match by Laumeier. Donald Judd's Untitled, 1984, consists of three open-ended cubes made of concrete panels, placed in a row for the viewer to look through like a tunnel. An additional concrete panel is placed vertically inside each cube at varying angles, calculated to change the viewer's perception when looking through them. The square form appears frequently in Judd's work and is considered a prime example of the conceptual interests of the Minimalist movement. Phase I of the conservation project began with research and design for new concrete panels using an original ... More
The Hammer Museum announces Aram Moshayedi and Hamza Walker as curators for Made in L.A. 2016
Rebekka Modlen, émigré artist and seminal figure of Soviet Nonconformist Art history, passes away at 80
San Francisco Museum of Modern Art appoints Adine Varah as General Counsel




Aram Moshayedi joined the Hammer Museum as Curator in July 2013.





LOS ANGELES, CA.- The Hammer Museum announced today that the Los Angeles biennial Made in L.A. 2016 will be co-curated by Hammer curator Aram Moshayedi and Hamza Walker from the Renaissance Society in Chicago. Made in L.A. 2016 will be the third in an ongoing series of exhibitions focused on artwork created in the Los Angeles region and will be on view June through September 2016. The artist list will be announced in early 2016. "Following the successes of our first two installments of Made in L.A., we are delighted to announce our curatorial team for 2016—our own Hammer curator Aram Moshayedi and Chicago-based Hamza Walker—bringing together rich regional and national perspectives to the next biennial," remarked Hammer Director Ann Philbin. "We are thrilled to be working with them and looking forward to the summer of 2016." The Mohn Awards will also be presented in conjunction with Made in L.A. 2016. ... More





Rebekka Modlen in 1969. Photograph by Mihail Chemiakin.





NEW YORK, NY.- A Russian émigré artist and historically noteworthy figure of the unofficial art community during the Soviet Regime, Rebekka Modlen (1934-2014) passed away this November at her home in Loches, France, her family reported. A multidisciplinary artist who genuinely mastered an impressive variety of mediums including sculpture, gravure, watercolor, and oil painting, Modlen is recognized by art scholars and artists for her quiet but influntial career contributions and groundbreaking 1971 immigration – followed immediately by her husband at the time, Mihail Chemiakin (b. 1943), the renowned figure of the Russian Nonconformist art world – a move that undoubtedly inspired and greatly assisted in paving the way for the mass exodus of unofficial artists and cultural luminaries from the USSR in what became commonly known as the "Third Wave". The following year, celebrated dissident poet Joseph Brodsky (1940-1996) ... More





Adine Varah brings 20 years of experience in art and the law to SFMOMA with previous positions in the public, not-for-profit and private sectors. Photo: Portraits for the People.





SAN FRANCISCO, CA.- The San Francisco Museum of Modern Art announces the appointment of Adine Varah as the museum's new General Counsel. As the Museum's chief legal counsel, Varah will manage all legal and contractual activities for the museum. She will report to Janet Alberti, the Deputy Director of Administration and Finance. "We are delighted to have Adine Varah join SFMOMA," says SFMOMA Director Neal Benezra. "Her deep experience in arts and intellectual property law and her extensive knowledge of and experience with San Francisco's cultural community make her an invaluable asset to our team." Adine Varah brings 20 years of experience in art and the law to SFMOMA with previous positions in the public, not-for-profit and private sectors. Most recently, she was the Deputy City Attorney for the City and County of San Francisco since 1997. In this capacity, Varah served ... More
Tiffany glass lamps lead 20th Century Decorative Arts Auction at Bonhams New York
Sotheby's December Auctions of 20th Century Design & Tiffany total $21.3 million in New York
The Van Gogh Museum ends 2014 extremely well with a record number of visitors




Sold for $197,000: A Tiffany Studios Favrile glass and patinated bronze Floral Bouquet chandelier, 1899-1918. Photo: Bonhams.





NEW YORK, NY.- The 20th Century Decorative Arts auction at Bonhams New York resulted in over $1.1 million in total sales. The auction was led by a strong group of leaded glass lamps produced by Tiffany Studios in the early years of the 20th Century. Highlights of the afternoon included: • A Tiffany Floral Bouquet chandelier, 1899-1918, which realized $197,000 almost twice its high estimate; • An exquisite Tiffany Studios Favrile glass and patinated bronze Tulip table lamp, 1899-1918, which realized $112,500, over its high estimate; • A Tiffany Studios decorated Favrile glass and patinated bronze three light table lamp, 1899-1918, fetched $20,000, over the high estimate; • Mirrorized Clear Contour with Blue, Amber and Black, 1996-1998 by Tom Patti made from industrialized glass, which realized $27,500, above the high estimate; • A 14k gold mounted Thomas Webb & Sons cameo glass ... More





An Important Desk by Eugène Printz circa 1932 sold for $845,000 (estimate $250/350,000), Photo: Sotheby's.





NEW YORK, NY.- Works emerging from exceptional private collections propelled Sotheby's December auctions of 20th Century Design to an outstanding total of $21.3 million, surpassing the three auctions' combined high estimate of $17.7 million. More than 250 lots were sold across the two days of sales – a look at some of the highlights by auction follows: Intense competition for works from The Jon Stryker Collection drove the sale far above its $4.1 million high estimate to achieve $7.4 million. The sale offered extraordinary European and Scandinavian 20th Century Design and Photography from the Manhattan apartment of the famed architect and philanthropist. The auction was led by Paul Dupré-Lafon's Low Table circa 1950, which fetched $749,000 – over six times the high estimate of $120,000. All eight works in the collection by Alberto and Diego Giacometti were sold for a total of $2.2 million, led by Diego's L'Arbre de V ... More





Family members of Vincent van Gogh opened the complete new presentation in November, one of the highlights of the Van Gogh Museum in 2014. Photo: Jan Kees Steenman.





AMSTERDAM.- This year, more than 1.6 million visitors have paid a visit to the Van Gogh Museum – despite the fact that the Kurokawa wing was not accessible to visitors as a result of the construction of the new glass entrance building at the side of Museumplein. Compared with 2013, this is a 10% increase. Biggest attractions were the Félix Vallotton : Fire beneath the Ice exhibition, the Emmy Andriesse photo exhibition, the spectacular new presentation of the museum and the successful Friday Nights. Despite the large number of visitors, the public has experienced the museum as less crowded. Thanks to the online ticket sales with starting times (12% of the entire number of tickets sold), the museum can facilitate more visitors. This visitor distribution creates the best possible experience for the public. The extended opening hours, ... More
Quote
We artists are mythmakers, and we participate with everybody else in the social constructionof reality. Helen Mayer Harrison
More News
---
Philosopher of Spectacle Launches Exhibition At The Fondation Louis Vuitton
---
---
Flashback
On a day like today, French painter Jean-Baptiste van Loo was born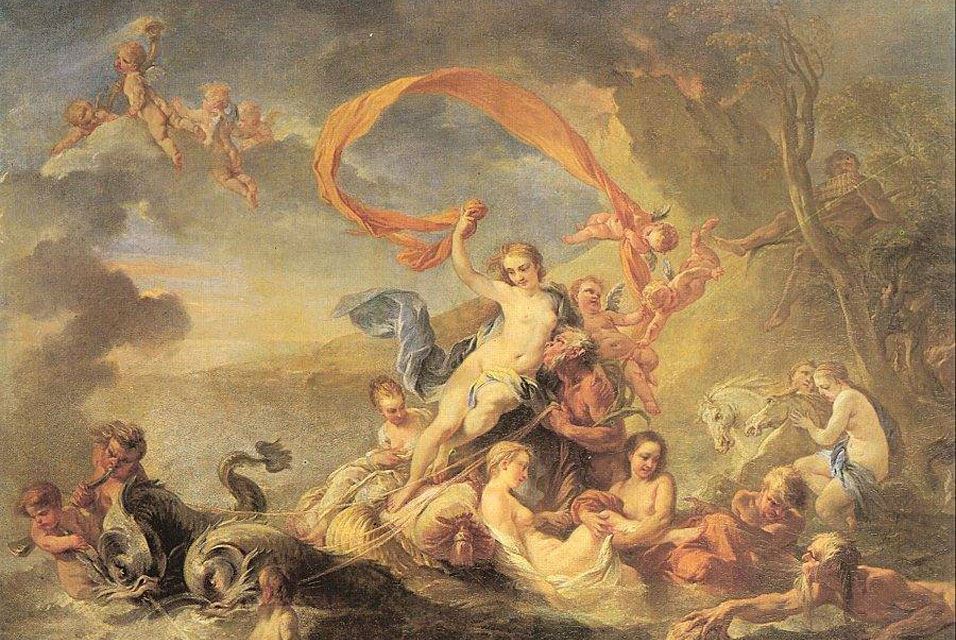 December 19, 1745. Jean-Baptiste van Loo (14 January 1684 - 19 December 1745) was a French subject and portrait painter. Two of his sons were notable painters, Louis-Michel van Loo (1707-1771) and Charles-Amédée-Philippe van Loo (1719-1795). In this image: The Triumph of Galatea.
---
---

Museums, Exhibits, Artists, Milestones, Digital Art, Architecture, Photography,
Photographers, Special Photos, Special Reports, Featured Stories, Auctions, Art Fairs,
Anecdotes, Art Quiz, Education, Mythology, 3D Images, Last Week,
.
Royalville Communications, Inc
produces: