Thyssen-Bornemisza Museum in Madrid stages first Hubert de Givenchy retrospective
A woman visits the exhibition titled "Hubert de Givenchy" at the Thyssen-Bornemisza museum in Madrid on October 20, 2014. This exhibition, the first major retrospective to be devoted to French fashion designer Hubert de Givenchy and the Museum's first incursion into the world of fashion, presents a selection of his finest creations. AFP PHOTO/ GERARD JULIEN.
MADRID
(AFP)
.-
Madrid's Thyssen Museum opened Wednesday the first major retrospective of designs by French fashion designer Hubert de Givenchy, who worked for such famous clients as Audrey Hepburn and Jacqueline Kennedy. The exhibition, curated by the 87-year-old designer himself, features about 100 of his finest pieces selected from museums and private collections around the world from a career spanning nearly five decades. "Given my age, I hesitated. But I have great affection for Spain. I did not have the right to turn down such an extraordinary offer," he told journalists at the presentation of the retrospective. The exhibition focuses on creations made for his main clients and they are shown alongside art works from different periods and styles from the museum's collection to highlight the links between fashion and art. "He is one of the last ...
More
The Best Photos of the Day
Landmark exhibition of Claude Monet's paintings of the River Seine opens at the Museum of Fine Arts, Houston
Christie's to offer works from the Maximilian Schell Estate, across several auctions
Exhibition in Pasadena examines Norton Simon's purchase of Duveen Brothers Gallery




Claude Monet, The Seine at Bougival, 1870 (detail), oil on canvas, Currier Museum of Art, Manchester, New Hampshire, museum purchase: Currier Funds





HOUSTON, TX.- "I have painted the Seine throughout my life, at every hour, at every season," Claude Monet once said. "I have never tired of it: for me the Seine is always new." In October 2014, the Museum of Fine Arts, Houston, will present Monet and the Seine: Impressions of a River, an exhibition that chronicles Monet's abiding fascination with the iconic French waterway. A selection of 52 paintings by the Impressionist painter will be displayed, beginning with scenes of leisure activities, modern life and cityscapes along the Seine River and culminating in the ethereal works from the famous Mornings on the Seine series (1896–97). Monet and the Seine will be on view at the Museum of Fine Arts, Houston, from October 26, 2014, to February 1, 2015. Monet and the Seine: Impressions of a River has been co-curated by Helga Aurisch, curator of European art, the Museum of Fine Arts, Houston, and Tanya Paul, Isabel ... More





Jean Dubuffet (1901-1985), Dramatique IX. Estimate: 70,000 - 90,000 Euros. Photo: Christie's Images Ltd 2014.





LONDON.- Christie's has been entrusted with the sale of important works from the Maximilian Schell Estate. The recently deceased Oscar winning Austrian actor, internationally acclaimed director, writer and producer Maximilian Schell had been dedicated to the arts throughout his life. Born to parents, who fostered close friendships with contemporary painters, Schell started collecting as a young adult and built an impressive collection including works by Paul Klee, Mark Rothko, Jean Dubuffet and, from the early 1970s onwards, Josef Albers. From the moment Maximilian Schell encountered the work of the former member of the Bauhaus group, then teacher of the Black Mountain College and Yale Josef Albers at the Sidney Janis Gallery in New York, he was captivated by the artist's experimentation with color. Josef Albers' commitment to attaining perfection aligned with Maximilian Schell's own and, ... More





Zorzo da Castelfranco called Giorgione, Bust Portrait of a Courtesan, c. 1509. Oil on panel, transferred to canvas, 12-1/2 x 9-3/8 in. (31.8 x 23.8 cm). The Norton Simon Foundation.





PASADENA, CA.- The Norton Simon Museum presents an exhibition examining one of Norton Simon's most memorable acquisitions—the purchase of the century-old, esteemed art dealership, the Duveen Brothers Gallery. Featuring more than 130 works from the Museum's collection, along with several loans, "Lock, Stock and Barrel: Norton Simon's Purchase of Duveen Brothers Gallery" sheds light on Simon's business strategies and his dramatic evolution as an art collector. And with its focus on the Gallery's remaining stock, the exhibition provides a window onto the tastes and trends of the early- to mid-20th-century American art market. Duveen Brothers Gallery was once one of the largest and most successful art dealerships. Founded in 1879 in England, the firm under Lord Joseph Duveen was responsible for helping some of the most prominent American businessmen— ... More
The Walters celebrates its 80th anniversary with 'From Rye to Raphael: The Walters Story'
Master of Color: Kunstmuseum Bern shows an overview of the work of Swiss painter Augusto Giacometti
TMA acquires 'The Liberation of St. Peter' by 17th-century Italian artist Luca Giordano




Charles-Henri-Joseph Cordier. African Venus. 1851. bronze and gold. Museum purchase, 1991. (54.2665).





BALTIMORE, MD.- Visit From Rye to Raphael: The Walters Story, a new installation of the fourth floor galleries in honor of the Walters Art Museum's 80th anniversary as a public institution. The free installation, opening on October 26, 2014, will take visitors on a journey through the extraordinary gift given by Henry Walters to Baltimore "for the benefit of the public." "From Rye to Raphael: The Walters Story brings together many of our most famous works of art with lesser known works in order to explore the intriguing stories of our founders" says Julia Marciari-Alexander, executive director of the Walters Art Museum. "Visitors will discover more about these two entrepreneurs, collectors, philanthropists and the incredible legacy they left to Baltimore." The installation will include more than 200 artworks in seven galleries as well as archival Walters family photographs and documents. Visitors ... More





Augusto Giacometti, Selbstbildnis, 1922. Öl auf Leinwand, 41,5 x 35,7 cm. Stiftung für Kunst, Kultur und Geschichte, Winterthur © Erbengemeinschaft Nachlass Augusto Giacometti.





BERN.- The Swiss painter Augusto Giacometti (1877–1947) made color the focus of his art. In a magnificent display of color with some 130 exhibits, the Kunstmuseum Bern is mounting an overview of the work of this pioneer of abstraction. On show are loans from leading Swiss and international museums, artworks from private collections that have never been on public view before, as well as pieces from the Kunstmuseum Bern Collection. The real focus of Augusto Giacometti's art is his preoccupation with color as a medium for expression and design. His talent for colors is very conspicuous already in his early works, which were still largely art nouveau in style. And this master of color was to ultimately become a pioneer of abstraction in art. Augusto Giacometti is one of the famous ... More





Luca Giordano (Italian, 1634–1705), The Liberation of St. Peter (detail). Oil on canvas, shortly after 1660. 79 by 121 inches. Toledo Museum of Art. Museum purchase.





TOLEDO, OH.- The Liberation of St. Peter by Italian artist Luca Giordano (1634–1705) has been acquired by the Toledo Museum of Art. A ceremonial introduction of the 350-year-old painting will take place at 7 p.m. Nov. 13 in the Museum's Great Gallery. Toledo Museum of Art Director Brian Kennedy; Lawrence W. Nichols, the William Hutton senior curator of European and American painting and sculpture before 1900; and the Most Reverend Daniel E. Thomas, the new Bishop of the Roman Catholic Diocese of Toledo, will speak. They will discuss the painting from both artistic and religious perspectives. The program is free and open to the public. The massive oil painting is a dramatic depiction of the Biblical story told in Acts 12: 6–11 of an angel liberating Peter from prison and is a wonderful example ... More
Italy to open Nero's Golden House for weekend tourists; Restoration works to continue
Red Giant Publishing announces new limited edition book Resonators by Scarlet Page
First retrospective in nearly twenty years of work by Imi Knoebel opens at Kunstmuseum Wolfsburg




The ancient Domus Aurea site (Golden House), built by Roman emperor Nero, in Rome. AFP PHOTO / VINCENZO PINTO.





ROME (AFP).- Italy will open Emperor Nero's Golden House to the public for the first time since 2005, but only on weekends to allow restoration works to continue, Rome's archaeological superintendent said Friday. "We have spent 12 million euros ($15.2 million) over the past four years to restore the site and have decided to reopen the Domus Aurea, but as a work in progress," Mariarosaria Barbera told journalists in the Italian capital. From Sunday, visitors can book guided tours for up to 25 people at a time to be shown around the lavish complex by archaeologists and art historians. The palace, which lies on a hill overlooking the Colosseum, was built by Nero after the great fire of Rome in 64 AD razed aristocratic dwellings in the area. It featured groves of fruit trees, vineyards and an artificial lake. ... More





The Resonators Deluxe Edition.





LONDON.- Red Giant Publishing presents Scarlet Page's highly anticipated limited edition large format book RESONATORS, providing a unique insight into some of the World's most respected guitarists from '60s Merseybeat through Rock 'n' Roll, Heavy Metal and Punk to Britpop. 'A Resonator is the leading light in their field, someone who defines their time and influences their generation. The Resonators are those who send thousands of people rushing out to pick up guitars for the first time...' – Scarlet Page Including over 120 exclusive and never before seen photographs taken over the past two years, Scarlet's personal approach and style has produced beautiful and intimate portraits of The Resonators, capturing sides of guitar legends rarely seen by their fans. Guitarists included within RESONATORS are; Wilko Johnson, Jimmy Page, Brian May, Paul Stanley, Sir Paul McCartney, Peter ... More





Imi Knoebel. Photo: Marek Kruszewski.





WOLFSBURG.- Imi Knoebel (*1940 in Dessau) composes an exhibition in the same way that he creates a new painting. A comprehensive exhibition of Knoebel's oeuvre − the first worldwide in nearly twenty years − is being presented at the Kunstmuseum Wolfsburg, which is honoring the 75th birthday of this important German artist. Imi Knoebel. Works 1966 – 2014 features major works and groups of works, ranging from the Linienbilder [Line Paintings] (1966-68), Raum 19 III [Room 19] (1968/2006), and Eigentum Himmelreich [Kingdom of Heaven] (1983), to the aluminum paintings from the 1990s, as well as his most recent works. Loans of significant works from private and public collections in Europe are supplemented by the painter's own collection. More than one hundred paintings, objects, and installations document the unusual role that Imi Knoebel has played in the arts from ... More
MAXXI in Rome is completely emptied out, laid bare, and filled with sound installations
High brings Luca della Robbia's marble Cantoria panels to the U.S. for the first time
Norman Rockwell photographs now accessible to the public and researchers for the first time




Jean-Baptiste Ganne, El Ingenioso hidalgo Don Quijote de la Mancha, 2005-2014. Installazione luminosa MAXXI, courtesy the artist.





ROME.- Immaterial, immersive, incontrollable, omnipresent, invisible, sound is the most radical and experimental aspect of contemporary art, the perfect instrument with which to conquer spaces for freedom of expression, an unexpected perspective from which to observe and analyze reality. With Open Museum Open City (October 24 – November 30, 2014) curated by Hou Hanru, Artistic Director of MAXXI and the curatorial staff of MAXXI Arte directed by Anna Mattirolo and MAXXI Architettura directed by Margherita Guccione, a radical gesture is carried out: the MAXXI is completely emptied out, laid bare, so that it can be filled with sound. The site-specific installations of Justin Bennet, Cevdet Erek, Lara Favaretto, Francesco Fonassi, Bill Fontana, Jean Baptiste Ganne, Ryoji Ikeda, Haroon Mirza, Philippe Rahm and RAM radioartemobile fill the museum spaces, transforming them into urban or intimate, spiritual or political environments, fo ... More





Francesco di Antonio del Chierico (Italian, 1433-1484), Illuminated Manuscript (Choir Book), Gradual, Edili 151; Dedication of Florence Cathedral, folio 7v, 30 x 24 in. From the Collection of the Biblioteca Laurenziana Medicea, Florence.





ATLANTA, GA.- Three marble panels from Italian sculptor Luca della Robbia's famed organ loft created for Florence Cathedral travelled to the U.S. for the first time for "Make A Joyful Noise": Renaissance Art and Music at Florence Cathedral at the High Museum of Art. The exhibition, on view from Oct. 25, 2014 through Jan. 11, 2015, places the marble panels in the musical environment for which they were originally created by displaying them with other musical objects, including hand-decorated choir books from the cathedral and a lectern designed to hold them. Luca della Robbia began his Cantoria, originally designed as an organ loft but later used to hold choir singers, for the Cathedral of Florence in 1431. He worked for seven years on the project, eventually producing 10 exquisitely detailed panels that depict the celebratory text of Psalm 150. He focused his marble inter- ... More





Reference photo of Norman Rockwell's portrait of Ann-Margret, c. 1965. Norman Rockwell Museum Collections. All rights reserved.





STOCKBRIDGE, MA.- Norman Rockwell Museum announces the new accessibility of tens of thousands of digitized black-and-white photographs from its Norman Rockwell Photographic Print Collection—the largest single collection in the Norman Rockwell Archive. Digital images are now freely viewable on the Museum's website, www.nrm.org, under "View the Collections," and by appointment through the Stockbridge museum's Reference Center, which has a computer workstation to accommodate its many visiting researchers. Consisting of 239 boxes of approximately 50,000 images, this high-value but mostly un-catalogued collection had been largely inaccessible to the Museum's curators, to visiting researchers and curators, and to the general public. When Museum Archivist Venus Van Ness did a cursory examination of the boxes three years ago, she discovered many photos the staff had never seen before. "We felt these images would provide ... More
Quote
I found I could say things with color and shapes. Georgia O' Keeffe
More News
---
Grand Opening of Christie's Shanghai
---
---
Flashback
On a day like today, British painter William Hogarth died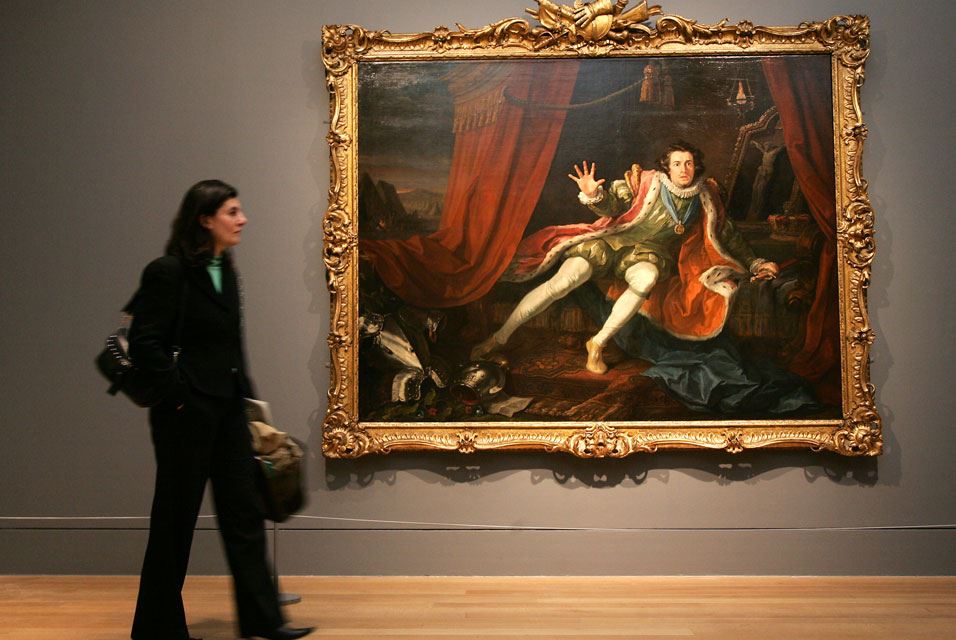 October 26, 1764. William Hogarth (10 November 1697 - 26 October 1764) was an English painter, printmaker, pictorial satirist, social critic and editorial cartoonist who has been credited with pioneering western sequential art. His work ranged from realistic portraiture to comic strip-like series of pictures called "modern moral subjects". Knowledge of his work is so pervasive that satirical political illustrations in this style are often referred to as "Hogarthian.". In this image: A visitor looks at a William Hogarth painting 'David Garrick as Richard III', on display at Tate Britain art gallery in London, Monday, Feb. 5, 2007.
---
---

Museums, Exhibits, Artists, Milestones, Digital Art, Architecture, Photography,
Photographers, Special Photos, Special Reports, Featured Stories, Auctions, Art Fairs,
Anecdotes, Art Quiz, Education, Mythology, 3D Images, Last Week,
.
Royalville Communications, Inc
produces: