British landscape painting from the Tate Collection on view at the Museo Nacional de Arte
Artworks of J.M.W. Turner, John Constable, Thomas Gainsborough, John Martin, David Inshaw and more and are displayed at Museo Nacional de Arte.
MEXICO CITY
.-
On March 25th Landscapes of the Mind. British Landscape Painting. Tate Collection, 1690-2007 was presented for the first time ever in Mexico City, an exhibition organized by Tate in association with
Museo Nacional de Arte
, as part of the celebrations of the Dual Year between Mexico and the United Kingdom. This exhibition presents 111 artworks by British and European artists, with a plurality of techniques (painting, drawing, printmaking, photography, sculpture/installation, etc.) which ponder on the evolution of British landscape in art history. The term "Britain" is understood as the geographical entity of the British Isles, i.e., the archipelago that includes England, Wales, Scotland and Ireland, before the independence of the latter in 1921. This genre was explored in Britain during the 16th century with the use of documents describing the topography, geology, history, and ...
More
The Best Photos of the Day
Sotheby's to offer the Weldon Collection: Single owner sale on 22 April
In Syria, National Museum of Damascus races to save antiquities from looting, damage
Exhibition of new work by Thomas Nozkowski opens at Pace Gallery in New York




Adriaen Jansz van Ostade, A Man With Pince-Nez, Reading Notices (The Sense Of Sight), signed and dated lower left: AvOstade 16 (the last two digits of the date obscured), oil on panel, 6 1/8 by 4 5/16 in.; 15.5 by 11 cm. Est. $400/600,000.





NEW YORK, NY.- Sotheby's will present the sale of The Weldon Collection, a remarkable collection of Dutch and Flemish paintings assembled by the late Henry and June "Jimmy" Weldon over a period of several decades. Consummate and celebrated collectors across numerous categories, including Asian Art and Staffordshire pottery, the Weldons took great care with every acquisition and numerous American institutions have benefitted greatly from generous gifts over the years. Their collecting journey began in the 1950s with an initial focus on 17th century Dutch and Flemish pictures, seeking out works by Balthasar Van der Ast, Rachel Ruysch and Salomon van Ruysdael. Over the years, as their taste broadened, they added remarkable gems including an early still life by the ... More





Damascus Museum employees wrap archaeological artifacts into boxes to protect them from being damaged. AFP PHOTO / JOSEPH EID.





DAMASCUS (AFP).- Workers at Syria's National Museum of Damascus carefully wrap statues and place them in boxes to be transported to a safe place, hoping to save the priceless pieces from theft or destruction. Since his 2012 appointment as head of antiquities in the midst of Syria's civil war, Maamoun Abdulkarim says just one thing has been on his mind -- avoiding a repeat of the kind of looting that ravaged Iraq's heritage after the 2003 invasion. "The images of the looting of the museum in Baghdad and other Iraqi sites are always on my mind, and I told myself that everything must be done to avoid a repeat of that here," he told AFP. Widespread illegal excavation and the destruction of artefacts and religious sites by jihadists from the Islamic State (IS) group have only added to the sense of urgency. Before the Syrian conflict began in 2011, Abdulkarim was co-director of a ... More





Thomas Nozkowski, Untitled (L-24), 2014 (detail). Oil on paper, 22" x 30" (55.9 cm x 76.2 cm).





NEW YORK, NY.- Pace announces an exhibition of new work by Thomas Nozkowski. On view from March 27 to April 24, 2015, at 510 West 25th Street, the exhibition will include oil paintings and mixed media drawings. An opening reception for the artist will be held Thursday, March 26, 6–8 p.m., and a catalogue featuring a new essay by artist and critic Sherman Sam will accompany the exhibition. On April 10, the gallery will host a discussion between Nozkowski, Robert Storr, dean of Yale University's School of Art, and James Siena, whose exhibition of sculptures will be on view concurrently at 508 West 25th Street. Since the 1970s Nozkowski has produced abstract paintings and drawings inspired by events and places he has experienced firsthand. His paintings are the result of an extensive series of decisions in which he experiments with a form, color or gesture, and then reworks it repeatedly over subsequent days, weeks or years. ... More
Exhibition displays Man Ray's photos and paintings with the mathematical objects that inspired them
British Museum announces new Albukhary Foundation Gallery of the Islamic World to open in 2018
Exhibition of works by Arman and César from the Allan Stone Collection opens in New York




Man Ray, Shakespearean Equation, Romeo & Juliet, 1954. Oil on canvas, 31 7/8 x 23 5/8 in. Private Collection, Courtesy Fondazione Marconi, Milan. © Man Ray Trust / Artists Rights Society (ARS), NY / ADAGP, Paris 2015.





WASHINGTON, DC.- The Phillips Collection introduces Man Ray–Human Equations: A Journey from Mathematics to Shakespeare, an exhibition exploring the intersection of art and science that defined a significant component of modern art on both sides of the Atlantic at the beginning of the 20th century. Highlighting the multimedia work of the legendary Surrealist artist, Man Ray–Human Equations is on view through May 10, 2015. Working in Hollywood in the late 1940s, Man Ray (American, 1890–1976) created his Shakespearean Equations, a series of paintings that he considered to be the apogee of his creative vision. Drawing upon photographs of 19th-century mathematical models he made in the 1930s, the series was a culmination of 15 years of multimedia ... More





Michael Rakowitz, The Invisible Enemy Should Not Exist-Jar with Four Pierced Lugs (IM42587) / Recovered, Missing,Stolen,2009 (2019,6025.9) © The Trustees of the British Museum.





LONDON.- The Albukhary Foundation is providing significant support for a major new gallery to redisplay the collections of the Islamic world at the British Museum. The Albukhary Foundation Gallery of the Islamic World will open to the public at the end of October 2018 and will reveal the British Museum's outstanding collections in engaging new ways, underscoring the global connections of this vast region of the world. This new gallery represents a shared vision between the British Museum and the Malaysia-based Albukhary Foundation and will give visitors an understanding of the diverse and wide-ranging cultures of the Islamic world. This announcement is also marked by an award celebrating the contribution of the British Museum's touring exhibition 'Hajj: journey to the heart of Islam' that was first shown at ... More





Installation view.





NEW YORK, NY.- Allan Stone Projects presents Arman and César on view March 26-June 6, 2015. Selected from the Allan Stone Collection, the exhibition highlights significant works by two of the most prominent artists of the French artist group, Nouveau Réalisme. Arman was a founding member and César was a major participant. Together they exemplify the collective's mission to connect art with life in an age of mass production. The approximately twenty objects in the exhibition, dating from 1954 to 1998, demonstrate the two artist's similar development of inventive sculptural techniques and the use of nontraditional materials, everyday objects, refuse, factory materials, and synthetics in Post-War art. Arman's work is informed by the ready-made mindset of Dada and the everyman culture of Pop Art. Creating assemblages of paintbrushes, watches, telephones, keys, and musical instruments suspended in resin ... More
Fully-functional bar designed by Björn and Oddur Roth on view at Hauser & Wirth
LACMA and Hyundai Motor Company announce 10-year commitment to art + technology and Korean Art initiatives
Carnegie Museum of Art names Ingrid Schaffner Curator of 57th Carnegie International




Dieter Roth / Björn Roth, Economy Bar, 2004 – 2013. Mixed media installation, Dimensions variable. Installation view, 'Dieter Roth Björn Roth. Islands', HangarBicocca, Milan, Italy, 2013. Photo: © A. Osio. Courtesy Hauser & Wirth and HangarBicocca, Milan.





ZURICH.- As a central part of the exhibition 'Roth Bar & Studio. Dieter Roth, Björn Roth and Oddur Roth', Hauser & Wirth Zürich will launch a fully-functional, specially-crafted bar designed by Björn and Oddur Roth, son and grandson of German-born Swiss artist Dieter Roth (1930 – 1998). This site-specific bar will be open in the evening every Thursday to Saturday for the duration of the exhibition, and will host a full programme of events, including an opening performance by Björn and Oddur Roth on 27 March. First conceived by Dieter Roth in the early 1980s, 'the bar' is a dynamic and changing installation, and is a continuing element in the Roths' cross-generational practice. As a condition for him to exhibit with Hauser & Wirth, Dieter Roth insisted that a bar form part of his first show in 1997. Along with his son ... More





Robert Irwin, Miracle Mile, 2013, Los Angeles County Museum of Art, Gift of Hyundai Motor as part of The Hyundai Project: Art + Technology at LACMA in honor of the museum's 50th anniversary, © Robert Irwin/Artists Rights Society (ARS), New York, photo © 2015 Philipp Scholz Rittermann.





LOS ANGELES, CA.- The Los Angeles County Museum of Art and Hyundai Motor Company (Hyundai) today announced a major new 10-year partnership—the longest and largest programmatic commitment from a corporate sponsor in LACMA's history. Under the umbrella of The Hyundai Project, this unprecedented partnership allows LACMA to make significant strides in two important fields, Art + Technology and Korean art scholarship. Hyundai's support in these areas will encompass acquisitions, exhibitions, and publications through 2024. Today's announcement includes the first examples of The Hyundai Project's support of Art + Technology. In honor of the museum's 50th anniversary, Hyundai Motor has ... More





Ingrid Schaffner, Photo: Constance Mensh, Courtesy of Institute of Contemporary Art, University of Pennsylvania.





PITTSBURGH, PA.- Lynn Zelevansky, The Henry J. Heinz II Director of Carnegie Museum of Art, announced today the appointment of Ingrid Schaffner as curator of the 57th Carnegie International. The Carnegie International, initiated in 1896, is one of the world's preeminent surveys of contemporary art. The 57th International will open in fall 2018. Schaffner will assume her role on May 1, 2015, and move to Pittsburgh in September 2015. "The International is CMOA's signature exhibition," said Zelevansky. "It is the largest, most ambitious show that we take on, bringing art and ideas from around the world to Pittsburgh, while emphasizing the city's unique sense of place." She added, "It takes a special kind of curator to successfully organize such an exhibition, and we are delighted to have Ingrid on board. She is thoughtful and knowledgeable, an excellent writer, and has true ... More
Face Value: Exhibition of portraiture from the Arts Council Collection opens at Abbot Hall Art Gallery
Art from estate of art dealer Dorothy Blau headlines Auction Gallery of the Palm Beaches' March 30 sale
10 artist records smashed as works soar above estimate in Sotheby's Made In Britain Auction




Mark Gertler, Self Portrait, 1920. Oil on canvas, 42.5 x 29.2cm. Arts Council Collection, Southbank Centre, London.





KENDAL.- Can portraits be taken at face value? Portraiture is a long established artistic tradition. From the early silhouettes and court paintings of majestic figures to contemporary political statement-portraits which challenge and provoke, portraiture has never been about creating a simplistic likeness. This exhibition deconstructs portraiture examining the basic principles and how these have been used time and time again to produce engaging portraits of people, places and times. The exhibition begins by exploring the artist's self-portrait and asking why an artist would paint themselves. What are they trying to show? Is self-portraiture about narcissism and self-indulgence? Is it about practicing a technique? Many artists throughout history have painted self-portraits and this section includes outstanding works by Mark Gertler and David Bomberg. As the exhibition progresses visitors will be able to see ... More





Keith Haring Night Light screenprint on glass. Auction Gallery of the Palm Beaches image.





WEST PALM BEACH, FLA.- Auction Gallery of the Palm Beaches Inc. will conduct its March Estates Auction on Monday, March 30, starting at 6 p.m. Eastern Time at their gallery facilities in West Palm Beach. All forms of bidding will be available, including absentee and live via the Internet through LiveAuctioneers. Featured in the auction is the Estate of Dorothy Berenson Blau, the longtime Miami contemporary art dealer who, from the 1950s onward, was a driving force in the development of the South Florida art scene. Ms. Blau was instrumental in the careers of many artists through the decades. She opened her first gallery in 1953, and after opening a gallery with the Burdine family – of the Burdine's department stores in Coconut Grove – she went on to establish an iconic main art gallery in Bay Harbor Islands and a later, associated gallery in Boca Raton. The auction will contain more than 325 lots featuring a fine selection of fine art ... More





Sotheby's Auctioneer and Chairman Henry Wyndham Fielding Bids in the Sale of the Contents from The Ivy. Photo: Sotheby's.





LONDON.- Almost 3,000 members of the public flocked to Sotheby's over the course of the pre-sale exhibition for Made in Britain, a dedicated sale celebrating the diversity and creativity of British art from 1900 to today. Sotheby's saw strong prices achieved in both the day and evening sale sessions for works by some of the leading names of post-war British Art. The sale included the evening auction of property from legendary London restaurant The Ivy, where bidders in a packed saleroom competed to acquire a piece of history from the world renowned restaurant. Every single lot sold - a 'white glove' sale - and 97% of lots soared above pre-sale estimates. Made in Britain achieved an above-high-estimate total of £3,377,068 (est. £1,495,200 - 2,205,790), and the total achieved for The Ivy auction to benefit Child Bereavement UK was £1,051,125, almost three times the pre-sale high estimate ... More
Quote
Every true work of art must express a distinct feeling. Caspar David Friedrich
More News
---
---
---
Flashback
On a day like today, German architect Ludwig Mies van der Rohe was born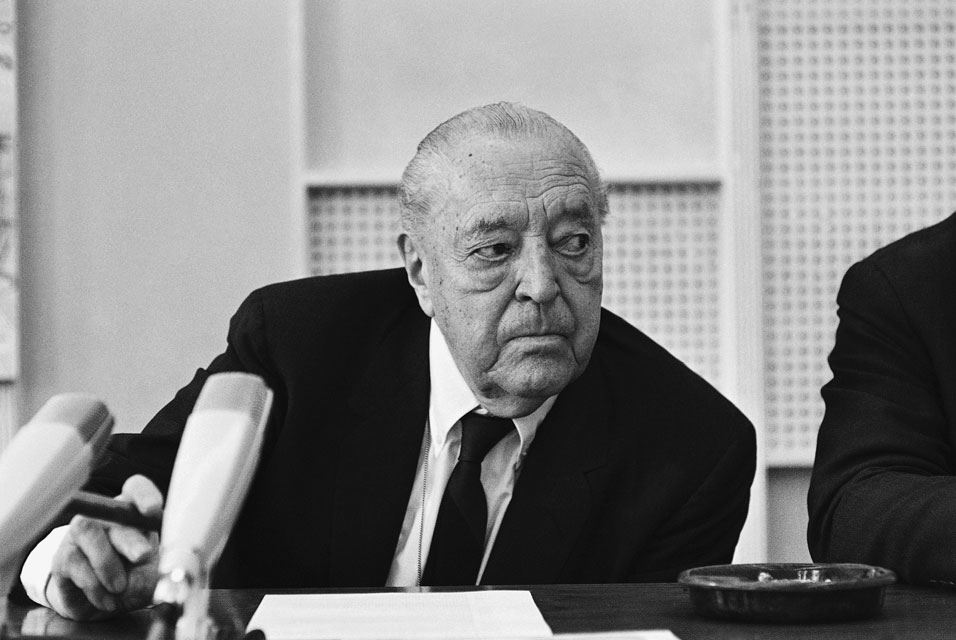 March 27, 1886. Ludwig Mies van der Rohe (born Maria Ludwig Michael Mies; March 27, 1886 - August 19, 1969) was a German-American architect. He is commonly referred to, and was addressed, as Mies, his surname. He served as the last director of the Bauhaus. Along with Le Corbusier, Alvar Aalto, and Frank Lloyd Wright, he is widely regarded as one of the pioneering masters of modern architecture. In this image: German-American architect, pioneering master of Modern architecture Ludwig Mies van der Rohe, born Maria Ludwig Michael Mies on March 27, 1886 in Aachen and last director of the avant-garde Bauhaus design school is portraited during a press conference of the Berliner Bauwochen held from August 25 until September 22, 1968 in West Berlin, Germany.
---
---

Museums, Exhibits, Artists, Milestones, Digital Art, Architecture, Photography,
Photographers, Special Photos, Special Reports, Featured Stories, Auctions, Art Fairs,
Anecdotes, Art Quiz, Education, Mythology, 3D Images, Last Week,
.
Royalville Communications, Inc
produces: