More than 60 of Goya's most outstanding portraits on view at the National Gallery, London
Visitors look at paintings "The Duke of Osuna around 1795" (L), "The Duke and Duchess of Osuna and their Children 1788" (C), and "The Countess-Duchess of Benavente 1785 by Spanish artist Francisco de Goya during a press preview of "Goya, The Portraits" at the National Gallery in London on October 6, 2015. AFP PHOTO / JUSTIN TALLIS.
LONDON
(AFP)
.-
Spanish painter Francisco de Goya's stark portrayals of Spanish aristocrats, intellectuals and fellow artists in a major new exhibition at the National Gallery in London aims to show him as "the best ever portrait artist". The exhibition, which opens on Wednesday, brings together from around the world around 70 portraits by the celebrated artist who lived between 1746 and 1828. The works make up almost half of the 150 Goya portraits that still survive today, and account for a third of his total known output. "Nobody has ever done an exhibition just with portraits because it's a bit risky. People might get bored," exhibition curator Xavier Bray told AFP. But Bray said the show illustrates the variety of Goya's art from the energy and luminosity in "The Family of the Infante Don Luis de Borbon" to the gloominess of a self-portrait of the dying artist. ...
More
The Best Photos of the Day
George Eastman House in Rochester announces new name: George Eastman Museum
First major exhibition in the United States of the work of Ishiuchi Miyako opens at the Getty
First major U.S. monographic exhibition on Andrea del Sarto opens at the Frick Collection




Founded in 1947, the institution is the world's oldest photography museum and one of the oldest film archives.





ROCHESTER, NY.- The George Eastman Museum has today announced its new name and launched a new website at eastman.org. Formerly George Eastman House, the institution encompasses one of the world's foremost museums of photography and cinema and the historic Rochester estate of entrepreneur and philanthropist George Eastman, the pioneer of popular photography. The museum's robust exhibition schedule features contemporary and historic photography, film screenings, and collaborative projects with cultural and educational institutions. As a research and teaching institution, the Eastman Museum has an active publishing program and makes critical contributions in the fields of film preservation and photographic conservation. "The three-part mission of the George Eastman Museum remains leadership in the fields of photography and cinema; preservation and development of our collections, ... More





Ishiuchi Miyako, Hiroshima #69 (Hatsuko Abe), 2007. Chromogenic print. Framed: 108 x 74 x 2.5 cm. © Ishiuchi Miyako.





LOS ANGELES, CA.- The first major exhibition in the United States and the first comprehensive English-language catalogue on celebrated Japanese photographer Ishiuchi Miyako (born Fujikura Yōko in 1947) showcases the artist's prolific, groundbreaking career and offer new scholarship on her personal background, her process, and her place in the history of Japanese photography. On view at the J. Paul Getty Museum, Getty Center from October 6, 2015-February 21, 2016, Ishiuchi Miyako: Postwar Shadows features more than 120 photographs that represent the evolution of the artist's career, from her landmark series Yokosuka Story (1976-77) that established her as a photographer to her current project ひろしま/ hiroshima (2007-present) in which she presents images of garments and objects that survived the atomic bombing of Hiroshima. "About eight years ago, the Getty Museum began a concerted effort to expand ... More





Andrea del Sarto (1486–1530) Portrait of a Young Man, ca. 1517–18 Oil on canvas 28 1/2 x 22 1/2 inches National Gallery, London © The National Gallery, London.





NEW YORK, NY.- Andrea d'Agnolo (1486–1530), called Andrea del Sarto after his father's profession as a tailor (sarto), transformed sixteenth-century Florence through his art and influence. Through his large and prolific workshop, one of the most significant of the age, he enriched his native city with portraits, altarpieces, and fresco paintings. Drawings were at the core of his working process. Produced primarily in red and black chalks, his vibrant figure studies, energetic compositional drawings, and masterful head studies display the range of his talents as a draftsman and the complex roles that drawing played in developing his paintings. This autumn, The Frick Collection celebrates the Italian master with Andrea del Sarto: The Renaissance Workshop in Action, the first major U.S. monographic exhibition devoted to his art, centering on his creative process. This exhibition was organized with the J. ... More
The Sven Gahlin Collection totals £4,560,716 at Sotheby's; Double pre-sale estimate
Very rare four-rotor Enigma Machine leads Sale of Cipher Machines at Bonhams
Phillips to offer important collection of 32 Lucian Freud etchings during Frieze Week




A prince holding a falcon and galloping through a rocky landscape, Deccan, Golconda, circa 1680-1700 sold for £329,000 ($498,369). Photo: Sotheby's.





LONDON.- Today at Sotheby's in London, the single owner sale of The Sven Gahlin Collection, an unparalleled collection of Indian miniature painting, doubled pre-sale expectations with a total of £4.6m (est. £2-2.8m). Estimates for the 157 lots on offer ranged from £500 to £80,000, but many works achieved far in excess of their estimates. The sale was led by a magnificent 17th-century painting depicting a Mughal Prince on horseback which sold for £329,000 (est. £60,000-80,000). Encompassing the Mughal, Deccani and Rajput courts, as well as Company School Painting from the period of the British Raj, the works offered are remarkable for their distinguished provenance. Many of the paintings are signed by or attributed to royal court artists and were commissioned by the elite of the age, providing a glimpse into the refinement, power and privilege of courtly life. This painting, depicting Mughal ... More





A rare four-rotor M4 Enigma cipher machine, German, circa 1944; estimate £80,000 - 120,000. Photo: Bonhams.





LONDON.- Examples of key machines in the history of 20th century cryptology from Germany, Sweden, Switzerland and Russia are on offer at Bonhams Scientific, Technological and Mechanical Music Instruments in London on Tuesday 27 October. Led by a very rare four-rotor M4 Enigma machine from 1941 (lot 52 £80,000-120,000), the sale also includes: • A Swedish Hagelin B-21 cipher machine from 1932 (lot 48 £40,000-60,000); • NEMA enciphering machine (lot 47 £10,000-15,000) built in Switzerland and originally developed during World War II when the Swiss discovered that German and Allied forces were intercepting their military traffic; • Falka M-125 three-rotor cipher machine (lot 49 £7,000-10,000) used extensively by Soviet Russia and Warsaw Pact countries during the Cold War. Bonhams' technology specialist Jon Baddeley said, "It's unusual to find so many different types of cipher machines in one sale. The ... More



Lucian Freud, After Chardin, 2000 (detail). Etching, a working proof with hand touches in charcoal, on Somerset Textured paper, with full margins, I. 59.1 x 73 cm. Estimate £35,000 - 45,000. Image courtesy of Phillips.



LONDON.- Phillips will offer at auction a rare and important collection of 32 etchings by Lucian Freud, one of the most celebrated artists of the 20th century and a modern master of printmaking. The group spans the majority of the period from 1982 to 2004 when the artist rediscovered and rededicated himself to printmaking and when etching became integral to his practice. Highlighting the scope of his achievements in the medium, the collection includes depictions of his most famous sitters, including Sue Tilley, Leigh Bowery, David Dawson and his daughter, Bella, as well as canine portraits, landscapes and works after old masters. The collection will be subject to a dedicated exhibition on the 7th floor at Phillips Berkeley Square from 9 to 15 October, before being offered at a stand-alone auction in London on 15 October ... More
Susan Strickler, Currier Museum of Art director and CEO since 1996, to retire in June 2016
Small is Beautiful: Christie's announces sale of quality works with accessible prices
Art critic and curator Marc-Olivier Wahler appointed advisor to de Appel arts centre




Under Strickler's guidance, the Currier Museum collection and building have undergone tremendous growth.





MANCHESTER, NH.- Susan Strickler, who has guided the Currier Museum as director and CEO since 1996, has announced her retirement as of June 2016. Upon her retirement, Strickler's tenure as Director will be the longest in the Currier's 86-year history. Her visionary guidance converted the once-small museum to one of regional and national renown. "Susan has had a remarkable two-decade tenure at the helm of the Currier—which was a time of wonderful artistic growth and institutional expansion, raising the profile of the Currier as one of the nation's finest mid-sized museums," said M. Christine Dwyer, Currier Museum of Art Board president. "Susan brought to the role a strong curatorial and management background and she developed a team of senior staff leaders who have worked hard to make the Currier experience welcoming to all. The Trustees are grateful that she has given us the time to select a worthy ... More





Alexander Archipenko (1887-1964), Woman combing her hair. Bronze with light brown patina. Estimate: $80,000 - $120,000. Photo: Christie's Images Ltd 2015.





LONDON.- Christie's announces Small is Beautiful, the second annual online sale of its kind, which is now live until 20 October 2015, and offers discerning collectors the opportunity to buy quality works with accessible prices across categories. For the first time, the sale combines works of art that are united in size and in quality of craftsmanship, from the Impressionist and Modern, Post War and Contemporary, Modern British, Latin American and Antiquities categories. Estimates range from $800 to $120,000. The Impressionist and Modern lots in the sale include a rare bronze by Henri Matisse and a highly important work by Alexander Archipenko. Woman Combing Her Hair is one of the artist's most well-known works, and the sale offers what is currently the earliest recorded bronze cast of the subject, exhibited in Berlin in 1922. The work has been in the same family ownership since ... More





Marc-Olivier Wahler has previously been director of contemporary arts institutions including the Palais de Tokyo in Paris. Photo: Francis Vernhet.





AMSTERDAM.- Marc-Olivier Wahler (b. Neuchâtel, 1964) has been appointed as temporary advisor to de Appel arts centre in Amsterdam, as of today. The internationally oriented Swiss has previously been director of contemporary arts institutions including the Palais de Tokyo in Paris (2006 – 2012) and the Swiss Institute in New York (2000 – 2006). In addition to being curator for over 400 exhibitions, he is active as an art critic, guest lecturer, and member of juries and boards of directors, and has many publications and articles in international art journals to his credit. With Wahler's appointment the course of de Appel arts centre will remain unchanged, and this year and next year will continue to follow the lines set out in the 2013 agreements with its funders: the Ministry of Education, Culture and Science, and the City of Amsterdam. Alexandra van Huffelen, chairwoman of the Board of Directors of de Appel arts ... More
British artist Glenn Brown to be Gagosian Gallery's featured artist at Frieze
Hall of Fame third baseman Brooks Robinson to sell his personal collection through Heritage Auctions
WIELS presents the retrospective exhibition Interregnum by Stan Douglas




Glenn Brown, Drawing 9 (after Murillo/Murillo), 2015. Sepia India ink on paper, Pergamenata White 50 x 34.7 cm. © Glenn Brown. Courtesy of the artist and Gagosian Gallery.





LONDON.- Glenn Brown, one of the most acclaimed artists of his generation, will be Gagosian's featured solo exhibition at the Frieze Art Fair opening on Wednesday 14 October 2015. The exhibition will feature an entirely new aspect of Brown's work - a selection of drawings on paper, polypropylene, and panels - together with exhibiting new sculptural work. Known for his elaborately worked paintings and sculptures, Brown now takes up the medium of drawing to further intensify his engagement with the texture of surfaces and mark making. Over the last few years, drawing has become an all-consuming enterprise for Brown. Rather than being preparatory tools for individual works, his drawings are independent and complete entities, in which new ideas are constantly explored and the traditional ... More





Brooks Robinson's 1964 American League Most Valuable Player Award: Estimate: $100,000+





DALLAS, TX.- Hall of Famer Brooks Robinson, a Baltimore Oriole for all 23 years of his storied career and the player considered by many the greatest third-baseman to ever play the game, will offer his personal collection of historic career mementos at Heritage Auctions in an online only auction, Nov. 5-7, 2015. All proceeds from the auction will go to The Constance & Brooks Robinson Charitable Foundation. "This is one of the most significant player collections ever to reach the collecting hobby's auction block," said Chris Ivy, Director of Sports Auctions at Heritage. "While the extraordinary treasures tell the tale of one of the greatest careers in American sports, Robinson's decision to part with all of it to benefit his philanthropic endeavors is arguably even more illustrative of his legacy as one of the greatest men in American sports." For nearly all of the first quarter century of Baltimore Orioles history, Brooks ... More





Stan Douglas, Exodus, 1975, 2012. Digital C-­‐print mounted on aluminum, 71 x 101 1/2 inches. Courtesy the artist and David Zwirner, New York.





BRUSSELS.- WIELS starts its new cultural season in October – a little later than normal due to renovation works – with the big retrospective exhibition of Canadian artist Stan Douglas. Stan Douglas (b. 1960, Vancouver) is best known for his visually absorbing and sophisticated films and video installations. However, over the last decennia he has also created a significant body of photographic work. WIELS brings both together in this topical survey entitled Interregnum, a title alluding to a historical moment of suspension and in-between-ness. Featuring two elaborate film installations accompanied by selections from three photographic series, the exhibition reveals Douglas's conceptual and technical mastery of filmic forms, which represent and render perceivable time, history, and memory. Douglas's new six-screen installation The Secret Agent (2015) – shown at WIELS ... More
Quote
If the future belongs to the working class then my work can be called art. George Grosz
More News
---
Hooton Pagnell Hall: 30 years of collecting
---
---
Flashback
On a day like today, American photographer Irving Penn died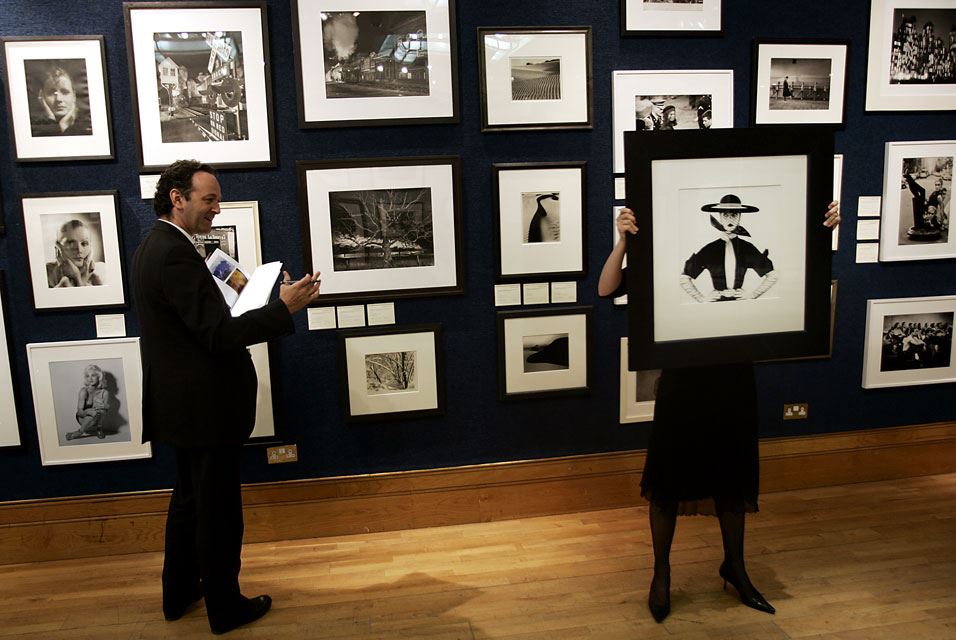 October 07, 2009. Irving Penn (June 16, 1917 - October 7, 2009) was an American photographer most known for his fashion photography, portraits, and still lifes. Penn's career included work at Vogue magazine, and independent advertising work for clients including Issey Miyake, and Clinique. His work has been exhibited internationally, and continues to inform the art of photography even after his death. In this image: A collector, left, makes a comment as a Christie's auction house worker holds Irving Penn's classic image of Jean Patchet that appeared at the Vogue magazine' cover in 1950, during a presentation in London, Friday May 13, 2005.
---
---

Museums, Exhibits, Artists, Milestones, Digital Art, Architecture, Photography,
Photographers, Special Photos, Special Reports, Featured Stories, Auctions, Art Fairs,
Anecdotes, Art Quiz, Education, Mythology, 3D Images, Last Week,
.
Royalville Communications, Inc
produces: