Dr. Brian May lends rare Victorian collection of stereographic photographs to Tate Britain
British musician Brian May poses with an owl viewer in front of John Everett Millais painting 'Hearts are Trumps' in 1872 which was inspired by Michael Burr stereoscopic photograph also entitled 'Hearts are Trumps' 1866 as part of an exhibition entitled 'Poor man's picture gallery' : Victorian Art and Stereoscopic Photography at the Tate Britain in central London on October 20, 2014. Stereoscopic photographs, or stereograms, viewed through a stereoscope create an illusion of 3D depth. Queen's guitarist Brian May has lent a rare collection of Victorian stereographic photographs to Tate Britain. AFP PHOTO / BEN STANSALL.
LONDON
.-
Astronomer and Queen's guitarist, Dr Brian May has lent a rare collection of Victorian stereographic photographs to
Tate Britain
. They are featured in 'Poor man's picture gallery': Victorian Art and Stereoscopic Photography until 12 April 2015. This is the first display in a major British art gallery devoted to the nineteenth-century craze of three-dimensional photography, known as stereographs, and open up this neglected area of British art. In the 1850s and 1860s pioneer photographers staged real men, women and children in tableaux based on famous paintings of the day, in order to bring them to life as three-dimensional scenes. Henry Wallis' Chatterton 1856, William Powell Frith's Derby Day 1857 and John Everett Millais' The Order of Release 1746 are among twelve of Tate's famous Victorian and Pre-Raphaelite paintings to be shown with their 3D hand-coloured photographic ...
More
The Best Photos of the Day
Sotheby's to auction three remarkable paintings by Claude Monet from a private American collection
Nazmiyal Auctions offers tempting antique & vintage rug options for investing in your home décor
Wexner Center for the Arts opens first-ever exhibition of Wexner Family collection




Claude Monet, Alice Hoschedé au jardin. Signed Claude Monet and dated 81 (lower right). Oil on canvas, 31 7/8 by 25 1/2 in. 81 by 65 cm. Painted in 1881. Estimate $25/35 million. Photo: Sotheby's.





NEW YORK, NY.- Sotheby's will present three remarkable paintings by Claude Monet from an important American collection in its Evening Sale of Impressionist & Modern Art in New York on 4 November 2014. Created in the 1880s and '90s, the works trace the evolution of Monet's style as he challenged the limits of High Impressionism and experimented with an approach that would culminate in the Series Paintings of his later years. The group is led by Alice Hoschedé au jardin from 1881, which the artist personally selected as his standout work from that year (estimate $25/35 million*). The three canvases will be shown in Hong Kong on 24 & 25 October before going on view at Sotheby's New York headquarters beginning 31 October. Simon Shaw, Co-Head ... More





Antique Turkish Oushak Carpet, Nazmiyal Auctions.





NEW YORK, NY.- Autumn is a season of change – as the foliage is transformed and we trade in our swimsuits for sweaters, it feels as if we're collectively turning over a new leaf. We're bidding farewell to lazy summer vacations, getting back to work and getting excited about new projects. For many, the impulse to adjust and improve which comes with the changing of the seasons stretches into our home-décor aspirations. As the air gets colder and we're spending more time inside, it makes sense that many of us are feeling inspired to transform our homes into more stylish and welcoming spaces -- After all, retreating home to escape the cold is much more enjoyable if you adorn your nest with furnishings that bring a sense of beauty and tranquility to your home. For those with the itch to invest in their interiors this fall, Nazmiyal Auctions offers an enticing option: The auction house, which deals primarily in fine ant ... More





Jean Dubuffet Dhôtel, 1947. Oil and sand on canvas, 46 1/2 x 35 1/8 in. (118.1 x 89.2 cm) Wexner Family Collection © 2014 Artists Rights Society (ARS), New York / ADAGP, Paris.





COLUMBUS, OH.- This fall, in celebration of its 25th anniversary, the Wexner Center for the Arts at The Ohio State University is presenting an unprecedented exhibition of the personal collection of Leslie and Abigail Wexner. On view September 21 through December 31, Transfigurations: Modern Masters from the Wexner Family Collection features an exceptionally in-depth selection of masterworks by Pablo Picasso, Alberto Giacometti, and Jean Dubuffet. The Wexner collection, with its concentrated focus on these three 20th-century virtuosos, is incomparable to any other private collection formed over the last 50 years. Guest curated by Robert Storr, professor and dean of the Yale University School of Art and former senior curator of painting and sculpture ... More
Glitterati Incorporated announces the publication of 'Bullfight: Paintings and Works on Paper by Fernando Botero'
'Heinz Mack: From ZERO to Today, 1955-2014' on view at Sperone Westwater
German edition of the 'Neunte Deutsche Bibel' to be offered at Ketterer Kunst




From Bullfight: Paintings and Works on Paper by Fernando Botero © 2014, published by Glitterati Incorporated.





NEW YORK, NY.- Regal matadors, eager picadors, exquisite bulls, crowds of anxious spectators, elegant flamenco dancers— Bullfight features more than 140 oil paintings and 35 drawings, by Fernando Botero, providing a gorgeous look at the artist's iconic subject, the tauromaquia, or bullfight. In his youth, Botero developed a passion and curiosity for bullfighting that has remained with him throughout his illustrious, six-decade career. The artist was profoundly influenced by the spectacle of the bullring—the vivid colors, the dynamic movement, the beauty and violence, bravery and fear, the fine line between life and death. In his signature style, the figures of the bullfight appear voluminous and voluptuous, a trademark exploration of scale, space, and volume that has made this artist renowned throughout the world. Matadors and ... More





Installation view. "Heinz Mack: From ZERO to Today, 1955–2014". Sperone Westwater, New York, 10 October – 13 December 2014. Courtesy Sperone Westwater, New York.





NEW YORK, NY.- Sperone Westwater is presenting the exhibition "Heinz Mack: From ZERO to Today, 1955–2014." Mack co-founded the ZERO group, organizing an inaugural series of one-evening exhibitions with fellow German artist Otto Piene in Düsseldorf in 1957. An extensive network of like-minded artists grew out of these early exhibitions, envisioning a conceptual "ground zero" that would revitalize postwar artistic practice. Featuring a comprehensive overview of Mack's work from the ZERO years (1957–66), the exhibition at Sperone Westwater runs concurrently with the survey "ZERO: Countdown to Tomorrow, 1950s–60s" at the Solomon R. Guggenheim Museum in New York. In 1958, Mack coined the term "light reliefs" to describe shallow wall-mounted works with patterned metallic surfaces ... More





Biblia germanica - Neunte Deutsche Bibel. Nuremberg 1483. Estaime: € 60,000.





HAMBURG.- It is nothing less than one of the most important German early woodcut books. Now the printed German edition of the 'Neunte Deutsche Bibel', the only one by Anton Koberger, godfather of Albrecht Dürer, will be sold in the auction of Rare Books at Ketterer Kunst in Hamburg on 17/18 November. The remarkably well-preserved copy from 1483 was executed in a pleasing new type. With its 109 woodcuts in the text, of which 21 are kept in a lucent coloring, it has an extremely remarkable appearance and emanates a splendor that captivates readers today just as much as it did in the past. The Koberg bible counts among the most splendidly illustrated bibles of the 15th century and had substantial influence on all following editions. The estimate is at € 60,000. Besides a copy of the colored and annotated edition of the Nuremberg Chronicle from the library of the contemporary scholar ... More
Iconic canvases by the father of American landscape painting on view at the Chrysler Museum of Art
'Either or, Or both: Nate Cassie & Ethel Shipton' on view at Ruiz-Healy Art in San Antonio
Exhibition at Palais de Tokyo offers visitors a passage to the interior of the self




Thomas Cole (American, 1801–1848), The Voyage of Life: Childhood, 1839-40. Oil on canvas, 52 x 78 in. Museum Purchase, 55.105 Munson-Williams-Proctor Arts Institute, Museum of Art, Utica, N.Y.





NORFOLK, VA.- It's the story of Everyman, beautifully told by one of the founding fathers of American art. The Chrysler Museum of Art presents Thomas Cole's Voyage of Life, a special exhibition of some of the finest—and largest—works by our country's greatest landscape painter. This show will be on view from October 21, 2014 through January 18, 2015. Admission is free. The centerpiece of this exhibition is the iconic series The Voyage of Life (1839–40), the most famous and beloved work of landscape master Thomas Cole (1801–1848). Spanning four monumental canvases, The Voyage of Life takes viewers on a journey through Childhood, Youth, Manhood, and Old Age, presenting each stage as the progress of an everyday voyager along a grand but treacherous river. These masterpieces from the collection of the Munson-Williams- ... More





Ethel Shipton, Los Dos Laredos. Screen print on strathmore cotton paper, 15 x 22".





SAN ANTONIO, TX.- Ruiz-Healy Art is presenting Either or, Or both: Nate Cassie & Ethel Shipton. Based in San Antonio, Cassie and Shipton are a multidisciplinary creative couple, each known for exploring human perceptions of space and duration through a wide range of media and expression. As artist/curators, Cassie and Shipton have collaborated on Vacancy, a series of one-night projects in San Antonio, and have exhibited their individual works internationally. This is their first joint project at Ruiz-Healy Art. A catalog with essays by poets Michael Theune and Jenny Browne accompanies the exhibition. Cassie's work deals with what he terms "spaces in between," the gaps that distance surface from volume, skin and structure, formal and intuitive systems. " It's the place where a rub or a nudge occurs—the space in between layers, the space in between object and reflection, the space in between myself and others," he ... More





Marc Couturier, Dessin du troisième jour, 2014. Exhibition view « Inside », Palais de Tokyo (20.10.14 – 11.01.15). Photo: André Morin.





PARIS.- "Inside" gives the visitor a unique experience, a risky voyage through oneself in which the exhibition space is the subject of the metaphor. This odyssey—as much physical as it is mental—is an invitation to walk through the Palais de Tokyo, metamorphosed by the artists in such a way that, from one installation to the next, from one floor to another, we find ourselves inside the works. These works, some of which were created specifically for the exhibition, bring us close to the very core of our being, from our experience of the space to our most secret thoughts and fears. Similarly to darkrooms, the inner world is an ideal place for the appearance of images: from cave paintings and origin myths to discovering a subject's interiority, from the inner turmoil of melancholy to the vast territory of the unconscious. For the Surrealists, it meant accessing the power of dreams; for Bataille, it was an ecstatic ... More
Morphy's to auction massive collection of Western antiques from now-closed Wild West Museum, Oct. 31-Nov. 2
'Forbidden Games: Surrealist and Modernist Photography' now on view at the Cleveland Museum of Art
Jeffrey M. Greer joins Heritage Auctions as Vice President of Marketing




Nickel-silver mounted saddle made by Newell Saddle Shop, St. Louis, Mo., circa 1920-30s, silver dollars mounted in pommel, some sterling mounts, decorations in skirting, est. $6,000-$8,000. Morphy Auctions image.





DENVER, PA.- One of the important collections ever to document visually the characters and rough-and-tumble lifestyles of the Old West will cross the auction block at Morphy Auctions, October 31 through Nov. 2. Over the three-day period, Morphy Auctions will host the 3,000-lot event that features the contents of Dan Hardesty's Wild West Museum of Franklin, Pennsylvania. "We are deeply honored that Dan Hardesty chose our company to auction his one of a kind collection," said Dan Morphy, president of Morphy Auctions. "Mr. Hardesty made it his lifelong mission to track down and acquire many of the Old West's most significant and recognizable historical pieces so they could be viewed by the public as a whole in his museum. Had he not done so, American history probably would have missed ... More





The Doll (La Poupée), 1936. Hans Bellmer (German, 1902–1975). Gelatin silver print; 11.7 x 7.8 cm. The Cleveland Museum of Art, John L. Severance Fund 2007.27. © 2013 Artists Rights Society (ARS), New York / ADAGP, Paris.





CLEVELAND, OH.- The Cleveland Museum of Art presents Forbidden Games: Surrealist and Modernist Photography, a fascinatingly varied group of over 160 surrealist and modernist photographs from the 1920s through the 1940s. The exhibition and accompanying catalogue of the extraordinary vintage prints, acquired by the museum in 2007-2008 from the renowned collection of filmmaker David Raymond, represent the collection's first appearance in print or at a museum. The exhibition also includes six short films and two books. Forbidden Games is on view at the Cleveland Museum of Art from October 19, 2014, through January 11, 2015. Admission to this exhibition is free. "We are proud to celebrate this important acquisition ... More





Jeff honed his collectibles marketing experience with Beckett Publications.





DALLAS, TX.- Heritage Auctions has announced that Jeffrey M. Greer, a longtime collectibles marketing executive with more than 25 years of visionary leadership, is the firm's new Vice President of Marketing. Greer will oversee Heritage's multi-million dollar global marketing efforts, brand management, and strategic communications campaigns. "Heritage stands apart for its aggressive advertising and marketing campaigns and Jeff is the executive to lead us into the future," said Greg Rohan, President of Heritage Auctions. "His experience, personality and entrepreneurial approach to reaching new clients will be crucial to our success." Jeff honed his collectibles marketing experience with Beckett Publications, helping to build the world's most trusted sports collectibles magazines and marketplace. Through market research for business development, Greer led strategic marketing initiatives to help ... More
Quote
In life beauty perishes, but not in art. Leonardo da Vinci
More News
---
Discover the Roots of Pleasure in Li Jin's Paintings
---
---
Flashback
On a day like today, Italian painter Domenico Zampieri was born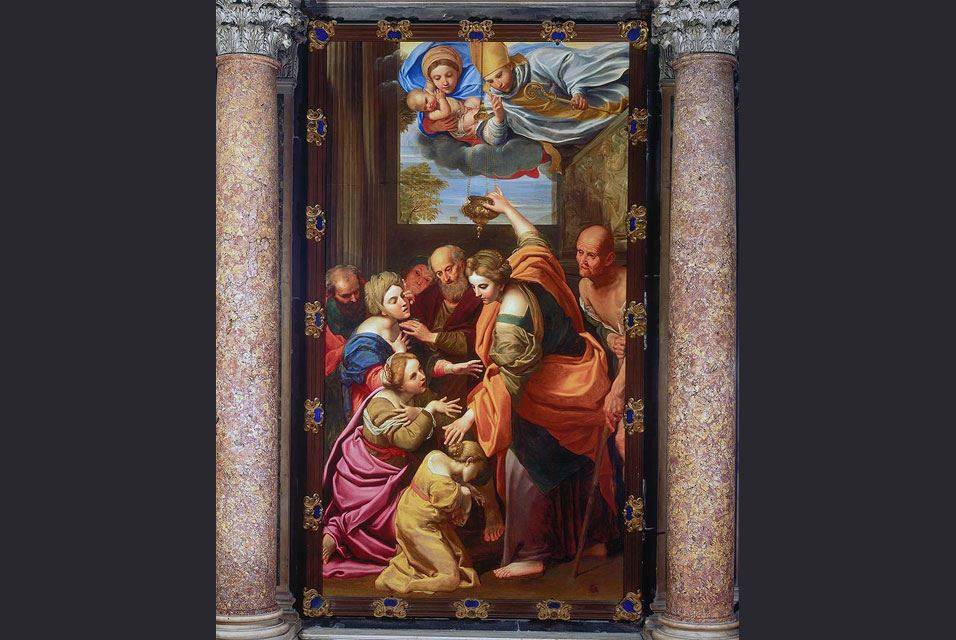 October 21, 1581. Domenico Zampieri (or Domenichino; October 21, 1581 - April 6, 1641) was an Italian Baroque painter of the Bolognese School, or Carracci School, of painters. Domenichino's work, developed principally from Raphael's and the Carracci's examples, mirrors the theoretical ideas of G. B. Agucchi, with whom the painter collaborated on a Treatise on Painting (Domenichino's portrait of Agucchi in York occasionally has been attributed to Annibale Carracci). In this image: Apparition of the Virgin and Child and San Gennaro at the Miraculous Oil Lamp, 1637-38, Cathedral of Naples.
---
---

Museums, Exhibits, Artists, Milestones, Digital Art, Architecture, Photography,
Photographers, Special Photos, Special Reports, Featured Stories, Auctions, Art Fairs,
Anecdotes, Art Quiz, Education, Mythology, 3D Images, Last Week,
.
Royalville Communications, Inc
produces: