Exhibition in Rome offers an original interactive journey to discover the city of Augustus
A picture shows a fragment of painted wall with a projection of the original colors at the Trajan's Market (Mercati di Traiano) museum on September 23, 2014 in Rome, where the exhibition "The keys of Rome. The city of Augustus" runs till May 10, 2015. "Keys To Rome" is an international exhibition on the city of Augustus and the Roman Empire organized in four locations (Rome, Alexandria, Amsterdam, and Sarajevo) by the European network of Virtual Museums, V-MUST, coordinated by the Italian National Council of Researches. AFP PHOTO / VINCENZO PINTO.
ROME
.-
On the 23 September 2014, after 2000 years from Augustus death, 13 countries meet in Rome, Amsterdam, Alexandria and Sarajevo, for the opening of an extraordinary exhibition, Keys to Rome: an original interactive journey to discover the city of Augustus and the Roman Empire, seen and experienced from its four corners, four fascinating venues, four cities on Roman culture. "Keys To Rome" is a unique international exhibition, that, for the first time ever has been organized in parallel in four incredible locations: Rome, in the wonderful setting of the Imperial Fora Museum; Alexandria, in the amazing rooms of the Bibliotheca Alexandrina; Amsterdam, in the recently renovated Allard Pierson Museum; and Sarajevo, in the newly restored City Hall. "Keys To Rome" is organized by the largest European network of excellence on Virtual Museums, V-MUST, coordinated by the Italian National Council of Researches. The Augustan age is the main theme for the exhibition in Rome, named "Keys To R ...
More
The Best Photos of the Day
An American icon: Sotheby's to offer Jasper Johns Flag at its Contemporary Art Evening sale
Absolut collaborates with Andy Warhol once again with latest limited edition bottle
'Vincent: the musical' to mark 125 years from Van Gogh's death; Will open late next year




Jasper Johns, Flag (detail), est. $15/20 million, encaustic on silk flag on canvas, 11 5/8 x 17 1/2 in. 29.5 x 44.4 cm. Photo: Sotheby's.





NEW YORK, NY.- On 11 November 2014 Sotheby's will present Jasper John's Flag, one of the most recognizable works of American art which will feature in the Contemporary Art Evening sale. This late example was acquired from the artist in 1983, the year it was made, and has remained in the same private collection since. The Flags are executed in encaustic, a painstaking process where pigment is mixed with hot wax, and meticulously applied in a laborious process. Estimated to fetch between $15 and $20 million, Flag went on view on Monday 22 September at Sotheby's Los Angeles galleries before being exhibited in Hong Kong, London, and New York. Anthony Grant, Sotheby's Vice Chairman, Americas commented: "I have known this painting for 30 years, yet even now I am struck anew by its power. Jasper's Flag paintings recast this most potent of symbols in unprecedented terms of abstracted composition. Already ... More





The Absolut Warhol bottle limited edition bottle will be available at Selfridges and Harvey Nichols from 1st October, RRP £23.50





LONDON.- Absolut introduces the Andy Warhol Edition, a new limited edition bottle celebrating creativity, pop art and the brand's iconic collaboration with Andy Warhol. To launch the bottle, Absolut will collaborate with him once again by working with three artists who will reach out to Warhol's spirit for a one-time-only nightlife experience in NYC, as well as, inviting people to unleash their creativity in what Absolut aims to become world's largest art exchange -- where one lucky participant will receive an original Andy Warhol artwork. The Andy Warhol Edition celebrates the iconic collaboration between Absolut and Andy Warhol – the brand's first of thousands of collaborations with artists from around the world. By transforming the original painting onto the bottle shape, Absolut is allowing anyone to bring home their very own Warhol. To support the launch of this limited edition bottle, Absolut is presenting two innovative concepts: ... More





A visitor looks at a self-portrait by late Dutch painter Vincent Van Gogh displayed at the Orsay Museum. AFP PHOTO / BERTRAND GUAY.





THE HAGUE (AFP).- The tragic life of Vincent van Gogh will be brought to the stage as a musical to mark 125 from the death of one of the world's greatest artists, organisers said Tuesday. Simply called "Vincent", the musical will open late next year along with several other events commemorating the Dutch Post-Impressionist painter's death in July 1890. The production aims to "bring Vincent van Gogh's works to life in a non-traditional way," Martine Willekens, spokeswoman for the Van Gogh Europe Foundation, told AFP. Known for his bold colours and rough, vibrant painting style, Van Gough was one of the most revolutionary painters of the 19th Century. He only sold one painting in his own short lifetime, which was wracked with bouts of mental illness and depression, including one famous episode where he sliced off part of his ear. The role of Van Gogh himself has not yet been cast but the production will be directed by Dutch ... More
Sotheby's to sell Czech Avant-Garde art from the Roy & Mary Cullen Collection
Record-breaking year for contemporary art; Smashes through the $2 billion mark for the first time
MCA Chicago is the only US venue for groundbreaking exhibition 'David Bowie Is'




Karel Teige, Untitled, collage, 38.1 by 28.6cm., 15 by 11¼in. Executed in 1947. Estimate: 50,000 GBP - 70,000 GBP. Photo: Sotheby's.





LONDON.- On 12 November 2014 in London, Sotheby's will present Czech Avant-Garde Art from the Roy & Mary Cullen Collection. Adrian Biddell, Senior Director, Sotheby's 19th Century European Paintings Department, describes the Roy & Mary Cullen Collection, as "an extraordinary collecting achievement. Formed with a combination of passion and patience, it focuses on the rich and compelling story of Czech Avant-Garde art between the First and Second World Wars as told by the artists, illustrators, photographers and writers of the time. The paintings, works on paper, prints and books capture the visual, literary and intellectual ideas that flourished in Prague and Paris during this period. Sotheby's sale of the Hascoe Collection of Czech Modern Art in London in June 2011 revealed enormous interest in the market for Czech art and realised more than double the pre-sale estimate. The Roy & Mary Cullen Collection presents the next ... More





Jeff Koons's monumental sculpture Balloon Dog (Orange), achieved $58,405,000 (£36,795,150/ €43,219,700), setting a new world auction record for a living artist. Photo: Christie's Images Ltd 2014.





PARIS (AFP).- The contemporary art market experienced a record-breaking year in 2013/14, smashing through the $2 billion mark for the first time, according to new figures released on Tuesday. US artists Jean-Michel Basquiat, who died in 1988, Jeff Koons and Christopher Wool remain the market's biggest stars accounting for sales at auction of 339 million euros ($436 million), according to Artprice, a Paris-based organisation which keeps the world's biggest database on the contemporary art market. In the year from July 2013, sales of contemporary art at public auctions reached $2.046 billion dollars, up 40 percent on the previous year, Artprice's annual report said Thirteen pieces alone fetched more than 10 million euros ($12.8 million) each, compared with four in the previous year. Pop artist Koons, the subject of a major retrospective due to be held at Paris's Pompidou Centre at the end of November, currently holds ... More





Installation view, David Bowie Is, MCA Chicago. September 23, 2014 - January 4, 2015. Photo: Nathan Keay, © The David Bowie Archive. Courtesy of the MCA Chicago.





CHICAGO, IL.- David Bowie is presents the first international exhibition of the extraordinary career of David Bowie—one of the most pioneering and influential performers of our time. The exhibition focuses on his creative processes and collaborative work with artists and designers, and demonstrates how his work has both influenced and been influenced by wider movements in art, design, music, and theater. The exhibition's multimedia design introduces advanced sound technology by Sennheiser and video installations to create an immersive journey through Bowie's artistic life. David Bowie is was organized by the Victoria and Albert Museum, London, and is on view at the Museum of Contemporary Art (MCA) Chicago from September 23, 2014 to January 4, 2015. The MCA is the only US venue for this groundbreaking exhibition. Michael Darling, the MCA James W. Alsdorf Chief Curator ... More
The World Chess Hall of Fame celebrates art and chess with Glenn Kaino's The Burning Boards
Pérez Art Museum Miami receives significant new works for the museum's collection from JPMorgan Chase
Bids invited for Robin Williams' 'Mork' suit; Expected to fetch $20,000 at Profiles in History




Glenn Kaino in The Burning Board, September 1, 2014, The World Chess Hall of Fame. Photo courtesy of Carmody Creative.





ST. LOUIS, MO.- On September 9, 2014, the World Chess Hall of Fame (WCHOF) brought together 16 chess experts and 16 artists and art experts to participate in the third performance of Glenn Kaino's The Burning Boards as part of its exhibition Cage and Kaino: Pieces and Performances, which closed on September 21, 2014. This brilliant piece was first performed at the Whitney Museum in 2007 and later held in conjunction with the Orange County Museum of Art's exhibition Disorderly Conduct in 2008. The Burning Boards is a performance art piece in which players from the worlds of art and chess compete against each other at sixteen small tables–one for each century of chess. Atop each table is a simple wooden chess board with uniquely cast wax candles as pieces. The performance takes place in a dark room that is illuminated when players light their candles and begin the game. They must use long ... More





Lisa Erf, PAMM Director Thom Collins, Deborah Koch. Photo Juan E. Cabrera.





MIAMI, FL.- At yesterday's Seventh Annual Pérez Art Museum Miami Corporate Luncheon, JPMorgan Chase & Co. announced a major gift of art to the museum's permanent collection. This gift includes six works by American women: Pat Stier, Marilyn Minter, Jenny Holzer and Maya Lin, across a range of different media. The announcement was made by Lisa Erf, director of the JPMorgan Chase Art Program, at the luncheon following a discussion with PAMM Director Thom Collins on corporate art collecting for a community. "JPMorgan Chase has a long history of supporting the arts in South Florida, and we are incredibly grateful for yet another gesture of the company's commitment to culture and this community," said Thom Collins, PAMM director. "This gift is the perfect example of how corporate collecting contributes to making art more accessible to our community." "This is a collection of art that belongs in a museum and for this g ... More





Auctioneer Brian Chanes with the original Robin Williams iconic "Mork" spacesuit. AFP PHOTO/Mark RALSTON.





LOS ANGELES (AFP).- The famous red and white spacesuit worn by Robin Williams in hit 1970s TV series "Mork and Mindy" is up for auction next month, with an estimated price-tag of up to $20,000. Also on sale will be the "egg" in which alien Mork traveled to earth from Ork in the breakthrough series for Williams, who committed suicide last month aged 63. "This is such a big piece from a pop-culture, television history perspective," Brian Chanes of the Profiles in History auction house told AFP. "I think that it's going to stand on its own merit, not because of what recently, tragically, happened with Robin," he added. The Mork spacesuit -- thought to be the only one ever to come up for public auction -- is estimated to fetch $15,000-$20,000, while the egg-spaceship could go for between $4,000 and $6,000. The items will go on sale at an auction of Hollywood memorabilia to be held from October ... More
'Paintings from Siena: Ars Narrandi in Europe's Gothic Age' on view in Brussels
Sprüth Magers Berlin opens exhibition of works by German artist Thomas Scheibitz
Japanese works of art from antiquity to contemporary at Christie's London in October




Simone Martini, Madonna with Child, 1300-1310. Inv. 583, tempera on board, 88 x 57 cm Siena, Pinacoteca Nazionale.





BRUSSELS.- BOZAR pays tribute to Siena with over sixty exceptionally refined masterpieces from the collection of the Pinacoteca Nazionale di Siena, supplemented with loans from French museums. The public can see about sixty unique works, dating from the thirteenth to the fifteenth century, which are being exhibited in the capital of Europe for the first time. The thematic arrangement of the works gives visitors the opportunity to discover masterpieces from the heyday of the European Gothic Age. In the fourteenth and fifteenth centuries Siena was one of the leading artistic, financial and intellectual centres of Europe. The Sienese artists and their workshops enjoyed an excellent reputation and were renowned for their unparalleled craftsmanship and refined painting style. They received commissions from some of the most prominent and richest clients in Europe. Popes, emperors, rich ... More





Thomas Scheibitz, Speicher und Fenster, 2014. Oil, vinyl, pigmentmarker and spray paint on canvas, 260 x 190 cm 102 3/8 x 74 7/8 inches © Thomas Scheibitz / VG Bild-Kunst, Bonn, 2014 Courtesy Sprüth Magers Berlin London.





BERLIN.- Already in the title of the exhibition Radiopictures, Thomas Scheibitz demonstrates that his artistic thinking, in addition to tectonics, scale, and proportion, also revolves around time-based media: music, film, text. Temporal aspects, such as simultaneity and continuum, are for him further dimensions of composition. The title of the painting Historische Szene (Historical Scene) awakes associations with theatre and film. The depicted scenery could be a film set or a stage, aiming at the liminal experience of an ambiguous state between various layers of reality – an "open field" which can repeatedly be found in Scheibitz's work and in which constructions dissolve into their tectonic structures. The same is applicable to his painting Gasthof Ravoux (Ravoux Inn), whose title, in the first instance, still ... More





Untitled 1965 by Kazuo Shiraga. Estimate: £150,000-200,000. Photo: Christie's Images Ltd 2014.





LONDON.- Christie's announced the second annual sale of Asobi: Ingenious Creativity - Japanese Works of Art from Antiquity to Contemporary at South Kensington on 15 October 2014, during Frieze week. From its inception to the present day, there is a joie de vivre that runs through Japanese culture and is apparent throughout the visual arts. Asobi gokoro, or 'the playful heart' manifests itself in an endless play with form, from wilful distortion to tongue-in-cheek humour; light-hearted treatment of serious themes to the juxtaposition of unexpected elements. The leitmotif of the sale, Asobi connects prehistoric ceramics, 16th/17th century screens and 20th century avant-garde painting, photobooks and photographs. Comprising over 170 lots of fine Japanese art which highlight the visual appeal, accessibility and relevance of Japanese art to contemporary collecting tastes, this dynamic sale is led by a magnificent panel ... More
Quote
The birds' song gets on my nerves. I feel like trampling every worm. Paul Klee
More News
---
Liu Xiaodong's Disobeying the Rules
---
---
Flashback
On a day like today, American sculptor Louise Nevelson was born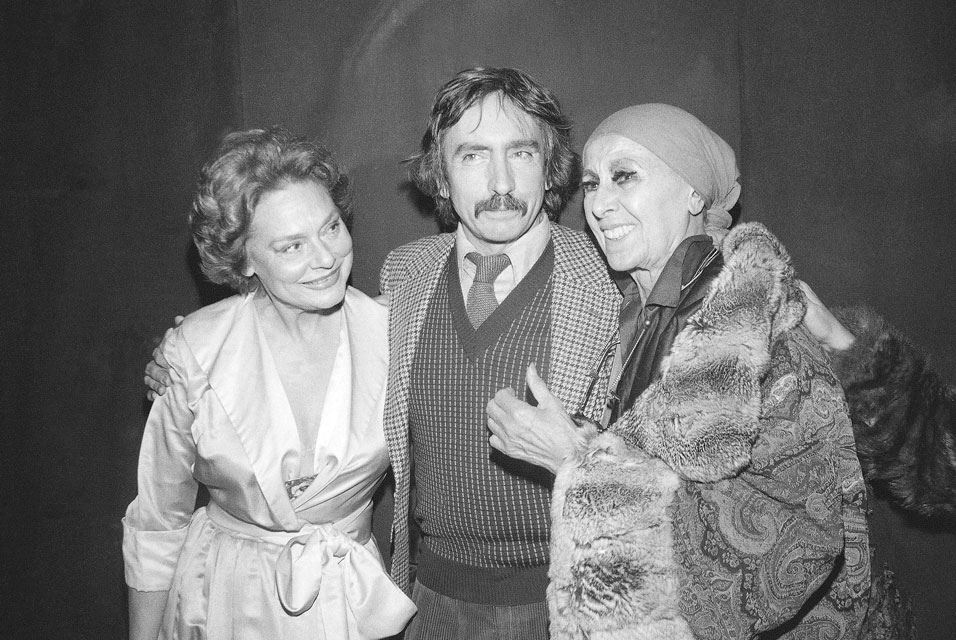 September 23, 1988. Louise Nevelson (September 23, 1899 - April 17, 1988) was an American sculptor known for her monumental, monochromatic, wooden wall pieces and outdoor sculptures. Born in Czarist Russia, she emigrated with her family to the United States in the early 20th century when she was three years old. Nevelson learned English at school, as she spoke Yiddish at home. In this image: Playwright Edward Albee, center, joins his star, Iree Worth, left, backstage at the Morosco Theater in New York City Thursday, Jan 31, 1980 . After the opening performance of his " The Lady From Dubuque." The two were greeting well -wishers, who included sculptress, Louise Nevelson, at right.
---
---

Museums, Exhibits, Artists, Milestones, Digital Art, Architecture, Photography,
Photographers, Special Photos, Special Reports, Featured Stories, Auctions, Art Fairs,
Anecdotes, Art Quiz, Education, Mythology, 3D Images, Last Week,
.
Royalville Communications, Inc
produces: