Palestinians give glimpse of mosaic near the occupied West Bank city of Jericho
A Palestinian man removes weeds from the Hisham's Palace archaeological site, located five kilometres north of the West Bank city of Jericho, on October 20, 2016, after the mosaic in the palace was uncovered and readied for display. ABBAS MOMANI / AFP.
JERICHO
(AFP)
.-
The Palestinians on Thursday gave a rare glimpse of one of the Middle East's finest mosaic floors near the occupied West Bank city of Jericho, AFP journalists said. Dating from the eighth century AD, the floor covers about 820 square metres (8,825 square feet) at the desert castle known as Hisham's Palace, an important Islamic antiquities site just north of the ancient city. It is made up of 38 panels bearing delicate floral and geometric designs and is one of the oldest and largest in the region to have never been moved, senior Palestinian Authority conservation official Ihab Daoud told AFP. The floor was first excavated in 1930 but left largely untouched until the early 21st century, Daoud said. In recent years it has been recovered under layers of canvas to protect it from the elements. Now work is beginning to make the masterpiece ...
More
The Best Photos of the Day
Nobel academy member slams 'arrogant' Dylan
First look at Andy Warhol's engagement with the body opens
Sotheby's unveils Munch's 'Girls on the Bridge'


Books of the 2016 Literature Nobel Price winner US Bob Dylan are pictured at the booth of publisher Hoffman und Campe at the Frankfurt Book Fair. AMELIE QUERFURTH / AFP.



STOCKHOLM (AFP).- A prominent member of the academy which awards the Nobel literature prize slammed this year's laureate Bob Dylan as arrogant on Friday, citing his total silence since the award was announced last week. The US singer-songwriter has not responded to repeated phone calls from the Swedish Academy, nor reacted in any way in public to the news. "It's impolite and arrogant," said the academy member, Swedish writer Per Wastberg, in comments aired on SVT public television. On the evening of October 13, the day the literature prize winner was announced, Dylan played a concert in Las Vegas during which he just sang his songs and made no comment at all to his fans. He ended the concert with a version of the Frank Sinatra hit "Why Try To Change Me Now?", taken to be a nod towards his longstanding aversion to the media. Every December 10, Nobel prize winners are invited to Stockholm to receive their awards from King Carl XVI ... More



Andy Warhol, Self-Portrait (Passport Photograph with Altered Nose), 1956, The Andy Warhol Museum, Pittsburgh, © The Andy Warhol Foundation for the Visual Arts, Inc.



PITTSBURGH, PA.- The Andy Warhol Museum announces Andy Warhol: My Perfect Body. The exhibition is the first comprehensive look at Andy Warhol's engagement with the body, highlighting The Warhol's permanent collection and including rarely traveled loans from the collections of major American museums. The Warhol's Associate Curator of Art Jessica Beck curated the exhibition. Andy Warhol: My Perfect Body reveals the parallels between Warhol's personal history, including his struggles with his own physical appearance—such as early signs of balding in the 1950s to scars following his 1968 shooting—and the treatment of the body as a subject in his work, from student drawings of the 1940s to late paintings of the 1980s. "This exhibition reveals how the body in Warhol's work becomes a subject for trauma, torment, shame, desire, transformation, and manipulation," says Beck. "It is meant to establish a differen ... More



Edvard Munch, Pikene på broen (Girls on the Bridge) detail. Signed E. Munch and dated 1902 (upper right). Oil on canvas, 39¾ by 40⅜ in.; 101 by 102.5 cm. Painted in 1902. Estimate in excess of $50 million.



NEW YORK, NY.- Sotheby's unveiled highlights from its upcoming Evening Sale of Impressionist & Modern Art in New York. The 14 November auction will be led by Edvard Munch's seminal Pikene på broen (Girls on the Bridge) from 1902, which is estimated to achieve in excess of $50 million. The lyrical work ranks as one of the most powerful paintings of his career, and has twice set a new world auction record for the artist at Sotheby's. Sotheby's marquee autumn auctions of Impressionist & Modern and Contemporary Art will be on view in our York Avenue galleries beginning 4 November. Simon Shaw, Co-Head of Sotheby's Worldwide Impressionist & Modern Art Department, commented: "Edvard Munch's importance to the full breadth of 20th century art cannot be overstated. From the Expressionists to Fauvism and Pop Art, his oeuvre is increasingly prized for its lasting influence on the art of recent times. Munch pioneered the art ... More
Smithsonian's Sackler Gallery presents first major United States exhibition of Qur'ans
Feces, swastikas for Trump at Mexico Caricature Museum
UK's first museum solo exhibition in more than 20 years of the French artist Yves Klein opens in Liverpool


Single-volume Qur'an Copied by Shams al-Din ibn Muhammad Iran, Safavid period, October 1565 Ink, color, and gold on paper Museum of Turkish and Islamic Arts, Istanbul, TIEM 489.



WASHINGTON, DC.- The first major exhibition of Qur'ans (Korans) in the U.S., "The Art of the Qur'an: Treasures from the Museum of Turkish and Islamic Arts,"will open at the Arthur M. Sackler Gallery Oct. 22 and continue through Feb. 20, 2017. The exhibition was organized by the Sackler in collaboration with the Museum of Turkish and Islamic Arts in Istanbul. It will feature more than 60 of the most important Qur'an manuscripts ever produced from the Arab world, Turkey, Iran and Afghanistan. Celebrated for their superb calligraphy and lavish illumination, these manuscripts span almost 1,000 years of history—from eighth-century Damascus, Syria, to 17th-century Istanbul. Many of the works, which will be on view outside of Turkey for the first time, are critical to the history and appreciation of the arts of the book. This landmark exhibition tells the individual stories of some of these extraordinary ... More



Caricatures depicting US Republican presidential candidate Donald Trump, are displayed as part of the exhibition "A Wall of Caricatures", at the Caricature Museum in Mexico City. YURI CORTEZ / AFP.



MEXICO CITY (AFP).- His golden hair twists into smelly, fly-infested excrement. In other cartoons, his trademark locks are shaped into a tongue or a wall. His silhouette also serves as Adolf Hitler's mustache. Donald Trump has been such a well of inspiration for cartoonists that a gallery is dedicated to the Republican presidential candidate at Mexico City's Caricature Museum. The exhibit's title takes aim at Trump's threat to make Mexico pay for a giant barrier across the border: "Trump: A Wall of Cartoons." By calling Mexican migrants criminals and rapists, and vowing to deport millions back to their homeland, he has inspired a plethora of cartoonists from Mexico and other nations who contributed to the exhibit. Other Mexicans have vented their anger by bashing pinatas of his likeness or burning his effigy. Among the cartoonists, there are some recurring themes: the bouffant hair, brick walls, fresh feces and Nazi symbols. ... More



Yves Klein, (1928-1962), Untitled Fire painting, (F 101) 1961. Burned paper mounted on cardboard. © Yves Klein, ADAGP, Paris / DACS, London, 2016. Photo © Museum moderner Kunst Stiftung Ludwig Wien.



LIVERPOOL.- Tate Liverpool presents the UK's first museum solo exhibition in more than 20 years of the French artist Yves Klein (1928-1962). One of the most influential figures of the post-war era, Klein's career was marked by extraordinary creativity and a bold attitude to art and life that was pivotal to later movements from pop to performance art and beyond. Presenting around 40 major works the exhibition throws fresh light on his artistic practice. Embracing painting, sculpture, performance, theatre, music, film and architecture, Klein pioneered new attitudes that took the European art world by storm before his untimely death at the age of 34 from a heart attack. At the age of 19 the artist symbolically signed the depthless blue sky using his finger, declaring it as his first artwork. This moment underpinned Klein's interest in the relationship between infinite space and art that foreshadowed his short but startling ... More
Exhibition at Kunsthalle Bremen examines Max Liebermann's preoccupation with leisure and sports
Maurizio Cattelan's largest European exhibition ever opens at Monnaie de Paris
Christie's fourth India Sale will be led by The Collection of Abhishek and Radhika Poddar


Max Liebermann, Selbstbildnis an der Staffelei, 1916. Öl auf Leinwand, 112 cm x 92 cm.
Kunsthalle Bremen – Der Kunstverein in Bremen / Photo: Lars Lohrisch.



BREMEN.- Today, the world of sports penetrates almost every aspect of life. It is a critical element of modern lifestyle, a popular spectacle for the masses or an expression of social distinction. In Germany, the incredible success story of sports began more than a hundred years ago: Max Liebermann was the first German artist to preoccupy himself extensively with this subject. The exhibition examines Liebermann's preoccupation with leisure, recreation and sports within the context of art as well as the historical and social development of sport, with a special focus on horse riding, polo and tennis in art. Works by Degas, Manet and Toulouse-Lautrec illustrate the inspiration that Liebermann found in French painting and graphic arts. However, his depictions of tennis and polo players are unique in France and Germany. ... More



Maurizio Cattelan, Sans titre, 2001. Résine polyester, cire, pigments, cheveux naturels. Photo: Zeno Zotti. Vue de l'exposition Maurizio Cattelan, Not Afraid of Love à la Monnaie de Paris, du 21 octobre 2016 au 8 janvier 2017.



PARIS.- This fall, following up on noteworthy, awe-inspiring artistic projects such as Stockhausen's Concert for Helicopters, John Baldessari's Your Name in Lights and Paul McCarthy's Chocolate Factory, Monnaie de Paris houses Maurizio Cattelan's largest European exhibition ever. From 21 October 2016 to 8 January 2017, Not Afraid of Love, curated by Chiara Parisi, sets Maurizio Cattelan's comeback at Monnaie de Paris. Five years ago, with his exhibition All at Guggenheim - a bow-out reference for some, a genius artistic suicide for others - we thought everything had been said. Just this once, Maurizio Cattelan shakes up our minds. He comes back with a post-requiem show. "This exhibition it's the very first, after the Guggenheim show, that has more ... More



Tyeb Mehta, Untitled (Diagonal), 1975. © Christie's Images Limited 2016.



MUMBAI.- Christie's fourth consecutive India Sale in Mumbai, will take place on 18 December at the Taj Mahal Palace Hotel and will be led by one of the most important collections of modern Indian art put together over the past thirty years. Abhishek and Radhika Poddar have built one of India's most comprehensive collections of modern and contemporary art, antiquities, folk and tribal art, textiles, craft, design and photography. Their collecting has always been based on an innate respect for the arts and a drive to learn about and document the country's diverse cultural landscape and reflects their longstanding personal relationships with a multitude of artists, gallerists and scholars, as well as their own deep knowledge and unrelenting effort to train their eyes and hone their tastes. A total of 41 lots will be offered from this collection, including important works by Tyeb Mehta, Vasudeo S. Gaitonde, Ganesh ... More
Crystal Bridges presents first major traveling exhibition to explore art related to dance
Heritage Fall Sports Catalog Auction is the largest to date with nearly 5,000 lots
The allure of Detroit after dark subject of photography exhibition at Detroit Institute of Arts


Marisol, Portrait of Martha Graham, 1977. Oil and pencil on wood and plaster, 53 x 25 1/2 x 32 1/2 in. Crystal Bridges Museum of American Art, Bentonville, Arkansas. Photo courtesy Sotheby's © Marisol / Licensed by VAGA, New York, NY.



BENTONVILLE, ARK.- Crystal Bridges Museum of American Art announces the opening of the exhibition, The Art of American Dance, on view October 22, 2016, through January 16, 2017. The Art of American Dance is the first major traveling exhibition to explore American art related to the many forms of dance. The exhibition examines dance-inspired paintings, prints, sculptures, and photographs from the 1830s to the recent past—from dance in Native American cultures to ballroom dancing, the Jitterbug, swing, modern dance, burlesque, classical ballet, and more. It features some 90 artworks by iconic artists such as John Singer Sargent, Mary Cassatt, Robert Henri, William Merritt Chase, Nick Cave, and Faith Ringgold. "We are honored to be the final stop on The Art of American ... More



1909-11 T206 Sweet Caporal Honus Wagner PSA Good 2. Estimate: $800,000 - up.



DALLAS, TX.- The largest sports collectibles auction of 2016 is now open for bidding at Heritage Auctions, and is expected to command well over $10 million for its nearly 5,000 lots. The sale is anchored by elite examples of the fabled T206 Honus Wagner (est. $800,000+) and 1952 Topps Mickey Mantle rookie (est. $1 million), as well as important player collections from Gary Carter, Monte Irvin, Larry Brown and other sports luminaries. "We've known that this auction was going to be something truly special since The National in August," said Chris Ivy, Director of Heritage Sports Collectibles. "That's where we picked up the Wagner and the Mantle, which should alone account for more than $2 million on the ledger." Most experts estimate the surviving population of T206 Wagners at 50 or 60, and the offered example is one of the more attractive representations of that rare breed. While the Mantle rookie is considerably more plentiful, the ... More



Jack White, The White Stripes, Gold Dollar, 3129 Cass Ave, Detroit, November 27, 1999, Doug Coombe, 1999, pigment print. Detroit Institute of Arts



DETROIT, MICH.- Glittering skylines, quiet streets, raucous night clubs and corner bars are just some of the images that appear in "Detroit After Dark: Photographs from the DIA Collection," on view at the Detroit Institute of Arts Oct. 21, 2016–April 23, 2017. The exhibition is free with museum admission, which is free for Wayne, Oakland and Macomb county residents. "Detroit after Dark" includes dramatic architectural studies, street scenes, graffiti and otherworldly vignettes as well as some of Detroit's famous night haunts, like the premier jazz club Baker's Keyboard Lounge, the legendary Grande Ballroom and punk and garage rock dens such as Bookie's Club and the Gold Dollar. While most of the photographers are from Detroit, the exhibition also includes rare after-hours views by Robert Frank, such as his 1955 "City Hall, Detroit." A small supplement of work from Paris ... More
Quote
My thoughts love everything that is against reason. Francis Picabia
More News
---
AMERICAN SIGN LANGUAGE AT THE NATIONAL GALLERY OF ART
---
Flashback
On a day like today, American painter and graphic artist Robert Rauschenberg was born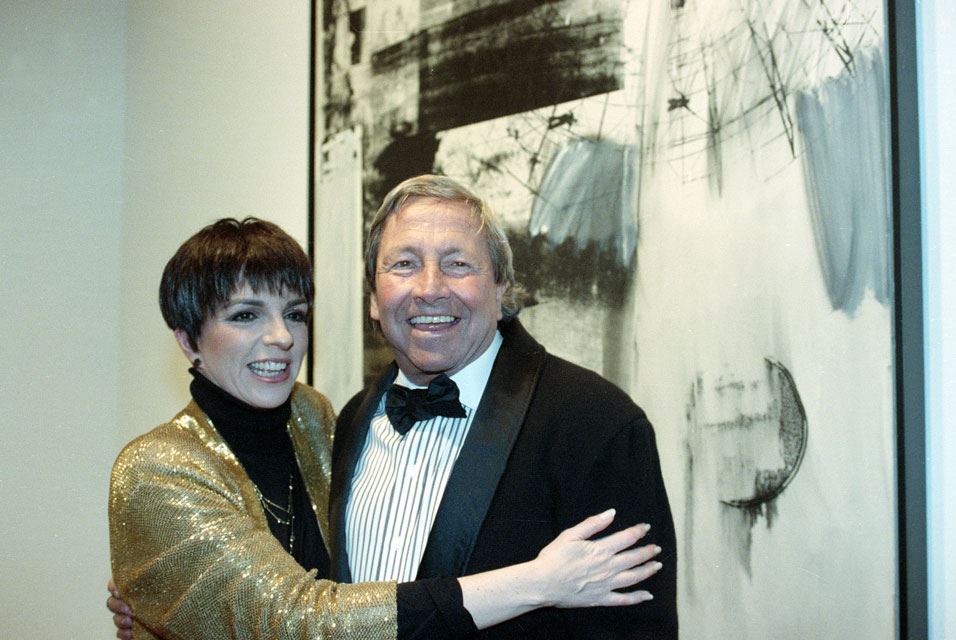 October 22, 1925. Robert Rauschenberg (October 22, 1925 - May 12, 2008) was an American painter and graphic artist whose early works anticipated the pop art movement. Rauschenberg is well known for his "Combines" of the 1950s, in which non-traditional materials and objects were employed in innovative combinations. Rauschenberg was both a painter and a sculptor and the Combines are a combination of both, but he also worked with photography, printmaking, papermaking, and performance. He was awarded the National Medal of Arts in 1993. In this image: Actress and singer Liza Minnelli poses with artist Robert Rauschenberg at the opening of Rauschenberg's silkscreen paintings at the Whitney Museum of American Art in New York City, Wednesday, Dec. 5, 1990.
---
---

Museums, Exhibits, Artists, Milestones, Digital Art, Architecture, Photography,
Photographers, Special Photos, Special Reports, Featured Stories, Auctions, Art Fairs,
Anecdotes, Art Quiz, Education, Mythology, 3D Images, Last Week,
.
Royalville Communications, Inc
produces:







Tell a Friend
Dear User, please complete the form below in order to recommend the Artdaily newsletter to someone you know.
Please complete all fields marked *.
Sending Mail

Sending Successful