Exhibition chronicles art during the decade following the Wall Street Crash of 1929
For the very first time, Grant Wood's iconic painting American Gothic, 1930 (Art Institute of Chicago), is being exhibited outside North America.
LONDON
.-
The Royal Academy of Arts
presents America after the Fall: Painting in the 1930s, an exhibition chronicling the turbulent economic, political and aesthetic climate that dominated the decade following the Wall Street Crash of 1929. Drawn from collections across the USA, America after the Fall showcases forty-five seminal paintings by some of the foremost artists of the era. For the very first time, Grant Wood's iconic painting American Gothic, 1930 (Art Institute of Chicago), is being exhibited outside North America. The exhibition also features works by Thomas Hart Benton, Georgia O'Keefe, Philip Guston, Edward Hopper, Alice Neel and Jackson Pollock. The devastating impact of the Great Depression, brought about by the Wall Street Crash and followed by the Dust Bowl, caused America to enter the 1930s in flux. Over the next decade, the consequences of economic insecurity and social hardship, fuelled by mass urbanisat ...
More
The Best Photos of the Day
First exhibition dedicated to the work of Pablo Picasso and Alberto Giacometti opens in Doha
Tampa Museum of Art opens 'Alex Katz: Black and White'
Musée d'Art moderne de la Ville de Paris exhibits works by Karel Appel


Alberto Giacometti, Self-portrait, circa 1923 (detail). Kunsthaus Zürich



DOHA.- Qatar Museums in collaboration with the Musée National Picasso and the Fondation Giacometti, present the first exhibition dedicated to the work of two of the most important artists of the twentieth century, Pablo Picasso and Alberto Giacometti, at the Fire Station Artist in Residence in Doha, Qatar. The exhibition, which is the first to show these artists in the Middle East, runs from 22 February – 21 May 2017. This major exhibition, curated by Catherine Grenier, Director of the Fondation Giacometti, with Associate Curators, Serena Bucalo-Mussely and Virginie Perdrisot, brings together more than 80 works by these two artists drawn from the collections of the Musée National Picasso and the Fondation Giacometti in Paris, as well as exceptional loans from French and other international collections, covering paintings, sculptures and drawings. The exhibition reflects two years of research undertaken by the Fondation ... More



Alex Katz (American, b. 1927), Christine, 2013. Photoengraving and aquatint. Edition HC 1 of 2. Courtesy of Lococo Fine Art Publisher Art .© Alex Katz/Licensed by VAGA, New York, NY.



TAMPA, FLA.- The Tampa Museum of Art is presenting a survey of black and white works by the legendary artist Alex Katz (American, b. 1927). This exhibition features Katz's signature portraits of family and friends, renderings of Maine's countryside, and ephemeral still lifes. The stark contrasts in light and shadow, as well as the emphasis on line and form, illustrate the beauty of Katz's reductive black and white landscapes and figurative work. A select group of color works illustrate the relationship between Katz's vibrant palette and the graphic quality of his black and white prints. Joanna Robotham, Curator of contemporary and Modern Art, stated, "I am thrilled the Tampa Museum of Art will present this important survey of Alex Katz's black and white works. One of today's most revered artists, Katz continues to create iconic portraits ... More



Effroi dans l'herbe, 1947. Huile sur toile, 95  70 cm. Musée d'Art moderne de la Ville de Paris © Karel Appel Foundation / ADAGP, Paris 2017.



PARIS.- Taking as its starting point a remarkable group of twenty-one paintings and sculptures donated by the Karel Appel Foundation in Amsterdam, the Musée d'Art moderne de la Ville de Paris is presenting an exhibition covering the artist's entire career, from the CoBrA years to his death in 2006. The cosmopolitan Dutch artist Karel Appel is known as one of the founding members of the CoBrA group, created in Paris in 1948 and self-dissolved in 1951. With members including Asger Jorn and Pierre Alechinsky, CoBrA set out to eclipse such contemporary academic forms as abstract art, which they saw as too rigid and rational. They proposed instead a spontaneous, experimental art that included various practices inspired by Primitivism. They were especially drawn to children's drawings and the art of the mentally disturbed, and held fast to the international aspirations ... More
From Tokyo to USA: Kusama's eternal love of polka dots
Steven Kasher Gallery presents works by three masters of erotic photography
The Schirn Kunsthalle opens first retrospective of Richard Gerstl's work in Germany


Yayoi Kusama, Aftermath of Obliteration of Eternity, 2009. Wood, mirror, plastic, acrylic, LED, black glass, and aluminum. Collection of the artist. Courtesy of Ota Fine Arts, Tokyo/Singapore; Victoria Miro, London; David Zwirner, New York. © Yayoi Kusama.



WASHINGTON (AFP).- She has two major exhibitions opening simultaneously in Japan and the United States at the venerable age of 87 -- but Yayoi Kusama is nowhere near her last hurrah. Living and creating are inseparable for the red-wigged avant-garde Japanese artist, as she explained to reporters in Tokyo on the eve of her show opening at the National Art Center. "I'm grappling with creating art from morning to night every day," Kusama said, sitting in a wheelchair wearing a kimono with one of her trademark yellow and black polka dot patterns. "I want to create with a serious mind as long as my life continues." Kusama has authored no less than 520 pieces as part of her ongoing "My Eternal Soul" painting and sculpture series that began in 2009. And that's only one of many projects in this ... More



Sam Haskins, Untitled (from Cowboy Kate series), ca. 1963 (detail). Vintage gelatin silver print, printed ca. 1963. 9 7/8 x 12 1/8 in.



NEW YORK, NY.- Steven Kasher Gallery is presenting Three Masters of Erotic Photography, a survey of black and white nudes from the 1960s, by celebrated photographers Sam Haskins, Francis Giacobetti, and Kishin Shinoyama. The show reunites three artists featured in the controversial exhibition and book Vier Meister der Erotischen Fotografie (Four Masters of Erotic Photography), which debuted at Cologne's Photokina in 1970. It includes over 50 vintage photographic prints collected and published by the late Walther H. Schünemann and rediscovered by his son after five decades in storage. The prints in this exhibition include the most revolutionary and most iconic work of each of the three photographers: the Cowboy Kate series of Haskins, the Birth, Death Valley and Twin series of Shinoyama, and the Jane Birkin portraits of Giacobetti. Haskins, ... More



Richard Gerstl Retrospective exhibition view © Schirn Kunsthalle Frankfurt, 2017, Photo: Norbert Miguletz.



FRANKFURT.- He is the "first Austrian Expressionist," and for many still an insiders' tip: the painter Richard Gerstl (1883–1908). He only lived to be 25 years old and yet he is mentioned in the same breath as the great masters of Viennese Modernism: Gustav Klimt, Egon Schiele, and Oskar Kokoschka. During his brief life Gerstl created an exciting and unusual, though relatively limited oeuvre with impressive highlights and pioneering innovations. From February 24 to May 14, 2017, the Schirn Kunsthalle Frankfurt is presenting the first retrospective of Richard Gerstl's work in Germany. His painting reflects his concern with the contradictions of modern art. He was a rebel whose paintings opposed the Vienna Secession in terms of both style and content; he rejected their concept of beauty and committed himself to an aesthetic of ugliness. Gerstl loved to provoke and painted against the traditional ... More
Exhibition centers on gender and feminist politics in the age of trans-identity
Jerusalem art show turns 'home' inside out
Rare Japanese woodblock prints on display in Poland


Andrea Bowers, Throwing Bricks (Johanna Saavedra), 2016. Archival pigment print. Image: 77 1/2 x 57 in (196.9 x 144.8 cm); frame: 78 3/4 x 58 3/4 x 2 1/4 in (200 x 149.2 x 5.7 cm). Image courtesy of the Artist and Andrew Kreps Gallery, New York.



NEW YORK, NY.- The Shelley & Donald Rubin Foundation announces The Intersectional Self, an exhibition centered on gender and feminist politics in the age of trans-identity, on view from February 9 through May 19, 2017. Featuring the work of Janine Antoni, Andrea Bowers, Patty Chang, Abigail deVille, Ana Mendieta, Catherine Opie, Adrian Piper, Genesis Breyer P-Orridge, Cindy Sherman, and Martha Wilson, The Intersectional Self questions how notions of femininity (and alternately, masculinity) have shifted in the context of newly defined gender identities, and how family structures have been reimagined and reshaped through relatively recent advances in reproductive medicine and evolving gender roles. Ultimately, The Intersectional Self examines how feminism in its many forms has changed the world as we know it. Sculpture and video works by Abigail DeVille and Andrea Bowers highlight ... More



A visitor looks at the "Untitled (Lipstick urinals)" installation by artist Rachel Lachowicz. MENAHEM KAHANA / AFP.



JERUSALEM (AFP).- A giant kitchen grater with menacing blades, an ironing board festooned with penises and Marcel Duchamp's repurposed urinal greet visitors to the Israel Museum's new show "No Place Like Home". The exhibition focuses on the reinterpretation of household objects in art, and takes Duchamp's jokey 1917 "Fountain" as its starting point. The 120 quirky and sometimes creepy exhibits are laid out in stark white spaces, identified as rooms of a home and labelled as entrance, living room, bathroom and others. It evokes the layout and "home" settings of furniture superstores such as Ikea, one of the event's sponsors. "It's the first time that the subject has been treated in this way, from the time of Duchamp up to today," said exhibition curator Adina Kamien-Kazhdan. "Domestic objects transformed by the artists in many ways are gathered in a quasi-house, a strange sort of house within the Israel Museum," she said. It also marks the centenary of Duchamp's piece of sanitary ware, considered an earl ... More



Shugo Asano, a Japanese specialist in the field of ukiyo-e painting and woodblock prints, watches one of the exhibits. Janek SKARZYNSKI / AFP.



WARSAW (AFP).- Polish-French art enthusiast Jerzy Leskowicz is obsessed with first-edition Japanese woodblock prints, and Katsushika Hokusai's iconic 19th-century "The Great Wave Off Kanagawa" is only one of many in his collection. Part of that collection goes on display this weekend in Poland at the National Museum in Warsaw, where visitors can also admire Utagawa Hiroshige's "A Sudden Shower over the Ohashi Bridge and Atake", a favourite of celebrated 19th Dutch artist Vincent Van Gogh. "Virtually all of Van Gogh's landscapes were inspired by Hiroshige," said the 71-year-old Leskowicz, who sports a white moustache and made his fortune in real-estate. "Van Gogh copied Japanese prints and he even tried to reproduce the signatures on them," added exhibition curator Anna Katarzyna Maleszko, as Japanese flute music played in the background. Leskowicz is particularly proud of owning first edition prints of the entire series "The Sixty-Nine Stations of Kisokaido" by Hiroshige and Keisai Eisen. ... More
Bush to unveil portraits of 'war on terror' US veterans
In besieged Gaza, first English library to open window to world
In Mosul, a long-term battle to repair Iraq's heritage


This file photo taken on April 3, 2014 shows paintings by former US President George W. Bush. Stewart F. House / GETTY IMAGES NORTH AMERICA / AFP.



WASHINGTON (AFP).- Former US president George W. Bush has kept a low profile since leaving the White House in 2009. But he is set to reveal some of the fruits of his second career on Tuesday in a book called "Portraits of Courage." A collection of paintings of military veterans subtitled "A Commander in Chief's Tribute to America's Warriors," it features 66 portraits of wounded or traumatized personnel he has met who served in the US Army in Iraq or Afghanistan following the attacks on September 11, 2001. Although the 43rd president has never voiced regret over launching the US-led wars in Afghanistan (in 2001) and Iraq (in 2003), which caused hundreds of thousands of civilian casualties, his book showcases his efforts to help some of the "remarkable men and women who were injured carrying out my orders," as he wrote on his Instagram account. "I think about them on #VeteransDay and every day," he added in the post showing a photo of him painting ... More



Mossab Abo Toha (L) and his friend Shafi Salem, who is helping Abu Toha set up the "Library and Bookshop for Gaza" project pose for a photo. MOHAMMED ABED / AFP.



GAZA CITY (AFP).- Mossab Abu Toha has never actually left Gaza, instead devouring books as an escape. Now he is struggling to open the first English-language library in the beleaguered Palestinian territory. "Send us books in English, new or used," says the 24-year-old reading enthusiast on his Facebook page. Abu Toha, like so many Gazans effectively trapped in the Palestinian enclave by Israeli and Egyptian restrictions, dreams of travelling. "Freedom begins when one frees one's mind," said the young graduate in English literature from the Islamic University of Gaza, who shares his passion by teaching Shakespeare at a United Nations school. "I have read dozens of books in English, and with them I can travel to every country in the world and through all periods. I feel like I am in another world." Israel has maintained a blockade on Gaza for a decade, while the border with Egypt is also largely closed. ... More



This file photo taken on November 15, 2016 shows destruction caused by the Islamic State (IS) group at the archaeological site of Nimrud, some 30 kilometres south of Mosul in the Nineveh province. SAFIN HAMED / AFP.



PARIS (AFP).- The city of Mosul is intertwined with human history, tracing its roots to 4,400 years ago when civilisation rose in fabled, fertile Mesopotamia. Today, as Iraqi forces backed by an international coalition inch forward in their fight to recover Mosul from the Islamic State (IS) group, historians are looking at how to save, repair or retrieve precious heritage after the jihadists' three-year reign. At a meeting in Paris last week, Iraqi officials and dozens of experts from around the world agreed to coordinate efforts to restore Iraq's cultural treasure. But, they admitted, the road ahead will be hard and long. "The main challenge is for Iraqis to deal with this task by themselves. It is important to empower the people," said Stefan Simon, director of global cultural heritage initiatives at Yale university. "It is a heart-breaking situation," he added. "(...) Rehabilitation will take a very ... More
Quote
I have always been an anarchist and a monarchist at the same time. Salvador Dalí
More News
---
Jean Dubuffet - The Butterfly Man
---
Flashback
On a day like today, Spanish painter Joaquín Sorolla was born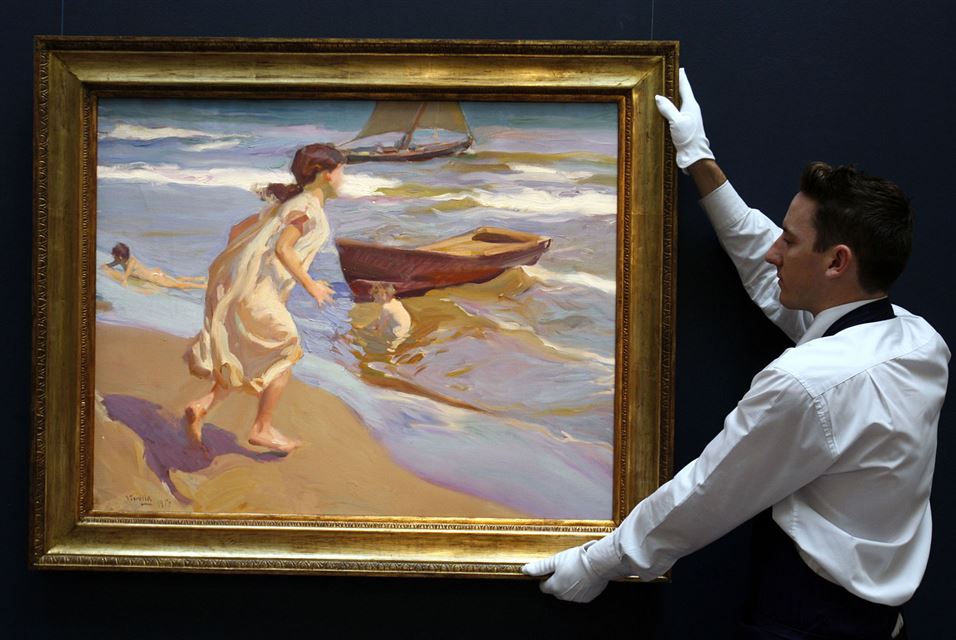 February 27, 1863. Joaquín Sorolla y Bastida (27 February 1863 - 10 August 1923) was a Valencian Spanish painter. Sorolla excelled in the painting of portraits, landscapes, and monumental works of social and historical themes. His most typical works are characterized by a dexterous representation of the people and landscape under the sunlight of his native land. In this image: A technician adjusts 'The Bathing Hour' a painting by Spanish artist Joaquin Sorolla on display at Sotheby's auction rooms in London, Friday, May 29, 2009.
---

Museums, Exhibits, Artists, Milestones, Digital Art, Architecture, Photography,
Photographers, Special Photos, Special Reports, Featured Stories, Auctions, Art Fairs,
Anecdotes, Art Quiz, Education, Mythology, 3D Images, Last Week,
.
Royalville Communications, Inc
produces:







Tell a Friend
Dear User, please complete the form below in order to recommend the Artdaily newsletter to someone you know.
Please complete all fields marked *.
Sending Mail

Sending Successful