London's Tate Britain opens exhibition of shortlisted artists for the Turner Prize 2014
A woman poses next to an installation by British artist James Richards entitled 'Untitled Merchandise (Lovers and Dealers)' during a press preview for the 2014 Turner Prize at the Tate Britain in central London on September 29, 2014. AFP PHOTO/CARL COURT.
LONDON
.-
Tate
today unveiled the Turner Prize 2014 exhibition at Tate Britain. The artists are Duncan Campbell, Ciara Phillips, James Richards and Tris Vonna-Michell. The winner will be announced live on Channel 4 by British actor Chiwetel Ejiofor on 1 December. This year is the 30th Turner Prize, founded in 1984 to promote discussion of new developments in contemporary British art. The Turner Prize award is £40,000 with £25,000 going to the winner and £5,000 each for the other shortlisted artists. The winner will be decided by a jury whose members are: Stefan Kalmár, Executive Director and Curator, Artists Space, New York; Helen Legg, Director, Spike Island, Bristol; Sarah McCrory, Director, Glasgow International; Dirk Snauwaert, Artistic Director, Wiels Contemporary Art Centre, Brussels chaired by Penelope Curtis, Director of Tate Britain. The shortlisted artists for the ...
More
The Best Photos of the Day
Well-preserved German World War II bomber found in Croatia's central Adriatic
London turns its classic red phone boxes green allowing people to charge up their mobile devices
And now the Acropolis is crumbling... Huge flat-topped rock is starting to give way




A well-preserved German World War II bomber. AFP PHOTO / HO / Croatian Conservation Institute.





ZAGREB (AFP).- A rare, well-preserved German World War II bomber has been found in Croatia's central Adriatic more than seven decades after it was shot down, the national conservation institute said on Wednesday. The wreckage of the Junkers Ju 87 or Stuka (Sturzkampfflugzeug) 'dive bomber' was discovered not far from the southern coast of the island of Zirje, institute official Igor Miholjek told AFP. Only two bombers of that type, out of some 5,700 that were produced, have been preserved and are now on show in London and Chicago, according to the institute. The plane was found around 28 meters (91 feet) down during a diving trip organised by the institute, in which Miholjek took part. "The engine, which was most likely ripped off when the plane hit the water, was missing and was found nearby, but the rest of the aircraft is complete and in very good condition," he said. "The plane is lying on its wheels as if it smoothly landed on the seabed," he said, adding that it was still ... More





British Conservative Party politician Zac Goldsmith poses for pictures inside the first traditional London telephone box to be transformed into a solar-powered mobile phone charger for use by the public. AFP PHOTO/CARL COURT.





LONDON (AFP).- London's famous red telephone boxes are turning green thanks to a new phone booth unveiled Wednesday that runs on solar power and allows people to charge up their mobile devices. Largely made redundant by the prevalence of mobile phones, the green boxes are an attempt to breathe life back into a British national icon that often lingers on in a dilapidated state. The first "solarbox" was unveiled Wednesday outside Tottenham Court Road underground station, at the busy intersection with Oxford Street, London's main shopping thoroughfare. The new boxes are painted green and are powered by a solar panel on the roof and more are planned in the months to come. Inside, there are four chargers, allowing people to power up mobile phones or tablets. "The energy is stored in a battery, so you can even charge ... More





Tourists visit the ancient Acropolis in Athens on August 7, 2013. AFP PHOTO / LOUISA GOULIAMAKI.





ATHENS (AFP).- Just when Greece thought it had come through the worst of the crisis it was hit by a new blow Wednesday -- the Acropolis is crumbling. Engineers have discovered that part of the huge flat-topped rock on which the ancient Parthenon sits in the centre of Athens is starting to give way, the Greek news agency ANA said. Teams from the Central Archaeological Council found "instability over quite a wide area" after investigating a rockfall in January in which a boulder of "considerable size" tumbled from the most visited site in the Greek capital. Work to shore up the southern slope of the hill on which the 2,500-year-old temple complex sits will be necessary, the agency reported, blaming rainwater pipes from the old Acropolis museum. Despite sharp cuts elsewhere, the restoration work on the site that has been going on since the 1970s has remained sacrosanct, a symbol of the country's glorious past. In the not so glorious present Greece has had to endure six years ... More
Thieves steal $7.6 million French master Edgar Degas painting from Cyprus pensioner
Former Philippine first lady Imelda Marcos 'violated' by artwork seizure: lawyer
At age 85, no street secrets for New York Times fashion photographer Bill Cunningham




Photographic self-portrait by Edgar Degas. Gelatin silver print. 4 11/16 in. x 6 9/16 in. Harvard Art Museum/Fogg Museum, Richard and Ronay Menschel Fund for the Acquisition of Photographs. Courtesy of the President and Fellows of Harvard College.





NICOSIA (AFP).- Thieves have stolen a painting by French master Edgar Degas valued at six million euros ($7.6 million) from the home of a 70-year-old Greek Cypriot, Cyprus police said on Tuesday. The painting, entitled "Ballerina adjusting her slipper", was taken on Monday from the home in the island's second city Limassol and was not insured, a police spokeswoman told AFP. Art theft is rare in Cyprus and it is believed to be one of the most valuable paintings ever stolen on the Mediterranean island. The thieves also made off with other items -- seven gold watches and three gold opera glasses -- worth a total of 157,000 euros ($200,000). Police said they had arrested a 44-year-old Greek Cypriot in connection with the case and were seeking two other suspects -- a South African and a Russian. It is believed the trio knew the victim. Degas (1834-1917) is regarded as one of the founders of Impressionism. ... More





A picture shows the facade of the house of Imelda Marcos in Manila on September 30, 2014. Philippine authorities moved on September 30 to seize paintings by Picasso, Gauguin, Miro, Michelangelo and other masters held by Imelda Marcos after getting a court order against the former first lady. AFP PHOTO/NOEL CELIS.





MANILA (AFP).- Former Philippine first lady Imelda Marcos felt "violated" after the authorities searched her homes and offices and seized art pieces, her lawyer said on Wednesday. Government agents launched simultaneous searches on Tuesday for eight paintings potentially worth tens of millions of dollars, including works by Picasso, Gauguin, Miro, Michelangelo and Pissarro. "She felt really violated that this happened. She was really in shock," Marcos' lawyer Robert Sison told AFP. The 85-year-old widow of the late dictator Ferdinand Marcos was asleep in one of her luxury Manila apartments when a team of government agents arrived, announcing they were searching the place, Sison said. Still recovering from recent eye surgery, she sat "calm and composed" on a wheelchair while the search got underway, he added. ... More





New York Times photographer Bill Cunningham (R) watches as a model presents a creation by Lacoste. AFP PHOTO/Joshua Lott.





NEW YORK (AFP).- In a past life, he dressed Jackie Kennedy and designed fashionable hats. Since then, Bill Cunningham has become a living legend of street fashion photography, a discipline he is credited with creating. His passion is still his obsession: capturing the look. With a watchful eye, a blue workman's shirt worn over his slightly arched back and a camera slung around his neck, Cunningham -- at 85 -- has the manners and vocabulary of a man of his time. The New York Times photographer calls anyone "kid," no matter what their age. When you speak to him, he focuses on the question and listens carefully, sometimes cupping his ear. Rare are the fashion personalities today who -- like Cunningham -- can boast of always being fashionable, or predict what will be the next craze. In a 2010 documentary about Cunningham, Anna Wintour -- the powerful editor of American Vogue -- marveled at his ability to "see something -- on the street or on the runway -- that completely missed ... More
MoMA PS1 opens the inaugural American museum survey of French artist Xavier Le Roy
Ludwig Goes Pop: Exhibition brings together around 150 key works by leading figures
The Museum of Contemporary Art, Los Angeles shows 'Andy Warhol: Shadows'




Retrospective by Xavier Le Roy. Photography by Lluís Bover. © Fundació Antoni Tàpies.





LONG ISLAND CITY, NY.- MoMA PS1 presents Retrospective, the inaugural American museum survey of French artist and choreographer Xavier Le Roy (b. 1963). Realized in the galleries by a team of performers who continuously recycle and transform Le Roy's solo work, conceived between 1994 and 2010, the exhibition opens up expanded opportunities for interaction within the museum. In his reconfiguration of the conventionally linear form of the retrospective as an accumulative mid-career survey, Le Roy brings his past works to life by consolidating and reimagining them into a new whole. In the process the exhibition unfolds across several different time axes that introduce temporal complexity to the galleries. The result is a groundbreaking hybrid of choreography and visual art that transforms the traditional exhibition format into a creative medium. "In Retrospective, Le Roy uses the tools he has as a choreographer to create possibilities ... More





Robert Rauschenberg, Tree Frog, 1964, 244 x 183 cm, Siebdruck, Öl, auf Leinwand. Museum Ludwig, Köln© Robert Rauschenberg Foundation/VG Bild-Kunst, Bonn 2014. Foto: Rheinisches Bildarchiv.





COLOGNE.- "Popular, mass produced, expendable, cheap, witty, sexy, playful, conspicuous, seductive"- according to Richard Hamilton these are the characteristics that make something interesting and that he also demanded of his own artistic work. What the British artist formulated in 1957as a new standard was considered scandalous at the time. A rejection of the prevailing art and its sublime values originality, authenticity, and "depth". Pop Art was a liberation for some-and a trivial affront for others. The exhibition LUDWIG GOES POP offers an opportunity to explore this phenomenon and to comprehend Pop Art as an expression of a modern attitude toward life. In the 1960s the "everyday" had arrived—it had made its way into art: in all manner of play, from humorously ironic to biting and critical, artists explored the Zeitgeist in their art, integrated fragments and quotes from the world ... More





Andy Warhol Shadows at MOCA Grand Avenue. Photo: Brian Forrest (detail 1).





LOS ANGELES, CA.- The Museum of Contemporary Art, Los Angeles presents Andy Warhol: Shadows from September 20, 2014 – February 2, 2015 at MOCA Grand Avenue. The exhibition marks the first West Coast presentation of Shadows (1978-79), a monumental painting in 102 parts. Andy Warhol: Shadows is organized by Dia Art Foundation and coordinated by MOCA Senior Curator Bennett Simpson. Conceived as one work in multiple parts, Warhol's exceptional series of variously silkscreened and hand painted canvases features two different compositions, ranging in hue from an electric green to a somber brown. Culled from photographs of shadows taken in The Factory, the artist's New York City Studio, the Shadows paintings alternate between positive and negative imprints. With few exceptions, "the peak" or black positive always appears on a colored ground, while "the cap," a smaller, colored form, hovers before a black background. ... More
Italian masterworks from Glasgow Museums travel to Milwaukee Art Museum
Iconic Postwar American art from SFMOMA and Fisher Collection to travel to France
Irma Stern phenomenon continues at Bonhams with top picture selling for £962,500




Cavaliere d'Arpino (Giuseppe Cesari), Archangel Michael and the Rebel Angels, ca. 1592–93. Glasgow Museums; Bequeathed by Archibald McLellan, 1856 (153). © CSG CIC Glasgow Museums Collection. Courtesy American Federation of Arts.





MILWAUKEE, WIS.- Opening in fall 2014, the Milwaukee Art Museum welcomes some of the biggest names in European art in Of Heaven and Earth: 500 Years of Italian Painting from Glasgow Museums. The exhibition debuts in Milwaukee on Thursday, October 2. Displayed in five chronological sections, Of Heaven and Earth will include paintings originating from the principal artistic centers of Italy—Rome, Milan, Bologna, Florence, Siena, Naples, and Venice—and will present the works of artists such as Giovanni Bellini, Sandro Botticelli, Domenichino, Francesco Guardi, Salvator Rosa, and Titian alongside those of lesser-known masters. "With works by some of the most significant European masters like Giovanni Bellini, Sandro Botticelli, and Titian, ... More





Dan Flavin, untitled (to dear, durable Sol from Stephen, Sonja, and Dan) one, 1969; daylight and cool white fluorescent light; 96 x 96 in. (243.84 x 243.84 cm); San Francisco Museum of Modern Art, Phyllis C. Wattis Fund for Major Accessions; © Stephen Flavin / Artists Rights Society (ARS), New York; photo: Don Ross and Katherine Du Tiel.





SAN FRANCISCO, CA.- The San Francisco Museum of Modern Art announced today that an exhibition of postwar American masterworks from the integrated SFMOMA and Doris and Donald Fisher collections will travel to two museums in France while SFMOMA is temporarily closed for its major expansion. The exhibition, American Icons: Masterworks from SFMOMA and the Fisher Collection (Icônes Américaines: Chefs-d'oeuvre du SFMOMA et de la collection Fisher), features approximately 60 paintings and sculptures by 15 leading American artists, including landmark works that will join the SFMOMA collection as a result of the unprecedented partnership that ... More





Irma Stern, Washerwomen. Photo: Bonhams.





LONDON.- The grande dame of South African art, and one of the top-selling female artists of all time, Irma Stern once again dominated the Bonhams sale of South African art today in London (1st October 2014). Top item in the sale was her 'Still life with African Woman' which sold for £962,500 (R17.6m). The 128 lot sale made a total of £2.4m (R44m). Two paintings by Alexis Preller that were inspired by the artist's international travels also fetched high prices. 'The Creation of Adam II', which sold for £326,500 (R6m), was motivated by the artist's visit to Greece, where he was struck by the distilled beauty of the Greek kouros figures: archaic sculptures from the 6th century BC that celebrated young athletes at the height of their physical prowess. 'Pirogues, Beau Vallon', which sold for £122,000 (R2.2m), depicts a scene in the Seychelles, a trip he made in 1948 as an homage to the work and life ... More
Quote
Claude Monet was a very skillful but short-lived decorator. Edgar Degas
More News
---
Thomas Hart Benton's Mural America Today Comes to the Met
---
---
Flashback
On a day like today, American fashion designer Donna Karan was born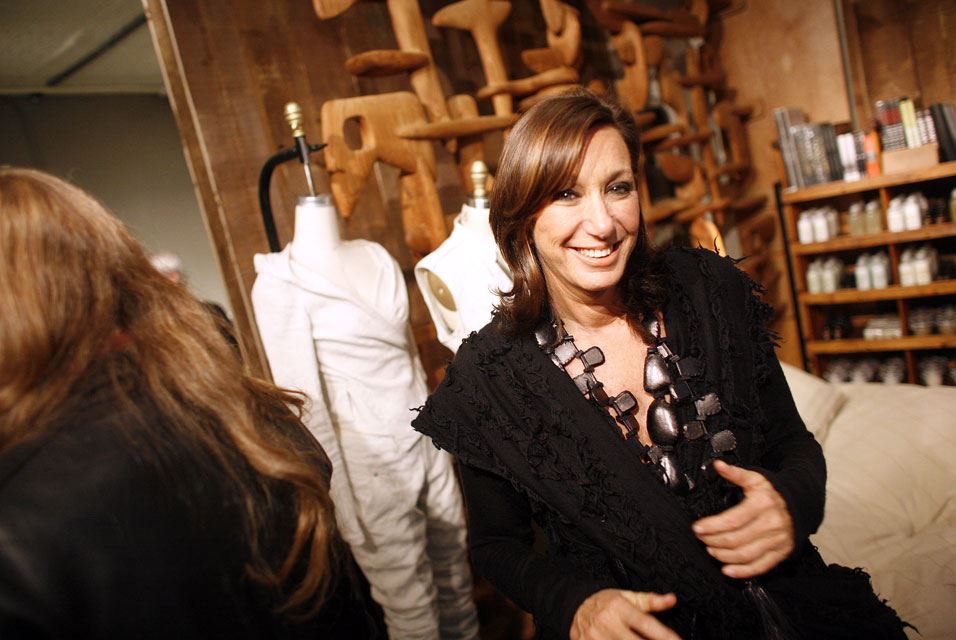 October 02, 1948. Donna Karan (born October 2, 1948) is an American fashion designer and the creator of the Donna Karan New York and DKNY clothing labels. In this image: Designer Donna Karan appears during an event in celebration of her Urban Zen collection and foundation Wednesday, Feb. 18, 2009 in New York.
---
---

Museums, Exhibits, Artists, Milestones, Digital Art, Architecture, Photography,
Photographers, Special Photos, Special Reports, Featured Stories, Auctions, Art Fairs,
Anecdotes, Art Quiz, Education, Mythology, 3D Images, Last Week,
.
Royalville Communications, Inc
produces: