Turner Prize-winning artist Chris Ofili unveils new tapestry at the National Gallery
A National Gallery employee poses for a picture in front of British artist Chris Ofili's tapestry 'The Caged Bird's Song' at the 'Weaving Magic' exhibition at the National Gallery in central London on April 25, 2017. The 'Weaving Magic' exhibition displays the project of creating Chris Ofili's tapestry 'The Caged Bird's Song' and includes prepartory drawings and the tapestry itself presented in an emersive installation at the National Gallery. Daniel LEAL-OLIVAS / AFP.
LONDON
.-
The National Gallery
unveiled 'The Caged Bird's Song', a new tapestry by Turner Prize-winning artist Chris Ofili. The exhibition marks the first time the artist has worked in the medium of tapestry and includes a series of preparatory works on paper in an installation conceived by the artist for the Gallery's Sunley Room. Ofili is returning to the National Gallery following the exhibition Titian: Metamorphosis 2012. In this he was one of three contemporary artists asked to respond to Titian's great mythological paintings, Diana and Actaeon, The Death of Actaeon, and Diana and Callisto, which depict stories from the Roman poet Ovid's 'Metamorphoses'. Ofili produced new paintings in which the classical world was transposed to Trinidad, where he lives and works. He also designed a related series of costumes and sets for a new ballet performed by the Royal Ballet at the Royal Opera House, Covent Garden. The imagery ...
More
The Best Photos of the Day
Extraordinary Roy Lichtenstein sculpture to be included in Phillips sale
Sotheby's unveils its inaugural Sale of Modern and Contemporary African Art
Oscar-winning 'Silence of the Lambs' director Jonathan Demme dies


Roy Lichtenstein, Woman: Sunlight, Moonlight. Painted and patinated bronze, 41 x 25 1/4 x 13 2/4 in. (104.1 x 64.1 x 34.3 cm.). Estimate upon request. Image courtesy of Phillips.



NEW YORK, NY.- Phillips announced that Roy Lichtenstein's sculpture, Woman: Sunlight, Moonlight, will be offered as a highlight in the Evening Sale of 20th Century & Contemporary Art on Thursday, 18 May. The sculpture, with an estimate in excess of $10 million, is being sold by the Roy Lichtenstein Foundation to benefit its study center projects. The work is poised to set an all-time record for a sculpture by the artist. The sculpture, completed in 1996 a year before the artist's unexpected death, was created during the height of Lichtenstein's career and is widely considered among the artist's greatest works. Woman: Sunlight, Moonlight takes the art historical use of the bust through the lens of Lichtenstein's signature Pop Art idiom. Standing more than three feet tall, the larger-than-life ... More



Yinka Shonibare MBE, Crash Willy, 2009. Estimate: £120,000-180,000. Photo: Sotheby's.



LONDON.- Hannah O'Leary, Sotheby's Head of Modern and Contemporary African Art: "The marketplace for modern and contemporary art from Africa has transformed dramatically over the past decade, but despite this long-overdue correction, there's still a considerable way to go towards addressing the underrepresentation of African artists, who account for just 0.01% of the international art market. In recent years, I've seen an exponential increase in market demand from collectors in Africa and the African diaspora, as well as international art collectors and influencers who are embracing art from Africa as exciting, innovative and relevant. Sotheby's entry to the market is in direct response to its current strength and its even greater potential over the coming years. In our sale, you'll find works by the giants of Modern and Contemporary African Art, who've established auction prices over ... More



This file photo shows US director Jonathan Demme before the screening of the movie "Rachel Getting Married" at the 65th Venice International Film Festival. DAMIEN MEYER / AFP.



NEW YORK (AFP).- Jonathan Demme, Oscar-winning director of "The Silence of the Lambs" whose four-decade career produced a staggering array of work from romantic comedy to social and political documentaries, died Wednesday. He was 73. Demme passed away in New York surrounded by his family after a battle with cancer, his publicist announced. He will be laid to rest in a private, family funeral. He remains best known for the smash-hit 1991 horror-thriller starring Anthony Hopkins as serial killer Hannibal Lecter and Jodie Foster as FBI agent Clarice Starling. The movie was box office gold and a dazzling critical success. It swept the 1992 Academy Awards, winning five Oscars including best picture, best actor for Hopkins and best actress for Foster. "I am heart-broken to lose a friend, a ... More
Solo exhibitions at Sotheby's S/2 present works by Renate Bertlmann and Maria Lassnig
Throckmorton Fine Art opens exhibition of photographs by the 20th century photographer Fritz Henle
Works by Guy Pène du Bois highlight sale of Impressionist & Modern Art at Doyle


Maria Lassnig, Self-portrait with Hare, 2003. © Maria Lassnig Foundation.



LONDON.- Sotheby's announces the inauguration of a new program for S|2 London beginning in April with two solo presentations by the Austrian artists Renate Bertlmann and Maria Lassnig. Both artists are key figures in the current discussions around the re-evaluation of female artists of the post-war period; the upper gallery will feature works by Bertlmann and the lower gallery will display an exhibition of paintings by Lassnig. The aim of the gallery's new program is to present the work of artists who may be undervalued by the market, but remain art historically important and influential. The program for 2017 comprises a series of concurrent solo exhibitions - one in the upper gallery, and one in the lower gallery - and includes Li Yuan Chia, Yuko Nasaka, Ibrahim El-Salahi and William Turnbull. A key figure in the feminist art movement of the 70s in Europe, Renate Bertlmann's work is long overdue for a re-examination. Her pr ... More



Fritz Henle, Frida Kahlo on Chinampa Boat, 1936. 11 x 11.



NEW YORK, NY.- Throckmorton Fine Art presents an important exhibition of photographs by the German-born 20th century photographer, Fritz Henle, at its New York gallery from April 27 – June 24, 2017. According to Spencer Throckmorton, "photo-historian Helmut Gernsheim called Fritz Henle 'the last classic freelance photographer.' He was one of those fortunate individuals for whom the tumultuous years before and after World War II generated an ability for him to constantly reimagine and retool his life and work. His German Father, a surgeon, had a talent as an amateur photographer and encouraged young Fritz, who graduated from the Bavarian State Institute for Photography in 1930. Then his work for American art historian Clarence Kennedy funded a series of explorations that took him to Italy, the Mediterranean, Greece, North Africa and the Middle East for three years. He photographed people ... More



Guy Pène du Bois (American, 1884-1958), Protectrice, 1921, Signed, dated and inscribed, 25 x 20 inches. The Collection of Willa Kim and William Pène du Bois. Est. $100,000-200,000.



NEW YORK, NY.- On Wednesday, May 10 at 11am, Doyle will hold an auction of Impressionist & Modern Art. The sale presents American and European paintings, drawings and sculpture from the late 19th and early 20th centuries. Highlighting the auction is a selection of important works by Guy Pène du Bois from the Collection of Willa Kim and William Pène du Bois, the son of Guy Pène du Bois. These pieces have remained in the artist's family since they were painted and are completely fresh to market. Although Guy Pène du Bois was an emphatic advocate for new movements in art in the early 20th century, his own work cannot be easily associated with any of them. His idiosyncratic style, with its simplified forms and resonant color, as well as his often satiric point of view, are clearly evident in a remarkable 1921 image of two ... More
Record-breaking Ottoman textile leads £13 million week of Middle Eastern art auctions
JFK's 'only' diary sold for $718,750 at auction
The Whitechapel Gallery opens the first major public display of the ISelf Collection in the UK


Fouad Kamel, Untitled (The Drinker). Est. £22,000-28,000). Photo: Sotheby's.



LONDON.- As part of Sotheby's Orientalist and Middle Eastern Art Week, a group of three sales dedicated to art produced across the Islamic world from ancient to modern times, 236 lots sold to bring £12,960,125 / $15,661,120 (est. £8,617,700-12,351,800), with over half of the offerings exceeding their pre-sale high estimates. An auction record was set as an Ottoman panel from the collection of Argine Benaki-Salvago soared to £1.1 million / $1.4 million. Six artist records were achieved across the week including for works by pioneering Iranian modernist Bahman Mohasses, leading Egyptian Surrealist Fouad Kamel and 19th-century Bohemian painter Georg Emanuel Opiz. Edward Gibbs, Sotheby's Middle East & India Chairman, said: "Our London auctions of Middle Eastern art continue to go from strength to strength, presenting an array of extraordinary artworks and objects of exceptional quality and rarity. There ... More



The diary is compromised of 61 loose-leaf pages, bound in a premium black leather cowhide binder.



BOSTON, MASS.- A diary written in 1945 by John F. Kennedy during his brief stint as a journalist after World War II sold for $718,750 according to Boston-based RR Auction. The diary was consigned by Deirdre Henderson, who began working for Senator Kennedy in 1959 as his research assistant in his run for the Presidency. "It was my hope that through the auction catalog the diary would come to the attention of a wider audience and find a home worthy of its merit," said Deirdre Henderson. The diary is compromised of 61 loose-leaf pages, bound in a premium black leather cowhide binder. Twelve of the pages were handwritten by Kennedy and he typed forty-nine pages on his personal typewriter. Within the detailed personal diary, a 28-year-old JFK reveals surprising views on liberalism versus conservatism and espouses his unedited beliefs regarding Roosevelt's effect on capitalism; he witnesses ... More



Louise Bourgeois, Untitled, 1947-49. Bronze painted white and blue, stainless steel, 173.4 x 30.5 x 30.5 cm ©The Easton Foundation/VAGA, New York/DACS, London 2017.



LONDON.- Continuing the Whitechapel Gallery's programme of opening up rarely seen collections from around the world, the four exhibitions are each titled after a key artwork in each display. Self-portrait as the Billy Goat brings together a selection of physical, psychological and imaginary self-portraits by more than a dozen leading international artists this spring. Twenty-five works from international artists including Pawel Althamer, Louise Bourgeois, André Breton and the Surrealists, Enrico David, Tracey Emin, Gilbert & George, Gabriel Kuri, Yayoi Kusama, Linder, Aditya Mandayam, Raqs Media Collective, Prem Sahib and Cindy Sherman, reveal how these artists stage their own bodies or self-reflections to examine the different ways that we build our sense of personal identity. A series of photo strips by André Breton (1896-1966, ... More
The ICA/Boston opens major mid-career survey of Nari Ward
New Museum opens the first New York museum survey of the work of Italian artist Carol Rama
Crocker Art Museum awards inaugural $25,000 Knudsen Prize to Bay Area sculptor Cyrus Tilton


Nari Ward, Scandal Bag; History Feeds Mistrust (detail), 2015. Chromogenic color print 20 x 20 in. Photo: Steven Rose. Courtesy the artist; Galleria Continua, San Gimignano, Beijing, Les Moulins, and Havana; and Lehmann Maupin, New York and Hong Kong © 2017 Nari Ward.



BOSTON, MASS.- On April 26, the Institute of Contemporary Art/Boston opens Nari Ward: Sun Splashed, the most significant exhibition of the artist's work to date. Ward (b. 1963 in St. Andrew Parish, Jamaica) actively engages with local sites—their histories, communities, and economies—to create spectacular, ambitiously scaled artworks out of unlikely materials. Sun Splashed includes artworks made from soda pop bottles, shoelaces, shopping carts, and a fire escape—materials that speak to the artist's distinctive experimentation and resonate with social, political, and cultural meaning. Working in sculpture, collage, photography, video, installation, and performance, Ward captures the makeshift qualities of everyday ... More



Carol Rama, Maternità [Maternity], 1966. Mixed mediums on canvas, 35 1/2 x 27 1/2 in (90 X 70 cm) © Archivio Carol Rama, Turin. Photo: Gabriele Gaidano.



NEW YORK, NY.- "Carol Rama: Antibodies" is the first New York museum survey of the work of Italian artist Carol Rama (b. 1918, Turin, Italy–d. 2015, Turin, Italy) and the largest presentation of her work in the US to date. While Rama has been largely overlooked in contemporary art discourses, her work has proven prescient and influential for many artists working today, attaining cult status and attracting renewed interest in recent years. Rama's exhibition at the New Museum will bring together over one hundred of her paintings, objects, and works on paper, highlighting her consistent fascination with the representation of the body. Seen together, these works present a rare opportunity to examine the ways in which Rama's fantastical anatomies opposed the political ideology of her time and continue to speak to ideas of desire, sacrifice, ... More



Cyrus Tilton.



SACRAMENTO, CA.- The Crocker Art Museum announced the award of its inaugural John S. Knudsen Prize of $25,000 to Oakland-based sculptor Cyrus Tilton (1977–2017). The first solo museum exhibition of his work, The Cycle by Cyrus Tilton, will take place at the Crocker Art Museum from March 25 to July 15, 2018. The John S. Knudsen Endowment Fund was established in 2012 by a gift from the estate of art collector John Knudsen, to annually support an emerging or mid-career California artist while also funding programs, acquisitions, and other endeavors related to the artist's work at the Museum. Awarded by a committee of review, the prize is open to all artists in California who have not yet had a solo exhibition at a major art museum, with priority given to painters. Artists may use the award money to work in the studio, to travel, to purchase materials for a specific body of work, and to pursue other ... More
Quote
Gravity is my favorite form creator. Claes Oldenburg
More News
---
Paragon of Beauty An Artist Portrait of Kristine Schomaker
---
Flashback
On a day like today, The foundation stone for the new Palace of Westminster was laid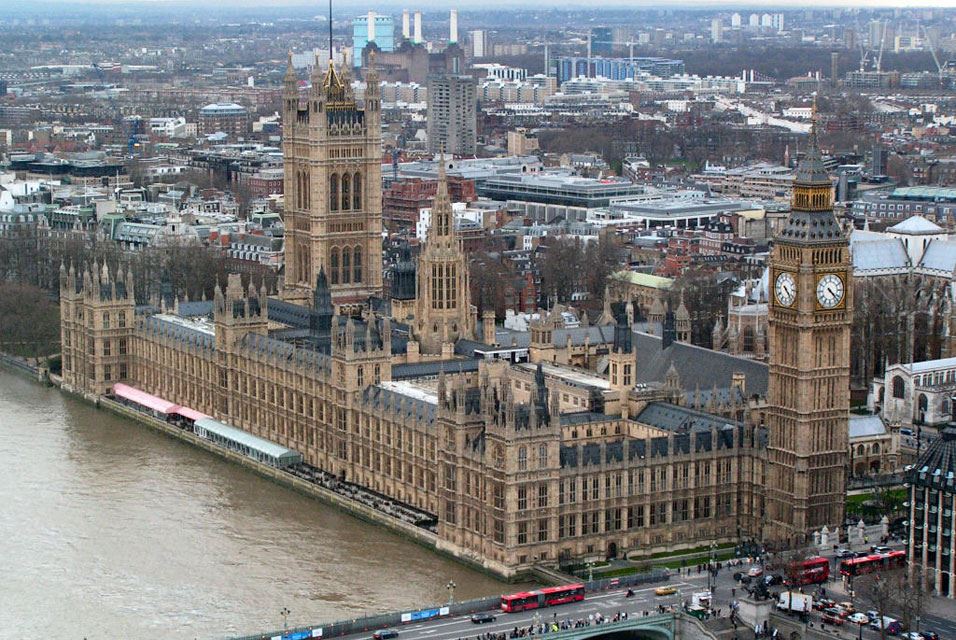 April 27, 1840. LONDON.- The Palace of Westminster, also known as the Houses of Parliament or Westminster Palace, is the meeting place of the two houses of the Parliament of the United Kingdom - the House of Lords and the House of Commons. It lies on the north bank of the River Thames in the heart of the London borough of the City of Westminster, close to the historic Westminster Abbey and the government buildings of Whitehall and Downing Street. The name may refer to either of two structures: the Old Palace, a medieval building complex most of which was destroyed in 1834, and its replacement New Palace that stands today; it has retained its original style and status as a royal residence for ceremonial purposes.
---

Museums, Exhibits, Artists, Milestones, Digital Art, Architecture, Photography,
Photographers, Special Photos, Special Reports, Featured Stories, Auctions, Art Fairs,
Anecdotes, Art Quiz, Education, Mythology, 3D Images, Last Week,
.
Royalville Communications, Inc
produces:







Tell a Friend
Dear User, please complete the form below in order to recommend the Artdaily newsletter to someone you know.
Please complete all fields marked *.
Sending Mail

Sending Successful