Chinese dissident artist Ai Weiwei arrives in Germany, says Britain restricted his visa
Chinese artist Ai Weiwei is accompanied by his son Ai Lao and a woman as he leaves the Franz-Josef-Strauss airport in Munich, southern Germany, after his arrival from China on July 30, 2015. Chinese dissident artist Ai Weiwei was flying to Germany on his first overseas trip since he was arrested nearly four years ago, a week after receiving a new passport. AFP PHOTO / CHRISTOF STACHE.
BEIJING
(AFP)
.-
Britain has denied Chinese dissident artist Ai Weiwei a six-month visa and restricted him to a three-week trip because he did not declare a "criminal conviction" in his application, he cited an embassy official as saying Thursday. The decision prompted outrage online and condemnation from rights groups. China's best known contemporary artist abroad, Ai was detained for 81 days in 2011 amid a crackdown on government critics, but not formally charged with a crime. A company run by his wife and listing him as an employee was fined $2.4 million the following year after losing a civil legal battle against tax authorities, proceedings widely seen as a reprisal for Ai's outspoken criticism of the ruling Communist party. Ai posted a letter on Instagram apparently from the visa section of the British Embassy in Beijing saying it was "a matter of public record that you ...
More
The Best Photos of the Day
Remains of the Great Synagogue and Shulhof of Vilna are rediscovered 70 years after their destruction
'Masterpieces from the Hermitage: The Legacy of Catherine the Great' opens at the National Gallery of Victoria
MoMA announces exhibition that will explore Edgar Degas' monotypes and their essential role in his work




The magnificent Great Synagogue of Vilna (Vilnius) in Lithuania, was the oldest and most significant monument of Litvak Jewry.





JERUSALEM.- A Ground Penetrating Radar survey conducted in June 2015 in Vilnius, Lithuania has uncovered the underground remains of the Great Synagogue and Shulhof of Vilna, now lying partially below a modern school. These important remnants of what was before the Holocaust, Lithuania's greatest synagogue, will be exposed in an excavation to commence next year. The magnificent Great Synagogue of Vilna (Vilnius) in Lithuania, was the oldest and most significant monument of Litvak Jewry. Sadly, like most of the edifices of Jewish culture in Lithuania, the Great Synagogue was lost during the Holocaust. A joint team, led by Dr. Jon Seligman from the Israel Antiquities Authority, Zenonas Baubonis of the the Culture Heritage Conservation Authority of Lithuania, together with Prof. Richard Freund of the University of Hartford, have just completed a successful season to identify the remains of the synagogue using ground penetrating radar. Built ... More





Rembrandt Harmensz. Van Rijn, Young woman trying on earrings 1657. Oil on wood panel, 39.5 х 32.5 cm. The State Hermitage Museum, St Petersburg (Inv. no. ГЭ-784). Acquired from the collection of the Comte de Baudouin, Paris, 1781.





MELBOURNE.- Masterpieces from the Hermitage: The Legacy of Catherine the Great showcases one of the world's greatest art collections. Featuring works by artists including Rembrandt, Rubens, Velázquez and Van Dyck, the exhibition offers more than 400 outstanding works including one of the finest groups of Dutch and Flemish art to come to Australia. The Premier of Victoria, the Hon. Daniel Andrews MP said, 'Masterpieces from the Hermitage: The Legacy of Catherine the Great showcases treasures from one of the largest, oldest and most visited museums in the world. Another major event for Melbourne, this exhibition provides visitors with a once-in-a-lifetime opportunity to see first-hand the extraordinary personal collection of Catherine the Great, drawn from the State Hermitage Museum, St Petersburg.' Tony Ellwood, Director, NGV, said, 'This exhibition celebrates the tenacity ... More





Hilaire Germain Edgar Degas (French, 1834–1917). The Singer (Chanteuse de café-concert), 1875-1880. Pastel over monotype on paper. Plate: 6 1/4 × 4 1/2″ (15.9 × 11.4 cm). Gift, Miss Martha Elizabeth Dick Estate. Reading Public Museum, Reading, Pennsylvania.





NEW YORK, NY.- The Museum of Modern Art announces Edgar Degas: A Strange New Beauty, a major exhibition focusing on Hilaire-Germain-Edgar Degas's (1834–1917) extraordinary and rarely seen monotypes and their impact on his wider practice, on view March 26 through July 24, 2016. The first exhibition in the U.S. in nearly 50 years to examine these radical, innovative works—and MoMA's first monographic exhibition of the artist—Edgar Degas: A Strange New Beauty will feature approximately 130 monotypes along with some 50 related works, including paintings, drawings, pastels, sketchbooks, and prints. The exhibition is organized by Jodi Hauptman, Senior Curator, Department of Drawings and Prints, MoMA, with Richard Kendall, Curator-at-Large, Sterling and Francine Clark Art Institute. MoMA is the sole venue for the exhibition. A towering figure in 19th-century art, ... More
Whitney Museum receives a gift for education from the Steven & Alexandra Cohen Foundation
Japanese artist Makoto Aida battles museum over works mocking government
Art Institute of Chicago offers new insights into the art of classical antiquity and its revivals




A general view of atmosphere during the Whitney Museum of American Art Press Preview at The Whitney Museum of American Art on April 23, 2015 in New York City. D Dipasupil/Getty Images/AFP.





NEW YORK, NY.- The Whitney Museum of American Art has received a $2 million gift from the Steven & Alexandra Cohen Foundation to support its award-winning education programs, Adam D. Weinberg, Alice Pratt Brown Director of the Whitney, announced today. Over the next five years, the Foundation's gift will provide essential support for the Museum's education programs which serve children, teens, seniors, and the community at large. "The Steven & Alexandra Cohen Foundation's generous gift recognizes that education is one of the cornerstones of the Whitney's mission. Visiting the Museum can be a life-changing experience at any age, opening us up to new ideas and ways of thinking, increasing our understanding of the human condition, and showing us how artists perceive the world," said Mr. Weinberg. "Our education programs deepen ... More





One of Japan's best-known contemporary artists Makoto Aida stands next to his work, a large calligraphy hanging from a ceiling that openly criticises the education ministry. AFP PHOTO / KAZUHIRO NOGI.





TOKYO (AFP).- One of Japan's best-known contemporary artists is locked in a fight with a public museum over claims it has threatened to pull the plug on works critical of the conservative government. Makoto Aida said the Museum of Contemporary Art Tokyo told him to yank the pieces from an exhibit that started last week because they were "not suitable" for kids, but the museum countered that it just asked him to "modify" his creations. "I was told that the works were not appropriate and that they wanted me to remove them," the artist told AFP at the museum this week. He added that the demand followed a complaint from a visitor and at the request of the Tokyo city government. One piece, a video installation, appears to mock nationalist premier Shinzo Abe, whose popularity has dived as parliament debates controversial legislation aimed at ... More





Statue of Young Dionysos, 100 B.C.–A.D. 100. Anonymous loan.





CHICAGO, IL.- The Art Institute of Chicago announces an innovative collaboration between the Department of Ancient and Byzantine Art and the Department of Prints and Drawings to explore Renaissance and Baroque printmakers' direct responses to Classical antiquity through the figure of Dionysos, the ancient Greek god of wine and theater. Dionysos Unmasked: Ancient Sculpture and Early Prints, on view from July 31, 2015 to February 15, 2016, in the Mary and Michael Jaharis Galleries of Greek, Roman, and Byzantine Art, juxtaposes ancient sculpture with prints from the 15th through the 18th century with nearly 100 objects—pieces from the permanent collection, new loans of ancient art, and recently acquired works on paper. Dionysos—known as Bacchus to the Romans—famously cavorted his way through the timeless tales of Greek and Roman mythology with an entourage of satyrs, the god Pan, and wild maenads who personified ... More
Spink announces first ever map sale taking place during the World Stamp Exhibition
Arnolfini presents major new exhibition of works by Turner Prize winner Richard Long
Sotheby's New York to offer property from the estate of Mary Sayles Booker Braga




With its three lushly designed cartouches and many illustrations of indigenous shelters, modes of transportation and animals, this is one of Ortelius's richest engravings and estimated to reach an incredible hammer price on the 16th August. Lot 31, estimate: S$10,000-12,000.





SINGAPORE.- Spink announced its inaugural Antique Map sale will take place on 16th August 2015 during the World Stamp Exhibition (14 – 19 August 2015). Cataloguing and describing these beautiful antique maps has been an honour and a privilege. Maps have been a way for humanity to understand, recognise and navigate the landscape around them, turning an unintelligible three-dimensional landscape into a readable object. These works of art reveal the overall majesty of a landscape through stylised symbols expressing the natural features of a country's geography and allow a modern onlooker a view into a world before technology took away the world's secrets. The original google earth is contained within this collection of just over 200 antique maps from ... More





Richard Long. Photo: James Wainman. Courtesy of Lisson Gallery.





BRISTOL.- Arnolfini Centre for Contemporary Arts in Bristol announces a major new exhibition of work by Richard Long. Part of the programme celebrating Bristol's year as European Green Capital, TIME AND SPACE includes several new works and recreations of previous works that have been made for this exhibition, and it's accompanied by a new publication. Richard Long was born in Bristol, where he continues to live and work and this is the most comprehensive exhibition by the artist in his home city since 2000. TIME AND SPACE will run from 31 July – 15 November 2015. Richard Long's work is born out of his engagement with the landscape and through the experience of making solitary walks in rural or remote areas of Britain, and as far afield as Alaska, Mongolia and Bolivia. Walking is central to the artist's work, which he uses as a way to articulate ideas about time and space and natural materials. Richard Long leaves subt ... More





Axel Amuchastegui, Cockatoos in their Natural Habitat, 1964. Estimate: $8,000-12,000. Photo: Sotheby's.





NEW YORK, NY.- Sotheby's annouces the presentation of Property from the Estate of Mary Sayles Booker Braga in a dedicated auction on 19 & 20 October 2015 in New York. The sale will offer fine art, furniture and decorative art from Mrs. Braga's 'Oakendale' estate in the heart of Virginia horse country. The elegance of both the home and its contents reflects her passions for the equestrian lifestyle of Virginia as well as the English country house. Born in New York City in 1921, Mrs. Braga enthusiastically embraced the equestrian lifestyle while attending Foxcroft School near Middleburg, Virginia. She married B. Rionda Braga, the sugar magnate whose family business was at one time the largest private grower of Cuban sugar in the Western world. The couple spent significant time together in Europe, where Mrs. Braga came to appreciate the aesthetic of the English country home. On her husband's death in 1986, Mrs. ... More
Art Gallery of South Australia attracts record attendances - nearly 800,000 people in one year
Hayward Publishing announces 'The New Concrete: Visual Poetry in the 21st Century'
Recent analysis says celebrity guns attract top prices at Bonhams Sporting Gun sales




Fashion Illustrator Kerrie Hess. Photo: Bonnie Cee.





ADELAIDE.- The Art Gallery of South Australia attracted 779,670 visitors in the last financial year, the highest attendance ever and up 12 percent on the previous year. Arts Minister Jack Snelling said it was a remarkable achievement by one of the state's premier cultural institutions. "It is further confirmation that South Australians and people beyond the state are hungry for accessible and innovative arts," Mr Snelling said. "We have had an increase right across the spectrum, from 35,000 school visits to more than 15,000 people from outside South Australia attending the Fashion Icons exhibition." "First Fridays - which allow the Gallery to stay up late on the first Friday each month - also proved successful in drawing in an after-work crowd for music, drinks and special talks and tours." Supported by Santos, the First Fridays concept began in November last year. The significant increase w ... More





This new volume is a highly illustrated overview of contemporary artists and poets working at the intersection of visual art and literature.





LONDON.- The New Concrete is a long-overdue survey of the rise of concrete poetry in the digital age. The accessibility of digital text and image manipulation, modern print techniques and the rise of self-publishing have invigorated a movement that first emerged in an explosion of literary creativity during the 1950s and 1960s. This new volume is a highly illustrated overview of contemporary artists and poets working at the intersection of visual art and literature, producing some of the most engaging and challenging work in either medium. Featuring an introductory essay by renowned American poet Kenneth Goldsmith and edited by celebrated poets Victoria Bean and Chris McCabe, The New Concrete is an indispensable introduction to the breadth of concrete poetry being produced today. ... More





Ian Fleming with his colt Python .357 magnum revolver, sold by Bonhams for £12,000.





LONDON.- A recent analysis of the sporting gun market by Bonhams, one of the major players in this field, shows that the cult of celebrity has reached the gun world. Guns with VIP owners achieve significantly higher prices. Patrick Hawes, Head of Sporting Guns at Bonhams, who holds world records for a variety of weapons sold, says: "Once you have factored in the key aspects of gun buying at auction – quality, condition, rarity – you then find that it's the weapon's previous owners that add lustre to its provenance and price. For example anything previously owned by an Indian Maharajah or one of the British Royal family or well-known professional hunters will have an automatic supplement in perceived value and as often as not a few zeroes added to the price when sold." Guns with VIP status sold by Bonhams Sporting Guns Department include: James ... More
Quote
This grandiose tragedy that we can call Modern Art. Salvador Dalí
More News
---
---
---
Flashback
On a day like today, French painter and sculptor Jean Dubuffet was born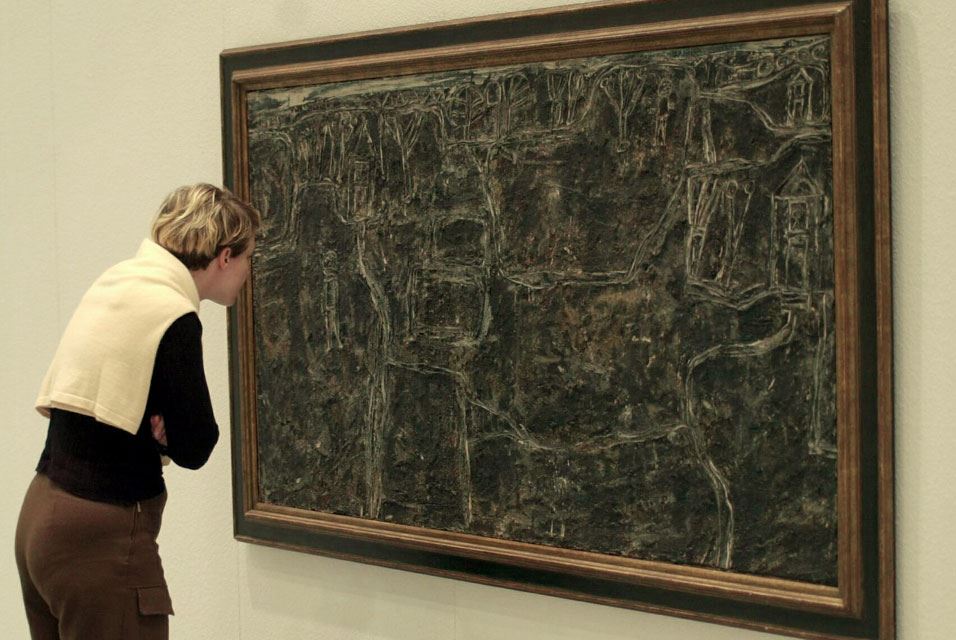 July 31, 1901. Jean Philippe Arthur Dubuffet (31 July 1901 - 12 May 1985) was a French painter and sculptor. His idealistic approach to aesthetics embraced so called "low art" and eschewed traditional standards of beauty in favor of what he believed to be a more authentic and humanistic approach to image-making. In this image: A young lady looks at "Paysage charbonneux" by French artist Jean Dubuffet dated 1946, and valued at 3.5 million Marks (1.5 million Dollars) at the 34th International fair for modern art "Art Cologne" in Cologne, Germany, Friday, November 3, 2000.
---
---

Museums, Exhibits, Artists, Milestones, Digital Art, Architecture, Photography,
Photographers, Special Photos, Special Reports, Featured Stories, Auctions, Art Fairs,
Anecdotes, Art Quiz, Education, Mythology, 3D Images, Last Week,
.
Royalville Communications, Inc
produces: