Exhibition by French photographer Christophe Simon opens at Visa pour L'Image festival
An employee places a framed photo on a wall before the opening of the exhibition "Football as seen through the eyes of children in Cidade de Deus favela" by French photographer Christophe Simon, on August 28, 2014 in Perpignan, as part of the International Visa pour L'Image Photojournalism Festival. The Festival will take place from August 30, 2014 to September 14. AFP PHOTO / RAYMOND ROIG.
PERPIGNAN
.-
In Brazil, kids in favelas play football all the time and anywhere they can, kicking battered old footballs around vacant lots or up against walls. Before the 2014 World Cup, Christophe Simon set out to find a way of showing the story of the Brazilian love of football. And what better way could there be than to ask children from the favelas to depict their love for the sport as they see it? Christophe Simon settled in Rio in 2011, and reported on many "pacification" operations in the favelas conducted by the security forces as part of efforts to improve the image of the city in the lead-up to the Football World Cup and the 2016 Olympic Games. He would be seen on the streets with his cameras, following soldiers and police through back alleys; and every time he was surrounded by a cluster of kids fascinated by what he was doing. They followed him everywhere, asking endless questions. In 2011, Christophe turned 50, an age when he wanted to share and pass on some of his skills ...
More
The Best Photos of the Day
Final exhibition from the Kainen Collection opens at the National Gallery of Art
Groundbreaking works by Pop Art's biggest names on view at the Cantor Arts Center
Major exhibition of photographs from the estate of British photographer David Farrell opens at Osborne Samuel




Dorothea Tanning, At These Rites, 1973. Color aquatint and sugar-lift aquatint on wove paper, 27.8 x 22 cm. National Gallery of Art, Washington, Gift of Ruth Cole Kainen.





WASHINGTON, DC.- Modern American Prints and Drawings from the Kainen Collection, on view from September 1 to February 1, 2015, is the final in a trio of exhibitions celebrating the 2012 bequest of Ruth Cole Kainen (1922–2009), a passionate collector who enriched the National Gallery of Art's holdings across a range of schools, including the first seven decades of 20th century American art. Ruth Cole Kainen, trained in music and a patron of all the arts, was married to Jacob Kainen (1909–2001), a New York painter who relocated to Washington, DC, in the 1940s to become a curator in the Division of Graphic Arts at the Smithsonian's U.S. National Museum (now the National Museum of American History, Kenneth E. Behring Center). "Many of the works in this exhibition are by artists that Jacob knew personally from his exemplary career as an artist and curator," said Earl A. Powell III, director, National Gallery of Art. "He maintained friendships with p ... More





Claes Oldenburg (U.S.A., b. Sweden, 1929), Funeral Heart, 1961. Enamel paint, plaster, and muslin. Collection SFMOMA, gift of Harry W. and Mary Margaret Anderson. © 1961 Claes Oldenburg.





STANFORD, CA.- For the past 50 years, Bay Area art collectors Harry and Mary Margaret Anderson have passionately assembled one of the most outstanding private collections of 20th-century post-war American art in the world. On September 21, more than 100 extraordinary works from their collection— donated to Stanford University—will be on view in a new museum adjacent to the Cantor Arts Center: the Anderson Collection at Stanford University. To celebrate its new neighbor, the Cantor presents an exhibition of spectacular Pop Art works on loan from SFMOMA's own Anderson collection. The show, Pop Art from the Anderson Collection at SFMOMA, runs August 13, 2014 through October 26, 2015. Connie Wolf, the Cantor's John & Jill Freidenrich Director, along with Janet Bishop, SFMOMA's curator of painting and sculpture, arranged the loan in part so that SFMOMA can continue to display its collection while its building is closed for c ... More





David Farrell, Lynn Chadwick with maquette for 'Teddy Boy and Girl', 1956. © David Farrell, courtesy of Osborne Samuel.





LONDON.- Osborne Samuel present a major exhibition of photographs from the estate of celebrated British photographer David Farrell (1919-2013), internationally renowned for his iconic images of many of the greatest musicians, actors, authors, dancers and artists of the 20th century. The exhibition, which will be the first survey of Farrell's work since his death earlier last year, will showcase images of many of his most famous sitters, from Louis Armstrong to Laurence Olivier, Margot Fonteyn and the Rolling Stones. Born in London, Farrell studied at Dulwich College and later trained at the Royal Academy of Music. Following a period of active service with the RAF during WW2, in 1946 he moved to Gloucestershire, where he became a central figure in a circle of intellectuals and artists including Lynn Chadwick, Jacob Bronowski and Peter Nichols. Abandoning his ambitions to become a solo violinist due to growing family responsibilities ... More
Henry Moore's 'Reclining Mother and Child' returns to the Royal Botanic Gardens, Kew
Mexico's most important numismatic treasures to be auctioned in November at Daniel Frank Sedwick, LLC
Old Master paintings, silver, porcelain and glass included in Koller Zurich's autumn auctions




Henry Moore, Reclining Mother and Child 1975-76 (detail).





SURREY.- After the huge success of the landmark 2007 Henry Moore exhibition at Kew Gardens, this September visitors will once again experience an iconic Moore sculpture within the natural landscape of the Gardens. This bronze beauty will sit within a more tranquil part of the Gardens where it will perfectly illustrate the clear synergy between Moore's delight in the natural world and Kew's celebration of nature and plant-based conservation worldwide. Having his works perceived within a natural setting was crucial to Moore's vision, which makes this partnership between Kew Gardens and the Henry Moore Foundation all the more fitting. Experience the emotive and changeable nature of viewing a sculpture in a natural setting through the seasons and watch this piece come alive amongst the vibrant colours of autumn with surrounding Ash and Alder trees, whose warm and fiery yellow tones will create a unique backdrop for this wonderful Henry ... More





Two of Mexico's most important historical silver coins will be sold at auction.





WINTER PARK, FLA.- Numismatic auction house Daniel Frank Sedwick, LLC announces that two of Mexico's most important historical silver coins will be sold at auction on November 6 in Orlando, Florida. "We cannot overstress the importance of this auction, both for the history of Mexico and the larger field of North American numismatics," says company president and founder Daniel Sedwick. "These coins are the absolute root of the concept of the American dollar." Foremost is an 8 reales minted in 1538, in the reign of Charles and Joanna of Spain, while Hernan Cortes was still exploring the territory after the Conquest. This coin is widely acknowledged as the first dollar-sized coin struck in the New World and is one of only three known, all of which were found on a shipwreck in the early 1990s, prior to which their existence was known only through contemporary documentation. For over four centuries the survival of these coins w ... More





Master with the Parrot, (active in Antwerp 1520/1530), Virgin Mary and child. Oil on panel. 50x38,5 cm. Est: CHF 250 000 / 350 000.





ZURICH.- On 20 September, Koller will be presenting the first edition of Isaac Newton's "Philosophiae naturalis principia mathematica" (Mathematical principles of natural philosophy), published in London 1687 – one of the most important scientific books of all times. No other work has had such a tremendous impact on the scientific world-view of modern times until Einstein's Theory of Relativity, as Newton's ground-breaking law of universal gravitation and classical mechanics. Due to this masterpiece, the universe became a describable entity. The copy on offer at Koller has a very important provenance: It used to belong to the Basel University Library and contains highly interesting scientific annotations which are clearly from the circle of the Bernoulli mathematicians' dynasty in Basel. In the 19th century, the library sold the present copy as a duplicate. Later, it was owned by the ... More
Galerie Neue Meister celebrates 20th anniversary of the Society for Modern Art in Dresden
Julien's Auctions announces the sale of the collection of Country music superstar Naomi Judd
Memorial to Nazis' disabled victims to open near Berlin's central Tiergarten park




Johannes Kars, Ohne Titel (Ausloschung), 2003. Ol auf Leinwand, 106 x 102 cm. Galerie Neue Meister.





DRESDEN.- This year the Gesellschaft für Moderne Kunst in Dresden e.V. (Society for Modern Art in Dresden) is celebrating its twentieth anniversary. The Galerie Neue Meister is taking this as an opportunity to pay tribute to the effort and commitment of the Society, which was founded in 1994, by holding an exhibition of contemporary art. Following in the tradition of the legendary association of art patrons which enabled modern art to be purchased for the Dresden Gemäldegalerie after the First World War, the Gesellschaft für Moderne Kunst has purchased more than 45 works, mostly of contemporary art, over the past two decades and these have been given on permanent loan to the Gallery. In this way, works by such artists as Marlene Dumas, Candida Höfer and Luc Tuymans have come into the collection. A focal point among these purchases are works by artists who have brought fresh impetus to painting ... More





Naomi Judd's story is a heartwarming rags-to-riches tale of perseverance and positive thinking.





NASHVILLE, TENN.- Julien's Auctions announced The Collection of Country Music Superstar Naomi Judd featuring costumes and personal items from the award-winning singer/songwriter to take place on November 7 and 8, 2014 at the Julien's Auctions Beverly Hills gallery. The collection includes a vast amount of custom made costumes and stage worn clothing from the career of Naomi Judd, along with personal items from the star's own collection, and items from her husband Larry Strickland's musical career with Elvis Presley. Naomi Judd's story is a heartwarming rags-to-riches tale of perseverance and positive thinking. The single mom and registered nurse from a small town Kentucky captured the hearts of the world performing with her daughter Wynonna. The Judds sold 20 million records, scored fifteen #1 hits and received more than sixty industry awards, including six Grammys and seven consecutive CMA Vocal ... More





View taken on August 29, 2014 of the memorial to the victims of the Nazis' "euthanasia" programme in Berlin. AFP PHOTO / JOHN MACDOUGALL





BERLIN (AFP).- Benjamin Traub, a sad-eyed German boy born in 1914, was considered a bright child by his parents and called gifted by his teachers. But a schizophrenia diagnosis at the age of 16 put him on a path that would end in a Nazi gas chamber, where he became one of up to 300,000 ill and disabled people, including children, who were murdered under Adolf Hitler. Those victims will be honoured with a new memorial opening Tuesday in Berlin, in a ceremony attended by political leaders and Traub's nephew Hartmut. It is to be the fourth and probably final major memorial to the Nazis' victims built in or near Berlin's central Tiergarten park, following sites dedicated over the last decade to Jews, gays and Roma slaughtered in the Holocaust. "The murder of tens of thousands of patients and residents of care homes was the first systematic mass crime of the National Socialist regime," said ... More
Hello Kitty not a cat, has never been: Company says Hello Kitty is a cheerful and happy little girl
State Museum and Exhibition center Rosphoto opens exhibition of works from The Minsk School of Photography
Solo exhibition of French Berlin-based artist Agathe de Bailliencourt opens at Art Plural Gallery




This file photo shows president of Japanese character business giant Sanrio, Shintaro Tsuji (R), smiling as he poses with character Hello Kitty (L). AFP PHOTO / FILES / Yoshikazu TSUNO





TOKYO (AFP).- Hello Kitty is not a cat, the company behind Japan's global icon of cute insisted Thursday, despite an uproar from Internet users who spluttered: "But she's got whiskers!" The moon-faced creation that adorns everything from pencil cases to pyjamas the world over is, in fact, human. "Hello Kitty is a cheerful and happy little girl with a heart of gold," brand owner Sanrio says on its website. The shocking revelation came to light when a Hawaii-based academic specialising in the epitome of "kawaii" ("cute" in Japanese) asked Sanrio to fact-check captions for an exhibition she was curating to mark the 40th anniversary of Hello Kitty Christine Yano, an anthropologist from the University of Hawaii, told the Los Angeles Times that she "was corrected -- very firmly" by Sanrio that Kitty was not a cat. "That's one correction Sanrio made for my ... More





Viktor Butra, Untitled, 1971. Gelatin silver print.





SAINT-PETERSBURG.- The exhibition "Minsk School of Photography" presents a key phenomenon in the history of Belarusian photography of the second part of the XX century. The display comprises more then 150 pieces from the collection of the State Museum and Exhibition center ROSPHOTO. The works by the Belarusian photographers have come into ROSPHOTO's possession at different times and have been obtained from different sources. The first picture was acquired in 2002, the year when ROSPHOTO was founded. Eventually, due to the increase of the number of works, a collection of Belarusian photography was formed. The largest and the most comprehensive acquisition took place in 2013, when the museum became the owner of more than 700 artworks, representing the oeuvre of 14 Minsk-based photographers. Thus, ROSPHOTO's collection now features the works by the most notable representatives, the key figures of the Belarusian ... More





Agathe de Bailliencourt, Couleur du temps 9, 2014. Acrylic painting on raw linen canvas, 140 x 170 cm. Photo: Courtesy of Art Plural Gallery.





SINGAPORE.- Art Plural Gallery announces Water, Colour, Recordings, the solo exhibition of French Berlin-based artist Agathe de Bailliencourt running from 29 August to October 3, 2014 at Third Floor - Art Plural Gallery. The exhibition unveils the new series Couleur du Temps. Born in 1974 in France, Agathe de Bailliencourt's works convey the symbiotic experience of creating a dialogue between the outside and the inside. Indeed, the artist expresses herself on canvas, paper but also directly on urban space, architecture and nature. Both artistic processes are radically opposed but continuously feed each other. Couleur du Temps series is inspired by a 1974 French film by Jacques Demy. In the film, there is a sequence about this idea of "color of time", a surreal image where Catherine Deneuve is wearing a dress on which, as a moving pattern, clouds are passing by. "Couleur ... More
Quote
Sculpture, for me, means the block. Aristide Maillol
More News
---
SCIENCE IN AN ART MUSEUM, PART 1: THE SCIENCE
---
---
Flashback
On a day like today, Danish artist Per Kirkeby was born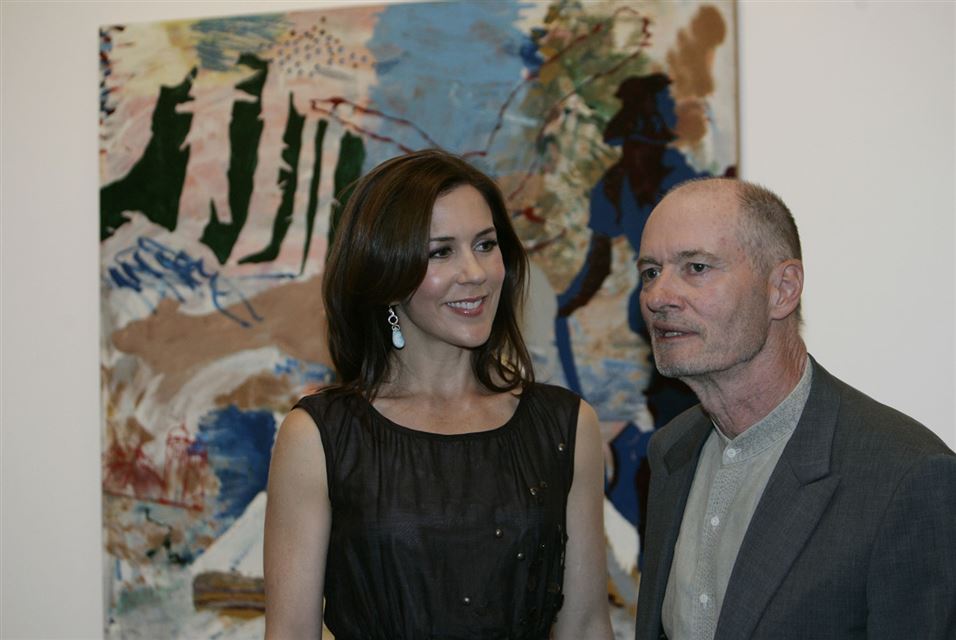 September 01, 1938. Per Kirkeby (born Copenhagen, September 1, 1938) is a Danish painter, poet, filmmaker and sculptor. In this image: Danish Crown Princess Mary, left, talks with Danish artist Per Kirkeby, right, at the opening of his art exhibition in Tate Modern gallery in London, Tuesday June 16, 2009.
---
---

Museums, Exhibits, Artists, Milestones, Digital Art, Architecture, Photography,
Photographers, Special Photos, Special Reports, Featured Stories, Auctions, Art Fairs,
Anecdotes, Art Quiz, Education, Mythology, 3D Images, Last Week,
.
Royalville Communications, Inc
produces: