Austria avoids kissing goodbye to Nazi-looted Klimt masterpiece 'Beethoven Frieze'
Gustav Klimt, Beethoven Frieze, 1901-1902. Detail (Knight). 2,15 m x 34,14 m. Photo: Oliver Ottenschläger.

By: Simon Sturdee
VIENNA
(AFP)
.-
One of Austria's most treasured artworks, Gustav Klimt's Beethoven Frieze, looks likely to remain in the country for now after an expert panel Friday rejected restitution claims by descendants of its Jewish former owners who were robbed by the Nazis. The Art Restitution Advisory Board "recommended unanimously ... not to return the 'Beethoven Frieze' by Gustav Klimt to the heirs of Erich Lederer," the body's chair Clemens Jabloner told journalists in Vienna. The fresco, 34 metres (112 feet) long, two metres high and weighing several tons, is widely regarded as a central masterpiece of Viennese "Jugendstil" art nouveau from the early 20th century. The panel rejected arguments that an export ban had forced Lederer to sell the artwork to the Austrian Republic in 1972 at what his heirs say was a knock-down price of 15 million schillings or around $750,000. But Marc Weber, ...
More
The Best Photos of the Day
Lower Belvedere exhibits restored fragment of the Lenten Veil by Thomas of Villach
Phillips Collection announces transformative gifts of American sculptor's drawings
French court says has jurisdiction in case over Gustave Courbet painting on Facebook




Thomas von Villach, Fragment of a Lenten Veil, about 1470/80. Detail: Mannalese. Painting on linen, 108 x 171 cm. Belvedere, Vienna, © Abegg-Stiftung, CH-3132 Riggisberg, 2013; (Photo: Christoph von Viràg).





VIENNA.- Since 2009, the collection of medieval art at the Belvedere has been enriched by a precious textile. This outstanding and previously unknown "tüchlein" painting on linen is part of a late Gothic Lenten veil. CURRENTLY RESTORED: Fragment of the Lenten Veil by Thomas of Villach can be seen at the Medieval Treasury in the Palace Stables at the Lower Belvedere from 6 March to 25 May 2015 . It depicts scenes from the Old Testament: the Gathering of Manna, Moses Drawing Water from the Rock, the Brazen Serpent, the Dance around the Golden Calf, Moses Receiving the Tablets of the Law, and Moses Punishing the Israelites. Lenten veils have been documented for over a thousand years. During the forty days of Lent before Easter they were used to veil choirs, altarpieces, crosses or devotional ... More





Tony Smith, Untitled, c. 1934-36. Collage and pencil on cardboard, 11 1/4 x 8 in. Promised gift of Linda Lichtenberg Kaplan. ©2015 Estate of Tony Smith/Artists Rights Society (ARS), New York.





WASHINGTON, DC.- The Phillips Collection's Director Dorothy Kosinski announced today an exceptional gift of 18 American sculptors' drawings, promised by Phillips trustee and art collector Linda Lichtenberg Kaplan.This exceptional gift showcases the museum's commitment to building a carefully crafted, in-depth collection—one that reflects founder Duncan Phillips's vision and distinctive eye. "These extraordinarily generous gifts enable us to extend Duncan Phillips's legacy in meaningful ways," says Director Kosinski. "Through such outstanding works, we can strengthen the museum's already authoritative voice for modern and contemporary art, while also enriching our distinctive exhibition narrative—one renowned for the visual conversations created between ... More





French 19th Century painter Gustave Courbet's 1866 oil on canvas "L'origine du monde" (The origin of the World). AFP PHOTO / SEBASTIEN BOZON.





PARIS (AFP).- A Paris court ruled Thursday that it has jurisdiction to judge a case against US social networking site Facebook which blocked the account of a French teacher who posted an image of a vagina. The court ruled that Facebook's clause forcing all users to agree that any litigation must be based in California, where the site is based, was "abusive." Facebook is being sued by a French father of three whose account was blocked after he posted a 19th century picture by Gustave Courbet, "The Origin of the World", depicting a vagina. The irate teacher filed a complaint in a French court saying the site could not differentiate between pornography and art. But in a hearing on January 22, Facebook's lawyer Caroline Lyannaz argued that the site did not fall under French jurisdiction as users have to sign a clause agreeing that only a California court can rule in disputes relating ... More
Iconic artist Yoshitomo Nara opens first major solo exhibition in Hong Kong
Exhibition of new paintings by Alex Katz on view at Timothy Taylor Gallery in London
Widespread outrage after Islamic State group's latest attack on Iraqi cultural treasures




Yoshitomo Nara, Wounded.





HONG KONG.- The Asia Society Hong Kong Center is hosting the first major solo exhibition of renowned Japanese artist Yoshitomo Nara in Hong Kong from March 6 – July 26, 2015. With tremendous support from The Hong Kong Jockey Club Charities Trust, The Hong Kong Jockey Club Presents – Life is Only One: Yoshitomo Nara exhibition is free for the public to enjoy, including a selection of Nara's most evocative works, public lectures and educational programs to bring attendees closer to one of the world's most celebrated contemporary artists. The title of the exhibition comes from the Nara painting Life is Only One! and reflects an abiding theme of the artist's work. The juxtaposition of the innocent-looking girl and the human skull on the canvas prompts us to contemplate on the big question about the fleeting nature of life. But what does this provocative subject mean to the artist and to us? Through a wide ran ... More





'Elizabeth', 2014. Oil on linen 84 x 60 in. / 213.4 x 152.4 cm.





LONDON.- Timothy Taylor Gallery is presenting an exhibition of new paintings by Alex Katz. The subject of over 200 solo exhibitions and nearly 500 group shows internationally since 1951, Katz has been honoured with numerous retrospectives including The Whitney Museum of American Art, New York, USA; Tate St. Ives, UK; Turner Contemporary, Margate, UK; and The Guggenheim, Bilbao, Spain. This is the artist's seventh exhibition with the gallery. Katz's paintings are at once figurative and abstract – his larger-than-life portraits and landscapes often looming large over their observers. However, in these new works, rather than filling each frame, the subjects are assigned to the margins with black space occupying most of each canvas. What is striking about these new portraits is both the depth and diversity of the black paint contrasted against the ... More





A file picture taken on July 17, 2001 shows Iraqi workers cleaning a statue of winged bull at an archeological site in Nimrud. AFP PHOTO/Karim SAHIB.





BAGHDAD (AFP).- Condemnation poured in Friday of the Islamic State group's bulldozing of the ancient city of Nimrud, the jihadists' latest attack on Iraqi cultural treasures that the UN termed a "war crime". After rampaging through Mosul's museum with sledgehammers and torching its library last month, IS "bulldozed" the nearby ruins of Nimrud Thursday, the tourism and antiquities ministry said. The devastation comes with the jihadists the target of an Iraqi government offensive. The US military said Friday Iraqi government forces and allied tribal militia have retaken the town of Al-Baghdadi, from where jihadists had threatened to attack an airbase housing American troops. Iraqi antiquities officials said IS militants had moved trucks last week to the Nimrud site overlooking the Tigris River, 30 kilometres (18 miles) southeast of their main hub of Mosul. ... More
The Yale Center for British Art and Yale University Art Gallery reconsider a century of romantic art
Marilyn Monroe photograph auction includes rare shots from 'The Last Sitting'
Frances Lehman Loeb Art Center at Vassar College announces availability of new eMuseum




Théodore Géricault, Retour de Russie (Return from Russia), 1818, lithograph with tint stone, Yale University Art Gallery, Gift of Charles Y. Lazarus, Yale BA 1936.





NEW HAVEN, CONN.- The Yale Center for British Art and the Yale University Art Gallery present their first major joint exhibition, bringing together treasures of the Romantic art movement from their respective collections. The Critique of Reason: Romantic Art, 1760–1860 comprises more than three hundred paintings, sculptures, medals, watercolors, drawings, prints, and photographs by such iconic artists as William Blake, John Constable, Honoré Daumier, David d'Angers, Eugène Delacroix, Henri Fuseli, Théodore Géricault, Francisco de Goya, John Martin, and J. M. W. Turner that expand the view of Romanticism as a movement opposed to reason and the scientific method. The broad range of works selected challenges the traditional notion of the Romantic artist as a brooding genius given to ... More





Marilyn Monroe, Here's to You, 1962 (est. $2,500).





DALLAS, TX.- Intimate photographs of Marilyn Monroe from Bert Stern's storied "Last Sitting" photo shoot may sell for a combined $36,000+ in a special auction March 10-15 at Heritage Auctions. The contemplative collection - from early, wide-eyed shots of Norma Jeane in 1945 to raw, sensual photos taken just two weeks before her death – will be offered online. "This collection is well curated by a collector and highlights her entire career from her early modeling to iconic images from Bert Stern's The Last Sitting," said Rachel Peart, Director for Photographs at Heritage. "Marilyn is such an icon and the images continue to be as stunning today as they were 60 years ago." The auction's selection of roughly 45 lots touches on Monroe's final photo shoots, including a portfolio of color and black and white photos from sessions on the beach in Santa Monica and the Hollywood Hills. The photo shoot would be her ... More





Willem De Kooning (American, 1904-1997), Untitled (Three Women), c1948. Oil and crayon on thick white paper adhered to board. Gift of Mrs. Richard Deutsch (Katherine W. Sanford, class of 1940). 1953.2.5.





POUGHKEEPSIE, NY.- The Frances Lehman Loeb Art Center announces a new online searchable database of all 19,000+ objects in the collection, making the museum's holdings available for viewing at any time. The database, which can be found at emuseum.vassar.edu , allows users to explore the entire collection through searches by keyword, artist's name, accession number, or a variety of other search criteria. With eMuseum, users can search for works that are in storage as well as works currently on view in the galleries. Along with essential details about each object such as title, artist, date, medium, dimensions, and artist's life dates, users can find information about how each object entered the collection, its exhibition history, ... More
'Paul Strand: Photography and Film for the 20th Century' opens at Fotomuseum Winterthur
Strong global reach and a diverse selection of new galleries mark the 2015 edition of the Armory Show
New-York Historical Society presents the swan song of Audubon's masterpiece




Paul Strand, Toward the Sugar House, Vermont, 1944. Gelatin-silver print, 24.4 × 19.4 cm. Philadelphia Museum of Art, The Paul Strand Collection © Estate of Paul Strand.





ZURICH.- Fotomuseum Winterthur presents the first major retrospective in Europe of the work of Paul Strand (1890–1976), one of the great modernist photographers of the twentieth century. Drawing from a recent major acquisition of 3,000 prints by the Philadelphia Museum of Art, the exhibition shows the evolution of Strand's work over six decades. It reveals the multiplicity of his practice, from his early efforts to secure photography's position as a modernist art form, to his embrace of film-making, to his powerful evocation of people and place in his post-war photo books. Strand is revealed as a complex and contradictory figure: a stubborn aesthete, a committed leftist with communist sympathies, and a pastoralist motivated by a strong sense of social purpose. The exhibition begins with Strand's rapid mastery of the prevailing Pictorialist style of the 1910s and his growing interest a few years later in abstraction. We see him attempt ... More





Thomas Demand, Daily #22, 2014. Dye transfer print, framed, 24 3/4 x 19 1/2 x 2 inches (framed) © Thomas Demand, VG Bild-Kunst, Bonn. Courtesy Sprüth Magers Berlin London.





NEW YORK, NY.- The Armory Show 2015 returns for its seventeenth edition from March 5-8, hosting 199 of the world's premier galleries from 28 countries across North and South America, Europe, Asia and the Middle East. Having received a record number of gallery applications, the 2015 fair brings together a wide range of ambitious presentations; Pier 92 – Modern represents art and artists from the twentieth century, while Pier 94 – Contemporary is dedicated to leading international galleries presenting new art by living artists. In its continued commitment to fostering a serious, compelling platform for emerging and established galleries worldwide, The Armory Show features Armory Focus: Middle East, North Africa and the Mediterranean (MENAM), curated by Omar Kholeif, in a devoted section of Pier 94. The MENAM focus is presented in collaboration with lead cultural partner, Edge of Arabia, and education partner, Art ... More





John James Audubon, Great Gray Owl (Strix nebulosa), Study for Havell pl. 351, ca. 1834–36. Watercolor, graphite, pastel, and black ink with scratching out and selective glazing on paper, laid on card. New-York Historical Society, Purchased for the Society by public subscription from Mrs. John J. Audubon, 1863.17.351.





NEW YORK, NY.- This spring, the New-York Historical Society concludes its acclaimed series of once-in-a-lifetime exhibitions celebrating the legendary John James Audubon's original watercolor models for The Birds of America (1827–38). Audubon's Aviary: The Final Flight (Part III of The Complete Flock) offers an unprecedented opportunity to explore the evolution of Audubon's dazzling watercolors in the order in which they were engraved. In this final installment of the series of three exhibitions, New-York Historical showcases the final selection of masterpieces from its collection of Audubon's watercolor models for the sumptuous double-elephant-folio print edition of The Birds of America. The museum holds all 435 watercolor models for its 435 plates, engraved by Robert Havell, Jr., plus an additional 39 avian watercolors of ... More
Quote
Photography imitates everything and expresses nothing. Paul Gauguin
More News
---
Freedman Art: Art in the Making
---
---
Flashback
On a day like today, Italian artist and sculptor Michelangelo, was born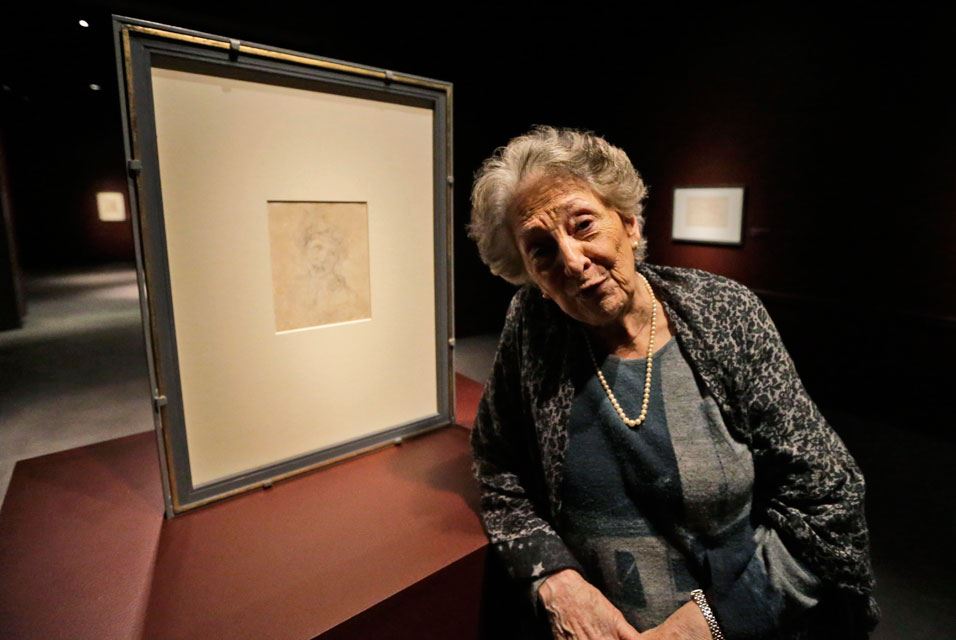 March 06, 1475. Michelangelo di Lodovico Buonarroti Simoni (6 March 1475 - 18 February 1564), commonly known as Michelangelo was an Italian Renaissance sculptor, painter, architect, poet, and engineer who exerted an unparalleled influence on the development of Western art. Despite making few forays beyond the arts, his versatility in the disciplines he took up was of such a high order that he is often considered a contender for the title of the archetypal Renaissance man, along with fellow Italian Leonardo da Vinci. In this image: Director of the Casa Buonarroti museum in Florence, Italy, Pina Ragionieri in front of a Michelangelo drawing of Cleopatra Wednesday, Feb. 6, 2013 in Williamsburg, Va. Twenty-five drawings by Michelangelo begin a two-city U.S. exhibition in Virginia on Saturday, Feb. 9, including some works never before seen in the United States and many that offer a glimpse into the mind of the master and the tumultuous times in which he lived.
---
---

Museums, Exhibits, Artists, Milestones, Digital Art, Architecture, Photography,
Photographers, Special Photos, Special Reports, Featured Stories, Auctions, Art Fairs,
Anecdotes, Art Quiz, Education, Mythology, 3D Images, Last Week,
.
Royalville Communications, Inc
produces: